India's Neighbourhood Policy: Modi continues to scratch his head with firewood
[yt_dropcap type="square" font="" size="14″ color="#000″ background="#fff" ] I [/yt_dropcap]ndia's relations with our neighbours are historical and traditional. During the Cold War, the behaviour of US and Soviet Union across the world had forced India to pursue less foreign policy initiatives, focus on domestic issues. Now China tries to do that job to India.
As India's presence across the Indian Ocean declining, China filled the void of dominant power in the regions sphere of influence. At present China, has danced across the Indian Ocean, welcoming all neighbours as a dancing partner. Our observations lead us to presume that our neighbours are keen to continue this relationship with China because of Modi's unrealistic foreign policy articulations. If this strategy persists India's future relationship with her neighbours will be in jeopardy. As the window to thwart their ties with China continues to slowly close, the window of opportunity on the Chinese side is wide open. Lots of promises were made during the 2014 election campaign by prime ministerial candidate Modi and have yet to be fulfilled. Though Modi has less perception on foreign policy, he talked louder about the subject than any other candidate but failed to provide any clear policy framework. Days before the election, he heavily criticised the Congress government on its neighbourhood policies. In the last three years Modi's strategy for neighbour relations has had no clear policy direction. This is seen in particular with India's relationship with Pakistan, Nepal, and the Maldives, all of whom have seen a new low in diplomatic and economic relations. Sri Lanka wants to travel in two tracks, with both India and China. Our efforts are huge in Afghanistan butprovide little to our interest. Now this government is facing the real heat of their policy. The focus of this article is to critically evaluate how Modi has dealt with our neighbours in the last three years.
Pakistan is a major neighbouring state. During 2013-14 the Prime Ministerial candidate Modi attacked Dr Manmohan Singh stating his leadership should have more guts with strategic trajectory in handling Pakistan than the Congress Party led UPA government. Today, Modi is in a desperate mood as he faces people's expectations and questions, in particular – in what way has his government policy differentiated from the previous Congress Party's foreign policy? What happened to the promises made on the campaign trail?
In the last three years more than 150 armed forces members were killed while fighting terrorists and recently two soldiers martyred in active combat. Not only were these two soldiers killed in action, but they were mutilated and beheaded by Pakistan army. Though these acts are against the International Human Rights Law and Geneva Conventions, Pakistan denounced the claim for responsibility and failed to act. In the face of such a cruel and inhuman act, what is or where was Modi's response to Pakistan?
Last September the BJP attempted to take credit for the surgical strike made by the Indian army that occurred on Modi's order. Modi's Administration statement states that the Pakistani Ambassador to India was summoned during this. While the Congress Party government did it, it was criticised by the BJP. Now it is the BJPs turn. They have to respond to the people, especially as ceasefire violations are continuing. The Uri attack was unforgivable, and Pathankot would be unforgettable. This government is functioning by statements and phrases. So what about Udhampur, Gurdaspur and Pampore? Modi's strategists simply stopped with statements of condemnations. Has Pakistan been contained or controlled? No. What is this government's policy on Pakistan? Does it have any worth-while, effective foreign policies? Would Modi's foreign policy articulators have any perceptions on strategy? Why did Modi visit Pakistan to wish his counterpart on his birthday? Would this not be considered a bluff incident to analyse and ultimately be criticised by IR scholars? Why this sudden failed tilt? Without any homework, Modi's Pakistan visit was more of a performance and created big media debate than anything else. This is not a strategic move.
With what reason was Pakistan allowed to investigate the Pathankot base? This is right time to implement changes and direction into India's policy. Though Pakistan is facing challenges from across the spectrum, its geographical location makes it difficult for the US, Russia and China to isolate or dismantle their relations, even as the war on terror continues to be a global, primary national security threat. India exercising its diplomacy by using the word 'terror' to isolate Pakistan from the international system has not yet yielded any expected advantage. China announced a new $43 billion partnership with Pakistan. The new president of the U.S., although favouring India, insisting us to talk with Pakistan. Has Modi not seen that our ally Russia continues to try and sell military equipment and weapons to Pakistan, even participating in military exercises together. However, India still imports 75% of her military procurements from Russia. This may be because if India was to divert some of its military purchasesto the US and Israel, it would not be well received by Russia. For this reason, Russia is emitting a warning signal to India by making a move towards Pakistan. Responding to Russia, Modi's External Affairs Department has showed nothing but disgust, which demonstrates that the department was not functioning properly or not allowed to function.
The day in 1979 when Afghanistan was invaded by Soviet forces, was a troubling period for all South Asian nations. They all wondered, what is going on in Afghanistan? The post-US withdrawal created a vacuum for the Taliban to restart theirfundamental Islamic political movement again. Pakistan would like to undermine and dismantle India's investment in Afghanistan by using the Taliban. An unstable Afghanistan would be a crisisfor all its neighbours. India has invested vast amounts of money and resources to create stability and security across Afghanistan.Bilaterally, New Delhi and Kabul's realisation are very encouraging and convergent. However, the policy under Modi is not enough to support President Ashraf Ghani in combating the Taliban directly. Hesitation inestablishing and strengthening Afghani security is a weak policy and this needs to be resolved. A week ago its former President Hamid Karzai said, "India should have its own policy on Afghanistan". This is absolutely right.The International Community acknowledges our commitment to rebuild Afghanistan, but to safe guard what we have built and established there the Modi government needs to have a separate policy in strengthening Afghanistan. This includes giving the armed forces training and knowledge of the Taliban as a terrorist organization and the weapons they use. If not, all the contribution and work carried out by India in the post-US withdrawal in Afghanistan could disappear. Moreover, failing to rethink our present strategy on Afghanistan, in particular itslax security condition and ambiguous, unclear initiatives only embolden the Taliban to take control of another city like Kunduz.
Once, Nepal was akin to a state within India. Then, Nepal became a buffer state between the two giants of India and China. Now, under the current Modi government's strategy it has become akin to a state within China. Nepal's failure to accommodate India's concern over their new constitution showeddisrespect to India's ruling elite.This caused a major rift between New Delhi and Kathmandu, and was widened by our National Security Advisor Ajit Doval's suggestions to apply realism to Nepal. The Modi government stopped the energy supply to Nepal and this impacted their domestic politics, heavily backfiring on our relations with the nation. The result of this was Nepal being pushed to acquire its energy supply from China. As the saying goes, this indicates that Modi may have scratched his head with firewood. When a landlocked country like Nepal solely relies on us, there is never an appropriate time to suggest the application of realist approach to its government. There is no need to follow that approach, particularly when it does not take an IR scholar to know that Nepal has no other choice but to turn to its other neighbour. Who pushed Nepal into China's lap? No one else to blame. It is absolutely the failure of Modi government. Now we cannot expect the same trust from Nepal, as they will always have China as an option.
Bangladesh shares its borders with India and Myanmar. However, China invested more than $38.05 billion into the country the last year. Investment inflow is good for Bangladesh because their other demands will be imported from India. At the same time, China's also aims to move Bangladesh into their sphere of influence in order to gain regional leverage against India in the future. Modi's soft corner with Prime Minister with Sheikh Hasina would be a traditional method. Reaching out to the opposition is also a good strategic trajectory and Modi should try this. The recent visit of Hasina to India after a seven year gap was proclaimed as a success from both sides. The Indian prime minister announced a $5 billion line of credit to Bangladesh. This shows that New Delhi and Dakha have moved beyond Teesta. In addition, if the Modi government makes a comfortable environment to resolve the Teesta it will strengthen Hasina's hands in the upcoming election in Bangladesh. However, no fresh thinking has been added in terms of solutions to Teesta or containing China's influence in Bangladesh. It indicates that the Modi government has failed in articulating new policy directions towards Dhaka.
The new government of Myanmar has taken a new policy shift after the Foreign Minister Aung Suu Kyi visited China. Her earlier objections on Chinese investments in Myanmar are now given importance and under reconsideration by her government. We can certainly presume that this is a new shift by the democratically elected government. Still, the new government has an emotional attachment with India that can be strengthened while the foreign minister visits India. However, Aung Suu Kyi's mind may change and turn towardother neighbours for investment from abroad. Obviously China will be a better option for them than India. During 2015-16 India's bilateral trade with Myanmar was just $2 billion and Chinese with Myanmar was $9.4 billion. China is ready to offer everything that India can not. For this reason we cannot blame Aung Suu Kyi's change in policy stance. Now she is not a leader of a movement but Myanmar's foreign affairs minister and the State Councillor. She has a responsibility to take care of Myanmar's interests, not India's. To continue historic bilateral trade agreements for the sake of old friendships would not benefit India either. Constrictive policies and follow-ups are completely missing from India towards Myanmar. Modi's achievement in regard to India's relations with Myanmar has been inadequate and this government has pushed Myanmar towards China. However, the consolation would be the commitment of Aung Suu Kyi – that Rangoon will never allow any third parties to target India from their land.
India gave humble warnings to the Maldivian government while it failed to consider giving afair trial to the former President Mohamed Nasheed. Further, what was India's stance on the Maldives while the increasing activity of ISIS and Saudi Arabia's madrasas flowed in effortlessly? How is it possible to maintain that we are the main security provider across the Indian Ocean, while the Modi government abstains to give resolutions to the island nations issues. However, the Indian Ocean Rim Association (IORA) states are expecting from India to deliver our policy exercises and allow the democratically elected system to rule Maldives.Moreover, Modi did not visit the Maldives while he travelled to the Indian Ocean countries. It was announced that the prime minister would not be visiting the island due to the difficult situation unravelling in the Maldives. Still, India is hanging on to the old policy of non-intervention under Modi's administration at a time when India is seeking major power status in the international system, while the world is facing multipolar disorder. This indicates that our policy is paving the way for the Chinese to intrude and spread their presence in the Indian Ocean.
India and Sri Lanka face many difficult challenges. Between Indian-Sri Lankan fishermen issue, the UN enquiry into human rights violations during the 2009 war, concerns of LTTE reestablishments, India's concern of Chinese Investment in Sri Lanka, the debate on the new constitution, and Sri Lanka's policy dance between India and China, it seems support to Sri Lankan in the last three years has diminished. In this environment, it would be wise to presume that Sri Lankans will move their focus towards where help and support is presented. For this reason we cannot accuse our neighbours of turning their backs, rather they have changed due to their own national interest, and China stands with their interest. Engaging with our neighbour, China's trajectory is very clear in that it would like to hold its dominant position in the Indian Ocean. He had accused and criticised the previous Congress government, but he does not have any new policies with him or demonstrate any significant change. If Modi has guts, he should talk with strong diplomatic language to our neighbour that if Colombo's moves hurt India's interest, it means they are hurting themselves.
Conclusion
Our traditional ties with our neighbours are now under threat. The rising shift in focus of our neighbours towards China will not be thwarted unless a suitable strategy is applied by Indian policy makers. Not enacting a significant policy sooner has been a huge loss and major mistake. Today, our strategy indicates that our relationship with our neighbours has one major obstacle – that is they must notbe too close to China. Traditionally, it was India that provided security and support across the region. Whenever the Chinese land on our neighbour's soil with the bequest of economic assistance and stronger diplomatic ties, our governments response is not very sharp. Hence, this has not displayed any serious diplomatic pressure on our neighbours. Moreover, Modi has no trust in his external ministry or external affairs ministerto work effectively and discharge her duties. This is the main reason he is not willing to accommodate her in his foreign visits. Modi's foreign policy formulations are only by their government secretaries. This government's department of external affairs issues run by a government secretary. The prime ministerstill believes in his personnel charisma in dealing with the foreign policy of India. It has considerably failed. Since he does not realise this- his government will not learn from past mistakes either. China's perceptions are not presumed by this government. This would be observed as a large weakness of this government's diplomatic circle. Where ever our policy is weak, without any difficulty or hesitation China has managed toland very safely. The present 'soft power' approach of this government would not give any strategic advantage to India's interest with our neighbours. Like a bandwagon, our neighbouring states are 'looking east'by standing in our hold. If this government could not make our neighbours stand at our side, then seeking major power status in the international power system under this administration would be a joke.
NOTA: A Step Forward Or Just A Toothless Tiger?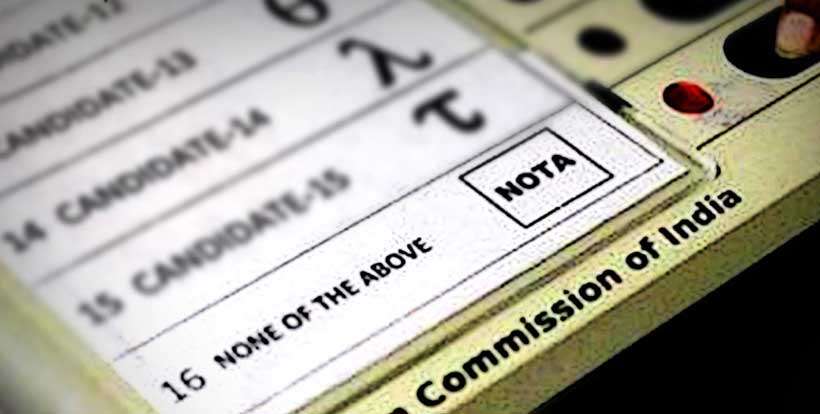 Authors: Nakul Chadha and Abhay Raj Mishra*
" I went to vote once, but I got too scared. I couldn't decide whom to vote for."[1]–Andy Warhol
The above-mentioned statement by an American artist to a certain extent defines the situation of almost every voter while casting his vote in a democracy. Every voter gets stuck in the dilemma that to whom he should vote so that it can be in a best interest for him as well as for the nation. Democracy is something which provides the citizens to participate and help in the formation of a good governance with their choice of change. It is essential that best of the men should be chosen for the survival of a democracy in a country.[2] Thus sometimes there comes a situation when voter has no confidence in the candidates that are standing in the fray, so he does not want to cast his vote to any of them.
Before NOTA, if a person wanted to abstain from voting to show his rage against the candidates, he has to go through a process that annihilated his secrecy. Hence, it pushed a need for a provision that allowed secrecy of every voter intacted even if he does not want to vote to any of the candidtes standing in the fray.
Hence, NOTA was introduced in the year 2013 keeping above points in mind by the Supreme Court through People's Union for Civil Liberties v. Union of India[3] judgement. Although, It does not provide the Right to Reject and thus candidate who has got the maximum vote eventually wins the election irrespective of the number of NOTA votes. Still, India became the 14th country to introduce a concept of negative voting.
The authors have critically analyzed the situation for which NOTA was required. The purpose of this article is to evaluate whether this reform in election process i.e. introduction of NOTA has contributed to strengthen the democracy or not. The authors have criticallly analysed the judgement of the Supreme Court in the case of PUCL v. UOI, 2013 and it also takes into consideration the belief and opinion of ECI about NOTA. It reviews the role of NOTA in the election process.
The authors have taken into account the issues like flaws and loopholes that are present in the provision and thus analyzing it and suggesting some of the measures that can be taken to make it more helpful in conduction of free and fare election and thus strengthening the backbone of democracy.
Background – Need For The NOTA
India stands as a paragon in front of many arising democratic countries and is also designated as one of the spirited democracy across the globe. One of the principle virtues of a democratic state is its free and fare elections. It is the fundamental principle for every democratic state to have Right to Vote as a constitutional right for the citizens and conduction of election in free and fair form. Although we are proud of our democratic system but there are many area that has to be strenghtened or renewed and in such a large country it cannot be done in one go but through a gradual development until we realize the true potential of a well-operative democracy.[4]
The main objective of NOTA was to increase the number of voters in the election and for maintaining the secrecy of a voter in an election. As secrecy of voting is one of the pivotal factor that keeps up the purity of a election. Introduction of Electronic Voting Machine (EVM) and implementation of rule 49-0 of The Conduct of Election Rules, 1961 raised the foremost concern for the Election Commission of India (ECI) as it made impossible to protect the privacy of voters who wanted to abstain from voting.
In order to fix the critical flaw regarding the secrecy of voters with respect to Right to Reject,
the Election Commission on 10.12.2001, addressed a letter to the Secretary, Ministry of Law and Justice. The letter declared subsequent opinions that the electoral right present under Section 79(d) also includes a right not to cast vote. It also suggested to provide a panel in the EVMs so that an elector may indicate that he does not wish to vote for any of the aforementioned candidate and at last gave the viewpoint that Such number of votes expressing dissatisfaction with all the candidates may be recorded in a result sheet. Although no actions were taken by the ministry in this regard.[5]
The fate of the Right to Privacy while voting was finally decided in the case of Peoples's Union For Civil Liberties v. Union of India. In the afore-mentioned case, the Apex court stuck down Rules 41(2) and (3) and 49-O of the Election Rules as being ultra vires section 128 of the Representation of the People Act, 1951 and Article 19(1)(a) and Article 21 of the Constitution to the extent they violated the secrecy of voting.[6]
Rule 49-O – Elector deciding not to vote – "If an elector, after his electoral roll number has been duly entered in the register of voters in Form 17A and has put his signature or thumb impression thereon as required under sub-rule (1) of rule 49L, decides not to record his vote, a remark to this effect shall be made against the said entry in Form 17A by the presiding officer and the signature or thumb impression of the elector shall be obtained against such remark."[7]
Citing section 128 and section 79(d) of RPA, court duly quoted that 'secrecy of casting vote is duly recognised and is necessary for strengthening democracy' to maintain the purity of elections.
Section 79(d) defines electoral right of a person to vote or refrain from voting at an election whereas section 128 of the Act obliges any person performing any duty in connection with the recording or counting of votes at an election to maintain secrecy and penalizing in failure.
If the international provisions would be taken in consideration then Article 21(3) of Universal Declaration of Human Rights (UDHR) and Article 25(B) of the International Covenant on Civil and Political Rights (ICCPR) provides for secret vote for ballot for guaranteeing the unbound expresssion of the will of the electors.
Court said that no distinction can be drawn between the voter for the right of secrecy, regardless of the fact voter decides to cast vote or or to not cast vote in the fray.[8]
With this it was fully ensured that voter's may or may not cast vote with maintenance of their secrecy and purity but without the fear of being victimized if his vote is disclosed.
NOTA – As A Provision
NOTA is basically an option which gives voters a right to reject all the candidates. It is present at the bottom of the Electronic voting machines (EVMs) after all the contesting candidates and the voter can cast his NOTA vote by pressing it. Provided that democracy is all about choices and furthermore it is a essence of democracy, NOTA made it easier for voters to have a choice without being victimized.
Earlier, if the voter wants to cast a negative vote then he had to inform the presiding officer which surely was infringment of the Right to secrecy of the voter thus making him stand in a position of being victimized but this does not requires any involvement with any officer on duty and one has to give no information even if he do not want to vote to any of the candidate contesting in the fray.
'NOTA' or None of the above came into existence in September, 2013 when the Supreme Court, in the case of PUCL v. Union Of India upheld the right of the voter to reject all candidates contesting elections saying it would help in cleansing the political system of India as it would lead to political parties contesting clean participants in election. So, Supreme Court in its judgement said "We direct the Election Commission to provide necessary provision in the ballot papers/EVMs and another button called 'None of the Above' (NOTA) may be provided in EVMs so that the voters, who come to the polling booth and decide not to vote for any of the candidates in the fray, are able to exercise their right not to vote while maintaining their right of secrecy"[9]
The NOTA option was first introduced in 2013 assembly election in four states Chhattisgarh , Mizoram , Rajasthan and Madhya Pradesh and one Union Territory, i.e., Delhi.
Positive Aspects Of NOTA
Addition of NOTA option on EVMs has helped in several ways in the election process such as by giving voters their freedom of expression, preserving their Right to Secrecy and with all this making a systematic change in elections.
NOTA as a tool for protest:
NOTA preserves freedom of Expression by allowing voters to express dissent or their right to reject all the contesting candidates. This would lead to potentially improve the voter turnout by providing an option to disapprove all the candidates, by this it can encourage more participation in the democratic process i.e. Elections. It also prevents bogus voting as a result of higher voter turnout.
Someone would go for NOTA option only if the ruling party has not done enough work in their previous election term and the opposition party is very weak. For e.g. we can take Gujarat legislative assembly election 2017, there seemed to be an incumbency on the part of Bharata Janata Party(BJP) rule in the state due to several factors and people wanted to change the ruling party but the opposition was Indian National Congress (INC) which has lost its significance in Gujratover the years due to Modi government .
So, it would have been a different scenario if voters chose NOTA option, there was a possibility that BJP would not have won the election in the first place or won it with a very little margin, helping them realise that the party has not done enough and thus encouraging them to work hard for the next election.
NOTA as a tool to protect secrecy:
NOTA also preserves voters Right to secrecy because before NOTA if a voter wants to reject all the candidates i.e. give a blank vote then according to rule 49-O of Conduct of Election Laws, 1961, voter had to sign a form with their name on it which would lead to violation of their right to secrecy and the blank voters could be traced and punished for their choice but with this there was no disclosure of any names to anyone helping voter to have his secrecy.
NOTA as a tool for change in politics :
After, NOTA there is a possibility that most of the candidates selected are honest because after NOTA the contestants representing the parties are also with good and clear public image as the political parties have fear that voters can give votes to the NOTA option.
By utilizing this power, electorates can send a clear signal to the political parties that some people are not happy regarding the candidates that are contesting in the election and thus creating extreme pressure on the parties to only field those candidates who are more acceptable to the electorates. This empowerment of the voters may also result to more systematic change in the election process.[10]
Negative Aspects:
Although NOTA to a certain extent has fulfilled its major cause, that is, to protect the voters of the country from being victimized by safeguarding their Right to secrecy but no rule or provision comes without flaws.
No significant increase in participation:
NOTA seems to fail in increasing the participation of voters in the elections, which signifies the strength of democracy as the court implied that turning up to booths and voting on NOTA is far better that not voting at all.
Not equal to Right to Reject:
The observation behind it was to give the voters a feeling of empowerment. But the meaning of the order has not been taken correctly. It in no way provides a Right to Reject. The Supreme Court just assserted that as people have right to show the liking for a candidate to be elected, in the same way they should have a choice for the Negative voting.
Yet, as former CEC, S.Y. Qureshi, points out by giving a example that even if 99 votes out of 100 total votes goes to NOTA still the candidate who has got that 1 vote will be treated as a winner, as he has got the highest number of valid votes. The rest of votes given to the NOTA are considered to be invalid or as no vote.[11]
Only a moral obligation to parties:
It only bounds the political parties to nominate a better and more ethical and moral valued candidate as larger number of votes going to NOTA shows a kind of disafffection towards the candidates that are present in the fray. But in general, it only puts a moral pressure on the parties rather forcing them by rules and regulations which in some ways is a bit more optimistic and thus political parties refuse to stop the candidates from contesting in the election making NOTA a tool of participation for voters and nothing more than that.
S.Y. Qureshi along with Mr. Rajeev Dhawan and Subhash Kashyap, Former Secretery General of Lok Sabha also believed that Supreme Court is in some way too optimistic in thinking that NOTA will by-product in a cleaner politics. While K.K. Venugopal and Association for Democratic Reforms (ADR) forced to elongate it a Right To reject.[12]
NOTA by far can be said said as toothless tiger as it does not result in re-election or disqualification of the candidates that once have got less vote than NOTA itself and thus, in no way it influences the result of elections. It is not a direct substitute to a bad governance but only is a motivation to change and improvement. Candidates also began to campaign against NOTA and said it be a wastage of vote and thus influencing the voters against it who may not have a full knowledge about the provisions.[13]
Conclusion And Suggestions:
With this, a conlusion can be drawn that a country like India having vibrant democracy, adding NOTA button in the EVM will certainly increase the political participation but only if, it is provided with more power and is implemented in better way. In order to further strengthen the NOTA, there are several suggestions.
There should be addition of rules that votes casted to NOTA should also be counted and if in an election where NOTA has got the most number of votes, none of the contestants should be elected and all the candidate contesting in that particular election would be barred from contesting again as they have already been opposed by voters.
Other than that, political parties should also think about the fact that they should only field such contestants in the election who have a certain qualification, experience in public service rather that by seeing his ability to spend money or to which caste or religion he belongs.
Also door to door campaigning should be stopped as it can help in manipulation of voters and mal-practice and corruption. Above all there is dire need of awareness programs to make voters more cognizant of the concepts of NOTA as one can only take a decision about certain things when he is fully aware of its repercussions and keeping in mind the fact voters are backbone of a democracy in a country.
*Raj Mishra, Maharashtra National Law University, Nagpur
---
[1] Edward D. Powers, "Third-Party Politics: Andy Warhole's 'Vote McGovern', 1972, Zeitschrift Für Kunstgeschichte, vol.75, no. 3, pp. 391–416, 2012< www.jstor.org/stable/41642670 >Accessed May 3, 2020
[2] Ms. Mamta D. Awariwar, 'Supreme Court Guidelines on Right to Reject and its Implication : A Study', University Grants Commission, Pune, July 2017
<http://bvpnlcpune.org/Results%20PDF/Executive%20summary.pdf>
Accessed May 3, 2020
[3] AIR 2003, SC 2363
[4] Sanjeev Kumar Chaswal 'A Paradox of Right to Recall and Reject- A boon or a bane' The Institute of Constitutional and Parliamentary Studies
<https://www.academia.edu/8249541/_A_Paradox_of_Right_to_Recall_and_Reject_-_A_boon_or_bane_> Accessed April 29, 2020
[5] Report No. 255 , Electoral Reforms, 'Nota and the Right To Reject', ch.1, pp.190, March 2015,
<http://lawcommissionofindia.nic.in/reports/Report255.pdf>
Accessed April 29, 2020
[6] People's Union for Civil Liberties v. Union of India, AIR 2003, SC 2363
[7] The Conduct of Elections Rules, 1961, Rule 49-O
[8] Pooja pandey, ' The NOTA Judgement in India: A Bigger Narrative'
<https://www.academia.edu/35272294/NOTA_Judgement_in_India_Bigger_Narratives.pdf
Accessed April 30, 2020
[9] PUCL v. Union Of India, 2003, SC 2363
[10] Arindam Mandal, Biswajit Mandal, Prasoon Bhatthacharjee, 'Does NOTA Affect Voter Turnout? Evidence From State Legislative Elections in India', Asian Journal of Economic Modelling, Vol. 5, No. 3, August 17, 2017<https://www.researchgate.net/publication/318008834_Does_Nota_Affect_Voter_Turnout_Evidence_from_State_Legislative_Elections_in_India>
Accessed April 30, 2020
[11] S.Y. Qureshi, Pressure of a Button, The Indian Express, October 3, 2013
<https://indianexpress.com/article/opinion/columns/pressure-of-a-button/>
Accessed May 3, 2020
[12] Katju Manjari, 'The None of the Above Option', Economic and Political Weekly, vol. 48, no. 42, October 19, 2013 <https://www.epw.in/journal/2013/42/commentary/none-above-option.html>
Accessed May 3, 2020
[13] Dr. Vijaya Laxshmi Mohanty, Ms. Ramneet Kaur, NOTA- A Powerful Opponent or a Toothless Tiger?- In Perspective of General Election 2014, Institute of Public Policy Studies and Research, Odisha, December 14 2014<https://www.academia.edu/9787108/NOTA-A_powerful_opponent_or_a_toothless_tiger_-in_perspective_of_General_elections_2014>
Accessed April 30 2020
Populism: Effects on Global Politics and Pakistan
Populism is a concept in political science that postulates that the society is divided into two groups that are at odds with each other. According to Cas Mudde who is the author of Populism: A Very Short Introduction, these two groups consist of: 'the pure people' and 'the corrupt elite'. The term 'populism' is often used as a kind of a political insult. For instance, Jeremy Corbyn, Leader of the Labour Party in Britain has often been accused of invoking populism over his party slogan 'for the many not the few', but it's not actually the same thing. According to Benjamin Moffitt, author of The Global Rise of Populism, the word "is generally misused, especially in a European context." A populist leader in the true sense of the word claims to represent the uniform will of the people, stands in opposition to the enemy – that is often embodied by the current system which is aimed at either 'draining the swamp' or 'tackling the liberal elite'. Dr. Moffitt continues, "It generally attaches itself to the right in a European context… but that's not an iron rule."
In the contemporary world, Populism is everywhere in the political spectrum: there are politicians like Marine Le Pen in France, Donald Trump in the US, Viktor Orbán in Hungary, and Narendra Modi in India. Political scientists believe that populism is not a new phenomenon but in the past decade it has certainly accelerated, and has taken many forms in the 2010s – which were often overlapping. In some countries a socioeconomic version was observed, where the working class pitted against big businesses and cosmopolitan elites who were believed to be benefitting from the capitalist system, such as, in countries like France and the US. While others saw an overwhelming focus on the cultural form thrive with emphasis on issues like immigration, national identity and race, for instance, in countries like Germany and India. However, the most common type of populism was the anti-establishment populism that pits the common masses against the political elites and the mainstream political parties represented by them. These forms of populism are likely to also continue into the next decade, although the main focus may probably shift from immigration to climate change.
Associate professor of comparative politics at the University of Reading in England, Daphne Halikiopoulou opines, "If the 2010s were the years in which predominantly far-right, populist parties permeated the political mainstream, then the 2020s will be when voters are going to see the consequences of that." Although in some ways the results are already beginning to manifest in some states, a case in point being the 2016 vote in Britain to exit the European Union – Brexit – and the consequent political fallout that led to the resounding victory of the populist Prime Minister, Boris Johnson in the general election. Moreover, in other countries also the populist parties are beginning to make their impact in various ways – if not through directly passing legislation then by exerting pressure in the opposition.
In the near future i.e. the 2020s, many populist political figures are expected to rise to power and prominence. For example, Italy's Matteo Salvini, who is the leader of the far-right and nativist League party has sworn to return to government as the prime minister, and if successful he is likely to forge alliances with his fellow populist leaders, inter alia, Boris Johnson and Donald Trump. Such alliances could herald a reinvigorated wave of populism in the world. On the other side of the globe, Narendra Modi, the Indian Prime Minister, has also signaled to continue his quest of deepening his Hindu-nationalist agenda. It is in this context that his government enacted a controversial Citizenship Amendment Act – which grants citizenship to refugees belonging to every major South Asian religion except Muslims – leading to weeks of protests and unrest across the country, in addition to continuing his policy of political repression and harsh lockdown in Kashmir.
Pakistan is, of course, not immune to the global move towards populism. Imran Khan is viewed by many political science experts as a populist prime minister. Ever since coming to power he has pursued divisive politics by sometimes silencing and at other times discrediting dissenters. The arrest and imprisonment – often on groundless allegations – of many opposition leaders can be viewed in this context. Moreover, on more than one occasion certain quarters of the media have been targeted and demonized in a bid to kill the messenger if you can't kill criticism. These policies of the incumbent government led by Prime Minister, Imran Khan, to stifle opposition negate principles of pluralism and democratic tolerance. Pakistan is indeed on a slippery slope vis-à-vis the rise of populism in politics.
Populism is likely to persist as a fixture of politics for the foreseeable future. How countries choose to respond to it may become the defining feature of the remaining part of the twenty-first century. Propagation of values of democracy such as international cooperation, religious tolerance, pluralism and diversity seem to offer the only ray of hope in this, otherwise, dark tunnel of populism.
India may attack Pakistan under false flag operations
Prime Minister Imran Khan once again stressed that India is gearing up for false flag operation to divert the entire world's attention from the genocide it is committing in its part of Jammu & Kashmir.
India is accustomed to attacking Pakistan on lame excuses to divert world attention to its crimes. Last year, in February, using the self-designed Pulwama incident, committed surgical strikes deep into Pakistan. Just after the hours of Pulwama incident, without conducting any inquiry or collecting evidence, the Indian Prime Minister blamed Pakistan and threatened with surgical strikes. Pulwama was pre-planned and used as a lame excuse only. A similar trick can be repeated by India again.
In fact, India is facing a massive economic crisis, internal insurgencies, mass-protests, ethnic divides, and religious discrimination. Poor agriculture declined Industrial output, and lack of economic activities, the country is facing enormous challenges.
Due to its poor records of Human rights and religious discrimination, the world reaction is intensified. Human rights watch's reports, or the US commission on religious freedom's story, or EU reports, all are condemning India. Islamophobia has distanced India from the Muslim world too. India is facing isolation internationally.
Having disputes with all its neighbors, India is under immense pressure. Indian territorial disputes with Nepal had taken a new turn, when Nepal issued a new Map, showing its whole territory, parts of Indian Occupied territories too. Amended Citizenship Act may impact two million Muslims and may face deportation to Bangladesh, and water disputes make two countries (India-Bangladesh) enemies. With Mayanmar, territorial disputes and refugee issues also made odd-relations between them. By supporting Tamil insurgents, India spoiled its relations with Sri Lanka. Over-interference in domestic politics, its ties with the Maldives soared. The Illegal occupation of Jammu & Kashmir, Gurdaspur, Juna Ghar, is the real cause of tension between India and Pakistan. Denial of right of Self-Determination of Kashmiri people for seven decades and non-implementation of UN resolutions passed in 1948 on Kashmir are genuine concerns for Pakistan. Frequent violation of line of control and cross-border terrorism is a matter of serious attention. Indian occupation of Chinese territory and border clashes are getting severe recently. India hosts the Dalai Lama's exiled government of Tibet, and openly opposing BRI is causing discomfort between two countries. The over-tilt toward the US and Indian attempts to compete and contain China may be a genuine issue of concern for Beijing.
The recent tension with Nepal and China may become a catalyst, and India makes another false flag operation against Pakistan. India is using spy-drones against Pakistan, one of such was shot down by Pakistan 650 meters inside Pakistani territory.
Indian frequent violations of Line of Control (LoC) and cross border terrorism, are the tools to incite Pakistan and force to a full-fledged war.
Pakistan is in the hands of visionary leadership, and the people of Pakistan are peace-loving in nature. Pakistan has been observing restrains and patience because we know the consequences of war, especially when both India and Pakistan are nuclear states and posses enough piles of weapons to eradicate each other. If India is crazy, we are not.
It is an appeal to the international community to intervene and force India to cool down its war-craze. UN and P5 may notice an aggressive Indian attitude toward all its neighbors, especially with Pakistan. Timely intervention may avert a big disaster.
However, our love for peace may not be mistaken as a weakness. If war imposed, Pakistan is in a position to surprise India. We did surprise India last year on 27 February and can surprise in a much stronger way if a situation arose in the future.