Confronting an ISIS Emir: ICSVE's Breaking the ISIS Brand Counter-Narrative Videos
Authors: Anne Speckhard, Ph.D. & Ardian Shajkovci, Ph.D.
[yt_dropcap type="square" font="" size="14″ color="#000″ background="#fff" ] M [/yt_dropcap]ost experts agree that the most successful counter-messaging campaigns against ISIS are the ones that utilize the voices of insiders: the voices of ISIS victims and ISIS cadres themselves who have first-hand knowledge of the group's brutality, corruption, religious manipulation, and deception.
In this regard, we at the International Center for the Study of Violent Extremism (ICSVE) have spent the last two years interviewing ISIS defectors, ISIS prisoners, and returnees from the Syrian and the Iraq conflict in Western Europe, Turkey, Iraq, Central Asia, and the Balkans. Their stories are captured on video and edited down to short clips, interspersed with actual ISIS video footage and pictures, illustrating their stories to turn back against ISIS.
Using formers to talk back to terrorism is a well-established practice. Mubin Shaikh is a good example of someone who nearly joined al-Qaeda and imbibed deeply of the jihadist ideology before turning away and infiltrating a Canadian terrorist cell to help take it down.[1] Usama Hasan, a former radical Salafi extremist and mujahidin in the Afghan jihad against the country's communist government in the early 90s, is another example of someone who has turned against Salafi-jihadi ideology and is dedicated to fighting violent extremism in the United Kingdom. [2]
Using formers is rife with problems, however. Those returned from ISIS were often psychologically unhealthy before they joined and are deeply traumatized upon their return. Some do not want to speak about their experiences while others fear retribution from ISIS if they speak out against the group. Some of them fear further prosecution and social stigma. Others are unstable, reverse their positions frequently, or are not good role models. Often, they are not easily accessible and reachable.
In April of 2017, we spoke to an ISIS "emir" (high in military command) in a prison in Sulaymaniyah, the Kurdistan Region of Iraq.
Dressed in an orange jumpsuit and wearing a black mask over his face, Abu Islam is brought into the faux wood-paneled room of the Special Forces Security compound in Sulaymaniyah, Iraq. His hands are cuffed and feet shackled together.
There are five of us in the room: me, Ardian, Alice, a Kurdish handler, and our Peshmerga interpreter, Alaz.[3] I am seated at the front corner of the desk with my laptop unfolded. Ardian is seated to my side. Alice and our handler sit behind the desk. Alaz takes the hooded Abu Islam from the prison guards and guides him gently to the center chair in front of the desk next to me, where he gently lifts the mask from his face as he takes his seat as well. Abu Islam's dark, wavy hair and medium length curly beard and burning brown eyes are revealed as his eyes dart quickly around the room taking everyone in. His dark eyes focus briefly on me, burning momentarily into mine and then dart back again to Alaz, as he waits to begin. They know each other. Alaz has already repeatedly interrogated him.
Only in his mid-twenties, Abu Islam has been heavily hunted for two years by the Peshmerga forces who credit him with running a network of cells of suicide bombers, sending some as young as twelve to explode themselves in suicide missions. He is credited with either directly or indirectly organizing attacks that killed over 250 victims, although some of the high-ranking Peshmerga counterterrorism officials we spoke to believe that number to be at 500. "He's a guy we chased for more than two years," stated the head of Kurdistan's Zanyari intelligence service in a recent interview with journalist Robin Wright. "To pick him up and realize that we finally got him, it was a big catch for us," he explained. [4]
Born as Mazan Nazhan Ahmed al-Obeidi, Abu Islam is the second oldest in his family. He is the oldest male and has eight siblings. His father served in Saddam's army. He describes his childhood as both "safe" and "nice." Growing up in the oil-rich area of Kirkuk, Iraq, Abu Islam first finished high school and then pursued university studies in shariah (Islamic law) at the local university. With only one year left to go before graduation, in 2014 Abu Islam abruptly left his studies to join the so-called "Islamic State."
"I wasn't Salafi growing up," Abu Islam explains. The legs of his orange jumpsuit are rolled up to mid-calf—Salafi style—to match the dress worn by the Companions of the Prophet Muhammed. He is also bearded. "I got that mentality in university when I read the book Tawhid by Wahhab. It convinced me," he adds.
Abu Islam is referring to Kitab at-Tawhid (The Book of the Unity of God) by Muhammad ibn Abd al-Wahhab, an 18th century Saudi religious reformer who worked to purify Islam by turning back to following the original practices of the Prophet and his Companions. The violent followers of Wahhab, including al-Qaeda and ISIS, interpret his teachings to justify killing those who do not follow their strict interpretation of Islam. ISIS, and groups like ISIS, practice of Takfir—that is, an extreme extension of Wahhabi-Salafi doctrine that sanctions violence against both Muslims and non-Muslims who are deemed as infidels (non-believers). This is the type of Islam and ideology that Abu Islam had already embraced in his university studies, thus he was ready for ISIS when they came to Iraq and established their so-called Islamic State.
"I got into the brotherhood at the mosque," Abu Islam explains. "They were against Islamic State, but for me I saw that the Islamic State was living by shariah law. They were throwing homosexual people from high buildings. If you steal, they cut your hand. They are really living it."
When asked where he saw this, Abu Islam answers, "It was on social media, YouTube. It made sense for me. I watched a lot of their videos." As we listen to him speak, we become aware of ISIS' powerful online presence and online propaganda machine that recruits youth via the Internet here in Iraq as well. Even in Iraq, ISIS propaganda videos reached a university student, persuading him of their righteousness, "I was convinced and made up my mind."
"They were on the streets also. They had a territory twice the size of Great Britain. At the time I joined, I was 22 or 23. A lot of my relatives were in the area they [ISIS] took over, and some of my cousins and family members were already in [ISIS]. It was easy to join. I got a recommendation," Abu Islam explains, referring to the ISIS practice of trusting their potential recruits based on the recommendation of another ISIS member. "They knew I don't drink or smoke and that I'm a shariah student. That made my CV look really good," he explains while smiling enthusiastically.
"I didn't take shariah training," Abu Islam answers proudly when asked about ISIS' known practice of putting new recruits through two weeks of sharia training to learn the basics of Islam as they preach it and to take on their "hear and obey" philosophy.[5] "I became the teacher because of my background," he continues. He also bypassed military training since they needed shariah teachers to train the others, "They didn't teach me weapons. In the beginning, they asked me if I knew how to use an AK, and of course, I did." The knowledge of assault rifles is common among Iraqis, notes our Peshmerga interpreter.
"I gave lessons in shariah." This is how Abu Islam initially describes his role in the Islamic State.
Compared to Syria, it appears there are not large camps for the Cubs of the Caliphate in Iraq, where hundreds of youth are gathered, trained, and taught to fight—with some being trained and prepared to become suicide bombers—after they graduate.[6] In Iraq, it seems the Cubs are gathered into smaller groups. Individuals like Abu Islam appear to serve as their itinerate preachers, traveling from one group to another.
"Sometimes there were four to five or six to seven [individuals]. It depended. I'd go to the villages and teach them. I moved from place to place to give shariah lessons," Abu Islam explains. "It was mostly fiqh [Principles and understanding of Islamic practices]. How to pray properly. How to fast. How to help other Muslims, how to pay zakat [obligatory charity], and about the Islamic State."
In Syria, ISIS defectors interviewed in our ISIS Defectors Interview Project described their shariah trainers as "shining charismatics" and were heartened by learning "true Islam" from them.[7] I ask if the Iraqis already knew their religion or were also gladdened by these teachings. His answer, "They didn't know the right way. We taught them the right ways. We talked about what it could [Islamic State] be. Hopefully, we'll expand our territory. According to our beliefs, we can't say we are definitely doing it. Instead, we say, inshallah [by God's will] we will expand our territory. Open the walls. Take down Europe."
Abu Islam tells us that there were "young fighters from foreign places," in his classes, but "they didn't understand much Arabic," which reminds us of an Albanian I interviewed in Kosovo who also recalled taking ISIS shariah training in Arabic—it all went over his head.
We are in Iraq this trip having just spoken at the Prime Minister's conference titled, "Education in Iraq Post Daesh-ISIL Territory." The conference brought together both local and international experts to address the issue of the 250,000-500,000 youth that the government of Iraq estimates lived and served under ISIS over the past three years in the Nineveh and the Mosul regions of Iraq. Universities were closed under ISIS. Libraries were burnt to the ground. Textbooks, even for the very young, were replaced by texts that taught them how to behead and indoctrinated them from the earliest of ages into Islamic State's barbarity and refusal to recognize anyone else's views as legitimate but their own. At the conference, we viewed the exhibit of some of these captured ISIS textbooks. Picking them up and handling them gave each of us a chill down the spine—touching the same books ISIS cadres had handed out to children under their control.
The schools in the area continued to run even when ISIS took over, Abu Islam explains, adding, "They used to study English. It was good for us—knowing English—but we denied books that we didn't like. After a while, we denied all the existing books. We changed all the books over to our mentality."
"How did you talk to the kids who are going on suicide missions?" I ask, going back to his role as a shariah trainer. "What did you teach them to persuade them to go on suicide missions?" I ask, already knowing from our interviews with Syrian ISIS defectors that ISIS leaders fill the children's minds with bright visions of Paradise and promise them they will feel pain when they push the button to explode themselves—that they go instantly to Paradise. The feint-hearted ones are even offered a sedative, and in many cases, the youngest do not even realize they are about to die. All this I already know from our Syrian defector interviews.[8]
"We used to tell them," Abu Islam begins but then quickly detours into denial. "It was not my job exactly." He hesitates and then continues, "Study and learn your future. We want to expand our territories and put shariah over the whole earth. Most of the time they came as volunteers, self- motivated." Remembering how the kids chose themselves as "martyrs," he gains confidence again, "They have read the book. We make the way for them. We never told anyone they have to go. It's voluntary. It's never forced. I didn't see anyone forced, ever."
So, when you prepared young children to take "martyrdom" missions—driving explosive-laden cars or wearing vests into enemy lines or checkpoints—what did you teach them? How did you prepare them?" I ask, having already learned from Peshmerga counterterrorism officials that he sent them as young as 12-years-old on suicide missions.
Abu Islam exudes disagreement with how the question was asked and explains that ISIS never takes children into its ranks: "In Iraq, you have to be 18 to sign up for the Army. We [ISIS] don't have any age limit. Instead we believe that when a man's semen develops, then he's considered a grown-up man. We only take them when they get to that point. They were never children. They were men."
Cynical about how he answered the question, I further probe: "How old were these men according to your criteria?"
"A fully-grown man has to have his semen," Abu Islam reiterates. "This is according to sharia." The translator interjects by explaining that, according to Abu Islam's definition, a young boy who begins with wet dreams is already a man ready for battle and mature enough to sign his life over for a "martyrdom" mission.
While Abu Islam denies there was any pressure in ISIS for children to become "martyrs," we know from ISIS defector interviews that in the Syrian training camps youth are heavily pressured into driving explosive-laden cars into enemy lines and lied to about the painfulness of their deaths—sometimes failing to even tell them their mission involves death. "There is an office. If anyone volunteers… 'I want to my give my bayat [pledge] then he signs up for a martyrdom mission at the same time. It's like a regular recruiting process, "Abu Islam explains.
He is further asked about the training camps and how they have a steady stream of explosive-rigged cars being made to put the children in and send them to their deaths at checkpoints and the frontlines.
"There is a training camp they take them to and teach then how to set up and use these cars," he explains. "It's a regular camp they tell them…" he hesitates again. "The car manufacturing is in a different place," he detours.
"But what do they tell these children?" I push.
"They instruct them. They know what will happen. They're happy. It's like a kid on Christmas. You know how happy they are? Calmly happy, knowing something good is going to happen," Abu Islam explains as we realize he truly embraces this sickness.
"Is there any ritual to go with this?" I further ask, wondering exactly how they send a kid off to his horrific death.
"They [the ISIS senders] have a list of serial numbers and names. If I'm set to go next, then I'm next. If something changes the order and they aren't sent, they start crying. If they are the next one, they actually cry and get angry, and even complain, 'My name is set to go!' I've seen this with my own eyes," Abu Islam explains, as his eyes appear to shine in admiration for their zeal.
"What happens right before you go?" I ask again.
"There is nothing special they do."
"Pray? Wash? Celebrate? Make a video?" I press as in the past I have sat with relatives of bombers who have seen the videos of their children wrapped up in explosive vests or jammed into explosive-laden vehicles, with some crying and others seemingly jubilant about going as "martyrs."
"There is nothing special. They wash up to be clean. Everyone prays. Everyone says goodbye. There are tears of joy. We make a video," he admits but again adds a denial, which is possibly self-protective given he is in prison and does not want to incriminate himself. "I didn't make the videos. I sent them to Kirkuk," he explains.
"Do they receive a sedative?"
"No sedative, ever."
"What's the usual way to go? Car or belt?"
"Both," he answers. "They wear the belt wear in the car just in case one goes down," he adds.
"What are their instructions?" I further ask. "Kill as many as possible?"
"Yes."
"Any special conditions? What if there are women and children at a checkpoint?" I probe.
"In the front line, everyone is an enemy. Everyone is a target," Abu Islam intones, but quickly adds, "In cities, we tell them to try avoid targeting the markets and civilians, and they have specific targets—military and government targets."
"And you?" I ask about his recent arrest in which he was wearing, but did not detonate, his suicide vest. "I didn't sign up to be one. I did fight." He goes on to say that he has fought in all three ISIS tactical military formations, including in the very front line where the fighters go in wearing vests and "martyr" themselves if overtaken, killing everyone around them to avoid capture. He was never one of those cadres, yet he states, "I always had my suicide belt on. We jump into the [Peshmerga] helicopters and explode ourselves. There is no surrender. No surrender. Just push the button."
"But you did surrender?" I press. "You wore the belt. Did you have it in your mind, when captured?"
"You didn't have time to detonate or didn't want to do it?" inquires Alaz, our Peshmerga translator, while explaining to us how he never had the chance to ask him this question and would like to know the answer as well.
"I didn't want to die. I wanted to live, so I didn't do it," Abu Islam states matter-of-factly, despite the fact that he has sent plenty of others to do just that. "I wanted to finish the project, spreading sharia," he adds.
"Were you scared?" I ask.
"Yes," he admits. "I was scared. Every human being is scared."
I ask Abu Islam about ISIS' policy toward captured women, a question that instantly grabs his attention. He is in his element spouting out shariah law on the rights of ISIS cadres with regards to captured women. "It becomes a right," he says, while looking around the room in which three out of five present in the room are women, waving his arm to bring us all into his sweeping gesture. "If I dominate everything in this room, then it becomes mine. I do as I want. It all becomes the property of the Islamic State," he adds.
While we are usually capable of listening to anything without having much of a reaction during the interview, we felt suddenly sickened imagining how close to Mosul we have been in the past days—barely an hour's drive—and how this mindset has been a harsh reality for so many captured women, whether they be Yazidis, Christians, Shia, or Sunni women alike.
Abu Islam denies that he had a sabaya [sex slave]. He also explains that very few Iraqis had them. He can think of only one man in their area of ISIS, Dr. Mahavia, who had one. This is likely similar to the Syrian experience where married Iraqis who served from home are not seen by ISIS leadership as needing to be supplied with a woman. Yet, we will hear next from an unmarried Iraqi who took full sexual advantage of the enslaved women held in this region of Iraq.
As we continue interviewing Abu Islam, though calm, I feel increasingly agitated and irritated at how he is able to justify the brutal and inhumane practices of ISIS and offer arguments in support of their activities. Just before my next question, I decide to show him one of our ICSVE-produced videos denouncing ISIS. I open my computer and ask if he would be willing to watch the video of another ISIS cadre (a defector) speaking on this subject. I inform him that it is a short video—only four minutes—and with his agreement, I begin to play it. Abu Islam watches intently as a Syrian former ISIS cadre explains his horror and posttraumatic stress after being the guard for 475 Yezidi, Shia, and Sunni sex slaves, including his role in taking part in organizing mass institutionalized rape.
Abu Islam's eyes dart along the pictures in the video taken from ISIS, taking in faces and places he may recognize, just as the Free Syrian Army (FSA) fighter Huthaifa Azzam did when we showed him the same video.[9] "He is an Iraqi speaking," Abu Islam comments. I tell him no, this is a Syrian, but he has got a similar accent as he is from Deir ez-Zor. The video plays as Ibn Ahmed (the ISIS defector in the video) paints a grim picture of rape and horror for young captured women separated from their men and children. As more horrifying images of Yazidi and other women abused by ISIS appear on the video, Abu Islam's gaze falls to the floor. Suddenly, he is silent and stunned to see his version of his glorified ISIS described in this graphic manner.
"How do you feel watching this video?" I gently ask.
"I was against that idea," he says. His voice appears flat by what he has just viewed. "It doesn't matter. When I see this video…this is the outcome of this practice—this video. It's not the proper way to turn you to Islam. It's not a good way to spread our beliefs." Referring back to the rapes, he adds, "Not everyone listens [to objections]. They just go with it. There are more that like it [raping of captured women] than are against it."
"How about the beheadings?" I ask.
"It was a law," he answers. We cannot help but see discomfort in his face as he patiently awaits his next question.
"Is it not it the same thing? Does it not also spread a negative view of Islam?" I further push.
"I got convinced," Abu Islam answers defensively.
"How do you feel now?"
"It's not right," he says gazing down at his hands, and adds, "We were wrong."
"Is there a way to get there without all this violence?" I ask softly, knowing he harbors the dream of spreading shariah and making a utopian world where Islam reigns above all else.
"Yes, of course." a decade of sectarian killings that ISIS was born and embraced by the Sunni population in Anbar province.
"Why did you sign up to violence?" I ask, although I know that the U.S. and the U.S.-led coalition security blunder in Iraq that led to the ousting of Saddam Hussein's senior military and intelligence officials, coupled with more than a decade of sectarian killings, gave birth to ISIS.
"I believed back in that time," Abu Islam explains. "I got convinced," he adds..He explains about how ISIS appeared as a righteous and Islamic answer to sectarian power struggles and security issues: "I didn't know it was going to be that way."
We ask Abu Islam if he is willing to watch another ICSVE-produced video. When he agrees, we show him our four-minute video clip of a fifteen-year-old Syrian boy describing his time in the Cubs of the Caliphate and how the leaders sent children as young as six-years-old in explosive-laden vehicles to their deaths—many having no idea they were about to die. There are pictures of children younger than eight in the film. Abu Islam watches this clip intently as well, again studying everything in it. At the end, the boy denounces ISIS, calling them kafirs [unbelievers] and infidels.
"He [the boy] is calling you the kafir. How do you feel about that?" I ask after we view the clip. "These are little kids. Do these children have their semen? Are they men?" I challenge feeling angry with his denials.
Abu Islam is stunned into silence as he again begins to stare at the floor.
"How do you make this right between you and Allah?" I ask softly, wondering if he will open up more.
"Allah will accept everything—If you admit it," he answers back, and continues to stare at the floor.
"Did you make a mistake?" I ask.
"Yes." "We were mistaken," are his last words.
We end our interview. The guards come into the room, and Abu Islam's black mask is once again placed back over his face as he lets them guide him blindly out of the room.
Abu Islam is by no means rehabilitated from watching two counter-narrative videos. That being said, capture, interrogation, and imprisonment have all begun to work on him. After being challenged with the harsh realities of ISIS and other ISIS cadres denouncing the group, he admits to not knowing whether ISIS was right. After all, joining ISIS has not worked out that well for him. Arguably, once confronted with other former ISIS cadres telling the truth, he is unable to keep up his false bravado and unquestioned beliefs in ISIS' interpretation of shariah law. His arguments fall flat. He is backed into submission, as evidenced through his responses after watching the videos.
We have focus tested the Breaking the ISIS Brand videos in the Balkans, Central Asia, Western Europe, and the Middle East, and overwhelmingly they have hit their mark. No one we spoke to questioned their authenticity or viewed the message as being wrong. Many are sobered by them, including the ISIS emir we discussed in this article.
If you want to support ISCVE's Breaking the ISIS Brand—ISIS Defectors Counter-Narratives Project, please contact us at info[at]ICSVE.org or donate on our webpage www.icsve.org.
Reference for this Article: Speckhard, Anne & Shajkovci, Ardian (May 29, 2017) Confronting an ISIS Emir: ICSVE's Breaking the ISIS Brand Counter-Narrative Videos, ICSVE Research Reports, http://www.icsve.org/research-reports/confronting-an-isis-emir-icsves-breaking-the-isis-brand-counter-narrative-videos
(*) Ardian Shajkovci, Ph.D. – is the Director of Research and a Senior Research Fellow at the International Center for the Study of Violent Extremism (ICSVE). He has been collecting interviews with ISIS defectors and studying their trajectories into and out of terrorism as well as training key stakeholders in law enforcement, intelligence, educators, and other countering violent extremism professionals on the use of counter-narrative messaging materials produced by ICSVE both locally and internationally. He has also been studying the use of children as violent actors by groups such as ISIS and how to rehabilitate them. He has conducted fieldwork in Western Europe, the Balkans, Central Asia, and the Middle East, mostly recently in Jordan and Iraq. He has presented at professional conferences and published on the topic of radicalization and terrorism. Prior to joining ICSVE, Ardian has spent nearly a decade working in both the private and public sectors, including with international organizations and the media in a post-conflict environment. He is fluent in several languages. He holds a doctorate in Public Policy and Administration, with a focus on Homeland Security Policy, from Walden University. He obtained his M.A. degree in Public Policy and Administration from Northwestern University and a B.A. degree in International Relations and Diplomacy from Dominican University. He also holds several professional certifications in the field of homeland security as well as a professional designation for his contributions to the field of homeland security and homeland security efforts in general. He is also an adjunct professor teaching counterterrorism courses.
---
[1] Anne Speckhard and Mubin Shaikh, Undercover Jihadi: Inside the Toronto 18-Al Qaeda Inspired, Homegrown Terrorism in the West (McLean, VA: Advances Press, 2014) and Morten Storm, Tim Lister, and Paul Cruickshank, Agent Storm: My Life Inside al Qaeda and the CIA (New York City, NY: Grove Press, 2015).
[2] See Quilliam, "Usama Hasan," URL: https://www.quilliaminternational.com/about/staff/usama-hasan/
[3]The names of participants other than the authors' and Abu Islam have been changed to protect them.
[4] Robin Wright, "Face to Face with the Ghost of ISIS," The New Yorker, March 24, 2017; URL: http://www.newyorker.com/news/news-desk/face-to-face-with-the-ghost-of-isis
[5] Anne Speckhard and Ahmet S. Yayla, ISIS Defectors: Inside Stories of the Terrorist Caliphate (McLean, VA: Advances Press, LLC, 2016).
[6] Ibid.
[7] Anne Speckhard and Ahmet S. Yayla, ISIS Defectors: Inside Stories of the Terrorist Caliphate (McLean, VA: Advances Press, LLC, 2016).
[8] Anne Speckhard and Ahmet S. Yayla, ISIS Defectors: Inside Stories of the Terrorist Caliphate (McLean, VA: Advances Press, LLC, 2016).
[9] Huthaifa Azzam Interview, Amman, Jordan, 2016.
Global War on Terror: Pakistan's Role and Evolving Security Architecture for sustainable peace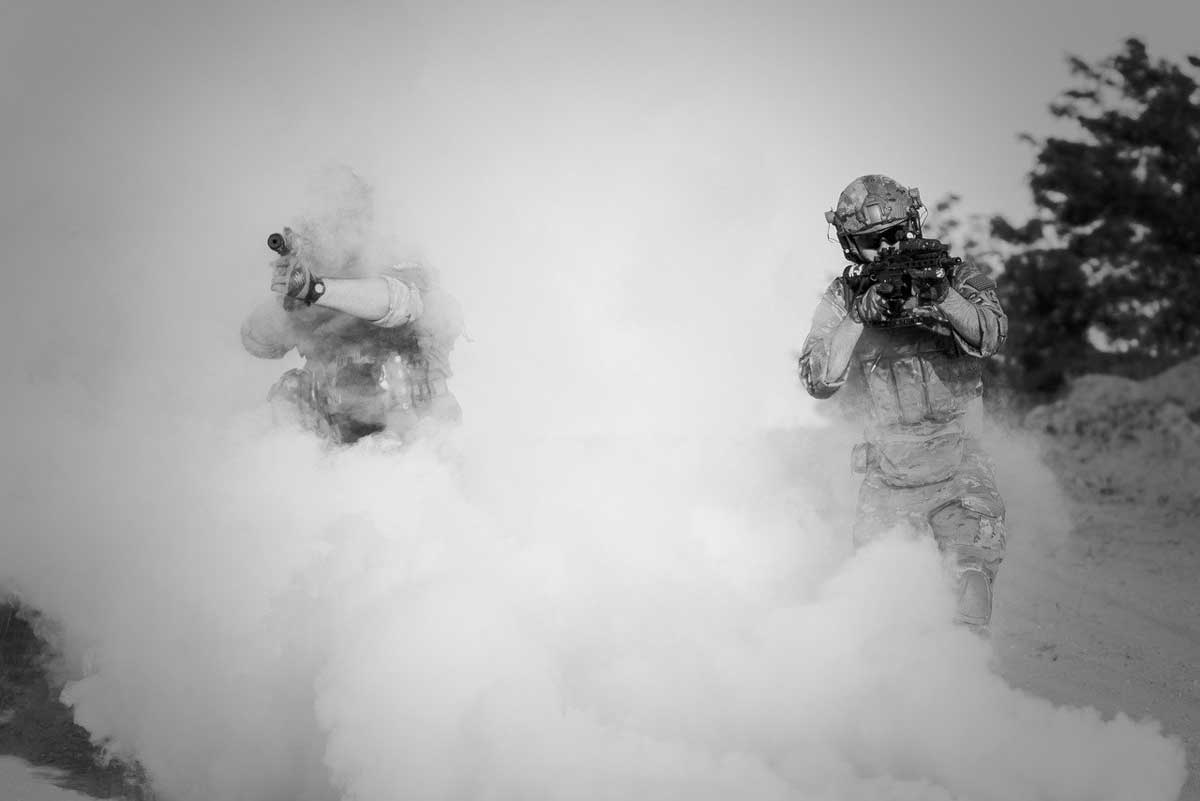 If Afghanistan, according to former president of the United States (US) George W Bush was the center of terror, then Pakistan had been the center of war against it. After the 9/11 attacks, while announcing the Global War On Terror (GWOT), the former Bush administration invited international community including Pakistan for cooperation and adopted the foreign policy approach of "with us or against us" pick. Thus, there was no choice for the Pakistan except joining the US war in Afghanistan aimed terrorism elimination. The US policy of "with us or against us" to fight together against a common enemy could be dubbed as classic realist approach of "enemy of my enemy is my friend".
Pakistan played a "crucial role" to eradicate the threat of terrorism to fulfill its desire for peace and stability at regional as well as global level. Despite playing pivotal role to fight the US-war on terrorism, Pakistan's sacrifices and contributions has not been acknowledged and notion of 'do more' was raised by the US officials. However, terrorism encompasses various tactics to launch violent attacks against military personnel, civilians, and public. The most common tactics include use of Improvised Explosive Devices (IED), suicide bombing, firing, Hand Grenade, Gun and bombs and Rockets. Thus, it is difficult to respond the tactics of terrorism as an act of war through military operations. Realizing the complicated nature of counter-terrorism operations and lack of success of the US forces in Afghanistan to hit the tactics of terrorist, only way forward for the US is negotiations and political settlements. Pakistan performed important role to construct roadmap for US-Taliban talks and provided relentless support in ongoing Afghan peace process. Pakistan's role and efforts to facilitate peace negotiations between the U.S. and Taliban to agree on 'Doha agreement' are widely appreciated by International community and acknowledged by the US. But when it comes to the US war on terror, Pakistan is still denied of its due appreciation in its fight against terrorism and relentless support to coalition forces in Afghanistan. Pakistan's contribution of providing logistic and military support by giving access to its bases and ports to the US, deployment of its forces along its border with Afghanistan to eliminate infiltration of terrorist, intelligence and information sharing to hit and capture extremist leaders is much more than its commitments to Operation Enduring Freedom (2001–2014) or GWOT.
GWOT and Escalating Instability in Pakistan
In the aftermath of its decision to join GWOT, Pakistan became targeted by radical terrorist groups due multiple factors including foreign financial assistance to internal sectarian hostility, religious extremism, emergence of Islam in politics. Significantly the turmoil in Afghanistan had spill over impact in Pakistan. Escalating terrorist attacks and huge influx of Afghan refugees in Pakistan instigate instability and insecurity in the country. Pakistan paid heavy price for its decision to join coalition in terms of relations with Afghanistan, low growth in economic sector including loss of human lives and psychological effects. Pakistan is plagued unprecedented levels of violence since Pakistan joined the GWOT as a front-line state. Independent sources reported that in the post 9/11 period, Pakistan lost 64,000 lives, damaged infrastructure and suffered financial losses of 150 billion USD.
Pakistan undertook a series of military operations to counter the menace of terrorism and extremism. According to the Global Terrorism Database, the sudden explosion of the terrorist attacks occurred in 2005 till 2014. Counter terrorism operations by Pakistan's military contributed in the WOT and played a pivotal role in winning it. Significant decrease in terrorist activities in Pakistan since 2014 highlights achievement of military operations against terrorists and militants.(See figure 01)
Source: Global Terrorism Data Base & Pakistan Institute for Peace Studies (PIPS)
Pakistan's Security Situation in 2020 and Geographic Distribution of terrorist activities
The trends in terrorist attacks indicates that number and lethality of terrorist activities in Pakistan is declining and country is heading towards peace and stability. In 2020, a total of 146 terrorism incidents were reported from across the country in which 220 people lost their lives, while another 547 were wounded. However, in 2019, a total of 230 terrorism incidents were reported from across the country in which 318 people lost their lives, while another 720 were wounded. The statistics for 2020 show a decline in number of terrorist attacks by nearly 38% as compared to 2019 when 230 attacks took place. Geographical distribution of terrorist attacks indicates a notable difference among provinces. Like the previous year, Khyber Pakhtunkhwa (NWFP) and Balochistan had suffered most numbers of incidents; when compared with 2019, all the provinces have witnessed decline in terrorist activities. Meanwhile, Federal Capital Islamabad, Gilgit-Baltistan and Azad Jammu and Kashmir remained the safest places as not even a signal terrorist attack occurred during the year 2020. Statistics mentioned in Pakistan's security report 2020, published by Pakistan Institute for Peace Studies (PIPS) shows that country is making gradual progress to eradicate terrorism.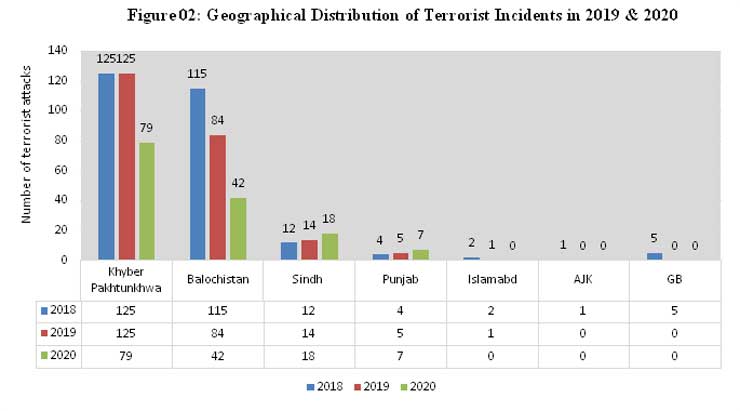 Source: South Asia Terrorism Portal (SATP), National/Local newspapers & Pakistan Institute for Peace Studies (PIPS)
Conclusion
Pakistan's counter terrorism operations have played significant role to fight the violence and establishing peace in the country. Yet, Pakistan's fight against terrorism is facing challenges due to continuing foreign finances and resources supply to terrorists' organizations. Pakistan's Counter-terrorism strategies should formulate mechanism to further strengthen multilateral cooperation among states to prevent, protect and pursue an attack and enhance the capacity to minimize the consequence of terrorist attack. Pakistan has entered in a fruitful phase of combating terrorism and managing its consequences efficaciously. Thus far, the US needed to acknowledge the unconditional contributions and sacrifices made by Pakistan and support the country in fighting this exhaustively expensive war on behalf of world community.
Hidden History – 1977 Terrorist Attacks in Moscow
On January 8, 1977,a series of terrorist attacks struck Moscow city, the capital of the Soviet Union. Three explosions occurred in a row in different places, with an interval of less than 40 minutes. All the employees of the Ministry of Internal Affairs and the KGB were raised on alarm. Leonid Brezhnev, General Secretary of the CPSU Central Committee, who spent Saturday hunting, urgently left for the capital. At that time, the life of Muscovites was not overshadowed by rampant criminality. The concept of "terrorism" was exclusively referred to as a characteristic of capitalist countries by the Soviet people.
OnSunday rush hour, the first bomb exploded at 17.33 in a Moscow metro train,which was on the stretch between the stations "Izmailovskaya" and "Pervomayskaya".The second bomb went off in the grocery storeNo.15 in the formerly named Dzerzhinsky Street (now Bolshaya Lubyanka), not far from the headquarters of the KGB at 18.05.Five minutes later, the third explosion occurred near the grocery store No.5.In total,7 people were killed and 37 got injuries of varying severity.The terrorist incident was kept secret from the public.
The KGB was assigned to lead the operation codenamed "Explosives" ("Взрывники"). The best investigators of the Prosecutor General`s Office, the Ministry of Internal Affairs and the KGB were engaged in the criminal investigation. The progress of the investigation was regularly reported to the then KGB Chairman Yuri Andropov and personally to Leonid Brezhnev. Although more than 500 witnesses were interviewed, not a single clue was found.In the end, the circle of suspected cities was reduced to three – Rostov-on-Don, Kharkov and Yerevan.
However, the terrorists were identified only after they began to prepare a new terrorist attack. On November 2, 1977, they decided to repeat the attack leaving a bag with a bomb, similar to the ones that went off in January in the waiting room of the Kursk railway station. But it stood in a crowded hall almost for a day and did not explode, because the batteries ran out. The ownerless item attracted one of the passengers' attention, who reported the finding to the police on duty. A valuable piece of evidence was obtained: a blue sports jacket with an Olympic patch and a hat with earflaps manufactured in Yerevan.
In the Moscow-Yerevan train near the administrative border of Georgian SSR and Armenia SSR, an unknown young man who was traveling with a friend was detained. The passengers were identified quickly enough. They turned out to be 28-year-old Hakob Stepanyan and 23-year-old Zaven Baghdasaryan. Regardless of the fact that it was sharply opposed by Karen Demirchyan, the First Secretary of the Central Committee of the Armenian SSR Communist Party, their apartments in Yerevan were searched, where additional evidence were found, including elements of explosive devices and a scheme of an explosive device that went off in the Moscow metro. Through Stepanyan, the investigation reached the third member of the criminal group. Stepanyan and Baghdasaryan, realizing that they were fully exposed, testified against the third member of the group, Stepan Zatikyan,who was not in Moscow at the time of the explosion. They confessed that he dragged them into the preparation of the terrorist attack. It was Zatikyan, who was the brain and ideological inspirer of the group. By that time, he was working at the Yerevan Electromechanical Plant. While studying at the Yerevan Polytechnic Institute, he founded the illegal National United Party of Armenia (NUPA) along with other friends in 1966.The group of nationalists developed an active underground activity and advocated for separatism. They published a clandestine periodical named "Paros" (Phare) and distributed leaflets protesting against "Russian chauvinism" and demanding the return of Nagorno-Karabakh and Nakhichevan to Armenia SSR. The group was uncovered in 1968. The founders and active members of the NUPA were convicted of anti-Soviet agitation and propaganda. Zatikyan's verdict was not too harsh, he was released in 1972.In 1975, he sent a statement to the Supreme Soviet in which he renounced Soviet citizenship and asked to be given the opportunity to leave for any non-socialist country. The NUPA operated until 1987, when it was renamed the Union for National Self-Determination.
The investigation into the case of Zatikyan and his accomplices lasted about a year. The trial of the terrorists in the Supreme Court of the USSR took place from January 16 to 20, 1979. It was closed and secret. Even the relatives of the defendants were not allowed into the courtroom. The only information about the trial and the verdict in the news media was a short note in Izvestia (January 31, 1979).Stepanyan and Baghdasaryan pleaded guilty, Zatikyan did not. For him, the court became a political platform.A documentary about this trial was made. On the recording, one can hear Zatikyan saying in Armenian: "Tell people that these were Stepan's last words: Revenge, revenge and revenge again."On the other hand, Stepanyan said: "If one of us survives, there will be explosions again."
On January 24, 1979, all the accused were found guilty by the court and sentenced to capital punishment – execution. On January 30, the Presidium of the Supreme Soviet of the USSR rejected the petition for clemency, and on the same day, the sentence was carried out.
The acts of terrorism carried out by Armenian nationalists have gone beyond the Soviet Union borders. In this respect,Turkish diplomats have become the target of terrorism. "Armenian terrorism, as well as its support in the larger Armenian community, was unique in its visceral hatred of its Turkish enemy" writes Michael M. Gunter in his book titled Armenian History and the Question of Genocide. As a result of the Armenian terror, more than 30 Turkish diplomats and their families have lost their lives since 1970.Most of these assassinations were mainly carried out by terrorist organizations, such as the Armenian Secret Army for the Liberation of Armenia (ASALA) and the Justice Commandos of the Armenian Genocide (JCAG).Both groups were founded in the mid-1970s and by the early 1980s had become extremely active.Despite both groups having disintegrated in the end of 1980s, an Armenian protester was spotted with an ASALA T-shirtin Los Angeles on  July22, 2020.The ideology that feeds those terrorist organizations, which mainly operated in Western countries, is still alive. The main reason for their "success" in the West is that they have not been properly punished until now.
Furthermore,Armenian terrorist organizations systematically and deliberately perpetrated acts of terrorism on Azerbaijani territory, as well. On March 19, 1994, 14 civilians lost their lives and 49 were injured as a result of the bombed attack perpetrated at the "20 January" metro station in Baku.
To put it briefly, the terrorist tradition of the Armenian ultranationalists needs to be deeply and systematically studied. The root causes of violent extremism in Armenian society are complex, multifaceted and intertwined as it has more than 100 years of history. Armenians present their terrorists to future generations as heroes, leaving their statues and encouraging future generations to grow up as terrorists.A clear example of this is the monument erected in memory of members of the ASALA terrorist organization at the Yerablur State Military Cemetery in Yerevan, Armenia.Asidefrom that, the defeat on the front in the 44-day war with Azerbaijan correspondingly pushed Armenian society into a deep sense of collective frustration and humiliation; in turn, it triggered a rise in nationalist sentiments and made them more radicalized, which galvanize terrorist attacks against Azerbaijani people. Considering that, the intelligence services and law enforcement agencies of the countries, where both Azerbaijani and Armenian diaspora live, should expeditiously increase situational awareness.
When shall the UNSC declare RSS a terrorist outfit?
Pakistan has urged the United Nations Security Council to designate India's Rashtriya Swayamsevak Sangh (RSS), the parent organization of the ruling Bharatiya Janata Party (BJP), as a terror group. Pak representative demanded that the RSS should also be included within ambit of the 1267 Sanctions Committee.
It is unfortunate that declaring an individual or entity a terrorist has become a political ploy. The freedom fighters of yester years like the taliban could become terrorists of today. Cuban and Latin American terrorists were displayed as freedom fighters in US gallery of portraits.
That's the crux of the problem. India calls Kashmiri freedom fighters 'terrorists'. It called Bengali insurgents 'mukti bahini', freedom fighters'. Unlike Kashmir, erstwhile East Pakistan was not a disputed state like Jammu and Kashmir. It was an integral part of Pakistan. But, India harboured, nurtured, trained and armed so-called Bengali 'freedom fighters' on Indian soil.
The White House welcomed Jalaluddin Haqqani (founding father of formidable Haqqani Taliban) as a guest.
India has a convenient way to exercise its diplomatic clout to get declared any entity a `terrorist'_ through linking it with `freedom movement' (euphemistically called `terrorism' by India) in the occupied Kashmir.
Why the RSS qualifies as a terrorist organisation
Congress leader Digvijaya Singh, former Madhya Pradesh chief minister, has alleged that "All arrested 'Hindu terrorists' have had RSS link". He claimed, `All Hindu terrorists who have ever been caught have association with RSS in some way or the other. Nathuram Godse, who assassinated Mahatma Gandhi, was also part of RSS. So, this ideology is spreading hatred, hatred breeds violence, and from violence is bred terrorism'.
"All Hindu terrorists who have ever been caught have association with RSS in some way or the other. Nathuram Godse, who assassinated Mahatma Gandhi, was also part of RSS, bomb blasts were executed by people influenced by Sangh ideology" said Digvijaya Singh
Reinforcing his stand on "Sangh terror," he said, "bomb blasts were executed by people influenced by Sangh ideology, be it Malegaon blast, Mecca Masjid blast, blast in Samjhauta express or Dargah Sharif."
Accusing RSS of propagating violence, Singh said, "The outfit which propagates violence and hatred, further propagates terrorism."
Defending Singh's charges, senior Congress leader Salman Khurshid said that his statements needs to be seen in the right context. "Ideologically Digvijay Singh has very strong views. He has opposed minority extremism and said that every kind of extremism is bad. We must contextualise what he said rather than generalise it and think he is saying it against one community or organisation," Khurshid said.
Howdy Modi critic's allegations
Speaking at the Houston City Council against the city's participation in the "Howdy Modi" pep rally, Pieter Friedrich expounded the RSS's nexus with worldwide terrorism'. Transcript of his speech:`
Last month, a white supremacist terrorist murdered 22 people in El Paso, Texas. His evil act was inspired by the murder of 51 people at mosques in Christchurch, New Zealand. That man's evil act was inspired by the murder of 77 people in Norway in 2011.In Norway, terrorist Anders Breivik left a manifesto that describes how he was inspired by other extremist and nationalist groups around the globe.
Breivik pointed to the RSS in India. He praised the "right wing Hindu nationalism" of the RSS and its goal of making India a "Hindu nation." He praised the RSS for how "they dominate the streets… and often riot and attack Muslims." He said the goals of white supremacists and the RSS are "identical" and that they should "learn from each other and cooperate as much as possible."
The RSS is a fascist paramilitary founded in 1925 — the same year that Hitler published Mein Kampf. The RSS developed with inspiration from the Nazis. And it produced Narendra Modi. In 2002, Modi presided as soldiers of the RSS massacred 2,000 Muslims. They gang-raped women, hacked people to death, burned people alive. Leaders of the pogrom later confessed on camera that Modi sanctioned their violence.
For this reason, Modi was banned from entering the USA for over 10 years. Today, under Modi's iron-fisted regime, Christians, Dalits, Muslims, Sikhs, and every Hindu who disagrees with the hate, violence, and supremacy of the RSS lives in fear of their lives.
Modi's hands are stained with blood. Those who shake his hand in welcome cannot wash their hands of complicity in his crimes. Bishop Desmond Tutu once said, "If you are neutral in situations of injustice, you have chosen the side of the oppressor." So what then if you roll out the red carpet for the oppressor? The philosopher Plato said, "Silence is consent." So what then if you raise your voice in support of the oppressor? Rather than "Howdy, Modi," the City of Houston ought to be saying, "Adios, Modi."
RSS fits in US `terror definition
U.S. Department of Defense Definition of Terrorism: terrorism refers to "the calculated use of unlawful violence or threat of unlawful violence to inculcate fear; intended to coerce or to intimidate governments or societies in the pursuit of goals that are generally political, religious, or ideological."
Narendra Modi is the RSS avatar
Narendra Modi, the current Prime Minister, like so many other Bharatiya Janata Party stalwarts, makes no bones about having been a member of the Rashtriya Swayem Sevak Sangh (National Volunteer Corps). The RSS has ubiquitous influence in all states and Union territories. Without its consent, no-one can get a party ticket or contest elections.
The RSS is a conglomerate of disguised terrorists. Indian media dare not focus its violent activities, but it is sometimes exposed by viral images of violence by its workers. Images show the RSS members participating in Delhi riots, lynching suspected beef eaters, or Muslim prayer goers. The RSS militants get identified while chanting religious slogans. Gandhi's assassin, Nathuram Godse, was an RSS member. It was the RSS that had spearheaded the demolition of the Babri mosque on December 6, 1992.
RSS emulates the Nathsi
In a work that expressed admiration for Nazi Germany's purge of Jews, Golwalkar wrote in 1939, "… the foreign races in Hindusthan must either adopt the Hindu culture and language, must learn to respect and hold in reverence Hindu religion, must entertain no idea but those of the glorification of the Hindu race and culture, i.e., of the Hindu nation and must lose their separate existence to merge in the Hindu race, or may stay in the country, wholly subordinated to the Hindu Nation, claiming nothing, deserving no privileges, far less any preferential treatment not even citizen's rights." (MS Golwalkar, We Or Our Nationhood Defined, Bharat Prakashan, 1939, 104-105).
Golwalkar made it clear that in the RSS view, Hindu majoritarian identity politics is the only acceptable nationalism, and any politics of asserting an identity separate from the Hindu identity is 'anti-national' and 'divisive.' He wrote: "Let us remember that this oneness is ingrained in our blood from our very birth because we are all born as Hindus." (Bunch of Thoughts, p. 255).
M.S. Golwalkar, referred to Christians and Muslims as "internal threats". He praised Nazi Germany as an example of "race pride" from which India could learn. Satish Misra, a political analyst at the Observer Research Foundation in New Delhi says, [Indian prime minister] "Modi is the most loved child of the RSS."
Neerja Chowdhury, a political commentator and columnist reported: 'The party advocates that to be a true Indian one has to be a Hindu. It describes other religious minorities, Sikhs, Jains, Buddhists, as part of India, because their faiths originated there. They believe that even India's Muslims are actually Hindu because their Hindu ancestors were forced to convert to Islam'.
The anti-conversion laws in states, ban on cow slaughter, annexation of the disputed Jammu and Kashmir State, and now combined civil code on the anvil are the RSS's demands. The RSS wants to convert non-Hindu to Hinduism under its homecoming (ghar wapsi) policy. C.P. Bhishikar's biography of Hedgewar, Keshav Sanghnirmata tells how tbe RSS founder equated Muslims to "yavana" snakes. RSS spurns Indian Constitution and believes India is a place for Hindu nation (rashtra) to live exclusively in.
The RSS's genocidal role is a caricature of the Indian constitution, visualizing a `sovereign socialist secular democratic republic' and its article prohibiting discrimination on the grounds of religion, race, caste, sex, or place of birth.
Attacks on Muslims
Since 2006, there had been several terror attacks at locations with a majority Muslim population. The deadliest attack was February 2007 bomb explosions on the Samjhauta Express train that runs between Lahore and Delhi, killing 68 people, including 43 Pakistani nationals.
In the same year, there were two more blasts at Muslim places of worship. The investigations had revealed that the terror attacks were carried out by Hindu nationalist organizations. The Indian media has widely covered what is popularly called 'saffron terror'.
For instance, Swami Aseemanand was accused of conspiracy in the 2007 bomb attack on the Lahore-bound Samjhauta Express train, the 2007 Ajmer dargah blast case, and in the 2007 Mecca Masjid blast terror case.
Pragya Singh Thakur, also known as Sadhvi Pragya, is currently a Member of Parliament from the BJP. She was an accused in the 2008 Malegaon blast. Six people were killed and over 100 others injured when an explosive device strapped on a motorcycle went off near a mosque in Maharashtra's Malegaon. No cour in India could dare punish theRSS terrorist.
It was the RSS which had founded the Jan Sangh, the BJP's ancestor in 1951. It has acted as an umpire in times of crisis within the BJP and provides its indispensable cadres during election campaigns.
Induction of the RSS cadres into Indian civil service
On April 27, 1948, Vallabhbhai Patel wrote a letter to Jawaharlal Nehru: "I need hardly emphasise that an efficient, disciplined and contented service … is a sine qua non of sound administration under a democratic regime even more than under an authoritarian rule. The service must be above party and we should ensure that political consider­ations either in its recruitment or in its discipline and control, are reduced to the minimum, if not eliminated altogether."
An RSS-ridden civil service cannot work a secular constitution. For, "it is perfectly possible to pervert the constitution, without changing its form, by merely changing the form of the administration and to [sic] make it inconsistent and opposed to the spirit of the constitution".
The parliamentary system is based on a professional, politically neutral civil service. Put political favourites in crucial positions and the entire system is perverted. Yet, hordes of the RSS members were recruited into civil service.
Political influence
Former UP chief minister Kalyan Singh said in 2000: "I have spent a greater part of my life in [the RSS] and I can say that right from the distribution of election tickets … in BJP to selecting cabinet ministers, it is only the RSS which calls the shots. What else is political activity?' "
Rakesh Sinha, BJP's Rajya Sabha MP and Hedgewar's biographer, said, "Hedgewar formed RSS in order to consolidate the Hindus. He wanted to liberate them from restrictions imposed by the protracted Mughal-British rule.
Driving force for Hedgewar to form RSS was Vinayak Damodar (Veer) Savarkar's ideas on Hindutva and motherland. Savarkar had spelled out that only those who considered India as their fatherland and a holy land could be considered patriots. He ruled out Muslims, suggesting that their patriotism should always be suspected.
The ruling BJP has a symbiotic relationship with RSS as is obvious from Babri Masjid demolition.
Shashi Throor's view
Dr. Tharoor was the Congress nominee for the post of UN secretary-general. during the Jaipur literature festival he said, `We are living in a country where on the one hand the Prime Minister says the Constitution is his holy book and on the other hand, he extols as a hero and instructs his Ministers to study the works, writings, and teachings of Deen Dayal Upadhyaya, who explicitly rejects the Constitution. "
The only thing that had stood in its [BJP's] way is a two-third majority in the Rajya Sabha". BJP's official ideology is "Integral humanism", coined by Deendayal Upadhyaya in 1965. The RSS stands committed to Hindutva, a term coined by VD Savarkar. Upadhyaya sugar-coated the term Hindutva as Bharteeyata. Upadhyaya presented his `theory of Muslim purification' at the BJP National Council meeting in Kozhikode in 2015.
Conclusion
When shall the world wake to recognise the hydra-headed monster that the RSS is?