Global Pension Timebomb: Funding Gap Set to Dwarf World GDP
[yt_dropcap type="square" font="" size="14″ color="#000″ background="#fff" ] T [/yt_dropcap]he world's six largest pension systems will have a joint shortfall of $224 trillion by 2050, imperiling the incomes of future generations and setting the industrialized world up for the biggest pension crisis in history.
To alleviate the looming crisis, governments must address the gaps in access to the pensions system and ageing populations as they are the key sources of the widening pension gap. These are the main findings of the new World Economic Forum report, We'll Live to 100 – How Can We Afford It?, released today, which provides country-specific insights into the challenges being faced at a global level and potential solutions.
"The anticipated increase in longevity and resulting ageing populations is the financial equivalent of climate change," said Michael Drexler, Head of Financial and Infrastructure Systems at the World Economic Forum. "We must address it now or accept that its adverse consequences will haunt future generations, putting an impossible strain on our children and grandchildren."
The report is the latest study to calculate the impact of ageing populations on the pension gap in the world's largest pension markets, which include the United States, United Kingdom, Japan, Netherlands, Canada and Australia (for more details please see the appendix to this release). The gap in those markets is the largest in the US, where a current shortfall of $28 trillion is projected to rise to $137 trillion in 2050. The average gap in the six markets combined is calculated to reach $300,000 per person. The total gap for all 8 markets in the study (which further includes China and India, which have the world's largest populations) will reach a total of $400 trillion by 2050. All numbers are summarized in the graph below:
The savings gap resembles the amount of money required in each country (including contributions from governments, individuals and employers) to provide each person with a retirement income equal to 70% of their pre-retirement income. Outgoings such as personal savings and tax are often reduced in retirement and targeting 70% of pre-retirement income, in line with OECD guidelines, is a crude guide to provide people with a similar standard of living in retirement as they had before retirement.
For low-income earners the 70% target will not be sufficient and could result in poverty unless savings are increased. The funding gap will continue to grow at a rate higher than the expected economic growth rate, often 4%-5% a year, driven in part by ageing population effects: a growing retiree population who are expected to live longer in retirement.
"The retirement savings challenge is at crisis point and the time to act is now," said Jacques Goulet, President, Health & Wealth at Mercer, the lead collaborator for this initiative. "There is no one 'silver bullet' solution to solve the retirement gap. Individuals need to increase their personal savings and financial literacy, while the private sector and governments should provide programmes to support them."
The report suggests five high priority actions that governments and policy-makers should take to adapt pension systems to address the challenges:
Review normal retirement age to increase in line with life expectancies. For countries where future generations have a life expectancy of over 100 [3], such as the US, UK, Canada and Japan, a real retirement age of at least 70 should become the norm by 2050.
Make saving easy for everyone. A good example is the recent reforms in the UK where 8% of earnings will be automatically contributed to pension savings accounts for each individual from 2019. This initiative to automate the act of saving so far has boosted savings for 22- to 29-year-olds and low-income workers, and is estimated to create $2.5 billion in additional pension savings each year.
Support financial literacy efforts – starting in schools and targeting vulnerable groups. Financial literacy education should be offered throughout people's careers to raise awareness of the importance of saving. A good case study is the media campaign executed in Singapore for the launch of CPF LIFE, the national annuity scheme that focused on translating a simple message easily understood by the average person.
Provide clear communication on the objective of each pillar of national pension systems and the benefits that will be provided. This would give individuals an understanding of the level of income they can expect from government and mandatory occupational systems and whether they need to accumulate their own individual savings to "top-up" income provided from national systems.
Aggregate and standardize pension data to give citizens a full picture of their financial position. A good example is Denmark, where an online dashboard collates pension information to provide individuals with a holistic view of their different pension savings accounts.
The report emphasizes that governments and policy-makers have a central role to play in reforming pension systems to ensure we can adapt to societies where living to 100 is commonplace.
"Because retirement outcomes unfold slowly over decades, emerging problems are very hard to see and are virtually unchangeable once they occur," said Robert Prince, Co-Chief Investment Officer, Bridgewater Associates and part of the World Economic Forum's Retirement Investment Systems Reform Project Steering Committee. "Good outcomes require effective approaches and good decisions applied consistently over decades. Ineffective actions taken over decades will put a weight on society and economies that will be virtually impossible to lift once it occurs. Given ageing populations and increasing lifespans, effective reforms are required now."
The report was prepared by the World Economic Forum in collaboration with Mercer, a global consulting leader across health, wealth and careers.
Extending people's working lives could add US$3.5 trillion to OECD GDP in long run
Extending people's working lives to reflect the ageing of their populations could release massive untapped value for their economies to the tune of US$3.5 trillion across the OECD as a whole in the long run.
Iceland, New Zealand and Israel are the leaders in boosting employment rates among older workers, setting a model for others to follow, according to the latest research by PwC.
Between 2015 and 2050, it's estimated that the number of people aged 55 and above in the 35 OECD countries will increase by almost 50% to over 500 million. But how many of these half a billion people will be working?
PwC's Golden Age Index benchmarks, ranks and analyses the performance of OECD countries in fostering older people's participation in the workforce through employment and training data. It reveals how large potential economic gains are available if employment rates for those over 55 can be raised to those of the top performers.
Current employment rates for workers aged 55-64 vary dramatically across the OECD, from 84% in Iceland and 78% in New Zealand to 38% in Greece and 34% in Turkey.
For example, increasing the over-55 employment rate to New Zealand levels could deliver a long-run economic boost worth around US$815 billion in the US, US$406 billion in France and US$123 billion in Japan – with the total potential gain across the OECD adding up to around US$3.5 trillion. This economic uplift would be combined with significant social and health benefits from older people leading more active lives and having higher self-worth through continuing to work where they wish to do so.
John Hawksworth, Chief Economist at PwC UK, comments:
"Of course, it's good news that we're living longer. But an ageing population is already putting significant financial pressure on health, social care and pension systems, and this will only increase over time. To help offset these higher costs, we think older workers should be encouraged and supported to remain in the workforce for longer. This would increase GDP, consumer spending power and tax revenues, while also helping to improve the health and wellbeing of older people by keeping them mentally and physically active."
For governments, ways to realise these benefits include reforming pension systems and providing other financial incentives to encourage later retirement – steps that several countries are already prioritising.
Significantly, the top-performing countries on the Index tend to share a number of characteristics, including a labour market that supports flexible working and the implementation of reforms targeted at older workers, such as redesigning jobs to meet physical needs. Successful policy measures include increasing the retirement age, supporting flexible working, improving the flexibility of pensions, and providing further training and support help older workers become 'digital adopters'.
To help governments take the right actions, PwC has used this year's update of the Golden Age Index to carry out a rigorous statistical analysis of the underlying drivers of higher employment rates for older workers across 35 OECD countries.
The findings from this analysis include that financial incentives like pension policy and family benefits can influence people's decision to stay employed, and that longer life expectancy is associated with longer working lives. The study also shows that flexible working and partial retirement options can pay dividends for employers, as can redesign of factories, offices and roles to meet the changing needs and preferences of older workers.
A further area that the latest Golden Age Index examines concerns the implications for older workers of rising use of artificial intelligence (AI) and related automation technologies in the workplace. It finds that these technologies raise both potential opportunities and challenges for the over-55s.
Up to 20% of the existing jobs of older workers could be at risk of automation over the next decade, so retraining and lifelong learning will be critical to enable older workers to take up the many new job opportunities that AI and related technologies will create.
PwC UK Chief Economist John Hawksworth explains: "AI technology can boost economic growth, generate more labour demand and support longer working lives, for example through the use of digital platforms that allow older workers to market their skills more widely. However, our estimates suggest that older workers do face a higher risk of job automation compared to other age groups, with up to 20% of the existing jobs of over-55s at potential risk of automation over the next decade. Measures to support lifetime learning and retraining for older workers will be critical to maximising the gains from these technologies while mitigating the costs."
Further reforms needed for a stronger and more integrated Europe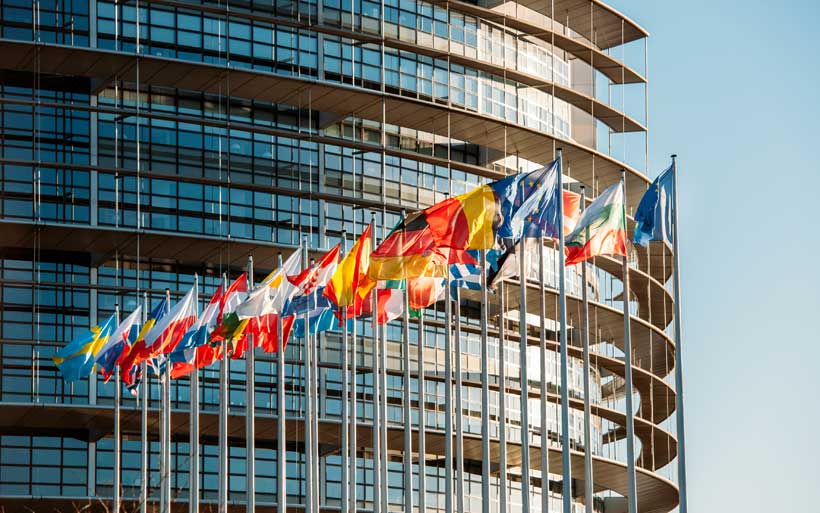 The European economy is growing robustly, helped by accommodative monetary policy, mildly expansionary fiscal policy and the global acceleration. The current economic expansion should be used to speed up implementation of reforms to the euro area architecture and EU policies that would support greater European integration and ensure stronger, more inclusive long-term growth, according to two new reports from the OECD.
The latest OECD Economic Survey of the European Union and Economic Survey of the Euro Area look at the factors behind the strong recovery, as well as the challenges facing Europe. The Surveys project growth topping 2% for the 2018-19 period, and lay out an agenda for boosting long-term growth and living standards across Europe.
The Surveys, presented in Brussels by OECD Secretary-General Angel Gurría, highlight the need for EU budget reform, more efficient cohesion policies to reduce regional divides and further efforts to deepen the single market. The OECD also discusses how completing the banking union, creating a common fiscal support scheme and simplifying fiscal rules would strengthen the euro area by making it more resilient to economic shocks.
"After years of crisis, positive economic momentum has taken hold across Europe," Mr Gurría said. "Growth continues at a solid pace, and has broadened across sectors and countries. The conditions are right for a new wave of reforms to revive the European project and ensure that the benefits are shared by all."
The Surveys say that macroeconomic policy must be tailored to support economic expansion while reducing imbalances. Monetary policy should remain accommodative until inflation is durably back to the objective, even as the ECB prepares for a very gradual normalisation of its policy. With an economic expansion under way, governments should reduce debt-to-GDP ratios. Simplified fiscal rules and a stronger focus on expenditure growth should help achieve this objective without derailing the recovery.
Ensuring the stability of the monetary union and enhancing the common currency's resilience to downturns will be critical to future economic progress. More risk sharing will be necessary. The Survey calls for a European unemployment reinsurance scheme to cope with economic shocks too large to be dealt with solely by national fiscal policies or monetary policy. Reforms to develop the capital markets union along with a rapid reduction of non-performing loans are also important to allow a better functioning of the Economic and Monetary Union.
Additional reforms to complete the banking union are also necessary, in particular the setting up of a common European deposit-insurance scheme and using the European Stability Mechanism as a backstop for the Single Resolution Fund; both reforms would help prevent any future banking crisis developing into a sovereign debt crisis. The introduction of additional capital charges for banks holding high levels of government debt from their own country should occur alongside the creation of a new European safe asset. This would favour the diversification of banks' exposure to government debt and mitigate negative feedback loops between weak banks and stressed public finances.
Reforms to the EU budget can enhance growth and make it more inclusive. There is scope to increase member states' contributions, including by reassessing how the European budget is financed, as the current financing does not reflect countries' ability to pay. The EU Survey suggests that resources to finance growth-enhancing spending, including R&D, be freed up by phasing out production-based payments in the Common Agricultural Policy and better targeting regional policy to lagging regions.
Improving the functioning of the Single Market would boost growth and living standards, the Surveys said. There is scope to ease regulatory burdens and address barriers to trade in services, improve cross-border cooperation in the energy sector through better power system operation and trade, and help member states boost digital skills acquisition.
Global Migration Can Be a Potent Tool in the Fight to End Poverty Across the World
Global migration has lifted millions out of poverty and boosted economic growth, a new World Bank report finds. But destination countries risk losing out in the global competition for talent and leaving large gaps in their labor markets by failing to implement policies that address labor market forces and manage short-run economic tensions.
Large and persistent differences in wages across the globe are the main drivers of economic migration from low- to high-income countries, according to Moving for Prosperity: Global Migration and Labor Markets. Migrants often triple their wages after moving to a new country, helping millions of migrants and their relatives at home escape poverty. Destination countries often benefit as migrants fill critical roles, from advancing the technological frontier in Silicon Valley to building skyscrapers in the Middle East.
Despite the lure of higher wages, rates of migrants as a share of the global population have remained mostly unchanged for more than five decades, even as global trade and investment flows have expanded exponentially during this time. Between 1960 and 2015, the share of migrants in the global population has fluctuated narrowly between 2.5 and 3.5 percent, with national borders, distance, culture, and language acting as strong deterrents.
Highlights of key findings from the report include:
-Migration flows are highly concentrated by location and occupation. Currently, the top 10 destination countries account for 60 percent of around 250 million international migrants in the world.
-Surprisingly, concentration levels increase with skill levels. The United States, the United Kingdom, Canada and Australia are home to almost two-thirds of migrants with tertiary education. At the very peak of talent, an astonishing 85 percent of all immigrant Nobel Science Prize winners are in the United States.
-Education levels of women are rapidly increasing, especially in developing countries, but opportunities for career growth remain limited. As a result, college educated women from low and middle-income countries are the fastest growing group among immigrants to high-income countries.
"The number of international migrants continues to remain fairly modest, but migrants often arrive in waves and cluster around the same locations and types of jobs," said Shantayanan Devarajan, World Bank Senior Director for Development Economics and acting Chief Economist. "Better policies can manage these transitions in a way that guarantees long-term benefits for both citizens and migrants."
The report recommends various policy measures to ensure the benefits of migration are shared by host and immigrant communities for generations to come. Key among them:
-Effective migration policies must work with rather than against labor market forces. For example, where there is large unmet demand for seasonal work, temporary migration programs, like those in Canada or Australia, could address labor market shortages while discouraging permanent undocumented migration.
-Quotas should be replaced with market based mechanisms to manage migration flows. Such tools can pay for the cost of government assistance to support dislocated workers. In addition, the most pressing needs of the labor market can be met by matching migrant workers with employers that need them the most.
-Creating a pathway to permanent residency for migrants with higher-skills and permanent jobs creates incentives for them to fully integrate in the labor markets and make economic and social contributions to the destination country.
"We have to implement policies to address the short term distributional impact of migration flows in order to prevent draconian migration restrictions that would end up hurting everyone," said Asli Demirguc-Kunt, Director of Research at the World Bank.
The report argues that migration will be a fundamental feature of the world for the foreseeable future due to continued income and opportunity gaps, differences in demographic profiles, and the rising aspirations of the world's poor and vulnerable.
"The public debate over migration would benefit from recognizing data and research," said Caglar Ozden, Lead Economist and the lead author of the report. "What this report tries to bring to the debate is rigorous, relevant analysis to support informed policy making."
Moving for Prosperity: Global Migration and Labor Markets is the latest in a series of Policy Research Reports that comprehensively review the latest research and data on current development issues. The new report presents the key facts, research, and data on global migration gathered from the World Bank, U.N., academia, and many other partners.
You can read the full report and accompanying datasets, based on extensive existing literature.