After Mideast, President Trump calls on Pope Francis at the Vatican
[yt_dropcap type="square" font="" size="14″ color="#000″ background="#fff" ] O [/yt_dropcap]ne gets the impression that US President Donald Trump could lead his nation and world at large to a new world without conflicts. However, if he misleads the world by his mischief as a usual US leader, then, like his predecessors have done before him, would betray the humanity beyond Mideast and the humanity would be the silent victim to war mongers and looters.
US President Donald Trump has met Pope Francis on May 24 morning at the Vatican for a short private audience on the third leg of his overseas trip before going to Europe to conclude his madden tour as the custodian of White House. Trump is now due to meet Italy's president and prime minister. He will then fly to Brussels for a NATO summit.
The US President arrived for the meeting along with his wife Melania, daughter Ivanka and Jewish son-in-law Jared Kushner after their visit to Israel. The meeting was keenly awaited as the two men have already clashed at a distance on issues including migration and climate change.
Trump and his entourage arrived at the Vatican n the morning just before 08:30 local time; the meeting was arranged last minute which resulted in the early start time. The US president was greeted by Archbishop Georg Ganswein, the head of the papal household, and escorted by the Swiss Guard from the Vatican courtyard to the offices of Pope Francis. Journalists who covered the initial greeting said the pair were cordial with each other. Trump told the Pope "it is a great honour". The two men spoke privately for about 20 minutes before returning to a public arena to exchange gifts.
Though this is their first meeting, they've already sparred. During the election the Pope on a visit to the Mexico-US border said that people who only think of building walls instead of bridges were not Christians. Donald Trump described those comments as disgraceful, and accused the pontiff of being a pawn of the Mexican government. But on Wednesday both men were seeking to find common ground.
It is hard to think of two more contrasting characters than Pope Francis and President Trump. On one hand, the Jesuit who has made his mission the championing of the poor and dispossessed; on the other the property developer who has championed getting rich, and surrounded himself with billionaires in his cabinet. Interestingly, Trump gave the Pope a boxed set of writings by the black civil rights leader Martin Luther King. The Pope gave Trump a signed copy of a message he delivered for World Peace Day, along with some of his writings about the need to protect the environment. "Well, I'll be reading them," Trump told him.
Trump seemed subdued during their initial meeting, while Pope Francis was not as jovial as he sometimes is with world leaders. The two men appeared much more relaxed at the end of their 30-minute private meeting. He was granted a short private audience with the head of the Catholic Church on the latest leg of his overseas trip. The two men have in the past clashed on issues such as migration, climate change and a Mexico-US wall. On international affairs, their "exchange of views" covered the "promotion of peace in the world through political negotiation and interreligious dialogue", and highlighted the need to protect Christian communities in the Middle East.
The Vatican said later that they shared a commitment to "life, and freedom of worship and conscience" and expressed hope that they can collaborate "in service to the people in the fields of healthcare, education and assistance to migrants".
Saudi Arabia and Iran
Trump vowed to help Israelis and Palestinians achieve durable peace, as he ended the Middle East leg of his tour. The US leader began his foreign trip with a two-day stop in Saudi Arabia over the weekend, urging Muslim countries to take the lead in combating radicalization.
Western powers make maximum benefits of the illogical Saudi-Iran rift.
After the first leg of his trip in Saudi Arabia, President Trump seems to hope that Sunni Arab countries might be part of any solution between Israel and the Palestinians. Without doubt the Saudis and the Israelis are talking, because Iran is their shared enemy. But the Saudis have had their own Arab peace plan on the table for the last 15 years, offering full peace and recognition of Israel in return for the establishment of a Palestinian state on the entire territory of the West Bank and Gaza with its capital in East Jerusalem. That is something the current Israeli government is not prepared to concede.
Antipathy towards Iran is the one thing that Washington's disparate allies in the region agree upon. So, bashing of Tehran has been a prominent theme for Trump both in Saudi Arabia and now in Israel. Hostility to Iran is the glue that binds what some would like to believe is an emerging coalition between Israel, Saudi Arabia and the smaller Gulf States together. But how far it really promises to shake up the sterile politics of the region is unclear.
A common purpose to contain Iran is one thing but can it really extend to bringing a new diplomatic dawn to the region? For Trump, criticising Tehran performs multiple functions. It allows him to sound tough on the world stage. Tougher than his predecessor, Barack Obama, who, he believes, signed one of the worst deals in history in reaching the nuclear accord with Iran.
It enables him to reassure both the Gulf Arabs and Israel at one and the same time. And it underscores the narrative of a common front emerging in the region that – at least according to the Trump administration – holds the enticing promise of a new dynamic in the log-jammed struggle between Israel and the Palestinians. And, of course, it also sends a warning signal to Tehran about aspects of its policy in the region that Washington sees as contrary to US interests.
It is also not a policy of nuance or one that contends with complex reality. How does it look providing ringing endorsements to the Saudis and selling them a fortune of weaponry, when they are engaged in a brutal war in Yemen?
The Trump government's almost brash belief in the possibilities of a wider Middle East peace seems to be at variance with most experts who know the region well. They argue neither the Israelis nor the Palestinians are ready to make the hard compromises necessary to achieve a lasting peace.
Some have argued that rather than focusing on a comprehensive deal that would have to resolve the hard questions like Jerusalem and refugees, the goal should be less ambitious; an interim deal that might mark the re-starting of a longer term diplomatic process. But it is not clear yet if the new US administration has the patience for this kind of worthy diplomacy. And this brings us back to Iran. Just what is the Trump administration's policy towards Tehran?
Indeed the re-election of Iran's President Hassan Rouhani may complicate matters further. He was perceived as the more moderate candidate after all, even if the Supreme Leader and the Revolutionary Guard still retain a key grip on foreign policy.
President Rouhani is already encouraging some European politicians to talk of the search for an opening to Tehran. That may not go down well in Washington. But then there is the very complexity of the region that Trump's rhetoric often overlooks.
Interestingly, the Iraqi government is now one of Washington's main allies against so-called Islamic State. But Iran too is a strong supporter of Baghdad and has deployed militia forces and advisers on the ground to aid the war effort.
Dealmaker's hopes
President George W Bush sponsored a peace conference in Annapolis in 2007, which for a while was hailed, in vain, as a major step towards the establishment of an independent Palestinian state alongside Israel. President Bill Clinton presided over the moment in 1993 at the White House when Yasser Arafat and Yitzhak Rabin exchanged a historic handshake and signed the Oslo peace agreement. At the end of his presidency in 2000, a make or break summit failed and was followed by years of violence and unrest. In recent times every American president also brings with him new hopes and fears for Israelis and Palestinians. In 2009 President Barack Obama trying to re-set relations with Arabs and Muslims. In the process he alienated Israelis and its leaders never forgave him. His first act as president was to appoint a Middle East envoy whose peace mission, in the end, failed.
Nobel foundations have played mischief by offering Obama the coveted Nobel Peace prize even before he could do nay thing meaningful in his presidency in the proper way. Nobel committee denied any chance for Middle East peace by almost imposing on him Peace Award that made him ineffective in solving the Mideast puzzle by establishing Palestine. Perhaps had he not got the Nobel Peace Award, Palestine would have become a sure reality as he supported the Palestine cause towards the end of tenure at White House. .
Now President Trump, who sees himself as the world's best dealmaker, says he would like to pull off the world's toughest deal. How quickly Trump would be able to get Israeli leadership on board to settle the world's deadliest conflict in the name of Israel war on Palestine would determine the success of his efforts to end the blood bath in Palestine where Palestinians have been facing cruelty form Israel's military.
The US leader began his foreign trip with a two-day stop in Saudi Arabia over the weekend, urging Muslim countries to take the lead in combating radicalization. In his final speech, at the Israel Museum in Jerusalem, President Trump also identified himself, his government and the USA four-square with Israel. He repeated, to lots of applause, that he would never let Iran have nuclear weapons. Israel has a substantial -illegally obtained from USA – and officially undeclared nuclear arsenal.
Trump became the first serving American president to visit the Western Wall in Jerusalem, the holiest place where Jews can pray. That is being taken by Jews as his support for Israel. Trump became the first serving American president to visit the Western Wall in Jerusalem, the holiest place where Jews can pray. That is being taken as support for Israel. The wall is in East Jerusalem, which Israel annexed after it was captured 50 years ago and which most of the world outside Israel regards as occupied land. Some will interpret the fact that the president declined the Israeli prime minister's request to accompany him as a sign of support for the status quo view that it is occupied territory.
President Trump, in his speech, did not pick up the cue. After making many warm remarks about Israel, which earned him standing ovations, he said he believed that the Palestinian President, Mahmoud Abbas, was serious about making peace.
One pointer to a potential difference with Israel's hawkish PM Netanyahu came at the museum. In his opening remarks, Netanyahu said that if the bomber in Manchester was Palestinian, and his victims were Israelis, the Palestinian Authority would be paying a stipend to his family. He was referring to a Palestinian Martyrs' fund. It pays pensions to people it regards as victims of the occupation, including the families of individuals who have been killed attacking Israelis. There is also a fund to support Palestinians who have been imprisoned by Israel. The Palestinians have compared the payments to the salaries Israel pays to soldiers.
Senior Israeli politicians and officials in the room disagree. Netanyahu said earlier this year that President Abbas lied to Donald Trump when they met in the White House. That is an important disagreement. If President Trump's hopes ever become negotiations about substance he will find that there are many others. The two sides are far apart on the main issues, like the future of east Jerusalem, the borders of a Palestinian state and the fate of Palestinian refugees.
President Trump brought with him to Jerusalem most of his top advisers, dozens of vehicles and his own helicopters. The White House booked the entire King David Hotel for the president and his entourage. The Israeli and Palestinian authorities cleared the main roads of Jerusalem and Bethlehem for the movements of his armed and mighty motorcade.
NATO
President Donald Trump has arrived in Brussels ahead of a NATO summit where he will push the security alliance's 28 members to meet their spending obligations and do more to combat terrorism. The fight against terrorism will be top of the agenda at the May 25 meeting in the Belgian capital, a stop on Trump's first trip abroad since he took office in January.
It is believed that the bombing in Britain that killed 22 people has been engineered to further strengthen the NATO and its brand state terrorism encompassing Islamic world. The whole idea for all this is to brand Islam a terrorist religion and to force Islamic regimes to kill Muslims as terrorists in order to reduce Islamic populations and loot their resources, valuable assets. . . . .
This is Trump's first visit to Europe since taking office in January. Security has been stepped up across Rome, with the areas around the Vatican City, the Italian presidential palace and the American ambassador's residence, where Trump is staying, temporarily closed to traffic.
Trump called NATO "obsolete" during the US presidential campaign last year, saying it was not doing enough to fight terrorism. He has also chided some members for not following NATO guidelines on spending. This visit will be about damage limitation with the fervent hope of establishing some kind of transatlantic chemistry. The tone in Brussels has gone from off-the-record sneering when the erratic and unpredictable Trump first won the November elections, to outright concern now that the implications of his presidency have begun to sink in.
Despite the heavy police presence, about 100 anti-Trump protesters held a rally in one of Rome's squares on Tuesday evening. Significant protests are also expected in Brussels where he will meet EU and NATO officials.
Trump is now in Brussels for talks with NATO and EU officials. He will also hold meetings with Belgium's King Philippe and Prime Minister Charles Michel. Later on Wednesday, Trump flew to Brussels, where significant protests are expected. For the EU and for NATO, this visit is about damage limitation with the fervent hope of establishing some kind of transatlantic chemistry, the BBC's Europe editor Katya Adler says. She adds that the tone in Brussels has gone from off-the-record sneering when the erratic and unpredictable Trump first won the November elections, to outright concern now that the implications of his presidency have begun to sink in.
After his visit to Saudi Arabia, home to Islam's holiest sites, and to Israel, this is the final leg of the tour of three of the world's major religions. President Trump's commitment to fighting extremism and intolerance will win approval from the Pope, as will his determination to bring peace to the Middle East. And the president thinks there's another reason why they will get on. Back in 2013 he tweeted: "The new Pope is a humble man, very much like me."
Trump was joined not only by his wife, daughter and son-in-law but also Secretary of State Rex Tillerson and National Security Adviser HR McMaster. Both Melania and Ivanka Trump were dressed in black with their heads partially covered, in keeping with a traditional Vatican protocol that is no longer expected to be rigorously observed. Melania, a Catholic, asked the Pope to bless her rosary beads.
Following his visit to the Vatican, Trump was moving on for talks with Italian President Sergio Mattarella and Prime Minister Paolo Gentiloni in what is his first visit to Europe since taking office in January. Security has been stepped up across Rome, with the areas around the Vatican City, the Italian presidential palace and the American ambassador's residence, where Trump is staying, temporarily closed to traffic. Despite the heavy police presence, about 100 anti-Trump protesters held a rally in one of Rome's squares.
After the meeting between President Trump and the Pope, the Vatican said there had been an "exchange of views" on international issues, while Trump said they had had a "fantastic meeting". Trump also tweeted: "Honor of a lifetime to meet His Holiness Pope Francis. I leave the Vatican more determined than ever to pursue PEACE in our world." He arrived in Europe from Israel and the Palestinian territories, where he vowed to try to achieve peace in the region.
Observation
Today the world is at a cross roads. Palestinians and Kashmiris like other oppressed nations, brutally occupied colonist and imperialist regimes, continue to be strangled to death by democracy militaries aided by high precision terror equipment. President Trump has given a new hope for the survival of occupied masses with some dignity. . Whether or not he could be trusted remains a trillion dollar question.
Enemies of Islam have succeeded creating a solid wedge between Saudi Arabia and Iran and through that a vertical split in Islamic world. That trend may not end any soon because Saudi led Sunni Arab states view Iran as their worst foe- even worse than Israel and all anti-Islamic rogue states operating in coalition to destroy Islam. Interestingly, a few Muslim regimes also led support to the destructive format of anti-Islamic forces globally.
Absolute foolishness and fatal ignorance are not a part of Islamic faith. Nor reluctance to mold the mindset of Arab leaders could be an excuse to let the enemies of Islam invade energy rich Arab world.
Donald Trump deserves global appreciation as he has said he is "more determined than ever" to pursue peace in the world after meeting Pope Francis at the Vatican.
The main problem is Israel does not want to resolve the conflict. Trump is right on one point. This is a conflict that badly needs settling. If that is not possible, there needs to be political progress. History shows that bloodshed tends to fill the void left by the absence of hope.
Well, for all the rhetoric the practical reality of Trump's foreign policy is more guarded. So beyond a raft of trade deals in Saudi Arabia what have we really learnt so far. All the indications are, for example, that the move of the US embassy to Jerusalem has been put on hold.
US Presidents have never talked about Israeli nukes and their danger posed to the humanity. Trump also never questioned the validity of Isabel possessing nukes illegally. For all of the president's repeated condemnation of the Iran nuclear deal, is he really capable of walking away from it?
A Trump foreign policy is still very much a work in progress. Much of Trump's world view is now coming into a jarring contact with reality. This current trip is in large part ceremonial, it is very early in his presidency to be putting a toe into Middle Eastern waters.
In all the speeches President Trump made during the trip there was no detail about how he might succeed when so many others have failed. So signs and symbols and implicit messages are being pored over for meaning.
This is President Donald Trump's first foray to the Middle East and of course it will not be his last. He has already got one thing clear. Adversity really does make strange bedfellows.
Trump will end his tour on the Italian island of Sicily at the G7 summit on Friday.
Was Trump better for the world than Biden, after all?
Joe Biden and the State Department just approved a major deal with the Saudis for 500mln in choppers maintanance. Effectively, the US sold its soul to the Saudis again after the US intelligence services confirmed months ago that the Saudi Prince is responsible for the brutal killing of journalist Jamal Khashoggi. The Biden administration is already much more inhumane and much worse than Trump. Biden doesn't care about the thousands of American citizens that he left behind at the mercy of the Taliban, the Biden administration kills innocent civilians in drone strikes, they are in bed with the worst of the worsts human right violators calling them friendly nations.
Biden dropped and humiliated France managing to do what no US President has ever accomplished — make France pull out its Ambassador to the US, and all this only to go bother China actively seeking the next big war. Trump's blunders were never this big. And this is just the beginning. There is nothing good in store for America and the world with Biden. All the hope is quickly evaporating, as the world sees the actions behind the fake smile and what's behind the seemingly right and restrained rhetoric on the surface. It's the actions that matter. Trump talked tough talk for which he got a lot of criticism and rarely resorted to military action. Biden is the opposite: he says all the right things but the actions behind are inhumane and destructive. It makes you wonder if Trump wasn't actually better for the world.
Biden's worrisome construct of security and self-defense in the first year of his term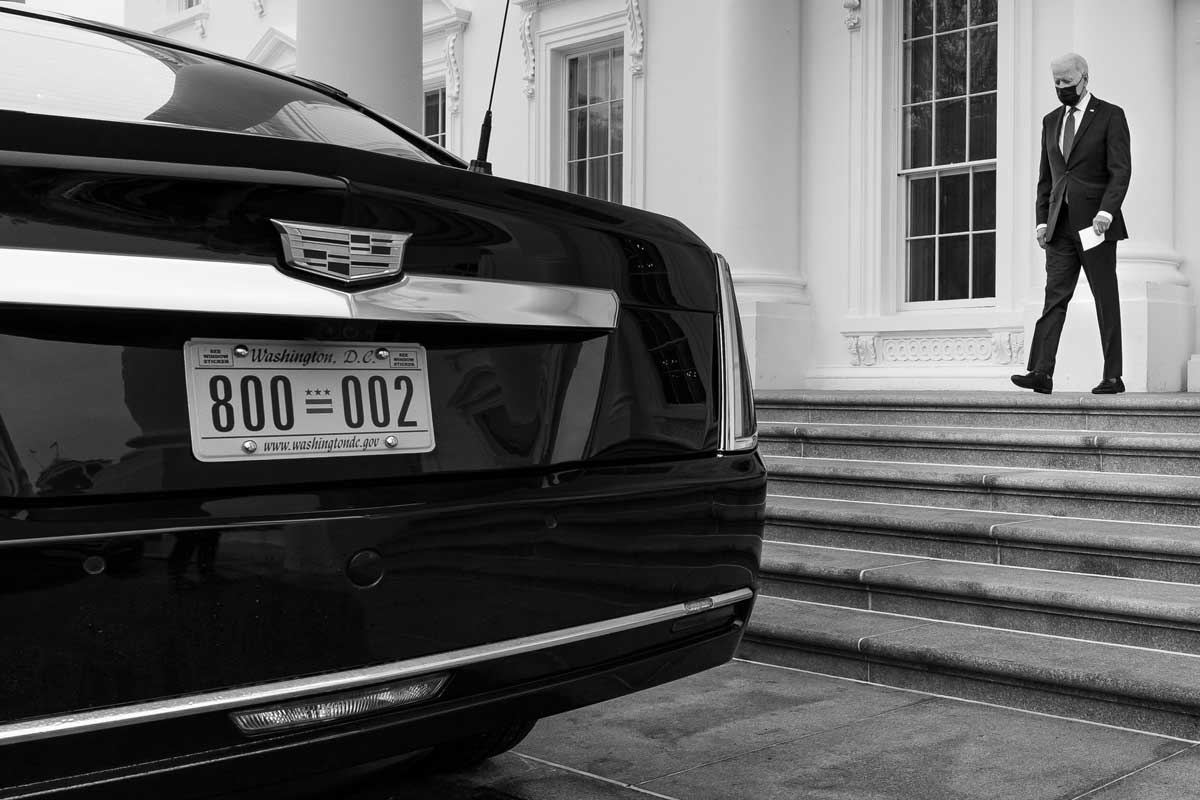 US President Joe Biden's foreign policy is failing so far. He can't get the Iran nuclear diplomacy on track. The Afghanistan withdrawal was a disaster seen by all, placing an unusually high number of weapons and armaments in the hands of the Taliban and leaving everyone behind, to the point that one wonders if it was intentional. The US military has been able to accomplish far more impressive and bigger logistics tasks in the past, so when they want to they can do it.
More worrisome, however – and because it is also oriented towards future impacts – is Biden's construct of vital concepts such as security, international peace and self-defense which has already displayed a consistent pattern during the first year of his term. The signs are already there, so let me bring them out to the surface for you.
Treating a counter-attack in self-defense as an original, first-move strike
This is a pattern that can be noticed already in Biden's reading of what constitutes defense. It first struck me in a place where you might not think of looking. It originated from the criticism of the previous Trump administration's support for the destructive Saudi Arabia campaign on Yemen, leaving Yemen as the biggest famine and disaster on the planet. To avoid the same criticism, the Biden administration decided to do what it always does – play technocratic and legalistic, and hope that people won't notice. On the face of it, it looked like Biden ended US participation by ending the "offensive" support for Saudi Arabia. Then in the months after the February decision, reports started surfacing that the US actually continues doing the same, and now most recently, some troops from Afghanistan were redirected towards Yemen. Biden didn't end Yemen; he set up a task force to examine and limit US military action only to defensive capabilities, which sounds good to a general observer. It reminds me of that famous Einstein saying that all the big decisions were to be taken by him and all the small decisions were to be taken by his wife, but there hasn't been one big decision so far. So see, it just turns out that everything falls under defense, ask the lawyers. Usually no one would object to the well-established right to defend yourself. The problem with that is that the US is actually in Yemen. Treating any counter-strike and any response to your presence as an original, first-move attack is not only problematic but it also simply doesn't work in legal terms. It goes along the lines of "well, I am already here anyways, so your counter-response in self-defense is actually an attack and I get to defend myself". If the issue was only with terrorist or rebel organizations (because let's face it, who cares about the Houthies in Yemen?) I don't think we would be discussing this. But as you guessed it, this approach can already be traced as a pattern in Biden's thinking and the way he forges alliances, draws red lines and allows things to happen, and it stretches to areas that most people definitely care about such as a possible military conflict between the US and China.
Let's take the newest development from today. The US just announced that it has entered into a trilateral partnership with the UK and Australia in the Indo-Pacific, which is encirclement of China par excellence. Where it gets interesting is that the trilateral partnership is purported to be only for "advanced defense capabilities". The equivalent of this is someone from another city squatting at the door step in your apartment, inviting two others to join, and then when in the morning you push them and step on them to go to work, the squatters claiming that you attacked them and calling the police on you in your own apartment. This is Biden's concept of self-defense: since I am already here in your space, you are attacking me.
The US is trying to start something with China but it doesn't know how to, and China seems completely unconcerned with the US. Chinese leader Jinping doesn't even want to meet Biden, as became clear this week. China doesn't care about the US and just wants to be left alone. They already said that in clear terms by reading it out loud to Wendy Sherman last month. Biden didn't have to ask for a meeting in that phone call this week because he already knew the answer. Wendy Sherman got a clear signal on her China visit that the US president won't be getting that coveted red carpet roll-out any time soon.
So the story says that the US is going all the way to the other side of the world and staging military presence there but only to defend itself. The US has no choice but to move in to defend all the US citizens at risk in the Indian Ocean — that's the stand-up comedy line of the week. It is staging military presence right at China's doorstep — if not in Chinese waters, and the idea is "yes, that's your turf but now that I'm here, if you push me to leave, you are attacking me". This is the strategy of narcissists and those that are looking to point the finger to their opponent when they just don't have anything, so they stage something. China is in the long-term game, playing against itself. The US is that number 2 that's trying to create provocation. In the Indo-Pacific, the US is biting more than it can chew. China is not a big mouth or one to throw around military threats. That's the US style: "be very careful, we might bomb you if you don't do what we say". A dog that barks doesn't bite. On the other hand, China is more like a Ferrari — it will go from 0 to 200 in seconds and then it will go back to its business. The US and Biden will be left whimpering but no one will jump to save the US from its own folly because self-defense in the US packaging is not even bought by the US government itself. Even they don't buy their own packaging. So why should anyone else?
Treating embarrassing discoveries and things that don't go my way as a threat to international peace
This one is a big one. With this one, Biden is playing with the queen, namely action under Chapter 7 of the UN Charter in the name of international peace and security. A threat to international peace and security is grounds for action under Chapter 7 which includes military action, and it's never to be spoken lightly. Words have consequences. The UN Security Council rarely specifies grounds for action under chapter 7 for threats to international peace and security but it's enough to take a look at the practice: resolutions were passed when Iraq invaded Kuwait in 1990, in response to 9/11, against Kaddafi who was marching toward Benghazi to wipe out the people in 2011, in relation to genocide, etc. Grounds for a threat to international peace can't be "because I don't like the way things are turning out for me".
Peace and security are not like beauty – in the eye of the beholder. There has to be an actual or imminent attack and actual military action or violence. Loose interpretations of threats to peace and security are a sign of weak leadership.
Leaders who construct dissent and criticism as terrorism in relation to the Black Lives Matter movement, as I have argued about the FBI previously in the left media, are weak leaders. In smearing Martin Luther King, the FBI argued national security. As director Oliver Stone said in Cannes this summer, when he was investigating the JFK assassination, every time he was getting close, he heard "national security".
You can see a lot about the character of a nation by the way it constructs security, and notice traits such as narcissism, weakness, cheating. The Biden Administration has to know that a threat to international peace and security can't be "things that make my government look bad". In 2001, the world followed the US in Afghanistan because there was an actual military attack. The world won't follow the Biden administration on a bogus threat to international peace that can best be summed up as a major embarrassment for the US government. Suggesting a link is a threat to the fabric of international society. Not only is it a sign of national narcissism but also a sign of arbitrariness and authoritarianism. Treating criticism and the exposure of US government crimes as if it were a military attack is what horror movies are made of. What's next? Droning journalists?
Treating issues which are a subject to treaties, rules and negotiations as a threat to international peace
The Biden security construct stretches to various regions, including my own. This first struck me with Biden's executive order regarding the Western Balkans when he tied blocking these countries from EU accession to a threat to international peace, which carries significant consequences. If a country, let's say Bulgaria, is exercising its lawful right to veto EU processes, hypothetically, based on Biden's understanding, the US could table a resolution for Chapter 7 action to punish an EU member-state for blocking the accession of an EU candidate because that's a threat to international peace. That could hypothetically lead to military action against an EU country making use of its veto. Biden doesn't have a veto in the EU. Do you know who does? Bulgaria. So until Biden becomes an EU country he doesn't have a say.
Biden was visibly irritated that the process of EU accession has been stalling for quite some time, especially with N. Macedonia and Albania at the EU's doorstep, so he decided to give it a go. Let's not forget that the Balkans are a favorite Biden region and this goes back to the 1990s. I have written about it before: Biden is stuck in the 2000s when if you mentioned the Western Balkans the words international peace were a guaranteed association. Not anymore. Negotiations, rules and voting are the peaceful and reasonable way to resolve issues, agree or even not agree in some situations, and are the opposite of war and aggression. Treating these ways as a threat to peace is just the rhetoric of those who can't get their way. But it's also indicative of a worrisome trend with Biden that anything that the US government doesn't like can be dressed as a threat to international peace, which carries the most significant of all consequences in the international arena.
Treating lawful counter-measures as a threat to national security
Perhaps the best and most fascinating example of lawful counter-measures I ever heard was brought by Andrew Clapham at the Graduate Institute in Geneva. Here is the story. The UK issued unlawful sanctions on a country. In response, lawful counter-measures by that country targeted jam exports because a jam factory in Scotland was the key to turning the elections. The targeted counter-measures worked, hit jam exports, discontent people in the region voted the other way and the government that put in place the sanctions to begin with was ousted. This was a brilliant example that you hit where it hurts and you do it lawfully. Counter-measures don't have to be identical. The US likes to put tariffs on Louis Vuitton bags in retaliation when it deals with France, for example. In the Trump trade wars, Europe would hit bourbon and jeans exports as a counter-measure. You hit their signature product. Not all counter-measures are illegal and count as an attack. International law is full of examples.
Similarly, lawsuits against a government are a lawful counter-measure. This area reveals another part of Biden's worrisome construct of national security. A threat to sue the US government cannot in and of itself be a threat to national security. Tortured reading of what is national security is a sign of weak leaders, narcissists, those on the losing end, or straight up losers – or all of the above.
Treating lawful counter-measures as a cause for self-defense is not only a sign of a wrong understanding of self-defense, but is the ultimate sign of narcissism. Usually those who attack know better and brace for impact in anticipation of the counter-measures. Narcissists, on the other hand, cry that they are being attacked when they receive a counter-strike in response. Strategists know better.
Mistreatment of whistleblowers, critics and opponents as spies and as a threat to national security
This one is an easy one. Only losers treat whistleblowers and critics as spies and as an automatic threat to national security. Take the treatment that Gary Stahl has received at the hands of the Biden Administration and the FBI, for example. Again, the US government doesn't get to construe a huge embarrassment (in what will soon be revealed to shows the true criminal nature of the US government) as a threat to international peace. This is a problem for America. Not only doesn't China plan to attack militarily the US any time soon over what's to come, but China is largely unconcerned with the US and would like to be left alone. Any talk about a risk of military conflict could only mean that it is the US that plans to attack because they are embarrassed they got caught red-handed and the world will see the US government's true nature. Talk of threat to international peace has a very high threshold. No one cares about how America would feel – that's your problem, not an issue of international peace.
The Biden concept of security is that of an ugly, pretentious, old woman who is told she can't enter because her ticket is not valid. She then throws a feat screaming she was attacked, beaten and insulted, expecting everyone to be on her side. But the world simply doesn't care about the problems of this pain-in-the-ass anymore. The US government will have to try much harder if they want to present the issue as anything close to security and self-defense, let alone a threat to international peace. That tune is old and there are no buyers.
The US surely thinks very highly of itself if they think that a scandal like that is worthy of a military conflict but literally no one else sees the US as this important anymore. This scandal will matter only to America in what it reveals about all the layers of the US government across rank, institutions and administrations. That's it. It ends there. Any talk of Chapter 7 threshold is war mongering and no one will care.
People talk about the Biden doctrine on Afghanistan but the Biden doctrine that will be sealed in history will be something along the lines of "Anytime I get caught, it's a threat to international peace and security." This is how Biden will be remembered in history: for creative writing endeavors in the security field and no substantial foreign policy achievements.
Biden's credibility restoration plan
Although damages of the United States' withdrawal from Afghanistan cannot be easily undone, by taking a series of wise steps, Biden can send a strong signal that America is coming back.
Joe Biden's botched withdrawal from Afghanistan has shattered his reputation as a safe haven for allies. This is while, he pledged to restore U.S. leadership after Trump by confronting China's and Russia's growing totalitarian ambitions, restoring historic alliances with European allies, and ending the never-ending conflicts in Afghanistan and the Middle East.
But he is not the only President whose decision has eventually damaged the United States' global reputation. Donald Trump's capitulation deal with the Taliban, Barack Obama's indolence in Syria, and George W. Bush's invasion of Iraq have all tarnished the United States' credibility around the world. The question now; however, is no longer whether Biden and his predecessors should have acted differently. It's how the United States can minimize the damage.
Biden should begin by speaking the truth. So far, the President has failed to admit the failure of his withdrawal plan. Biden ought to be straightforward with himself, the American people, and the whole world.
Biden's policy should, of course, vary depending on the area and global conditions. To promote its interests in the Indo-Pacific area, the United States should station a few ambassadors, including a Navy or Coast Guard attaché, in the Pacific Island countries of Tonga, Tuvalu, and Kiribati. In addition, a considerable number of troops currently stationed in Afghanistan should be redeployed to the Pacific. Finally, Biden's administration should engage with U.S. defense contractors to speed up the transfer of military equipment to Taiwan. Getting Taiwan its armaments swiftly would be a powerful show of support as a steadfast ally, as well as provide modern platforms to prevent a Chinese amphibious invasion.
The Biden administration should also do all in its power to rebuild relations with European partners. For the very first time, NATO invoked Article 5, which identifies an assault on one member as an assault on all. Since then, soldiers from a variety of countries have fought and died alongside US troops. Nonetheless, Biden decided to leave Afghanistan without consulting the governments of these countries, leaving them to plan emergency rescue efforts for their populations. Close allies of the United States are understandably enraged. America's behavior is being chastised in Paris, Berlin, and the British House of Commons on both sides of the aisle.
Last month, at a meeting of regional leaders in Baghdad, Macron made it clear that, unlike the Americans, he was dedicated to remaining in the Middle East. "Whatever the American choice is," he stated in public remarks in Baghdad, "we will maintain our presence in Iraq to fight terrorism as long as terrorist groups function and the Iraqi government requests our assistance." It was a clear example of Macron's idea of "strategic autonomy," which implies European independence from U.S. security policy, and an attempt to use the United States' humiliation to underline that Europe and Washington were not always on the same page. At an emergency G7 summit, Mr. Biden is said to have turned down allied requests to extend the August 31 deadline for exit.
The Biden administration's recent decision not to penalize Nord Stream 2 pipeline participants has enraged Europeans as well. Poland and Ukraine underlined their worries in a joint statement about the ramifications of choices taken on the pipeline without the participation of nations directly impacted, claiming that Nord Stream 2 poses both geological and ecological risks to Europe.
As a result, whether it's diplomatic recognition of the Taliban regime, humanitarian aid for the Afghan people, or any other major issue, the US should not take any more action without engaging partners. Mr. Biden should also dispatch senior members of his national security team to Europe and other regions of the world to reinforce America's commitment to their security.
As to the Middle East, Jake Sullivan, Biden's national security advisor, in a Foreign Affairs article described "America's opportunity in the Middle East," suggesting that diplomacy may work where previous military interventions have failed. The United States' involvement in the area is frequently portrayed in military or counter-terrorism terms, and as a binary option between going all-in or going all-out. Instead, Sullivan advocated for a strategy that relied more on "aggressive diplomacy to generate more long-term benefits."
Accordingly, the President and his team in Vienna should get the new Iranian administration back to the negotiating tables and rejoin the JCPOA and ease the tensions in the Middle East. Also, the United States should do all possible in Afghanistan to secure the safe transit of Afghans who qualify for U.S. visas to the Kabul airport – and to keep flights flying until they are able to leave. This should apply to both Afghans who dealt closely with the United States' military, and to those who engage with U.S. media and humanitarian organizations and must get visas from a third country. In addition to ensuring that the United Nations and humanitarian groups have the resources they need, the United States should cooperate with its Security Council allies to guarantee that the Taliban does not hinder the free flow of help.
Moreover, to follow any influx of jihadists to Afghanistan, intelligence agencies will have to rededicate resources and increase surveillance. They must be pushed to coordinate their efforts on the Taliban in order to keep the most threatening groups under control. The United States could set an example by agreeing to accept a fair share of any displaced Afghans. Neighboring countries like Iran and Pakistan, which already have millions of Afghan refugees, are closing their borders.
Biden may not be able to prevent all of the disastrous repercussions of the Afghan catastrophe, but he must act now before the harm to U.S. interests and moral stature becomes irreversible. By taking these steps, he can send a strong statement to the world that he has learned his lessons and that America is coming back.