Much Hope for Jordan and the Region – Young People Are the Bright Lights
The World Economic Forum on the Middle East and North Africa concluded today with strong expressions of hope for Jordan and the region, as well as recognition that investing in educating young people is critical.
Mirek Dusek, Head of Regional Strategies, Middle East and North Africa, and a Member of the Executive Committee at the World Economic Forum, pointed to the "amazing potential of young people and young companies" across the region who have had such a strong presence during the meeting. "We have seen pockets of excellence, but we feel a new economic model is emerging of entrepreneurship."
Dusek noted that many of these young start-ups have succeeded despite their environment. "How can we help them to be more sustainable and put them at the core of what this region is about?" he asked.
The Forum has been working for many years facilitating dialogue on the crises facing the region to ensure the right stakeholders are sitting down to address fragility and humanitarian catastrophes and deal with the political picture, Dusek added. Leaders from different faiths also discussed the future of Iraq after the liberation of Mosul from Daesh, as well as the role of clerics in society.
Ghassan Hasbani, Deputy Prime Minister of Lebanon, said he took away ideas about how to continue creating hope for the young people in the region. "We need to show them examples of success and that we are taking the right action to create the right environment for them to stay in the region … and succeed," he said. "The region is in turmoil and facing political, economic and social challenges," he added, but young people are a bright light shining. "We want to give them hope by taking proactive action on the legislative and regulatory side, but also on the encouragement and support side, he said. Hasbani praised the Forum's Global Shapers community, a network of Hubs developed and led by young people with exceptional potential who want to make a contribution to their communities, and the more than 100 Arab start-ups represented at the meeting.
"We need to keep focusing on entrepreneurship at all levels," he added. "We need to move forward with supporting entrepreneurship and encourage bigger enterprises to be more socially responsible."
Start-ups face many challenges in the region, but Ambareen Musa, Chief Executive Officer of Souqalmal, United Arab Emirates, said they struggle with two main areas: talent and regulations. "It is extremely hard to find local talent. We need a real investment in education. It is about educating from a young age about entrepreneurship," she said. "There are new careers coming on board. Education is key to creating sustainable environment now and for the next generation of start-ups."
The next challenge is regulations. Investors want to know how big the regional market is, Musa added. "There have been a lot of changes, but I would like to see them faster. The dream is one currency, one region and no borders from a talent and regulatory perspective. That will make the expansion of the region for us much, much easier. It will also attract foreign direct investment." She pointed out that the region has been built on entrepreneurship. Musa noted that the meeting's common theme was "reform" and a mindset that it is time to move forward and create a sustainable environment.
Sana Hawasly, Chief Executive of Daraty, Syria, works with children in the education sector. "We want education to empower young people to create a lifelong learning opportunity with no restrictions around their educational experience," she said. "The best way to create this content is make kids feel free to express themselves and do the work they like to do." Daraty started with electronics to prepare them to build technology. In 2020 and beyond, people will require technical skills. "We are giving them the tools for the next marketplace that will replace what we are facing now," Hawasly added. "We were amazed at how kids were enthusiastic to do this."
Hawasly's main takeaway from the meeting is the enthusiasm venture capitalists and investors expressed and their interest in the Syrian people. "We should bridge the gap between how much technology is going into Syria and the excitement of investors. We have a powerful workforce in Syria and are strong in technology. We have a great lack of opportunity. I will go back with a great hope that the world is waiting for talent from Syria. We have to track the opportunities and do the hard work to get there."
Khadija Idrissi Janati, Founder and Chief Executive Officer of KMK Groupe, Morocco, and a Co-Chair of the World Economic Forum on the Middle East and North Africa, told participants that digital transformation is here and we need to adapt. But with increasing use of digital, society needs checks and balances. Children need to be exposed to digital technologies and the internet, but there must be trust and the engagement of parents.
"Trust is one of the challenges of the use of society media," she said. Responsibility is critical. It is also critical to verify the veracity of the information on social media. Idrissi Janati pointed out that Facebook just hired 3,000 people to verify information. "We are aware of the benefits [of digital media], but we also must be aware of the risks," she said.
Seyed Salih Al-Hakim, Director of the Hikmeh Center for Dialogue and Cooperation in Iraq, pointed to the need to keep religion out of politics and the role of clerics in fostering values. "Today, people have recognized that religion cannot be pushed into politics. It has its own place and cannot be part of the political bazaar," he said. Although religion is an integral part of people's lives, "People want to have a civil state. We do not want a religious government; we want a civilian government that respects religion … we have tried political Islam and it was not helpful. In history, when the sacred came into politics, it ruined our politics."
In post-conflict Iraq, there will be a need to create "a country of citizenship" as there is a need for true reconciliation. A dialogue among a group of clerics called for a review of religious and education institutions, as well as of religious curricula. It is time to pay more attention to youth and the role of women in the region. Al-Hakim called on entrepreneurs starting out to pay attention to values in addition to setting objectives and goals.
IRENA and Mission Innovation to Work Together on Renewable Energy Innovation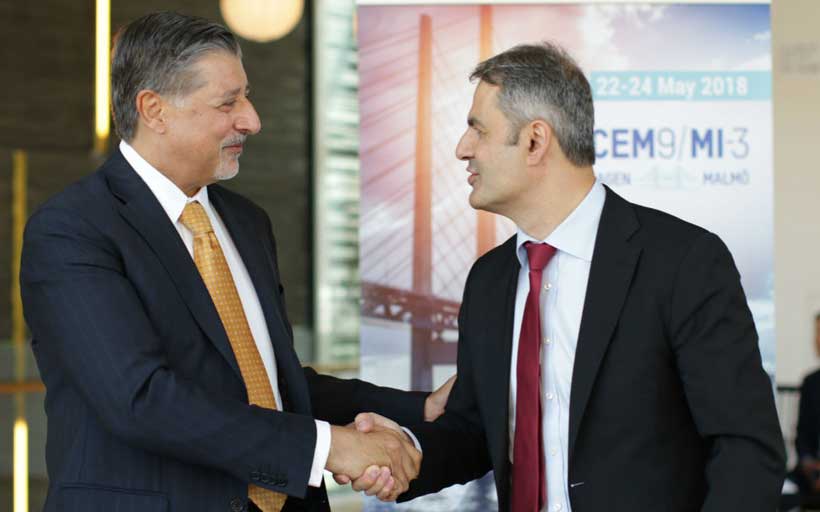 At the 3rd Mission Innovation Ministerial, the International Renewable Energy Agency (IRENA) and Mission Innovation, an initiative of 22 countries and the European Commission working to reinvigorate and accelerate clean energy innovation, agreed to work together to scale-up the deployment of renewable energy technologies through knowledge sharing on innovation data, trends and priorities. Mr. Ibrahim Baylan, Minister for Policy Coordination and Energy in Sweden, on behalf of Mission Innovation, and Mr. Adnan Z. Amin, Director General of IRENA, signed today a letter of intent to that effect.
"Innovation is at the heart of the global energy transformation, not only in terms of technological advancements but also in policy, finance and business." said IRENA Director-General Adnan Z. Amin.
"By collaborating with Mission Innovation, we can bring together the knowledge, data, convening power and experiences of the two organisations to create innovative approaches to develop the energy system of the future," he added.
Speaking on behalf of Mission Innovation, Mr. Ibrahim Baylan said: "There is an urgent need to accelerate clean energy innovation. The member nations can do this better and faster with the global collaboration of the Mission Innovation. Likewise, the Mission Innovation itself stands stronger when collaborating with other international organizations in the clean energy field.
"I am therefore very pleased to announce that we have signed letter of intent for collaboration between the Mission Innovation and the International Renewable Energy Agency," continued Minister Baylan, "and I am confident that this cooperation will benefit both our organisations."
IRENA's analysis shows that energy efficiency and renewable energy can achieve 90 per cent of the emissions reductions needed by 2050 to decarbonise the energy sector in line with the objectives of the Paris Agreement. However, to meet these goals the speed of renewable energy deployment must increase by at least a factor of six.
Fostering system wide innovation will be key to scaling up the share of renewables in the global energy system, based on IRENA's analysis. While technology innovation is central to progress, identifying new policy, market and business approaches is equally necessary.
Key areas for collaboration include:
Tracking Innovation Progress:Working together in order to improve the quality of data and insights on progress in renewables and energy system technologies and better inform high-level decision-making processes related to clean-energy innovation.
Strengthening cross-border collaboration on innovation: Identifying research priorities to support RD&D in key technology areas, monitoring technological evolution, and identifying relevant innovation gaps.
Sharing insights and knowledge on innovation policy priorities and strategies: Leveraging IRENA's data, tools and reports to inform Mission Innovation activities and priority areas.
An economic space from the Atlantic to the Pacific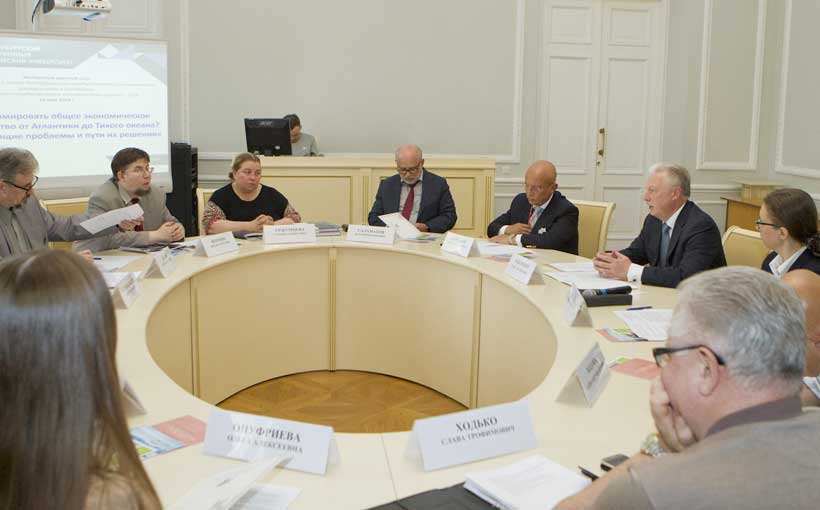 On the 23 May, in the run-up to SPIEF, a roundtable held jointly between the Roscongress Foundation and St. Petersburg State University of Economics took place, entitled 'Building a Common Economic Space from the Atlantic to the Pacific: Current Issues and Ways to Overcome Them'.
The experts discussed opportunities related to integration, investment, infrastructure, and innovation, alongside new forms of collaboration for those shaping the economic region of Greater Eurasia. In addition, they brainstormed a joint vision as to how the shared economic space from the Atlantic to the Pacific will develop in the future.
The welcome address was given by Igor Maksimtsev, rector of St. Petersburg State University of Economics. Moderating the session was Sofia Rekord, head of the world economy and international economic relations department of the same institution.
The participants observed that the geo-economic potential of Greater Eurasia – stretching from one ocean to another – is enormous, and needs to be unlocked to a greater extent, regardless of the unpredictability of the global economic environment and political climate. They also laid out the main aim behind the formation of a shared economic space from the Atlantic to the Pacific: to facilitate comprehensive interaction and cooperation between countries across the Eurasian continent through stepping up dialogue between all stakeholders. These include government representatives, business figures, the expert community, and research organizations tackling a wide range of issues related to economics, politics, and culture. This should result in continuous development for all parties, and prudent solutions to new challenges.
Other areas of focus included promising forms of economic collaboration in Greater Eurasia: opportunities for dialogue between the EAEU, SCO, ASEAN, and EU; the implementation of the EAEU's shared digital agenda; prospects for transport, logistics and energy projects; bolstering regional development institutions when unlocking the investment potential of the EAEU; and opportunities to foster greater foresight with regards the future development of a shared economic space from the Atlantic to the Pacific.
Participants from the expert community included Mikhail Voronin, associate professor of the world economy and international economic relations department of the St. Petersburg State University of Economics; Sergei Dyatlov, professor of the department of general economic theory and the history of economic thought of the St. Petersburg State University of Economics; Sergei Karaganov, dean of the world economy and international politics faculty of the Higher School of Economics National Research University and honorary chair of the presidium of the International and Defence Policy Council; Dmitry Miropolsky, head of department of general economic theory and the history of economic thought of the St. Petersburg State University of Economics; Vadim Panin, associate professor of the world economy and international economic relations department of the St. Petersburg State University of Economics; Vladimir Salamatov, director general of the International Trade and Integration Research Centre; Tatyana Urzhumtseva, director of the China and Asia-Pacific Studies Centre of the St. Petersburg State University of Economics; Alexander Khodachek, president of the Higher School of Economics National Research University in St. Petersburg; and Slava Khodko, general director of the North-West Development and Investment Promotion Agency.
Russia's Economic Recovery Continues: Modest Growth Ahead
Russia's economic recovery continues, amidst relatively high oil prices, enhanced macroeconomic stability, gradual monetary loosening, and ongoing momentum in global economic growth, says the World Bank's latest Russia Economic Report (no. 39 in the series). However, the country's growth prospects for the period 2018-20 remain modest.
Russia's growth is forecast at between 1.5% and 1.8% over the next three years. In the short-term, however, this forecast may be adjusted because of changing oil prices – which were projected to average US$ 65/bbl in 2018 and 2019, and US$ 66/bbl in 2020, but which may increase further, especially in the short-term.
In 2017, growth was mainly driven by non-tradable sectors. The unemployment rate declined to 5.2%, while real wages and pensions increased on the back of low inflation. In 2018-20, consumer demand is expected to be the main engine of GDP growth, while the poverty rate is expected to decrease slightly.
"Russia's economy continued its recovery in 2017, but growth prospects for 2018-20 remain relatively modest, and well below the current global growth average of over 3%," said Apurva Sanghi, World Bank Lead Economist for Russia, and main author of the report. "In the next few years, greater focus on education, health and infrastructure investments will require the government to find fiscal space through further improvements in tax administration, optimization of non-tax revenues, increased efficiency of public expenditures, and potentially some tax policy changes."
Moderately tight monetary and fiscal policies, in combination with a favorable external environment, let the Central Bank of Russia reach a record low-level of consumer price index (CPI) inflation, which averaged 3.7% in 2017. Annual inflation now stands below the Central Bank's target of 4%, while inflation expectations, though trending downward, remain elevated.
Driven by a rebound in disposable income and consumption, the poverty headcount declined marginally in 2017 to 13.2%, after reaching 13.3% in 2016. The poverty rate is projected to decline in 2018, 2019 and 2020 to 12.5, 11.9 and 11.4%, respectively, as income and consumption grow further. Among the factors that could fuel real income growth are a general recovery of the economy and further deceleration of inflation.
"With enhanced macroeconomic stability, the key challenge for achieving higher levels of economic growth is to increase productivity." said Andras Horvai, World Bank Country Director and Resident Representative for Russia. "This requires improved infrastructure connectivity, strengthened competition across the economy, further improvements in the business climate, vibrant innovation activity and the reduction of the skills gap. Investments in human capital will be key."
The special topic of the 39th edition of the Russia Economic Report examines how Russia can accelerate its transformation to a digital economy. A strategic focus on digital transformation has enabled Russia to build a national digital infrastructure to support universal broadband and mobile communications. However, to fully reap the socio-economic benefits of this digital infrastructure, Russia will need to implement policies that accelerate the digital transformation of the traditional enterprise sector, and promote R&D, innovation and entrepreneurship.