Much Hope for Jordan and the Region – Young People Are the Bright Lights
The World Economic Forum on the Middle East and North Africa concluded today with strong expressions of hope for Jordan and the region, as well as recognition that investing in educating young people is critical.
Mirek Dusek, Head of Regional Strategies, Middle East and North Africa, and a Member of the Executive Committee at the World Economic Forum, pointed to the "amazing potential of young people and young companies" across the region who have had such a strong presence during the meeting. "We have seen pockets of excellence, but we feel a new economic model is emerging of entrepreneurship."
Dusek noted that many of these young start-ups have succeeded despite their environment. "How can we help them to be more sustainable and put them at the core of what this region is about?" he asked.
The Forum has been working for many years facilitating dialogue on the crises facing the region to ensure the right stakeholders are sitting down to address fragility and humanitarian catastrophes and deal with the political picture, Dusek added. Leaders from different faiths also discussed the future of Iraq after the liberation of Mosul from Daesh, as well as the role of clerics in society.
Ghassan Hasbani, Deputy Prime Minister of Lebanon, said he took away ideas about how to continue creating hope for the young people in the region. "We need to show them examples of success and that we are taking the right action to create the right environment for them to stay in the region … and succeed," he said. "The region is in turmoil and facing political, economic and social challenges," he added, but young people are a bright light shining. "We want to give them hope by taking proactive action on the legislative and regulatory side, but also on the encouragement and support side, he said. Hasbani praised the Forum's Global Shapers community, a network of Hubs developed and led by young people with exceptional potential who want to make a contribution to their communities, and the more than 100 Arab start-ups represented at the meeting.
"We need to keep focusing on entrepreneurship at all levels," he added. "We need to move forward with supporting entrepreneurship and encourage bigger enterprises to be more socially responsible."
Start-ups face many challenges in the region, but Ambareen Musa, Chief Executive Officer of Souqalmal, United Arab Emirates, said they struggle with two main areas: talent and regulations. "It is extremely hard to find local talent. We need a real investment in education. It is about educating from a young age about entrepreneurship," she said. "There are new careers coming on board. Education is key to creating sustainable environment now and for the next generation of start-ups."
The next challenge is regulations. Investors want to know how big the regional market is, Musa added. "There have been a lot of changes, but I would like to see them faster. The dream is one currency, one region and no borders from a talent and regulatory perspective. That will make the expansion of the region for us much, much easier. It will also attract foreign direct investment." She pointed out that the region has been built on entrepreneurship. Musa noted that the meeting's common theme was "reform" and a mindset that it is time to move forward and create a sustainable environment.
Sana Hawasly, Chief Executive of Daraty, Syria, works with children in the education sector. "We want education to empower young people to create a lifelong learning opportunity with no restrictions around their educational experience," she said. "The best way to create this content is make kids feel free to express themselves and do the work they like to do." Daraty started with electronics to prepare them to build technology. In 2020 and beyond, people will require technical skills. "We are giving them the tools for the next marketplace that will replace what we are facing now," Hawasly added. "We were amazed at how kids were enthusiastic to do this."
Hawasly's main takeaway from the meeting is the enthusiasm venture capitalists and investors expressed and their interest in the Syrian people. "We should bridge the gap between how much technology is going into Syria and the excitement of investors. We have a powerful workforce in Syria and are strong in technology. We have a great lack of opportunity. I will go back with a great hope that the world is waiting for talent from Syria. We have to track the opportunities and do the hard work to get there."
Khadija Idrissi Janati, Founder and Chief Executive Officer of KMK Groupe, Morocco, and a Co-Chair of the World Economic Forum on the Middle East and North Africa, told participants that digital transformation is here and we need to adapt. But with increasing use of digital, society needs checks and balances. Children need to be exposed to digital technologies and the internet, but there must be trust and the engagement of parents.
"Trust is one of the challenges of the use of society media," she said. Responsibility is critical. It is also critical to verify the veracity of the information on social media. Idrissi Janati pointed out that Facebook just hired 3,000 people to verify information. "We are aware of the benefits [of digital media], but we also must be aware of the risks," she said.
Seyed Salih Al-Hakim, Director of the Hikmeh Center for Dialogue and Cooperation in Iraq, pointed to the need to keep religion out of politics and the role of clerics in fostering values. "Today, people have recognized that religion cannot be pushed into politics. It has its own place and cannot be part of the political bazaar," he said. Although religion is an integral part of people's lives, "People want to have a civil state. We do not want a religious government; we want a civilian government that respects religion … we have tried political Islam and it was not helpful. In history, when the sacred came into politics, it ruined our politics."
In post-conflict Iraq, there will be a need to create "a country of citizenship" as there is a need for true reconciliation. A dialogue among a group of clerics called for a review of religious and education institutions, as well as of religious curricula. It is time to pay more attention to youth and the role of women in the region. Al-Hakim called on entrepreneurs starting out to pay attention to values in addition to setting objectives and goals.
ADB Support to the Philippines to Reach Record High in 2020–2022
The Asian Development Bank's (ADB) sovereign lending for the Philippines is expected to reach $9.1 billion between 2020 and 2022, as the government seeks to invest more in much-needed infrastructure and pro-poor projects that will merge rural areas into urban growth centers. The indicative pipeline is in line with the priorities identified in ADB's country partnership strategy.
In the Philippines Country Operations Business Plan (COPB) 2020–2022, ADB said it will invest 59.5% of its 3-year sovereign lending program in transportation projects, such as railways, bridges, road networks, and elevated pedestrian walkways. The rest of its financial support will be devoted to the social sector, agriculture, public sector management, and sustainable water and urban development.
"This latest Country Operations Business Plan reflects ADB's strong commitment to supporting the Philippines' efforts to sustain inclusive economic growth, create business and job opportunities in the regions, and widen the reach of the government's education, health, and social protection programs," said ADB Country Director for the Philippines Mr. Kelly Bird.
ADB plans to finance projects and programs worth at least $2.5 billion annually in 2020 and 2021, matching the record high of $2.5 billion in sovereign lending to the Philippines expected by the end of the year. In comparison, ADB's annual lending from 2008–2018 averaged about $800 million.
Half of ADB's 2019 assistance program will fund the first tranche of the Malolos–Clark Railway Project, one of the government's big-ticket infrastructure projects under its "Build, Build, Build" (BBB) program. It is also the largest ADB project financing to date, worth $2.75 billion in total. Contracts for civil works for the project are expected to be awarded before the end of the year and construction work may begin in the second quarter of 2020.
ADB is preparing additional financing this year for the Infrastructure Preparation and Innovation Facility to support detailed engineering designs and feasibility studies for the government's priority projects under the BBB program. This will ensure a steady flow of investments into much-needed infrastructure projects that are viable and innovative.
In 2020, transportation and infrastructure will still make up the majority of ADB's financial support to the Philippines. This includes the South Commuter Railway Project that will connect Manila to Calamba and the EDSA Greenways Project, which will construct elevated walkways in four high density traffic locations along the main EDSA highway in Metro Manila.
The Integrated Flood Risk Management Sector Project is also being prepared for 2020 to finance up to six river basins across the country, and the Metro Manila Bridges Project will construct three bridges to help ease traffic conditions in the metropolis.
ADB's 2020 program will also include financing for the Expanded Social Assistance Project, which will build on a decade of ADB assistance to the government's conditional cash transfer program and support for the government's agricultural competitiveness program.
Live Simulation Exercise to Prepare Public and Private Leaders for Pandemic Response
The Johns Hopkins Center for Health Security in partnership with the World Economic Forum and the Bill & Melinda Gates Foundation will host Event 201: a high-level simulation exercise for pandemic preparedness and response, in New York, USA, on Friday 18 October, 08.45 – 12.30 EDT.
The exercise will bring together business, government, security and public health leaders to address a hypothetical global pandemic scenario. It will also feature a live virtual experience from 08.50 – 12.30 EDT to engage stakeholders worldwide and members of the public in a meaningful conversation of difficult high-level policy choices that could arise in the midst of a severe pandemic.
The world has seen a growing number of epidemics in recent years, with about 200 events annually including Ebola, Zika, MERS and SARS. At the same time, collective vulnerability to the social and economic impacts of infectious disease crises appears to be increasing. Experts suggest there is a growing likelihood of one of these events becoming a global threat – or an "event 201" pandemic – that would pose disruptions to health and society and cause average annual economic losses of 0.7% global GDP, similar in scale to climate change.
"We are in a new era of epidemic risk, where essential public-private cooperation remains challenged, despite being necessary to mitigate risk and impact" said Arnaud Bernaert, Head of Shaping the Future of Health and Health Care, World Economic Forum. "Now is the time to scale up cooperation between national governments, key international institutions and critical industries, to enhance global capacity for preparedness and response."
The International Health Regulations (IHR) that unite 196 countries across the globe in a legal commitment to prevent and respond to acute public health risks, prioritize both minimizing public health risks and avoiding unnecessary interference with international traffic and trade. Minimizing the economic impact of epidemics also represents an opportunity to build core capacities to prevent, detect, and respond to outbreaks generally.
"We live in an increasingly interconnected world, and we must help all UN member states align with the International Health Regulations and be prepared to prevent, detect, and respond to acute outbreaks," said Chris Elias, President of Global Development at the Gates Foundation. "If we fail to do so, the world will be unprepared for the next pandemic."
"In this new era of extreme pandemic threat, public-private cooperation is essential for an effective response," said Tom Inglesby, Director of the Johns Hopkins Center for Health Security. "While governments and public health systems are already strained due to the increase in dangerous outbreaks, experts agree that a severe, fast-spreading human-to-human pandemic incident could happen at any time. We believe this well-crafted and thorough realistic tabletop exercise will provide leaders with a deeper understanding of the impact of epidemics on their communities and inspire them to take important steps to advance prevention and response."
The participants in the live simulation represent a range of backgrounds and industries and include:
Latoya Abbott, Risk Management/Global Senior Director Occupational Health Services, Marriott International
Stan Bergman, Chairman and CEO, Henry Schein
Sofia Borges, Senior Vice President, UN Foundation
Chris Elias, President, Global Development division, Bill & Melinda Gates Foundation
Tim Evans, Former Senior Director of Health, World Bank Group
George Gao, Director-General, Chinese Center for Disease Control
Avril Haines, Former Deputy Director, Central Intelligence Agency; Former Deputy National Security Advisor
Jane Halton, Board member, ANZ Bank; Former Secretary of Finance and Former Secretary of Health, Australia
Matthew Harrington, Global President and Chief Operations Officer, Edelman
Chikwe Ihekweazu, Director General, Nigeria Centre for Disease Control
Martin Knuchel, Head of Crisis, Emergency and Business Continuity Management, Lufthansa Group Airlines
Eduardo Martinez, President, The UPS Foundation
Stephen Redd, Deputy Director for Public Health Service and Implementation Science, US CDC
Paul Stoffels, Chief Scientific Officer, Johnson & Johnson
Hasti Taghi, Vice President and Executive Advisor, NBCUniversal Media
Lavan Thiru, Chief Representative, Monetary Authority of Singapore
Similar high-level pandemic exercises designed to address difficult policy issues have included: Dark Winter, examining the challenges of a biological attack on the US; Atlantic Storm, asking NATO leaders to respond collaboratively to a bioterrorist attack: and most recently, Clade X, calling on US government leaders to make difficult national security and public health decisions in the face of a rapidly evolving global crisis.
In addition, Bill Gates co-chaired a simulation at the Forum's Annual Meeting 2017, resulting in the creation of the Epidemics Readiness Accelerator, a public-private platform to address effective readiness in issues including travel and tourism, supply chain and logistics, legal and regulatory, communications and data innovations.
European Agenda on Migration four years on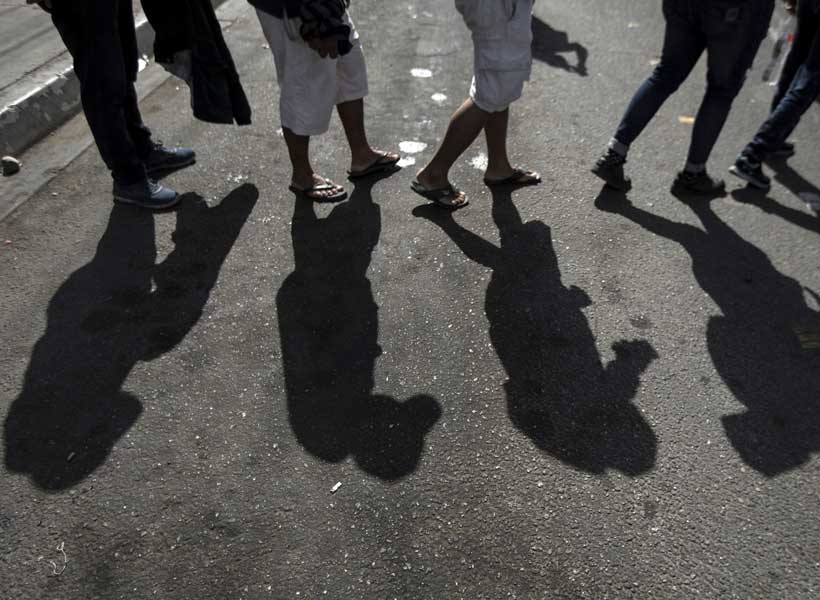 Ahead of the October European Council, the Commission is today reporting on key progress under the European Agenda on Migration since 2015, with focus on steps taken by the EU since the last progress report in March 2019. The Commission also set out those areas where work must continue to address current and future migration challenges.
High Representative and Vice President Federica Mogherini said: "Over the past years we have built an EU external migration policy when there was none. We have developed new partnerships and strengthened the old ones, starting with the African Union and the United Nations. Together we are saving lives and protecting those in need by enabling legal migration channels, addressing the drivers of migration, and fighting against smuggling of migrants and trafficking in human beings. The past years have confirmed that no country can address this complexity alone. It is only by working together, by joining forces that we can tackle these global challenges in an effective, human and sustainable way."
Commissioner for Migration, Home Affairs and Citizenship Dimitris Avramopoulos said: "These past years have shown that only together as a Union we are capable of responding to extreme circumstances. Collectively, we have laid down the structural and operational foundations for a comprehensive European migration system that not only responds effectively and delivers results, but also promotes solidarity and responsibility. While there is still more work to do and the situation remains fragile, we are much better prepared than we were in 2015." 
When the migration crisis broke out in 2015, the EU took swift and determined action to face exceptional challenges through common European solutions. Over the past 4 years, the basis for a strong collective EU migration policy and new tools and procedures for efficient coordination and cooperation are now in place. The EU is better equipped than ever before to provide operational and financial support to Member States under pressure, manage the external borders and work in partnership with countries outside the EU. However, more efforts are needed to complete this work and make the EU's migration policy truly future-proof, effective and resilient.
Important progress made towards a strong and effective EU migration management policy
Over the past 5 years, the Commission has worked tirelessly to build a stronger EU policy on migration. By focusing on priority areas we have managed to move from crisis mode to creating structural solutions to ensure Europe is better prepared for any future migratory challenges – in the medium and long term.
Solidarity and support to Member States: The EU is now working more closely with Member States than ever before through the hotspot approach and EU Agencies with over 2,300 staff deployed on the ground – to better manage migration, strengthen the external borders, save lives, reduce the number of irregular arrivals and ensure effective returns. The coordination processes and operational structures developed and established on the ground are key achievements that will remain in place.
Stronger cooperation with partner countries is achieving results: The EU has stepped up the work with partners outside of Europe to tackle the root causes of irregular migration, protect refugees and migrants and support host communities. Unprecedented funding, worth €9.7 billion, has been mobilised to this effect, notably through the EU Trust Fund for Africa, the Syria Trust Fund or the Facility for Refugees in Turkey, under which 97% of €6 billion has already been allocated. EU support is also focusing on resilience, stability, economic and employment opportunities. Cooperation with partner countries on return has also improved, with return and readmission agreements and arrangements now in place with 23 partner countries.
Groundwork laid for future strong and fair asylum rules:The need for a reformed Common European Asylum System was one of the clearest lessons of the 2015 crisis. The Commission put all the necessary proposals on the table for a complete and sustainable EU framework for migration and asylum. Whilst progress was made on five out of seven proposals, the reform is still pending and a common approach to securing a fair, more efficient and sustainable asylum system is still needed.
Important progress on safe and legal pathways: Over the past 5 years, Member States have made the largest collective efforts ever on resettlement, with almost 63,000 persons resettled. Confirming their commitment and determination to ensure the continuity of EU resettlement efforts in the future, Member States have responded to the Commission's call to continue resettling in 2020 by already pledging around 30,000 resettlement places.
More work and immediate steps required in key areas
Whilst the overall migratory situation across all routes has returned to pre-crisis levels with arrivals in September 2019 being around 90% lower than in September 2015, the situation remains volatile and geopolitical developments have created new challenges for the EU. Further work is needed to address immediate key challenges and to progress on on-going work, in particular:
Urgent action to improve the conditions in the Eastern Mediterranean: Whilst the Greek authorities have undertaken steps over the past months to alleviate the pressure on the islands, including notably a new reception strategy and new asylum measures, the increase in arrivals has put strain on an already fraught system. While the EU-Turkey Statement continues to deliver concrete results, renewed migratory pressure in Turkey and instability in the wider region continues to cause concern. In view of this, urgent action must be taken to improve reception conditions, increase transfers to mainland Greece from the islands and increase returns under the Statement. The Commission is also stepping up its support to Cyprus, which is currently facing an increase in arrivals.
More solidarity on search and rescue: Despite search and rescue efforts, lives continue to be lost at sea and the ad hoc relocation solutions coordinated by the Commission are clearly not long-term remedies. The Commission remains committed to working with and supporting Member States in agreeing temporary arrangements to facilitate disembarkation following search and rescue in the Mediterranean, and encourages more Member States to participate in solidarity efforts. Such arrangements could serve as inspiration for addressing flows in other parts of the Mediterranean.
Accelerate evacuations from Libya: The situation in Libya remains a major concern. After violent conflict erupted in and around Tripoli in April 2019, intensified efforts through the trilateral AU-EU-UN taskforce must continue to help free migrants from detention, facilitate voluntary return (49,000 returns so far) and evacuate the most vulnerable persons (over 4,000 evacuated). Member States urgently need to increase and accelerate the pace of resettlements under the Emergency Transit Mechanism (ETM) in Niger run with the UNHCR and support the newly established ETM in Rwanda.