Much Hope for Jordan and the Region – Young People Are the Bright Lights
The World Economic Forum on the Middle East and North Africa concluded today with strong expressions of hope for Jordan and the region, as well as recognition that investing in educating young people is critical.
Mirek Dusek, Head of Regional Strategies, Middle East and North Africa, and a Member of the Executive Committee at the World Economic Forum, pointed to the "amazing potential of young people and young companies" across the region who have had such a strong presence during the meeting. "We have seen pockets of excellence, but we feel a new economic model is emerging of entrepreneurship."
Dusek noted that many of these young start-ups have succeeded despite their environment. "How can we help them to be more sustainable and put them at the core of what this region is about?" he asked.
The Forum has been working for many years facilitating dialogue on the crises facing the region to ensure the right stakeholders are sitting down to address fragility and humanitarian catastrophes and deal with the political picture, Dusek added. Leaders from different faiths also discussed the future of Iraq after the liberation of Mosul from Daesh, as well as the role of clerics in society.
Ghassan Hasbani, Deputy Prime Minister of Lebanon, said he took away ideas about how to continue creating hope for the young people in the region. "We need to show them examples of success and that we are taking the right action to create the right environment for them to stay in the region … and succeed," he said. "The region is in turmoil and facing political, economic and social challenges," he added, but young people are a bright light shining. "We want to give them hope by taking proactive action on the legislative and regulatory side, but also on the encouragement and support side, he said. Hasbani praised the Forum's Global Shapers community, a network of Hubs developed and led by young people with exceptional potential who want to make a contribution to their communities, and the more than 100 Arab start-ups represented at the meeting.
"We need to keep focusing on entrepreneurship at all levels," he added. "We need to move forward with supporting entrepreneurship and encourage bigger enterprises to be more socially responsible."
Start-ups face many challenges in the region, but Ambareen Musa, Chief Executive Officer of Souqalmal, United Arab Emirates, said they struggle with two main areas: talent and regulations. "It is extremely hard to find local talent. We need a real investment in education. It is about educating from a young age about entrepreneurship," she said. "There are new careers coming on board. Education is key to creating sustainable environment now and for the next generation of start-ups."
The next challenge is regulations. Investors want to know how big the regional market is, Musa added. "There have been a lot of changes, but I would like to see them faster. The dream is one currency, one region and no borders from a talent and regulatory perspective. That will make the expansion of the region for us much, much easier. It will also attract foreign direct investment." She pointed out that the region has been built on entrepreneurship. Musa noted that the meeting's common theme was "reform" and a mindset that it is time to move forward and create a sustainable environment.
Sana Hawasly, Chief Executive of Daraty, Syria, works with children in the education sector. "We want education to empower young people to create a lifelong learning opportunity with no restrictions around their educational experience," she said. "The best way to create this content is make kids feel free to express themselves and do the work they like to do." Daraty started with electronics to prepare them to build technology. In 2020 and beyond, people will require technical skills. "We are giving them the tools for the next marketplace that will replace what we are facing now," Hawasly added. "We were amazed at how kids were enthusiastic to do this."
Hawasly's main takeaway from the meeting is the enthusiasm venture capitalists and investors expressed and their interest in the Syrian people. "We should bridge the gap between how much technology is going into Syria and the excitement of investors. We have a powerful workforce in Syria and are strong in technology. We have a great lack of opportunity. I will go back with a great hope that the world is waiting for talent from Syria. We have to track the opportunities and do the hard work to get there."
Khadija Idrissi Janati, Founder and Chief Executive Officer of KMK Groupe, Morocco, and a Co-Chair of the World Economic Forum on the Middle East and North Africa, told participants that digital transformation is here and we need to adapt. But with increasing use of digital, society needs checks and balances. Children need to be exposed to digital technologies and the internet, but there must be trust and the engagement of parents.
"Trust is one of the challenges of the use of society media," she said. Responsibility is critical. It is also critical to verify the veracity of the information on social media. Idrissi Janati pointed out that Facebook just hired 3,000 people to verify information. "We are aware of the benefits [of digital media], but we also must be aware of the risks," she said.
Seyed Salih Al-Hakim, Director of the Hikmeh Center for Dialogue and Cooperation in Iraq, pointed to the need to keep religion out of politics and the role of clerics in fostering values. "Today, people have recognized that religion cannot be pushed into politics. It has its own place and cannot be part of the political bazaar," he said. Although religion is an integral part of people's lives, "People want to have a civil state. We do not want a religious government; we want a civilian government that respects religion … we have tried political Islam and it was not helpful. In history, when the sacred came into politics, it ruined our politics."
In post-conflict Iraq, there will be a need to create "a country of citizenship" as there is a need for true reconciliation. A dialogue among a group of clerics called for a review of religious and education institutions, as well as of religious curricula. It is time to pay more attention to youth and the role of women in the region. Al-Hakim called on entrepreneurs starting out to pay attention to values in addition to setting objectives and goals.
In Times of Division, Arts and Culture Bring Us Together: Meet the Davos Cultural Leaders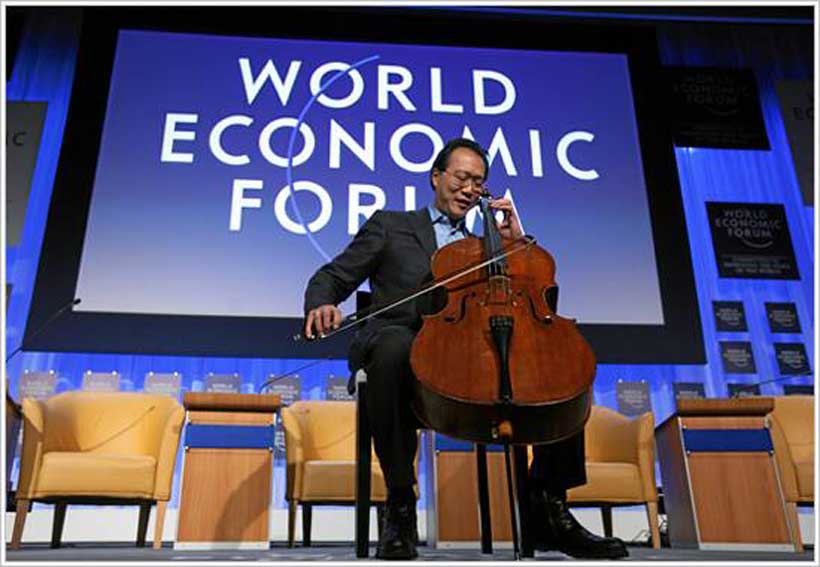 The World Economic Forum announced today the participation of prominent cultural leaders in the Annual Meeting 2022 in Davos-Klosters. These prominent figures will join their peers from business, government, the media and civil society to advance dialogue on how to reconnect in a post-pandemic era and unite to rebuild a world of inclusivity and sustainability under the meeting's theme "History at a turning point: Government policies and business strategies".
Cultural leaders will include former Crystal Award recipients world-renowned cellist Yo-Yo Ma and musician will.i.am; portrait and documentary photographer Platon; Verbier Festival and Academy founder and director Martin Engström; Grammy-winning classical pianist Emanuel Ax; singer/songwriter, actress and activist Inna Modja; and new media artist and director Harry Yeff.
"Never has there been a time more important, more pressing, then the present for arts and culture to unite us," said Joseph Fowler, Head of Arts and Culture at the World Economic Forum. "When you experience culture, there is a sense of expansion when you cease to think about yourself and you feel part of something larger. The creative sectors are some of the most important when it comes to social impact and human connection and when they are coupled with the power of new technologies, arts and culture have an immense potential to nurture a culture of peace."
Arts and culture will be integrated across throughout the Annual Meeting 2022:
Thepower and potential of the human voice is the focus of Voice Gems – Messages of Hope. Created by Harry Yeff and Trung Bao, the Voice Gems system sculpts over 200,000 particles with fingerprint-like voice data to create the colours and form of the each unique gem stone. The exhibition will feature a total of 17 messages of hope that have been recorded by a diverse selection of people including primatologist and anthropologist Jane Goodall; creative innovator, entertainer and tech investor will.i.am; poet and author Rupi Kaur; author and disability advocate Sinead Burke; and spiritual leader Sadhguru.
The Annual Meeting concert entitled "Our Shared Humanity" – to be performed byYo-Yo Ma and Emanuel Ax – is a celebration of humanity and shared hopes for a united and prosperous future. The accompanying immersive backdrop includes images provided by Atlas of Humanity as well as an exclusive filmed performance by dancer and choreographer Ahmad Joudeh. It is also a musical statement of support and solidarity with the people of Ukraine.
In collaboration with the Natural History Museum – London, a selection of photographs from the 2021 edition of the Wildlife Photographer of the Year competition will be showcased, inviting viewers to gaze through the lens of some of the world's best wildlife photographers and explore the natural world in all its fragility, diversity and wonder.
Exploring the endless scope of opportunity the Metaversepresents, the Forum has partnered with Microsoft and Accenture to create the Global Collaboration Village. This will be anopen, collaborative platformbuilt together with international organizations, governments, civil society organizations and arts organizations. The overall concept and architecture will be showcased at Davos as well as a prototype of the experience and its functionality. An immersive experience will tell the story of the Sahel and Africa's Great Green Wall Initiative supported by 1T.org.
Maharashtra Joins the World Economic Forum in the Fight Against Plastic Pollution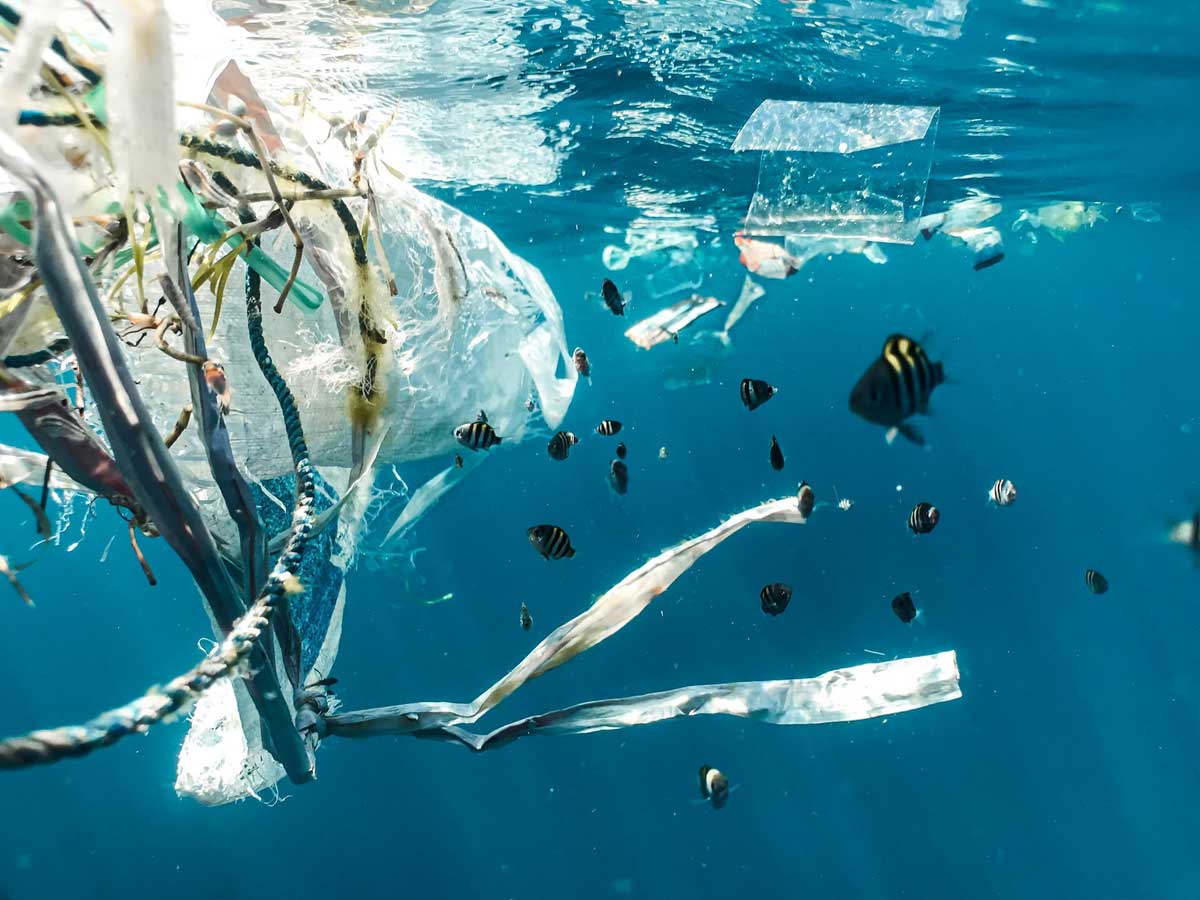 Maharashtra state, through its Ministry of Environment and Climate Change, has joined the World Economic Forum's Global Plastic Action Partnership (GPAP).
The announcement follows the fifth United Nations Environment Assembly (UNEA 5), where a resolution was adopted in March 2022 that will hold member nations legally accountable for their contributions to the global plastic pollution crisis. By joining the Global Plastic Action Partnership, Maharashtra aims to enhance its commitment to curbing plastic pollution, raise its ambition, and ensure accountability and inclusivity throughout the value chain.
The Ministry of Environment and Climate Change of Maharashtra will work with GPAP to launch a National Plastic Action Partnership (NPAP) in Maharashtra as a platform to tackle plastic waste pollution. The GPAP-Maharashtra partnership is the first in India. Maharashtra, whose capital city is Mumbai, has an estimated population of 124 million people, larger than countries such as Ethiopia and the Philippines, making this a significant partnership in per capita terms. Nations currently implementing such partnerships include Indonesia, Ghana, Pakistan, Viet Nam and Nigeria.
"This agreement with the World Economic Forum's Global Plastic Action Partnership marks a critical juncture in our state's battle against the plastic pollution endemic," said Aaditya Thackeray, Minister of Environment and Climate Change for Maharashtra. "Covid proved a hurdle towards our single use plastic ban, where health priorities in PPP took precedent. Now as we refocus on our climate and sustainability objectives, we are laying the foundation to deliver the systems-wide change needed across sectors. This partnership is the building block as we transition towards a more resource circular approach to tackle climate change while strengthening our economy."
The NPAP model creates a circular economy framework for plastics through a locally-led, locally-driven platform. In Maharashtra, it will bring together the state's most influential policy-makers, business leaders and civil society advocates. This group will deliver a state-level action plan to radically reduce plastic pollution and connect high-potential solutions with strategic financing opportunities.
"GPAP is thrilled to partner with Maharashtra to continue their efforts to tackle the plastic pollution problem," said Kristin Hughes, Director of the Global Plastic Action Partnership. "This partnership with Maharashtra signifies the Ministry of Environment and Climate Change's acknowledgement that solutions extend beyond plastic bag bans and that collective action is required. Multiple interventions need to be implemented in a coordinated manner, with strong collaboration between all stakeholders. Inclusivity will be a core pillar of our collaboration to ensure that informal sector workers are not disadvantaged and, as such, form an integral part of each roadmap's implementation plan."
Maharashtra is positioning itself as a leader nationally in India in the fight against plastic waste pollution. In March 2018, the Government of Maharashtra banned the manufacturing, sale and use of single-use plastic bags. It also banned an array of single-use plastic products, including cutlery, straws and containers.
After Two-Year Hiatus, Open Forum returns to Davos at a Crucial Turning Point in History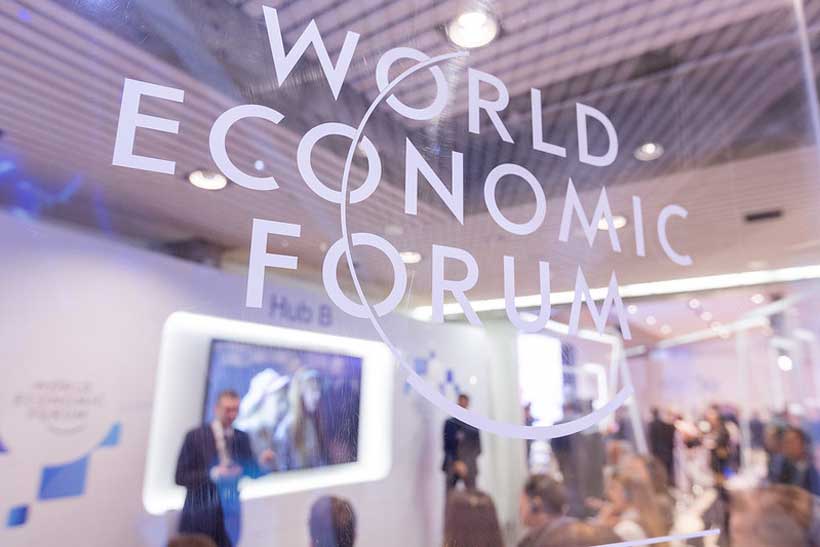 As part of the World Economic Forum Annual Meeting 2022, this year's Open Forum Davos will focus on the impacts of the COVID-19 pandemic, the Russian invasion of Ukraine and the role of multilateralism for peace in Europe as well as other global challenges.
Taking place for the first time since January 2020, the Open Forum offers a platform for debate and interaction on controversial issues between the public and scholars, business leaders and policy-makers around improving the state of the world.
Young and diverse voices will also play a prominent role in the discussions, with one session on youth mental health co-designed and moderated by students from Geneva, Switzerland. Each session will include at least one member of the Forum's Global Shapers Community, a wide-ranging network of people under 30 from all walks of life and different parts of the world.
Ignazio Cassis, President of the Swiss Confederation, among other high-level panellists, will be joined by Ievgeniia Bodnya, 27, who mobilized the Global Shaper Hub she leads in Kyiv to build the Support Ukraine Now, a crowdsourcing and sharing information platform for people to support Ukrainians affected by the war. In another session, Kyiv Mayor Vitaliy Klitschko and his brother Wladimir, Chairman of the Klitschko Foundation, will talk about how the Russian invasion has affected them and their country.
Also present at the Open Forum will be a group of climate activists, including 26-year-old Vanessa Nakate, author and climate advocate who addressed world leaders at the World Economic Forum 2020. The activists will articulate how to turn words into action to fight the climate crisis. Gender equality will also feature prominently in the conversations.
On the digital front, the last two years have seen the blending of in-person and virtual interactions. Peggy Johnson, Chief Executive Office of augmented reality company Magic Leap, will introduce the possibilities of the Metaverse and then join a panel of experts, including Pascal Kaufmann, President and Founder of the Mindfire Foundation, the brain behind Lab42, which is setting up shop in Davos in July and aims to become the largest AI lab in the world.
Additional panellists who will participate in this year's Open Forum Davos include:
Ignazio Cassis, President of the Swiss Confederation and Federal Councillor for Foreign Affairs of Switzerland
Stephane Bancel, Chief Executive Officer, Moderna
Isabella Eckerle, Associate Professor, Department of Medicine, University of Geneva
Vivianne Heijnen, Minister for the Environment, Ministry of Infrastructure and Water Management of the Netherlands
Mikaela Jade, Founder and Chief Executive Officer, Indigital
Peggy Johnson, Chief Executive Officer, Magic Leap Inc.
Marco Lambertini, Director-General, WWF International
Edward Lewin, Vice-President and Head of Government and Public Affairs, LEGO Group
Klaus Moosmayer, Chief Ethics, Risk and Compliance Officer, Novartis AG
Seth Moulton, Congressman from Massachusetts
Nadia Murad, Nobel Peace Laureate, Nadia's Initiative; Co-Founder, Global Survivors Fund (GSF), Global Survivors Fund
Anna Riedl, Cognitive Scientist and Global Shaper, Vienna Hub
Philipp Wilhelm, Mayor of Davos
Sakena Yacoobi, Executive Director, Afghan Institute of Learning
Open Forum Programme
Monday 23 May
12.30 – 13.30 A Discussion with the Klitschkos
18.30 – 20.00 A Wake-Up Call from Nature
Tuesday 24 May
09.00 – 10.30 Growing Up in the Pandemic
14.30 – 16.00 Working Together for Peace
18.30 – 20.00 Ethical Decision-Making in Times of Crisis
Wednesday 25 May
09.00 – 10.30 Turning Words into Action
12.30 – 14.00 A Discussion about Equality
18.30 – 20.00 Racial Disparities in Refugee Treatment
Thursday 26 May
09.00 – 10.30 The Possibilities of the Metaverse
The Open Forum Davos, now in its 19th year, will open its doors to the public from 23 to 26 January in Davos, Switzerland. It will be held at the Tobelmühle Sports Hall, Tobelmühlestrasse 4 e, Davos Platz, Switzerland. Those who missed the deadline to attend in person can watch the sessions via webcast at www.weforum.org/open-forum #wef22 #openforum. Sessions will be also available on YouTube after the event.