Oil Deal: Can OPEC Afford One?
In my last article I covered different prospects/facets that signaled towards the extension of an oil deal. Of late there are developments that not only serve as a testimony to the possibility of an extension but also its probable segue into the year 2018 (until March).
Recently Russia and Saudi Arabia, in order to give some support to the falling oil prices (that stood at a level before the Vienna deal), gave a joint statement declaring that they will do whatever they can to balance the oil markets and that the deal may be extended to March 2018. It remains to be seen that other OPEC and NOPEC producers agree with them or not but as the influence of both the countries in the first and latter camps is evident the oil prices surged by 3% on the very day of announcement. On the other hand the story remains the same: Rising oil production, ballooning inventories and rigs being added every week. So while market observers try to answer the question of whether there is a possibility of such an extension? The main question, however, is that: Whether they (Oil producers) can afford one?
Of course the producers in question are not the Shale, which are ramping up production and giving a tough time to OPEC, as a Bloomberg article said, by increasing their investment by 32% to $84 billion. Such a surge in outlays (51 percent in 2017) is quite surprising as the oil markets and companies still struggle to shed of the residual effects of the recent oil price crash (starting in 2014). The rig count is at historic highs so are the Cushing inventories, although there has been few withdraws. The US production has reached from 8 million barrel mid-2016 to 9.23 million in the month of April. (Also see EIA's drilling productivity report). More crude is coming in, or is planned to, as the Sharara oil field in Libya starts oozing oil once again. Nigeria is expected to raise production as well. Many oil companies are back at the once deserted projects too.
Where does all this fit in with the production cuts? Nowhere. In fact, this can provide a serious offsetting effect, in case the deal is extended, and may falter the belief of the signatories even after the success of the extension. On the contrary, as the main thesis of the article purports, the OPEC producers cannot afford an extension of 9 months. The empirical evidence which one can gather very easily throughout these 6 months, glimpses of which are also given above, is enough to suggest that a further price hike, which will naturally and obviously follow in case of the deal, will make US Shale producers more daunting in their approach to take on more big projects also effecting the incumbent drilling activity. Permian basin, especially, is viable even at $30 per barrel.
But there are experts echoing bullishness in the years to come. Consider the analysis of Mr. Bill Strazzullo, who sees oil at $90 in few years. It should also be noted that this man predicted the recent oil price crash when there were no signs, not even a whiff, of such a crisis. IEA is also bullish as it sees a difference in supply and demand by 2022, that the demand will overcome supply given the recent cuts in E&P budgets. Goldman Sachs, has said to go long on oil, as the investment banks sees a tighter oil supply and inventory withdraws in next months. But the most feasible analysis is that of Goldman Sachs as the effect of an oil deal extension coupled along with the US summer driving season may tweak the oil markets in a positive sense.
But none of this related to fundamentals. That is to say supply and demand. The supply, if not from the Middle East, but from US is still adding up. The demand has all but shown a promising side with projections that countries like India and other Non-OECD countries may provide some suction force to take out the supply. The bullish outlook of IEA is hard to buy as the oil projects reduce the payback and lead time hence bringing the production at a faster rate to the markets than before. Also, as aforesaid, there are evidences that projects are coming back, oil companies have also posted profits recently. What is going to happen, if we are to take an educated guess, the oil prices will rise or remain stable in the third and fourth quarter of this year, provided that there are inventory withdraws and the OPEC and NOPEC producers remain loyal to the deal. But as it happened few months back when the inventories were increased by 8.4 million barrel and the prices crashed once again. And as happened few weeks back when the news of rising US production and come back of Libyan oil made the prices take a turn back at square one (Reality Check).
There is a specific pattern that a keen observer can trace out according to which oil markets tend to move these days:
Displacement——–Euphoria————Reality Check————Price Drop———-Stability.
When the oil producers meet on 25th of May, the markets would be in the first stage. After the euphoria has settled, the oil markets will get a reality check when the news of unyielding shale production will start to flow in. Libyan and Nigerian oil production may exacerbate the situation. The prices will drop (as they did twice-explained above). Then there will be a lull. The prices will stabilize at that point not going down further, as there will be deal in place, and prices not rallying up due to the sentimental/speculative effects of that deal. It is very hard for oil prices to cross the mark of $60, $65 is the maximum. At least for 2018.
Energy is at the heart of the sustainable development agenda to 2030
Three years ago, all countries of the world adopted 17 ambitious policy goals to end poverty, protect the planet, promote gender equality, or ensure prosperity, as part of the United Nations Sustainable Development Agenda, and vowed to achieve specific targets by 2030.
Energy is at the heart of many of these Sustainable Development Goals – from expanding access to electricity, to improving clean cooking fuels, from reducing wasteful energy subsidies to curbing deadly air pollution that each year prematurely kills millions around the world. One of these goals – commonly known as SDG 7 – aims to ensure access to affordable, reliable, sustainable and modern energy for all by the end of the next decade.
All these topics are fundamental to the work of the International Energy Agency. As the world's leading energy authority, the IEA has unmatched analytical capabilities based on its unique data collection, technological network, research, and policy recommendations, which we put in the service of understanding the energy system. As I have often said – in the world of energy, data always wins.
The adoption of energy specific sustainable development goals was a milestone in moving the world towards a more sustainable and equitable system. The IEA continues to support this critical goal with unbiased data and projections. This has long been a personal and professional priority for me. Fifteen years ago, we recognized this basic fact when we first compiled data for electricity access and mapped out a scenario for delivering universal electricity access by 2030 in the World Energy Outlook, the IEA's benchmark publication.
As a result, the IEA has been tracking country-by-country progress on energy access (SDG 7.1) on an annual basis since 2002. As the world's most authoritative source of energy statistics, the IEA is also the lead custodian agency for reporting progress towards substantially increasing the share of renewables in the global energy mix (SDG 7.2) and doubling the global rate of improvement in energy efficiency (SDG 7.3).
The United Nations will have the first in-depth review of SDG 7 goals at the High-level Political Forum on Sustainable Development organized in New York, in July this year. This will be a good time to assess where we stand with our global energy goals, where existing national policies are taking us, and how to steer the global energy system towards a more sustainable path. To assist this critical process, the IEA has decided to create a new online resource to centralize all of our data and scenario projections in support of the 2030 Agenda.
It is clear that the energy sector must be at the heart of efforts to lead the world on a more sustainable pathway. But our data and analysis show that the current and planned policies fall well short of achieving our critical energy-related sustainable development objectives.
There has been tremendous progress in delivering universal electricity access (SDG 7.1.1) in Asia and parts of sub-Saharan Africa, with the number of people without access declining to 1.1 billion in 2016, from 1.7 billion in 2000. But on the basis of current progress, more than 670 million people are still projected to be without electricity access in 2030. Much work remains to be done in this field.
The picture is even dimmer when it comes to access to clean and modern cooking facilities (SDG 7.1.2). About 2.8 billion people rely on polluting biomass, coal and kerosene to cook their daily meals, a number which has not changed since 2000. Without greater ambition, 2.3 billion will still remain without clean cooking access in 2030, with grave health, environmental and social consequences.
The share of modern renewables in global final energy consumption (SDG 7.2) has been growing steadily in the past decades, reaching nearly 10% in 2015. However, to achieve a truly sustainable energy system, this share needs to more than double to 21% by 2030. But while wind and solar deployment has accelerated, thanks to falling costs and policy support in many parts of the world, this goal is still out of reach under current policies.
Finally, 2015 was an impressive year for energy efficiency (SDG 7.3), with global energy intensity falling by 2.8%, the fastest annual improvement since 1990. However, the average improvement between 2000 and 2015 of 2.2% still falls short of the 2.6% target needed to achieve the SDG target, and the 3.4% annual improvement needed to meet more ambitious long-term climate objectives.
Tracking progress towards these goals is only one aspect of our sustainable development work. Through our new Sustainable Development Scenario, introduced in 2017, we also seek to map an integrated path for achieving critical global goals in the next three decades: delivering universal energy access by 2030, an early peak in carbon emissions (SDG 13), and reducing deadly air pollution (SDG 3). One of the main finding of this new scenario is that these three goals are not incompatible. Indeed, our analysis shows they can successfully be met together.
But there is an urgent need for action on all fronts, especially on renewables and energy efficiency, which are key for delivering on all three goals – energy access, climate mitigation and lower air pollution. The IEA is committed to keep leading this agenda, and stepping up efforts to support the clean energy transition. We will do so with our unparalleled data, unbiased analysis, and our determined policy support to help move the world towards delivering the 2030 Agenda.
Reducing Greenhouse Gas Emissions through Energy Efficiency – and Learning from One's Peers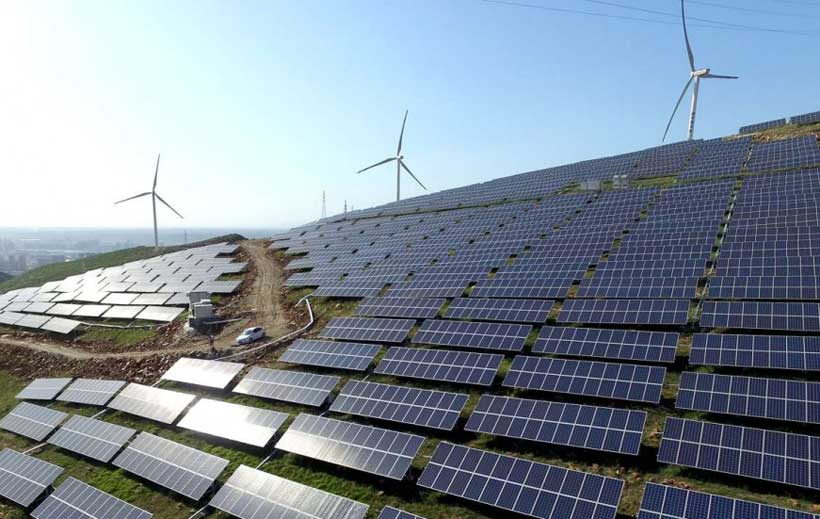 China, India, Indonesia, the Philippines, Pakistan, and Vietnam are critical for global climate action. Why? Among other reasons, because three-fourths of all new coal-fired power plants to begin operations before 2020 globally will be in these six Asian countries. Fostering more energy efficiency will be imperative in the countries' efforts to adopt a low carbon energy path.
One initiative that supports efforts to scale up energy efficiency and clean energy – and lower greenhouse gas emissions – in these six countries is the Energy Transition in Asia program managed by the Energy and Extractives Global Practice.
Comprising of knowledge exchange and capacity building on key issues, the program recently held a workshop in Singapore to share lessons learned on energy efficiency, following last year's learning forum on solar auctions, also held in the city-state. Participants agree that peer-to-peer learning works. After sharing best practice efforts in China, India, Japan, Korea, Mexico, the United Kingdom, and host country Singapore, team spirit and friendships strengthened, along with confidence, productivity and learning outcomes.
By the end of the three-day workshop, participants from governments not only requested follow-up assistance but also to learn more from their newfound friends about conserving more energy. "We were able to advance country engagement with the clients on energy efficiency," explained Xiaodong Wang, team leader for the Energy Transition in Asia initiative. "Conducive policies that combine mandatory regulations with financial incentives are essential drivers to create market demand for catalyzing investments in energy efficiency."
Results are already encouraging. China is a leading example. From 1990 to 2010, more than half of global energy savings took place in China, thanks to the government's ambitious targets, stringent regulatory policies, generous financial incentives, and effective institutions – all of which reiterate strong commitment to energy efficiency. Reducing energy intensity was made a mandatory target, allocated to each province and 17,000 energy intensive enterprises. Efficiency standards for appliances, buildings, and vehicles were upgraded and complemented with billions of dollars of financial incentives in output-based subsidies, rebates for energy efficient consumer products, and compensation for the phase-out of inefficient stocks. All these efforts were monitored across the country.
India also led by example. Energy savings targets – at least for energy intensive industries – were made mandatory with the Perform, Achieve, and Trade scheme (PAT), which also allows the trade of Energy Savings Certificates to achieve targets in a least-cost way. Non-compliance at the end of the three-year cycle incurs a financial penalty. The results of the first phase surpassed targets. The second phase began in April 2017.
Workshop participants from India reminded, however, that these are early years. Following a visit to the district cooling system under Marina Bay Sands – the world's largest underground facility and its most efficient – S.P. Garnaik, Chief General Manager of India's Energy Efficiency Services Ltd. (EESL), a joint venture under the Ministry of Power, envisioned replicating such a system in India. But while a policy framework is being prepared to support the use of district cooling systems in rapidly urbanizing India, Garnaik admits that substantial results may take time, as "these are very new concepts."
In addition to the mandatory output-based target approach in China and India, participants also noted Singapore's green mark program, which combines mandatory building codes with financial incentives from the government for auditing and investment costs, as a model to emulate.
Indeed, the knowledge gap between participating countries is large. Yet even countries in the 'nascent' phase are eager to make progress.
Energy intensity in Asia is highest in Vietnam, with energy consumption by industry accounting for almost half of the country's total energy use. Current efforts towards energy efficiency are encouraging. Labeling schemes have been established and energy management systems now require energy managers and auditors in large energy users. Indonesia is implementing a similar  system.
Learning from one's peers can be galvanizing. As Trinh Quoc Vu of Vietnam's Energy Efficiency and Sustainable Development Department at the Ministry of Industry and Trade explains, Vietnam is eager to learn from China's and India's shift to a mandatory target approach. Indonesia's delegates were inspired by their peers' experience in expanding pilot programs. The Bank is providing advisory services to both Indonesia and Vietnam in their efforts to scale up energy efficiency.
The workshop also highlighted the critical role of strong government support in developing the ESCO business. ESCOS are energy service companies which design and implement energy savings projects.  Energized by his peers, Trinh is now intent on exploring mechanisms for promoting and incentivizing the ESCO business in Vietnam.
The World Bank Group supports many energy efficiency financing mechanisms worldwide, including through credit lines, risk sharing facilities, dedicated funds, program-for-results (PforR), and development policy loans. Critical to success is a strong pipeline for deal flows, as well as technical assistance.
In India, the Partial Risk Sharing Facility for Energy Efficiency initiative, financed by the Clean Technology Fund (CTF) and Global Environment Facility (GEF) resources,  is supporting private sector ESCO-implemented energy efficiency projects through partial credit guarantees. The proposed new US$300 million India Energy Efficiency Scale Up Operation with EESL is expected to leverage over $1.5 billion of demand side energy efficiency investments across residential and public sectors. Similarly, the China Energy Efficiency Financing Project has leveraged the original World Bank financing eight times over, with a total investment of US$2.6 billion. The project has led to an annual reduction of 11 million tons of CO2 emissions.
Such figures may seem ambitious, but workshop participants were unfazed. Many are confident they will accomplish similar achievements. When learning from one's peers, who all face challenges in their respective development journey, anything can seem possible.
The Sustainable Energy Forum for East Africa 2018
The Sustainable Energy Forum for East Africa, a key event for promoting access to renewable energy sources in the region, will take place between 19 and 21 March 2018 in Kigali, Rwanda.
Leaders from governments, businesses, civil society and international organizations are expected to attend the Forum and exchange ideas on how to improve access to clean energy sources in East Africa. The event comes at a crucial moment when the international community is focused on improving progress on Sustainable Development Goal 7 and the goals set by the Paris Climate Agreement.
Off-grid renewables, clean cooking fuels, and energy financing and policies are among the many issues that will be discussed in the plenaries. The Forum will also feature sessions on sustainable cities, East Africa's geothermal projects and future potential, and gender mainstreaming in energy access.
Speakers attending the Forum include: Rachel Kyte, CEO of Sustainable Energy for All; Ambassador Libérat Mfumukeko, Secretary General, East African Community (EAC); Tareq Emtairah, Director of Energy, United Nations Industrial Development Organization (UNIDO); Robert Zeiner, Director International Cooperation, Austrian Development Agency; Upendra Tripathi, Director General, International Solar Alliance (ISA); and Sakari Oksanen, Deputy Director General, International Renewable Energy Agency (IRENA); Monojeet Pal, Manager, African Development Bank (AfDB).
This year's Forum will take place in Kigali, Rwanda. The city is a very special location since it hosted one of the most successful international treaties in human history, the Kigali Amendment to the Montreal Protocol.
The Sustainable Energy Forum for East Africa 2018 is organized by the East African Centre for Renewable Energy and Energy Efficiency (EACREEE) in collaboration with the United Nations Industrial Development Organization (UNIDO), the EAC Secretariat, the Austrian Development Agency (ADA), Sustainable Energy For All (SEforALL), and the Ministry of Infrastructure of the Republic of Rwanda (MININFRA), and is hosted by the government of Rwanda.
The organizers welcome participants from the public and private sectors, including sub-national entities, development finance institutions, domestic and international enterprises, international organizations, industry associations, and experts from academia.