The Belt and Road Initiative: China's future geostrategy
[yt_dropcap type="square" font="" size="14″ color="#000″ background="#fff" ] A [/yt_dropcap]s is also the case with Chinese traditional philosophy, present, future and past always tend to coincide in one single choice in the Chinese strategic vision.In Xi Jinping's initial proposals for the "Belt and Road Initiative" – or, to use the official terminology, the Silk Road Economic Belt and the 21st Century Maritime Silk Road, which were outlined by him on two occasions between September and October 2013 – he starts from two evaluations, namely a strategic evaluation and another one having an immediate interest.
The Maritime Silk Road was actually outlined for the first time by the Chinese President in a speech to the Indonesian Parliament in October 2013, while the Terrestrial Silk Road was first quoted by Xi Jinping in his State visits to Central Asia in September 2013.
The first long-term strategic idea is based on the design of a Greater Eurasia, hinged around Russia, China and the great countries of the Heartland, namely the "world island" as Sir Halford Mackinder called it.
The second most immediate evaluation is that the world has not yet emerged from the great economic crisis which began in 2008.
The Thunder and the River, namely the moment of immediate concreteness and the infinite flow of Time – just to use two concepts and images of Taoism.
But where does the Terrestrial Silk Road pass and which seas are connected by the Maritime Silk Road?
Six corridors have been designed in great detail and paying specific attention to local characteristics: firstly, the New Eurasian Land Bridge, from Western China to Western Russia, which in the future will connect the city of Lyanyungang, in the Jangsu Province, with the Dutch city of Rotterdam.
It is mainly a railway line, with a link between Bulgaria and Turkey, crossing inevitably the Iranian territory.
Secondly the China-Mongolia-Russia Corridor, from Northern China to Eastern Russia; thirdly the China-Central Asia-Western Asia Corridor, from the territory of the People's Republic of China to Turkey. Fourthly the Corridor from Southern China to the Indochinese peninsula up to Singapore; fifthly the China-Pakistan Corridor where, in the Gwadar port recently purchased by China, there will be one of the links between the Terrestrial and the Maritime Silk Roads. Sixthly the Bangladesh-China-India-Myanmar Corridor and finally the very long Maritime Silk Road, from the Chinese coast to Singapore up to the Mediterranean.
At strategic and economic levels, the individual projects are manifold and significant. Russia, in particular, together with China, is focused on establishing economic and financial alliances allowing to reach a great geopolitical result, which is currently the same both for Russia and China: reduced EU and NATO pressure on its Western and Southern borders and the related expansion of the Eurasian area of influence, precisely the New Greater Eurasia, towards the Mediterranean and our own Eurasian Peninsula, namely Western Europe.
While the United States failed to reach the TTIP agreements with the EU, which negotiated that dossier jointly, with the two Silk Roads, Russia and China will make to the EU and the entire Mediterranean region a proposal they will not be able to refuse – otherwise the current economic recession will persist – a proposal also combined with North America's and European Central Bank's monetary expansion policies.
With the two Silk Roads, the United States will be cut down to size drastically.
In fact, Xi Jinping policy lines on the "Belt and Road Initiative" point to the implementation of the old Maoist project of the "Three Worlds": the World of "global peripheries", which will have only China as beacon and geopolitical and military representation; the First World which is marginalized also militarily and finally the Second World, the world of the old Soviet universe, that the collapse of "revisionist imperialism" – as Mao Zedong would have called it – has made a stable ally of the new Chinese geopolitics.
Moreover, as early as 2001, the Russian Federation already established a Eurasian Economic Community with Belarus, Kazakhstan, Kyrgyzstan and Tajikistan. In 2010 Belarus and Kazakhstan created a customs union and finally, in 2011, those same countries signed a Declaration on Eurasian Economic Integration and a new Treaty establishing the Eurasian Economic Commission.
Furthermore, in 2012, the decision was also taken to launch the Eurasian Economic Union.
The future integration process will be centred on the Shanghai Cooperation Organization (SCO), ASEAN and hence the two Chinese "Initiatives".
The aim is to limit the world recession damage but, above all, to mitigate the effects of Western sanctions on the Russian Federation.
Putin wants to quickly merge all strategic-economic integration initiatives into one single process, which would also optimize the anti-cyclical effects of all these initiatives and would provide the opportunity for a "Eurasian phase" of Russian politics – a phase that Vladimir Putin has already announced.
It is worth noting, however, that, by proposing the two integrated Silk Roads, China does not intend to establish binding political mechanisms or to recreate a series of military and strategic buffer zones around China.
Xi Jinping has been very clear about it.
In fact, China clearly wants a horizontal, non-vertical integration and it always clarifies that there is no hegemonic plan inherent in the Two Silk Roads.
Nor a political one in the strict sense of the term.
Quite the reverse. Indeed, the issue lies in putting an end to the US "hegemony", not in creating others.
Moreover, macroeconomic data is already very interesting: considering the 2014 data, trade within the SCO region has increased by ten times.
It is worth recalling that in the SCO region (Russia, China, Afghanistan, Kazakhstan, Kyrgyzstan, Tajikistan, Uzbekistan, India, Iran, Mongolia and Pakistan) 3.92 billion people live (according to 2014-2015 data), namely 54,4% of world's population, that generates an aggregate GDP accounting for 32.2% of the global gross domestic product.
It is also worth noting that the Economic Silk Road begins in Xinjiang (hence the importance and the mortal danger represented by the Uighur jihad) and reaches the Caspian Sea, the Baltic Sea, the Black Sea, Ukraine and Romania up to Europe and the Mediterranean.
The meeting of the Beijing Forum held in May was attended by over thirty Heads of State and Government, as well as experts from 110 countries, including the United States. Sixty-five countries are already directly involved in the operations, while, in recent days, many Latin American countries have adhered to the project.
South America no longer wants to have "open veins" – just to use the title of a famous book by Eduardo Galeano, Open Veins of Latin America: Five centuries of the Pillage of a Continent .
Xi Jinping has also promised additional 100 billion yuan (equivalent to 14.5 billion US dollars) of new investment in road infrastructure, while China will also provide 60 billion yuan (8.7 billion US dollars) to fund the countries and the international organizations which participate in the project by creating infrastructure.
Furthermore, with specific reference to the two Silk Roads, China has already pledged 250 billion yuan worth of loans by the China Development Bank, as well as additional 130 billion yuan of the Export-Import Bank of China, further two billion yuan in food aid and one billion US dollars for the South-South cooperation fund.
Hence the total sum amounts to 480 billion yuan, while since 2015 the Russian Federation has replaced Saudi Arabia as the first oil exporter to China, by settling payments with the two national currencies, thus avoiding recourse to the US dollar.
Over the last seven years, Russian oil exports to China have more than doubled, with 550,000 barrels per day, while the area in which the US dollar is used gets increasingly narrower: currently only in the Third World does the US currency still reign, but it is a phenomenon that is bound to last for a short lapse of time.
In a situation in which the US public debt amounts to 20 trillion dollars, the Federal Reserve tends to raise interest rates in a world of zero or even negative interest rates and public spending is expected to rise under Trump's Presidency, the 1971 old wisecrack by John Connally, the former Head of the Federal Reserve, is still topical: "The dollar is our currency, but it is your problem".
In recent times, the dollar value in word trade has increased by about 25%.
It is currently 40% higher than in 2011.
Goldman Sachs also claims that the dollar is largely overvalued as against the other major currencies.
And 60% of the global economy is still somehow linked to the US currency value.
Hence we are no longer faced with the "Triffin dilemma", namely the mechanism whereby as long as the US dollar remains the global reserve currency, trade and production create an additional demand for dollars.
If that happened, however, there should be a constant deficit in the US balance of payments, thus putting pressure on that currency and making it progressively unnecessary for trade.
Now we are in a similar situation, even though Triffin made reference to a context still governed by the Bretton Woods Agreements.
Moreover, the entry of the Chinese currency into the World Bank's Special Drawing Rights system in 2016 currently allows larger yuan fluctuations. Hence considering this yuan ability, in particular, a free yuan is an excellent way to further internationalize the Chinese economy.
The steps of this process have already been marked: in 2010, the World Bank President, Zoellnick, assumed a new global gold-based financial system – the one that Keynes called the "tribal residue" of the economy.
In 2012, Iran accepted the yuan as means of payment for its oil.
In 2013 the Chinese Central Bank stated it no longer needed to accumulate reserves in foreign currencies. In 2014 gold could be bought on the Shanghai Stock Exchange with the yuan and in 2015 Russia accepted the yuan as means of payment for its oil supplies to China.
According to official statements, the Chinese Central Bank's gold reserves have increased by almost 56% over the last three years.
Hence, if we consider all these data and statistics and we assess their strategic relevance, we can understand how and to what extent the Silk Road, as well as the Chinese and global Belt and Road Initiative will be the geopolitical, economic and financial paradigm of the near future.
Belt and Road Initiative and China-Iran cooperation
Over the past two weeks, the National People's Congress of China (NPC) and the Chinese People's Political Consultative Conference (CPPCC) were held in Beijing, China. In addition to reviewing policies relating to crucial domestic economic and social developments, the gatherings also decided on the amendment of the Constitution, election of new leadership of the state, reform of governmental structure as well as legislation on anti-corruption matters.
During the above meetings, foreign policy of China, the Belt and Road Initiative in particular, attracted attention around the globe. Proposed by President Xi Jinping in 2013, the Initiative aims at promoting pragmatic cooperation and joint prosperity among participating countries. It emphasizes the principles of openness, inclusiveness, commercial-oriented operation, mutual benefits and win-win outcome. President Xi Jinping, Premier Li Keqiang and other high-ranking Chinese officials have, on different occasions, stressed that the Initiative does not exclude or oppose anyone. It is open to all and everyone could join and work together as an equal partner. Just as Mr. Wang Yi, the Chinese Foreign Minister explained, the Initiative is a transparent process. It follows the "golden rule" of extensive consultation, joint contribution and shared benefits. Its projects are discussed, planned and implemented by participants in the open. No country is to dominate the process and all parties have an equal say.
The Initiative is not a mere restoration of the ancient silk road by which merchants, artists and common folks drudge for thousands of miles on camel backs in pursuit of fortune and better lives. While envisaging the usage of up-to-date means of transportation to facilitate physical connectivity of participating countries, the Initiative also encourages the discussion of institutional connectivity so that the policies, rules and standards of participating states could be formulated in a more scientific way and garner higher economic returns for all. Importance is also laid on economic, social, fiscal and environmental sustainability of projects.
Thanks to the open approaches and unremitting efforts by all participating states over the past few years, the Initiative has witnessed encouraging progress. The Belt and Road Forum for International Cooperation held last May in Beijing attracted some 1500 representatives from over 130 countries and 70 international organizations. The turnout itself is an evident vote of confidence by the international community. On top of that, more than 80 countries and international organizations signed cooperation agreements with China.
As for China and Iran, the two countries have enjoyed profound friendship for thousands of years. Being a historical hub of trade and transport along the Silk Road, Iran has been a key partner within the Belt and Road framework. At present, the development of China-Iran relation maintains very good momentum. In 2016, President Xi Jinping made a successful visit to Iran, during which the two heads of state agreed to establish comprehensive strategic partnership. A bilateral MOU on jointly promoting the Belt and Road initiative was also signed by the two Governments. Since then, the cooperation between China and Iran has made marked headways.
Today, commonalities of development priorities bring our two countries even closer. The 13th five-year plan of China, the 6th five-year development plan and the Resistance Economy Policy of Iran all focus on the enhancement of domestic development. The two countries' exchanges on microeconomics policies, bilateral trade and investment practices are making steady progress. China remained as the largest trading partner of Iran. In 2017, the bilateral trade volume exceeds 37 billion USD with year-on-year growth of 19%. The Tehran metro line 1, 2, 5 and the north extension of line 1 were all constructed with the participation of well-known Chinese enterprises which have maintained good records for safe operation. The Tajrish metro station of line 1 has thrived into the largest of its kind in the Middle East. The Tehran-Isfahan high-speed railway, with the top speed of 250KM/H, is the first one to be built in Iran. Its construction will create more than 100,000 jobs. Once completed, the trip between Tehran and Isfahan will be shortened to a little more than one hour.
The North Azadegan and Yadavaran oilfields, jointly developed by China and Iran with contract value of more than 5 billion USD, initiated commercial production in 2016 and respectively reached the peak of 75,000 and 100,000 barrels of crude oil per day. The CNPC has expressed its readiness to join the development of South Pars gas field, while the SINOPEC is in the process of constructing Iran's biggest oil refinery in Abadan. The Chery MVM, with its market volume of nearly 300,000 per year, has become the third biggest automobile company in Iran, after SAIPA and KHODRO.
The cooperation between China and Iran provided visible input to Iran's economic growth, industry upgrade and employment. Such cooperation, featuring frank consultation and mutual benefits, helped to enhance understanding between the two peoples as well as mutual trust and support between the two countries. We should explore the past successful experience and work together for a better future so as to bring more benefits to our two peoples.
First published in our partner Mehr News Agency
Shooting an Own Goal: China's Belt and Road funding terms spark criticism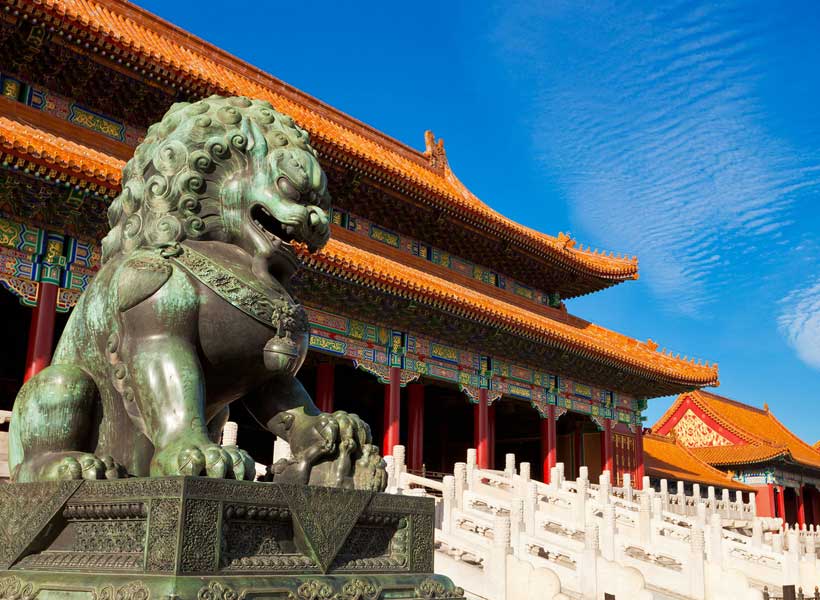 Steep commercial terms for China's investment in infrastructure projects across Eurasia related to its Belt and Road initiative may give it control of key ports and other assets as recipients of Beijing's largess find themselves trapped in debt. Yet, that comes with a risky price tag: potentially rising anti-Chinese sentiment, questioning of Chinese intentions, and a tarnishing of the image China is seeking to cultivate.
Cynically dubbed debt-trap diplomacy, multiple countries along China's Belt and Road risk financial crisis. The Washington-based Center for Global Development recently warned that 23 of the 68 countries involved were "significantly or highly vulnerable to debt distress."
The centre said in a report that eight of the 23 countries — Djibouti, Kyrgyzstan, Laos. the Maldives, Mongolia, Montenegro, Pakistan, and Tajikistan – were particularly at risk.
Djibouti already owes 82 percent of its foreign debt to China while China is expected to account for 71% of Kyrgyz debt as Belt and Road-related projects are implemented.
"There is…concern that debt problems will create an unfavourable degree of dependency on China as a creditor. Increasing debt, and China's role in managing bilateral debt problems, has already exacerbated internal and bilateral tensions in some BRI (Belt and Road initiative) countries," the report said.
International relations scholars Robert Daly and Matthew Rojanski noted in a separate report on a recent trip to the Russia, Kazakhstan and China intended to gauge responses to the Belt and Road initiative that Eurasian nations were eager to benefit from Chinese investment but wary of Beijing's intentions.
"We found an eagerness to participate in projects that support national development, but deep resistance to any westward or northern expansion of China's practices, ideas, or population… Neither (Russia or Kazakhstan) hopes that China's power will increase with its investments.," the scholars said.
Outgoing US Secretary of State Rex Tillerson echoed the centre's concerns on a visit to Africa this month. China "encourages dependency using opaque contracts, predatory loan practices, and corrupt deals that mire nations in debt and undercut their sovereignty, denying them their long-term, self-sustaining growth, Chinese investment does have the potential to address Africa's infrastructure gap, but its approach has led to mounting debt and few, if any, jobs in most countries," Mr. Tillerson said.
China has sought in some cases to counter resistance by offering more concessional or, in the case of Pakistan. interest-free instead of commercial loans for some projects.
Nonetheless, China has used debt relief as a vehicle to gain control of assets. Tajikistan saw an undisclosed amount of debt written off in exchange for ceding control of some 1,158 square kilometres of disputed territory. Sri Lanka, despite public protests, was forced to give China a major stake in its port of Hambantota.
Djibouti, one of the eight countries most at risk and a rent-a-military-base East African nation that hosts a major US facility, is about to follow in Sri Lanka's footsteps. Djibouti last month seized control of the Doraleh Container Terminal from Dubai-based DP World and reportedly intends to hand over its management to a state-owned Chinese company.
Marine General Thomas Waldhauser, the top US commander in Africa, warned that the consequences of a Chinese takeover "could be significant." He said moves by China, described by the Pentagon as one of several "revisionist powers" that "seek to create a world consistent with their authoritarian models," had prompted him to revise US military strategy in Africa.
For their part, Pakistan and Nepal withdrew last November from two dam-building deals. The withdrawal coincided with mounting questions in Pakistan, a crown jewel in Chinese geo-strategic ambition, about what some see as a neo-colonial effort to extract the country's resources.
China's seeming obliviousness to the potential impact on recipients and its own standing of its funding approach appears to be rooted in President Xi Jinping's rewriting of history and spin on reality that threatens to become a self-fulfilling prophecy.
Launching Belt and Road in a speech in Kazakhstan in September 2013, Mr. Xi suggested that the initiative constituted a revival of China's centuries-old relationship with Eurasia. "More than 2,100 years ago … (Chinese) imperial envoy Zhang Qian was sent to Central Asia twice to open the door to friendly contacts between China and Central Asian countries as well as the transcontinental Silk Road linking East and West," Mr. Xi told his audience.
In Indonesia a month later, Mr. Xi reminded the country's parliament that "Southeast Asia has since ancient times been an important hub along the ancient Maritime Silk Road."
Messrs. Daly and Rojanski noted that the historic Silk Road was never centred on China and that it served both commercial and military purposes. "The term 'Silk Road' was coined in 1877 by a German geographer to connote the historic phenomenon of Eurasian trade rather than a particular route," the scholars said.
They suggested that Eurasian nations had not forgotten that historically Chinese expansion westwards had often been violent," a fact Mr. Xi chose to overlook in his projection of the Belt and Road initiative.
It was, moreover, not immediately clear "that China's branding, cash, and ambition can overcome the uneven development, political and cultural diversity, age-old hatreds, and daunting geography" of the Belt and Road, Messrs. Daly and Rojansky said.
Mr. Xi's projection of a China-centric world is reflected in the country's media that positions the Belt and Road as a vehicle to cement the People's Republic's place in the world as well as Communist Party rule despite paying lip service to the principle of a win-win proposition.
Chinese ambitions are evident in its efforts to internationalize its currency, the renminbi, as well as the inclusion of elements of the Chinese surveillance state and the propagation of Chinese culture through local media in investment target countries, for example Pakistan. They are also apparent in the creation of special Chinese courts to adjudicate Belt and Road.
China this month announced the establishment of a new agency to coordinate its foreign aid program. The agency is part of an effort to project China's global influence more effectively and increase Communist Party control.
Taking issue with the Chinese effort, the Washington-based centre suggested that China as well as recipients of Beijing's largess would be better served if the People's Republic adopted a multilateral approach to Belt and Road-related funding rather than insisting on going it alone.
Said Scott Morris, a former US Treasury official and co-author of the centre's report: "The way forward demands a clear policy framework aligned with global standards, something that has been absent from China's lending practices to date. Whether Chinese officials have the will to pursue this approach will be critical in determining the ultimate success or failure" of the Belt and Road initiative.
Ice Silk Road: From Dream to reality
Authors: Mahdi Torabi*, Vahid Pourtajrishi
The history of Silk Road backs to thousands years ago. The aim of creation of this route was linking China to Europe through Middle East. Growth of Chinese enterprises and industries which was started since middle of 20th century increased the significance of expanding the link routes between China and Europe following expansion of China's export to West. Silk Road seems to be the main option in such condition as an ancient route which has been designed and created for this purpose.
But the main existing problem on this way was existinglimitation on capability of the classic Silk Road for transportation of high volume of freight from China to Europe.
In fact, the issue of increase this capability was the essence of Xi Jinping's initiation of his "One Road One Belt" Doctrine which was declared by him as one of the significant elements of Chinese foreign policy.
According to the Xi Jinping's defined policy for the new Silk Road, this route has to be expanded to some new routes on the ground and sea.  But it has to be mentioned that China has not been the only state who follows Jinping's policy toward Silk Road. Many of other states, especially those who are located on China – Europe rote try to increase role on this high interesting route.
Through these states, we can point to Turkey and Russia as the most important ones who have shown their will to participate highly in this project.
Turkey introduced its Baku – Tbilisi – Kars (BTK) Corridor to create a new Silk Road which connects Istanbul to China by passing Azerbaijan and Kazakhstan. Ankara's initiation in introducing a new combined route was a revolution in the regional and intercontinental transport orders.
But beside of all defined merits for this route, some disadvantages like high cost of transport or existence of not suitable weather conditions for move of ships through Caspian Sea on winter. That's why;relating released reports on establishment of BTK by Turkey and its partners created a shock among experts in international transportation.
While many of experts recognized this route as the last alternative for the classic Silk Road, Russia could come over its geographical problems with sea ices of Arctic to establish Northern Sea Route or Ice Silk Road which was just an inaccessible dream for Moscow till few years ago.
Passing through Arctic that is fully covered with at least 150cm diameter pieces of ice might was just like a joke or far dream before end of Cold War and there was no strong logic behind of such assumption.
By start of the Cold War and fast growth of the nuclear technology in 60s to 90s, we can say that development of many nuclear related technologies like construction of reactors, enrichment and producing nuclear armament in one hand andexpansion of maritime industries especially in military section got in force by USSR.
But the main reasons for focus of Moscow on Arctic back to significance of natural resources in this region which composed determinants and important part of USSR's boundaries.
While latitude of Scandinavian states and Canada is closed to Arctic, but no one of these states has not been successful enough to use the potential opportunities of this region like Russia.
Since Vladimir Putin's seize of power in 2000 and his plans for reconstruction of Russia's economy, discover of new routes to access world markets was adopted on the agenda of the Russian government. Finding new costumers for the huge resources of oil and gas was one of the main attitudes of Russia in Moscow's new economic planning. That's why Russia began to expand and execution of its significant and mega plans in this regard like establishment of Turkish Stream gas pipeline.
Despite all adopted policy by Russian government, the main problem was Makinder's concern in his theory of "Heartland" to access the warm water. According to Makinder, the only available link route between Russia and the southern warm water was Iran. That's why; Russians always have been looking for a way to access free and warm waters by Iran.
But by achieved impressive growth of technology during past decades, it seems Russia has found a safer way to access free waters instead of Iran and that is use of its territorial waters of Arctic that is able to link this country to Europe on one hand and connects Russia to East and China from on the other hand.
As we know, required technology for using the Northern Sea in international transit of freight have always been in hands of Russia and US. But this route has never been as interesting one for US because of its easy access to the free waters on one hand and end of Cold War on the other hand. That's why there has been not enough interest for US to invest much in expansion of international transit route from Arctic region. US has only one icebreaker in North Sea and Arctic that is built in 1976 and was used for costal patrol in this region during Cold War era.
We try to investigate the probable causes for establishment of the "Ice Silk Road" by Russia in the following:
Expansion of the oil fields of Arctic and oil export increase
Russia got succeedto transport its first oil cargo in 2017 from Hammerfest in Norway into BoryeongPort of South Korea successfully. This shipment was a 200 million dollars LNG cargo which was transported by "Cristophe de Margerie" tanker carrier within just 19 days. It means Russia got succeed to save the time for 30% rather using Suez Canal as the common path of this route.
Russia has invested in development and expansion of the gas field of "YamalPeninsula" more than 27 million dollars and China also has announced its readiness for investment in this mega project. It is worth mentioning that the order of development this project issued by Vladimir Putinpersonally and this demonstrates the level of priority and significance of this project for Moscow. Margarie ice breaker tanker could sliced the huge ices of Arctic with at least 120 cm thickness and passed Arctic within just six days. But it is clear that possibility of such shipment will get very harder during winter season and needs high-developed ice breakers. That's why, Russia has decided to produce new generation of these ice breakers to remove this obstacle.
Following this policy, Dimitry Rogozin, the deputy of the Russia's prime minister in his interview with TASS News Agency declared decision of his country to build three new nuclear ice breakers.  He said: "Rosatom [state civilian nuclear power corporation] has now been instructed as part of private and state partnership to think over the algorithm of financing three icebreakers rather than one and then we will make navigable the entire Northern Sea Route. We will be able to lead whatever vessels for any customer by transit through the Northern Sea Route: caravans with goods from Asia to Europe and we will be able to export our hydrocarbons in the form of liquefied natural gas not only to Europe but also to Southeast Asia," Rogozin said in an interview with Rossiya-24 TV Channel, describing the plans of developing Russia's icebreaker fleet.
"In 2019, we will commission [the shipyard's] dry dock. Just imagine the dimensions: 484 meters long and 114 meters wide. Two aircraft carriers can be built there at a time," the vice-premier said, describing the new shipyard.
Simultaneously, shipbuilders in northwest Russia are building three current-generation icebreakers: the Arktika, the Ural and the Sibir, Rogozin said.
Simultaneously, shipbuilders in northwest Russia are building three current-generation icebreakers: the Arktika, the Ural and the Sibir, Rogozin said.
According to the vice-premier, these icebreakers will be commissioned for operation in 2019-2021 and "will help ensure an all-out escort [of vessels] through the ice from Yamal Peninsula towards the West."
"Yamal LNG Project" is under construction in Yamal Peninsula and is counted as the most significant maritime project of Russia in energy sector. This mega project includes 200 wells, one airport and 15 tankers (2016) which will be able to export at least 2 million cm liquid gas. According to experts, this amount will be increased to 50 million cm in a year (the Ministry of Roads and Urban development of Iran).
On the other hand, China is one of the most important strategic customers and trade partners of Russia especially in oil section. According to the experts and analysts of energy section, China will be the consumer of 17% of energy resources of the world till 2050. That's why, if Russia increases the amount of its oil productions, Moscow would become the first oil partner of China instead of the Middle Eastern oil exporters like Saudi Arabia, UAE and Iran.
Transit of freight from China to West (the Ice Silk Road)
According to Dimitry Rogozin, transit of freight from Far East to West using Arctic and Northern Sea will be one the main aims of Russia to establish the North Sea Route. Export of the Russian productions into South East of Asia is one of the other significant aims of creating such route. As Rogozin declared, the new generation of the nuclear ice breakers will be able to carry two aircraft carriers. So the approximate area of the each mentioned freight carrier will be something around 55176 m2 and this dimension will be more than 5.5 hectares!
Furthermore, creation of the new route will be 25-55 percent shorter than the Suez Canal path which links China to Europe to each other.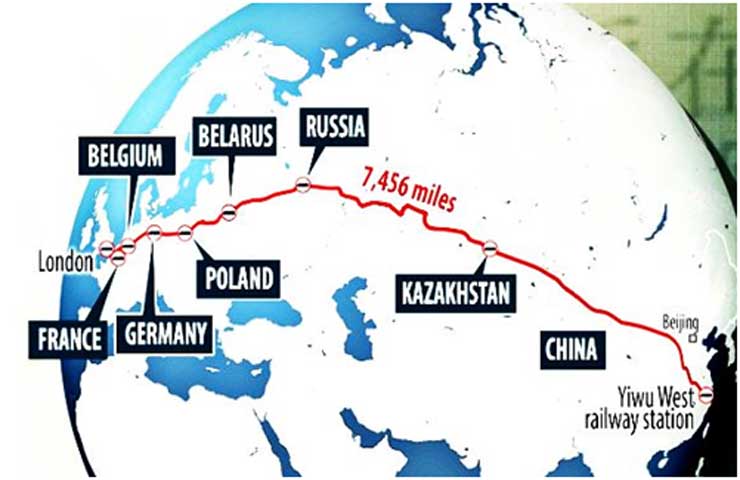 It is worth to mention that one of the significant exports of Russia from this route will be the mineral extractions like gold, uranium and diamondin worth of more than five billion dollars.
Reduction of China's dependence on Middle Eastern oil
China is one of the key players and investors in Yamal project and has invested more than 12 million dollars in this mega project. Except this, the Silk Road Fund has fulfilled 20% of the total project cost. But it has to be asked why China follows this project while Beijing fulfills its required oil from Middle East?
In fact, the energy market of Middle East and its stability is under doubt because of existing many problematic factors like anti – Iranian sanction, fire of war all over the region, the issue of illegal immigration of terrorist groups and etc. that's why such market could not be counted as a stable and permanent energy market for China as the greatest industrial country of world.
So, it seems the Chinese officials have decided to find a more stable alternative to fulfill its energy needs instead of Middle East. On the other hand, we cannot ignore the existing strategic partnership between China and Russia in this way. Also, by creation of Ice Silk Road, it will be more logical for China to fulfill its required energy resources from Russia regarding the issue of short geographical distance between the two countries rather Middle East.
A the end, we have to say that creation of Ice Silk Road is minded as a game changer not only in foreign trade relations of Russia but also will be a revolution in international trade between East and West especially in aspect of trade corridors. It could affect highly on the both classic and new routes in Silk Road like the passing corridors from Iran, Turkey, Azerbaijan and many other states that have enjoyed their geo-economics privileges on this route.
*Mahdi Torabi is head of planning unit at department of the international affairs of the Railway of the Islamic Republic of Iran.