Why the James Comey episode cannot be compared to the Watergate Scandal
[yt_dropcap type="square" font="" size="14″ color="#000″ background="#fff" ] L [/yt_dropcap]ast week, the ex FBI Director James Comey was fired by Donald Trump. Unanimously, Trump has been criticized for this action. Trump gave the reason as James Comey's handling of the Hillary Clinton emails episode. Critics have questioned the reasons and the timing of the decision.
There are a few aspects to the Comey firing. One is that clearly the reasons that Trump gave – saying that it is Comey's handling of the Hillary Clinton email episode which is the reason behind the firing are laughable. It is obvious that the real reason is Comey's request for the investigation into Russian ties with the Trump campaign to be expanded. Did Trump go about the entire process in a proper manner? Absolutely not !!!
In fact, James Comey did not have a single clue about what was going to happen to him. He was speaking to FBI employees on May 9 when the announcement was done on Television. Initially he commented saying that it was a fairly funny prank. Only later did he get to realize the truth. That is not the way in which any person, leave alone a Director of the FBI, ought to lose his job. As American comedian and political commentator Bill Maher noted, all that Trump needed to do was to pick up the phone and speak to James Comey and inform him about what was being done. How difficult was that?
Now to the question was his firing right? The answer is that James Comey set himself up for the firing to be done. This was done by his highly unnecessary request of asking for an expansion of resources for the Russian investigation into Trump campaign ties. Already the mainstream media and the Democratic Party are going haywire with allegations of Russia's links to Trump. What was the need for asking for extra resources when the present '2 cents worth' investigation, by itself, could not find anything credible? Comparisions are being made of the Comey affair with the Watergate scandal. The Comey episode is no Watergate Scandal and will not lead to a Trump impeachment – the one that many people so desperately want !!!
Let's move over to the Watergate scandal briefly. On June 17, 1972, several burglars were arrested inside the office of the DNC in Washington DC. The burglars were connected to Richard Nixon's reelection campaign. The prowlers had been caught while attempting to wiretap phones and steal secret documents. In August of that year, Nixon gave a speech where he swore that his White House staff was not involved in the break-in. Nixon was reelected in a landslide victory in the November elections. It later came to light that a few days after the break-in, he arranged to provide huge cash as "hush money" to the burglars. Then he and his aides hatched a plan to instruct the Central Intelligence Agency to impede the FBI's investigation of the crime.
Nixon also secretly taped every conversation that took place in the Oval office. When Archibald Cox, who was the independent special prosecutor, kept demanding the tapes, Nixon fired him. These events took place on October 20 1973 and were known as the Saturday Night Massacre. Comparisions are made of Nixon's firing of Archibald Cox and Trump's firing of James Comey with the James Comey firing being called the Tuesday Night Massacre.
Neither is the James Comey firing comparable to the Archibald Cox firing nor is the Watergate Scandal comparable with the 'so-called' scandal that is happening here. In the Watergate scandal, following the June 17 episode, a lot of facts were unearthed. On August 1, a US $ 25,000 cheque was wound up in the bank account of a Watergate burglar. On January 30 1973, two former Nixon aides were convicted of burglary, conspiracy and wiretapping. On April 30, Nixon's top White House staffers resigned over the scandal.
Nothing of that sort has happened or is likely to happen here. Even the former NSA Mike Flynn had to resign not because he had any involvement in the hacking of the DNC. If he had just simply told Mike Pence that he did discuss the issue of sanctions on Russia with the Russian Ambassador Sergey Kislyak, he would have stayed. In any case, there are a substantial number of people, even in the West, who feel that the sanctions on Russia over Ukraine/Crimea should be removed without any delay.
When Russia hacked into the DNC, there was already a cloud hanging over the Democratic Party due to the Hillary Clinton email episode. Against this background, Trump also called upon Russia publicly to hack into Clinton's emails. Even though this issue of allegations of Russian hacking had been going on throughout the election campaign process, Hillary Clinton and the Democratic Party referred to the issue only when they were posed uncomfortable questions. One example is the question about Clinton's open borders comment. She used the Russian interference to pivot from the question.
Also it should be noted that the Russians were clever enough to ensure they brought into light only the internal manipulations that took place in the closed doors of the Democratic Party. They did not misuse the information that they had access to. That is one important reason why the investigation into Russian ties with the Trump campaign will not be a cracker but only a flower-pot !!!
Finally, Trump has distanced himself from Steve Bannon, his Chief Strategist. While it is true that Steve Bannon needs to moderate himself, chucking a person like Bannon away totally would not be doing Trump any good. For example there are reports which say that Steve Bannon was opposed to the recent airstrike on Syria but was overruled by Jarod Kushner. It at all he has any dreams of a second term Presidency, Donald Trump would do well to remember that Jarod Kushner and Ivanka Trump are not going to win him the votes. Rather it would be people like Steve Bannon who will do so!! In fact, Steve Bannon could well play the same role for Trump that Amit Shah manages to do so effectively for Narendra Modi.
Of course there is one difference. Narendra Modi is single while Donald Trump is not. It is an esoteric fact that a single person can think more clearly than a married one. If only more people had realized that yesterday, mother earth would be better off today…
Disclaimer: Views expressed in this article are those of the author
The Politics of (In)security in Mexico: Between Narcissism and Political Failure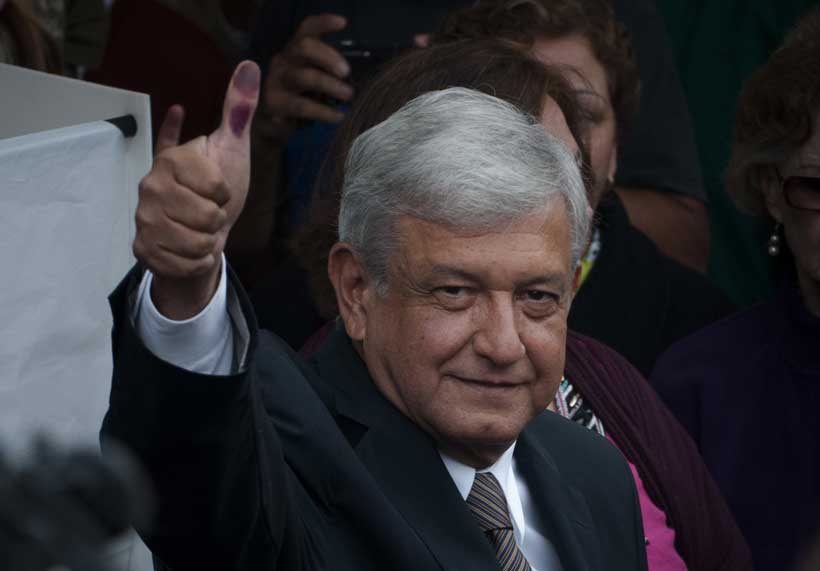 Security cannot be that easily separated from the political realm. The need for security is the prime reason why people come together to collectively form a state. Providing security is, therefore, one of the most basic functions of the state as a political and collective entity.
Last Friday, the Mexican president, Andrés Manuel López Obrador (AMLO) laughed during his daily morning press briefings over a national newspaper headline about 45 massacres during his presidency. This attitude summarises in a macabre way his approach to insecurity: it is not his top priority. This is not the first time that AMLO has showed some serious and deeply disturbing lack of empathy for victims of crimes. Before taking office, he knew that insecurity was one of Mexico's biggest challenges, and he has come to realise that curbing it down will not be as simple as he predicted during his presidential campaign.
Since the start of the War on Drugs in 2006, Mexico has sunk into a deep and ever-growing spiral of violence and vigilantism as a result of the erosion of the capacity of the state to provide safety to citizens. Vigilantism is when citizens decide to take the law into their own hands in order to fill the vacuum left by the state, or to pursue their own very particular interests. Guerrero, Michoacán, Morelos, Tabasco, Tamaulipas and Veracruz have over 50 vigilante organisations that pose substantial danger to the power of the state.
Vigilantism is not the only factor exacerbating the security crisis in Mexico: since 2006, young people have also started to join drug cartels and other criminal organisations. There are important sectors of the population who feel that the state has failed to represent them. They also feel betrayed because the state has not been able to provide them with the necessary means to better themselves. These frustrations make them vulnerable to the indoctrination of organised crime gangs who promise to give them some sort of ideological direction and solution to their problems.
As a result, it is not enough to carry out a kingpin arrest strategy and to preach on the moral duties we have as citizens as well as on human dignity. People need to be given enough means to find alternative livelihoods that are attractive enough to take them out of organised crime, Mexico can draw some important lessons from Sierra Leone who successfully demobilised and resettled ex-combatants after the armed conflict. Vigilantism, recruitment by organised crime, and insecurity have also flourished because of a lack of deterrence. The judicial system is weak and highly ineffective. A large proportion of the population does not trust the police, or the institutions in charge of the rule of law.
A long-term strategy requires linking security with politics. It needs to address not only the consequences but also the roots of unemployment and deep inequality. However, doing so requires decisive actions to root out widespread and vicious corruption. Corruption allows concentration of wealth and also prevents people from being held accountable. This perpetuates the circle of insecurity. Mexico has been slowly moving towards a borderline failed state. The current government is starting to lose legitimacy and the fragility of the state is further perpetuated by the undemocratic, and predatory governance of the current administration.
Creating a safer Mexico requires a strong, coherent, and stable leadership, AMLO's administration is far from it. His popularity has consistently fallen as a result of his ineffective policies to tackle the pandemic, worsening insecurity, and the economic crisis. Mexico has reached over 72,000 Covid-19 deaths; during his initial 20 months as incumbent president, there has been 53,628 murders, among them 1800 children or teenagers, and 5888 women (11 women killed per day) This criminality rate is double than what it was during the same period in the presidency of Felipe Calderón (2006-2012); and 55% higher than with the last president, Enrique Peña Nieto (2012-2018). Mexico is also experiencing its worst economic recession in 90 years.
Insecurity remains as the issue of most concern among Mexicans, seeing the president laughing about it, can only fill citizens with yet more despair and lack of trusts in the government and its institutions. AMLO's catastrophic performance is not surprising, though. Much of his failures and shortcomings can be explained by both ideology and a narcissistic personality. Having someone with both of those traits ruling a country under normal, peaceful times is already dangerous enough, add an economic crisis and a pandemic to the mix and the result is utter chaos.
AMLO embodies the prototypical narcissist: he has a grandiose self-image; an inflated ego; a constant need for admiration; and intolerance to criticism. He, like many other narcissists, thinks about himself too much and too often, making him incapable of considering the wellbeing of other and unable to pursue the public interest. He has a scapegoat ready to blame for his failures and mistakes: previous administrations, conservatives, neoliberalism, academics, writers, intellectuals, reporters, scientists, you name it, the list is long and keeps getting longer.
AMLO keeps contradicting himself and he does not realise it. He has been claiming for months that the pandemic is under control: it is not. He declares Mexico is ready to face the pandemic and we have enough tests and medical equipment: we do not. He says Mexico is on its way to economic recovery: it is not. He states corruption is a thing of the past: it is not. He says Mexico is now safer than ever before: it is not. When told the opposite he shrugs criticism off and laughs, the behaviour of a typical narcissist.
AMLO, alike narcissists, due to his inability to face criticism, has never cared about surrounding himself by the best and brightest. He chose a bunch of flunkies as members of his cabinet who try to please and not humiliate their leader. A further trait of narcissistic personalities is that they love conflict and division as this keeps them under control. The more destabilisation and antagonism, the better. AMLO since the start of his presidency has been setting states against states for resources and for pandemic responses, instead of coordinating a national response. He is also vindictive: playing favourites with those governors who follow him and punishing those that oppose him.
Deep down, narcissistic leaders are weak. AMLO is genuinely afraid to lead. He simply cannot bring himself to make decisions that are solely his. This is why he has relied on public referendums and consultations to cancel projects or advance legislation. He will not take any responsibility if something goes wrong: It was not him who decided, it was the people, blame them. He inherited a broken system that cannot be fixed during his term, blame the previous administrations, not him.
AMLO is a prime example of a textbook narcissist, unfortunately he is not the only one: Donald Trump, Boris Johnson, Recep Erdogan, Rodrigo Duterte are only a few more examples of what seems to be a normalised behaviour in contemporary politics. Every aspect of AMLO's and other leaders presidencies have been heavily marked by their psychopathology. Narcissism, however, does not allow proper and realistic self-assessment, self-criticism, and self-appreciation therefore such leaders will simply ignore the red flags in their administration and have no clue how despicably and disgracefully they will be remembered.
Minor Successes And The Coronavirus Disaster: Is Trump A Dead Duck?
That reminder from the Bible, 'He who is without sin, let him cast the first stone' may give us pause — but not journalists who by all appearances assume exemption. And the stones certainly bruise.
Evidence for the bruises lies in the latest poll numbers. Overall, Joe Biden leads Donald Trump 50 to 43 percent, a margin that has continued to increase since January. It is also considerably wider than the few points lead Hillary Clinton had over Trump four years ago. It gets worse for Trump.
In the industrial states of Michigan and Pennsylvania, which Trump in 2016 won by razor thin margins, he is losing by over 4 percent. Also key to his victory was Wisconsin where, despite his success in getting dairy products into Canada, he is behind by a substantial 7 percent. Key states Ohio and Florida are also going for the Democrats.
Trump was not doing so badly until the coronavirus struck and during the course of his news conferences he displayed an uncaring persona larded with incompetence. Dr. Anthony Fauci, the man he fired for correcting Trumpian exaggerations became a hero and Trump the bully.
If that bullying nature won him small rewards with allies, he hit an impasse with China and Iran … while bringing the two closer to each other. Then there is the border wall, a sore point for our southern neighbor Mexico. President Lopez Obrador made sure the subject never came up at the July meeting with Trump, Thus Mexico is not paying for it so far and will not be in the foreseeable future.
The United Arab Emirates, a conglomeration of what used to be the Trucial States under British hegemony. have agreed to formalize its already fairly close relations with Israel. In return, Israel has postponed plans to annex the West Bank. Whether or not it is in Israel's long term interest to do so is a debatable question because it provides much more powerful ammunition to its critics who already accuse it of becoming an apartheid regime. However, it had become Prime Minister Netanyahu's sop to the right wing who will have to wait. Of course, the reality is that Israel is already the de facto ruler.
If Mr. Trump was crowing about the agreement signed on September 15, although it is akin to someone signing an agreement with Puerto Rico while the United States remains aloof. As a postscript, the little island of Bahrain also signed a peace deal with Israel. Bahrain has had its own problems in that a Sunni sheikh rules a Shia populace. When the Shia had had enough, Saudi and UAE troops were used to end the rebellion. Bahrain is thus indebted to the UAE.
How many among voters will know the real value of these historic (according to Trump) deals particularly when he starts twittering his accomplishments as the election nears?
There things stand. As they say, there is nothing worse than peaking too early. Bettors are still favoring Trump with their money. The longer anyone has been in politics the more there is to mine, and for an opponent to use to his/her advantage. Time it seems is on Trump's side.
U.S. Elections: Trump's Strategy of "Peace" might help
Presidential elections in the United States are around the corner and campaigns by the presidential candidates are in full swing in whole of the United States. The Republicans have nominated Donald Trump as their presidential candidate whereas the Democrats have chosen the seasoned politician Joe Biden who has also served as the vice president under the Obama administrations. Over here, a fact shouldn't be forgotten that the so-called Democrats have also imposed an unnecessary war and burden of foreign intervention on the people of America. Let it US intervention in Afghanistan, Iraq or Syria this has imposed huge financial burden on the American people that is being pay by their taxes. United States has around 200,000 troops scattered in the world. There are around 38,000 in Japan, 34,000 in Germany, 24,000 in Korea, 5,000 Bahrain, 5,000 in Iraq, 3,000 in Spain and 12,000 in Afghanistan. Under the Trump administration, much needed decision was taken by the administration for pulling out of troops from all the unwanted and unwelcomed foreign interventions. This has cost huge monetary burden and heavy taxes on the people of US. These interventions were a gift by Democrats to its people that led American to nothing.
Under Trump administration, US decided to withdrawal its troops from Northern Syria. US have around 1,000 troops positioned in the Northern Syria for deterring Iranian influence and countering ISIS expansion in the country. They have decided only to leave special operations force in Syria and will pull out the rest from the conflict zone. It is not the task that will come to an end in days it will take years and huge budget to relocate the troops. This decision might be a breath of fresh air for the Americans but it might weaken the US military positions in front of the Russian military on the globe. United States also has American military troop's presence in Germany as well. Trump administration is willing to reduce the troops in Germany by around 25%. There is around 11,900 troop's present in Germany for securing Europe's security. The Trump administration is focused on relocation and strategic repositioning of the US troops in the world. For this, the Trump administration has decided to pull out its 6,400 troops from Germany as they whole burden is on the US shoulders for costs maintaining alliance and Germany is not paying its share in the defense budget of NATO putting all the burden on the US citizens. Trump administration also slammed the European countries of not paying their due share in NATO defense budget. Italy spends about 1.22% from its budget and Belgium spends around 0.93% from its GDP on the NATO defense budget.
In addition, the Trump administration has shown that they do not want war and conflict. They have also retreated themselves from the foreign intervention drama that has led to damage to the peace of the world. Trump has given an impression that he aims to bring peace in the world not by arms but through negotiations with the conflict actors. Its example is US negotiations with Taliban's for ending the endless war fruitless war that brought destruction for Afghanistan and brutally damaged the standing of US in the world.
There are around 12,000 American troops in Afghanistan that are now reduced to 8,600 troops. The rest are sent home and some are being settled in Italy and Belgium. The Trump administration has declared to reduce the number of troop in Afghanistan by 5,000 by November and will reach 4,000 by June 2021. They are aiming to completely withdraw from Afghanistan within 14 months if a concrete peace deal is signed between Taliban's and United States.
There were more than 100,000 American troops in Afghanistan that went there to fight war on terror but are coming back empty handed. But still in even in these circumstances it will benefit the American people and their issues will be addressed in a better way. Not just this, Trump administration has also decided to withdraw its troops from Iraq that has been there for more than 19 years now putting a burden on American shoulders.
All of this decision by the Trump administration shows that under Trump USA will go for the isolationist impulses that will help them to rebuild domestically and resolve the problem of its people who are indulged in unemployment, poverty, crumbling health system particularly after the outbreak of COVID-19. The health system of United States has proven to be fragile. Despite of being the wealthiest country, its health system crumbled within days leaving thousands of people to die in waiting for their appointment. Many of the people had severe financial crisis that refrained them to go to the hospital and get them treated.
According to some sources many hospitals in New York were running out of financial and had to send people on leave because they were unable to pay them. This led to massive unemployment during such desperate times of the year. Developing countries like Pakistan coped with the virus in a better way despite of having poor health facilities.
Under Trump, USA is moving towards "American First" strategy that will lead towards massive shrinkage in the defense budget of US military. The strategy of retrenchment and aversion of foreign intervention might help Trump in winning the next elections because right now United States has more domestic issues than international problems. The flag of truce in the hand of Trump and aim of brining peace in the world might bring him back in the oval office. It seems like Trump will make USA resign from its self-proclaimed post of "world policemen" that will benefit the world and the people of USA.