Annual UN Asia-Pacific policy forum session spotlights poverty eradication, sustainable energy
Asian and Pacific countries are discussing economic cooperation and integration this week at the United Nations regional office in Bangkok, whose annual session focuses on how regional countries can achieve the Sustainable Development Goals (SDGs).
Welcoming senior officials to the 73rd Session of the UN Economic and Social Commission for Asia and the Pacific (ESCAP), Executive Secretary Shamshad Akhtar shared key achievements made in the past year in support of the SDGs, the global goals set out in the UN 2030 Agenda.
"Together with you, we have made considerable progress in formulating strategies that seek to eradicate poverty and ensure that development balances the needs of economy, people and planet," Ms. Akhtar told heads of Government and other high-level officials from Asia and the Pacific.
During the week-long session, participants will review and endorse a number of resolutions and policies, including a regional plan for implementing the SDGs. The plan – known as the Regional Road Map for Implementing the 2030 Agenda – sets out priorities for regional cooperation, calls for enhanced technical cooperation on areas such as disaster risk reduction and climate change, and discusses data and statistics, and other means of implementing the SDGs.
In addition, ESCAP is developing a regional resource facility on the SDGs, which will include analytical reports and online capacity building tools to teach policy makers and others about issues related to the SDGs."This is expected to be one of the key mechanisms to promote South-South, North-South and triangular cooperation on the 2030 Agenda in the Asia-Pacific," said Ms. Akhtar.
In a video message to the Commission, Secretary-General António Guterres lauded ESCAP for its efforts to reduce poverty, protect the environment and help to realize the 2030 Agenda."Your spirit of openness and willingness to work beyond borders is critical to enhancing multilateralism," the Secretary-General said.Among the topics to be discussed this week is regional cooperation for sustainable energy in the region, which is a special theme of this year's meeting.
In her speech, Ms. Akhtar said ESCAP's flagship study, which will be presented on Friday to high-level officials but is now available online, recommends developing a regional cooperation framework on sustainable energy to enable Governments to identify ways to transition its energy uses to more sustainable methods.
IRENA and Mission Innovation to Work Together on Renewable Energy Innovation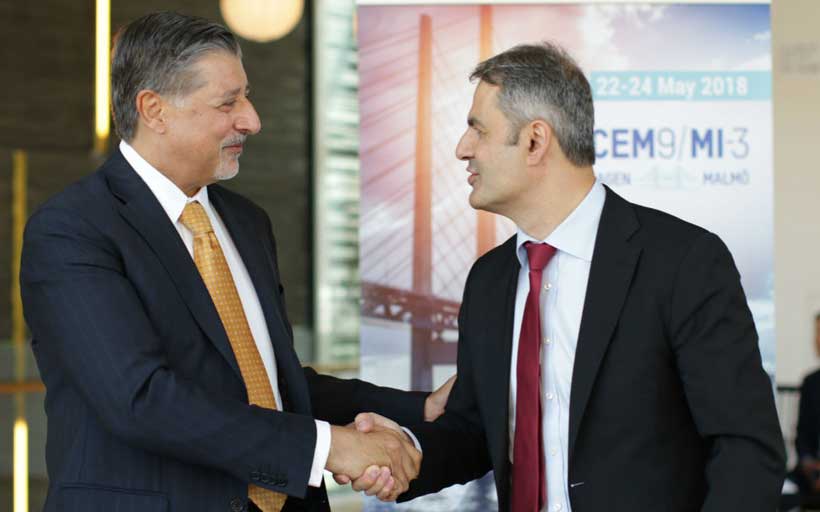 At the 3rd Mission Innovation Ministerial, the International Renewable Energy Agency (IRENA) and Mission Innovation, an initiative of 22 countries and the European Commission working to reinvigorate and accelerate clean energy innovation, agreed to work together to scale-up the deployment of renewable energy technologies through knowledge sharing on innovation data, trends and priorities. Mr. Ibrahim Baylan, Minister for Policy Coordination and Energy in Sweden, on behalf of Mission Innovation, and Mr. Adnan Z. Amin, Director General of IRENA, signed today a letter of intent to that effect.
"Innovation is at the heart of the global energy transformation, not only in terms of technological advancements but also in policy, finance and business." said IRENA Director-General Adnan Z. Amin.
"By collaborating with Mission Innovation, we can bring together the knowledge, data, convening power and experiences of the two organisations to create innovative approaches to develop the energy system of the future," he added.
Speaking on behalf of Mission Innovation, Mr. Ibrahim Baylan said: "There is an urgent need to accelerate clean energy innovation. The member nations can do this better and faster with the global collaboration of the Mission Innovation. Likewise, the Mission Innovation itself stands stronger when collaborating with other international organizations in the clean energy field.
"I am therefore very pleased to announce that we have signed letter of intent for collaboration between the Mission Innovation and the International Renewable Energy Agency," continued Minister Baylan, "and I am confident that this cooperation will benefit both our organisations."
IRENA's analysis shows that energy efficiency and renewable energy can achieve 90 per cent of the emissions reductions needed by 2050 to decarbonise the energy sector in line with the objectives of the Paris Agreement. However, to meet these goals the speed of renewable energy deployment must increase by at least a factor of six.
Fostering system wide innovation will be key to scaling up the share of renewables in the global energy system, based on IRENA's analysis. While technology innovation is central to progress, identifying new policy, market and business approaches is equally necessary.
Key areas for collaboration include:
Tracking Innovation Progress:Working together in order to improve the quality of data and insights on progress in renewables and energy system technologies and better inform high-level decision-making processes related to clean-energy innovation.
Strengthening cross-border collaboration on innovation: Identifying research priorities to support RD&D in key technology areas, monitoring technological evolution, and identifying relevant innovation gaps.
Sharing insights and knowledge on innovation policy priorities and strategies: Leveraging IRENA's data, tools and reports to inform Mission Innovation activities and priority areas.
An economic space from the Atlantic to the Pacific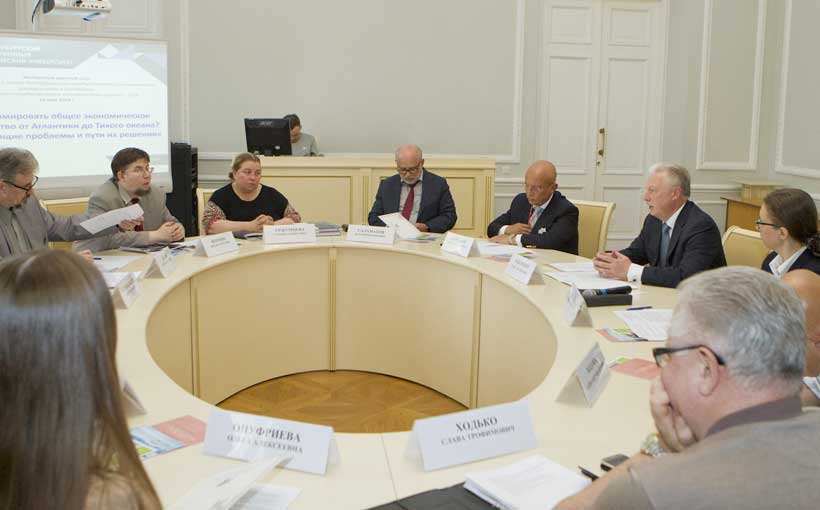 On the 23 May, in the run-up to SPIEF, a roundtable held jointly between the Roscongress Foundation and St. Petersburg State University of Economics took place, entitled 'Building a Common Economic Space from the Atlantic to the Pacific: Current Issues and Ways to Overcome Them'.
The experts discussed opportunities related to integration, investment, infrastructure, and innovation, alongside new forms of collaboration for those shaping the economic region of Greater Eurasia. In addition, they brainstormed a joint vision as to how the shared economic space from the Atlantic to the Pacific will develop in the future.
The welcome address was given by Igor Maksimtsev, rector of St. Petersburg State University of Economics. Moderating the session was Sofia Rekord, head of the world economy and international economic relations department of the same institution.
The participants observed that the geo-economic potential of Greater Eurasia – stretching from one ocean to another – is enormous, and needs to be unlocked to a greater extent, regardless of the unpredictability of the global economic environment and political climate. They also laid out the main aim behind the formation of a shared economic space from the Atlantic to the Pacific: to facilitate comprehensive interaction and cooperation between countries across the Eurasian continent through stepping up dialogue between all stakeholders. These include government representatives, business figures, the expert community, and research organizations tackling a wide range of issues related to economics, politics, and culture. This should result in continuous development for all parties, and prudent solutions to new challenges.
Other areas of focus included promising forms of economic collaboration in Greater Eurasia: opportunities for dialogue between the EAEU, SCO, ASEAN, and EU; the implementation of the EAEU's shared digital agenda; prospects for transport, logistics and energy projects; bolstering regional development institutions when unlocking the investment potential of the EAEU; and opportunities to foster greater foresight with regards the future development of a shared economic space from the Atlantic to the Pacific.
Participants from the expert community included Mikhail Voronin, associate professor of the world economy and international economic relations department of the St. Petersburg State University of Economics; Sergei Dyatlov, professor of the department of general economic theory and the history of economic thought of the St. Petersburg State University of Economics; Sergei Karaganov, dean of the world economy and international politics faculty of the Higher School of Economics National Research University and honorary chair of the presidium of the International and Defence Policy Council; Dmitry Miropolsky, head of department of general economic theory and the history of economic thought of the St. Petersburg State University of Economics; Vadim Panin, associate professor of the world economy and international economic relations department of the St. Petersburg State University of Economics; Vladimir Salamatov, director general of the International Trade and Integration Research Centre; Tatyana Urzhumtseva, director of the China and Asia-Pacific Studies Centre of the St. Petersburg State University of Economics; Alexander Khodachek, president of the Higher School of Economics National Research University in St. Petersburg; and Slava Khodko, general director of the North-West Development and Investment Promotion Agency.
Russia's Economic Recovery Continues: Modest Growth Ahead
Russia's economic recovery continues, amidst relatively high oil prices, enhanced macroeconomic stability, gradual monetary loosening, and ongoing momentum in global economic growth, says the World Bank's latest Russia Economic Report (no. 39 in the series). However, the country's growth prospects for the period 2018-20 remain modest.
Russia's growth is forecast at between 1.5% and 1.8% over the next three years. In the short-term, however, this forecast may be adjusted because of changing oil prices – which were projected to average US$ 65/bbl in 2018 and 2019, and US$ 66/bbl in 2020, but which may increase further, especially in the short-term.
In 2017, growth was mainly driven by non-tradable sectors. The unemployment rate declined to 5.2%, while real wages and pensions increased on the back of low inflation. In 2018-20, consumer demand is expected to be the main engine of GDP growth, while the poverty rate is expected to decrease slightly.
"Russia's economy continued its recovery in 2017, but growth prospects for 2018-20 remain relatively modest, and well below the current global growth average of over 3%," said Apurva Sanghi, World Bank Lead Economist for Russia, and main author of the report. "In the next few years, greater focus on education, health and infrastructure investments will require the government to find fiscal space through further improvements in tax administration, optimization of non-tax revenues, increased efficiency of public expenditures, and potentially some tax policy changes."
Moderately tight monetary and fiscal policies, in combination with a favorable external environment, let the Central Bank of Russia reach a record low-level of consumer price index (CPI) inflation, which averaged 3.7% in 2017. Annual inflation now stands below the Central Bank's target of 4%, while inflation expectations, though trending downward, remain elevated.
Driven by a rebound in disposable income and consumption, the poverty headcount declined marginally in 2017 to 13.2%, after reaching 13.3% in 2016. The poverty rate is projected to decline in 2018, 2019 and 2020 to 12.5, 11.9 and 11.4%, respectively, as income and consumption grow further. Among the factors that could fuel real income growth are a general recovery of the economy and further deceleration of inflation.
"With enhanced macroeconomic stability, the key challenge for achieving higher levels of economic growth is to increase productivity." said Andras Horvai, World Bank Country Director and Resident Representative for Russia. "This requires improved infrastructure connectivity, strengthened competition across the economy, further improvements in the business climate, vibrant innovation activity and the reduction of the skills gap. Investments in human capital will be key."
The special topic of the 39th edition of the Russia Economic Report examines how Russia can accelerate its transformation to a digital economy. A strategic focus on digital transformation has enabled Russia to build a national digital infrastructure to support universal broadband and mobile communications. However, to fully reap the socio-economic benefits of this digital infrastructure, Russia will need to implement policies that accelerate the digital transformation of the traditional enterprise sector, and promote R&D, innovation and entrepreneurship.