First underground metro train line inaugurated in Chennai
The much anticipated underground line of Chennai Metro Rail opened for the public on the 14th May, making the city the fourth in the country to launch such a facility after Kolkata, Delhi and Bengaluru. The line will cover a distance of eight kilometres from Nehru Park to Koyambedu, through tunnels and seven underground stations, to connect the already operational line at Koyambedu.
Tamil Nadu Chief Minister Edapaddi Palaniswami and Union minister for Urban Development Venkaiah Naidu flagged off a train and inaugurated the 8km underground line between Thirumangalam and Nehru Park on Sunday the 14th May. The underground metro train line was a pet project of late CM J. Jayalithaa.
The 7.4-kilometre stretch will connect Tirumangalam and Nehru Park along the inner periphery of North Chennai. Passenger services will begin 2pm onwards. A few free services were run between Thirumangalam and Nehru Park. The underground line has seven stations, which are in turn linked to the elevated corridors through a ramp between Thirumangalam and Koyambedu.
The underground line gives several localities including Kilpauk, New Avadi Road, Shenoy Nagar and Anna Nagar access to mass transit facility for the first time. The train sped in its maximum speed non-stop across the seven underground stations till Nehru Park. It then took them on a ride on the ramp that connects the underground and elevated corridors to Koyambedu.
The trains will run along both tunnels only between Koyambedu and Shenoy Nagar. Only one tunnel will be operational for trains running up and down between Shenoy Nagar and Nehru Park, as it would not be possible for trains to change tracks without a crossover. There is a crossover at Shenoy Nagar and another is being built at Central metro station. Hence, the other tunnel between Shenoy Nagar and Nehru Park will be opened along with Central metro station, planned by the end of 2017.
The stations are also built underneath prime locations in the city, giving commuters easy access. Four entry/exit points built with elevators and escalators on either side of roads will make it hassle-free for passengers to get in and out of stations without having to cross the roads. The stations are also located close to stops for MTC buses which can ferry passengers to other parts of the city. However, they may not provide the last mile connectivity where commuters will be able to reach the interior areas of the neighborhoods around the stations in small buses or share autos.
While the underground stations are similar to the existing elevated stations in terms of their two-level station design and ticket or token vending machines, passengers will still experience many new features. These may include air-conditioned interiors, tunnel ventilation systems, platform screen doors and detailed route maps to guide passengers to nearby localities.
Many commuters waited for several hours to take a free joy ride. The second train from Thirumangalam station began its journey in the midst of applause and cheers from passengers. "We had been eagerly waiting for years for this line to open. It is worth the wait. The experience is something we have never had before," said 61-year-old Arumugam, a resident of Thirumangalam who took a a joyride along with his family.
Among the first passenger crowd were several residents from Thirumangalam and surrounding areas. A metro rail official confirmed they are all set to open the city's first underground line on May 14. The inauguration comes almost a month after the commissioner of metro rail safety gave authorization for commercial operations after a three-day inspection across the stretch. Tamil Nadu minister for industries, steel control, mines & minerals and special initiatives M C Sampath visited the underground line between Thirumangalam and Nehru Park stations on Tuesday. The minister inspected the work in progress and safety measures, besides the facilities at the stations. The inauguration of the first underground stretch of phase-1 of the project, which is jointly funded by the Centre and state, is expected to be attended by top officials from the ministry of urban development and the state transport department besides other senior officials from the state.
The stations will connect several neighborhoods including Kilpauk, New Avadi Road, Shenoy Nagar, Aminjikarai, Anna Nagar and Thirumangalam, giving access to mass transit facility for its residents for the first time. A part of the line will run about 18 metres under the arterial Poonamallee High Road.
With the underground line, commuters can head anywhere from Nehru Park to the airport in one direction, and to Little Mount in the other, in about 60 minutes with a single ticket. However, they may have to switch corridors at the Alandur metro station, which is the elevated transit hub.
Metro rail's first line was launched in June 2015 between Koyambedu and Alandur, covering a distance of 11 km through an elevated corridor. It was followed a nine kilometer elevated line from Little Mount to the airport in September 2016.
Chennai Metro Rail has carried out a special study that reportedly shows train vibrations do not affect the buildings close to the underground stretch. This is of significance in the backdrop of tunneling work leading to several road cave-in incidents across the city and the first underground stretch is all set to open in a few days. According to officials of Chennai Metro Rail Limited (CMRL), the lining of tunnels is built in such a way that it can withstand a substantial amount of vibrations of trains. Also, a low vibration technology has been carried out before laying tracks at places where hospitals or laboratories are located, they said. Rubber pads placed. "We place rubber pads between stage one and stage two concrete of tunnel; after this process, the tracks are laid. The pads of 40 mm will dampen the vibrations from trains. These have been placed in 12 locations across the city, including Kilpauk Medical College, Rajiv Gandhi Government General Hospital and Vee Care Hospital. Hospitals have sensitive equipment which may feel even the slightest of vibrations and disrupt its functioning; hence this idea," an official said.
In other areas too, though such pads are not laid, they claim the study and subsequent trials with trains show the vibrations are not beyond the permissible limit. Experts from IIT Madras said the precast segments that a tunnel is made of will take in the vibrations from trains.
B.N. Rao, another professor of civil engineering at IIT Madras, said, "I haven't looked at the report but they may have arrived at values and consequently gone ahead with operations based on varied factors. This is because, usually, the vibration values will vary depending on the soil structure, the depth of tunnel and the speed of trains and its acceleration and deceleration in various areas."
India's longest river bridge
Meanwhile, India's longest river bridge, capable of withstanding the weight of a 60-tonne battle tank, will be inaugurated in Assam close to the border with China on May 26 by Prime Minister Narendra Modi. With the inauguration of the 9.15-km-long Dhola-Sadiya Bridge over the Brahmaputra River, Prime Minister Narendra Modi will start the celebrations of the NDA government's three years in office from this eastern-most part of Assam. It is 3.55 km longer than the Bandra-Worli sea link in Mumbai, making it the longest bridge in India.
The bridge is seen as an attempt by India to shore up its defence requirements along the Sino-Indian border, particularly in the northeast, besides providing easy access to the people of Arunachal Pradesh and Assam with air and rail connectivity. "The prime minister will dedicate the strategically important bridge to the nation on May 26. It will bolster the road connectivity in the Northeast as the bridge will be used by people of Assam and Arunachal Pradesh besides defence forces extensively," Assam Chief Minister Sarbananda Sonowal told PTI.
The construction of the bridge began in 2011 at a project cost of Rs. 950 crore. The design is such that the bridge can withstand the movement of military tanks. "Assam and Arunachal Pradesh have huge strategic value to the country. Since the bridge is located close to our border with China, it will help quick movement of military troops and artillery in times of conflict," Sonowal said.
The bridge is located 540-km away from Assam's capital Dispur and 300 km away from Arunachal Pradesh's capital Itanagar. The aerial distance to the Chinese border is less than 100 km.
After Kaliabhomora bridge near Tezpur, there is no bridge over the Brahmaputra for the next 375 km upstream till Dhola, where the new bridge is constructed. Currently, all transportation between the river's two banks is carried out through water only.
The bridge, when opened for the public, will cut down the travel time between Assam and Arunachal Pradesh by as much as four hours. As there is no civilian airport in Arunachal Pradesh, this bridge will help people of the state to reach the nearest rail head in Tinsukia and the airport in Dibrugarh easily. Sonowal said the delayed works of the bridge was expedited after PM Modi assumed the charge in 2014. The bridge was originally scheduled to open in 2015.
The BJP government in Assam will complete one year in office on May 24. The bridge is one of the key projects of the Ministry of Road Transport and Highways in the Northeast and is built in public-private partnership with a construction company.
Pakistan: Next Destination for Nature-Lovers
Pakistan is country blessed with natural beauty. Diverse topography, climate, people, makes it unique country, worth visiting. Northern part of Pakistan is high altitude are, with K-2 the second highest peak after Mount Everest, may attracts mountaineers, expeditors and those who really believes in adventures. Pakistan possess: World's largest collection of High Mountain peaks. Around 200 peaks are above 6000 meters high, World's largest collection of Glaciers (outside Arctic and Antarctic Regions), World's largest Canal irrigation network, World's highest Paved Road "Karakorum Highway" (KKH) almost above 4000m from sea-level, part of ancient Silk Route, World's highest Railroad bridge at Kan Mehtarzai, in Baluchistan province, World's highest Mud Volcano at Hingol in Baluchistan, World's most extreme temperatures+50 C in Sibi to -50C in GB.
"The roof of the world" -Deosai National Park is located between Kharmang, Astore and Skardu in Gilgit Baltistan. It has an average elevation of 4,114 meters(13,497 ft) above sea level, making the Deosai Plains second highest plateau in the world. The park protects an area of 3,000 square kilometers (1,200 sq mi). It is well known for its rich flora and fauna of the Karakoram-West Tibetan Plateau alpine steppe eco region. In spring, it is covered by sweeps of wildflowers and a wide variety of butterflies. Deosai is second highest plateau after Changtang Tibetan Plateau. World Famous Poet said:
"I wandered lonely as a cloud
That floats on high o'er vales and hills,
When all at once I saw a crowd,
A host, of golden daffodils;
Beside the lake, beneath the trees,
Fluttering and dancing in the breeze".
– William Wordsworth
Southern part of Pakistan is costal area along the Arabian-Sea, with white sandy beaches and deserts. Tourist from cold areas can enjoy summer during their winter season. Even, during December and January, one can swing in open sea. Warm winter is attraction for those who are fed-up of severe cold in their home towns.
Central part of Pakistan is moderate area, where mostly is plan land and agriculture is the strength of central part, which is also major economic strength of the country.
Pakistan is an old civilization, belongs to several thousand years of rich history, Ghandhara civilization is one of the biggest attraction for those who love archeology and oil civilization. Mohenjo-Daro and Harappa are signs of oldest civilization of this regions.
Pakistan is equally good attraction for religious tourism. The first-ever Budhist university was in Taxila, in Pakistan. Unfact, the porigin of Budhism was the border areas betewwen Afghanistan and Pakistan, later on spread to India, China, Japan and rest of world. Many Buddhist visit Pakistan religiously.
Sikhs are equally attracted to visit their holy places in Pakistan like: Nankana Sahib, PanjaHasanabdal, and Kartarpura etc.
Pakistan offers local food in variety of manners and rich in culture. Local traditions and hospitality of Pakistani society is much more attraction for nature loving people.
Government of Pakistan has launched e-visa and much more Fridley visa regime to promote tourism. Under China-Pakistan Economic Corridor (CPEC), road network throughout the country has been up-graded or being up-graded soon. Accessibility is much convenient and affordable. Boarding logging is affordable with reason able quality. Law and order situation has improved a lot. In fact, Pakistan was a very peaceful country and tourists consider as paradise in 1950s, 1960s, and 1970s. But due Afghan situation, the image of Pakistan was damaged and foreign tourists avoided to travel to Pakistan.
Hope more and more foreigners will visit Pakistan, as it a blessed country with natural beauty, and very much cost effective. What do you plan for your next vacations? Pakistan welcomes you. Be our guest and enjoy our traditional hospitality. Love nature, love Pakistan.
Only on Langkawi: An Insider's Guide to the Most Coveted Langkawi Pursuits
Whether in search of wanderlust, culture, or relaxation, Four Seasons Resort Langkawi showcases a bespoke collection of experiences that captures the warmth of Malaysian culture, combined with a deep sense of place. The Resort, with its prime placement directly on Langkawi's longest stretch of beach and adjacent to a UNESCO Geopark allows premier access to occasions that few have the opportunity to experience in Southeast Asia, let alone the world.
Our Front Office Manager, Mr. Indran Santhirasekaran, has offered his five must-see experiences that are only found here on Langkawi:
Mangroves & Eagle Safari – Explore mysterious forests between land and sea on this naturalist-led boat safari into the Kilim Karst Geoforest Park – home to majestic eagles, mischievous macaques, fish that "walk," colourful fiddler crabs, shy otters and sleeping bats.
Raja & Ratu Ritual – Designed for couples to experience together, this award-winning ritual focuses on three specific chakras – sacral, heart and crown – to maximize emotional and physical connections.
Cycle Adventure & Photography Tour – Pedal and capture your way through rural regions, taking in villages to scenic waterfalls, as you enjoy a photo adventure tour.
Rainforest Trekking – Trek through Langkawi's pristine rainforest and witness rare wildlife, ancient rock formations, and a scenic waterfall along the adventurous journey.
Lessons in Spice – Immerse yourself in the flavour, fragrance and flair of Malay cuisine. Distinguish local ingredients, sample aromatic spices and discover traditional cooking techniques with our world-class chefs.
10 Iconic Must-See Properties to Experience in Hilton's 100th Year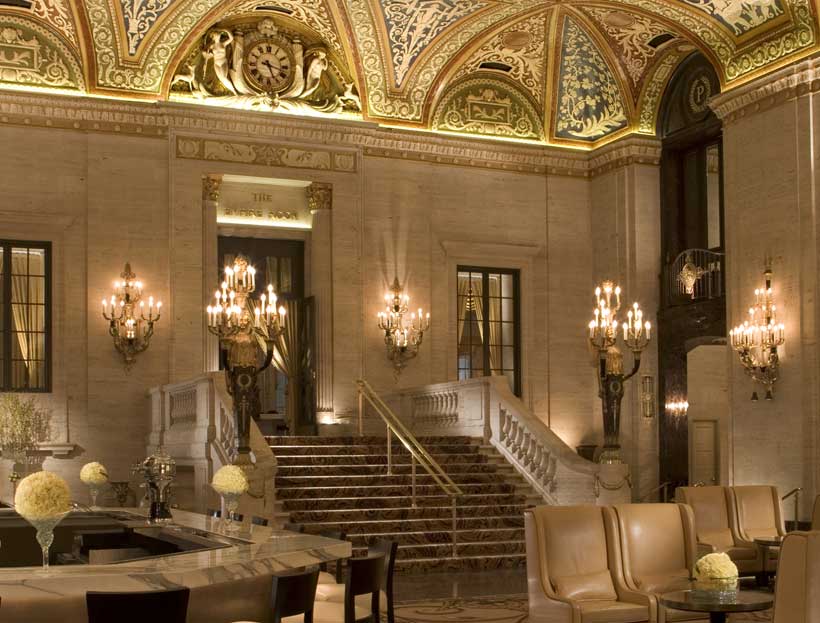 Born out of Cisco, Texas, in 1919, Hilton approaches its 100th anniversary in May of this year. In nearly 100 years of hospitality, its hotels around the world have pioneered innovation, shaped communities, become part of the fabric of popular culture and developed into iconic destinations.
Anniversaries are an opportune time to reflect, to look ahead, to celebrate and, of course, to travel. Hilton now has more than 5,600 properties around the world in 113 countries and territories, but these 10 iconic properties top the list as must-see destinations to fully take in Hilton's 100th year. From culinary and design innovations to regional and historical significance, these hotels are reimagining the travel experience and have played a role in defining not only Hilton's unique history over the past century, but history itself.
Americas
Conrad Hotels & Resorts' highly anticipated Conrad Washington, DC will welcome guests starting in April 2019. Introducing a new era of hospitality for travelers seeking modern luxury in the heart of the nation's capital, Swiss architecture firm Herzog and de Meuron designed the sleek and contemporary property. The signature restaurant, Estuary, led by "Top Chef" alumni Michael Voltaggio and his brother Bryan Voltaggio, will feature a seasonal menu that highlights the flavors of the nearby Chesapeake Bay area. The property's unique architecture includes a dedicated rooftop bar featuring panoramic views of the U.S. capitol, which will offer discerning travelers an experience unlike any other in the world's most influential city.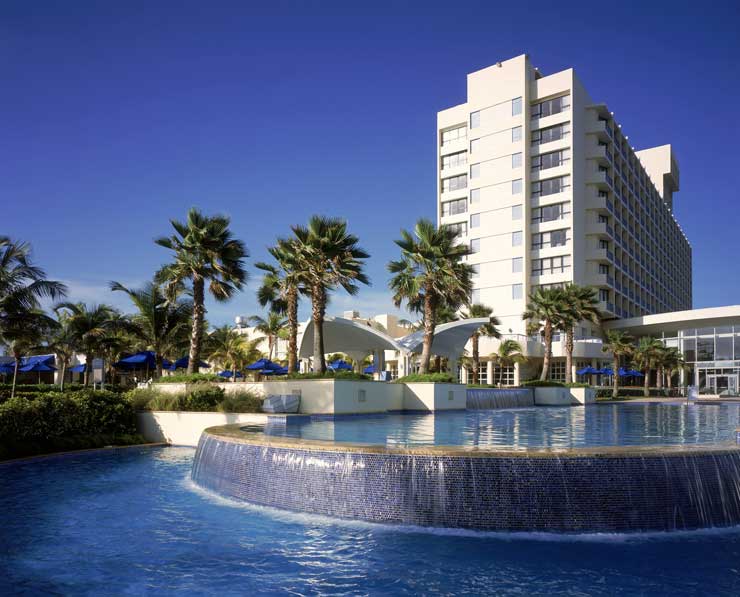 Named a 2019 Place to Stay by Forbes, rediscover Caribe Hilton, making its debut later this year after a multimillion dollar restoration and reinvention following devastation from 2017's Hurricane Maria. Famous as the birthplace of the piña colada, the iconic resort has been wowing guests since 1949, when it opened as the first international Hilton hotel. Sip the hotel's creamy refreshment, now Puerto Rico's official drink, or explore the views of San Juan's shoreline from the exclusive, lushly landscaped 17-acre peninsula.
Experience a working piece of history, and a beautiful one at that, with a stay at the historic Palmer House – A Hilton Hotel. Indulge in a chocolate brownie at the very place where they were invented in 1893 (that's right, thank Bertha Palmer). Take a grand tour with the resident historian and peruse the hotel museum. The fabled Empire Dining Room, converted to "café society" supper club in 1933, welcomed legendary entertainers including Frank Sinatra, Judy Garland, Ella Fitzgerald, Louis Armstrong, Liberace and more.
Take in extraordinary views of the city, beach and iconic landmarks from Hilton Rio de Janeiro Copacabana. Opened as a Hilton property in 2017, the beachfront resort marked Hilton's 100th opening in Latin America. The hotel is located in the famous Copacabana neighborhood, one of Brazil's most visited destinations. Among the tallest and largest hotels in the area, guests can enjoy a 360-degree view of the city's three main tourist attractions – Copacabana Beach, the Christ the Redeemer statue and Sugarloaf Mountain, from one of the hotel's two exclusive pools.
EMEA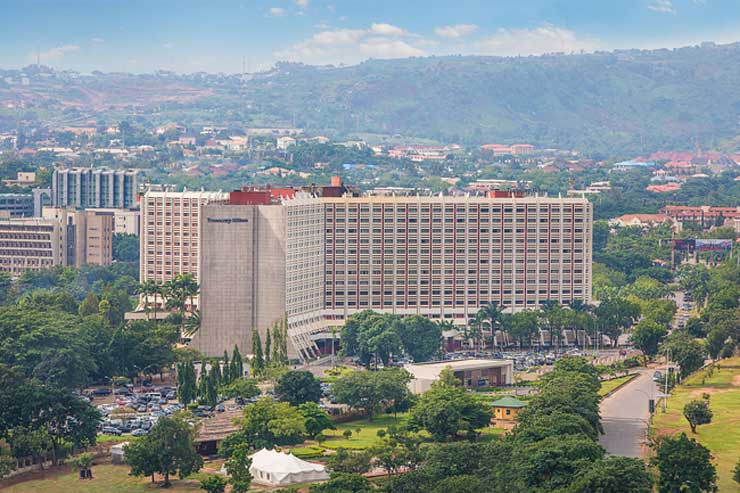 Discover Nigeria from the flagship of its hospitality industry, the Transcorp Hilton Abuja. Built in a remote location in the '80s, the hotel pioneered a bustling community and catalyzed Abuja's evolution into the thriving capital city it is today. Centrally located in the capital's commercial district, the award-winning hotel is one of the largest in sub-saharan Africa and serves as a national landmark, having hosted countless heads of state and global events. Whether exploring the busy city, learning about traditional village life at the on-site Abuja handicraft village where artisans display their work or visiting the natural rock formations on the edge of the city, Transcorp Hilton Abuja is a perfect base for travel in Nigeria.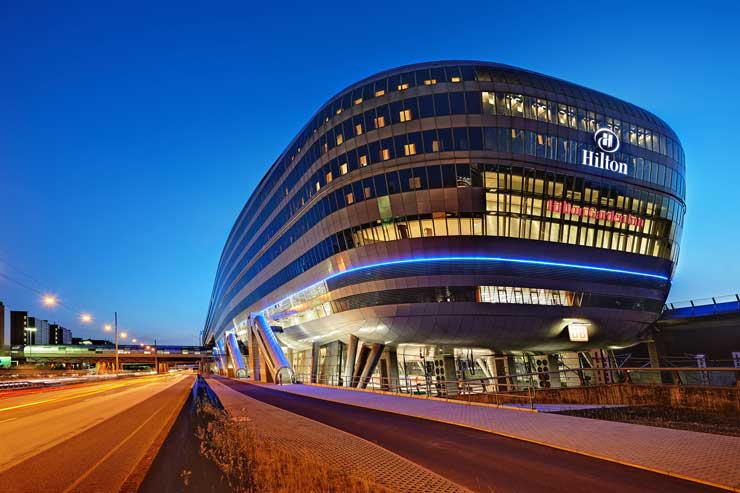 Upgrade your airport hotel expectations this year with a stay at the highly awarded Hilton Frankfurt Airport. Awarded "Best Airport Hotel" for Germany, Europe and Internationally – several times over – this Frankfurt hotel combines futuristic design and authentic hospitality and is walking distance to Terminal 1 by sky walk. Designed for comfort and convenience, rooms are decorated in rich, warm colors and offer sound-proof windows, creating a sanctuary for the modern traveler to unwind or catch up on work.
Situated in the heart of the city, Hilton Istanbul Bosphorus has a storied past spanning six decades. The first international five-star hotel in Turkey, Hilton Istanbul Bosphorus symbolized a new beginning in Istanbul's social scene and was very important for Conrad Hilton, as a key part in his plans to expand throughout Europe. Take a dip in the pool, designed in the very shape of Conrad Hilton's footstep, or head to the Lobby Lounge of Hilton Istanbul Bosphorus for high tea, a tradition that became a fixture among the social life of Istanbulites shortly after the hotel's opening, even inspiring movies of the period.
APAC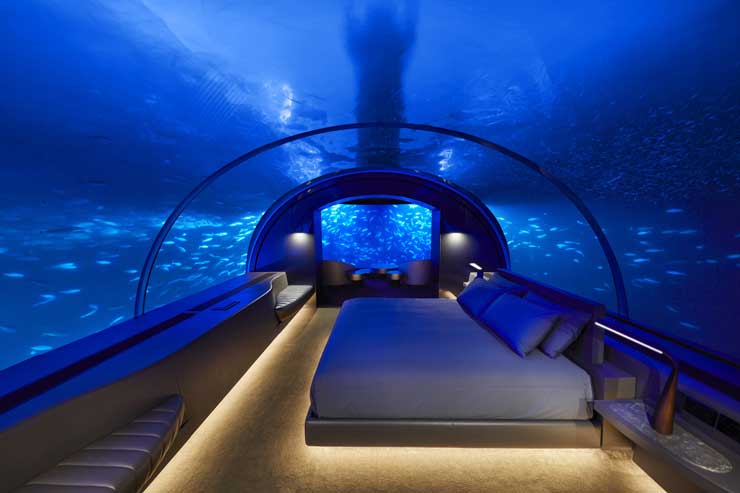 Applauded for its pioneering achievements and sustainable approach to travel, Conrad Maldives Rangali Island was the first resort to offer undersea dining at its restaurant Ithaa, and it is home to THE MURAKA, the first-of-its-kind residence both above and below the surface of the Indian Ocean. Two spas, including one over the sea with glass-floored treatment rooms, offer guests relaxation and rejuvenation. The rare and diverse marine wildlife on show cements Conrad Maldives Rangali Island as one of the premier island destinations worldwide.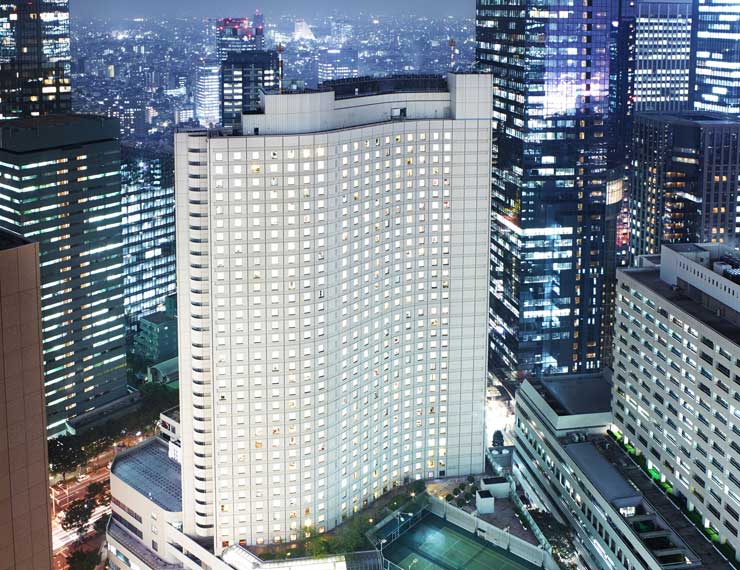 Opened in 1963, this Tokyo staple marked the first hotel of a global brand in Japan and has continued to drive Japanese hospitality forward ever since. Relocated to its current spot in Nishi Shinjuku in the mid-'80s, Hilton Tokyo has hosted numerous prominent guests from politicians to international rock bands and has introduced a bevy of culinary newness to Japan, including the first sommelier service, the first Chinese all-you-can-eat service in Japan and the first dessert buffet.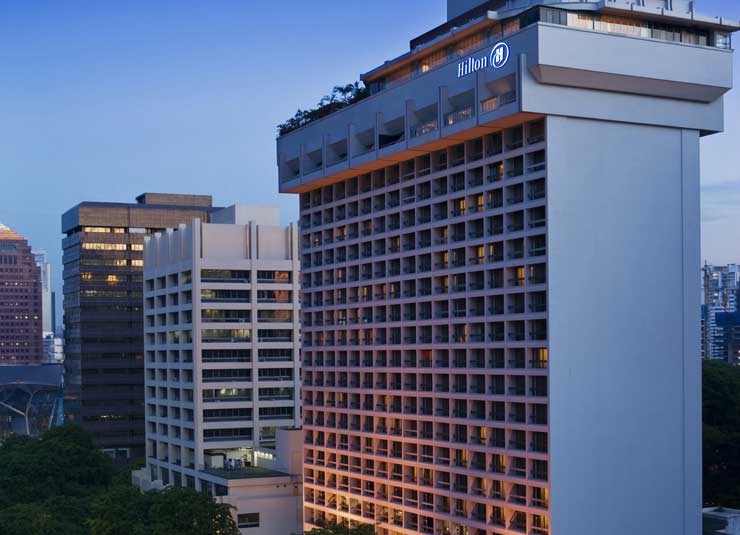 An institution in Singapore's hospitality scene and a foodie's delight, Hilton Singapore was among the first international hotels to bring its trademark level of service excellence and culinary innovation to the garden city. Hilton Singapore was the first hotel in Asia to achieve Marine Stewardship Council and Aquaculture Stewardship Council certifications, assuring seafood dishes with the respective ecolabels have been prepared with sustainably caught and farmed seafood sources. Try the hotel's Opus Bar & Grill's prime-cuts that are dry aged in-house, or savor Italian gastronomy with unique Japanese flair at the award-winning il Cielo.