India: Popular anti-liquor movement in Tamil Nadu
[yt_dropcap type="square" font="" size="14″ color="#000″ background="#fff" ] T [/yt_dropcap]oday Tamil Nadu, like in most of states, is undergoing serious crises. Communal flare-ups by the government and Hindutva parties is worst problem the nation is facing now.
Tamil Nadu is often in news for wrong reasons. Besides the rift within the ruling AIADMK sweeten the warring factions led by former CM and Jayalithaa's Lieutenant O. Panneerselvam and jailed Sasikala represented by CM Palanisamy, there are other problems like the strong farmers' movement for justice and the people's movement to make the state from liquor by implementing the prohibition in total, among other strikes by state government employees with demands.
On the one hand, people of India, the land of Mahatma Gandhi who opposed liquor, seeks total prohibition and on the other the governments lift prohibition in order to get more revenues and help the rich and liquor traders make more profits to let them grow richer while the poor suffer from the ill-effects of liquor consumption against popular will and wishes.
That is violation of popular democracy.
Prohibition in India
Logically speaking entire India should be a non-liquor nation and a total prohibition should be put into practice sincerely. .
Anti-liquor campaign is not restricted to Tamil Nadu alone. Though Gujarat is popularly known as the 'dry state of India', Nagaland and Lakshadweep too have implemented total prohibition.
Bihar banned sale and consumption of liquor from April 1.Manipur, which was under total prohibition until 2014, lifted curbs in select areas. Kerala is in the process of phasing out liquor. It was the only other State, where a government-owned corporation sold liquor. Haryana tried its luck in bringing total prohibition in 1996. The move affected the government revenue to the tune of Rs. 1200 crore. The State suffered loss of over 20,000 jobs as breweries were closed down. The Haryana Vikas Party-led government introduced more taxes. As a result the party lost the 1998 parliamentary elections. The same year it lifted the liquor ban.
After the first general elections for free India in 1952, the Congress came to power in Tamil Nadu. The Prohibition Act was enforced throughout the State. Tamil Nadu continued to impose prohibition, while Andhra Pradesh and Mysore (later renamed as Karnataka), which were carved out of Madras Presidency, did not have any such restrictions on alcohol. In 1971, the DMK government headed by M. Karunanidhi lifted prohibition, despite stiff opposition from many quarters, including Rajaji, who unsuccessfully attempted to persuade the then chief minister against reintroduction of liquor.
Karunanidhi's argument was that while he was always for prohibition, since it was not enforced across the nation, the State was only incurring loss of revenue and liquor was always available to the people from the neighbouring States. He brought back prohibition in 1974. Decades later, Karunanidhi has now vowed to bring back total prohibition, if voted to power.
The AIADMK founder M.G. Ramachandran (MGR) who actively canvassed against liquor, lifted prohibition in 1981, only to close down all arrack and toddy shops early in 1987. In 1983, the MGR government established the Tamil Nadu State Marketing Corporation for procurement and selling of alcohol in the State. Licenses to liquor-selling outlets and bars were granted through auctions. Incidentally, in 1981, the government created Tamil Nadu Spirit Corporation too and manufactured liquor until 1987, when the company was shut down.
Successive governments tweaked the policy on sale of arrack and toddy, but the policy by and large left Indian-Made Foreign Liquor untouched. Whenever prohibition was imposed, the illegal sale of toddy and arrack would peak, resulting in loss of several lives, and thus paving way for lifting the ban.
Another prominent reason given for lifting curbs on liquor sales was rampant increase consumption of methanol, an industrial solvent. In January 2002, the Tamil Nadu government under >O. Panneerselvam started selling low-cost liquor after over 100 people died the previous year due to methanol consumption. Low-cost liquor was, in fact, sold in the 1990s by the government.
Anti-liquor movement
People of Tamil Nadu spearhead the anti-liquor movement earnestly and continue to struggle to get all liquor outlets run by the state government. As common folk take steps to shut down the liquor vending shops, there exists a tensed situation all over the state. In many places people and police clash as they demolish the state liquor shops.
In August 2015, a dawn to dusk bandh called by some opposition parties in Tamil Nadu did not disrupt normal life even as the state witnessed a series of protests demanding total prohibition. The anti-liquor movement in Tamil Nadu appears to be growing stronger with the protestors demanding that all liquor stores be shut. Outside the Madras High Court, a group of law college students staged a protest demanding prohibition. The police were out in large numbers to prevent violence across the state after student protesters ransacked a state-run liquor store in Chennai. A protestor said, "The police is the one protecting the The Tamil Nadu State Marketing Corporation (TASMAC) . We are protesting against the government in peaceful manner."
Popular anti-liquor movement positively influenced the policies of major parties. It came as nothing short of a shock to other political parties when Jayalalithaa did a volte-face barely a month before the elections – promising phased prohibition in the state. The move virtually pulled the rug from under the opposition DMK, which wanted to make prohibition one of its main poll planks.
In April 2016, while kicking off the AIADMK's campaign seeking a second term, the then Tamil Nadu Chief Minister Jayalalithaa had announced that her government will implement prohibition in a phased manner if her party is voted to power. A couple of months before the poll, minister for prohibition and excise Natham Viswanthan declared in the assembly that liquor prohibition was not on the state's agenda – a move that was welcomed by employees in the liquor trade as well as the Tamil Nadu liquor consumers' association.
It came as nothing short of a shock to other political parties when Jayalalithaa did a volte-face barely a month before the elections – promising phased prohibition in the state. In fact, the move virtually pulled the rug from under the opposition Dravida Munnetra Kazhagam (DMK), which wanted to make prohibition one of its main poll planks. Former deputy chief minister and party treasurer MK Stalin had dedicated his mass contact programme – Nammakku Naame – last year to affirming that the M Karunanidhi-led party would enforce prohibition in the state if voted to power. The DMK in its election manifesto released on Sunday promises total prohibition in the State. The P-word is likely to figure in the manifestos of all major political parties and alliances.
The AIADMK government's eleventh-hour move – seemingly aimed at appeasing the state's sizeable chunk of women voters – also exposed her to sharp attacks from opposition leaders. "What has she been doing for five years now?" chorused opposition leaders EVKS Elangovan of the Congress, Tamilisai Soudarrajan of the Bharatiya Janata Party (BJP), Anbumani Ramadoss of the Pattali Makkal Katchi (PMK) and Captain Vijayakanth of the Desiya Murpokku Dravida Kazhagam (DMDK) – alleging that her move was inspired by politics, not public welfare.
DMK patriarch M Karunanidhi promised total prohibition in the party manifesto released on Sunday, an assurance that Jayalalithaa criticised by saying that the DMK leader did not have the moral right to assure any such thing when it was he who had lifted the ban way back in 1971.
Tamilisai Soundarrajan, president of the BJP's Tamil Nadu unit, claimed that neither the DMK nor the AIADMK were serious about enforcing prohibition. "Jayalalithaa's promise of phased prohibition is as unbelievable as Karunanidhi's declaration of total prohibition," she told mediapersons on Monday, adding that the BJP stood for prohibition in the state because it cared for the plight of the poor.
While PMK chief ministerial candidate Anbumani Ramadoss wondered why Jayalalithaa had suddenly remembered prohibition, he did not fail to notice the silver lining in the announcement. "Even so, it is a victory for us as we were the ones who first launched the campaign for total prohibition," he said.
Prohibition law
Alcohol Prohibition in Tamil Nadu is governed by State Prohibition and Excise department as per Tamil Nadu Prohibition Act, 1937. TASMAC, state government owned company controls the wholesale and retail vending of alcoholic beverages in the State. On 2016 may 24, After swearing-in J. Jayalalithaa has announced to close 500 liquor shops and reduce the business hours of State-run liquor shops across the State.[1] On 20 February 2017, The first office order signed by the Chief Minister Edappadi K. Palaniswami was the closure of 500 liquor outlets owned by the public sector TASMAC. This is in addition to the 500 liquor outlets closed down by late Chief Minister J Jayalalithaa in May 2016.
Madras Abkari Act, 1886 was imposed and set in place a strict regulation which banned the local manufacturing of alcohol and confined it to central distilleries where excise duty was paid prior to being sold.[2] This British tax policy favored the consumption of foreign liquors over more traditional drinks such as toddy and country liquors. One fifth of the Madras Presidency population consumed alcohol. Excise revenue from Madras Presidency accounted for as much as 38% of its total revenue. Though prohibition was relaxed on other states after independence including former Madras Presidency regions, Tamil Nadu continued to adopt total prohibition until 1971. In 1971 the DMK government led by M. Karunanidhi suspended it in 1971 and allowed the sale of arrack and toddy. But later, the same government stopped the sale of these in 1974.
In 1981, the AIADMK government headed by actor turned politician M.G. Ramachandran lifted prohibition and reintroduced the sale of arrack and toddy. Due to wide use of the methanol in industries and there were no restrictions in other States, In 1984 September methanol was removed from the purview of the Tamil Nadu Prohibition Act. In 1987, the sale of arrack and toddy was again banned. During 1975-76 and 1988–90, illicit liquor claimed many lives in Tamil Nadu. In 1990, the DMK government revived the sale of arrack and toddy. In 1991 July 16, again the sale of arrack and toddy was banned by new government led by J. Jayalalithaa. Methanol was substituted and consumed under the illegal liquor trade. In 2002, Methanol brought again under Prohibition act.
The erstwhile Madras Presidency had implemented prohibition in Salem district as early as 1937 and gradually expanded it to several other areas. In order to compensate the loss incurred, sales tax was introduced by the Congress government headed by C. Rajagopalachari aka Rajaji. The government would grant 'permits' to individuals, who wish to consume liquor.
On October 30, 2015, police arrested Kovan alias Sivadas, a folk singer and a member of extreme Left group Makkal Kalai Iyakkam, who was criticising government's way of earning revenue by selling liquor. He was slapped with sedition charges claiming that his songs were anti-state and criticised Ms. Jayalalithaa. Most of the opposition parties rallied behind Kovan and sought his immediate release. Kovan is now out on bail.
Liquor policy
Prohibition was first introduced at Salem in 1937, and then implemented in other parts of the state in phases. In 1971, the DMK government headed by M Karunanidhi withdrew prohibition in view of the state's "bleak economic situation".
Even at the height of the anti-liquor movement in Tamil Nadu last October, the All India Anna Dravida Munnetra Kazhagam (AIADMK) government slapped sedition charges against folk singer S Kovan for criticising chief minister J Jayalalithaa over her reluctance to ban liquor trade in the state.
Calls for prohibition in Tamil Nadu have grown louder after activist Sasi Perumal died while demanding the closure of a liquor store in Kanyakumari on Friday. Following his death, opposition parties like the MDMK and the VCK called for a state-wide dawn to dusk bandh. But normal life remained largely unaffected with shops remaining open and buses plying across the state. Leading the protest, former MP and VCK leader Thol Thirumavalavan said, "We are protesting not to get votes, but for people's welfare. Today the Tamil Nadu government has reached a point where they protect the TASMAC shop rather than the people of its state."
The ruling AIADMK has however dismissed the anti-liquor protests and the bandh as a political stunt by its rivals in the run up to the 2016 Assembly elections. Considered the cash-cow for the government state-run liquor stores brought in over Rs 26,000 crore last year. CR Saraswathi, Spokesperson of the AIADMK on the eve of poll sharply reacted to the protests describing them as a mere election gimmick. She said "all these opposition party people whether MDMK or otherwise – just for election they are creating a problem. It's not for the welfare of the people. Even Vaiko was with AIADMK and DMK alliances. They can't face Amma on political ground. They want to create a law and order problem. People will never support them".
But with AIADMK's arch-rival the DMK also planning to hold protests demanding total prohibition in the days to come the question then was: will the state-wide agitation force the Jayalalithaa government to re-think its liquor policy?
TASMAC
The TASMAC is governed by a board of five IAS officers, including a Managing Director, and the State Minister for Excise and Prohibition. The company earns revenue not only from liquor sales but also by granting annual licences to run bars near its retail outlets. According to its website, the TASMAC has 41 depots in five regions and runs over 6,800 retail outlets across the State. It procures beer locally from three manufacturers and hard liquor from six manufacturers. Certain alcohol products are imported from other States.
The annual revenue of TASMAC stood at Rs. 26,188 crores in FY 2014-15.>According to government data, more than 70 lakh people consume liquor every day through TASMAC outlets. In January 2016, the company sold 48.23 lakh cases of liquor.
There was a time when alcohol consumption was linked to antagonists and Tamil cinema 'heroes' would avoid drinking on-screen. MGR the chief minister might have had a different stand on prohibition, but MGR the actor never drank on-screen.
In the Tamil movie Neenga nalla irukkanum, which deals with alcohol addiction, the then chief minister Jayalalithaa played herself. Her government would help a woman rehabilitate her alcoholic husband.
TASMAC has replaced 'wine shops', the slang to denote retail IMFL outlets. These days, Tamil protagonists and female leads do not shy away from drinking on-screen. It is common to have words such as 'party', 'drinking', 'open the bottle,' ' thanni', 'kudi' and 'TASMAC' in Tamil film songs. There is even a Tamil cinema named Madhubaanakadai.
When Ms. Jayalalithaa came back to power in 2002, she not only cancelled her predecessor Panneerselvam's order on cheap liquor, but also brought the retail sales of alcohol under government control. This move gave TASMAC monopoly over liquor sales in Tamil Nadu.
Ever since the TASMAC's outlet was opened in 2012 near a school and a church, the residents of Unnaamalaikkadai in Kanyakumari district have been demanding its closure. Fifty nine year old Gandhian and anti-liquor activist Sasi Perumal joined their protest, which went to 1000th day on June 30, 2015. During the protest on July 31, Perumal climbed up a mobile phone tower and began losing his consciousness in the high altitude and was rescued and rushed to a government hospital, where he breathed his last. Following his death, protests erupted across the state targeting TASMAC outlets.
Liquor politics
Prohibition has taken centre stage in the 2016 Tamil Nadu Assembly polls, after a series of protests in 2015. Parties such as the PMK and the MDMK have consistently demanded total prohibition in the State. Former Union Minister Anbumani Ramadoss, the CM candidate of the PMK, in his 'blueprint for development' not only mentions closure of government-run liquor shops, but also claims to have alternative revenue sources to offset revenue loss from prohibition.
Tamil Nadu was probably the first State to have a blanket ban on liquor. Today, several of the State's welfare measures, including freebies, are funded by the revenue earned through liquor sale.
Government had to give police protection to these shops. The outlet in Unnaamalaikkadai was shut down immediately after Perumal's death, but only to be reopened few days later.
Targeting the upmarket segment, the company opened its first premium outlet, TASMAC Elite, inside a shopping mall in Chennai in 2013. There are plans to open over 450 Elite outlets in urban and semi-urban areas in every district.
While political parties such as the PMK and the MDMK were consistent in demanding a total prohibition, they often protested against setting up new TASMAC outlets and the recent TASMAC Elite. Gandhian movements, women's groups and civil society have voiced against more individuals, especially youths, being lured into alcohol consumption. But three recent agitations are worth mentioning in the anti-alcohol fight. In August 2015, residents of Kalingapatti, a village in Tirunelveli district, tried to lock down a TASMAC outlet functioning there. The village is the hometown on MDMK chief and coordinator of the People's Welfare Front (PWF) Vaiko. The protest was lead by his nonagenarian mother Mariammal. When protestors tried to ransack the outlet, police resorted to lathi-charge and fired tear gas. The Kalingapatti Panchayat, earlier passed a resolution demanding closure of the liquor shop. Workers of the VCK, an ally of MDMK, too joined in later.
Liquor trade thrived whether the liquor is allowed or banned by the state as most of the liquor lobbyists and traders belong to DMK or AIADMK. . Whenever government imposed prohibition, the illegal sale of toddy and arrack along with consumption of methanol, an industrial solvent resulting in loss of several lives, Which paving way for lifting the ban.[6] In 2001, prohibition was lifted again and TASMAC became the wholesale monopoly for alcohol. In January 2002, the Tamil Nadu government under O. Panneerselvam started selling low-cost liquor through TASMAC. In 2014-15, the annual revenue of TASMAC was Rs. 26,188 crores and the company sold 48.23 lakh cases of liquor.
However, nobody seems to be talking about how the revenue loss of up to Rs 27,000 crore per annum made through the government-monopolised liquor trade will be compensated. The Tamil Nadu State Marketing Corporation (TASMAC), which controls the liquor trade in the state, has grown steadily over the years – from Rs 139.41 crore in 1983-84 to Rs 7,335 crore in 2005-06 and now to over Rs 27,000 crore. There are about 6,800 liquor outlets in the state.
Observation
Tamil Nadu government must, in view of strong anti-liquor movement at all levels, impose total prohibition at least for full year and then v review the situation later to make remedial steps to help the poor.
The continued mass movement against liquor evils makes their life difficult as they are unable to go for daily work to earn money, make their livelihood complicated and perplexed. This in the long run would affect economy of the state. Implications are disastrous for the people and state, though the rich and liquor lobbyist continue to mint huge money.
When a government denies the rights of people and does exactly what the people do not ask for the government commits serious crimes, unless people are ultra fanatic like Hindutva minded Indians. Tamils are not demanding anything fanatically communal but only genuine needs without harming the interests of any section of the society. Tamil Nadu is committed to welfare of people and they must read and the writing on the wall and listen to their own conscience.
Instead of piling up problems, the government would do better by trying to honestly solving the people's problems one by one. That is perhaps democracy.
India should strive for total prohibition. The Modi government should make law to declare India a liquor free nation.
Liquor should be avoided even at high parties by the government.
That is the way a government should show for the people emulate. Empty words of principles do not any sense.
A Golden Cage of Repression: The Paradoxical Outcome of Afghan Women's 'Liberation'
Following the September 11 terror attack, the term 'freedom' acquired fresh momentum in the global North. However, it captivated America's national security dialogue in particular. Under the rhetoric of 'freedom', the hegemonic masculine American military grew obsessed with protecting the burqa-clad female 'victims trapped in Afghanistan'. The neo-colonial presumption that Afghani women could be emancipated through American intervention in Afghanistan proved to be unsurprisingly problematic. Evidence has indicated that the insecurity of women exacerbated since the inception of the 'war on terror'. Numerous women in Afghanistan were displaced during the conflict (and remain soto this day).They continue to endure an unstable economic, political, and social order. Those who fled to neighbouring countries, primarily to Pakistan and Iran as reported by Amnesty International in 2015,were subject to physical and sexual abuse and had restricted access tobasic facilities (i.e. education, healthcare, sanitation etc.) that are imperative to pursuing a decent standard of living. This represents an explicit failure in the American quest for advancing 'women's rights.'
The American invasion of Afghanistan governed (in part) by a pseudo-focus on advancing women's rights was further accentuated in Laura Bush's speech in 2001. This widespread American liberal feminist thought addressed violence against Afghani women as an outcome of the ideologies imposed by the Taliban male 'Other'. However, it is this very perspective, representing women from another culture as gendered 'victims', that one should be careful of advocating. The tendency to homogenise the experiences of all Muslim women is a rampant limitation of most Western feminist practice, subsequently paving the path to epistemic violence. In addition to cultural/religious insensitivity, their inherent hypocrisy is made apparent when 'liberation', which in essence seeks to promote 'freedom of choice', equates notions of oppression to various veiling practices widespread in the Afghani culture. The oversimplification of a complex issue in relation to adiverse female population (comprising of cultural, geographical and/or religious identities) enforces elements of neo-colonial violence, thus robbing Afghani women of their agency regarding clothing choices.
With particular focus on Afghanistan, Wylie has demonstrated the importance and implications of focusing on cultural accounts, deep-seated in the history of a nation, in order to understand the foundation of gender order. Utilising the complex historical climate of Afghanistan, one which comprises the decades-long influence of a conservative culture together with the current conflict worsened through foreign funding and support, Wylie has argued that overthrowing the Taliban rule after 9/11andreplacing another government regime would inevitably propose challenges regarding the advancement of '(liberal) women's rights' constructed by those outside Afghanistan. Counter-productivity concerning the promotion of women's rights in society or abolishing violence against women altogether is essentially an outcome of their (liberal feminists) failure to formulate strategies that compliment traditional Afghani practices. Hence, we should strive to understand the root causes of injustice apparent in a nation and then, tailor a culturally sensitive approach to combat violence. Otherwise insecurity will continue to prevail, as exhibited in the 'war on terror.'
Lastly, the voices of those women who have personally encountered the three-fold processes (epistemic, physical, and structural) of violence during the 'war on terror' is absent from the discourse. Alack of anecdotes pertaining to an Afghani woman's cry for help when an invasion in their name is being pursued is rather puzzling. The imposition of such paternalistic belief masked under the rhetoric of freedom has left women voiceless and their agency stripped. It is imperative to note that Afghani women are aware of the obstacles they face to economic, political, and social progress. Their exclusion in the rights debate while being de facto held captive by the daily cycle of violence perpetuated by both the domestic and international community is a key reason as to why insecurity amongst Afghani women is still rampant. This encompasses key implications for academics, policy makers, and the general global arena who provide blind support to those keen to advance the women's rights discourse but do so clumsily so that no real participation investment is available to actual Afghani women. As long as this remains the case, as long as Afghani women are being patronized in a manner that does not allow them true freedom over their own social rights' discourse, then it seems unlikely that great progress can be achieved in Afghanistan when it comes to gender equality, gender freedom, and gender security.
It is an undeniable fact that the forceful imposition of American ideals of 'liberation' on Afghani women has facilitated an escalation in the three-fold processes of violence. The consequences of military invasion supported by the American government should have been closely observed when it came to the social, political, and development situation for local women. Developing culturally sensitive strategies which address gender order grounded in the historical complexities of a country really needs to be paramount. Without this grounding any force-adoptive strategies placed from above have a small likelihood of lasting once the invading forces withdraw. Lastly, one cannot stress enough on the significance of incorporating indigenous women's voices explicitly in gender rights discourse. This is a primary step which can enable women (and men) to disrupt the cycle of violence and consequently transfer agency back to the women of Afghanistan (or any other country for that matter). Failure to do so means Western countries will be basically inserting another form of repressive patriarchy in place of the Taliban version. It does not matter that the former is meant to be done with the best of intentions and with improved welfare for local women in mind. Preventing Afghani women from first achieving and then exercising true agency is creating a golden cage. Unfortunately, a cage is still a cage no matter how much it may sparkle compared to the previous one.
Bibliography
Amnesty International (2015). Global Refugee Crisis – by the numbers. Available: https://www.amnesty.org/en/latest/news/2015/10/global-refugee-crisis-by-the-numbers/[Accessed 3rd November, 2015].
Husain, M. E., & Ayotte, K. J. (2005). Securing Afghan women: Neocolonialism, epistemic violence, and the rhetoric of the veil. NWSA journal, 17(3),pp. 112-133.
Wylie, G. (2003). Women's Rights and Righteous War 'An Argument for Women's Autonomy in Afghanistan. Feminist Theory, 4(2), pp. 217-223.
Humanizing the Kashmir Issue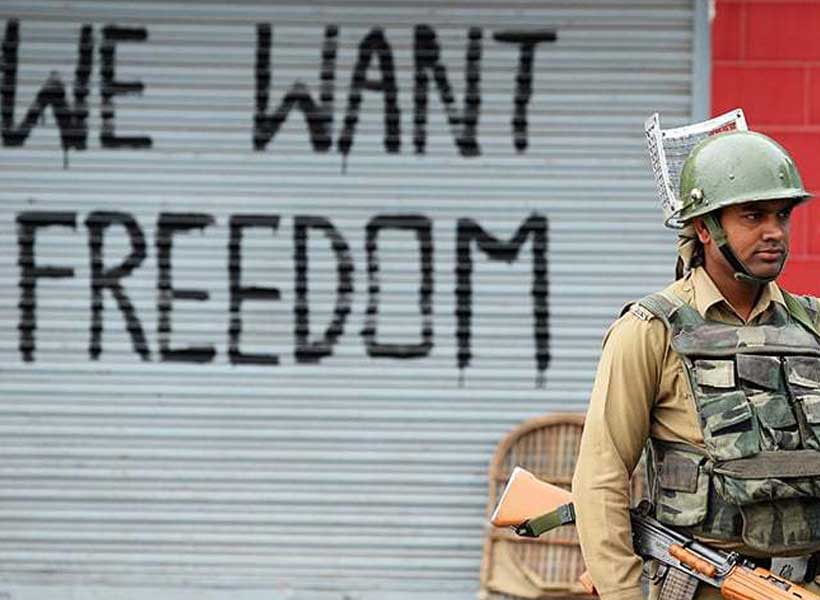 It is a fact that in a conflict situation, the contending parties aim at extracting maximum benefit mostly at the expense of the opponent. In doing so however, a pure realistic logic comes into play where exercising maximum power to achieve maximum gain is the rule of law. No compromise, no compassion, and nothing less than a complete victory over the other is acceptable. While it is known that conflict is ubiquitous in nature and follows a certain life cycle short of either exploding into a full-blown war or ending into a stalemate, it also has a probability to get resolved, managed or be transformed if proper techniques are employed coupled with the necessary will. Not only does that allow for the space to address a conflicting situation but also raises hopes for minimum material and human causalities. One relevant option in such cases is to "humanize" the conflict through conflict transformation mechanism so as to associate the human dimension to the dispute and making it more humane. This helps reframe the ways in which peace building initiatives could be discussed and pursued. It is important to note that "empathy" is essential to peace building.
Same is the treatment that is needed to be extended to the Kashmir issue, the most bitter territorial dispute between India and Pakistan. The two nuclear states have fought their first war in 1948 on this very issue and have been engaged in continuous skirmishes along the LoC from time to time, so much so that today it is seen as a nuclear flashpoint between Pakistan and India. It is important to identify that the stakeholders in this case are not just the state of Kashmir, Pakistan or India, but the real stakeholders are the people of Jammu and Kashmir who have been suffering for more than six decades at the hands of Indian brutality and savage atrocities.
It is ironic that despite the decades long miseries of innocent Kashmiri people, the international political community is mum on the subject in terms of taking any practical action against the aggressor or to even acknowledge the human suffering in this case. Even though the UN resolution of 1948 suggests the fair, free and independent plebiscite, the resolution was never implemented because of India. Instead, swift genocide of Kashmiri Muslims is being carried out by Indian state sponsored elements in Kashmir to make it a Hindu majority land, which needs to be stopped. Pakistan's permanent representative to the UN, Amb. Maleeha Lodhi rightly stated that "nothing undermines the credibility of UNSC more than the selective implementation of its resolutions".
Nonetheless Pakistan on its part has been raising the issue of indigenous struggle of people of Kashmir at all the regional and international platforms on purely human grounds. There is more than ever an immediate need to put an end to the Indian brutalities that has even crossed the last limits of barbarism through pallet gun attacks on unarmed civilian population and by unabashedly using the innocent people as human shield tied in front of their vehicles. An excerpt from the book "The Collaborator" written by a Kashmiri writer Mirza Waheed depicts the horrific picture of violence by India in Indian occupied Kashmir mentioning that "there were people dying everywhere getting massacred in every town and village, there were people being picked up and thrown into dark jails in unknown parts, there were dungeons in the city where hundreds of young men were kept in heavy chains and from where never emerged alive, there were thousands who had disappeared leaving behind women with photographs and perennial waiting, there were multitudes of dead bodies on the roads, in hospital beds, in fresh martyr's graveyards and scattered casually on the snow mindless borders".
This is only a glimpse of what is actually going on there. No less than a breakthrough, on June 15, 2018, finally the first ever UN report on Kashmir recognizes the human rights violation and carnage against the local Kashmiri population by the authorities in the Indian Occupied Kashmir. It is indeed a first positive step that would not only coax the international community and Human rights watchdogs to be more objective towards the Kashmir issue but will also evoke the much required empathy needed to make positive progress for the basic rights of the Kashmiri people. Although it took the UN seventy long years but it comes as a sigh of relief that the report explicitly mentions that in IOK, people have been subjected to lack of justice and impunity, extrajudicial killings, administrative detentions, torture, enforced disappearance, and sexual violence. It identifies the Indian authorities being ruthless with the unarmed civil population and employing the most brutal of acts to inflict human anguish.
This report could actually serve two major purposes: one, the international community should now be able to see in black and white the aggressor and the victim, and the real stakeholder i.e. the people of Kashmir; second, seeing the conflict from the human lens can help to limit escalation and violence. The international community should not allow India to de-humanize the issue anymore, which so far has only led to the gross human rights violation and genocide by India. There is a high hope that evaluating the Kashmir issue on purely human grounds will dispel the misleading Indian generated propaganda against the indigenous freedom struggle of innocent Kashmiris. It will help better educate the world community on the issue and employ relevant humanizing strategies to effectively transform this never ending conflict.
Indian students abroad and the new immigration policy
The UK and US have for long been preferred destinations for Indian students, due to employment opportunities, and the deep economic and political links India shares with both these countries. In recent decades, other countries like Australia, Canada and New Zealand have also emerged as popular choices  for Indian students. In the case of the US, total number of Indian students as of 2018 was 1,86,000. Indian students contributed well over 6 Billion USD to the US Economy. For some time, there was a decline in number of Indian students going for disciplines like Engineering, given the Trump Administration's revisions made to the H1-B Visa regime. As a result number of Indian students going to the US dropped by 21%, and was estimated at 18,590 in 2017.
Apart from this, there are new restrictions to the Optional Practical Training OPT. Says the United States Customs and Immigration Services UCSIS website:
'The training experience must take place onsite at the employer's place of business or worksites to which US Immigration and Customs Enforcement (ICE) has authority to conduct site visits to ensure the OPT requirements are being met….The training experience may not take place at the place of business or worksite of the employer's clients or customers because ICE would lack authority to visit such sites."
This revision has also made US education less attractive for Indian students, who looked at training as a possible opportunity.
UK's recent reforms
Only recently, UK has introduced reforms to its immigration regime. In its new immigration policy tabled before British Parliament, India was not included in the list of 'low risk countries' , by the British Home Office, for Tier 4 student visas (university applications for students applying for low risk countries will become simple. Significantly, countries, including Bahrain, Indonesia, and the Maldives have been included in the list.
It would be pertinent to point out, that the spokesman for the Home Office did acknowledge the relevance of Indian students:
"We welcome Indian students who want to come to the U.K. to study at our world-leading educational institutions. We issue more visas to students from India than any other country except China and the U.S.,"
Reactions to this decision
Lord Karan Bilimoria, an entrepreneur of Indian origin, and President of the UK Council for International Student Affairs (UKCISA) has dubbed this as an insult to India, while also citing this as an instance of UK's ignorant attitude towards immigration.
It is likely, that UK Home office's decision may have an impact on the FTA  (Free Trade Agreement) to be signed between India and UK, the former is likely to harden its stance.
While the recent decision is not likely to go down well with prospective Indian students. There has been a dip in Indian students attending British Universities. In 2010, Indian students in UK were estimated at 60,000. While in 2016, that number had dropped significantly to 15,000. In 2017-2018, there was a 27% increase in student visas (the first time since 2010), but this did not cover the decline over a number of recent years.
Problems being faced by Indian students have been raised on a number of occasions. Indian High Commissioner to UK, YK Sinha, had flagged the issue of problems faced by Indian students in UK, with Britain's Minister of State for Universities Sam Gyimah in June 2018.
The recent Immigration policy did have some good news in the context of tier-2 visas (for professionals). Techies, teacher, doctors and engineers, have been removed from the total cap of 20,700 Visas. This creates new opportunities for professionals.
Countries which have benefitted
The biggest beneficiaries of the restrictive policies of US and UK have been countries like Australia, Canada and New Zealand. In Australia, there were over 68,000 Indian students as of November 2017 (a rise of 14% from the period from January-November 2016), there has been a surge in the number of Indian students attending Canadian universities ( in 2015, this number was estimated at 31,795 while at the end of 2016, this was estimated at 52, 890).
While Australia abolished 457 (the equivalent of an H1 B), which impacted Indian professionals.  Canada has been generous in providing work visas as well as permanent residency. The latter has been successful in weaning away software professionals from the US through Canadian PM Justin Trudeau's, Global Skills Strategy.
Need to safeguard Indian students interests.
Countries like US and US need to decide for themselves, whether or not they want to make use of talent. Indian government, itself needs to be more firm in safeguarding the interests of its students overseas. Indian students, who perform exceedingly well academically, as well in the professional sphere, are an important component of India's 'Soft Power'.
Indian students, on their part, should also explore new destinations, which are trying to open up student visas and employment opportunities and should not go by education consultants.  As India begins to strengthen ties with countries in East Asia and South East Asia, Indian students should explore possible opportunities in countries like Taiwan. It is setting up more education centres in India, establishing exchange programs with Indian Universities. The country's Ministry of Education is also planning a revision to the law according to which talented overseas students may be permitted to work in Taiwan.
Conclusion
Countries which have been preferred choices for higher studies should realise that Indian students have numerous options, and they can not be taken for granted. Not just simpler application procedures and student visas, it is important that there are substantial incentives such as relaxation of work visas. New Delhi on its part needs to be firmer in flagging problems being faced by Indian students, and while strengthening ties with countries there should be a focus on strengthening educational linkages.