Weather, climate and water challenges in spotlight at annual session of UN weather agency council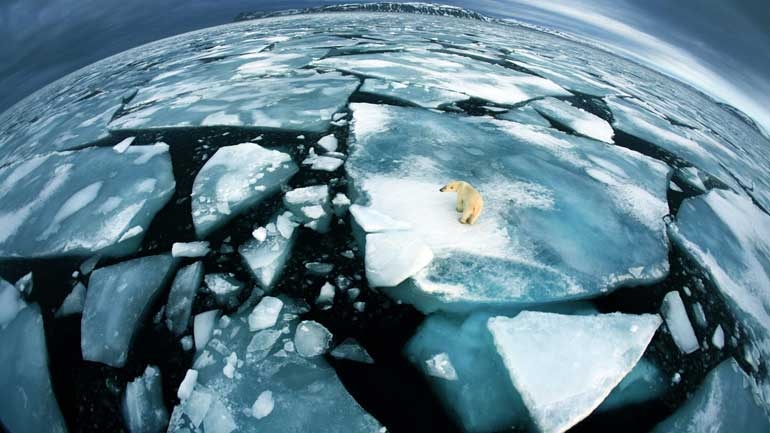 [yt_dropcap type="square" font="" size="14″ color="#000″ background="#fff" ] S [/yt_dropcap]trengthening weather and climate services to protect lives, property and the economy from increasingly extreme and unusual weather is among the pressing issues being discussed at the annual session of the United Nations weather agency's coordinating body, which kicked off today in Geneva.
The Sixty Ninth Session of the World Meteorological Organization (WMO) Executive Council, which runs in the Swiss city through 17 May, will also provide an opportunity to help shape the agency's contribution to the global agenda on disaster risk reduction, sustainable development and climate change.
Highlighting efforts to strengthen partnerships within the UN system, WMO Secretary-General Petteri Taalas said the agency seeks to meet the needs of development and humanitarian agencies for more information on El Niño and La Niña events and seasonal predictions, as well as warnings of extreme weather through a potential global alarm system.
Such an alarm system – if implemented at a global level – could serve as an aggregator and repository of authoritative weather warnings and related alerts worldwide.
Mr. Taalas went on to say that WMO will seek to increase the profile of its expertise on water and ocean affairs, and bolster research, while continuing to provide scientific advice on the state of the climate.
"We have seen a number of records broken in terms of temperatures and low Arctic and Antarctic sea ice. Sea level rise is accelerating," he said, also warning on the concentration of CO2 in the atmosphere, and stressing that the benchmark Global Atmosphere Watch observing station at Mauna Loa, Hawaii, recently reached more than 410 parts per million.
CO2 levels had previously reached the 400 parts per million barrier for certain months of 2016 and in certain locations but never before on a global average basis for the entire year, trapping heat and causing the earth to warm further. Carbon dioxide is the single most important greenhouse gas emitted by human activities.
Extreme weather events
Extreme weather events are on the increase, Mr. Taalas stressed. Indeed, on the eve of the Executive Council session, Tropical Cyclone Donna reached the equivalent of Category Five status in the South Pacific – the strongest late-forming cyclone on record in the region.
"Besides temperatures, we also need to focus on rainfall issues," he continued, noting the severe drought in parts of Africa and Mongolia, as well as flooding in Colombia and Peru and, most recently, in Canada.
Year of Polar Prediction
One of the highlights of the meeting will be the launch of the Year of Polar Prediction – acoordinated international drive to improve predictions of weather, climate and ice conditions in the Arctic and Antarctic.
The remoteness and prevalence of harsh weather and climate conditions contribute to making the Polar Regions the poorest observed in the world while, according to the WMO, there is a high level of public interest – especially among youth – about how rapid climate changes at high latitudes affect the weather and climate in the rest of the world. The expansion of human activities into the Polar Regions is also increasing the demand for more information and better predictions.
The Year of Polar Prediction is part of the 10 year international Polar Prediction Project and aims to minimize the environmental risks associated with rapid climate change in Polar Regions and to close the current gaps in polar forecasting capacity.
Access to safe water: Is the green revolution around the corner?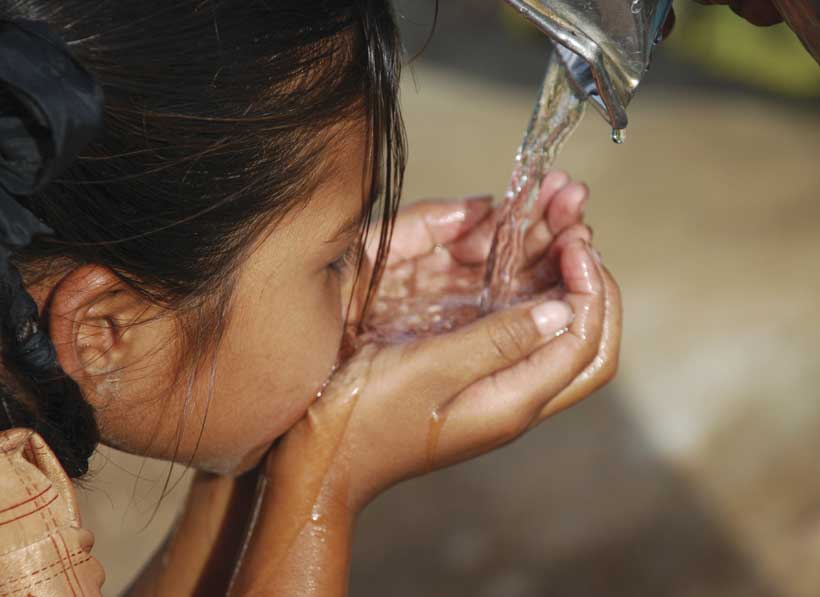 Nature-based solutions can play an important role in improving the supply and quality of water and reducing the impact of natural disasters, according to the 2018 edition of the United Nations World Water Development Report. The study, which will be presented by Audrey Azoulay, Director-General of UNESCO, Gilbert Houngbo, Chair of UN-Water, at the 8th World Water Forum in Brasilia (Brazil), argues that reservoirs, irrigation canals and water treatment plants are not the only water management instruments at our disposal.
In 1986, the State of Rajasthan (India) experienced one of the worst droughts in its history. Over the following years, an NGO worked alongside local communities to set up water harvesting structures and regenerate soils and forests in the region. This led to a 30% increase in forest cover, groundwater levels rose by several metres and cropland productivity improved.
These measures are good examples of the nature-based solutions (NBS) advocated by the latest edition of the report, Nature-based Solutions for Water. It recognizes water not as an isolated element, but as an integral part of a complex natural process that involves evaporation, precipitation and the absorption of water through the soil. The presence and extent of vegetation cover across grasslands, wetlands and forests influences the water cycle and can be the focus for actions to improve the quantity and quality of available water.
"We need new solutions in managing water resources so as to meet emerging challenges to water security caused by population growth and climate change. If we do nothing, some five billion people will be living in areas with poor access to water by 2050. This Report proposes solutions that are based on nature to manage water better. This is a major task all of us need to accomplish together responsibly so as to avoid water related conflicts," declared the Director-General of UNESCO.
"For too long, the world has turned first to human-built, or "grey", infrastructure to improve water management. In so doing, it has often brushed aside traditional and Indigenous knowledge that embraces greener approaches. Three years into the 2030 Agenda for Sustainable Development, it is time for us to re-examine nature-based solutions (NBS) to help achieve water management objectives", writes Gilbert Houngbo, Chair of UN-Water and President of the International Fund for Agricultural Development in the foreword of the report.
Focusing on 'environmental engineering'
So-called 'green' infrastructure, as opposed to traditional 'grey' infrastructure, focuses on preserving the functions of ecosystems, both natural and built, and environmental engineering rather than civil engineering to improve the management of water resources. This has multiple applications in agriculture, the greatest consumer of water by far. Green infrastructure can help reduce pressures on land use while limiting pollution, soil erosion and water requirements by contributing to the development of more effective and economic irrigation systems, for example.
Thus, the System of Rice Intensification, originally introduced in Madagascar, helps restore the hydrological and ecological functioning of soils rather than using new crop varieties or chemical products. It enables savings of 25 to 50% in water requirements and 80 to 90% in seeds while raising paddy output by 25 to 50%, depending on the region in which it is implemented.
It is estimated that agricultural production could be increased by about 20% worldwide if greener water management practices were used. One study cited by the Report reviewed agricultural development projects in 57 low-income countries and found that using water more efficiently combined with reductions in the use of pesticides and improvements in soil cover, increased average crop yields by 79%.
Green solutions have also shown great potential in urban areas. While vegetated walls and roof gardens are perhaps the most recognizable examples, others include measures to recycle and harvest water, water retention hollows to recharge groundwater and the protection of watersheds that supply urban areas. New York City has been protecting its three largest watersheds since the late 1990s.  Disposing of the largest unfiltered water supply in the USA, the city now saves more than US$ 300 million yearly on water treatment and maintenance costs.
Faced with an ever-increasing demand for water, countries and municipalities are showing a growing interest in green solutions. China, for example, recently initiated a project entitled "Sponge City" to improve water availability in urban settlements. By 2020, it will build 16 pilot Sponge Cities across the country. Their goal is to recycle 70% of rainwater through greater soil permeation, retention and storage, water purification and the restoration of adjacent wetlands.
The importance of wetlands
Wetlands only cover about 2.6 % of the planet but play a disproportionately large role in hydrology. They directly impact water quality by filtering toxic substances from pesticides, industrial and mining discharges.
There is evidence that wetlands alone can remove 20 to 60% of metals in water and trap 80 to 90% of sediment from runoff. Some countries have even created wetlands to treat industrial wastewater, at least partially. Over recent years, Ukraine, for example, has been experimenting artificial wetlands to filter some pharmaceutical products from wastewater.
However, ecosystems alone cannot perform to totality of water treatment functions. They cannot filter out all types toxic substances discharged into the water and their capacity has limits. There are tipping points beyond which the negative impacts of contaminant loading on an ecosystem becomes irreversible, hence the need to recognize thresholds and manage ecosystems accordingly.
Mitigating risks from natural disasters
Wetlands also act as natural barriers that soak up and capture rainwater limiting soil erosion and the impacts of certain natural disasters such as floods. With climate change, experts predict that there will be an increase in the frequency and intensity of natural disasters.
Some countries have already started taking precautions. For example, Chile announced measures to protect its coastal wetlands after the  tsunami of 2010. The State of Louisiana (USA) created the Coastal Protection and Restoration Authority following Hurricane Katrina (2005), whose devastating impact was magnified by the degradation of wetlands in the Mississippi Delta.
Nevertheless, the use of nature-based solutions remains marginal and almost all investments are still channelled to grey infrastructure projects. Yet, to satisfy the ever-growing demand for water, green infrastructure appears to be a promising solution complementing traditional approaches. The authors of the report therefore call for greater balance between the two, especially given that nature-based solutions are best aligned with the Sustainable Development Goals adopted by the United Nations in 2015.  Coordinated by the UN World Water Assessment Programme of UNESCO, the United Nations World Water Development Report is is the fruit of collaboration between the 31 United Nations entities and 39 international partners that comprise UN-Water. Its publication coincides with World Water Day, celebrated every year on 22 March.
Role of an individual being to save the green earth
It is no secret that for decades, Earth has been incessantly abused, threatened, and destroyed. As man continues to put his selfish needs first, our environment suffers. The amount of destruction humans have caused in the past three decades is beyond comprehension – the glaciers in the poles are rapidly melting which is increasing the water level of the oceans; forests are quickly depleting; the percentage of greenhouse gases and other pollutants in the air is continuously rising, posing a threat to the already thinning ozone layer; energy reserves are exhausting, and the list goes on.
Isn't it about time we started thinking about our beautiful planet and other life forms that inhabit it?
We all know that in an ecosystem, the well-being of one is closely and intricately related to that of another. Every living being – microorganisms, insects, animals, birds, plants – is dependent on each other for survival. The extinction of one species will naturally create an imbalance within the ecosystem, disturbing all other life forms within it.
Every individual has a role to play in preserving the Earth's environment. A positive change, no matter how small, holds the ability to create a lasting ripple of change in the long run. Just imagine, if every individual all around the world (that is, 7 billion!) started doing their respective parts in reducing their carbon footprint and adopting the green way of living, how massive a change could we create! Taking baby steps and starting by adopting positive everyday habits could go a long way in saving the environment.
Here are a few things you, as an individual, could start doing to make this world a much 'greener' and better place.
Adopt the 3R technique – Reduce, Reuse, and Recycle.
First, try to minimize wastage of resources and the domestic waste produced as much as possible. Buy only what you need, and it is a wise move to buy large packets(more quantity of product but less waste generated when it comes to packaging). Always reuse items that can be used more than once, such as grocery and shopping bags. Opt for washable utensils over disposable ones. Indulge in recycling products to create new products. People all around the world have come up with many unique ideas to recycle waste and create something new!
Composting is the way to go!
Instead of dumping away the organic waste(vegetable and fruit peels, flowers, leaves, etc.) produced in your house daily in some landfill, try composting. Dig a pit in your backyard and start dumping the organic waste in it. When the hole is filled, cover it up with soil. The organic waste will decompose in several weeks and will serve as natural manure for the soil. This is the best way to start organic farming in your own backyard!
Live Unplugged!
Always, always, remember to unplug used chargers from the sockets and switch off the lights, fans, and any other electrical appliance when not in use. You may not realize it, but these little acts of carelessness may be the reason behind your skyrocketing electricity bills. By switching off devices and appliances when not in use, you are not only cutting down on your energy costs but are saving a considerable amount of energy.
Opt for energy efficient appliances
Replace the age-old and energy-hogging appliances in your home with the new, energy-efficient ones. Today, the market is filled with energy efficient bulbs, fans, heaters, air conditioners, TVs, refrigerators, and so much more. These devices deliver excellent performance while consuming minimal energy. Thus, the overall consumption of electricity in your house will reduce to a large extent, as will your utility bill.
Plant Trees
Trees provide us with oxygen, shade, and bring rainfall. They are immensely needed to help combat the climate change that is taking the entire world in its grip. Do your part and make it a point to plant trees in your surrounding areas. You can take up the initiative during festivals or special occasions and create a tree plantation drive in your neighborhood. This way, you will encourage others to plant trees for a greener future.
Apart from these major steps, you can also save the Earth by doing the following:
Opt for public transport. Individual cars and automobiles not only increase the overall fuel consumption but also increase the air pollution every day. By riding public buses, trains, metros, etc., you can help reduce this.
Choose e-receipts and bills over paper bills. This will help save our forest resources.
Fix any leaks and cracks, in any, in the pipes, taps, and water cooling system in your homes. Every drop of water is precious.
Adopt rainwater harvesting. By collecting rainwater in clean containers or tanks, you can create an extra buffer of water for fulfilling your domestic purposes(washing cars, watering plants, etc.).
Say no to plastic bags. Use cloth or jute bags.
If each one of us starts following these steps, our Earth will become much greener and livelier in the years to come. Never forget, this is our only Home, and it is up to us to protect and preserve it.
Save the seeds – and the living plants we eat and use
The 'Doomsday Vault', storing the seeds of vital crops in an underground vault near Svalbard, Norway, will celebrate its 10th anniversary soon, drawing deserved attention to the importance of conserving seeds that are vital for food and agriculture.
It was the adoption of the International Treaty on Plant Genetic Resources for Food and Agriculture in 2001 that gave the impetus to the Norwegian government to proceed with the establishment of the Seed Vault; the Commission on Genetic Resources for Food and Agriculture welcomed and supported the initiative in 2004.
The resources and attention given to Svalbard, now the iconic home to seeds of around one million unique plants, is welcome. While farmers have bred crops for millennia, the emphasis on conservation of crop diversity ex situ is historically linked to Nikolai Vavilov, who set up one of the first genebanks in Russia in 1921. In a quest to end all famines, the botanist travelled to more than 60 countries, listening to farmers and collecting seeds with an eye to their potential to contribute to hardier crops in a changing world.
Accessions from genebanks that were subsequently established have been used to breed crop varieties that are better suited for food production, such as those that proved resistant to the rust diseases that can decimate wheat and maize harvests, and to produce rice varieties able to withstand salty soils, inject new resilience in highly-domesticated crops and contribute to innovations that changing climate conditions may require, such as faster maturation or drought tolerance.
Into the wild
While focus on  conservation in genebanks is necessary, many of the genetic resources needed to underwrite sustainable food systems are found on-farm in the form of farmers' varieties and landraces and also in nature as crop wild relatives.
Consider the sunflower, a native to North America, where samples of 53 species of sunflower wild relatives have been collected and stored. Varieties with elevated oil contents were developed in Russia, followed by significant improvements driven by a French scientist who tapped genetic quirks in a wild prairie sunflower, and today the crop is grown in more than 70 countries and accounts for an annual revenue of $20 billion.
Wild plants, notably those related to edible mainstays, are increasingly under threat and warrant increased efforts for their conservation and utilization. These plants are rarely part of intense crop improvement programmes. Yet experts know they often provide interesting traits that can work wonders on crops.
That's why researchers scour central Asia in search of apple varieties, Papua New Guinea for sugar cane, and are excited to have found a wild banana in Southeast Asia that may help propagate resistance to a deadly fungus that is decimating the popular Cavendish variety.
Recently researchers have discovered previously unknown information on the genetic history of the wild relatives of cultivated chickpea, offering promising potential for a popular pulse food for which improvement has been hampered by an extreme lack of genetic diversity.
Many locally important food crops grow in parts of the world facing rapid change and high levels of food insecurity. To help countries in the daunting task of protecting the species relevant to their food supply in their natural habitats where they would continue to evolve important traits for adaptation to changes, FAO recently published Voluntary Guidelines for the Conservation and Sustainable Use of Crop Wild Relatives and Wild Food Plants.
"Crop wild relatives have saved our skins many times and may become stars in our climate change toolkit," says Chikelu Mba, a plant geneticist and Leader of the Seeds and Genetic Resources team at FAO.
Setting up protected areas is a key step. "Many countries in fact have them, and there is a potential to combine CWR conservation with nature conservation" notes Mba. "But few know what is inside them."
Overcome extinction threats
Conservation efforts need to be accelerated now as climate change, urbanization and shifting land-use patterns all pose increasingly imminent threats to the survival of many of these relatively unsung species.
"The diversity of both crop wild relatives and wild food plants are being continuously eroded and many could become extinct if the current level of neglect is not checked," says Ren Wang, FAO Assistant Director-General, Agriculture and Consumer Protection Department.
Wild crop relatives tend to be most diverse and prolific in a food crop's ancestral center of origin – the potato in the Andes, sugarcane in Asia – and also in secondary diversity zones such as the Mediterranean for the tomato and sub-Saharan Africa for cassava. That, one of Vavilov's pioneering insights, helps in choosing appropriate locations for conservation areas.
Bolstering public support for such initiatives is easier if they are shown to "benefit humans in a tangible manner," says Hans Dreyer, Director of FAO's Plant Production and Protection Division. "Conservation and sustainable use go hand in hand."