UN experts urge India to restore internet and social media services in Jammu and Kashmir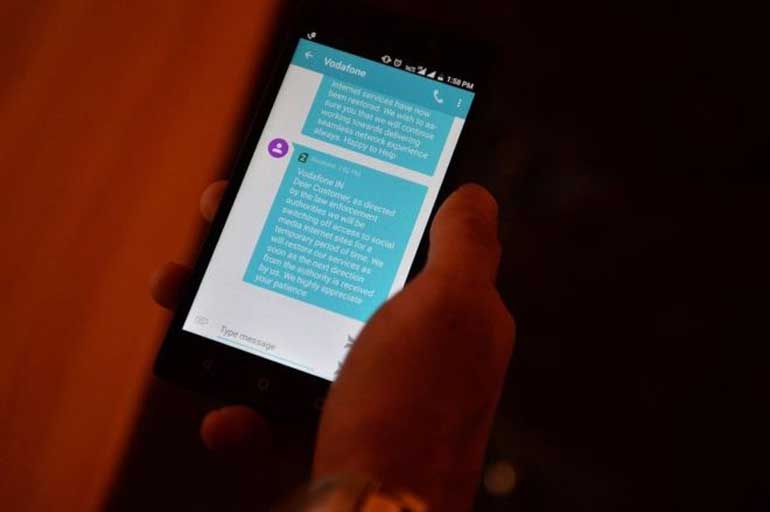 [yt_dropcap type="square" font="" size="14″ color="#000″ background="#fff" ] R [/yt_dropcap]aising alarm over the impact of internet and social media restrictions imposed by authorities in the Indian state of Jammu and Kashmir, United Nations human rights experts have called on the Government to protect the right to freedom of expression and to pursue an open and democratic dialogue to address the region's social and political conflicts.
In a news release issued by the Office of the UN High Commissioner for Human Rights (OHCHR), David Kaye, the UN Special Rapporteur on freedom of opinion and expression and Michel Forst, the UN Special Rapporteur on the situation of human rights defenders stressed that the scope of the restrictions also undermined "the Government's stated aim of preventing dissemination of information that could lead to violence."
"The internet and telecommunications bans have the character of collective punishment [and] fail to meet the standards required under international human rights law to limit freedom of expression," said Mr. Kaye in the news release.
"Denying such access disrupts the free exchange of ideas and the ability of individuals to connect with one another and associate peacefully on matters of shared concern," added Mr. Forst.
The ban was imposed on 17 April following widespread student demonstrations.
According to information from the media and individuals in Kashmir, the Government blocked access to 22 websites and applications, including the messaging service WhatsApp, and social media Facebook and Twitter, noted the news release.
3G and 4G internet data services for mobile phones and other devices have also been suspended.
The news release also noted that since 2012, there have been an estimated 31 reported cases of social media and internet bans in the Indian state and such developments seemed to be a worrying pattern aimed at curbing protests and social unrest in the region.
"We call on the Indian authorities to guarantee freedom of expression in Jammu and Kashmir and to seek a solution for the social and political conflicts of the region through an open, transparent and democratic dialogue," the experts said.
Further in the release, the human rights experts also recalled the concerns raised by the UN Human Rights Council – the central inter-governmental body within the UN system responsible for the promotion and protection of all human rights around the globe – over online disruptions and the call upon UN Member States to avoid such shutdowns.
Special Rapporteurs are appointed by the Geneva-based Human Rights Council to examine and report back on a specific human rights theme or a country situation. The positions are honorary and the experts are not UN staff, nor are they paid for their work.
Criminal Silence of Ummah on Kashmir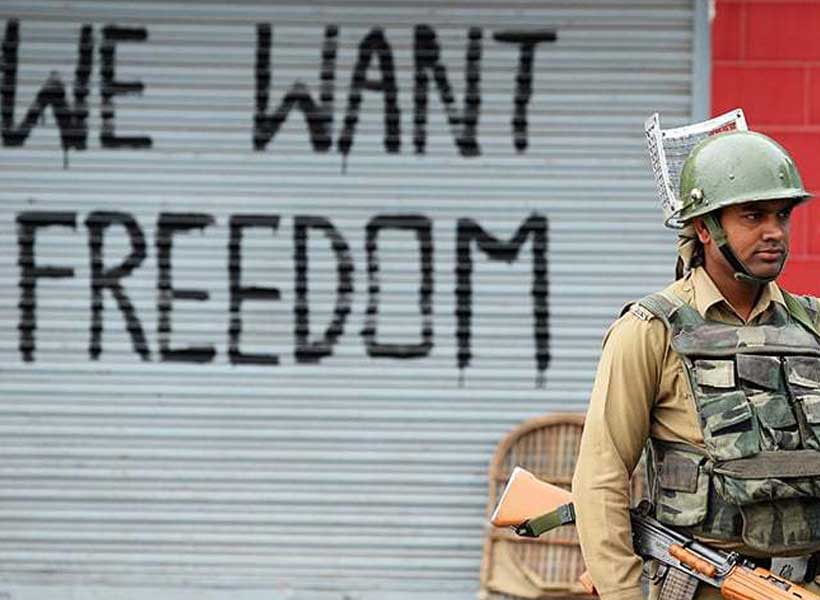 "The world suffers a lot. Not because of the violence of bad people, but because of the silence of good people."
15 million people of Kashmir are under curfew for 2 weeks. One million Indian Army is suppressing them inhumanly. The Indian Army Kills, Tortures, Kidnaps, Rapes, Arrest, Detains the innocent Kashmiris. The whole region is turned into Jail. Due to prolonged Curfew, people are facing a shortage of food, fuel, drinking water and basic necessities of routine life. No Electricity, No sanitation, No Gas, No Fuel, No medicines, No medical Facilities, The life is at stand-still – Halt.
Secretary-General of the UN has spoken on the issue and expressed his deep concern. Security Council has called its meeting and deliberated the situation with serious notes. European Parliament has sympathized with the innocent oppressed people of Kashmir. International Community has raised its voice in favor of Kashmir. World capitals and big cities have expressed solidarity with the people of Kashmir. Public rallies, protests, demonstration, and agitation are witnessed all around the globe.
Kashmir is placed with 87% Muslim population and supposed to be part of Pakistan principally according to the agreed formula of partition at the time of independence in 1947 from British. But. Indian Army entered into Kashmir and occupied part of it known as Indian Occupied Kashmir. UN Security Council passed several Resolution on Kashmir Issue and asked to hold a plebiscite to seek the will of Kashmiri people either they want to join Pakistan or India. As the majority of the population was Muslim and India was dead sure that the Kashmiri people will vote for joining Pakistan. So India kept on delaying tactics and finding one or another lame excuse to avoid the implementation of UNSC decisions.
For 7 decades, India used all dirty tricks to control Kashmir and suppress the Kashmiri struggle of self-determination. They used a huge army and draconian laws to suppress Kashmiris. India has killed hundreds, thousands, and millions of Muslims in Kashmir, humiliated them, raped women and children, kidnapped, arrested, detained them, but could not change their will for self-determination. India damaged their properties, business, killed their castles, bun their housed and crops, destroyed their economy, but could not be succeeded in controlling them. India settled Hindus from other parts of India into Kashmir to change the demography of Kashmir, to make Muslims a minority, so that in case of the plebiscite, India may get a favor. But all their tactics failed.
The recent accession and provocation have crossed all limits of atrocities. A global reaction has been witnessed to condemned Indian brutalities. Even inside India, the intellectuals and moderate politicians are against Indian policy over Kashmir. NGOs and Human Rights Organizations are raising their voices in solidarity with Innocent Kashmiri People.
No doubt OIC has given a statement on Kashmir Issue, but it is not sufficient to resolve the Kashmir Issue. The OIC is the second-largest organization after the UN, consisting of 57 countries, and one-fifth of the population of the whole world, owner of the world's major natural resources, especially energy – Oil and Gas, can do much more. As the people of Kashmir are Muslims, OIC has a stake and should do much more, the expectations are very high.
Governments in some of Muslim countries might have their personal interests or economic interests with India, but public has sympathies with Muslims of Kashmir. If the Muslim world or only few countries stop oil supply to India and ask Indian nationals to leave their countries, suspend trade and investment with India, till India resolves Kashmir Issue according to UN resolution, India may bow down and find no alternate except respecting the UN Charter and Humanity.
If Muslim Ummah kept criminal silence and become mere spectators, India may be encouraged to accede other nations and states. Silence must be broken with concrete action and observe unity of Ummah. Demonstration of Ummah's strength will resolve may other issues faced by Ummah indirectly. The whole Ummah, each individual Muslim, all have a role to play. Especially the Scholars and Intellectuals of Ummah have heavy responsibility. Let's contribute our share of responsibility and in our individual capacity, whatever we can do, we must act proactively. May Allah Protect "Islam" and "Muslims" anywhere on this earth.
Modi-fying Kashmir and Historical Facts
The Modi government on 5th august 2019 revoked two key constitutional provisions — Article 370 and Article 35A — which gave the state of Jammu and Kashmir distinctive rights. India moved around 50 thousand military personnel into the valley to avoid any backlash, which shows that the Indian government is afraid of the repercussions of an illegal act. But these curfews and emergencies are not new for Kashmiris. Kashmiri's will continue fighting for their land and will never compromise. Kashmir is an 86,000-square mile disputed region that is divided between India, Pakistan and China. Kashmir's independence struggle has a long history.
Historically Kashmiris have not ruled their own land since their last king Yusaf Shah Chak who was defeated by the Mughals in the 16th century. Chak launched guerrilla attacks against the armies of Mughal king Akbar on November 1586, he was certain that "Independence was just a day away". Since then it's been 400 years since Kashmir has passed into the hands of Afghans, Sikhs, the British Great Britain and now Indian rulers after partition. Today, the same kind guerrilla attacks continue against Indian occupational forces, although by a renewed insurgency fueled by modern weapons and communications technology.
Thousands of Kashmiri's are part of the armed freedom struggle against Indian forces. Now in the shape of the Kashmir freedom movement, it is entirely different from what it was during the early years of partition. Now, the use of social media has changed the dynamics of the freedom movement making it extremely challenging for India to curb the voices of Kashmiris in the present era. Though India always blames Pakistan for supporting freedom fighters and stone pelters it has never really applied an introspective approach to what its armed forces are doing.
As Kashmiris continue to reject India and its democracy the Modi government has locked down almost 90 lakh Kashmiris since 5 august. There is a complete media blackout in Kashmir and still India calls itself a democracy. Such Indian actions to erode the basic fabric of the Kashmir freedom movement will only fuel the struggle for independence even more. There are many people inside India which negate this act of oppression by the Modi Government. Modi's actions are opposite to democratic values which India claims are reason for its unity.
Several Indian activists have condemned the abrogation of articles 370 and 35 A. Till now 6 petitions have been filed in the Indian supreme court, all of which reflect the pure negation of Mr. Modi's agenda. Hence, the way India is treating Kashmiris will surely have dire consequences for the state in the future. The country which calls itself the largest democracy is treating Kashmiris worse than animals, a democracy where even cows purportedly enjoy more rights than Kashmiris and Muslims.
In 1947 Kashmiris resisted against Dogra forces and around 2 lakh were killed but the Kashmiris refused to be subdued. After partition on 2 November 1947, Indian Prime Minister Pandit Jawaharlal Nehru had promised a plebiscite in Kashmir saying: "The fate of Jammu and Kashmir is ultimately to be decided by the people. The pledge we have given not only to the people of Kashmir but also to the world. We will not and cannot back out of it."
But India has still not pulled back its troops since then and has continued to forcefully occupy the region. Pakistan and India have fought a number wars and smaller-scale conflicts in 1948, 1965, 1971 and 1999 due to Kashmir with border skirmishes remaining common even today. India is involved in killing Kashmiris while the world remains in silence. Only a consistent struggle can force India to check its decisions otherwise, India is on its way to change the demography of Kashmir. Modifying the status of Kashmir within the Indian constitution won't change realities which exist historically. Even today, the whole world acknowledges that Kashmir is an international dispute and not just an internal matter of India. By casting even further light and global attention on this issue through his most recent actions, Mr. Modi has gravely miscalculated the outcome of this move.
Revoking Article 370 A has already stripped Kashmiris of their special rights and now there would be single citizenship for Kashmiris. The Indian flag will be the only flag and article 356 and 360 will be applicable. Minorities will be eligible with a 16 % quota. People from other states will be eligible to buy land in Jammu and Kashmir. Assembly duration of the union territory of Jammu and Kashmir will be for 5 years. All the above developments will further estrange Kashmiris in their own land.
From 1586 till now, the Kashmiris defeated many oppressors and none was able to subdue them. Mr. Modi's modification of its status will definitely fire back in the coming days as India cannot impose a curfew forever. At least 4,000 people have been detained in Kashmir since August 5 and situation on ground as reported by international media is getting worse than ever. More and more Kashmiri youth will join armed groups and the intensity and number of armed attacks is widely expected surge dramatically. Without a doubt such a dangerous and arrogant decision by the Indian leadership has severely compromised the peace and stability of the entire region.
Kashmir: A Victim of the Influence of Major Powers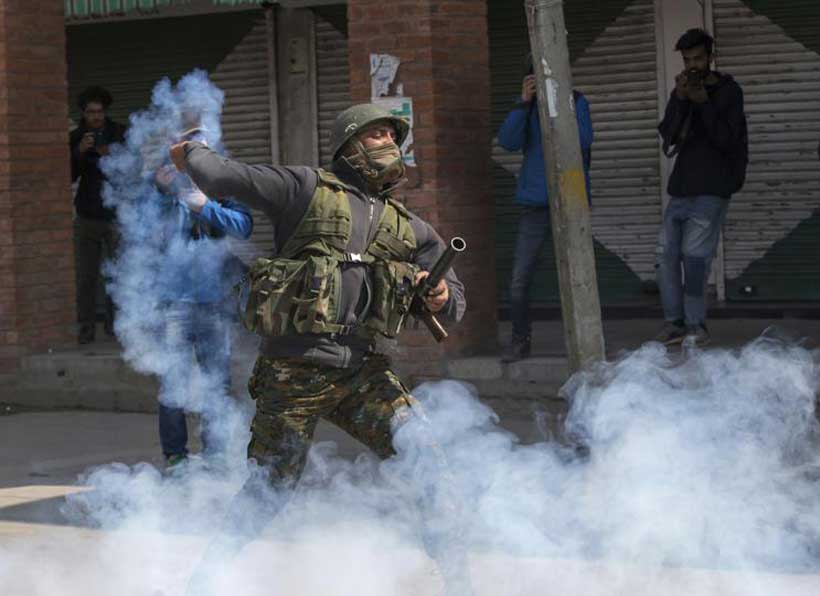 India-Pakistan relations are constantly tense and India-Pakistan history is full of struggles and rivalries. The problems between the two countries have emerged on the international scene recently when the Indian state decided to abolish autonomy in Jammu and Kashmir and apply full control of the Indian state over the region. The area is known to be the center of a dispute between India and Pakistan over land claims and border demarcation.
The Indo-Pakistan conflict over Kashmir is classified as one of the most dangerous in the world. India and Pakistan are nuclear states. The Kashmir conflict began in 1947 and did not end today, after Kashmir was a former independent region in the Himalayas. Kashmir lies in a strategic area on the Himalayas, bordered by India, Pakistan, China and Afghanistan; it is a region of cultural diversity and contains the most important Eastern religions such as Islam, Buddhism and Hinduism. The region of Kashmir is one of the most beautiful regions of the world and fertile agricultural land with a lot of natural resources, but the political instability and security has ruined the economic situation and the lack of tourists and investors.
Historically, Kashmir has been a Hindu religion, but the connection between Kashmiri people and Afghan families has led to the spread of Islam. Kashmir was ruled by the Mongols from the 16th to the 18th centuries, after which Kashmir returned to be an independent state. However, strong British influence in that period robbed the sovereignty of that country by selling land and people, who are mostly Muslims, to a Hindu warlord, Gulab Singh, for 7.5 million rupees.
This "contract of sale" was quickly legalized in the Amritsar Treaty. Since then Singh has declared himself "Maharaja of Jammu and Kashmir", and imposed on the local population by force Hindu culture and its religious principles. He burned mosques and overthrew anyone who begged himself to oppose his rule and stand up to Hindu principles. After Maharaja "Gulab Singh" took over the rule of Jammu and Kashmir Maharaja "Hari Singh", who completed the same path of his predecessor in a land where the number of Muslims at the time 94%.
The severe repression of the people of Jammu and Kashmir in cooperation with the British prompted them to raise their voice in the face of the Maharaja and his allies in 1931. On 25 October 1947, after violent confrontations between the Maharaja and the population, the Kashmiri people won and the Maharaja was expelled. Maharaja sought support from India after Britain stopped supporting him.
The British colonial policy divided the area there on a religious basis. Most of the Muslim lands have been annexed to Pakistan, and the Hindu-majority lands have been annexed to India. In 1947, Indian military forces returned to Kashmir by force against weak Kashmiri resistance and little support from Pakistanis.
At that time, Pakistan began to support the rebels and the separatists from India, which led India to complain to the Security Council accusing Pakistan of supporting the rebels in Kashmir. Pakistan has responded that India is trying to promise Kashmir sovereignty, but it is working to annex Kashmir and bring Maharaja Hari Singh back to power. In 1948, the Security Council sought a mutually satisfactory solution, dividing Kashmir territory, one part called Azad Kashmir or Free Kashmir is supervised by Pakistan, and another part is Jammu and Kashmir and is supervised by India
The never-ending wars between India and Pakistan over the Kashmir issue prompted India in 1974 to conduct six nuclear experiments. This means that India has become a nuclear state and is capable of destroying every enemy, namely Pakistan. This has pushed Pakistan to become a nuclear power by acquiring nuclear weapons. In 1988, India and Pakistan signed a non-aggression pact. Military science suggests that the Asian region is the most dangerous on earth and capable of destroying mankind. India, Pakistan, China, Russia and Iran are nuclear states. Religious conflicts and territorial disputes are accelerating the nuclear war. According to the Pentagon, the next nuclear war between India and Pakistan will claim at least 12 million deaths and more than 7 million wounded from the region.
India, as a big country and a major nuclear power in the Asian region, will not concede to Pakistan in this Kashmir conflict. But India is demanding the entire territory of Kashmir, i.e. Pakistani Kashmir and Chinese Kashmir and this is impossible to achieve, and the conflict is increasing today through the legal measures taken by the Indian state to annex Jammu and Kashmir to the sovereignty of the Indian state and wrest autonomy. Therefore, the solution to this issue remains through diplomacy and negotiations because the weapons, force and many wars in that region did not lead to any positive result.