The meeting between al-Sarraj and General Khalifa Haftar
[yt_dropcap type="square" font="" size="14″ color="#000″ background="#fff" ] L [/yt_dropcap]ast mid-February both the leader of Libya's Government of National Accord (GNA), Fayez al-Sarraj, and the leader of the Libyan National Army – that is the leader of "Operation Dignity" – Khalifa Haftar, were in Cairo, but no one can still today check whether they actually met. Indeed, as far as we know, they did not, considering the real allergy that Haftar has for the leader of Tripoli's GNA.
Again last mid-February, in the Egyptian capital city, al-Sarraj met the Chief of Staff of the Egyptian Armed Forces, Mahmoud Egazi, who deals with the Libyan dossier for the Egyptian President.
Egypt supports Haftar for many reasons: the presence of over 750,000 Egyptian workers in Libya – and, at Gaddafi's time, they were at least 1.5 million, mainly Copts.
The other reasons are the tension in Sinai, now being jihadised; 1,200 kilometers of borders with Libya, which are very hard to keep under control; remittances from Libya to Egypt to the tune of 33 million US dollars a year, as well as a 75% decrease of bilateral trade.
Egypt will keep Libya united as long as it can, but it will certainly avoid the spreading of the Muslim Brotherhood (siding with al-Sarraj) and the various derived jihadist fraternities.
Great Britain, foolishly happy to have finally weakened Italy, cannot but support al-Sarraj, while France, which thinks also about the Suez Canal, supports el-Sisi and hence also Haftar.
Haftar, however, did not meet with al-Sarraj, who was in Egypt – as we have seen – and the leader of "Operation Dignity" avoided seeing him.
Moreover, Tobruk's Parliament has noted that "there is no moral nor material obligation" to respect the immigration memorandum between al-Sarraj's government and Italy.
With whom are we talking in Libya? With the democratic-UN ghosts or with the "effectual truth of the matter" – just to quote Machiavelli?
Ultimately, we do not still know the reason why the United Nations, the European Union and many others take al-Sarraj and his government so seriously.
Furthermore, in honour of the mythical Western enlightened "secularism", we wish to point out that respect for the Islamic law, namely the sharia, is the fifth of the 32 "principles" enshrined in the Libyan Political Agreement signed in Skhirat on December 17, 2015, which is at the basis of al-Sarraj's current government.
On the other hand, al-Sarraj's government relies on Turkey's and Qatar's support, while the Turkish diplomacy is led by Amrallah Ishlar, who travels perpetually back and forth between the various capital cities of current Libya.
Are we really sure that this strange Turkish activism is in Europe's or, at least, Italy's interest, considering that also France supports Haftar?
Are we sure that Turkey does not want also an Islamist pole on the Maghreb coast, graciously granted to it by Western stupidity – a pole controlling the Libyan African oil and the Mediterranean region?
The submission of NATO and EU interests to Turkey's is now a painful mystery.
Do they want to support Turkey against the "tyrant" Assad, so that Syria becomes as pervious and porous as a sponge?
Do they want to imagine that instead of cooperating with Russia in Syria and the Middle East, Turkey is finally seduced by the immense Western stupidity?
Moreover Ahmed Mitig, one of al-Sarraj's four deputies, does not consider important to fight Isis in Sirte which, for Tripoli's government, clearly appears to be a useful buffer to protect itself from Haftar's forces.
Now, with "Operation Dignity" in the Libyan oil crescent area, we realize all the importance of a power taking more action so as to have less UN-style talk and more military facts.
In 2011 only a perfect fool could imagine this Libyan scenario and both in France and Great Britain we found two useless idiots who, with a view to taking ENI away from us and putting an end to the disastrous project of the Union for the Mediterranean, set fire to the weakest point in Maghreb.
Moreover, as is well-known, al-Sarraj's domestic allies in Tripoli are both the Salafists and the Muslim Brothers.
With a view to opposing Isis, we support its ideological progenitors, by trusting al-Sarraj's red tie.
Since the insurgency against Gaddafi, the Muslim Brothers have systematically murdered at least 500 elite officers of the Libyan Armed Forces, in Benghazi only, while even today, in the United States, the obvious equation between Muslim Brotherhood and Islamist groups is denied by the US government.
Well done. Who do you think has spread the concept of Qur'an as the only law? Fear makes you do unthinkable things, but stupidity is even worse.
Furthermore, rumors are rife that in early 2016 the Muslim Brotherhood and al Qaeda in Libya reached a political agreement – something which would only surprise the many people disinformed about the "sword" jihad.
Hence what is it? Blindness? Ignorance? Amateurism? A mix of all three.
The West – in the hands of the last master and of ruling classes and politicians who only see the poor (Arab) money – leaves to its enemies the lines of its final penetration and its complete defeat.
Moreover, so far al-Sarraj's government – so dear to the United Nations and to the European Union – has failed to muster the support of Tripolitania's Islamist militia led by Khalifa al-Ghweil or of Tobruk's "House of Representatives" or, finally, of Cyrenaica's government led by Al Thinni.
Hence, what is it for? For making Turkey do business? For supporting Qatar, which invests massively in our companies?
Furthermore, "Libya Dawn" militias do not support al-Sarraj yet, but only obey to al-Ghweil, while both Haftar and Tobruk's forces have successfully countered, with weapons in their hands, any attempt by Al Sarraj's few military forces – especially those of the Muslim Brotherhood – to conquer Cyrenaica's oil districts.
And, indeed, we paid al-Sarraj' soldiers.
Hence, even assuming it may lead to some results, the Abu Dhabi meeting will be a success only for General Khalifa Haftar, who will show to al-Sarraj such a mediation line not to make him be overthrown (no one has an interest in replacing an absolute nobody) and avoid his uprising in Tripoli, which – however – would not go beyond the second floor of the building – in front of the port – hosting the GNA, so dear to the United Nations and its ignorant leaders.
Nobody knows what would happen if al-Sarraj were to go to the bathroom on the first floor without being protecting by his bodyguards.
According to some anonymous sources, during the two hours of private talks in Abu Dhabi, the two leaders accepted to hold Parliamentary and presidential elections within 2018.
Again according to these sources, Al-Sarraj accepted to support the appointment – by March 2018 – of General Haftar to serve as provisional President of the new future Libyan Republic, in addition to leading a national unity government with all the forces on the field to manage the upcoming elections.
Al-Sarraj feels he is weak and understands that – as Mao Zedog would have said – the EU and the UN are two "paper tigers". Hence he is endeavouring to survive his non-existent Tripoli's government.
Moreover, the crime organizations which handle migrant trafficking have been fully eradicated from the coastal areas where Haftar's "Operation Dignity" rules, while they thrive on the other shores.
This too would be a sign to consider if a quite responsible a skillful government ruled in Italy.
Nevertheless, we doubt that – despite the professional competence and intelligence of the Minister for Internal Affairs, Marco Minniti – the current government wants to get to the root of the matter.
They are too weakened by the talk about al-Sarraj's "legitimate power", created only upon their own request.
As many readers may recall, al-Sarraj's Libyan Presidential Council, created in March 2016 and located in the base of Abu Sittah, near Tripoli, relied on the Libyan Political Agreement signed on December 17, 2015, which appointed only nine members of al-Sarraj's government, with no other signatures in support of it.
Westerners are divided like the Libyan forces inside the country. In its magnificent blindness, the United States supports only Tripoli's Government of National Accord (GNA) and its President, al-Sarraj.
Do not ask us why – it is just a leap of faith.
Tripoli-Abu Sittah's government also wants "to fight against people's traffickers and to repress ISIS in Sirte", but we know that so far these two goals have only been reached by Haftar.
France supports Haftar because it wants to avoid spreading the contagion to Senegal, Gambia, Niger and Morocco.
And it still has interests between the Horn of Africa and the Suez Canal.
No UN nonsense or foolishness will distract France's attention from its bilateral relations with Egypt.
As is well-known, also the Russian Federation supports Haftar and there will soon be a Russian base in Cyrenaica and a Russian power projection onto the Western Mediterranean region.
Hence, with Tripoli-Abu Sittah's government, it is as if Andorra wanted to rule over France or Spain.
However, the agreement finally signed in Rome on March 28 last between the Tuaregh, Tebu and Awlad Suleiman tribes – all operating south of Libya – to stop the trafficking of human beings and stabilize the country is good news.
Nevertheless the Russian Foreign Minister, Lavrov, is perfectly right in supporting "inclusive dialogue and avoiding betting on a single force only".
What is surprising, however, is the fact that the United Nations and, above all, the European Union have not yet realized it.
The Italian Foreign Minister, Angelino Alfano, believes that "dialogue is positive" and that "also Haftar should be given a role".
He is certainly right, but the role played by the General of "Operation Dignity" is now clear, while al-Sarraj's role remains inevitably on the back of the stage.
Hence what should be done?
Simple actions should be taken. Convening a Conference in Rome, whether the UN or the pro-EU useless hierarchies like it or not.
Negotiating a clean-cut and militarily clear delimitation of internal lines and strictly order all Libyan parties to hold elections by and no later than October 2017.
Defining one single national unity government, which shall be established after the local elections.
Creating not a multitude of sympathetic amateurs at war, but a series of effective NATO outposts between the various factions.
Thanks to the idiots that have fragmented and disrupted it, Libya is now only a land of factions.
We should know it and try to separate the military groups, even harshly.
Libya is no longer the country created by Italo Balbo's Mazzinian genius or the nation built by Gaddafi's iron will.
Certainly, the leader of Tripoli's government, Khalifa al-Ghweil, did not allow al-Sarraj and the UN envoy, Kobler, to land in Mitiga, the only airport in the capital city.
While Tripoli's President does not rule even in his city, Italy and the other naïve supporters of Kant's perpetual peace refuse to have relations with the only Prince having Weapons – just to quote Machiavelli – namely Haftar, because Cyrenaica's government, to which the General refers and reports, is a friend of the Russian Federation.
Cyrenaica has already established an "Eastern" branch of the National Oil Company (NOC), the only company authorized by the UN to sell Libyan oil, which – on April 25 last – immediately ordered a sale of 650,000 barrels, loaded on the Indian ship Distya Ameya in the port of Malta, to be sold through a company of the United Arab Emirates.
After UN pressures, the Indian ship returned to Libya, but now the oil split is an objective fact.
In all likelihood, the idea of General Haftar and of Tobruk's leader, Al Thinni, is to set the precedent of Cyrenaica's autonomy similar to that of Iraqi Kurdistan.
Chinese purchases of Iranian oil raise tantalizing questions
A fully loaded Chinese oil tanker ploughing its way eastwards from two Iranian oil terminals raises questions of how far Beijing is willing to go in defying US sanctions amid a mounting US military build-up in the Gulf and a US-China trade war.
The sailing from Iran of the Pacific Bravo takes on added significance with US strategy likely to remain focused on economic rather than military strangulation of the Iranian leadership, despite the deployment to the Gulf of an aircraft carrier strike group as well as B-52 bombers and a Patriot surface-to-air missile system.
As President Donald J. Trump, backed by Secretary of State Mike Pompeo, appears to be signalling that he is not seeking military confrontation, his administration is reportedly considering a third round of sanctions that would focus on Iran's petrochemical industry. The administration earlier this month sanctioned the country's metals and minerals trade.
The sailing raises the question whether China is reversing its policy that led in the last quarter of 2018 to it dramatically reducing its trade with Iran, possibly in response to a recent breakdown in US-Chinese trade talks.
"The question is whether non-oil trade remains depressed even if some oil sales resume, which I think it will. That's the better indicator of where Chinese risk appetite has changed. Unfortunately Iran's reprieve will be limited—but better than zero perhaps," tweeted Esfandyar Batmanghelidj, head of Bourse & Bazaar, a self-described media and business diplomacy company and the founder of the Europe-Iran Forum.
A Chinese analyst interviewed by Al Jazeera argued that "China is not in a position to have Iran's back… For China, its best to stay out" of the fray.
The stakes for China go beyond the troubled trade talks. In Canada, a senior executive of controversial Chinese telecommunications giant Huawei is fighting extradition to the United States on charges of violating US sanctions against Iran.
Reports that Western companies, including Kraft Heinz, Adidas and Gap, wittingly or unwittingly, were employing Turkic Muslims detained in re-education camps in China's north-western province of Xinjiang, as part of opaque supply chains, could increase attention on a brutal crackdown that China is struggling to keep out of the limelight.
The Trump administration has repeatedly criticized the crackdown but has stopped short of sanctioning officials involved in the repressive measures.
Bourse & Bazaar's disclosure of the sailing of the Pacific Bravo coincided with analysis showing that Iran was not among China's top three investment targets in the Middle East even if Chinese investment in the region was on the rise.
The Pacific Bravo was steaming with its cargo officially toward Indonesia as Iranian foreign minister Mohammad Javad Zarif was touring his country's major oil clients, including China, in a bid to persuade them to ignore US sanctions.
A second tanker, the Marshal Z, was reported to have unloaded 130,000 tonnes of Iranian fuel oil into storage tanks near the Chinese city of Zhoushan.
The Marshall Z was one of four ships that, according to Reuters, allegedly helped Iran circumvent sanctions by using ship-to-ship transfers in January and forged documents that masked the cargoes as originating from Iraq.
The unloading put an end to a four-month odyssey at sea sparked by buyers' reticence to touch a cargo that would put them in the US crosshairs.
"Somebody in China decided that the steep discount this cargo most likely availed … was a bargain too good to miss," Matt Stanley, an oil broker at StarFuels in Dubai, told Reuters.
The Pacific Bravo, the first vessel to load Iranian oil since the Trump administration recently refused to extend sanction exemptions to eight countries, including China, was recently acquired by China's Bank of Kunlun.
The acquisition and sailing suggested that Bank of Kunlun was reversing its decision last December to restrict its business with Iran to humanitarian trade, effectively excluding all other transactions.
The bank was the vehicle China used in the past for business with Iran because it had no exposure to the United States and as a result was not vulnerable to US sanctions that were in place prior to the 2015 international agreement that curbed Iran's nuclear program.
China's willingness to ignore, at least to some extent, US sanctions could also constitute an effort to persuade Iran to remain fully committed to the nuclear accord which it has so far upheld despite last year's US withdrawal.
Iran recently warned Europe that it would reduce its compliance if Europe, which has struggled to create a credible vehicle that would allow non-US companies to circumvent the sanctions, failed to throw the Islamic republic an economic lifeline.
In a letter that was also sent to Russia and China, Iran said it was no longer committed to restrictions on the storage of enriched uranium and heavy water stocks, and could stop observing limits on uranium enrichment at a later stage.
Russian president Vladimir Putin warned in response to the Iranian threat that "as soon as Iran takes its first reciprocal steps and says that it is leaving, everyone will forget by tomorrow that the US was the initiator of this collapse. Iran will be held responsible, and the global public opinion will be intentionally changed in this direction."
Will there be war with Iran? Will there not be war with Iran? The questions are being asked repeatedly in the media even though a single carrier task force is steaming up there. The expression is old for the latest carriers are nuclear powered. Imagine the mess if it was blown up.
There are two kinds of weapons in the world … offensive and defensive. The latter are cheaper, a fighter plane compared to a bomber. If a country does not (or cannot afford to) have offensive intent, it makes sense to focus on defense. It is what Iran has done. Moreover, its missile centered defense has a modern deadly twist — the missiles are precision-guided.
As an Iranian general remarked when questioned about the carrier task force: some years ago it would've been a threat he opined; now it's a target. Iran also has a large standing army of 350,000 plus a 120,000 strong Revolutionary Guard and Soviet style air defenses. In 2016 Russia started installation of the S-300 system. It has all kinds of variants, the most advanced, the S-300 PMU-3 has a range similar to the S-400 if equipped with 40N6E missiles, which are used also in the S-400. Their range is 400 km, so the Iranian batteries are virtually S-400s. The wily Putin has kept trump satisfied with the S-300 moniker without short-changing his and China's strategic ally. The latter continuing to buy Iranian oil.
Iran has friends in Europe also. Angela Merkel in particular has pointed out that Iran has complied fully with the nuclear provisions of the UN Security Council backed Joint Comprehensive Plan of Action i.e. the Iran nuclear deal. She is mustering the major European powers. Already alienated with Trump treating them as adversaries rather than friends, they find Trump's bullying tiresome. President Macron, his poll ratings hitting the lowest, is hardly likely to engage in Trump's venture. In Britain, Theresa May is barely able to hold on to her job. In the latest thrust by senior members of her party, she has been asked to name the day she steps down.
So there we have it. Nobody wants war with Iran. Even Israel, so far without a post-election government does not want to be rained upon by missiles leaky as its Iron Dome was against homemade Palestinian rockets.
Topping all of this neither Trump nor Secretary of State Pompeo want war. Trump is as usual trying to bully — now called maximum pressure — Iran into submission. It won't. The wild card is National Security Adviser John Bolton. He wants war. A Gulf of Tonkin type false flag incident, or an Iranian misstep, or some accident can still set it off.
In Iran itself, moderates like current President Hassan Rouhani are being weakened by Trump's shenanigans. The hard liners might well want to bleed America as happened in Iraq and Afghanistan.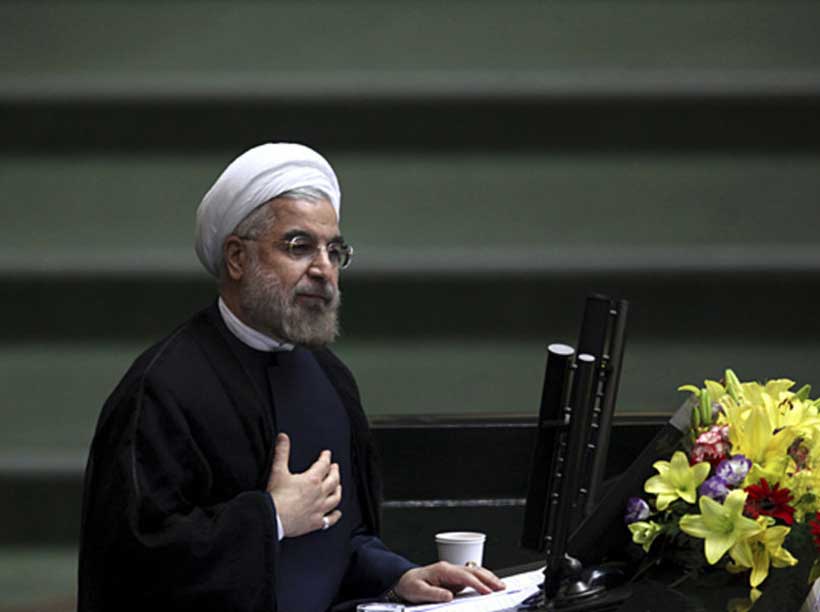 By announcing that Iran will begin keeping its excess uranium and heavy water, the Islamic Republic now sends a firm and clear message to the west, exactly one year after U.S. president, Donald Trump unilaterally withdrew from its nuclear deal with Iran.
At this point, it seems that Iran has made a wise decision. Over the last year, the European troika has not only done anything to revive the nuclear deal or bring any kind of benefit to the Iranian nation, but they have actually backed up U.S. by developing new plans to undermine Iran's "missile work", and diminish its "power in the region" as well as its "nuclear technology".
As stated in clauses 26 and 36 of Joint Comprehensive Plan of Action (JCPOA), if the other side fails to meet its obligations, Iran is entitled to partially or completely end its commitments as well. So, Iran's recent decision could be analyzed both on legal and strategic terms.
However, it seems that the strategic aspects of Iran's decision are even more important than its legal aspects. This decision is strategically important because it stops Washington and European troika to carry out their anti-Iran scheme, a dangerous scheme that they actually started devising when Trump took the office in 2017.
At the time, Theresa May, the British Prime Minister, and Emmanuel Macron, the French president played a major part in carrying out the west scheme. A scheme based on enforcing Iran to keep its "nuclear promises" and stay committed to a "distorted nuclear deal" while "U.S. had abandoned the deal", and at the same time, trying to "diminish Iran's power in the region" and "reduce its missile activities".
All other actions of Europeans toward Iran were also simply targeted at carrying out this major plan, including how they constantly changed their strategies toward Tehran, and how Germany, U.K. and France intentionally delayed in launching the alternative trade mechanism (Instex) with Iran.
Now, Iran's decision to keep its Uranium and heavy water is definitely in compliance with JCPOA, and more importantly, it will seriously undermine the "American-European" joint plan against Iran. This also explains why French government was so distressed by Iran's new nuclear strategy and had such a quick reaction, considering that Emmanuel Macron, the French president and Jean-Yves Le Drian, the French Foreign Minister both have had important roles in carrying out the American-European anti-Iran scheme.
At any rate, what is clear now is that the game has just started! And the Iranian political system and specially the foreign ministry have a great mission to run this game wisely.
In following days, the European troika might want to force Iran into changing its decision by threats such as reviving the European Union sanctions against Iran or even taking Iran's case to the United Nations Security Council (so that Trump administration can meddle in Iran's affairs). But, it is time for Iran political system to be adamant in its decision.
The Iranian Foreign Ministry should clearly ask the Europeans to choose one of these options, either Iran will "further reduce its commitments to the nuclear deal" or the Europeans should do something practical to "protect the rights of Iranian nation".
It is also necessary that the Iranian political system reveals the American-European joint anti-Iran scheme to the people so that the true nature of Europeans is showed to Iranians. In that case, Europe and specially the European troika will completely lose their reputation.
First published in our partner Tehran Times