ASEAN, Pacific Alliance to strengthen cooperation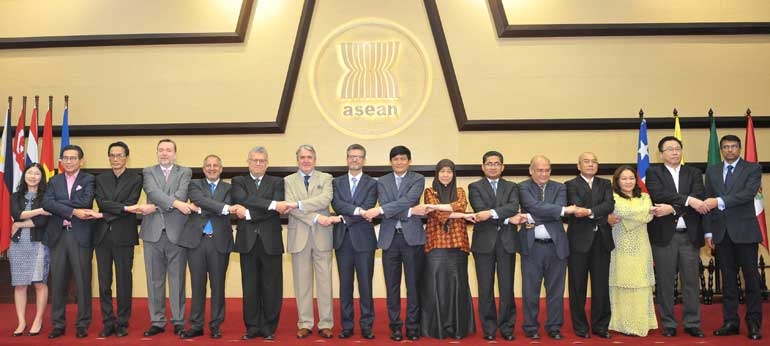 [yt_dropcap type="square" font="" size="14″ color="#000″ background="#fff" ] A [/yt_dropcap]SEAN and the Pacific Alliance renewed their commitment to strengthen cooperation between the two regional organisations during the third Meeting of the Committee of Permanent Representatives to ASEAN and the Group of External Relations of the Pacific Alliance held at the ASEAN Secretariat.
Both sides reiterated the importance of deepening engagement through the implementation of the ASEAN-Pacific Alliance Framework for Cooperation, which was adopted at the 3rd ASEAN-Pacific Alliance Ministerial Meeting held in New York last September. The Framework for Cooperation prioritised four practical areas of cooperation, namely, economic cooperation; education and people-to-people contacts; science, technology and innovation; and sustainable development.
Recognising the great potential of ASEAN-Pacific Alliance cooperation and noting the positive momentum in the relations, the meeting agreed to develop concrete actions for each of the four priority areas identified and also to step up efforts to promote closer people-to-people ties through various initiatives such as education, tourism, culture and sports.
Towards this end, the meeting welcomed the convening of the ASEAN-Pacific Alliance Global value Chains Seminar in Santiago, Chile on 18 – 19 January 2017 which discussed a number of issues, including the importance of public private partnership and global value chain as well as the promotion of Small and Medium Enterprises developments.
The meeting also exchanged views on the developments in ASEAN and the Pacific Alliance and highlighted the importance of strengthening regional economic integration to boost global economic growth, facilitate equitable development and to bring greater benefits to the people in the face of sluggish economic environment and trends toward protectionism.
The meeting was co-chaired by Ambassador Nguyen Hoanh Nam, Permanent Representative of Viet Nam to ASEAN; and Mr. Pablo Urria, Director for Bilateral International Relations of the Ministry of Foreign Affairs of Chile; and attended by the Permanent Representatives to ASEAN or their representatives, the Ambassadors of the Pacific Alliance countries to ASEAN and the ASEAN Secretariat.
Humanitarian Aid: EU releases €68 million for Sudan and South Sudan
The Commission has announced today €68 million in humanitarian assistance for vulnerable communities in Sudan and South Sudan.
The funding comes as millions of people across both countries are in need of assistance, with the conflict in South Sudan triggering an influx of refugees into neighbouring Sudan.
"The EU is stepping up its support as many people in Sudan and South Sudan face massive humanitarian needs. Our aid will provide essential supplies such as food and healthcare and allow our partners to continue their lifesaving work on the ground. Above all, it is crucial that humanitarian workers can deliver aid safely so they can help those most in need. Aid workers are not a target." said Commissioner or Humanitarian Aid and Crisis Management Christos Stylianides.
In South Sudan, €45 million will primarily target internally displaced persons and host communities, providing emergency food assistance, health, nutrition, shelter, water and sanitation as well as protection from gender based violence. Funding will also support measures to protect aid workers.
In Sudan, €23 million will ensure protection of displaced communities, treatment of undernutrition in the most affected areas, as well as food assistance and improved access to basic services such as health, shelter, water and sanitation.
To date, the Commission has mobilised more than €412 million in humanitarian aid for South Sudan since fighting erupted in December 2013. Since 2011, the EU has provided almost €450 million in humanitarian aid in Sudan for those affected by conflict, natural disasters, food insecurity and malnutrition in the country.
Background
Five years of conflict in South Sudan has left 70% of the population in need of assistance, and subject of horrendous levels of violence. The conflict is characterised by wide-scale human rights abuses against civilians, in particular women and children, including rape and sexual violence, recruitment of child soldiers, destruction of hospitals, schools and food stocks. Among the 7 million people estimated to be severely food insecure, already several thousands of people may be facing famine conditions, according to a report issued by the Famine Early Warning Systems Network. At least 101 aid workers have been killed since the conflict started in December 2013, and violent attacks on humanitarian workers are on the rise. Despite increasing impediments on the delivery of humanitarian assistance, the EU is among the biggest donors of humanitarian aid in South Sudan.
Sudan has millions of internally displaced people and the country is now hosting more than 1 million refugees. Most of them are South Sudanese who have fled conflict and famine. This is not the only humanitarian crisis affecting Sudan. Unfortunately millions are still displaced in the country after several years. Undernutrition rates in Sudan are also among the highest in Africa. 1 in 6 children suffers from acute undernutrition, and 1 in 20 from its most severe form which is likely to cause death. This year is marked by a further deterioration due to the socioeconomic crisis, localised drought and new conflict related displacement. More than 7 million people are in need of humanitarian assistance.
Whilst Sudan has eased travel procedures for humanitarian organisations important obstacles remain for a timely provision of humanitarian assistance due to heavy administrative procedures and undue interferences. Emergency response can then be delayed or inadequate.. On top of addressing the most pressing humanitarian needs in the country, the EU has been strengthening coordination with development programmes in Sudan to better tackle protracted crises linked to forced displacement and undernutrition.
IEA participates in G20 energy ministerial meeting in Argentina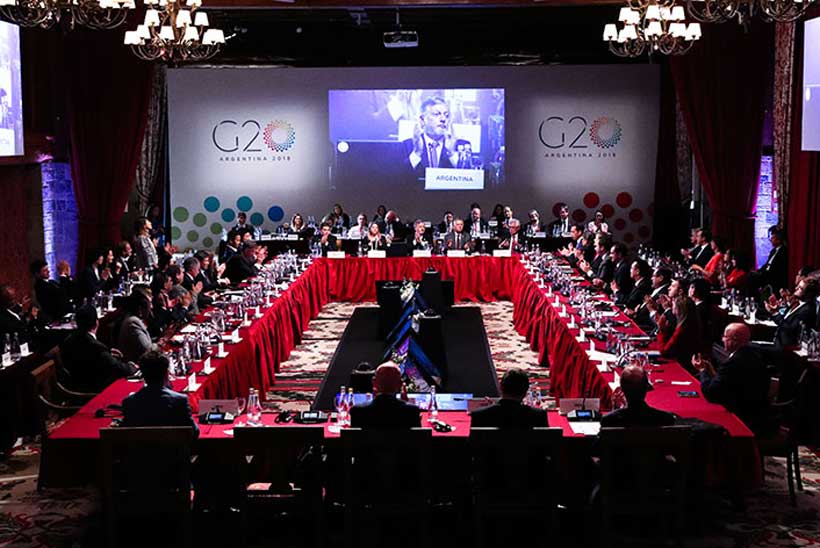 The International Energy Agency (IEA) joined energy chiefs from the Group of 20 (G20) countries to discuss and review the various ways to transition to a low-carbon economy under the G20 Presidency of Argentina.
The first G20 Energy Ministerial in Latin America brought together ministers of energy and natural resources and officials from G20 economies, as well as experts form international organizations, to discuss current global energy challenges and shared priorities. Discussions centred around multiple energy transitions, affordable access to energy and the role played by technological innovation.
Tim Gould, one of the two co-lead authors of the flagship World Energy Outlook, and Head of the IEA's Energy Supply Outlook Division, delivered a keynote address at the Ministerial providing an overview of the IEA's key messages on the future of the energy sector, from oil and gas markets, to renewables, greenhouse gas emissions and energy access.
Ahead of the Energy Ministerial, IEA officials also participated to the IGU Natural Gas Day, the World Energy Leaders' Summit, the energy working group meeting of the Business20 (B20) and the second Energy Transitions Working Group (ETWG).
During the gathering, the IEA underscored the need for global collaboration to deliver the emissions reductions targets demanded by the Paris Agreement and the aspirations of the Sustainable Development Goals. The IEA identified the key role of governments to spur change and provide stable investment conditions.
G20 countries recognised the IEA's deep expertise and analysis on the challenges of the energy transitions. They welcomed the Energy Transitions report presented by the IEA under the lead of the Presidency, during the ETWG, which assesses countries' energy transitions, and the Tracking Clean Energy Progress report launched by the IEA in May.
Power system flexibility, clean energy innovation, barriers to carbon capture, utilisation and storage, transparency and sharing of best practice were identified as key areas to accelerate the low-carbon transition. G20 countries also demonstrated great interest to increase collaboration with the IEA on energy efficiency and energy statistics.
The IEA has been collaborating closely with Argentina, and signed a Memorandum of Understanding with Argentina in March 2017 to increase cooperation on the G20 and a new bilateral programme on energy statistics.
Argentina stressed the importance of data and digitalization to improve energy access and manage the energy transitions. The IEA has helped push forward the new G20 focus on energy data and digitalization, an area that has also benefited from the work of the International Renewable Energy Agency, the Latin American Energy Organization, and the International Energy Forum.
At the conclusion of the gathering, G20 countries adopted a consensus-driven Communique that acknowledged the central role of energy in promoting fair and sustainable development and the need to transform the world's energy systems. The document also recognises energy security, technology innovation, energy data, and transparency as key areas to transition towards sustainable and cleaner energy systems.
This year's G20 under the lead of Argentina highlights the importance of Latin America for global energy collaboration, building on its strength in energy supply and the region's success on energy access, regional integration and renewable energy auctions.
The IEA has been expanding its work with countries from Latin America, working closely with Mexico, which joined the IEA as a full member in February 2018, as well as with Chile, which is an Accession country, and Brazil, which recently joined the IEA Family as an Association country. A regional programme of statistics cooperation has been established with the support of the Inter-American Development Bank in cooperation with the IEA's opposite number in the region, the Latin American Energy Organization, OLADE.
Video game addiction: Read official 'gaming disorder'
The UN health agency has for the first time, tagged compulsive video gaming as a mental health condition in its updated classification manual, released on Monday.
"For gaming disorder to be diagnosed, the behavior pattern must be of sufficient severity to result in significant impairment in personal, family, social, educational, occupational or other important areas of functioning and would normally have been evident for at least 12 months," said the World Health Organization (WHO).
While some media reports welcomed the formal designation of "gaming disorder" within WHO's International Statistical Classification of Diseases and Related Health Problems (ICD) as helpful to sufferers, others saw it as causing needless concern among parents.
"There are few truer snapshots of a country's wellbeing than its health statistics," said WHO. While broad economic indicators such as Gross Domestic Product may skew impressions of individual prosperity, data on disease and death reveal how a population is truly faring.
According to WHO, ICD is the "bedrock for health statistics," codifying the human condition from birth to death, including all factors that influence health.
These statistics form the basis for healthcare provision everywhere and are at the core of mapping disease trends and epidemics; helping governments decide how money is spent on health services.
Crucially, in a world of 7.4 billion people speaking nearly 7,000 languages, ICD provides a common vocabulary for recording, reporting and monitoring health problems, says WHO.
"Fifty years ago, it would be unlikely that a disease, such as schizophrenia, would be diagnosed similarly in Japan, Kenya and Brazil. Now, however, if a doctor in another country cannot read a person's medical records, they will know what the ICD code means," WHO explained.
Without the ICD's ability to provide standardized, consistent data, each country or region would have its own classifications that would most likely only be relevant locally.
"Standardization is the key that unlocks global health data analysis," said WHO.
Ready for the 21st century
The eleventh edition of ICD was released on Monday to allow Member States time to plan implementation before it is presented for adoption at the 2019 World Health Assembly.
Noting that it has been updated for the 21st century WHO said: "Over a decade in the making, this version is a vast improvement on ICD-10," adding that it now reflects critical advances in science and medicine.
Moreover, the guidelines can also be integrated with modern electronic health applications and information systems – making implementation significantly easier, vulnerable to fewer mistakes and allowing more detail to be recorded.