Turkish President Erdogan's India visit
[yt_dropcap type="square" font="" size="14″ color="#000″ background="#fff" ] T [/yt_dropcap]urkish President Recep Tayyip Erdogan visited India on an official two day trip from April 30 to May 1. President Erdogan embarked upon his India visit soon after he won the referendum to strengthen his presidency with more powers and he met Indian PM Narendra Modi on a variety of bilateral and multilateral issues. Both signed important bilateral agreements.
India and Turkey have to build on their many convergences and build mutual trust soon. This is possible at a time when both countries have very strong leaders and stable governments.
President Erdogan is the most popular Muslim leader advancing Islamic system that is opposed by all anti-Islamic forces globally. When Erdogan took up the Palestine issue, Israel, its close military ally, got wild as it does not allow any nation to breach the Zionist terror blockades meant to torture the Hamas Palestinians, and thus the "historic" bilateral ties have been strained badly.
PM Modi is in the mould of President Erdogan in terms of popularity and power. He has been Turkey's prime minister for 12 years and now president for the last two-and-a-half years. This is his first foreign visit after scoring a comprehensive victory in a controversial referendum recently which gave him overwhelming powers and further cemented his place in the country's power structure.
Besides economic aspects, the Turkish president and Indian Prime Minister Narendra Modi also held lengthy discussions on terrorism this week during Erdogan's two-day visit to India. Both parties agreed that there was no justification for terrorism, and urged all countries to disrupt terrorist networks and financing and "stop cross-border movements of terrorists,"
The Turkish president, during his trip, also raised concerns about the Fethullah Terrorist Organisation (Feto). Ankara has demanded schools in India administered by a foundation linked to Fethullah Gulen ─ a US-based preacher who Erdogan accuses of instigating a failed coup in Turkey last year ─ be shut down. "As far as the Turkish concerns about Feto are concerned, they were mentioned to us. Any organisation in India, whether it is Indian or foreign, obviously has to work within the parameters of our laws and our norms and regulations," Baglay said.
After talks with Modi, Erdogan assured India of Turkey's full support in the fight against terrorism in general. Modi on his part said that "no intent or goal or reason or rationale can validate terrorism." President Erdogan has different view on "cross-border terrorism" that India blames Pakistan for. On the question of exiled Turkish cleric Fehtullah Gulen, who is accused by Erdogan of plotting the 16 July coup against his government, the Turkish president described organisations associated with him as "terrorist" and hoped India would take necessary steps to rein in their activities. Both condemn terrorism.
Turkey president Recep Tayyip Erdogan in his day-long visit to India extended "full solidarity" with India in battling terrorism. After extensive talks with Erdogan, in which the fight against terrorism formed a major part, prime minister Narendra Modi said both the countries have agreed that "no intent or goal, no reason or rationale can validate terrorism".
PM Modi said that he and Erdogan "agreed to work together to strengthen our cooperation, both bilaterally and multilaterally, to effectively counter this menace." During the talks, which extended by nearly two hours beyond the scheduled 60 minutes, India and Turkey agreed to boost bilateral trade from the current level of just over $6 billion and expressed the resolve to fight the global menace of terrorism together. "(The) president and I are clear that the strength of our economies presents an enormous opportunity to expand and deepen commercial linkages between our countries," Modi said while addressing the media.
PM Modi said that at the level of the two governments, "we need to approach the entire landscape of business opportunities in a strategic and long-term manner". India and Turkey are two large economies," he stated. "Our bilateral trade turnover of around $6 billion does not do full justice to convergences in our economies. Clearly, the business and industry on both sides can do much more.
For this reason, Turkey's relations with the West are not optimal but Turkey's relation with Russia, China and India is qualitatively improving Turkey's earlier 'West-centric' foreign policy towards a 'multidimensional foreign policy'.
Turkey a source of stability for Mideast
The meeting between Modi and Erdogan was widely reported in Turkish Daily Sabah and commentary and opinion touched upon the future of India-Turkey relations, the kind of stability it would bring to West Asia. The paper also brought out the Israel angle which most media in India failed or refused to touch upon. India as a new strategic partner of USA is automatically a military ally of Israel as well and their bilateral military tie ups are going up with a lot agreements for latest Israeli terror goods meant to kill Kashmiris are being signed in New Delhi.
Israel seems to use India to push for reactivation of Turkish-Zionist military ties. Turkish-Indian relations and the Israeli angle' noted that Israel is a key aspect for the India-Turkey relations as Turkey's move towards India has come after Turkey signing a reconciliation deal on 27 June, 2016 with Israel. Israeli sources say that there is a visible move towards "openness and comfort" between India and Israel in discussing all facets of bilateral relations and India should take advantage of the warming relations between Turkey and Israel and enhance cooperation among its West Asian partners.
However, neither American, neither British nor Russian newspapers like Sputnik News, Russia Today, and The Moscow Times had lent much coverage to President Erdogan's India visit. In West Asia, The Khaleej Times, Gulf News also had minimal coverage and did not generate any commentary as such. The reason for this important media omission has obvious reasons.
President Erdogan is a wily politician and is a past master in the art of running with the hares and hunting with the hounds. Recently he had a dinner meeting with Syrian President Bashar al-Assad even as he has been aiding and abetting Salafi jihadis against him. Indian strategic communist says President Erdogan has been trying to mollycoddle New Delhi with sweet nothings while having a very close relationship with Pakistan.
India wants Turkey, like USA and Russia do now, to ignore Pakistan and support its occupational crimes in Kashmir valley. Erdogan does not oblige New Delhi, however.
India stresses cooperation with India in the field of counter-terrorism should be a major area of interest for Erdogan as Turkey is in the grip of a spate of New Delhi asks as to what kind of value can he impart to this exercise when his government is closely involved with a country like Pakistan?
Convergence
Former Indian prime minister Atal Bihari Vajpayee who should be credited for redefining India-Turkey relations, now waiting for a breakthrough to qualify for another qualitative step forward. In 2001, then Deputy Prime Minister LK Advani was the first high-level dignitary of the NDA government to have visited Turkey which concluded with an important agreement on an extradition treaty. Later, in 2003, prime minister Atal Bihari Vajpayee had gone on his landmark visit to Turkey — no Indian prime minister since then had gone to Turkey until prime minister Narendra Modi, in 2015, went to Antalaya to meet the Turkish president Recep Tayyip Erdoğan on the margins of the G20 summit which was followed by another meeting on the sidelines of G20 Summit in Hangzhou, China in 2016.
There was much more visible convergence between India and Turkey on trade and commercial ties. The political and religious differences between them didn't prevent the two sides from pledging to increase bilateral trade to $10 billion by 2020 from $6.5 billion now.
Turkey has largely been seen as a moderate Islamic democracy with a population of about 80 million, strategically situated at the crossroads of Europe and Asia. Indian leader PM Narendra Modi noted that India and Turkey were two large economies which present an enormous opportunity to expand and deepen commercial linkages. He urged Turkish construction companies to participate in India's efforts to bolster infrastructure.
At the outset it should be appreciated that the top Islamist ruler from Turkey shared dais with the top Hindutva leader in New Delhi and both struck harmonious cord and signaled friendly rapport. Different religions do not necessarily come in the way of friendly relations between and among nations. But Turkey's ties with India have been rather indifferent, according to New Delhi, thanks to Turkey's closeness to India's arch nuclear rival Pakistan on key issues.
While Turkey's close ties with Pakistan and Ankara's ever-deepening involvement in several urban development projects in Pakistan-occupied Kashmir has riled India no end, Turkey too has its own concerns with India, right or wrong.
The Turkish side expressed supported for India's bid to join the Nuclear Suppliers Group, Indian media reported. President Erdogan batted for India's membership in the Nuclear Suppliers Group, something which has been stridently opposed by China. But Erdogan hyphenated his 'gesture' with a similar status for Pakistan, a country with which Turkey has extremely close political and strategic relations, and supporting Pakistan's case for NSG membership. This is what he said in an interview to an Indian TV news channel: "Both India and Pakistan have the right to aspire for NSG membership. I think India should not assume such an attitude. If Turkey was fair enough to support Pakistan, it was fair enough to support India. We are very objective and positive to the NSG process."
Trade and regional cooperation potentials notwithstanding, India and Turkey have some problems that keep overwhelming the perception of their bilateral relations. Three issues will always be asked when it comes to deepen India-Turkey relations. First, how much Pakistan determines Turkey's India perception, second, Turkey's perception of Kashmir, and third, what is Turkey's view of reforms in international institutions, which should ideally result in including India in the United Nations Security Council as permanent member.
India-Turkey cooperation in fields related to science, technology, education, culture and development areas have massive potential and both countries need each other to achieve their national interests and development goals.
Disagreements
President Erdogan has been honest in telling the world about his intent on supporting global Islam and helping Muslim nations in whatever way it can. Turkey's Islamist ideology is seen above politics and does not compromise on the religious ideas. This explains why Istanbul supports Palestine and Kashmir sovereignty demands overtly as part of its ideology.
Diplomatic pleasantries, signing of agreements aside, Erdogan remarked that India should ideally be taking a 'multilateral' approach to hot button issue of Kashmir, however, India politely, but firmly said that Kashmir was a bilateral issue to be sorted out by India and Pakistan only. Neither of the press representatives mentioned any of this in the official press briefings. However press in Pakistan reported favorably about Erdogan's comments. Pakistan has always welcomed the statements and endeavors aimed at addressing the human rights issues in IoK (the so-called India-occupied Kashmir) and the resolution of the Jammu and Kashmir dispute, the statement concluded."
President Erdogan, the founder of Islamist government in Turkey, supports Islamic governments against the will and wishes of anti-Islamic forces, nations, including Pakistan and support s the struggle of Palestinians and Kashmiris for sovereignty and human dignity. Turkey's concern for Palestinians and Kashmiris is besides the rapport it maintains with India and, to some extent, Israel. In fact, ties between the two countries have been difficult because of their divergent positions on the India-Pakistan dispute over Kashmir.
For quite some time, the Erdogan government has been asking India tough questions about Gulen and believes that Gulen's movement, which Ankara dubs as FETO or Fethullah Gulen Terrorist Organisation, has "infiltrated" India, a charge which about New Delhi has neither evidence nor any credible information. Turkey wants India to take action against FETO but has thus far failed to give any concrete information to India on the basis of which action can be taken.
Erdogan had last visited India in 2008 but that time as the prime minister. The Gulen issue was not an irritant in India-Turkey bilateral relations then because Gulen was a major ally of Erdogan. The two fell apart only in 2013, when major corruption scandals against the Erdogan government broke out. This time Erdogan's stakes in India are much higher.
Turkey is not much impressed by Indian way of getting endorsement of its veto membership from every visiting dignitary and President Erdogan, therefore, did not sign the endorsement sheet extended to him.
Multidimensional foreign policy
Once a reluctant Muslim partner, Turkey has become a close ally of the Gulf countries, thanks to Iran's growing hegemonic ambitions and Egypt's preoccupation with its domestic crisis and absence of American leadership from Gulf Cooperation Council (GCC) security architecture. Iran's regional role has become deeply dependent on its military cooperation with Russia and other non-state actors like Hezbollah — something that Iran's Arab neighbours are extremely worried about.
Turkey's normalized relations with Russia have a stabilizing role in the region — where it can assume a balancing role among various competitive powers. Despite many serious differences over Syria, Turkey remains in good terms with Iran, however, allowing Turkey to use its leverage to mediate between Iran and its Gulf neighbours.
On Syria, Russia needs Turkey more than any other country to find a lasting political settlement; Russia has been advocating for a political outcome. Since the fall of Aleppo, Turkey has also refocused its Syria policy from regime change to counter terrorism, narrowing its differences with Russia and Iran. Turkey's counter terrorism response is defined by threats: Islamic State's presence in many urban areas of Syria and Iraq; and expansion of Kurdish separatist forces closely linked with internationally recognised terrorist group PKK. In 2016, Turkey adopted a go-alone military operation against Islamic State in north Syria starting from Jerablus and stopping at Al-Bab, effectively converting Euphrates as a buffer zone between the two sides of Kurds-held areas. However, the 15 July failed military coup attempt caught Turkey unaware of another terror threat, the Gulen network many Turks perceived only as a threat by "spiritual cult".
In an extremely complicated Syrian crisis, the Assad government has successfully used the threats tactically against the Syrian rebels, by softening its view on Syrian Kurdish groups and using "Islamic terrorism" card interchangeably with Islamic State, the opposition forces and Al-Qaeda groups. As terrorist attacks increased against Turkish targets in 2015 and 2016, Turkey's frustration against its Western allies' support to the Kurdish groups deepened.
Turkey's relations with its Western allies have gone berserk on Western indifference to what Turkey considers most serious threat to its national security. European leaders have been delaying Turkey's EU accession. The trust deficit between Turkey and the West is widening. In this context, Turkey's relation with Russia, China and India is qualitatively improving Turkey's earlier 'West-centric' foreign policy towards a 'multidimensional foreign policy'.
Turkey's South Asia engagement is likely to deepen after India has renewed its interest in the Southern Corridor of Asia-Europe Rail (SCAER) project which will connect Istanbul with Kolkata, extendable further to Myanmar and Thailand. Officials from Afghanistan, Bangladesh, Bhutan, India, Iran, Kazakhstan, Myanmar, Nepal, Pakistan, Russia and Turkey have already concluded their first meeting in New Delhi on 16 March, 2017. Trans-Asian Railway (TAR) was originally proposed by United Nations Economic and Social Commission for Asia and the Pacific (UNESCAP) in 1980s and endorsed by concerned countries in 1992. The rail link, if started, can revolutionize India's trade connectivity to Central Asia, Europe and West Asia.
Kashmir
India has murdered over 1000,000 Muslims in occupied Jammu Kashmir. Many Muslims, especially the youth, have disappeared without nay traces. And many secret graveyards have been discovered in Kashmir region.
Kashmir remains the flashpoint of tensions in South Asia where India and Pakistan obtained nukes to fight for entire Jammu Kashmir nation now being occupied by Pakistan and India- India does it brutally and seeks the endorsement of veto powers, particularly the super power USA.
Brutal occupation of Kashmir enabled India to enhance its military prowess and nuke manufacturing efforts. India is not ready to address the Kashmir issue bilaterally through peaceful means as has been stipulated in the Simla Agreement and Lahore Declaration. India and Pakistan keep fighting each other, engaged in cross border fires to terrorize Kashmiris.
Like Israel which has managed to delay the establishment of a soverign Palestine but still says it would resolve the conflict by direct negotiations with Palestinians, India also says it is always ready to talk about Kashmir and all other issues with Pakistan so that "peaceful solutions can be found bilaterally". That is a bogus statement to fool the world.
Turkey views Kashmir issue as a composite one involving both India and Pakistan. India on the contrary, wants Turkey to ignore Pakistani claims and support Indian case in Kashmir. Istanbul is eager to help Kashmiris regain their lost sovereignty.
On the question of Kashmir—the Himalayan region that India says is part of its territory, something disputed by Pakistan—"India put forth its views that Kashmir was an integral part of India. Erdogan had stirred a hornet's nest by saying that there should a "multilateral dialogue" on Kashmir—something India has been opposed to; India seeks to bilaterally resolve all its disputes with Pakistan. India has always said it would never brook any third party involvement on the Kashmir issue which is essentially a bilateral issue between India and Pakistan. Erdogan had, in an interview before his arrival in India, suggested that the two countries needed to 'strengthen multilateral dialogue' in an attempt to find a solution to the Kashmir issue.
Always opposing any outside interest in Indian criminal operations in Kashmir to kill and terrorize Kashmir Muslims, India quickly dismissed Turkish President Erdogan's suggestion of multilateral talks on the Kashmir dispute, insisting the matter must be resolved bilaterally through talks between Islamabad and New Delhi. India says this knowing fully well that both India and Pakistan, the shared illegal occupiers of Jammu Kashmir, would never want to solve the problem because any credible solution means surrendering of Jammu Kashmir to Kashmiris.
India believes that terrorism issue helps it case for Kashmir and is eager not to loe out Kashmir. India is happy about cross-border terrorism and state-sponsored terror because that made India a strong nation now having established "strategic partnership" with USA and many western powers that sells terror goods to both India and Pakistan.
It is true that Pakistan-Turkey relations are more emotional than Turkey-India relations. Pakistan is projected as a country of Islamic leadership in third word despite the fact that India remains the second largest Muslim country in the world, without OIC membership though. The question many Muslim countries do not ask is: who is more important Pakistan or Kashmir, Pakistan or Indian Muslims? Weak faith could be a major reason for that.
India asks USA, Russia and other major powers not to take up the Kashmir issue for any international debates and as per its demand, USA also says that India and Pakistan would finalize the issue, even as Indian forces mercilessly kiln Kashmiris by missing the extra military laws.
India says it wants to end terrorism and also directly control Pakistan and it policies and politics, but never wants to solve the Kashmir issue. Indian Ministry of External Affairs (MEA) Spokesperson Gopal Baglay said, in a veiled reference to Pakistan that the Kashmir issue has a "prominent dimension of cross-border terrorism" that needs to be stopped by "those who are perpetuating it.
Pakistan's 'pro-Muslim' and 'pro-Kashmir' credentials are often received uncritically. Turkey's strong secular and democratic credentials bring great respect and regard for Turkey in India in stark opposition to the fragility of Pakistan's democracy.
Turkish president's offer of mediating between India and Pakistani was welcomed by Hurriyet leaders in India-held Kashmir. Hurriyet Forum Chairman Mirwaiz Umar Farooq observed that the Turkish president "is well aware of how the Kashmir dispute is the main source of tension between the two nations -India and Pakistan. Turkey being an important Islamic country, and having cordial relations with both India and Pakistan, will hopefully make efforts to end the political uncertainly prevalent in the region since decades," Farooq said. "Being an active member of Kashmir Contact Group at the Organisation of Islamic Cooperation, Turkey has always advocated the solution of Kashmir issue in accordance with the aspirations of the people of Kashmir, and Ankara can play a vital role in the resolution of this issue to end the tension in this region," he maintained.
It is not surprising to observe that Turkish media has been mostly fair and objective in its coverage of India-Pakistan affairs, rather, many Turks have a clear understanding that Turkey should not come into Indo-Pakistan's trap or support internationalizing the Kashmir issue.
Future
India and Turkey seem to converge on the need to build a stronger economic relationship, committing themselves to a vast increase in trade over the next few years, but seemed to disagree on political issues such as Kashmir. India says Kashmir has been made an integral part of Indian constitution but Turkey wants a soverign Kashmir.
India and Turkey waited fourteen years to see this moment once again. Turkey wants to play a vital role in bringing India and Pakistan together and resolve the Kashmir issue as well.
There are many good reasons to believe that the leaders of the two nations will find Vajpayee's legacy as a common point to advance India-Turkey relations. The regional contexts in which the two countries are working support their role as well. Turkey, for example, notwithstanding setbacks in Syria, remains an influential and a key regional power to define the future outcomes of crisis in Syria and Iraq. Indian strategists want Erdogan and Modi to come to an understanding on India's NSG bid, as this can expedite India entry to NSG.
For Turkey, India's increasing economic and security profile is very important. India comes off as strong and powerful with its huge young and skilled population, a rich cultural base, and most importantly democratic institutions. India's research and development profile: space program, especially micro-satellite and nano-satellites program, research in generic drugs, scientific research institutions have all given India a confident industrial and development scenario. This is what has been the main force behind redefining India's strengthening relations with some major Muslim countries, Indonesia, Saudi Arabia, Iran, Bangladesh, Nigeria, and Egypt, almost unbound from any regional rivalry perceptions.
If New Delhi realizes and give up its faulty policies being pursued since it occupied Jammu Kashmir without the will and wishes of Kashmiris, towards Kashmiris and Pakistan, and think constructively about regain peace by allowing Kashmiris regain their lost sovereignty, that would genuinely build up its relations with not only Turkey and Pakistan and Kashmiris, but entire Islamic world and even entire world.
Peaceful regional cannot be guaranteed by genocides of Kashmir Muslims and silencing their rights to protest against occupational crimes perpetrated by brutal forces.
Erdogan's visit should start a new era of bilateral engagement where both sides should invest efforts to understand each other. But keep your fingers crossed as India would not change its petrified mindset towards Kashmiris or Pakistanis, so don't expect an overnight transformation of India-Turkey relations following Erdogan's visit.
Aftermath of US-Afghan Peace Talks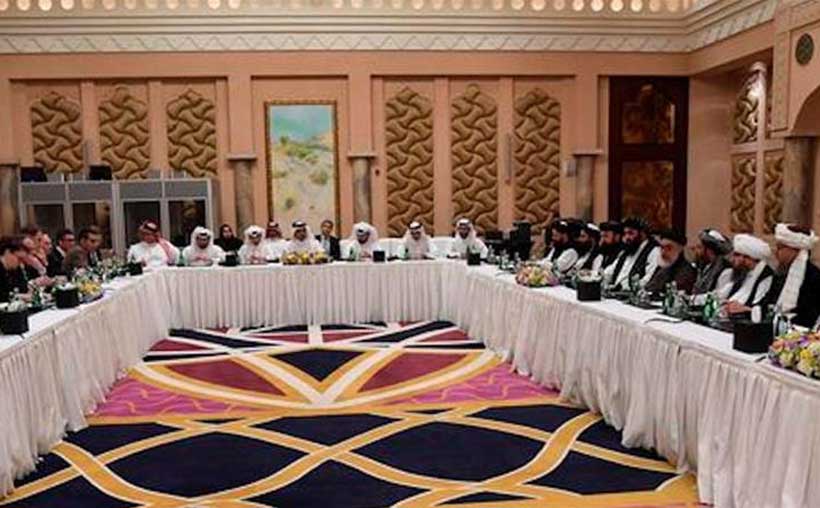 In Doha, the Capital of Qatar, an unprecedented meeting co-hosted by German and Qatari officials brought together diverse factions interested in achieving lasting Afghan peace. Sixteen Taliban and 60 Afghan representatives comprising delegates from political parties, government officials, and civil society organizations engaged in discussions that led to a potentially positive arrangement. This meeting has raised hopes for peace, but it must now be followed up by a cease fire to pave the way to lasting peace in the country.
The Taliban, which has repeatedly refused to negotiate with the West-backed government of President Ashraf Ghani, agreed to join the Peace Talks meeting on the condition that the attendees will do so in a personal capacity. For the first time since the United States started negotiating with the Taliban last year, two Afghan government officials were face-to-face with Taliban representatives at US-Afghan Peace Talks. The Doha peace talks were unlike many other conferences. The Taliban agreed to reduce their reliance on violent attacks by avoiding various public spaces. Many Afghans vulnerable to terrorism and living under severe violence have newfound hope.
The peace talks represents huge success keeping in view the Taliban's harsh policy toward women and youth. Women, in particular, have been the victims of ignorance and extremism throughout the dark chapters of Afghan history. Thus, it was a momentous development for Afghans as the Taliban leadership dined with female representatives, including one of their leading critics, Fawzia Kofi, a former MP of the Wolesi Jirga or lower house of the Afghan Parliament. This indicated a remarkable shift in Taliban's perspective towards women as they said that women would protect their rights within an Islamic framework. This change in perception had promoted a democratic framework in Afghanistan which resulted in a significant step in bringing peace and prosperity to the country. Women now work freely in the government and private sector. They represent an important portion of society and have been a symbol of change.
Moreover, the participation of youth at the Doha conference offered another notable step. It was exceptional to see those under the age of 30 who were raised under the threat of war and feared violence by the Taliban, discussed and consequently asked them for the violence to end and hope for a peaceful Afghan future. The Doha framework was conducive to discuss concerns that both sides felt comfortable to share and presented a satisfactory and excellent example of a way that both Taliban and Afghan representatives could clearly raise their thoughts patiently and in a friendly manner.
With productive peace talks between Taliban and Afghan representatives, a remarkable conclusion was reached after strong criticism and arguments. Both sides agreed to reduce violence by withholding attacks on religious centres, schools, hospitals, educational centres, commercial markets, water dams, and workstations. But the understanding now needs to translate into a tangible cease-fire across Afghanistan. The recent non-binding agreement and continued peace talks with the Taliban are suggestive of a few points.
First, the Taliban are willing to accept some sort of cease-fire as they stated that they also feel guilty for killing civilians who are fellow Afghans but they also said that they simply might not have an alternative strategy. Secondly, conferences in Doha, Moscow, Pakistan, and Uzbekistan signify the group's desire to build a new positive image. Let's not forget that the Taliban's Islamic Emirate of the 1990s was tumbled by the U.S. government for sheltering Al-Qaeda terrorists.
To portray their positive image, the Taliban are currently involved in a public relations campaign to demonstrate they are not as unfathomable as the international media has represented them. Sitting openly with Muslims, non-Muslims, and female journalists, as well as dining with them, paints a convincing picture. This could be another tactic to have an influence on Afghans in order to achieve their goals, such as US NATO troop's withdrawal and establishment of an Islamic State also. The Taliban will not easily abandon their goal of establishing an Islamic Emirate despite continued diplomatic efforts. But in case of a cease-fire, they will certainly function as a political party that might hold major offices in the Afghan government, will also mould the current criminal code of Afghanistan because they consider it as mixture of Roman-Germanic and Islamic sources which is not acceptable to them at all, hence they will work towards adamantly implementing what they view as Islamic Shariah law.
Keeping in view the above mentioned discussion, some hope of peace has been achieved despite corruption, poor internal situation and after 18 years of chaos and instability in Afghanistan. But a country which has undergone four decades of war needs time and space to restructure and overcome such differences. The present version of Afghanistan is altogether different from the pre-9/11 Afghanistan. From women empowerment and youth participating in different fields to technology in villages by which people share their concerns and happiness, via social media, the ideological transition in Afghanistan is incredible. Somehow violence has been switched by better systems through discussions and a positive comprehensive political approach. In an ideological governed nation like Afghanistan, which is predominately tribal, it is fundamental that its own people bring change through talks that concrete the path towards peace and prosperity. The peace in Afghanistan holds significant importance for the neighbouring countries also, but the path toward sustainable peace can be laid only once a cease-fire is agreed and adhered to by all the parties.
Pak-US Relations: The Way Forward
Cooperation and Trust is the only way forward for Pakistan –US relations. Both countries have wasted a huge time experienced severe challenges since the relations become soars. Both nations have learned bitter lesson s during recent history and realized that both have suffered a lot due to the coldness of relations between the two countries. I believe it is never too late, always "There is a way if there is a will". I think the time has reached to restore traditional trust and cooperation.
Prime Minister Imran Khan is scheduled to travel to the USA on 20 July. He will meet President Trump and senior administration during his stay in the USA. He is also accompanied by a powerful high-level delegation to make the decision at the spot instantly. However, Foreign Offices at Islamabad and State Department in Washington are working day and night to make this visit a turning point and historic success. Expectations are high from both sides. The whole world has focused on this important visit and make their own opinion. Some of them are discussing the challenges, and others are focused on positive outcomes. I myself am very much optimistic.
It has been realized by the US administration that they cannot achieve strategic goals in this region without the instrumental role of Pakistan. And Pakistan has also suffered a lot, especially on the economic front without US support. It is in the best interests of the two nations to respect each other and cooperate with each other. The way out is trust and dialogue, but not the coercion and isolation.
Background
During the Cold War, Pakistan was a big supporter of the US and protected American interests in the region, including during the Soviet occupation of Afghanistan. Pakistan was also a close ally in the "war on terror" after the attacks on the World Trade Center and the Pentagon on September 11, 2001. Our history is full of success stories and excellent cooperation.
However, although Pakistan extends a cordial hand of friendship to the US whenever it needs support, the US always steps back when it no longer needs a Pakistani role on an issue, and relations decline. Pakistan has faced some of the toughest and strictest US-sanctions in history.
The two countries have always cooperated with each other on their common goals and interests, though the US has failed to value Pakistan's interests and has kept on making demands. "Do more" has been the message of the US leadership in recent years, without understanding Pakistan's capacity to comply, or its own interests. Our relations were transactional in nature and limited to assignment based. Once the project was completed, the relations were cooled down.
During the past few years, the US has blamed, coerced and threatened Pakistan. The US used all international forums to pressurize Pakistan like FATF, IMF, UNSC, etc. Extended hands of extreme friendship toward India, without considering the impact on Pakistan. The sacrifices of Pakistan being the ally of the US, especially casualties of 8000 Pakistani nations during the Afghan war and an estimated economic loss of US$ 250 billion, along with a gift of extremism, terrorism, gun culture, corruption, misgovernance, ethnic violence, and religious divide, etc. Of course, there exist some concerns on both sides, and some of these may be genuine, but some are based on misunderstandings only.
Afghan Situation
Currently, the major part of Afghanistan is controlled by the Taliban. Americans cannot walk freely and fearlessly in the streets of Kabul or any other big city. They are not safe except inside military camps. In practical terms, it is the Taliban who rule most of Afghanistan, not the US-supported government of President Ashraf Ghani.
The US is the superpower, spent US$ trillions and used all possible lethal weapons along with best-trained troops, could not win the Afghan War. The US was fully supported by NATO and its allies, utilized their resources and involved India, but still failed to achieve any success.
A situation has been reached where the US administration has decided to withdraw its troops from Afghanistan. Whether they can withdraw easily? A big question mark? Afghanis bordered with China, Iran, Central Asia, and Pakistan. I think only Pakistan can help peaceful and honored the withdrawal of its troops from Afghanistan.
There is a convergence of interests in resolving the Afghan issue. Pakistan and the US may cooperate with each other in a very positive way. But, after the assignment is over, what will be the behavior of the US with Pakistan, past experience was never satisfactory.
But we are optimistic that the Visits of Imran Khan may bring a different outcome. We may cooperate on the Afghan issue and hope the US will respect Pakistan's strategic interests with China, Russia and in the region. The US may not create hurdles in smooth execution of CPEC and acquisition of defense needs from any country including China and Russia. The US may not allow India to use American support against Pakistan, American weapons and technologies against Pakistan, American intelligence against Pakistan.
The way forward
However, Pakistan is a peace-loving country and our record in the UN peacekeeping force is admirable. Our sacrifices during the "war on terror" go beyond any other country.
We promote peace, stability, and prosperity all around the globe. Our role in this region is vital. Pakistan's geostrategic importance is well known to the US. Think-tanks, civil and military leaders in the US also understand Pakistan's importance.
Pakistan wants good relations with all countries and would like to extend all possible support and cooperation for achieving the common goal of "Peace, Stability, and Prosperity" throughout the world. We desire to work closely with all countries – including the US.
From Gujral doctrine to Modi doctrine
Authors: Punsara Amarasinghe and Eshan Jayawardene*
The predictions made by larger number of academics based in Delhi, Mumbai and Calcutta about Indian General elections vouching that Narendra Modi would not get his second term as prime minister were shattered in reality as Modi could uphold his strong position better than the previous time resulting a steeping success of his Bharatiya Janatha Party which won 302 seats in Indian Lok Saba. The election result has palpably shown a shocking decline of India's largest political party National Congress led by Rahul Gandhi as Congress could solely win only 52 seats in the legislature. The gob smacking results of the election seems to have given a clear picture of voters pulsation as the ground reality in the sub-continent albeit many pundits made pro congress predictions while accusing Modi's poor economic policy and demonetization as two major factors behind the economic crisis India has been facing now.
However, the Himalayan image Indian premier has built up on himself among countries majority Hindu population has been mainly attributed to his stanch belief in Hindu ideology and his image seems to have depicted as a Hindu messiah who has come to regain the deserving place for nationalist forces. It is an important question to focus whether such ideological attitudes possessed by Modi and his Bharatiya Janatha Party would make impacts upon carving India's foreign policy for next five years. Before reaching the position of Indian premier's approach towards foreign affairs, particularly regarding South Asia, it becomes an interesting factor to trace how Indian foreign policy on South Asian states were shaped under Gujral Doctrine which happened to be a milestone in Indian foreign policy when it was rendered by minister of external affairs in Dev Gowda's government in 1996. Basic mantra of Gujral doctrine affirmed India being the larger power in South Asia should not ask for reciprocity, but gives all that it could in good faith to the neighboring countries like Sri Lanka, Bhutan, Nepal, Maldives and Bangladesh. Notably Pakistan was excluded from this benefited category and it further elucidated that no country would allow to be used against the interest of another country in the region. One of another pivotal principle of Gujral doctrine was the noninterference of the internal affairs of the neighboring countries and resolving disputes through amicable bilateral negotiations.
This doctrine has been regarded as a strategy initiated by Mr. Gujral in reducing the influence of both Pakistan and China in a hostile manner while upholding a stable peace with other neighbors. In fact, this doctrine has played an indispensible role as a major principle for many prime ministers since 1996 though none of them had officially admitted the influence of Gujral doctrine over their foreign policy mechanism. Yet the changing winds of Indian foreign policy seems to be evident after the astonishing victory of Narendra Modi and it would be an interesting task to assess how would Gujral doctrine prevail before the galactic persona of Modi as a leader who seeks much dominating authority in his foreign relations in South Asia. Since Modi became premier in India, its foreign policy was heavily affected by his personal aura and besides his troublesome past of his alleged involvement in the communal violence of Gujarat in 2002 during his tenure as its chief minister, many countries have received him with awe and Russia honored Modi by awarding him the highest state decoration called "Order of Saint Andrew the Apostle "in 2019.
In understanding his foreign policy for his second term, it becomes salient that his famous slogan "neighborhood first" is likely to continue, at least nominally. But the truth in reality is Narendra Modi's sole personal image driven by his Hindutva ideology would make some lasting impacts in foreign relations with India's immediate neighbors and beyond it. The next notable factor appears to be stunning in Modi's foreign policy is that contrary to India's fervent position of defending secularism, the space for religious diplomacy has rapidly increased for past few years in India's foreign policy. In the contest between China and India as rivals for decades, it is a question beyond doubt that Chinese political, militarily and economic powers are far ahead of India, yet in terms of soft power mechanism India has successfully forged ahead and Modi's approach to his foreign relations too has taken a special interest in portraying India's spiritual legacy to the world extensively as propaganda tool. For example during most of his foreign tours as premier, Modi paid frequent visits to major Hindu, Buddhist and Sikh sacred sites, also his active role in introducing June 21st as International Yoga Day shows his effort in propagating India's ancient practice of meditation yoga as a soft power tool beyond the sub-continent. The utmost veneration towards Indic religions such as Buddhism, Hinduism, Jainism and Sikhismas an important feature in foreign policy had not been a principle practiced by previous Indian prime ministers since Nehru who was a doyen of secularism. On the other hand the notion of Hindutva stemming from Modi's political party BJP and his personal ideology may confront with carving the foreign policy of India generally. The notion that Hindutva involves an obsession with national power needs to be placed in its historical context. V. D. Savarkar, M. S. Golwalkar, H. V. Sheshadri, and other stalwarts who developed its ideational foundations believed that the golden age of ancient Hindu civilization had been lost owing to material and moral weakness, which had brought it under the prolonged subjugation of Muslim and Christian/ British power. The great iconic personality he has been creating abroad as leader coming from a greater civilization and his ardor of using Hindi as the language of communication in his foreign state visits even though he is well versed in Hindi are the most notable examples showing the way of his foreign policy driven by Hidututva ideology.
Modi's beginning of his first term was quite optimistic in terms of his attitude to India's immediate neighbors in South Asia and this was visible as all South Asian leaders were invited to his inaugural ceremony in Delhi in 2014,but throughout his first term it was evident that Modi could not keep his grip over India's neighbours like Sri Lanka, Nepal, Maldives and Bangladesh where Chinese influence have appeared to be a predominant factor. For instance New Delhi was alleged to have some involvement in toppling former president Mahinda Rajapakse from power yet his successor Maithripala Sirisena and government of Sri Lankan premier Ranil Wickramasinghe have not been able to completely get rid of Chinese presence in Sri Lanka despite both personalities are known for their pro Indian policies. Modi" s last few months may have brought him a sudden success from the jingoistic voters from Hindu mainstream in India as last February India's jet fighters crossed into Pakistan territory and engaged in aerial combat in first time in nearly 50 years. In India's history since independence several prime ministers had confronted Pakistan militarily, yet the propaganda used by Modi convinced the people only he is able to keep India secure from Pakistan.
Cardinal approach likely to be adopted during Modi's second term on Indian foreign policy has much idealistic feature to uphold Indian hegemony in South Asia and moreover Modi's foreign policy would pay a much attention in using soft power as a greater strategy in India's path to global governance. Rise of Xi Jinping as China's powerful assertive president and his astute actions on expanding Belt and Road initiative across South Asia seems to have created a sneaking agitation in India for past few years. In such a situation Modi's foreign policy for next four years five years would be decisive in terms of uplifting India's image a key player.
*Eshan Jawardane is a Sri Lankan researcher currently lives in New Zealand. He holds BA in Sociology from Delhi University and completed MA in International Relations at Jawaharlal Nehru University in New Delhi. He served as a guest lecturer at Sri Lanka Open University for a short period. Eshan can be reached at eshan.jayawardane[at]gmail.com