Turkish President Erdogan's India visit
[yt_dropcap type="square" font="" size="14″ color="#000″ background="#fff" ] T [/yt_dropcap]urkish President Recep Tayyip Erdogan visited India on an official two day trip from April 30 to May 1. President Erdogan embarked upon his India visit soon after he won the referendum to strengthen his presidency with more powers and he met Indian PM Narendra Modi on a variety of bilateral and multilateral issues. Both signed important bilateral agreements.
India and Turkey have to build on their many convergences and build mutual trust soon. This is possible at a time when both countries have very strong leaders and stable governments.
President Erdogan is the most popular Muslim leader advancing Islamic system that is opposed by all anti-Islamic forces globally. When Erdogan took up the Palestine issue, Israel, its close military ally, got wild as it does not allow any nation to breach the Zionist terror blockades meant to torture the Hamas Palestinians, and thus the "historic" bilateral ties have been strained badly.
PM Modi is in the mould of President Erdogan in terms of popularity and power. He has been Turkey's prime minister for 12 years and now president for the last two-and-a-half years. This is his first foreign visit after scoring a comprehensive victory in a controversial referendum recently which gave him overwhelming powers and further cemented his place in the country's power structure.
Besides economic aspects, the Turkish president and Indian Prime Minister Narendra Modi also held lengthy discussions on terrorism this week during Erdogan's two-day visit to India. Both parties agreed that there was no justification for terrorism, and urged all countries to disrupt terrorist networks and financing and "stop cross-border movements of terrorists,"
The Turkish president, during his trip, also raised concerns about the Fethullah Terrorist Organisation (Feto). Ankara has demanded schools in India administered by a foundation linked to Fethullah Gulen ─ a US-based preacher who Erdogan accuses of instigating a failed coup in Turkey last year ─ be shut down. "As far as the Turkish concerns about Feto are concerned, they were mentioned to us. Any organisation in India, whether it is Indian or foreign, obviously has to work within the parameters of our laws and our norms and regulations," Baglay said.
After talks with Modi, Erdogan assured India of Turkey's full support in the fight against terrorism in general. Modi on his part said that "no intent or goal or reason or rationale can validate terrorism." President Erdogan has different view on "cross-border terrorism" that India blames Pakistan for. On the question of exiled Turkish cleric Fehtullah Gulen, who is accused by Erdogan of plotting the 16 July coup against his government, the Turkish president described organisations associated with him as "terrorist" and hoped India would take necessary steps to rein in their activities. Both condemn terrorism.
Turkey president Recep Tayyip Erdogan in his day-long visit to India extended "full solidarity" with India in battling terrorism. After extensive talks with Erdogan, in which the fight against terrorism formed a major part, prime minister Narendra Modi said both the countries have agreed that "no intent or goal, no reason or rationale can validate terrorism".
PM Modi said that he and Erdogan "agreed to work together to strengthen our cooperation, both bilaterally and multilaterally, to effectively counter this menace." During the talks, which extended by nearly two hours beyond the scheduled 60 minutes, India and Turkey agreed to boost bilateral trade from the current level of just over $6 billion and expressed the resolve to fight the global menace of terrorism together. "(The) president and I are clear that the strength of our economies presents an enormous opportunity to expand and deepen commercial linkages between our countries," Modi said while addressing the media.
PM Modi said that at the level of the two governments, "we need to approach the entire landscape of business opportunities in a strategic and long-term manner". India and Turkey are two large economies," he stated. "Our bilateral trade turnover of around $6 billion does not do full justice to convergences in our economies. Clearly, the business and industry on both sides can do much more.
For this reason, Turkey's relations with the West are not optimal but Turkey's relation with Russia, China and India is qualitatively improving Turkey's earlier 'West-centric' foreign policy towards a 'multidimensional foreign policy'.
Turkey a source of stability for Mideast
The meeting between Modi and Erdogan was widely reported in Turkish Daily Sabah and commentary and opinion touched upon the future of India-Turkey relations, the kind of stability it would bring to West Asia. The paper also brought out the Israel angle which most media in India failed or refused to touch upon. India as a new strategic partner of USA is automatically a military ally of Israel as well and their bilateral military tie ups are going up with a lot agreements for latest Israeli terror goods meant to kill Kashmiris are being signed in New Delhi.
Israel seems to use India to push for reactivation of Turkish-Zionist military ties. Turkish-Indian relations and the Israeli angle' noted that Israel is a key aspect for the India-Turkey relations as Turkey's move towards India has come after Turkey signing a reconciliation deal on 27 June, 2016 with Israel. Israeli sources say that there is a visible move towards "openness and comfort" between India and Israel in discussing all facets of bilateral relations and India should take advantage of the warming relations between Turkey and Israel and enhance cooperation among its West Asian partners.
However, neither American, neither British nor Russian newspapers like Sputnik News, Russia Today, and The Moscow Times had lent much coverage to President Erdogan's India visit. In West Asia, The Khaleej Times, Gulf News also had minimal coverage and did not generate any commentary as such. The reason for this important media omission has obvious reasons.
President Erdogan is a wily politician and is a past master in the art of running with the hares and hunting with the hounds. Recently he had a dinner meeting with Syrian President Bashar al-Assad even as he has been aiding and abetting Salafi jihadis against him. Indian strategic communist says President Erdogan has been trying to mollycoddle New Delhi with sweet nothings while having a very close relationship with Pakistan.
India wants Turkey, like USA and Russia do now, to ignore Pakistan and support its occupational crimes in Kashmir valley. Erdogan does not oblige New Delhi, however.
India stresses cooperation with India in the field of counter-terrorism should be a major area of interest for Erdogan as Turkey is in the grip of a spate of New Delhi asks as to what kind of value can he impart to this exercise when his government is closely involved with a country like Pakistan?
Convergence
Former Indian prime minister Atal Bihari Vajpayee who should be credited for redefining India-Turkey relations, now waiting for a breakthrough to qualify for another qualitative step forward. In 2001, then Deputy Prime Minister LK Advani was the first high-level dignitary of the NDA government to have visited Turkey which concluded with an important agreement on an extradition treaty. Later, in 2003, prime minister Atal Bihari Vajpayee had gone on his landmark visit to Turkey — no Indian prime minister since then had gone to Turkey until prime minister Narendra Modi, in 2015, went to Antalaya to meet the Turkish president Recep Tayyip Erdoğan on the margins of the G20 summit which was followed by another meeting on the sidelines of G20 Summit in Hangzhou, China in 2016.
There was much more visible convergence between India and Turkey on trade and commercial ties. The political and religious differences between them didn't prevent the two sides from pledging to increase bilateral trade to $10 billion by 2020 from $6.5 billion now.
Turkey has largely been seen as a moderate Islamic democracy with a population of about 80 million, strategically situated at the crossroads of Europe and Asia. Indian leader PM Narendra Modi noted that India and Turkey were two large economies which present an enormous opportunity to expand and deepen commercial linkages. He urged Turkish construction companies to participate in India's efforts to bolster infrastructure.
At the outset it should be appreciated that the top Islamist ruler from Turkey shared dais with the top Hindutva leader in New Delhi and both struck harmonious cord and signaled friendly rapport. Different religions do not necessarily come in the way of friendly relations between and among nations. But Turkey's ties with India have been rather indifferent, according to New Delhi, thanks to Turkey's closeness to India's arch nuclear rival Pakistan on key issues.
While Turkey's close ties with Pakistan and Ankara's ever-deepening involvement in several urban development projects in Pakistan-occupied Kashmir has riled India no end, Turkey too has its own concerns with India, right or wrong.
The Turkish side expressed supported for India's bid to join the Nuclear Suppliers Group, Indian media reported. President Erdogan batted for India's membership in the Nuclear Suppliers Group, something which has been stridently opposed by China. But Erdogan hyphenated his 'gesture' with a similar status for Pakistan, a country with which Turkey has extremely close political and strategic relations, and supporting Pakistan's case for NSG membership. This is what he said in an interview to an Indian TV news channel: "Both India and Pakistan have the right to aspire for NSG membership. I think India should not assume such an attitude. If Turkey was fair enough to support Pakistan, it was fair enough to support India. We are very objective and positive to the NSG process."
Trade and regional cooperation potentials notwithstanding, India and Turkey have some problems that keep overwhelming the perception of their bilateral relations. Three issues will always be asked when it comes to deepen India-Turkey relations. First, how much Pakistan determines Turkey's India perception, second, Turkey's perception of Kashmir, and third, what is Turkey's view of reforms in international institutions, which should ideally result in including India in the United Nations Security Council as permanent member.
India-Turkey cooperation in fields related to science, technology, education, culture and development areas have massive potential and both countries need each other to achieve their national interests and development goals.
Disagreements
President Erdogan has been honest in telling the world about his intent on supporting global Islam and helping Muslim nations in whatever way it can. Turkey's Islamist ideology is seen above politics and does not compromise on the religious ideas. This explains why Istanbul supports Palestine and Kashmir sovereignty demands overtly as part of its ideology.
Diplomatic pleasantries, signing of agreements aside, Erdogan remarked that India should ideally be taking a 'multilateral' approach to hot button issue of Kashmir, however, India politely, but firmly said that Kashmir was a bilateral issue to be sorted out by India and Pakistan only. Neither of the press representatives mentioned any of this in the official press briefings. However press in Pakistan reported favorably about Erdogan's comments. Pakistan has always welcomed the statements and endeavors aimed at addressing the human rights issues in IoK (the so-called India-occupied Kashmir) and the resolution of the Jammu and Kashmir dispute, the statement concluded."
President Erdogan, the founder of Islamist government in Turkey, supports Islamic governments against the will and wishes of anti-Islamic forces, nations, including Pakistan and support s the struggle of Palestinians and Kashmiris for sovereignty and human dignity. Turkey's concern for Palestinians and Kashmiris is besides the rapport it maintains with India and, to some extent, Israel. In fact, ties between the two countries have been difficult because of their divergent positions on the India-Pakistan dispute over Kashmir.
For quite some time, the Erdogan government has been asking India tough questions about Gulen and believes that Gulen's movement, which Ankara dubs as FETO or Fethullah Gulen Terrorist Organisation, has "infiltrated" India, a charge which about New Delhi has neither evidence nor any credible information. Turkey wants India to take action against FETO but has thus far failed to give any concrete information to India on the basis of which action can be taken.
Erdogan had last visited India in 2008 but that time as the prime minister. The Gulen issue was not an irritant in India-Turkey bilateral relations then because Gulen was a major ally of Erdogan. The two fell apart only in 2013, when major corruption scandals against the Erdogan government broke out. This time Erdogan's stakes in India are much higher.
Turkey is not much impressed by Indian way of getting endorsement of its veto membership from every visiting dignitary and President Erdogan, therefore, did not sign the endorsement sheet extended to him.
Multidimensional foreign policy
Once a reluctant Muslim partner, Turkey has become a close ally of the Gulf countries, thanks to Iran's growing hegemonic ambitions and Egypt's preoccupation with its domestic crisis and absence of American leadership from Gulf Cooperation Council (GCC) security architecture. Iran's regional role has become deeply dependent on its military cooperation with Russia and other non-state actors like Hezbollah — something that Iran's Arab neighbours are extremely worried about.
Turkey's normalized relations with Russia have a stabilizing role in the region — where it can assume a balancing role among various competitive powers. Despite many serious differences over Syria, Turkey remains in good terms with Iran, however, allowing Turkey to use its leverage to mediate between Iran and its Gulf neighbours.
On Syria, Russia needs Turkey more than any other country to find a lasting political settlement; Russia has been advocating for a political outcome. Since the fall of Aleppo, Turkey has also refocused its Syria policy from regime change to counter terrorism, narrowing its differences with Russia and Iran. Turkey's counter terrorism response is defined by threats: Islamic State's presence in many urban areas of Syria and Iraq; and expansion of Kurdish separatist forces closely linked with internationally recognised terrorist group PKK. In 2016, Turkey adopted a go-alone military operation against Islamic State in north Syria starting from Jerablus and stopping at Al-Bab, effectively converting Euphrates as a buffer zone between the two sides of Kurds-held areas. However, the 15 July failed military coup attempt caught Turkey unaware of another terror threat, the Gulen network many Turks perceived only as a threat by "spiritual cult".
In an extremely complicated Syrian crisis, the Assad government has successfully used the threats tactically against the Syrian rebels, by softening its view on Syrian Kurdish groups and using "Islamic terrorism" card interchangeably with Islamic State, the opposition forces and Al-Qaeda groups. As terrorist attacks increased against Turkish targets in 2015 and 2016, Turkey's frustration against its Western allies' support to the Kurdish groups deepened.
Turkey's relations with its Western allies have gone berserk on Western indifference to what Turkey considers most serious threat to its national security. European leaders have been delaying Turkey's EU accession. The trust deficit between Turkey and the West is widening. In this context, Turkey's relation with Russia, China and India is qualitatively improving Turkey's earlier 'West-centric' foreign policy towards a 'multidimensional foreign policy'.
Turkey's South Asia engagement is likely to deepen after India has renewed its interest in the Southern Corridor of Asia-Europe Rail (SCAER) project which will connect Istanbul with Kolkata, extendable further to Myanmar and Thailand. Officials from Afghanistan, Bangladesh, Bhutan, India, Iran, Kazakhstan, Myanmar, Nepal, Pakistan, Russia and Turkey have already concluded their first meeting in New Delhi on 16 March, 2017. Trans-Asian Railway (TAR) was originally proposed by United Nations Economic and Social Commission for Asia and the Pacific (UNESCAP) in 1980s and endorsed by concerned countries in 1992. The rail link, if started, can revolutionize India's trade connectivity to Central Asia, Europe and West Asia.
Kashmir
India has murdered over 1000,000 Muslims in occupied Jammu Kashmir. Many Muslims, especially the youth, have disappeared without nay traces. And many secret graveyards have been discovered in Kashmir region.
Kashmir remains the flashpoint of tensions in South Asia where India and Pakistan obtained nukes to fight for entire Jammu Kashmir nation now being occupied by Pakistan and India- India does it brutally and seeks the endorsement of veto powers, particularly the super power USA.
Brutal occupation of Kashmir enabled India to enhance its military prowess and nuke manufacturing efforts. India is not ready to address the Kashmir issue bilaterally through peaceful means as has been stipulated in the Simla Agreement and Lahore Declaration. India and Pakistan keep fighting each other, engaged in cross border fires to terrorize Kashmiris.
Like Israel which has managed to delay the establishment of a soverign Palestine but still says it would resolve the conflict by direct negotiations with Palestinians, India also says it is always ready to talk about Kashmir and all other issues with Pakistan so that "peaceful solutions can be found bilaterally". That is a bogus statement to fool the world.
Turkey views Kashmir issue as a composite one involving both India and Pakistan. India on the contrary, wants Turkey to ignore Pakistani claims and support Indian case in Kashmir. Istanbul is eager to help Kashmiris regain their lost sovereignty.
On the question of Kashmir—the Himalayan region that India says is part of its territory, something disputed by Pakistan—"India put forth its views that Kashmir was an integral part of India. Erdogan had stirred a hornet's nest by saying that there should a "multilateral dialogue" on Kashmir—something India has been opposed to; India seeks to bilaterally resolve all its disputes with Pakistan. India has always said it would never brook any third party involvement on the Kashmir issue which is essentially a bilateral issue between India and Pakistan. Erdogan had, in an interview before his arrival in India, suggested that the two countries needed to 'strengthen multilateral dialogue' in an attempt to find a solution to the Kashmir issue.
Always opposing any outside interest in Indian criminal operations in Kashmir to kill and terrorize Kashmir Muslims, India quickly dismissed Turkish President Erdogan's suggestion of multilateral talks on the Kashmir dispute, insisting the matter must be resolved bilaterally through talks between Islamabad and New Delhi. India says this knowing fully well that both India and Pakistan, the shared illegal occupiers of Jammu Kashmir, would never want to solve the problem because any credible solution means surrendering of Jammu Kashmir to Kashmiris.
India believes that terrorism issue helps it case for Kashmir and is eager not to loe out Kashmir. India is happy about cross-border terrorism and state-sponsored terror because that made India a strong nation now having established "strategic partnership" with USA and many western powers that sells terror goods to both India and Pakistan.
It is true that Pakistan-Turkey relations are more emotional than Turkey-India relations. Pakistan is projected as a country of Islamic leadership in third word despite the fact that India remains the second largest Muslim country in the world, without OIC membership though. The question many Muslim countries do not ask is: who is more important Pakistan or Kashmir, Pakistan or Indian Muslims? Weak faith could be a major reason for that.
India asks USA, Russia and other major powers not to take up the Kashmir issue for any international debates and as per its demand, USA also says that India and Pakistan would finalize the issue, even as Indian forces mercilessly kiln Kashmiris by missing the extra military laws.
India says it wants to end terrorism and also directly control Pakistan and it policies and politics, but never wants to solve the Kashmir issue. Indian Ministry of External Affairs (MEA) Spokesperson Gopal Baglay said, in a veiled reference to Pakistan that the Kashmir issue has a "prominent dimension of cross-border terrorism" that needs to be stopped by "those who are perpetuating it.
Pakistan's 'pro-Muslim' and 'pro-Kashmir' credentials are often received uncritically. Turkey's strong secular and democratic credentials bring great respect and regard for Turkey in India in stark opposition to the fragility of Pakistan's democracy.
Turkish president's offer of mediating between India and Pakistani was welcomed by Hurriyet leaders in India-held Kashmir. Hurriyet Forum Chairman Mirwaiz Umar Farooq observed that the Turkish president "is well aware of how the Kashmir dispute is the main source of tension between the two nations -India and Pakistan. Turkey being an important Islamic country, and having cordial relations with both India and Pakistan, will hopefully make efforts to end the political uncertainly prevalent in the region since decades," Farooq said. "Being an active member of Kashmir Contact Group at the Organisation of Islamic Cooperation, Turkey has always advocated the solution of Kashmir issue in accordance with the aspirations of the people of Kashmir, and Ankara can play a vital role in the resolution of this issue to end the tension in this region," he maintained.
It is not surprising to observe that Turkish media has been mostly fair and objective in its coverage of India-Pakistan affairs, rather, many Turks have a clear understanding that Turkey should not come into Indo-Pakistan's trap or support internationalizing the Kashmir issue.
Future
India and Turkey seem to converge on the need to build a stronger economic relationship, committing themselves to a vast increase in trade over the next few years, but seemed to disagree on political issues such as Kashmir. India says Kashmir has been made an integral part of Indian constitution but Turkey wants a soverign Kashmir.
India and Turkey waited fourteen years to see this moment once again. Turkey wants to play a vital role in bringing India and Pakistan together and resolve the Kashmir issue as well.
There are many good reasons to believe that the leaders of the two nations will find Vajpayee's legacy as a common point to advance India-Turkey relations. The regional contexts in which the two countries are working support their role as well. Turkey, for example, notwithstanding setbacks in Syria, remains an influential and a key regional power to define the future outcomes of crisis in Syria and Iraq. Indian strategists want Erdogan and Modi to come to an understanding on India's NSG bid, as this can expedite India entry to NSG.
For Turkey, India's increasing economic and security profile is very important. India comes off as strong and powerful with its huge young and skilled population, a rich cultural base, and most importantly democratic institutions. India's research and development profile: space program, especially micro-satellite and nano-satellites program, research in generic drugs, scientific research institutions have all given India a confident industrial and development scenario. This is what has been the main force behind redefining India's strengthening relations with some major Muslim countries, Indonesia, Saudi Arabia, Iran, Bangladesh, Nigeria, and Egypt, almost unbound from any regional rivalry perceptions.
If New Delhi realizes and give up its faulty policies being pursued since it occupied Jammu Kashmir without the will and wishes of Kashmiris, towards Kashmiris and Pakistan, and think constructively about regain peace by allowing Kashmiris regain their lost sovereignty, that would genuinely build up its relations with not only Turkey and Pakistan and Kashmiris, but entire Islamic world and even entire world.
Peaceful regional cannot be guaranteed by genocides of Kashmir Muslims and silencing their rights to protest against occupational crimes perpetrated by brutal forces.
Erdogan's visit should start a new era of bilateral engagement where both sides should invest efforts to understand each other. But keep your fingers crossed as India would not change its petrified mindset towards Kashmiris or Pakistanis, so don't expect an overnight transformation of India-Turkey relations following Erdogan's visit.
India's multi-alignment: the origins, the past, and the present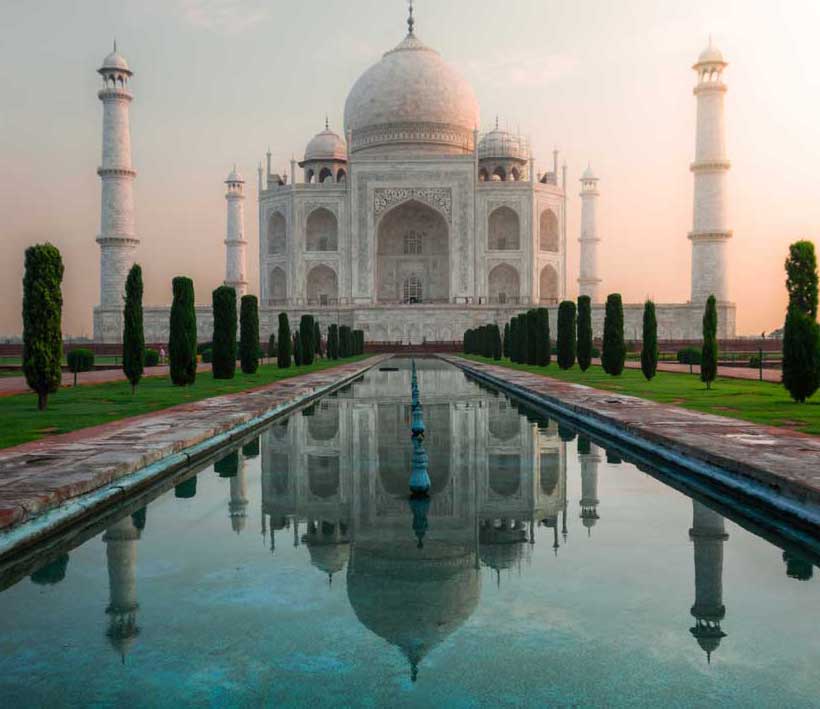 In the initial two decades following India's independence, India's foreign policy was heavily determined by the personal predilections of its first Prime Minister Jawaharlal Nehru and his protégé VK Krishna Menon, both influenced by British socialism. Nehru himself handled the external affairs portfolio until his death in 1964.
The policy of 'non-alignment' which the duo initiated in India's foreign policy gained world-wide attention since early 1950s, which later became a full-fledged movement and forum of discussion in 1961 (NAM) that consisted of developing and newly decolonised nations from different parts of the world, primarily from Asia, Africa, and Latin America.
But, the policy never meant isolationism or neutrality; rather it was conceived as a positive and constructive policy in the backdrop of the US-USSR Cold War, enabling freedom of action in foreign and security policies, even though many of the individual NAM member states had a tilt towards the Soviet Union, including India.
However, the lofty Nehruvian idealism of India's foreign policy in its initial decades was not successful enough in integrating well into India's security interests and needs, as it lost territories to both China and Pakistan during the period, spanning 1947 to 1964.
However, when Indira Gandhi assumed premiership, realism had strongly gained ground in India's political, diplomatic and military circles, as evident in India's successful intervention in the liberation of Bangladesh in 1971.
Even at that point of time, India still sticked on to the policy of non-alignment until it was no longer feasible in a changed international system that took shape following the end of the Cold War, which is where the origins of a new orientation in India's foreign policy decision-making termed as 'multi-alignment' lies.
Today, India skilfully manoeuvres between China-led or Russia-led groupings such as the BRICS (Brazil, Russia, India, China, and South Africa) and the Shanghai Cooperation Organisation (SCO), along with its involvement in US-led groupings such as the Quadrilateral Security Dialogue (or the Quad), in which Japan and Australia are also members.
Militarily though, India is still not part of any formal treaty alliance, and is simultaneously part of a diverse network of loose and issue-specific coalitions and regional groupings, led by adversarial powers, with varying founding objectives and strategic imperatives.
Today, non-alignment alone can no longer explain the fact that recently India took part in a US-chaired virtual summit meeting of the Quad in March 2021 and three months later attended a BRICS ministerial meet, where China and Russia were also present.
So, how did India progress from its yesteryear policy of remaining equidistant from both the US-led and Soviet-led military blocs (non-alignment) and how did it begin to align with multiple blocs or centres of power (multi-alignment)? Answer to this question stretches three decades back.
World order witness a change, India adapts to new realities
1992 was a watershed year for Indian diplomacy. A year back, the Soviet Union, a key source of economic and military support for India till then, disappeared in the pages of history, bringing the Cold War to its inevitable end.
This brought a huge vacuum for India's strategic calculations. Combined with a global oil shock induced by the First Gulf War of 1990 triggered a balance of payment crisis in India, which eventually forced the Indian government to liberalise and open up its economy for foreign investments and face competition.
India elected a pragmatic new prime minister in 1991 – PV Narasimha Rao. The vision he had in mind for India's standing in the world was quite different from his predecessors. Then finance minister and later PM, Dr Manmohan Singh announced in the Indian Parliament, "No power on earth can stop an idea whose time has come".
This was during his 1991 budget speech and it marked the beginning of building a new India where excessive control of the state on economic and business affairs seemed no longer a viable option.
At a time when Japan's economy was experiencing stagnation, China was 'peacefully rising', both economically and industrially. The United States remained as the most influential power and security provider in Asia with its far-reaching military alliance network.
As the unipolar world dawned proclaiming the supremacy of the United States, PM Rao steered Indian foreign policy through newer pastures, going beyond traditional friends and partners like Russia.
In another instance, 42 years after India recognised Israel as an independent nation in 1950, both countries established formal diplomatic ties in 1992. Indian diplomats accomplished a task long overdue without affecting the existing amicable ties with Palestine.
In the recent escalation of the Israel-Hamas conflict, it is worth noting that India took a more balanced stance at the United Nations, which was different from its previous stances that reflected an open and outright pro-Palestine narrative.
Today, India values its ties with Israel on a higher pedestal, even in areas beyond defence and counter-terrorism, such as agriculture, water conservation, IT and cyber security.
Breaking the ice with the giant across the Himalayas
China is a huge neighbour of India with which its shares a 3,488-km long un-demarcated border. Skirmishes and flare-ups resulting from difference in perception of the border and overlapping patrolling areas are a regular occurrence in this part of the world.
For the first time after the 1962 war with China, which resulted in a daunting defeat for India, diplomatic talks for confidence-building in the India-China border areas were initiated by the Rao government in 1993, resulting in the landmark Agreement on the Maintenance of Peace and Tranquillity along the Line of Actual Control (LAC), the defacto border between India and China.
The agreement also provided a framework for ensuring security along the LAC between both sides until a final agreement on clear demarcation of the border is reached out. The 1993 agreement created an expert group consisting of diplomats and military personnel to advise the governments on the resolution of differences in perception and alignment of the LAC. The pact was signed in Beijing in September 1993, during PM Rao's visit to China.
Former top diplomat of India Shivshankar Menon noted in one of his books that the 1993 agreement was "the first of any kind relating specifically to the border between the Republic of India and the People's Republic of China … It formalized in an international treaty a bilateral commitment by India and China to maintain the status quo on the border. In effect, the two countries promised not to seek to impose or enforce their versions of the boundary except at the negotiating table."
The 1993 pact was followed by another one in 1996, the Agreement on Military Confidence-Building Measures. The following two decades saw a number of agreements being signed and new working mechanisms being formalized, even though two major standoffs occurred in the Ladakh sector in 2013 and 2020 respectively and one in between in the Sikkim sector in 2017.
The agreements served as the basis upon which robust economic ties flourished in the 2000s and 2010s, before turning cold as a result of Chinese aggression of 2020 in Ladakh. However, the 1993 agreement still was a landmark deal as we consider the need for peace in today's increasingly adversarial ties between the two nuclear-armed Asian giants.
Integrates with Asia's regional architecture
Before the early 1990s, India's regional involvements to its east remained limited to its socio-cultural ties, even though the region falls under India's extended neighbourhood, particularly Southeast Asia. But, since 1992, when the Look East Policy (LEP) was formulated under the Rao government, India has been venturing into the region to improve its abysmal record of economic and trade ties with countries the region.
New Delhi began reaching out to the ASEAN or the Association of Southeast Asian Nations in 1992 and was made a Sectoral Partner of the association in the same year. Thus, India kicked-off the process of its integration into the broader Asian regional architecture.
In 1996, India became a member of the ASEAN Regional Forum, a key platform for talks on issues of security in the wider Indo-Pacific region. India became ASEAN's summit-level partner in 2002 and a strategic partner in 2012.
A free trade agreement (FTA) was agreed between ASEAN and India in 2010. And in 2014, the erstwhile LEP was upgraded into the Act East Policy (AEP). Today, the ASEAN region remains at the centre of India's evolving Indo-Pacific policy.
Bonhomie with the superpower across the oceans, the United States
1998 was an important year, not just for India, but for the world. Until May that year, only the five permanent members of the United Nations Security Council possessed nuclear capabilities. That year, 'Buddha smiled again' in the deserts of India's Rajasthan state, as India under PM Atal Bihari Vajpayee successfully conducted a series of underground nuclear bomb tests, declaring itself a nuclear state, 24 years after its first nuclear test in 1974 code-named 'Smiling Buddha'.
The move surprised even the US intelligence agencies, as India managed to go nuclear by bypassing keen US satellite eyes that were overlooking the testing site. Shortly after this, Pakistan also declared itself a nuclear state.
India's nuclear tests invited severe international condemnation for New Delhi and badly affected its relationship with Washington, resulting in a recalling of its Ambassador to India and imposed economic sanctions, which was a big blow for India's newly liberalised economy.
But, a bonhomie was reached between India and the US in a matter of two years and then US President Bill Clinton visited India in March 2000, the first presidential visit since 1978. The Indo-US Science and technology Forum was established during this visit and all the sanctions were revoked by following year.
Bharat Karnad, a noted Indian strategic affairs expert, notes in one his books that, "Vajpayee's regime conceived of 'strategic autonomy' to mask its cultivating the US, which resulted in the NSSP".
The Next Steps in Strategic Partnership (NSSP) between the US and India was launched in January 2004 that covered wide ranging areas of cooperation such as nuclear energy, space, defence and trade. This newfound warmth in Indo-US relations was taken to newer heights with the conclusion of the landmark civil nuclear deal between 2005 and 2008.
Today, India is a key defence partner of the United States, having signed all the four key foundational pacts for military-to-military cooperation, the latest being the Basic Exchange and Cooperation Agreement (BECA) for geo-spatial cooperation, signed in October 2020. The two countries are key partners in the Quad grouping and share similar concerns about an increasingly assertive China in the Indo-Pacific region.
Like his predecessors, Prime Minister Narendra Modi has been trying to cultivate this special relationship with the United States, reinforced by cooperation in the Quad grouping and also by constantly engaging a 4.8-million strong Indian diaspora in the United States.
The leaders of both countries, from Vajpayee to Modi and from Clinton to Trump have reciprocated bilateral visits to each other's countries. And, India looks forward to the Biden-Harris administration for new areas of cooperation.
But, a recent military manoeuvre in April, this year, by a US Navy ship (which it calls a FONOP or Freedom of Navigation Operation) in India's exclusive economic zone, off Lakshadweep coast, casted a shadow over this relations.
The US openly stated in social media that it entered the area without seeking India's prior consent and asserted its navigational rights. This invited mixed reactions, as it was highly uncalled for. While some analysts consider it humiliating, others think that the incident occurred due to the difference of perceptions about international maritime law in both countries.
Today, along with the US, India skilfully manages its 'historical and time-tested' ties with Russia, a strategic foe of the US, and moves forward to purchase Russian-made weapon systems, such as the S-400 missile defence system, even after a threat of sanctions. But, in the past several years, India has been trying to diversify its defence procurements from other countries such as France and Israel and has been also promoting indigenisation of defence production.
A BRICS formula for responsible multilateralism
India is a founding member of the BRICS grouping, formalised in 2006, now consisting of Brazil, Russia, India, China, and South Africa – the emerging economies of that time with a potential to drive global economic growth and act as an alternate centre of power along with other groupings of rich countries such as the G-7 and the OECD (Organisation for Economic Co-operation and Development).
India always stood for a responsible global multilateral system and rules-based order. Indian leaders have attended all summit-level meetings of BRICS since 2009 unfailingly. Last year, the summit took place in the backdrop of India-China border standoff in Ladakh, under Russia's chair, a common friend of both countries, where the leaders of India and China came face-to-face for the first time, although in virtual format.
The primary focus of BRICS remains economic in nature, but it also takes independent stances on events occurring in different parts of the world. The grouping also established a bank to offer financial assistance for development projects known as the New Development Bank (NDB) based in Shanghai, China, in 2014, with an Indian as its first elected president.
BRICS also became the first multilateral grouping in the world to endorse the much-needed TRIPS waiver proposal jointly put forward by India and South Africa at the World Trade Organisation (WTO) to suspend intellectual property rights on Covid vaccine-making during the duration of the pandemic to provide developing countries that lack adequate technologies with means to battle the virus.
As India gears up to host this year's upcoming BRICS summit, there is no doubt that being part of the grouping has served the country's interests well.
Manoeuvring the SCO, along the shores of the Indo-Pacific
The SCO or the Shanghai Cooperation Organisation is a regional organisation consisting of eight Eurasian powers, largest in the world both in terms of land area and population covered. It stands for promoting mutual cooperation and stability, where security issues can be freely discussed and conflicts are attempted to be resolved.
India is not a founding member of the SCO, which was created in 2001. Both India and Pakistan were admitted as full members in 2017. The grouping's members also include Russia, China and four Central Asian countries, excluding Turkmenistan.
Sharing a common platform with Pakistan and China and the presence of a long-term friend, Russia, has helped India diplomatically in key occasions. Using the SCO platform, the existing differences between member states can be discussed and prevented from escalating into major conflicts.
This was evident most recently visible in 2020 when the foreign ministers of India and China agreed on a plan for the disengagement of Indian and Chinese troops from the LAC, as a major step in the diffusion of tensions in Ladakh that had erupted since May that year.
But, Russia and China collectively oppose the usage of the term 'Indo-Pacific', something that surfaced into political discourse with the famous speech delivered by the former Japanese Prime Minister Shinzo Abe in August 2007 in the Parliament of India, calling for "the confluence of two seas" and hinting at a new maritime continuum of the Indian and Pacific Oceans.
It is in this context that the grouping of India, Japan, Australia and the United States gained prominence. The four Quad countries came together to offer humanitarian assistance following the 2004 Indian Ocean tsunami, the ambit of the grouping's co-operation ranges from maritime security to cooperation in Covid vaccine production and distribution.
After a decade since the first joint naval exercise of the four Quad countries took place in 2007, the ASEAN's Manila summit in 2017 provided a platform for the four countries to connect with each other and enhance consultations to revive the four-nation grouping.
The Quad has been raised to the summit level now with the March 2021 virtual summit, and has also conducted two joint naval exercises so far, one in 2007 and the other in 2020. This loose coalition is widely perceived as a counterweight to an increasingly assertive China.
India is the only country in the Quad that shares a land border with China. At the same time, India is also the only country that is not a formal security ally of the United States, meaning if India quits, the Quad ceases to exist, while the other three countries can still remain as treaty allies. However, setting the US aside, cooperation among the other three Quad partners has also been witnessing a boom since the last year.
India and Japan have expanded co-operation in third countries in India's neighbourhood such as Sri Lanka, Bangladesh and Myanmar to improve connectivity and infrastructure in the region and offer an alternative to China's trillion-dollar Belt and Road Initiative, which is perceived as having implications of a potential debt-trap aimed at fetching strategic gains.
Amid the pandemic, both the countries have joined hands with Australia to launch a Supply Chain Resilience Initiative (SCRI) to diversify key supply chains away from China.
However, India doesn't perceive a free and open Indo-Pacific as an exclusionary strategy targeted at containing some country, rather as an inclusive geographic concept, where co-operation over conflict is possible. This was articulated by Prime Minister Modi in 2018 at the Shangri La Dialogue in Singapore.
Various additions were made to this view in later stages, as the concept evolved into a coherent form, representing New Delhi's expanding neighbourhood. This vision aligns well with related initiatives such the Security and Growth for All in the Region (SAGAR) and the Indo-Pacific Oceans Initiative (IPOI), aimed at improving maritime security, trade, connectivity and management of shared resources.
The future
For India, this is an era of complex multi-alignment, different from the Cold War-era international system, where multiple centres of power exist. At different time periods in the past, India has adapted well to the changing circumstances and power dynamics in the international system.
India's strategic posture today, despite being aspirational, is to have good relations with all its neighbours, regional players, and the major powers, to promote rules-based order, and in the due process to find its own deserving place in the world.
In July, last year, India's External Affairs Minister, S. Jaishankar has made it clear that India 'will never be part of an alliance system', even though a tilt towards the US is increasingly getting visible, taking the China factor into account. Jaishankar also stated that global power shifts are opening up spaces for middle powers like India.
As the world tries to avoid another Cold War, this time between the United States and China, the competing geopolitics of the Eurasian landmass and the Indo-Pacific maritime region is poised to add up to New Delhi's many dilemmas in the coming years.
The unrecognized demographic situation of West Bengal and consequences yet to occur
World's second large demographic nation India's state West Bengal is now apparently residence of over 91 million population. At the same time, West Bengal is the fourth-most populous state and the fourteenth-large state by area in India. It is also the seventh-most populous country subdivision of the world. To get an insight into the present situation of West Bengal anyone has to look back in 1947 and later consequences. As being a prominent ethnocultural region of India, West Bengal faced political partition in the year 1947 in the wake of the transformation of British India into two separate independent nations India and Pakistan. Under the process of partition, the then Bengal province was bifurcated into two segments. The predominately Hindu living area named West Bengal, a state of India, and the predominately-Muslim living area turned as East Bengal and after becoming a province of Pakistan that renamed as East Pakistan and later in 1971, the Muslim-majority country of Bangladesh.
In 1971 at the time of partition, the Muslim population of West Bengal counted 12% and the Hindu population of East Bengal remained 30%. While at present, with continuous Muslim immigration, Hindu persecution, conversions, and less production of offspring, West Bengal's Muslim population has increased to 30% (up to 63% in some districts). While as per the counting report of 2011 Bangladesh's Hindu population has decreased to 8%. When at the present situation for Hindus in Bangladesh is certainly dire, then life has become increasingly difficult for Hindus in West Bengal, having a Muslim-appeasing government. The governance of the elected government led to the demographic and cultural shifts in West Bengal. Prevailing of the same governance after the 2021 Bidhansabha election leads to the destruction of Hindu's belonging everywhere in Bengal. The situation stood worse in the outskirts where media coverage is poor, compelling Hindu families to flee in adjacent states or to hide. A sizable number of Bengali Hindu families already preferred to shift to Assam.
Looking back as per a striking report of July 2014 by Times of India fewer children were born in Bengal and the prediction was there will be even fewer in the next generation. The 2011 Census shows a decadal growth of 13.84% in West Bengal, which was significantly below the national growth average of 17.7%, and the decadal growth was lowest ever and beaten only by the aftermath of the infamous Famine of Bengal,1942.
While the retrospective study of the demography of West Bengal shows that the culturally dominant Hindu population in West Bengal during the first census of 1951 was around 19,462,706 and in the 2011 census it had increased to 64,385,546. While the percentage of the Hindu population in the state decreased from 78.45% in 1951 to 70.54% in the 2011 Census. The data sharply indicates fewer children birth within families of Hindus only while the population of Muslim counterparts tends to grow over time. Once considered a symbol of Indian culture, what has happened in Bengal for the last few decades is the indicator of West Bengal's demographic future.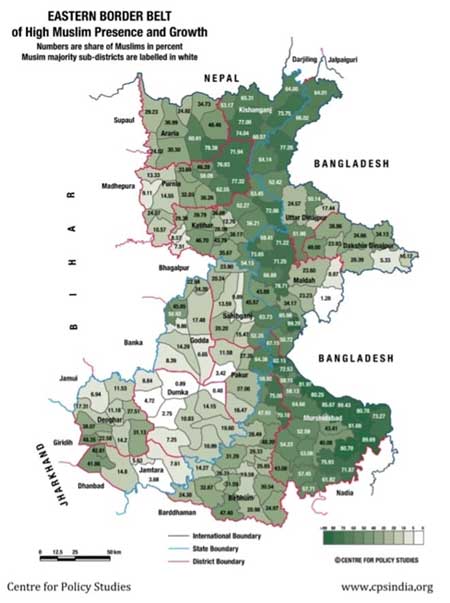 Starting from the diminishing of the Hindu culture, communal riots against the Hindus have started happening for quite some time and the situation has been that the banning of celebrating the festivals of Hindus has started in the last few years. Added to those the recent genocide of Hindus depicting a recent trend of population.
Back in 2015 the famous American journalist Janet Levy has written an article on Bengal and the revelations that have been made in it state that Bengal will soon become a separate Islamic country. Janet Levy claims in her article that civil war is going to start soon in Bengal after Kashmir. Which almost begun in recent times in the wake of the Bidhansabha Election of West Bengal.
Ushering the prediction of Janet Levy mass Hindus will be massacred and demanded a separate country.
She cited the facts for his claim back in 2015 that the Chief Minister of West Bengal has recognized more than 10,000 madrassas who were privileged to receive funds from Saudi Arabia and made their degree eligible for a government job, money comes from Saudi and in those madrassas, Wahhabi bigotry is taught.
In the recent past Chief Minister started several Islamic city projects where Islamic people are taught also started a project to establish an Islamic city in West Bengal. It's evident that Chief Minister has also declared various types of stipends for the Imams of mosques but no such stipends were declared for Hindus primarily. Janet Levy has given many examples around the world where terrorism, religious fanaticism, and crime cases started increasing as the Muslim population increased. With increasing population, a separate Sharia law is demanded at such places, and then finally it reaches the demand of a separate country.
Author and activist Taslima Nasreen once became reason to test the ground reality for West Bengal.
In 1993, Taslima Nasreen wrote a book 'Lajja' on the issue of atrocities on Hindus in Bangladesh and forcibly making them Muslims.
After writing the book, she had to leave Bangladesh facing the threat of bigotry. The author settled in Kolkata considering that she will be safe there as India is a secular country and the constitution also provided the freedom of expression. Eventually experienced the nightmare that Taslima Nasreen had to face a riot-like situation against her in 2007 in Kolkata. Even in a secular country like India, Muslims banned Taslima Nasreen with hatred. Fatwas issued to cut her throat on the secular land of India.
Upholding the threat the author was also attacked several times in different cities of the country.
But the secular Leftists never supported Taslima, not even the Trinamool government of West Bengal because the Muslims would get angry and the vote bank would face shaking.
That time first attempt was made in which Muslim organizations in West Bengal demanded the Islamic blasphemy (Blasfamie) law. Raising questions on India's secularism and action of secular parties.
Janet Levy further wrote that for the first time in 2013 some fundamentalist Maulanas of Bengal started demanding a separate 'Mughalistan'. In the same year riots in Bengal, houses and shops of hundreds of Hindus were looted and many temples were also destroyed by rioters under the safe shelter of government and police.
After the Bidhansava Election 2021 the Hindus of West Bengal facing the same or even worse situation.
Are Hindus boycotted?
Victorious party supremo of West Bengal was afraid that if the Muslims were stopped they would get angry and would not vote and after getting freshly elected her government falls into that vicious circle again.
It is evident from the aftermath of the election result in West Bengal that not only riots but to drive away Hindus, in districts where there are more Muslims, boycotting Hindu businessman. In the Muslim majority districts of Malda, Murshidabad, and North Dinajpur, Muslims do not even buy goods from Hindu shops. This is the reason why a large number of Hindus have started migrating from West Bengal like Kashmiri Pandits, here Hindus leaving their homes and businesses and moving to other places. These are the districts where Hindus have become a minority.
Invoking such incidents Janet, stated that the demand for partition of Bengal from India will soon begin from the land of West Bengal. No demographic theorist interpreted the present demographic situation of West Bengal sabotaging Malthusian theory.
In accord with Janet's analysis, a few recent sources also indicated the number of the Muslim population, in reality, is much higher than the number on record given to the hiding of numbers of children by Muslim parents when a survey takes place. Implementing CAA, NRC could have been way out for West Bengal to check the proper demographic status and to prevent further population explosion to sustain Bengali Hindus. Perceiving the appeasement politics of government for the last 10 years it's seeming to be unlikely to get any sharp solution.
Covid-19 has made Feminist Foreign Policy all the more Relevant to India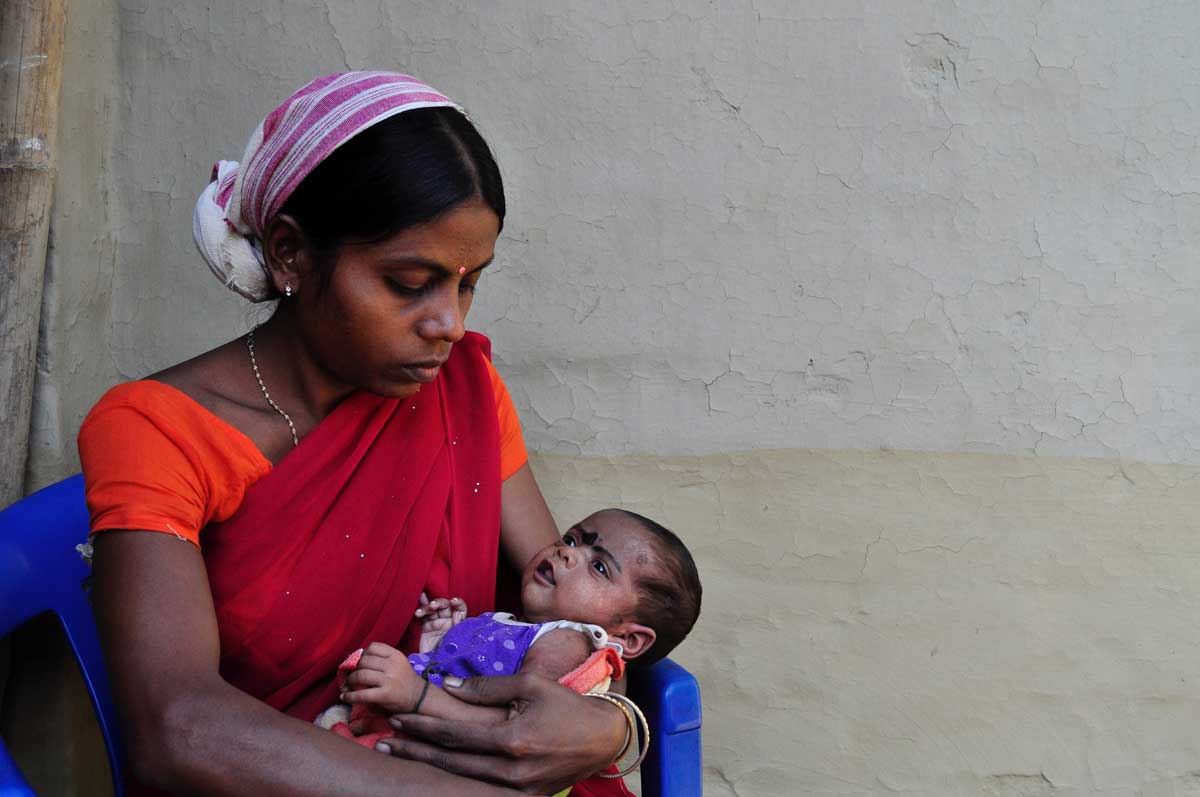 As the impact of the year long COVID19 pandemic continues to be felt across different parts of India—where patriarchy is entrenched in the social code and inequalities against women are being intuitively practised—the repercussions of the health crisis along with the ever deepening gender gaps are being disproportionately and severely borne by women. Yet, most of the discussions revolving around the pandemic have either been gender-blind or gender-neutral, often resulting in the systemic subjugation or marginalisation of women.
In light of these challenges, the thematic debate on gender equality can no longer continue just on papers, it in fact, needs to be converted into actions by the Indian government in order to deal with the short term consequences of the pandemic as well as to develop long-term sustainable peace. The adoption of a Feminist Foreign Policy (FFP) framework is the best way to achieve this dual goal. A FFP could offer a concrete opportunity for India to build a more inclusive policy making set-up; breakaway from the predominant patriarchal notions; and, address pandemic relief strategies—from the viewpoint of women and other vulnerable or under-represented sections of society.
Gendered Impact of COVID19 in India
Within India's socio-cultural and economic realms—that have historically been marred by inequalities and rigid stereotypes—the gendered effects of the COVID19 pandemic have been both, intersectional and complex.
To begin with, owing to the rapidly increasing number of COVID-19 patients, health-care workers in India, particularly the nurses of whom approximately 88.9 per cent are women remain much more vulnerable to contracting the deadly virus. The existing problem of shortage of basic equipment for these healthcare workers further aggravates these concerns.
Second, the pandemic has had a detrimental impact on an already shrinking Indian economy resulting in financial cut downs and rising unemployment. Women—either due to the deeply embedded patriarchal attitudes or due to the subconscious bias that arises out of such attitudes—have stood at the forefront of being temporarily or permanently laid-off from their jobs. According to the Centre for Monitoring Indian Economy, with the commencement of the nationwide lockdown, the rate of unemployment reached 23.5 per cent in March to April 2020 with higher shares of unemployed women. The unemployment rate for women further reached 12.39 per cent as of February 2021.
Third, women in India are now being confronted with a shadow pandemic where forced proximity, isolation, increased substance abuse, lack of access to justice etc. during the on-going health crisis has resulted in an increasing threat of domestic or gender-based violence. As per a set of data released by the National Commission of Women in April 2020, there was an almost 100 per cent increase in domestic violence during the lockdown.
Nonetheless, these are only some of the immediate effects of the pandemic on women in India. There are other sequential consequences that will emerge in time including, the problems of depletion in savings and assets, pandemic-related widowhood, etc., which would collaboratively make recovery extremely difficult for women.
Evidently, in India, the pandemic is exploiting pre-existing economic and social inequalities along with social norms that give men embedded advantages, and has been posing a real threat to closing gender gaps. In fact, according to the recent World Economic Forum's Global Gender Gap index, India has already slipped down 28 spots to rank 140th among 156 countries in comparison to its 112th position among 153 countries for the year 2019-2020.
But despite bearing a differential impact, women in India have not been included either directly or indirectly in the development of response strategies to deal with COVID19. As such, they remain absent from decision-making tables that involve the shaping of the future of our societies. However, research indicates that the inclusion of women along with other diverse voices makes for better options in policy making and in bringing about comprehensive outcomes that accommodate the needs and concerns of all groupings.
How can a FFP help?
These unfortunate states of affairs demand an adjustment in India's thinking and strategy, bring about a paradigmatic shift in its traditional policymaking and allow for diverse representation to effectively deal with COVID19 pandemic. The present crisis is therefore, precisely the time to be talking about a FFP in India and for its representatives to make a stronger commitment to mainstream gender at the policy level.
By critically reflecting on the existing international power structures, a FFP framework focuses on protecting the needs of marginalised and female groups and places issues of human security and human rights at the heart of discussions. In doing so, it provides a fundamental shift from the conventional understanding of security to include other arena of foreign policy such as economics, finance, environment, health, trade etc.
With this new perception of health risks and crisis management as a security threat, in light of the coronavirus pandemic, India can potentially explore broadening the humanitarian trade options under its international arrangements to address shortages of medicine and lack of access to personal protective equipment for health workers within its territory— a vast majority of which continue to be women.
The adoption of a FFP could also pave the way for an increased regional cooperation, facilitate regional discussions on myriad issues and enable the development of targeted recovery program designed specifically for the empowerment of women. Such a program would account for the fact that the economic repercussions of crises disproportionately affect women and therefore, help India in securing assistance from its neighbour to address the gendered economic and social effects of the COVID19 pandemic.
Besides, FFP does not only mean considering power structures and managing relations at the global level alone but also evaluating outcomes within the country's own domestic landscape. In this sense, a FFP could provide India with an important starting point for bringing about an internal shift by focusing more on gender issues, especially in terms of the strictly defined patriarchal gender roles and eliminate barriers that continue to restrict women's participation in decision-making processes.
An emphasis on women's participation in India's leadership positions would in turn catalyse the application a gender lens to the process of domestic policymaking, thereby, achieving comprehensive outcomes that are inclusive of diverse perspectives. Such policies will promote women's concerns as humanitarian issues, prioritize and safeguard the continuum of sexual and reproductive health and rights, and continue to facilitate the provision of information and education, thus making women better equipped to deal with the consequences of the pandemic.

Adding on to these factors, given that the FFP is an all-inclusive approach, its application could also potentially strengthen cooperation between the Indian government and civil society organisations or women's network at home as well as abroad to manage the pandemic and its deleterious effect on people, especially women. At a time when the government resources are overwhelmed in their fight against the pandemic, greater involvement of civil society organisations can in fact, play a critical role in advocating social justice, women's rights, social equity, and provide medical and food support, distribution of hygiene kits, spreading awareness about the virus, etc. These efforts could bring about a considerable improvement in women's vulnerable position under the current Covid19 crisis in India.
Conclusion
As such, the FFP approach offers huge potential to address some the major institutional and organisational injustices against women in India, and the COVID19 pandemic represents a critical juncture in this regards. A FFP is important not only to ensure that the gendered imbalances inflicted by COVID19 do not become permanent but also for the long term economic and social development of the country, the strengthening of democratic institutions, and the advancement of national security as well as peace. But whether India will adopt or even consider moving towards a FFP in the near future remains to be seen.