Baku Forum: Time to find 'magic formula' for peaceful coexistence
[yt_dropcap type="square" font="" size="14″ color="#000″ background="#fff" ] I [/yt_dropcap]t is time to find that "magic formula" that will encourage people to live together in peace, the head of the United Nations Educational, Cultural and Scientific Organization (UNESCO) urged at the end of a UN-backed conference on intercultural dialogue in Baku, Azerbaijan.
In her closing remarks at end of the event, UNESCO Director-General Irina Bokova expressed hope and optimism that the world is "on the right path" towards building "inclusive and resilient" societies.
Hundreds of delegates, experts, academics, business and civil society leaders from 120 countries took part in this year's 4th World Forum on Intercultural Dialogue, which aimed at further promoting and sustaining understanding and dialogue within and between cultures.
The UN-backed intercultural dialogue ended on a high note with the UNESCO chief calling on participants to act now to stamp out extremism and "build peace in the minds of men and women," echoing the UN agency's own timeless message about the need to make the most of the opportunities to bolster peaceful coexistence provided by our globalized world of increasing interconnections and diversity.
The past three days were a flurry of debates, panel discussions, exhibits and concerts held by renowned artists working to bring people of different walks of life closer together, what UNESCO has called "a rapprochement of cultures."
Preventing terrorism in cyberspace, educating girls to combat violent extremism, and changing people's negative perception of migrants in cities were some of the topics broached at the Forum. The agenda also included such topics as the role of faith, religions, human security, sport, education, art, sustainable development, preventing violent extremism, and business in building trust and cooperation among cultures and civilizations.
Ms. Bokova urged the participants to try and establish an intercultural dialogue in their respective countries.
"I think it's a moment of commitment, of engagement, I think we all feel a certain sense of urgency, that we have to act […] but outside this beautiful country […] the world out there is very fragile, and peace is very fragile," she said, emphasizing that: "How to sustain peace, how to build these inclusive, resilient societies, and how to prevent, in certain cases this extremism, and find this magic formula of living together […] deserves all our efforts and all our commitments."
Reflecting on the outcome of the Baku Forum, Maher Nasser, Acting UN Under-Secretary-General for Global Communications, said it is too early to "cry victory" or dismiss the event as a failure because that can only be determined by what will follow.
Baku Forum spotlights importance of culture as a way to connect societies
"The discussions that I have seen bring back the importance of dialogue and using culture as a way to connect and to connect societies – sometimes within the same country. How culture bring us together as humans. We may see things differently, but there are also, sometimes, things that can bring us together. Culture and art are important elements of that," he explained.
Speaking to UN News, Mr. Nasser also highlighted the important connection between tourism and culture. "Toursim today is one the top employers around the world," he said. "Toursim depends on stability. No one wants to go to a region in conflict, unless you are war reporter. So tourism has a vested interested in promoting peace."
The UN World Tourism Organization (UNWTO) is one of the organizing partners of the Baku Forum, along with UNESCO, the UN Food and Agriculture Organization (FAO), the Council of Europe, the Islamic Educational Scientific and Cultural Organization (ISESCO) and the North-South Centre of the Council of Europe.
Mr. Nasser concluded by saying that the conference was "timely" and that he was optimistic moving forward.
The UNESCO Director-General praised the Government of Azerbaijan for hosting the World Forum for the fourth time, praising the country as an example of a nation where people of different faiths and cultures can live in peace.
Weaving profits in Azerbaijan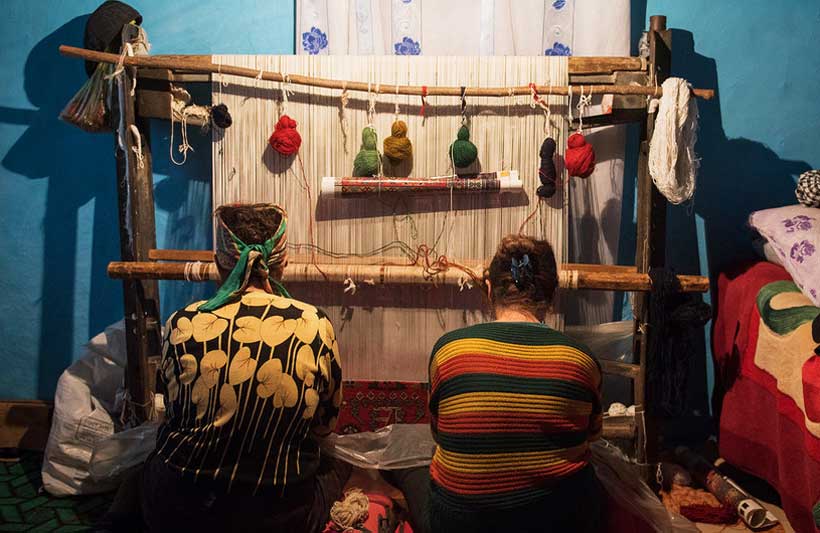 Artisans in Azerbaijan who practice the traditional art of carpet making are being provided with new business opportunities thanks to a project supported by the UN Development Programme (UNDP).
Weaving carpets is a skill that has been passed down through the generations and in the central Asian country is largely the work of women.
Although Azerbaijan is located on the ancient trading route known as the Silk Road, many artisans, especially those living in mountainous areas, are finding it increasingly difficult to get their carpets to market.
Small and Medium sized enterprises, like the carpet weavers of Azerbaijan, account for 60-70 per cent of global employment, according to the UN.
As the International Micro-, Small and Medium-sized Enterprises Day is marked across the world on June 27, the Azerbaijani authorities, with the support of UNDP, are boosting efforts to help artisans sell their goods.
New interactive Story Maps make Europe's cultural heritage more accessible
On the occasion of the first ever European Cultural Heritage Summit, the European Commission has released a set of interactive maps which will help to raise awareness of cultural heritage in Europe.
Speaking at the European Cultural Heritage Summit in Berlin today, Tibor Navracsics, Commissioner for Education, Culture, Youth and Sport, responsible for the Joint Research Centre, said: "Making cultural heritage more accessible to everyone is one of my main goals for the European Year. The Story Maps will play an important role in this, offering valuable information in a user-friendly way. The Joint Research Centre has already developed a number of tools that help us preserve cultural heritage, such as 3D scanning technologies that can be used to map heritage sites as well as smart materials for their reconstruction. Now the interactive Story Maps will help open up opportunities for Europeans to explore our shared heritage and get involved in safeguarding it for the future."
The Story Maps, developed by the Joint Research Centre, the Commission's science and knowledge service, inform in an easily accessible way about several initiatives across Europe linked to cultural heritage. These include actions like the European Heritage Days, the EU Prize for Cultural Heritage or the European Heritage Label, funded by Creative Europe, the EU programme that supports the cultural and creative sectors. The website also contains links to the digital collections of Europeana – the EU digital platform for cultural heritage. This platform allows users to explore more than 50 million artworks, artefacts, books, videos and sounds from more than 3500 museums, galleries, libraries and archives across Europe. These maps will be updated and developed, for example taking into account tips from young people exploring Europe's cultural heritage through the new DiscoverEU initiative.
The online tool was launched by Commissioner Tibor Navracsics at the European Cultural Heritage Summit in Berlin today. This Summit is one of the main events of the 2018 European Year of Cultural Heritage and is attended by high-level representatives of EU Institutions, civil society organisations and Member States, including German Federal President Frank-Walter Steinmeier. to protect, promote and raise awareness of cultural heritage in Europe. to protect, promote and raise awareness of cultural heritage in Europe. to protect, promote and raise awareness of cultural heritage in Europe.
Background
The Story Maps were presented to a wider audience at the European Cultural Heritage Summit, co-hosted by Europa Nostra, the Prussian Cultural Heritage Foundation and the German Cultural Heritage Committee. The Summit is one of the key events of the European Year of Cultural Heritage taking place in Berlin from 18 to 24 June. It will see the adoption of the "Berlin Call to Action – cultural heritage for the future of Europe", which supports the idea of a European Action Plan on Cultural Heritage, announced by the Commission in the New Agenda for Culture proposed in May. The Call to Action asks citizens, institutions and organisations to build on the momentum of the European Year, to recognise the positive and cohesive power of shared cultural heritage and values to connect Europe's citizens and communities and to give a deeper meaning to the entire European project.
The purpose of the European Year of Cultural Heritage is to raise awareness of the social and economic importance of cultural heritage. Thousands of initiatives and events across Europe will give citizens from all backgrounds opportunities to discover and engage with cultural heritage. The aim is to reach out to the widest possible audience, in particular children and young people, local communities and people who are rarely in touch with culture, to promote a common sense of ownership.
Spiritual revival day: Reception to mark International Day of Nowruz in Beijing
On 21 March, a reception organised by the SCO Secretariat took place on the occasion of International Day of Nowruz, spring festival.
Nowruz is an international holiday that has been celebrated for thousands of years by people living in various countries covering the large territory from the Balkans and South Caucasus to Central and South Asia, as well as Russia and Western China. Nowruz signifies the revival of nature, love and triumph of life together with the expectation of a good harvest. According to an ancient legend, it also announces the dominance of light over darkness and warmth over chilliness.
From the very beginning of the reception, people could plunge themselves into a festive mood typical of spring feeling fresh and experiencing an atmosphere of the awakening and dawning of nature. Guests were welcomed with bright spring flowers and had an opportunity to see an exhibition of national arts and crafts. A bowl with sprouted wheat stood in the centre of the hall. Its bright emerald green colour symbolised the rebirth of the earth.
When the impressive sounds of the karnay, a Central Asian wind instrument, announced the beginning of the official reception, SCO Secretary-General Rashid Alimov cordially greeted the guests and reminded them that leaving the Northern Hemisphere and crossing the equator on the vernal point, the Sun annunciates the advent of the long-awaited spring.
"Today is International Day of Nowruz. For already three thousand years it has united millions of people on the planet by its intransient spiritual values and lofty aspirations. On this day, as on no other, people derive strength and inspiration in bonding with nature, and unite with a view to transforming their homes and world around them and asserting in it tolerance and creativity, mutual respect and mutual understanding," Rashid Alimov said, adding: "International Day of Nowruz invites people to live in harmony with nature, strengthen goodwill, build reliable bridges of friendship and cooperation, develop and enrich dialogue of cultures and civilisations, and work together for a safe and prosperous future, which fully meets the principles of the Shanghai spirit."
Mr Alimov noted that representatives not only from the SCO friendly family but also from many countries and continents gathered in the festive hall. "This is the best reflection of the main mission of International Day of Nowruz — to unite people for the sake of peace and preserve our planet for future generations, for the prosperity of all nations on our planet," said Mr Alimov and invited everyone to turn over a new leaf in their relations.
Warm words spoken by the SCO Secretary-General were followed by video greetings from ambassadors extraordinary and plenipotentiary of the SCO member states, the special representative of the Chinese Government in the SCO, and the team of the SCO Secretariat.
Lively music and dances that represent nations of the "SCO family," showcasing of fashionable clothes, various different sorts of food and culinary delicacies typical of Nowruz added to the general spring atmosphere of this event.
A large-scale photo exhibition the theme of which was the SCO International Marathon, which was held in Kunming (Yunnan Province, China) on 31 December 2017 was very much enjoyed by everyone.
More than 400 guests attended the reception marking International Day of Nowruz in Beijing, including ambassadors and representatives of diplomatic missions in China, as well as prominent public figures, scientists, journalists, business people and cultural representatives.
In September 2009, Nowruz was included into UNESCO's Representative List of the Intangible Cultural Heritage of Humanity.
On 23 February 2010, the UN General Assembly announced 21 March International Day of Nowruz.
Traditionally, the SCO Secretariat organises receptions to mark New Year according to the Gregorian calendar, Chinese New Year according to the Lunar calendar, and International Day of Nowruz.