Pro EU Emmanuel Macron elected president of France 2017
[yt_dropcap type="square" font="" size="14″ color="#000″ background="#fff" ] E [/yt_dropcap]mmanuel Macron was elected president of France on May 07 with a business-friendly vision of European integration, defeating Marine Le Pen, a far-right nationalist who threatened to take France out of the European Union (EU) to be the second European nation to be out of EU by following Brexit.
The 39-year-old former investment banker, who served for two years as economy minister but has never previously held elected office, will now become France's youngest leader since Napoleon with a promise to transcend outdated left-right divisions. The projections, issued within minutes of polling stations closing at 8 p.m showed Macron beating Le Pen by around 65% to 35 – a gap wider than the 20 or so percentage points that pre-election surveys had pointed to.
Macron, the 48-year-old's share of the vote was set to be almost twice that won by her father Jean-Marie, the last National Front candidate to qualify for a presidential runoff, who was trounced by Jacques Chirac in 2002.
Against mainstream politics
Emmanuel Macron is a former investment banker who has won Presidency and for the first time will hold an elected office. Running as an independent, Macron formed the "En Marche Party" after serving as economics minister under French President Francois Hollande. He has described himself as "pro European Union and pro immigrant."
Macron describes himself as being pro European Union. In his political rallies, Macron encourages supporters to wave both the French tricolor and the European Union flags. One commentator remarked: "He is the man Europe wants".
So much so that European commission president Jean-Claude Juncker broke protocol of staying neutral and publicly congratulated Macron for winning the first round against Marine Le Pen. A commission spokesman later clarified that according to the EU, the decision facing the French electorate "was a fundamental one", between Macron, who represents pro-Europe values, and Le Pen, who "seeks its destruction".
Macron was expected to be propelled to power an estimated 8.25 million voters switching their allegiance from also-rans Jean-Luc Mélenchon, Benoit Hamon and Francois Fillon. The centrist candidate won 23.9 per cent of the first round of voting and looks set to win 60 per cent of the final round on May 7. Marine Le Pen came second in the initial vote with 21.4 per cent, and is predicted to score 40 per cent in the second round.
When the race to win the French presidential election has entered its final days and first round with Emmanuel Macron and Marine Le Pen both vying to win over it wasn't quite clear whom the electorate as voters wanted to choose. The two candidates face off in the second round on May 7, where Macron is widely tipped to become the president of France – he would take 65 per cent of the vote in a second-round run-off against Le Pen.
People have lost trust in the existing mainstream parties. It was expected that Macron – a centrist – should be able to attract a wider spectrum of second-round voters than Le Pen, pulling in left-leaning voters from Hamon and Mélenchon as well as those leaning to the right that voted Fillon in the first round.
Marine Le Pen
Ms Le Pen is the outsider with odds of 13/2, however most bets have been placed on the far-right candidate. Le Pen's high-spending, anti-globalization 'France-first' policies may have unnerved financial markets but they appealed to many poorer members of society against a background of high unemployment, social tensions and security concerns.
The market for the Next President naturally exploded into life on polling day and with the race narrowed down to the last two there is still plenty of bets coming in. Macron had a very clear lead over Le Pen once votes were counted and he was trading as the strong odds-on favourite with an 88% chance of winning. Despite this fact, Le Pen accounted for 70% of bets placed since the first round but remains trading at 13/2, so the bets being placed on her are likely to be small punts from bettors expecting the type of last minute upset world has become accustomed to in recent politics.
Marine Le Pen performed much better this time as she achieved her highest vote shares in the North East of France when she failed to make the second round in 2012. It was no different this time around with there being a clear East-West divide in the way that the country voted. Le Pen attracted her highest vote share in the department of Aisne, to the North East of Paris. More than one in three votes went to the Front National leader in Aisne – double the number that went to Macron.
However, support for Le Pen within Paris was conspicuous by its absence. Fewer than one in 20 voters cast their ballots for the far-right leader. This is a lower proportion than who did so in 2012. Three days on from a terror attack in the capital that claimed the life of a police officer, it makes Paris one of just four areas of the country where Front National support fell compared to 2012. Macron scooped up 34.8 per cent of the vote in Paris, his strongest area of support.
Aside from in Paris, though, Macron's vote share tended to be higher in the North western areas of France; areas like Ille et Vilaine and Finistere in Brittany.
Ms Le Pen has announced that she is temporarily stepping aside as the National Front leader in a last-ditch attempt to win voters on a non-partisan platform. "This evening, I am no longer the president of the National Front. I am the candidate for the French presidency," she said.
Candidates support Macron
Immediately after the first round of voting, Fillon and Hamon urged supporters to back Macron in order to prevent a Le Pen presidency. Fillon, once the favourite to win the election, said in his concession speech: "The National Front has a history of violence and it would bankrupt France, especially by plunging us into EU chaos and taking us out of the Euro," he said. "Extremism can only give rise to division within France and so I urge you to vote against extremism."I will vote for Emmanuel Macron, it's my duty."
A massive 72 per cent (1.65m) of his supporters now said they will back Macron, with just two per cent (45,000) switching to Ms Le Pen and 26 per cent (595,000) abstaining. Jean-Luc Mélenchon stopped short of endorsing Macron, but has launched a poll of his supporters.
Forty-three per cent of Fillon voters (3.1m) switched plan to vote for Macron, with 31 per cent (2.23m) supporting Ms Le Pen and 26 per cent (1.87m) abstaining. Hamon echoed his words, calling the National Front "an enemy of France".
Macron the consensual candidate
The second round is important as the top two candidates fight the final results. The top two candidates Macron and Marine faced off in a second run-off on May 7. Of the nine elections since the first direct presidential election in the Fifth Republic in 1965, three have seen the winner of the first round lose out in the second. This led to the elections of Valéry Giscard d'Estaing in 1974, François Mitterrand in 1981 and Jacques Chirac in 1995.
The consultation was sent to 450,000 registered supporters, and says: None of us will vote for the far-right. Half of Mélenchon voters polled by PrésiTrack plan to vote for Macron, which translates to 3.5 million extra votes. Another 18 per cent (1.27m) are set to back Ms Le Pen and 32 per cent (2.2m) plan to abstain.
When asked who they thought will be elected as president, 80 per cent said Macron with just 16 per cent backing Ms Le Pen. When asked who they would like to see elected, 59 per cent said Macron and 33 per cent said Ms Le Pen.
Macron has vowed that he would be "a president of all the people of France". In recent days his campaign has been overshadowed by fresh attention of his marriage to Brigitte Trogneaux – his former high-school teacher who is 24 years his senior.
Macron has been the bookies' favourite to become president, with the last average of the polls before the election showing him considerably ahead of Le Pen. For those who have lost faith in political polling, asking people who are prepared to put their money where their mouth is the best way to predict elections.
Observation
Emmanuel Macron 's emphatic victory, which also smashed the dominance of France's mainstream parties, will bring huge relief to European allies who had feared another populist upheaval to follow Britain's vote to quit the EU and Donald Trump's election as US president.
Macron will be sworn into office as the French president. It was a record performance for the National Front, a party whose anti-immigrant policies until recently made it a pariah in French politics, and underlined the scale of the divisions that Emmanuel Macron must try to heal.
Macron's immediate challenge will be to secure a majority in next month's parliamentary election for En Marche! (Onwards!), his political movement that is barely a year old, in order to implement his program. However, at least one opinion poll published in the run-up to the second round has indicated that this could be within reach.
After Brexit, the election of Donald Trump and the 2015 General Election, many now believe that political betting markets can better predict elections, relying on the wisdom of a crowd of punters to sort and weigh all the probabilities.
Macron is determined to implements "reforms" into the European Union, which would include having a common budget, finance minister, working together on defence and perhaps the biggest project: strengthening the Euro. "The euro is a weak deutsche mark," Macron has said. "The status quo is synonymous, in 10 years' time, with the dismantling of the euro." "The truth is that we must collectively recognize that the euro is incomplete and cannot last without major reforms. It has not provided Europe with full international sovereignty against the dollar on its rules. It has not provided Europe with a natural convergence between the different member states," he added.
Macron has also said he was "wary of globalization" as "not everyone respects the rules so we will turn the protection of European industry into one of the major pillars of reinventing the EU." He is also determined to make Paris a rival to London when it comes to banking and finance, which will inevitably cause friction with the UK.
Some believe that a Macron win would end the populist wave that seemed to be making its way around the world after Brexit and the Trump win. That might be premature. However, Macron wants closer ties with the West and is seemingly wary of Vladimir Putin, which would be music to the ears of prominent leaders.
Dayton Peace Accord 23 Years On: Ensured Peace and Stability in Former Yugoslavia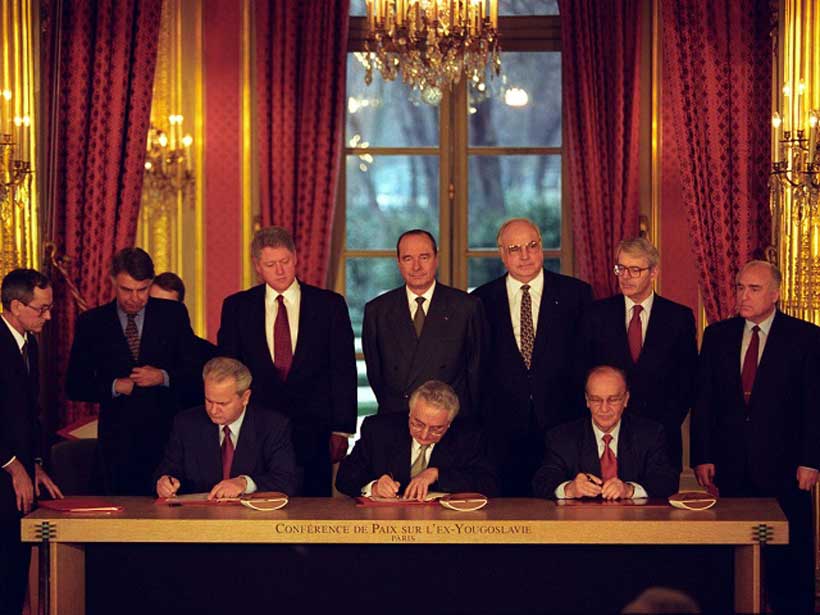 For the past twenty-three years life has been comparatively peaceful in the breakaway republics of the former Yugoslavia. The complicated civil war that began in Yugoslavia in 1991 had numerous causes and began to break up along the ethnic lines. The touching stories and the aftermath effects of the breakaway republics of Bosnia- Herzegovina, Croatia and in Kosovo are still unfolding. Though the numbers of deaths in the Bosnia- Herzegovina conflict in former Yugoslavia are not known precisely, most sources agree that the estimates of deaths vary between 150,000 to 200,000 and displaced more than two million people. During the conflict a Srebrenica a North-eastern enclave of Bosnia once declared as a United  Nations  (UN ) safe area" saw one of the worst atrocity since second world war.
It has been estimated that more than 8,000 Muslim Bosniaks were massacred in Srebrenica and it was one of the most brutal ethnic cleansing operations of its kind in modern warfare. The US brokered peace talks revived the a peace process between the three warring factions in Bosnia- Herzegovina. For Peace in Bosnia and Herzegovina a United States (US ) -brokered peace deal reached in Dayton on 21st November 1995. In a historic reconciliation bid on 14 December 1995 , the Dayton Peace Accord was signed in Paris, France, between Franjo Tudjman president of the Republic of Croatia and Slobodan Milosevic president of the Federal Yugoslavia (Serbia and Montenegro), Alija Izetbegovic, president of the Republic of Bosnia-Herzegovina.
When conflict in Bosnia- Herzegovina, Croatia ended, the reconciliation began between ethnically divided region. The US played a crucial role in defining the direction of the Peace process. In 1996, North Atlantic Treaty Organization (NATO) -led 60,000 multinational peace enforcement force known as the Implementation Force (IFOR)) was deployed to help preserve the cease-fire and enforce the treaty provisions. Thereafter, the Court was established by Resolution 808 and later, Resolution 827 of the United Nations Security Council, which endorsed to proceed with setting up of the International Criminal Tribunal for the former Yugoslavia (ICTY) to try crimes against humanity . International Criminal Tribunal for the Former Yugoslavia (ICTY) was the first United Nations (UN) war crimes tribunal of its kind since the post-second world war Nuremberg tribunal.
In the late 1990's, as the political crisis deepened a spiral of violence fuelled the Kosovo crisis between the Kosovo Liberation Army (KLA) and the Yugoslav forces. Unlike the Bosnia- Herzegovina, Kosovo was a province of Serbia, of former Yugoslavia that dates back to 1946, when Kosovo gained autonomy as a province within Serbia. It is estimated that more than 800,000. Kosovos were forced out of Kosovo in search of refuge and as many as 500,000 more were displaced within Kosovo.
Subsequent t hostilities in Kosovo the eleven week air campaign led by NATO (North Atlantic Treaty Organisation) against Yugoslavia in 1999 the Yugoslavian forces pulled troops out of Kosovo NATO. After the war was over, the United Nations Security Council, under the resolution 1244 (1999) approved to establish an international civil presence in Kosovo, known as the United Nations Interim Administration Mission in Kosovo (UNMIK). Nevertheless UNMIK regulation No 1999/24 provided that the Law in Force in Kosovo prior to March 22, 1989 would serve as the applicable law for the duration of the United Nations Interim Administration Mission in Kosovo (UNMIK).
In this  context reconciliation is a key to national healing of wounds after ending a violent conflict. Healing the wounds of the past and redressing past wrongs is a process through which a society moves from a divided past to a shared future. Over the years in Serbia, Bosnia- Herzegovina, Croatia and in Kosovo the successful peace building processes had happened. The success of the peace building process was possible because of participation of those concerned, and since appropriate strategies to effectively approach was applied with all relevant actors. The strengthening of institutions for the benefit of all citizens has many important benefits for the peace and stability of former Yugoslavia. Hence, the future looks bright for the Balkan states of Serbia, Bosnia- Herzegovina, Croatia and Kosovo.
Hungarian Interest, Ukraine and European Values
Diplomatic conflicts that have recently arisen between Hungary and its neighboring countries and the European Union as a whole most clearly show the new trend in European politics. This trend is committing to national and  state values of a specific  European country, doubting  the priority of supranational  interests within the European Union. Political analyst Timofey Bordachev believes that "the era of stale politics and the same stale politicians, who make backstage decisions based on the" lowest common denominator," are finally coming to an end. Politicians with a new vision of the world order come to power, such as Hungarian Prime Minister Viktor Orban, Austrian Federal Chancellor Sebastian Kurtz, or the new head of the Italian Interior Ministry, leader of the right-wing League of the North Party, Matteo Salvini ".
It is not the first year that Hungary is trying to protect the interests of its citizens and the state from external influence, to protect the Hungarians in the territory of neighbouring states  by establishing for this  a special position (Commissioner  for the development of the Transcarpathian region of Ukraine), to determine relations with other countries on the basis of their attitude to the rights of Hungarians. This is how conflicts with the European Union arose, after Hungary refused to let migrants into the country, in the same manner, a conflict  arose with Ukraine, which is trying to build a state ideology, based on nationalism, which a priori does not provide for the proper level of realization and protection of the rights of non-titular nations.
In relation to Hungary, Ukraine follows the same policy as in relation to Russia – to initiate various accusations, to call for punishment, to talk about the inconsistency with European values of the Hungarian policy under the leadership of  Orban. Doing so Kiev has its multifaceted interest: cooperation with NATO and the EU, support  for any decisions of Brussels, the anti-Russian course, domestic policy based on the nationalist  ideology. And in all these areas  Hungary poses  a problem for Ukraine. In the description of relations with Hungary  Kiev even  uses the word "annexation".
Hungary is hardly planning to seize any Ukrainian territory, but on what  grounds Ukraine falsely accuses Hungary of its annexation intentions in relation to Transcarpathia?  The Ukrainian side highlights several positions:
Issuing Hungarian passports  to Ukrainian citizens (ethnic Hungerians)
This  is an old story, it has come to light again recently due to the growth of Ukrainian nationalism. Moreover,  there are concerns about the implementation by Hungary of the "Crimean scenario" in relation to Transcarpathia.
The Hungarian government has created the position of  "Commissioner  for the development of Ukraine's Transcarpathian region and the program for the development of kindergartens in the Carpathian region".
Ukraine demanded an explanation. A note of protest was delivered to the Hungarian Charge d'Affaires in Ukraine, and the Foreign ministers of Ukraine and Hungary had a telephone conversation on the problem. Hungary continues to ignore the requirements of Kiev.
Ukraine fears further disintegration processes
At the same time, in Kiev there is no understanding  of the fact that combining the ideology of nationalism with the country's national diversity and European integration is hardly possible.
Ukrainian experts note the growth of separatism in the Transcarpathian region, as well as the "strange behavior" of the governor, who plays on the side of Hungary. They also complain that "pro-Ukrainian ideology"(?) is not being сonsolidated in Transcarpathia, and this region is not controlled and monitored by  the Ministry of information. In a word, the state is losing control over the territory, which it neither develops nor controls. Such behavior of the governor and the region's residents may indicate that the state is not sufficiently present in the lives of residents of Transcarpathia, and this a financial and humanitarian drawback they compensate with the help of Hungary, – experts believe.
Apparently, Ukraine is unable to reach an agreement with Hungary as relations are tense. In response to the Ukrainian law on education, adopted in the fall of 2017, which infringes the rights of national minorities, Budapest blocked another, the third, Ukraine-NATO meeting. Ukraine witnessed this embarrassing  situation  in April 2018.  At the same time elections were held in Hungary, in  which Viktor Orban's party won a majority in the parliament. Such a tough stance of Budapest in relation to the Ukrainian educational policy Kiev considered to be just a sign of electoral populism. However, this was a mistake.
Viktor Orban's victory in spring 2018 was convincing, and a convincing victory means obvious support of his migration policies as well as his support  for compatriots abroad. The party of Orban – Fides – not only won a majority but a constitutional majority – 133 of the 199 seats  in the National Assembly of Hungary.
There is no doubt  that Hungary has become Ukraine's another serious opponent in the process of its European integration. And it is unlikely that either  country  will take a step back: there will be presidential elections in Ukraine soon, and in Hungary, the victory won by Orban, apparently, confirms the  approval of his independent  foreign  policy  by  the citizens.  So the conflict is likely to develop.
First published in our partner International Affairs
Belt and Road Alternatives: The European Strategy
The European Union (EU) has put forward a plan for enhancing connectivity within Asia, which has been dubbed as the Asia Connectivity Strategy.
The EU does not want to give an impression, that the Asia Connectivity Strategy (ACS) is a counter to the Belt and Road Initiative (BRI). Yet, senior officials of the EU, while commenting on the broad aims and objectives of the project, have categorically stated, that the primary goal of the Asia Connectivity Strategy, is enhancing connectivity (physical and digital) while also ensuring, that local communities benefit from such a project, and environmental and social norms are not flouted (this is a clear allusion to the shortcomings of the BRI). There are no clear details with regard to the budget, and other modalities of the project (EU member countries are likely to give a go ahead for this project, before the Asia-Europe Meeting in October 2018). EU has categorically stated, that it would like to ensure that the ACS is economically sustainable.
Other alternatives to BRI 
It is not just the EU, but even the US, along with Japan and Australia. which are trying to create an alternative vision to the BRI.
The US alternative to the BRI, is being funded by the recently created United States International Development Finance Corporation (USDFC) (an organization which will merge Overseas Private Investment Corporation and other Development Finance Programs) which came into being after the passing of the BUILD  (Better Utilization of Investments leading to Development) Act recently.
It would be pertinent to point out, that the US which has been accused of lacking a cohesive vision to counter China's BRI has in recent months spoken, on more than one occasion, about greater the dire need for robust connectivity in the Indo-Pacific. In July 2018 US Secretary of State while speaking at the Indo-Pacific Business Forum committed an amount of $113 million for U.S. initiatives to support projects related to digital economy, energy, and infrastructure. The Secretary of State, while speaking about close links between US and Indo-Pacific, also spoke about the need for greater private sector involvement in projects in the Indo-Pacific. Pompeo off late, has also been reaching out pro-actively to a number of countries in South East Asia, and visited Malaysia, Indonesia in August 2018.
It would be pertinent to point out that OPIC  (now part of USFDC) has already signed with the overseas finance development arms of Japan and Australia, and is in talks with India to work jointly. Some of the areas being explored for joint investments are energy, infrastructure.
It is not just the US, even Japan has come with it's own alternative, Partnership for Quality Infrastructure (PQI), to the BRI.
Potential Appeal of the Asia Connectivity Strategy
So the question then arises, why would countries seeking an alternative to China, not come on board the US' connectivity initiative. The 'Asia Connectivity Strategy' may be especially acceptable to leaders, who do not want to be seen as blindly following US diktats, but who are also uncomfortable with Beijing's economic policies, and want to avoid falling into what has been dubbed as Beijing's 'debt trap' diplomacy. A perfect example being Malaysian Prime Minister, Mahathir Mohammad who scrapped projects worth 40 Billion USD, and also referred to the rise of a 'new colonialism' being promoted by China. The Malaysian PM has not shared a particularly cordial relationship with the US in the past. While addressing the United Nations General Assembly (unga), Mahathir made some interesting points, saying that Malaysians want a Malaysia, which seeks relations based on 'mutual respect' and a Malaysia, that is 'neutral' and 'non aligned'
EU itself trying to strike a balance
EU Chief, Jean Claude Juncker, has been pitching for a more pro-active response to Trump's insular policies, as well as China's BRI. Given the fact, that EU has taken a divergent stand from US on the Iran issue, and has proposed a Special Purpose Vehicle (SPV) which will ensure that trade with Iran continues, even before the impending US sanctions to be imposed on Iran in November 2018. The SPV was announced, jointly with Russia and China, on the sidelines of the UNGA.
At the UNGA, French President, Emmanuel Macron disagreed with Trump's views with regard to Iran, and supported the 2015 Vienna Accord. Said Macron: We know that Iran was on a nuclear military path but what stopped it? The 2015 Vienna accord."
While it remains to be seen, if the SPV set up by EU works or not, but a number of countries which do not want to be part of the Chinese or American orbit would be attracted towards the EU, in spite of all the problems it is facing, due to it's capacity to take an independent stand.
Asia Connectivity Strategy is not only about competition
It remains to be seen whether the Asia Connectivity Strategy can gain traction. In terms of connectivity, there may even be strong overlaps with the 'Indo-Pacific vision'. France, which has strengthened strategic ties with Australia and India, is already seeking to play a pro-active role in the Indo-Pacific.
French President Emmanuel Macron had referred to the need for a strong Paris-Canberra-New Delhi axis, during his Australia visit, as a counter to China's increasing assertiveness.
Interestingly, while there is a realization, that Asian Connectivity Strategy has a competitive element, and there are some clear differences between EU's strategy and BRI, there are also some who believe, that there is space for collaboration between the Asia Connectivity Strategy and BRI. This point has been put forward by some policy makers and strategic commentators in EU, as well as sections of the Chinese media. Wang Wen Wen in an article for the Global Times, argues:
'Asia needs Europe as much as it needs China. Since the EU and China are the two largest economic entities in Eurasia, it is vital that they steward the continent's economic development agenda. Some programs in the BRI have carried out cooperation with the European side on technology and equipment procurement.'
In conclusion, the Asia Connectivity Strategy is an interesting idea. A lot will depend upon available resources and the response of potential stakeholders. But EU going ahead with such an initiative in spite of numerous problems within is truly laudable.