ISIS Drones: Evolution, Leadership, Bases, Operations and Logistics
Asaad Almohammad, Ph.D. & Anne Speckhard, Ph.D.
[yt_dropcap type="square" font="" size="14″ color="#000″ background="#fff" ] T [/yt_dropcap]he use of drones by terrorist organizations has been documented for over a decade [[1],[2], & [3]]. During November 2004, Hezbollah used Mirsad-1, an Iranian made drone, for reconnaissance over Israeli territories, for 20 minutes without being intercepted. Hezbollah operatives managed to fly the drone back to Lebanon.
It is reported that Hamas, the Palestinian terror group, had a development and storage facility for drones that were destroyed by the Israel Air Force during mid-November 2012 [[4]]. By mid-July 2014, Hamas also used Ababil-1, an Iranian made drone, which was shot down by the Israeli forces [[5]]. Furthermore, Palestinian Islamic Jihad, another designated terrorist organization, was able to hack the video feeds of the Israeli's army drones for the period from 2011 to 2014 [[6]].
The first successful and significant use of drones to attack rival forces by a non-state actor has only occurred recently. It was carried out by Hezbollah agents in Arsal, Syria during late September 2014 in which their aerial attack targeted and killed 32 fighters of al-Nusra Front, al-Qaeda' affiliates in Syria. More recently, ISIS began using drones to drop Improvised Explosive Devices (IEDs), most often grenades, to successfully hit enemy targets.
Rep. Duncan Hunter (R-CA) commented to The Washington Times on ISIS's use of IED loaded drones [[7]] [[8]]:"In the end the IEDs are the terrorist's artillery… This is not rocket science. This is a natural progression for IEDs. This isn't crazy stuff that this is happening now. We should have seen this coming."
Indeed, terrorist organizations' obsession with drones is not new.
Hezbollah, a Shiite militia, and Hamas, a Sunni jihadi group and an affiliate of the Muslim Brothers, are both supported by the Iranian regime. Their drones, both the units and the training to operate them, are also Iranian sponsored. Unlike these two terrorist organizations, ISIS developed its drone program using off-the-shelf commercial drones and there is no evidence that they relied on any state actors in improving such capabilities. As ISIS started to appear on the defeat, the group increasingly began to release materials on its drone-based operations, including surveillance, command and control, and attacks. These published pictures and videos were largely employed for propaganda purposes.
By February 2017, ISIS drones became the sexy new topic among ISIS' sympathizers and nemeses, instigating the discussion, debate, and projection of the nature and employment of these weapons in potential terrorist attacks. Alarmed by the current and potential danger of drones as a tool of terror, this report is devoted to collecting intelligence on drone-related operations within ISIS-held territories in Syria. Before presenting the obtained information, a review of the jihadi group's activities and operations regarding this program is instrumental to inferring the current and future implications of ISIS' progression in this area.
ISIS' Use of Drones
In this section ISIS drones' capabilities and activities are summarized based on a wealth of available open-source information. ISIS' documented use of the technology has been covered thoroughly by commentators, analysts, and academics. The following list presents a chronological summary of ISIS' rapid progression and utilization of drones across Iraq, Syria, and Libya for the period spanning August 2014 to March 2017:
The National Defense Magazine reported on a YouTube video showing one of the first instances of the use of drones by ISIS in late August 2014 [[9]]. The video showed aerial footage of army bases in the close vicinity of Raqqa city. The National Defense Magazine argued that ISIS' utilization of the technology would allow the jihadi group to gain situational awareness and use more advanced propaganda material.
In a video released during early September 2014 [[10]], an ISIS operative claimed that the group used drones in surveilling and collecting intelligence on the Tabqa Military Airbase, Raqqa before they launched an assault and seized it from al-Assad's forces. A propaganda video that was released by al-I'tisam, a media company of ISIS, on the 9th of September 2014 showed some reconnaissance footage that seemed to be taken by ISIS operatives before they attacked the base [[11]].
ShamiWitness, a major twitter account that used to spread ISIS propaganda and methods, shared a guide providing beginners with instructions on how to start building multi-copter drones during mid-October 2014 [[12]].
In early September 2014, ISIS captured and released aerial footage of a terrorist attack that targeted fighters in the Kurdish town of Kobane, Syria [[13]]. The video, taken by an ISIS drone, was used for propaganda purposes.
In late January 2015, ISIS agents and/or sympathizers tweeted a link to a document that commented on the shortcoming of ISIS' drones, argued the justifications behind the downing of the drones by rival forces, recommended different commercial drones, and provided instructions and resources on how ISIS can modify and improve its current drones [[14]].
In early April 2015, ISIS released a video of an archaeological site, claiming the site had pagan idols, which they intended to destroy [[15]]. An ISIS drone took the opening footage. On two other separate occasions during early April 2015, ISIS claimed, through a released video and a picture, to have used its drones in reconnaissance missions to coordinate its attacks on an oil refinery in Baiji Iraq [[16]] and Ain Sheep checkpoint in Idlib governorate [[17]].
In mid-December 2015, ISIS used a drone to film a suicide mission in Anbar province, Iraq [[18]].
In early January 2016, an ISIS-released pictorial report surfaced online [[19]]. That report showed footage taken by an ISIS drone that was used to plan an attack on an Iraqi militia camp in the close vicinity of Fallujah. Moreover, during early January 2016, ISIS released a video captured by drones showing suicide missions in al-Anbar, Iraq [[20]].
In late January 2016, ISIS released a video of the Benghazi battle in Libya. The video was largely used to threaten forces fighting ISIS and other Islamists factions [[21]]. In the video an operative appeared to be using a smartphone to control a drone that captured footage of the battle.
In late February 2016, ISIS launched a Telegram channel to connect to and use the knowledge of scientists and engineers who sympathize with the militant group [[22]]. That channel discussed topics related to the assembly and development of ISIS' drones, including remote control of missiles.
In mid-May 2016, ISIS released a picture taken by a drone that captured an attack in the close vicinity of Ramadi, Iraq [[23]]. In late May 2016, a photo of ISIS's operatives using a computer to control a drone during an attack on Iraqi forces in Fallujah surfaced in an announcement made by A'maq, ISIS' news agency [[24]]. Moreover, ISIS also released a video that had scenes that had been captured by a drone [[25]]. The footage featured the assault on Peshmerga forces in the north of Mosul, Iraq on the 3rd of May 2016. During that attack Charles Keating, a U.S. Navy SEAL, was killed. In addition, during late May 2016, ISIS released a picture that included drone footage of its attack on Peshmerga forces in Ninawa, Iraq [[26]].
In early July 2016, the Pentagon reported that ISIS was using drones equipped with full-motion cameras and IEDs [[27]].
In late September 2016, ISIS released a video of a suicide attack on an Iraqi military base that shows drone footage of Belgian ISIS militants before carrying out the mission [[28]]. The video shows a Belgian jihadi, among others, calling for European Muslims not to fear death and to conduct similar attacks in the name of ISIS.
In early October 2016, the Iraqi forces announced that they downed a drone belonging to ISIS in the south of Mosul [[29]]. The drone was reported to be carrying out a reconnaissance mission to surveil Iraqi forces' advancement towards ISIS strongholds.
In mid-November 2016 ISIS released a video showing its operations against Iraqi forces that were advancing to retake Mosul [[30]]. The film is full of drone footage that capture ISIS' suicide attacks.
In early December 2016, a video released by ISIS showed a more systematic and professional use of its drones in a raid in the close vicinity of Mosul, Iraq [[31]]. During that period, ISIS released drone footage of two operations, one that captured footage of an attack on Turkish and Syrian rebel forces around al-Bab Aleppo [[32]] and the other against the Iraqi Popular Mobilization Forces west of Mosul [[33]]. Moreover, in mid-September 2016, a pictorial announcement of suicide attack in the vicinity of Benghazi, Libya was released. That image showed drone footage of the operation [[34]].
In early January 2017, ISIS released a film that contained drone footage [[35]] praising the suicide missions that were carried out by foreign and local jihadis during the battle for Mosul. In late January 2017 ISIS released a propaganda video showing its drones dropping grenade-sized munitions on Iraqi soldiers and tanks [[36]]. The video captures the damage caused by the bombs and claims that ISIS drones have become a nightmare for the forces battling the militant jihadi group. Moreover, during that period ISIS released another video showing an operation in which a drone dropped a bomb on a military site in Iraq [[37]].
In early February 2017 ISIS released propaganda posters on Telegram and social media platforms. One of the posters features ISIS drones attacking and destroying U.S landmarks [[38]]. During early and mid-February 2017, ISIS released a flood of images of the damage caused by its combat drones across Iraq and Syria [[39], [40], & [41]], using them as propaganda material. In mid-February 2017, ISIS operatives or sympathizers started to call for the use of drones to target civilian populations, places of worship, and infrastructure (e.g., power grid), among other targets, in the West, Middle East, and North Africa [[42]]. This is no small thing given that when ISIS called for use of vehicular rammings and knife attacks a spate of them followed across Europe and elsewhere. Similarly when al-Qaeda and later ISIS repeated instructions for pressure cooker bombs and other homegrown attacks these calls were also heeded, although to a lesser extent.
Moreover, ISIS also released a video using areal footage taken by its drones [[43]]. That video featured Iraqi and Syrian ISIS bombers, including two Yazidi children, carrying out suicide missions. In addition, ISIS operatives or sympathizers shared photos on Telegram that featured ISIS combat drones carrying out attacks during night time [[44]]. In February 2017, ISIS released a video showing their operatives in Salah Al-Din, Iraq learning how to modify and weaponize drones [[45]].
In late March 2017, an Arab media outlet released an original file, which had been obtained from a hard a drive taken from ISIS headquarters in northern Syria, that showed Fadhel Mensi, a Tunisian national known in ISIS circles as Abu Yusri Al-Tunisi, who is an ISIS engineer working on increasing the weight that the drones could carry to 20 kilograms [[46]] increasing the damage they could do by dropping larger payload IEDs.
As mentioned earlier, ISIS developed its drones program without any support from state actors. That sets the jihadi militant group apart from terrorist organizations sponsored by Iran. Moreover, the program has been used to improved ISIS' effectiveness on the battlefield since August 2014. The brief summary of ISIS' employment of drones indicates that the group has rapidly improved its experience in using drones and has managed to improve its combat experience through use of the technology in surveillance missions, command and control, and in carrying out attacks against rival forces. The above review shows that the program has been largely used to harm the enemies of ISIS, but even more so to produce propaganda material to make ISIS look strong versus weakened under enemy assault and to instill fear in its rival forces, boost the morale of its own fighters and supporters, improve its brand, and increase recruitment. The material was also employed to provide its sympathizers across the globe with the knowledge required to use a cheap, non-suicidal tool of terror. The odds of drones being used by lone wolves in the West should alarm many [[47]]. There is a wealth of guides and instructions online, distributed by ISIS, for beginners to modify and weaponize off-the-shelf commercial drones and as stated earlier, ISIS's calls for homegrown attacks and instructions on how to carry them out has been heeded in the past.
February 2017 marked a spike in ISIS' use of drones and the release of propaganda associated with the program by ISIS media operatives and sympathizers. ISIS is on the defeat in Iraq and Syria and such deployment might enhance their chances of slowing the advancement of Syrian, and Iraqi forces and their American allies. Alerted to the danger of ISIS' surveillance and combat drones, the Iraqi forces are now using the Raysun MD1, a Taiwanese made multicopter jammer, to neutralize this danger [[48]]. During late July 2016, the American forces were also seen in Iraq using a new technology known as DroneDefender (i.e., an assault-rifle-like device that functions as a frequency jammer to down ISIS drones [[49]]. Reports that a drone flew over the American Embassy Baghdad were also circulated of late. Some analyst argued that the aforementioned measures were not enough to tackle this sort of threat. For instance, Peter Singer, the New America Foundation's analyst, reported [[50]]:
"The drone defender gun is not part of the regular kit," implying it should be, and continued that American soldiers are "going to face this potential threat across the world, in anything from battles to doing an embassy evacuation. And that's not good. We should have seen this coming and developed a plan and equipment, not just for us, but for allied forces."
Furthermore, talking to reporters during the Air Force Association's Air Warfare Symposium, Maj. Gen. Jay Silveria, deputy commander of U.S. Air Forces Central Command, argued that it's critical to go after ISIS logistics, finance, leadership, and storage when it comes to the jihadi group's drones program:
"Find how ISIS is training the pilots, where they're storing the aircraft—not just wait until the thing shows up and then shoot it down."
Indeed, if the group uses a swarming technique in a surprise attack it might be difficult to do so and jamming the drones could end up in them simply falling from the sky and exploding their payloads in any case.
In attempt to understand ISIS' leadership, logistics, finance, storage, and training relating to the militant group's drone program, the International Center for the Study of Violent Extremism (ICSVE) tasked a number of sources on the ground to collect intelligence. Constrained by the duration of data collection and resources, this report does not provide exhaustive details on the aforementioned aspects of ISIS' drones program. However, information was obtained that was related to the leadership, development facilities, training centers, operations, logistics, and the interaction between different entities involved in the program. The following section presents the information obtained by ICSVE. The details are compared to data released by researchers and analysts, when possible, to present a clear picture and to carry out analyses.
Bases, Leadership, and Logistics
The data obtained by ICSVE related to ISIS' drone activities within its territories in Syria. Trusted sources reported that they first saw ISIS drones during mid-January 2017. Previous reports show that ISIS has been actively using the technology at least since August 2014. As of mid-January 2017, ISIS had moved over 200 young militants known as Ashbal al-Khilafa ("Cubs of the Caliphate" in English) from the city of Raqqa to the town of Maadan. Members of the Cubs of the Caliphate were armed and equipped with suicide vests. A militant led the Cubs of the Caliphate by the name Harith al-Shmari (a.k.a. Abu al-Bara). The Cubs of the Caliphate shipped 12 small multicopter drones, each equipped with a small bomb using pickup trucks. Trusted sources connected the shipped drones to Abu Ukba al-Marakshi, one of ISIS' key engineers. Al-Marakshi, a French national, who use to operate from al-Bab, Aleppo appeared in Raqqa during late December 2016. He was seen with Ali Juma Al-Shwakh (a.k.a. Abu Luqman, the emir of Emni [the director of ISIS security forces]).[51] Abu Luqman attended an exercise in the use of combat drones. Al-Marakshi was reported to be the one testing the drone and it was reported that he demonstrated the use of the technology to Abu Luqman. Al-Marakshi took part in the modification and weaponization of multicopters. In late January 2017, he moved with the Cubs of the Caliphate to Maadan, Raqqa.
Training Center
In early March 2017, ICSVE learned that ISIS ran a center to train militants on the use of drones in surveillance and combat capacities. During that period, ISIS trainees were seen flying multicopters in the city of Raqqa. To be exact, the drones flew over the intersection of 23 Shbat and Tal Abyad Streets in Raqqa. Sources traced the drones to their launching point. In mid-March 2017, a number of trusted sources reported the location of ISIS' drone training center (see map below). The center used to be a female clothing outlet by the name Banat al-Yawm (translates literally to Today's Girls and loosely to Modern Girls). Other sources obtained information on the individuals running the center. These members are as follow:
Ahmad Banawi (a.k.a. Abu Uqba), a Syrian national from the Idlib governorate, is in charge of the center. Ahmad Banawi was seen in public, teaching ISIS operatives how to use surveillance drones. He instructed the operatives in the area opposite the center. He is reported to have a degree in aerospace engineering.
A Libyan national by the alias Abu Amarah al-Libi reports to Ahmad Banawi. Al-Libi coordinates with other centers that are involved in ISIS' drone program.
A French national by the alias Abu Muawia al-Faransi used to be connected to the training center. He is reported to be in France as of mid-March 2017. Sources could not obtain much on al-Faransi except that he is tall and blond.
An Iraqi national by the name Jibril (a.k.a. Abu Suhil) reports to Ahmad Banawi. He coordinates with entities that oversee ISIS' drone program in Iraq. Jibril originates from Rawa, Iraq
Map 1. Drones' training center (latitude, longitude): 35.9514406, 39.0125906
In mid-March 2017, ICSVE received information indicating that individuals running ISIS' drone training center in Raqqa were in constant contact with operatives who were affiliated with three other entities. The aforementioned entities were believed to be handling a number of drone-related operations. Data obtained at later dates uncovered that the three operational bases and the training center work closely with each other under one leader.
Initial Modification and Maintenance
After obtaining commercial drones, ISIS moves them to a base close to Panorama Park in Raqqa. The facilities used to be the headquarters of the environment directorate in Raqqa (see map below). This base is in charge of initial modification and the maintenance of ISIS' drones. It is noteworthy that the base is not exclusive to drone-related operations. It was reported that other electronic and mechanical operations are also carried out from that base. Some information regarding the names and nationalities of engineers and technicians who operate from that base was obtained by ICSVE. Their details are as follow:
A Jordanian national by the alias Abu Azam.
A Syrian national by the alias Abu Saad.
A Syrian national by the alias Abu Usama..
Map 2. Initial Modification and Maintenance Base (latitude, longitude: 35.9415194, 38.9928067)
IEDs and Weaponization
The entity that handles the initial modification of the drones works closely with another base. That base receives modified surveillance drones to weaponize them. This weaponization base's key operation is to produce IEDs, be they airborne or otherwise. According to sources close to ISIS, a man by the name Umar (a.k.a. Abu al-Zubair) is in charge of this base. He is an Iraqi national from Diyala, Iraq. He was an Emni (security forces) operative before being reassigned to his current position. His second in command is a Moroccan national by the alias Abu Yazid. Umar and Abu Yazid commute using a black Jeep. Sources reported the address of this weaponization and IED development base (see map below). The weaponization of drones is carried out from the basement of that building. Engineers, technicians, and IED experts cooperate to equip drones with bombs. In late March 2017, sources reported that operatives working from that base tested a drone carrying an IED weighing almost 5 kilograms. However, this center does not store weaponized drones. All operational drones are sent to a storage and distribution center. Drones that malfunction or have defects are sent back to the modification and maintenance center.
Map 3. IEDs and Drones' Weaponization Base (latitude, longitude: 35.9427865, 39.0200579)
Storage and Distribution
The storage and distribution center receives weaponized and surveillance drones from the former operational base. This entity also receives surveillance drones from the modification and maintenance center. The location of this base was reported in late March 2017 (see map below). Requests for combat drones from militant ISIS members are received by operatives managing storage and distribution. Combat and surveillance drones are provided.
Map 4. Storage and Distribution Base (latitude, longitude: 35.948772, 38.9979565)
to militants in areas of heavy fighting. In addition, this center cooperates with the training center to provide militants with trained members to operate surveillance or combat drones if needed. Moreover, this base handles the distribution of the drones within ISIS-controlled territories in Syria and Iraq. A number of Europeans operate from base. Their details are as follow:
A British national by the alias Abu Jarir is the director of the base.
A French national by the name Muhammad Jalalia reports to the director of the base. He oversees operations related to the storage of the drones.
A Swedish national known as Islam reports to the director of the base. He is in charge of the distribution of the drones.
Leadership
In mid-April 2017, sources reported to ICSVE that the highest ranked ISIS operative who is in charge of their drone program is a militant by the name Muhammad Islam. He is in his thirties and holds a degree in information technology for a British University. Muhammad is a European citizen of Malaysian descent. This suggests that he does not have Malaysian citizenship as the Malaysian government does not allow dual citizenship. In ISIS' ranks, Muhammad has the title of Emir that could refer to manager, director, or minister. He oversees drone-related operations. In late April 2017, ICSVE learned that a Syrian national by the name Yahia al-Abdullah was the second in command for Muhammad Islam, the Emir of ISIS' drone program. Al-Abdullah was born in 1987. He holds a degree in software engineering from Aleppo University. Based on information obtained by ICSVE, the organizational structure that governs the operational interaction between members involved in ISIS' drone program was inferred.
Recent Operations and Logistics
Information obtained from trusted sources indicates that in mid-April 2017, Muhammad Islam, the Emir of ISIS' drone program, directly supervised a joint operation between the modification and maintenance center and the IED and weaponization center. Muhammad was overseeing the operations, started sometime before March 2017, to modify commercial drones to increase their operational time, distance and flying capabilities, and the IED load they could carry. The new design was modified for drones to be equipped with 6 small IEDs. Moreover, the modification and maintenance center was working on the inclusion of a solar panel on top of the drone body to further increase its operational life. The drones were also painted with a wax-like coating. Twenty-seven drones were reported to be subjected to this modification. They were all small drones; their diameter being less than 70 centimeters.
In late April 2017, the storage and distribution center received a number of drones matching the description of the drones that were undergoing modifications through the aforementioned joint operations. Each drone was equipped with a solar panel. Full motion, high resolution cameras were installed on the lower and middle sections of the drones' bodies. However, no IEDs were installed. It is not clear whether the drones were only modified to carry out surveillance operations. It can be safely argued that those drones could be weaponized before being deployed to the battlefield. That said, that center also received drones of a different design in late April 2017. These drones were equipped with two small IEDs. The drones of this type were quickly distributed, only staying in the storage facilities for a few days. Drones that resemble the two above-described designs were seen in the training center slightly earlier than the documentation of them in the storage facilities. That suggests ISIS might have tested and trained its operatives using these drones.
In addition, sources reported to ICSVE that in early March 2017, the storage and distribution center shipped a number of surveillance and combat drones from Raqqa to the city of Mayadin, Deir ez-Zor. Those drones were carried using pickup trucks. This move corroborated an earlier report that argued an increasing significance of the city of Mayadin in the fight against ISIS [[52]].
Furthermore, as of early March 2017 ISIS' agents were reported to have obtained commercial drones from Lebanon and then shipping them to ISIS held-territories in Syria. A recent study on tracking the supply of components used by ISIS showed that ISIS was able to obtain detonating cords and detonators through an intermediary, Maybel, based in Lebanon [[53]]. This corroborates the information received from ICSVE's sources. Moreover, in late April 2017, it was reported that the Emir of ISIS' drone program, Muhammad Islam, used his second in command, Yahia al-Abdullah, to procure commercial drones and electronics required by the modification and maintenance centers. Based on information obtained from trusted sources, the procurement is not exclusive to the needs of ISIS' drone program. That said, ICSVE learned that ISIS trades antiquities and artifacts to pay for purchases made in Beirut, Lebanon. Al-Abdullah was reported to be a key operative in such dealings. The purchased products then get shipped to Homs, Syria. From there, ISIS agents smuggle them to Raqqa. To that end, extrapolating on information obtained by ICSVE, the procurement and logistics operations of ISIS drones program are illustrated in the following figure.
Conclusion
This report provides a brief review of ISIS' use of drones. The review outlines the operations the terrorist organization has carried out using off-the-shelf commercial drones. Noticeably, ISIS' capabilities and expertise in using drones in surveillance, command and control, and attacks have improved. It is noteworthy that in February 2017, ISIS' use of drones and release of material documenting such employment had increased dramatically. It appears that ISIS is on the defeat in both Iraq and Syria. ISIS' deployment of drones and disbursement of associated propaganda could have been to reinforce its brand as a terrorist organization and to do as much damage as possible while losing on the battleground. Through its recent propaganda ISIS claimed that its drones are eliciting fear and hysteria in its enemies. Moreover, the group is capitalizing on the technology and their employment of it, in claiming revenge, improving their credibility in the eyes of sympathizers, increasing the recruitment of new members, and positing drones as a cheap tool of terror to be used outside the Syrian and Iraqi theaters as well. Its sympathizers were called to use drones to inflict substantial damage and cause horror in civilian populations across Europe, the United States, and MENA. That turn of events is alarming and has multiple implications for national security.
Drones are increasingly being used by civilians in the public domain (e.g., taking aerial pictures and footage, mail delivery, etc.). This growing use of drones by the general public provides an opportunity for terrorist organizations to adapt methods they previously employed, which used other tools of terror such as delivery trucks, to drones. There seems to be a pattern in ISIS' encouragement of using tools unlikely to raise an alert, when attacking civilian populations. For instance, the approach of ISIS' new magazine, Rumiyah, towards the use of trucks as a tool of terror was justified in the following [[54]]:
"Though being an essential part of modern life, very few actually comprehend the deadly and destructive capability of the motor vehicle and its capacity of reaping large numbers of casualties if used in a premeditated manner" P. 10.
Modified and weaponized off-the-shelf commercial drones might present a less dangerous tool of terror for wannabe terrorists that prefer an alternative to suicide missions. Such uses could be hard to detect in urban settings, yet could lead to devastating aftermath if not intercepted. Compared to the delivery trucks, all this method requires is to get hold of instruction manuals that are available online, and ammunitions.
ISIS managed to disburse a large number of guides and instructions on the modification and weaponization of drones and ISIS-inspired lone wolves might be able to get hold of material required to produce IEDs through criminal networks [[55]]. Moreover, this new tool is likely to complicate the work of law enforcement agencies that are trying to prevent acts of terror. Giving that the use of drones for commercial and personal purposes is expected to increase in the future, policy makers may need to consider passing regulations. They could enact policies to restrict the sale of commercial drones without digital identification numbers. Police officers may then need to be equipped with the technology required to identify the number of operational drones. Such a numbering system could be linked to the identity of the operator. Police officers may need to be equipped with frequency jammers to down suspected drones although if they are loaded with explosives that is not always a good solution. Notwithstanding that the suggested measures might cause certain inconveniences for operators using drones for legitimate commercial and personal reasons, these measures are intended to allow law enforcement agencies to intercept and down drones that might target civilian populations.
This report used intelligence information that focused on operational bases, leadership, activities, procurement, and logistics. That knowledge, if confirmed, is expected to allow forces fighting ISIS to strategically disrupt and neutralize ISIS' drone operations. An earlier report presented evidence indicating that ISIS is highly bureaucratic when it comes to its drones program [[56]]. Based on information obtained by ICSVE, ISIS' bureaucracy regarding its drones program is task specific, systematic, and complex. The data shows a top to bottom organizational flow that pervades ISIS's operations and upholds it's "hear and obey" philosophy.[57] The Emir of ISIS' drone program, Muhammad Islam, oversees the operation of four entities that are involved in the program. These entities are, namely, the centers for modification and maintenance, IEDs and weaponization, storage and distribution, and training. The centers were reported to cooperate in joint missions and to carry out task-specific operations.
Furthermore, this report provides some details on a number of individuals who are involved in the program. This includes the program's top leader, his second in command, the directors of three out of the four centers, engineers, technicians, and operatives tasked with managerial functions. This endeavor also presented details on the interaction between operatives involved in the drones program. That glimpse allowed for the deduction of the organizational hierarchy of ISIS' drone program.
Through the second in command, of the Emir of the program, Yahia al-Abdullah, the leadership of the four entities procures from Beirut drones and the materials required for modifying them. ISIS agents were reported to trade artifacts and antiquities to pay for the purchased products. Those products get smuggled to Homs, Syria by ISIS operatives. ISIS' agents in Homs handle transporting the shipment of the products to Raqqa, Syria. Once the drones and technology required to modify it get to Raqqa, they get delivered to the modification and maintenance center. At most this center produces surveillance drones. It was reported that this center cooperated with the entity tasked with weaponizing the drones, the IED and weaponization center, to develop and improve ISIS combat drones. Commonly, the IED and weaponization center works on equipping the drones with airborne IEDs. The storage and distribution center receives surveillance drones from the entity in charge of modification and maintenance and combat drones from the one tasked with weaponizing them. ISIS militants submit forms requesting drones at the storage and distribution center. When needed, the storage and distribution center communicates with the drones' training center to provide militants with operatives trained in using the drones. The training center also teaches militants who are assigned to drone-based tasks. Using that insight, ICSVE was able to infer the procurement and logistics involved in ISIS' drone program.
Reference for this Report: Almohammad, Asaad & Speckhard, Anne (May 4, 2017) ISIS Drones: Evolution, Leadership, Bases, Operations and Logistics, ICSVE Research Reports http://www.icsve.org/research-reports/isis-drones-evolution-leadership-bases-operations-and-logistics/
---
[1] "Hezbollah says it has capability to bomb Israel from air," Haaretz, Nov 12, 2004
[2] Eugene Miasnikov, "Terrorists Develop Unmanned Aerial Vehicles," Center for Arms Control, Energy and Environment Studies at MIPT, Dec 2004, http://www.armscontrol.ru/uav/mirsad1.htm
[3] Hezbollah Mirsad-1 UAV Penetrates Israeli Air Defenses," Defense Industry Daily, April 20, 2005.
[4] Yoav Zitun, "Watch: Hamas UAV that can reach Tel Aviv," YNETNEWS, November 16, 2012, http://www.ynetnews.com/articles/0,7340,L-4306887,00.html
[5] Lorenzo Francheschi-Bicchierai"Israel Shoots Down Hamas Drone," Mashable, July 14, 2014, http://mashable.com/2014/07/14/israel-shoots-down-hamas-drone/#yAEFyiQgFgqs
[6] Yonah Jeremy Bob, "Islamic Jihad Member Convicted in Plea Bargain for Hacking IDF Drones," Jerusalem Post, January 31, 2017, http://www.jpost.com/Israel-News/Islamic-Jihad-member-convicted-in-plea-bargain-for-hacking-IDF-drones-480092
[7] Adiv Sterman, "Hezbollah drones wreak havoc on Syrian rebel bases," Times of Israel, September 21, 2014, http://www.timesofisrael.com/hezbollah-drones-wreak-havoc-on-syrian-rebel-bases/
[8] Rowan Scarborough, "How ISIS-controlled drones like this are striking new fear within the U.S. military," The Washington Times, January 24, 2017, http://www.washingtontimes.com/news/2017/jan/24/isis-drone-dropping-precision-bombs-alarms-us-mili/
[9] Yasmin Tadjdeh, "Islamic State Militants in Syria Now Have Drone Capabilities," National Defense Magazine, August 28, 2014
[10] https://vimeo.com/177453167
[11] Geoff Earle & Bruce Golding, "ISIS using surveillance drones to target Syrian military," New York Post, August 26, 2014, http://nypost.com/2014/08/26/isis-using-surveillance-drones-to-target-syrian-military/
[12] For more on ShamiWitness see Channel 4, "ISIS propagandist ShamiWitness: Man charged in India," June 1, 2015, https://www.channel4.com/news/isis-shami-witness-medhi-masroor-biswas-charged
[13] Kiran Moodley, "Isis releases drone footage of suicide bombings in Kobani," Independent, December 11, 2014, http://www.independent.co.uk/news/world/middle-east/isis-release-drone-footage-of-suicide-bombings-in-kobani-9917198.html
[14] Justpaste.it/jnabi7
[15] Steven Stalinsky & R. Sosnow, "A Decade Of Jihadi Organizations' Use Of Drones – From Early Experiments By Hizbullah, Hamas, And Al-Qaeda To Emerging National Security Crisis For The West As ISIS Launches First Attack Drones," MEMRI, February 21, 2017, Inquiry & Analysis Series No.1300, https://www.memri.org/reports/decade-jihadi-organizations-use-drones-%E2%80%93-early-experiments-hizbullah-hamas-and-al-qaeda#_edn135
[16] Ralph Avellino & Gilad Shiloach, "Video: ISIS Uses Drones In Oil Refinery Assault," vocative, Apr 17, 2015, http://www.vocativ.com/world/isis-2/isis-using-drones-in-iraq/
[17] Steven Stalinsky & R. Sosnow, "A Decade Of Jihadi Organizations' Use Of Drones – From Early Experiments By Hizbullah, Hamas, And Al-Qaeda To Emerging National Security Crisis For The West As ISIS Launches First Attack Drones," MEMRI, February 21, 2017, Inquiry & Analysis Series No.1300, https://www.memri.org/reports/decade-jihadi-organizations-use-drones-%E2%80%93-early-experiments-hizbullah-hamas-and-al-qaeda#_edn135
[18] Justpaste.it/pm4r
[19] Justpaste.it/q47o
[20]Shamikh1.biz/vb/showthread.php?t=253023,Ia601506.us.archive.org/35/items/azmulkumah2/azmulkumah2.mp4
[21]Shamikh1.biz/vb/showthread.php?t=253858.Ia801507.us.archive.org/19/items/BangazeeAlThbat2/bangazee%20al-thbat%202.mp4
[22] MEMRI Cyber & Jihad Lab, "ISIS Engineers And Scientists Collaborate On Projects In Telegram Channel," March 21, 2016, http://cjlab.memri.org/lab-projects/tracking-jihadi-terrorist-use-of-social-media/isis-engineers-and-scientists-collaborate-on-projects-in-telegram-channel/
[23] Justpaste.it/u80v
[24] Steven Stalinsky & R. Sosnow, "A Decade Of Jihadi Organizations' Use Of Drones – From Early Experiments By Hizbullah, Hamas, And Al-Qaeda To Emerging National Security Crisis For The West As ISIS Launches First Attack Drones," MEMRI, February 21, 2017, Inquiry & Analysis Series No.1300, https://www.memri.org/reports/decade-jihadi-organizations-use-drones-%E2%80%93-early-experiments-hizbullah-hamas-and-al-qaeda#_edn135
[25] Elizabeth Mclaughlin, "New Video Shows Intense ISIS Battle That Killed a US Navy Seal," ABC News, May 5, 2016, http://abcnews.go.com/International/video-shows-intense-isis-battle-killed-us-navy/story?id=38896834
[26] Justpaste.it/ung5
[27] Bloomberg News, "Islamic State fighters using drones with IEDs and spy cameras, says Pentagon," Telegraph, July 7, 2016, http://www.telegraph.co.uk/news/2016/07/07/islamic-state-fighters-using-drones-with-ieds-and-spy-cameras-sa/
[28] MEMRI, "Jihad and Terrorism Threat Monitor (JTTM) Weekend Summary," MEMRI, Special Announcements No.486, https://www.memri.org/reports/jihad-and-terrorism-threat-monitor-jttm-weekend-summary-215
[29] AlALAM, "Iraqi Army Targets ISIS Drone near Mosul," ALALAM, October 03, 2016, http://en.alalam.ir/news/1868370
[30] MEMRI, "ISIS Video Documents Group's Military Response To Campaign To Retake Mosul, Promises Resilience And Victory," Jihad & Terrorism Threat Monitor, November 13, 2016, https://www.memri.org/jttm/isis-video-documents-groups-military-response-campaign-retake-mosul-promises-resilience-and
[31] https://twitter.com/memrijttm/status/805404027198590980?lang=en, December 4, 2016
[32] Twitter.com/memrijttm/status/806811378543493121, December 8, 2016
[33] Justpaste.it/e_makhmor, posted December 8, 2016
[34] Justpaste.it/11iqe, December 19, 2016
[35] Multimedia, "IS Video Shows Several Suicide Bombings in Ninawa Recorded by Drones, Execution of Spy by Drowning," SITE Intelligence Group, January 03 2017, https://ent.siteintelgroup.com/Multimedia/is-video-shows-several-suicide-bombings-in-ninawa-recorded-by-drones-execution-of-spy-by-drowning.html
[36] https://vimeo.com/200866575/29d47a4f02
[37] BCNet Staff, "ISIS Dropping Bombs with Drones in Iraq," Boston Commons High Tech Network, March 2, 2017, http://bostoncommons.net/isis-dropping-bombs-with-drones-in-iraq/
[38] Steven Stalinsky & R. Sosnow, "A Decade Of Jihadi Organizations' Use Of Drones – From Early Experiments By Hizbullah, Hamas, And Al-Qaeda To Emerging National Security Crisis For The West As ISIS Launches First Attack Drones," MEMRI, February 21, 2017, Inquiry & Analysis Series No.1300, https://www.memri.org/reports/decade-jihadi-organizations-use-drones-%E2%80%93-early-experiments-hizbullah-hamas-and-al-qaeda#_edn135
[39] S02.justpaste.it/files/justpaste/d389/a14419344/9.jpg
[40] S04.justpaste.it/pdf/1396s-justpaste-it-647309.pdf
[41] S04.justpaste.it/pdf/137uq-justpaste-it-638825.pdf
[42] MEMRI, "Private Pro-ISIS Telegram Channel Promotes Use Of Weaponized Drones Against Targets In West," Jihad & Terrorism Threat Monitor, February 16, 2017, https://www.memri.org/jttm/private-pro-isis-telegram-channel-promotes-use-weaponized-drones-against-targets-west
[43] MEMRI, "ISIS Video Features Drone Footage Of Martyrdom Operations, Including Ones Carried Out By An Iraqi Man Who Returned From Europe And Two Yazidi Children," Jihad & Terrorism Threat Monitor, February 14, 2017, https://www.memri.org/jttm/isis-video-features-drone-footage-martyrdom-operations-including-ones-carried-out-iraqi-man-who
[44] Steven Stalinsky & R. Sosnow, "A Decade Of Jihadi Organizations' Use Of Drones – From Early Experiments By Hizbullah, Hamas, And Al-Qaeda To Emerging National Security Crisis For The West As ISIS Launches First Attack Drones," MEMRI, February 21, 2017, Inquiry & Analysis Series No.1300, https://www.memri.org/reports/decade-jihadi-organizations-use-drones-%E2%80%93-early-experiments-hizbullah-hamas-and-al-qaeda#_edn135
[45] https://player.vimeo.com/video/205103463
[46] Anthony Kimery, "Identity Of ISIS Drone Engineer, Plan To Improve Drones' Ability To Carry Explosives," Homeland Security Today, April 04, 2017, http://www.hstoday.us/single-article/identity-of-isis-drone-engineer-plan-to-improve-drones-ability-to-carry-explosives/ba7f425aa5de23cdc850dac0a72de0ec.html
[47] Ahmet S. Yayla & Anne Speckhard (Feb 28, 2017) The Potential Threats Posed by ISIS's Use of Weaponized Air Drones and How to Fight Back. ICSVE Brief Reports http://www.icsve.org/brief-reports/the-potential-threats-posed-by-isiss-use-of-weaponized-air-drones-and-how-to-fight-back/
[48] Tom O'Connor, "ISIS has no Air Force, but it has an Army of Drones that Drop Explosives," NEWSWEEK, April 17, 2017, http://www.newsweek.com/isis-air-force-army-drones-drop-bombs-585331
[49] Brendan Mcgarry, "Drone-Killing Gun Spotted at US Base in Iraq," Defense Tech, July 26, 2016, https://www.defensetech.org/2016/07/26/drone-killing-gun-spotted-at-us-base-in-iraq/
[50] Ben Watson, "The Drones of ISIS," Defense One, January 12, 2017, http://www.defenseone.com/technology/2017/01/drones-isis/134542/
[51] Speckhard, A., & Yayla, A. S. (2017). The ISIS Emni: The Origins and Inner Workings of ISIS's Intelligence Apparatus. Perspectives on Terrorism, 11(1). Retrieved from http://www.terrorismanalysts.com/pt/index.php/pot/article/view/573
[52] Almohammad, Asaad & Speckhard, Anne (April 3, 2017) Is ISIS Moving its Capital from Raqqa to Mayadin in Deir ez-Zor? ICSVE Brief Reports, http://www.icsve.org/brief-reports/is-isis-moving-its-capital-from-raqqa-to-mayadin-in-deir-ez-zor/
[53] Conflict Armament Research, "Tracing the Supply of Components used in Islamic State IEDs: Evidence from a 20-month investigation in Iraq and Syria," Conflict Armament Research Ltd., London, UK, February 2016, file:///C:/Users/Asaad/Downloads/Tracing_The_Supply_of_Components_Used_in_Islamic_State_IEDs.pdf
[54] Rumiyah, "Just Terror Tactics," Rumiyah, Issue 3, 2017, http://qb5cc3pam3y2ad0tm1zxuhho-wpengine.netdna-ssl.com/wp-content/uploads/2014/09/Rumiyah-ISIS-Magazine-3rd-issue.pdf
[55] Ahmet S. Yayla & Anne Speckhard (Feb 28, 2017) The Potential Threats Posed by ISIS's Use of Weaponized Air Drones and How to Fight Back. ICSVE Brief Reports http://www.icsve.org/brief-reports/the-potential-threats-posed-by-isiss-use-of-weaponized-air-drones-and-how-to-fight-back/
[56] Don Rassler, Muhammad al-`Ubaydi, & Vera Mironova, "CTC Perspectives – The Islamic State's Drone Documents: Management, Acquisitions, and DIY Tradecraft," Combating Terrorism Center, January 31, 2017, https://www.ctc.usma.edu/posts/ctc-perspectives-the-islamic-states-drone-documents-management-acquisitions-and-diy-tradecraft
[57] Speckhard, A., & Yayla, A. S. (2016). ISIS Defectors: Inside Stories of the Terrorist Caliphate: Advances Press, LLC.
Central Asian Jihadists' Use of Cryptocurrencies in Bitcoin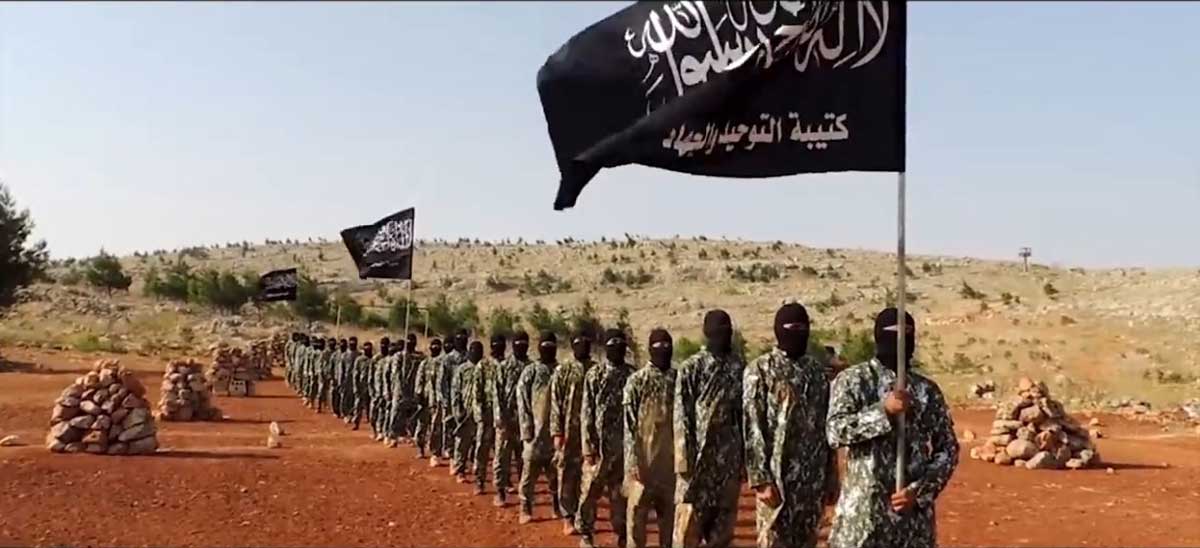 On August 13, 2020, the US Justice Department announced that it seized $2 million in Bitcoin and other types of cryptocurrency from accounts of three Salafi-Jihadi extremist groups, including al Qaeda and the Islamic State, relied on to finance their organizations and violent plots. According to their statement, the U.S. authorities seized over 300 cryptocurrency accounts, four websites, and four Facebook pages all related to Sunni-Jihadi militant organizations. Indeed, the disclosed criminal case documents indicate that this was the largest-ever seizure of cryptocurrency by US intelligence agencies in the context of terrorism.
US counterterrorism agents analyzed transactions of cryptocurrency on the blockchain, a secure form of public ledger for the online funds, and employed undercover operations as well as search warrants on email accounts to establish a money trail of Sunni terror groups that was detailed in an 87-pages of the Washington DC federal court report
The revealed papers indicate, in some instances, al Qaeda and its affiliated terrorist groups in Syria acted under the cover of charities 'Al Sadaqah' and 'Reminder for Syria'. In this regard, it should be noted that some al Qaeda-linked Central Asian Salafi-Jihadi groups also have frequently acted under the umbrella of the charity 'Al Sadaqah' for bitcoin money laundering and have solicited cryptocurrency donations via Telegram channels to further their terrorist goals.
But that doesn't mean that Islamist terrorist groups from the post-Soviet space raised funds precisely through this charity 'Al Sadaqah' of al Qaeda, whose accounts were seized by the US Justice Department. It has become a tradition in the Islamic world that charity organizations and foundations widely give to themselves the names 'Al Sadaqah' and 'Zakat', as the Quranic meaning of these words (Quran 2:43; 63:10;9:103)exactly corresponds to the purposes of "voluntary charity". Analysis of the finance campaigns of al Qaeda-affiliated Central Asian militant groups demonstrates that they frequently raised cryptocurrency donations through charities called 'Al Sadaqah' and 'Zakat'.
In order to explore the scale of the Central Asian Salafi-Jihadi Jamaats' crowdfunding campaigns, we analyzed their social media activities where they raised Bitcoins, dollars, Russian rubles and Turkish lira over the past two years.The methods and sources of the Uzbek and Uighur Islamist militants' crowdfunding campaigns in bitcoins are about the same as those of their parent organizations, the global Sunni terrorist groups ISIS and al Qaeda.Due to the inclusion in the list of terrorist groups, they carry out sophisticated cyber-operations for solicitation of cryptocurrency donations.
Before "mastering" the complex technology of cyber-tools in order to raise bitcoin funds in cyberspace, Central Asian jihadists used the simple 'hawala' money transfer system (informal remittance system via money brokers).Sometimes they have resorted to conventional 'hand-to-hand' cash transfer channels, where trust, family relationships or regional affiliations play an important role.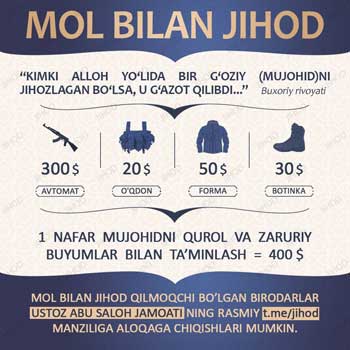 According to a UN report, Central Asian Salafi-Jihadi terrorist group Katibat Tawhid wal Jihad (KTJ), Katibat Imam al Bukhari (KIB) and the Islamic Jihad Group (IJG) leading jihad in Syrian Idlib province have close financial ties with its cells in Afghanistan. The UN Security Council's Sanctions Monitoring Team states that "regular monthly payments of about $ 30,000 are made to Afghanistan through the hawala system for KTJ."
The UN report asserts that "similarly to KTJ, KIB sends financial assistance, from its cell in Istanbul, through the hawala system to Afghanistan. Funds are brought in by informal money exchangers for Jumaboi from Maymana, the capital of Faryab. The original source of this income is the smuggling of fuel, food and medicine from neighboring Turkmenistan."According to the UN report, "suffering material losses, the Islamic Movement of Uzbekistan (IMU)and Tajik militant group JamaatAnsarullah (JA) are forced to engage in criminal activity, including transportation of drugs along the northern route in Afghanistan."For the Uighur jihadists of Turkestan Islamist Party (TIP) from China's Xinjiang province operating under the umbrella of Hayat Tahrir al-Sham (HTS) in northern Syria, "funding comes primarily from the Uighur diaspora" in Turkey, Central and Southeast Asia.
Dark Web & Bitcoin: New Endeavor of Central Asian Terrorists
With the development of digital cryptocurrencies as Bitcoin, Central Asian jihadists actively began to exploit this innovative financial transaction system to support their attacks and other terrorist activities. It is known that al Qaeda-backed Salafi-Jihadi groups of the post-Soviet space are seeking to purify Islam of any innovations (Bid'ah) and strictly following the Sharia law. They live similarly to how the Islamic prophet Muhammad and his companions lived in the seventh-century and always oppose any form of Bid'ah, considering it to be shirk and heresy. However, the Uzbek and Uighur Wahhabis did not shy away from using bitcoin innovation.
The first advertisements of Central Asian terrorist groups crowdfunding campaigns accepting bitcoin for Jihadi purposes in Syria appeared on the Telegram channel in 2017. In November of that year, a self-proclaimed charity group al-Sadaqah began a fundraising campaign on the internet from Western supporters to help the Malhama Tactical, the first private military contractor team from Central Asia working exclusively for jihadist groups in Syria.Al-Sadaqah in English on Telegram, explicitly relying on the English-speaking western sponsors, called on them to make bitcoin donations to finance the Malhama Tactical and the Mujahedeen fighting against the Assad regime in northeastern Syria.
As we have previously analyzed, Malhama Tactical is a private jihadi contractor operating in the Idlib-Aleppo region of Syria. The group, founded by an Uzbek jihadist Abu Salman (his real name is Sukhrob Baltabaev) from Osh City of Southern Kyrgyzstan in May 2016, is closely allied with Hayat Tahrir al-Sham (HTS), the strongest militant factions in northern Syria. The Malhama Tactical is known to have regularly conducted military training for jihadists of HTS, Ahrar al-Sham, Ajnad al Kavkaz and the Turkistan Islamic Party.After the death of Abu Salman in August 2019, Ali Ash-Shishani, the native of Russia's North Caucasus became the new leader of Malhama Tactical.
In 2017-18, al-Sadaqah charity on Telegram called on followers to donate via a "Bitcoin wallet anonymously and safely for the Mujahedeen brothers of Malhama Tactical". The charity group urged potential cryptocurrency contributions to benefit from "the ability to confuse the trail and keep anonymity".
We do not know how much bitcoin money al-Sadaqah managed to raise for the activities of the Central Asian Muhajireen. But according to Malhama Tactical's report on the internet, crowdfunding has been "fruitful." In an effort to explain how donations were spent, Malhama Tactical has advertised extensively to followers on 17 October 2018, in a video posted on Telegram, that a new training camp had been built and purchased airsoft rifles, night vision devices and other modern ammunitions.
Since 2018, Uzbek and Uighur militant groups KTJ, KIB and TIP have begun an agitation campaign to fundraising bitcoin money on the Internet. Judging by the widespread call for Bitcoin donation online, their need for anonymous, secure, and hassle-free funding streams have made cryptocurrencies of some potential value to them. These properties are the anonymity of fundraising, the usability of remittance and transfer of funds, the security of attack funding, acceptance of funds, reliability, and volume of web money.
And every time they announced a crowdfunding campaign, they clearly declared for what purpose the collected bitcoins would be used. For example, al Qaeda-linked KTJ's most recent call for bitcoin appeared on Telegram in May 2020 as a banner that asks to "Equip a jihadist". The poster showed a masked jihadist and the exploitation of the Quran's Hadith in Uzbek, calling on the believers to prepare and equip a fighter going on a raid for the sake of Allah.
Another picture shows a jihadist with a Kalashnikov AK-74 in his hand, over whose head enemy planes and helicopters fly. The picture gives a symbolic meaning about the empty-handed jihadists in Syria, fighting against the Russian and Syrian powerful military aircraft to protect the Islamic Ummah. Then goes on with KTJ's call to make donations in bitcoins and rubles to purchasing equipment and ammunition for the Central Asian Mujahedeen in Syria. On the bottom it was displayed the long address of the virtual wallet for Bitcoin donations along with KTJ's Telegram and web contacts promising the anonymity of potential donors.
On June 18, 2020, KTJ militants published the opinion of the well-known ideologue of modern jihadism Abu Qatada al-Falastini in Telegram from whom they asked whether the crowdfunding campaign of Bitcoin for the purposes of Jihad contradicts Islam. As it is known, there are still ongoing disputes among the world's top Islamic scholars about whether cryptocurrencies, such as Bitcoin, are deemed Sharia-compliant.
Abu Qatada from a religious point of view justified the acceptability of using Bitcoin to protect the Islamic Ummah and wage holy Jihad, but at the same time warned against full confidence in Bitcoin. In his opinion, the enemies of Islam can destroy this cryptocurrency in the future, and if it loses its current value, and then the devout Muslims who have invested their savings in Bitcoin could go bankrupt. Abu Qatada al Falastini is a greatly respected Salafi thinker among Central Asian jihadists and he gave a pep talk to KTJ when it pledged bayat (Oath of Allegiance) to al Qaeda leader Ayman al Zawahiri in 2015.
On June 25, 2020, KTJ posted another Crypto Crowdfunding campaign announcement on its Telegram channel to provide Uzbek jihadists with modern military gear and equipment. For clarity, the group published a picture entitled "Perform jihad with your property" in Uzbek, which indicates the prices for military clothing and weapons. For example, the AK-47 Kalashnikov assault rifle costs $300, unloading vest for AK-47 cartridges – $20, Field Jacket – $50, Military Combat Boots – $30.In total, $400 will be needed on the full provision of one Mujahid with weapons and uniforms. On the upper side of the picture is a Hadith quote about "He who equips a fighter in Allah's path has taken part in the fighting."
A month later, the group's Telegram channel reported that it had managed to raise $4,000, for which 8 sets of weapons and uniforms were purchased for the Uzbek Mujahedeen. Also, KTJ's media representative announced that the group is stopping the fundraising campaign for this project.
Other projects of the Central Asian Salafi-Jihadi groups were the Bitcoin crowdfunding campaign for the purchase of motorcycles for Inghimasi fighters (shock troops who penetrate into the enemy's line with no intent to come back alive), cameras, portable radios, sniper rifles and night vision devices. For each project, a separate closed account was opened on the website of jihadist groups in Telegram, after which the Bitcoin and Monero accounts, as well as contact information, were closed.
Another crowdfunding project posted on January 29, 2020, in Telegram, called 'Helping captive Muslim sisters' and claims to raise money to free Kyrgyz, Tajik and Uzbek ISIS women hold in the al-Hol refugee camp in northeast Syria controlled by the US-backed Syrian Democratic Forces. The KTJ jihadists posted pictures of Central Asian women with their children holding posters "We need help" in Kyrgyz, and asked the fellow Muslim believers to raise money to ransom them from the captivity of the Kurdish communists. It was not clear to us how much money was raised as a result of the crowdfunding campaign since this channel was later blocked by the Telegram administrator.
The annual largest crowdfunding project for the Central Asian Salafi-Jihadi groups is being implemented on the eve of the Muslim holidays of Eid al-Fitr and Eid al-Adha, during which believers pay Zakat (obligatory tax) and Sadaqah (voluntary alms).According to the Quran, recipients of the Zakat and the Sadaqah include the poor and needy, debtors, volunteers in jihad, and pilgrims.
The websites of the Central Asian Jihadist Jamaats revealed that their crowdfunding campaign to raise funds for the jihad was particularly active during Ramadan. Ramadan is known as a holy and generous month, but this year was especially generous to notorious al Qaeda-linked Central Asian extremist groups. KTJ, KIB, Uighur's TIP and Russian-speaking North Caucasian militant group Liwa al Muhajireen wal Ansar (LMA), that pledged allegiance to HTS, have boosted their military budget during Ramadan.
To avoid the risk of being blocked or tracked, they created a temporary mirror group called 'Zakat', where the donation money was received. Zakat's wallet received donations from Central Asian labor migrants in Russia in the amount of $150 to $220 each time to purchase livestock, which was then slaughtered in sacrificial prayer on behalf of the donors. After Ramadan and the holidays of Eid al-Fitr and Eid al-Adha, the 'Zakat' mirror group in Telegram was closed.
The Central Asian Islamist extremist groups have asked their supporters to make Bitcoin donations mainly at the following two virtual wallet addresses:
– 3HoWzYwaBbTg7sKGtHz3pAZxdHZoXUJRvG;
– 12SxsxvrE8zrtRveSeFJYA6sgbJZbyHDGk.
Our analysis confirmed that multiple transactions were made to these bitcoin addresses. In addition, other transactions were made in digital currencies, the addresses of which were blocked on Telegram.
Conclusion
In conclusion, the significance of the crowdfunding campaigns in bitcoin should not be given exaggerated importance, even though they have improved the position of the Central Asian Salafi-Jihadi groups in Syria and Afghanistan, and boosted their budget. Central Asian Salafi-Jihadi terrorist groups' technical abilities are not currently suited to bypass the financial controls of international counterterrorism organizations and discreetly conduct money laundering.
The history of their activities has shown that small Uzbek, Uighur and Russian-speaking Islamist extremist groups from the post-Soviet space and China have been assimilated with more powerful global Sunni terrorist organizations such as ISIS, al Qaeda and HTS. And accordingly, their potential for crowdfunding campaigns in bitcoin should be viewed through the prism of their global parent organizations.
In any case, the governments of Central Asia and Russia do not have sufficient mechanisms and leverage to combat illegal cryptocurrency transactions on the dark web by global Salafi-Jihadi movements waging jihad in the Middle East. As noted at the beginning of this article, such opportunities to monitor and investigate jihadist crowdfunding activities are available to the US government and financial institutions. For example, the U.S. Treasury" has access to unique financial data about flows of funds within the international financial and commercial system," which is invaluable for tracking illicit flows of money.
Consequently, Central Asian governments must rely not only on Moscow but also actively cooperate with Western counter-terrorism and financial institutions to disrupt the Salafi-Jihadi group's external crypto crowdfunding sources.
The Afghan intelligence services
Still today the Afghan Intelligence Services' ability to collect information is definitively scarce. This is mainly due to the limited specific training of staff and the very scarce and even improper use of the most recent technologies.
The Afghan Intelligence Services collect information mainly in major cities and in the areas most controlled by the government and this often leads the decision-makers who use this "complacent" or rhetorical intelligence to make severe evaluation errors.
The National Directorate of Security (NDS) does not correctly disseminate its news in the traditional "information cycle" of a Service and therefore it leaves decision-makers with scarce, incomplete and often inaccurate information. Established in 2001 and heavily supported by the United States, the NDS is based in Kabul but is strongly supported by Germany, GBritain and obviously the United States. It should be noted that its first Director was Mohammed Arif Sarwari, one of the leaders of the United Islamic Front for the Salvation of Afghanistan, i.e. the old "Northern Alliance".
It was precisely the NDS that in 2015 caused the fall of Kunduz into the hands of the Taliban, who were, indeed, a full invention of the Pakistani Intelligence Services, which were in search of an Afghanistan that could only play the role of "depth area" for a possible nuclear or even conventional confrontation with India. Ironically, it is from the Pakistani Intelligence Services that the United States received the largest or almost total amount of news and information precisely, or apparently, against the Taliban. Quos Deus lose vult, dementat.
Moreover, the current relations between the NDS, the National Security Agency of Afghanistan (NSA), i.e. another Intelligence Service in Kabul, the Defence Ministry and the Interior Ministry show a very poor ability of communication and exchange of news between them, which makes them often be late in their operations or even useless.
Or sometimes voluntary collaborators of what Westerners would call the "enemy", but for some operatives or executives of the NDS or of the other Afghan Intelligence Services could also be an "Islamic brother". Sometimes it has happened.
In the case of Kunduz, the very evident and aggressive Taliban operations were deemed ineffective or irrelevant. Nobody took seriously the news coming from the most reliable "sources" among the rebels. No agency of the Afghan Service took seriously or even studied the Taliban operations in Kunduz.
The NDS, however, was established mainly with the support of the American CIA.
But there is a strategic and conceptual problem that should not be overlooked at all: all NATO countries that participated or still participate in military operations in Afghanistan have very different ideas about their role in the war against the "rebels" and in the country.
The Resolute Support Mission, composed of about 13,000-16,000 soldiers from 39 NATO countries and from other countries, operates from Kabul, Mazar-i-Sharif, Herat, Kandahar and Laghman, and focuses mainly on the training of Afghan forces, as well as on military consultancy and assistance, hoping that the local Afghan forces will reach a level capable of ensuring at least fictitious national independence.
At least until 2014, akey year for the new relationship between NATO and the Afghan government, the Italians – who are still training the Afghan police very well – went there especially not to displease the usual U.S. Big Father that the Italian strategic system still sees as unquestionable and unassailable.
This participation "to bring democracy" has led to some positive effects for Italy, especially on the technological-intelligence level. But it has never been enough.
Nevertheless, the silly servility and sycophancy of Italian politicians, who closely resemble the character of Nando Mericoni played by Alberto Sordi in the movie An American in Rome, is still largely widespread. Italian politicians – even starting from the text of the Constitution – do not know or do not want to understand the eternal rules of foreign policy and strategic thinking, of which they know nothing yet.
Certainly you cannot obtain votes, additional funding and small favours from foreign policy. This is the level of Italian politicians, especially in current times more than in the past.
France, as long as it stayed in Afghanistan, interpreted its presence in Kabul as a way to control Asia's intermediate axis so as to avoid Indian, Pakistani, Chinese, Iranian and even American expansion.
The Brits went to Afghanistan to fight against a "terrorism" of which – like everyone in the West-they do not know the organizational and doctrinal roots or even the purposes, but see as the maximum destabilization of their unreasonably "multi-ethnic" and hence inevitably "multipolitical" societies.
This is the terrible case of a propaganda that stifles even the ruling classes that should be immune to it.
Certainly this was not even true in Afghanistan because the bad guy, namely Osama bin Laden, was often elsewhere. He was considered the only mastermind of the aforementioned "radical Islamic terrorism" – or whatever can be defined with this rather rough terminology – and hence to be killed, like a horse thief in the Far West. As has precisely happened, the killing of Osama bin Laden did not change anything.
He had to be killed because he had killed American citizens. True, right. But foreign policy is never the extension of any country's domestic criminal law.
There was even Germany present in Afghanistan to contemplate its military decline, but above all to show – even eighty years later – that it was no longer a Nazi country. As Marx would have said, le mort saisit le vif.
In short, the varied presence of NATO and of the initial coalitions of the willing in the War on Terror had no clear ideas and probably did not even know where it really was.
Meanwhile, since 2014 – the year of the actual withdrawal from Afghanistan by the United States and its attack forces (after rigged elections, but in any case, whenever the United States participate in operations abroad, it always has acoitus interruptus)– the Taliban have started their great and real campaign to conquer the territory and, above all, the Afghan "souls".
In 2015 NATO and the United States had planned to keep 13,000 military plus 9,800 U.S. soldiers for counter-terrorism activities. Later, however, the withdrawal from the Afghan territory – coincidentally after the great Battle for Kunduz – ended in December 2016, but leaving alive and operational as many as 8,400 soldiers on the ground.
Currently as in the past, the real problem for Afghanistan is Pakistan. General Musharraf, the former Pakistani President from June 20, 2001 to 18 August 18, 2008 (note the dates) and perpetrator of the 1999 military coup, clearly stated that the Inter Service Intelligence (ISI), i.e. the Pakistan single intelligence structure, supported and trained all terrorist groups in Pakistan so as to later send them to Afghanistan, with a view to carrying out "terrorist" attacks on NATO, Western and Afghan targets.
In 2015 -a key year for Afghanistan – in an interview with The Guardian, Musharraf clearly said that the ISI had always "cultivated" the Taliban mainly to destabilize the government led by Karzai (a man also linked to India) but, in particular, to carry out harsh actions against India.
Pakistan keeps on supporting terrorist groups operating in Afghanistan and in other parts of the world – not only the Taliban, but also the other groups.
Rahmatullah Nabil, the Chief of the NDS -i.e. the new Intelligence Service affiliated to CIA but entirely Afghan – also officially showed documents proving that the funds long granted by the United States to Pakistan to "fight terrorism" shifted to the Pakistani Service ISI, precisely to train, recruit and support terrorism.
Hence the forgetfulness – so to speak – of the Afghan governments with regard to intelligence comes from far away.
At the time of the Soviet invasion, the KGB and the GRU created their two local counterparts, namely the Khadamar e-Aetela'at Al-Dawlati (KHaD) and the Wazeelat e-Amniat-e-Daulati (WAD), respectively.
The two agencies disappeared when Najibullah's government fell in 1992, pending the great Russian crisis. As a result, however, also the Afghan State in all its forms collapsed. Therefore also the two agencies linked to the Soviet intelligence Services evaporated.
What there was, anyway, in the Afghan Intelligence Services before the Soviet invasion?
The first governments that had just come to power, after Russia's arrival, organized four agencies: Kargarano Amniyati Mu'asasa (KAM), i.e. the "Workers' Intelligence Service";Da Afghanistan da Gato de Satalo Adara (AGDA), i.e. the "Agency for Safeguarding Afghan Interests", Amin's real longa manus, and the aforementioned WAD and KhAD.
The President of the time, Noor Tarakai, had little power, while Hafizullah Amin made sure that both the Communist Party (or, more precisely, the Afghan People's Democratic Party) and the Agencies were divided in two, always following the policy line of the Khalq and Parcham factions.
The Khalq (meaning "masses" or "people") was directly supported by the USSR. It was largely made up of Pashtuns and was particularly popular among the working classes.
The very superficial Marxism shown by the faction was often only a way to defend the Pashto world from the pressures of other ethnic groups.
The Parcham (meaning "flag") was the most widespread faction of the party in the urban classes and in the middle and upper classes.
Eternal separation between rural and urban areas, a typically Maoist and classic crux of every practical and extra-Western interpretation of Marxism-Leninism.
The Parcham reunited laboriously with the Khalq faction during the 1978 Revolution, but it really came to power only after the Soviet operation, the local coup, i.e. Operation Tempest 333 of December 27, 1979, when the Alpha divisions of the KGB quickly took the Tajbeg palace and assassinated Hafizullah Amin.
Meanwhile, it was Amin himself who had ordered the assassination of his predecessor, Mohammed Taraki.
In the intermediate phase of his regime, Amin also had many Afghans assassinated – and not only his known opponents.
A possible, future "Cambodian" twist of Afghan Communism? Probably so.
At that juncture the USSR intervened since it did not want ideological deviations or Afghan approaches to Chinese Communism, as practiced in Vietnam or, precisely, in Khmer Rouge's Cambodia. Hence Operation Shtorm 333 was carried out which, apart from Amin's assassination, lasted approximately three months, to definitively "settle" the remaining issues.
With specific reference to the Afghan intelligence services, Hafizullah Amin mainly used the AGSA, but also the KAM, only to settle his scores. The two agencies, however, received technical assistance and training from East Germany and the USSR.
Nevertheless, the shift between the different ethnic groups is precisely the key to understanding the Afghan intelligence services prior to the U.S. and NATO operations. I believe that, in any case, ethnic factionalism – probably dating back to the old political-tribal faith – was the key to the functioning of the new Afghan Intelligence Services, even during the naive Western administration.
In January 1980 the KHaD fully replaced the KAM.
Furthermore, the KHaD was placed outside the administration of the Interior Ministry, dominated by the Khalq and then immediately transferred to the office of the Prime Minister, who later also became National Security Minister.
The Directors of the Afghan Intelligence Services always reported directly to the KGB and, in 1987, the standard situation was that the Afghan Intelligence Service employed almost 30,000 operatives and officials and over 100,000 paid informants.
Each element of the Afghan Intelligence Service had at least one KGB "advisor" behind them. As also shown in Syria, Russia paid but did not trust it too much.
Between 1983 and 1993, the Pakistani Intelligence Service ISI -established by a British officer – trained, with the support of CIA, almost 90,000 Mujahideen to send them fighting the USSR in Afghanistan.
The KHaD had also the statutory obligation to "defend the Communist regime" and "unite all Afghan ethnic groups under one single political system", especially in collaboration with the Ministry of Borders and Tribal Affairs.
Again in the 1980s, the KHaD always had both East German and Soviet instructors and numerous secret mass executions took place.
About 60,000 Afghans were sent to the USSR between 1980 and 1984.
Again in those years, as many as 10,000 KHaD officers received special training from the KGB.
In an old confidential document, CIA also estimated that the total cost of the Soviet engagement in Afghanistan was over 15 billion roubles, plus additional 3 billion roubles for the period when it did not directly occupy Kabul.
Since currently the 1979 rouble is still worth 22.26 Euros, in principle we can calculate a Russian occupation expenditure of 233 billion and 930 million, plus the extra three billion roubles.
The KHaD also created tribal militias on the borders, while the KGB organized the internal tribes on its own, mainly for sabotage and to spread dezinformatsjia.
After the USSR's final collapse and the arrival of the United States, however, a new Afghan Service, the NDS, was immediately created.
It was made up mainly of former KHaD agents and Mujahideen. Indeed, there was no other population available.
The Service, however, was known to be bad or even very bad: its operatives and analysts were selected only on a tribal level or by simple political affiliation.
They never went to school for education and training. They had no serious training centres and they did not professionally check their networks of informants.
Even the United States, however, spent a lot of money in Afghanistan: the Congressional Research Office has calculated a 1.6 trillion dollar spending in Afghanistan and Iraq only for the "War on Terror".
The Afghan Service costs the USA 6.4 billion dollars every two years.
And spending always tends to increase, regardless of the poor results reached.
What about China? First of all, China wants the political stability of Afghanistan, which is a neighbouring and Islamic country. In particular, it controls Kabul to prevent Uyghur jihadism from finding a safe and secure place there. It prevents the Uyghurs from having contacts with the Taliban. It has already happened.
Everything will happen when the United States definitively leaves Afghanistan, since China now regards that country as an essential pawn in its relationship with India, while – through Pakistan – China strengthens its relations with the Taliban, which the Chinese view as the next and inevitable masters of Kabul. This forecast is really easy to make.
Moreover, China provided 70 million per year to the Afghan government to support its counter-terrorism efforts, while there have long been Chinese soldiers in Badakhstan and, above all, in the Wakhan Corridor, where it is said that China has already created a military base and has even already deployed a brigade of the People's Liberation Army.
China has also put pressures on Kabul for Afghanistan to accept its satellite positioning system, instead of the GPS developed and managed by the United States.
Some Chinese troops, however, have also been stationing in Tajikistan for long time, again to protect the Wakhan Corridor.
Since his rise to power in 2014, however, also Ashraf Ghanihas thought to immediately improve his relations with China so as to use, first of all, China's influence on Pakistan to avoid the Pakistani support to the Taliban – which is unlikely – as well as ensure that China begins to invest significantly in Afghanistan, now that the civil and international war is on the wane.
The China-Pakistan Corridor, one of the first axes of the Chinese Belt & Road Initiative, is now worth 62 billion U.S. dollars of costs alone.
There is also a new railway line leaving from the port of Gwadar, the axis of China's projection, and arriving in the Pakistani province of Baluchistan and beyond.
In 2016 China also signed an agreement with Afghanistan for the Belt & Road Initiative, with the promise of 100 million U.S. dollars for infrastructure projects in Afghanistan, which have not been provided yet.
Trade between Afghanistan and China is fully asymmetric and, until Afghanistan is completely pacified – certainly by others and not by China -we believe that that the issue will not be very relevant, at least for China.
And until the triangulation between the Taliban, Pakistan and China – which has still many doubts about the reliability of the Pakistani "students" operating in Afghanistan (precisely, the Taliban) -is not even clear, the Afghan economic revival – if at China's expense – will be slow or unlikely.
The way in which the Chinese intelligence services operate
Since the time of Empress Wu Chao, who created the first Chinese intelligence service in 625 A.D., much has changed, but we could also say that some traits have not completely changed, as we might believe at first sight.
Later there was China's extraordinary adventure in the modern world, which began with the fall of the last Emperor Pu Yi, who was also guilty of collaborationism with the Japanese in Manchukuo and ended his days artistically drawing the phrase "today the people are sovereign" at the court of Mao Zedong.However, as early as 1934, the British intelligence Services deciphered MASK, the code used by the Komintern to encode information from Moscow to Shanghai which, at that time, was the CPC's pole.
However, it was in 1957 that the United States began to fly its U-2s over China, starting from Peshawar.
In 1966, two years after the beginning of the Great Cultural and Proletarian Revolution, there was the great purge of the intelligence services in China carried out by the very powerful Kang Sheng. He was the mover of the fall of Liu Shaoqi, Deng Xiaoping and Lin Biao, but then he was associated with the "Gang of Four" and hence suffered the usual damnation memoriae. A man of Mao Zedong who knew too much, but died in his bed.
Then, as is well-known, in 1971 Li Biao was killed while fleeing to the USSR with his plane.
Not surprisingly, again in 1971, Kissinger began to deal secretly with China. Lin Biao's death was the seal on the definitive strategic separation between China and the Soviet Union – which was what the United States was interested in.
In 1973 the first CIA "station" was created at the U.S. liaison office in Beijing, while China took the Paracel Islands and CIA left its main station in Taiwan.
In 1975 the first Chinese Electronic Intelligence satellite (ELINT) was launched, but the following year saw the death of Zhou Enlai, the true master of Chinese foreign policy and Kissinger's friend who protected Mao from his mistakes.
The Armed Forces returned to power: with the support of all the military, Deng Xiaoping quickly put Hua Guofeng aside and became the CPC Secretary, but reforms were still being studied. Initially Deng was not as reformist as currently believed in the West.
Hence in Deng's reformist phase, the U.S. diplomatic recognition was shifted from Taiwan to the People's Republic of China – and that was China's real goal at the time.
Shortly afterwards, China also opened diplomatic offices in the United States.
In 1981, however, the Americans developed programmes for controlling the Chinese agents operating in the USA, while Deng Xiaoping himself started China's nuclear rearmament.
The China National Nuclear Corporation was established in 1988.
Ten years later, in 1999, the Chinese Armed Forces built a base for intercepting military signals in Cuba but, in 2002, the Chinese cyber attacks on some U.S. networks – known as TITAN RAIN – began, while the FBI even opened a liaison office in Beijing, with assignments also extended to Mongolia.
In 2004, China put the Nanosatellite I into orbit, but there was also a further cyber attack – probably of Chinese origin – on the U.S. Army Information Systems Engineering Command, as well as on the Naval Ocean Systems Center, and finally on the space and strategic installation in Huntsville, Alabama.
In 2010, Google suffered an AURORA cyber attack. A long, powerful and initially uncontrollable attack.
Probably also Symantec, Northrop Grumman, Morgan Stanley and Dow Chemical were hit by AURORA cyber attacks – albeit this fact is not confirmed.
Hence data collection, mainly economic and technological intelligence for China, but also a complex relationship with the United States to be penetrated informally, but not to be damaged too much.
In any case, the reins of the Chinese Service (or rather, the intelligence services) were held by the State Security Ministry.
A legal difference should be underlined: while, legally speaking, the KGB was a Central Committee's Department, the Communist China's intelligence Service was a real Ministry.
The Interior Ministry was represented by the Public Security Ministry but, in general terms,it should be said that – unlike the old Soviet ones – the Chinese intelligence Services are less obsessive in their relationship with possible "sources", anyway preferring ethnically Chinese people.
Furthermore, the Chinese Foreign Service seems to prefer sources that – unlike what happened with the Soviet KGB – have no money or personal crisis problems, which become dangerous or ambiguous.
Again unlike the old Soviet ones, the Chinese intelligence Services do not willingly pay for news and information. They do not blackmail and they do not extort. Quite the reverse. They do not pay at all. If anything, they help Chinese abroad for relatives or other matters.
Hence rarely do the Chinese intelligence Services pay for the data they receive.
The Chinese intelligence Agencies are therefore interested in people who,only rarely, come within the range of attention of the enemy intelligence Services. Operationally speaking, this is an excellent choice.
Again unlike the old Soviet ones, China's intelligence Services do not organize rezidenture abroad. They also rarely hold clandestine meetings and almost never use covert communications.
"The floating bird is existence, if it dives it is non-existence". The mind is like the moon: it is reflected in the water at a speed that man does not perceive. The mind should not be stopped, but left free to grasp the void, the invisible, the Nothing.
The Chinese intelligence Services, however, organize closed areas where a "source" finds itself – with its pace and needs – providing the materials needed by the Chinese government.
The width of the network, however, is such that the slow and non-invasive pace of Chinese operatives is capable of reaching the same – or even larger – quantity of sensitive material collected by a Service that does not follow the Tao, i.e. the natural flow of events and people.
Moreover, the Chinese intelligence Service often operates with real academics, real students, real journalists and very real businessmen.
The cover is often irrelevant, but also very true. Indeed, it is considered a cover attracting excessive interest – like jealousy which, as Karl Kraus used to say, "is a dog's bark which attracts thieves".
Obviously, in this respect, the Chinese intelligence Services have a significant advantage, since they can legally use real journalists and real academics, while in the West – including in Italy – it is forbidden to use "journalists, clergymen, parliamentarians and town councillors" as agents. Stupidity has been tormenting the intelligence Services with a ferocity worthy of a better cause.
Hence no one who can really be useful. This leads the Western intelligence services to fabricate useless complicated "stories" that are often easily discovered by the adversaries.
Not to mention the forty-year defamation of the intelligence Service – as is the case in Italy – which causes other damage.
For the intelligence Services, the Chinese technological companies operating in the West must be economically self-sufficient and, indeed, make profit, without weighing on the Service's or State's coffers.
An often predatory "Western-style" profit is also allowed, at least as long as this does not negatively affect intelligence operations.
Therefore, the Chinese companies using up technology and data – which are the primary material of current Chinese intelligence – must be the most obvious and natural enterprises, without hidden compartments or ambiguous operatives that the host country's intelligence Services can discover – albeit possibly not so easily.
Another problem in the control of Chinese operations in the West is the difficulty – and, indeed, we could say the reluctance- with which our companies, including SMEs, report the often harshly blackmailing cyber attacks, or even the crises resulting from fraud and scams often carried out by managers and employees.
The obsession of being always listed on the Stock Exchange makes companies, including the small and medium-sized ones, excessively afraid of disclosing such adverse operations.
According to Leonardo-Finmeccanica, during the Covid-19 phase, there have been 230,000 malspam operations worldwide, 6% of which in Italy.
This year 51% of all Italian companies have suffered one or more significant cyber attacks, with a 125% average expansion for the domains called "Covid".
In China, however, there has recently been a change of the State system.
While in the past, before globalization, also thanks to an "imperial" psychology, the Service had above all to defend borders and, to some respects, also the "purity" of the Chinese ethnic balance, today – considering the global economic role played by China – the Service has to deal with 1) the security of raw materials supplies from abroad and 2) the stability of the productive system in a phase of great social transformations.
Hence the necessary current complexity of the Chinese Party's and State's decision-making system: the top level is the National Security Leading Small Group (NSLSG), which also has many informal strategic decision-making mechanisms within the Chinese ruling class. An elite that has always been more informal than we might think.
Certainly, at institutional level, there is also the Politburo Standing Committee, but there is still Hu Jintao, a man still essential to the power architecture of Xi Jinping, who listens to him carefully.
There is also the Foreign Affairs Leading Small Group, which is less involved in relations with the United States – of which the aforementioned National Security Leading Small Group is in charge – but mainly controls the work of the Agencies and connects them.
In addition to the intelligence Services' role, a fundamental role is also played by the various and often excellent academic and non-academic think tanks.
Also the results of these structures are assessed by the Small Groups.
But how is foreign policy decided in China?
First of all, there is the CPC but, more precisely, the "Politburo Central Committee", in addition to the aforementioned Politburo Standing Committee (PBSC).
With its 204 members and 167 "alternate" members, the Central Committee meets once a year.
The "Politburo Central Committee" is composed of 25 members, elected by the Central Committee. It meets once a month and five of its members do not usually live in Beijing.
The PBSC, the Central Committee Standing Group for Foreign Affairs, meets once a week and has nine members.
The Meeting is often coordinated by the Central Committee's Foreign Affairs Office.
Within the Standing Committee, the Foreign Affairs Office has a specific area responsibility, but we should not think that Chinese Communism is authoritarian, at least in the childish sense of the term.
The bigger the issue, the wider and freer the discussion. The leader's policy line is always to buildthe broadest consensus among his advisers.
With specific reference to the thorniest issues, the leader often appoints a "first collaborator" but usually the "central" meetings are routine for minor issues, even geopolitically, while the leader speaks and decides on the essential issues: the relations with the United States – still a constant obsession of the Chinese intelligence Service – with Japan, Taiwan or, most likely, the Russian Federation.
The policy line at the top of the decision-making system – and this also pleases Xi Jinping – is still the old and stable policy line developed by Jang Zemin, which was defined in 1999: "collective leadership, democratic centralism, individual preparation and decisions that always result from meetings".
In this way, the Standing Committee and the Central Committee's Foreign Affairs Office prepare briefings and distribute them among the Central Committee's offices.
Often there is no voting, but discussions are held until consensus is reached.
For example,a rare case of voting was when North Korea conducted a nuclear test in 2009 and China had to decide whether to withdraw its support for the country. Seven negative votes were cast against support for North Korea.
The establishment of the aforementioned National Security Leading Small Group (NSLSG)mainly followed the U.S. bombing of the Chinese Embassy in Belgrade.
A fact that has marked China's recent political history.
Hu Jintao, whom the PSBC defined as a "main personality", leads a complex office: eight Ministers from the State Council; two from the Foreign Ministry; the National Security Minister; the Minister of Commerce; the Taiwan Affairs Office, the Office dealing with Hong Kong and Macao; the Overseas Chinese Affairs Office and finally the Information Office.
There are also two Party's bodies: the Propaganda Department and the International Department.
The Armed Forces are represented by the Defence Minister and the Chief of Staff.
Therefore, the Chinese intelligence Services have a completely different style and modus operandi compared to the Westerners' intelligence practices. They also have a complex and technically refined organization of political control over the Services' operations, and finally a different finalization of the Chinese Agencies' operations in the West, at least for the time being.