Climate Change Proof to Convince Even an Irrational Skeptic
[yt_dropcap type="square" font="" size="14″ color="#000″ background="#fff" ] T [/yt_dropcap]he People's Climate March on Saturday, April 29, 2017, flooded Washington, DC, with over 100,000 protesters. Organizers claimed 150,000, with marches in 330 other cities across the country and in three dozen solidarity events abroad. Coinciding with President Trump's 100th day in office, the marchers also protested his anti-environmental actions.
The previous Saturday (April 22, 2017), thousands of scientists marched to protest the Trump administration's belittling of science. The demonstrations were planned for Earth Day to signal a particular concern with the enormity of current climate policy. Across the US and in hundreds of cities across the globe, more than 600 actions on every continent including Antarctica, they excoriated the president with disparaging signs likening him to all kinds of toxins generally orange colored. When have scientists marched like this? They are clearly worried.
Contrary to the administration's cavalier attitude, climate change is not a belief; it is a determined fact, measurable and rationally undeniable. Just about every major international scientific academy endorses it, including the US National Academy of Sciences.
The melting Arctic ice, the plight of polar bears, the pollution registered even in Arctic snow … none of it has been enough to deter this president. He asked theEnvironmental Protection Agency (EPA) in January to remove the climate change page from its website, which also carried links to emission data and scientific research. He wants to withdraw from the Paris Agreement, arrived at after great effort and now ratified by 144 countries out of the 197 participants. In typical Trump fashion, he later added he might stay on if the US got a better deal.
On March 28, he signed an executive order attempting to roll back the Clean Power Plan (CPP) and its restrictions on coal. He said it would bring jobs back to the coal mining communities.
While of much concern, it may not be as easy as he thinks. One might also have noticed the power companies (the main users of coal) are not rushing in to support Mr. Trump.
There is a good reason. The CPP generated discussion at all levels of society when it was proposed. The initial draft produced more than 4.3 million comments because the Environmental Protection Agency made extraordinary efforts to inform, conduct public hearings, hold joint discussions between regulators and power producers, and encourage collaborations between federal energy bodies. It was all designed to change the perspectives and motivations of stakeholders. In this, the EPA succeeded, so much so that even if the Trump administration prevails in its roll back, it is unlikely to find many takers.
At present, a full 44 percent of the US power supply is generated in coal-fired power plants. As of 2012, there were 572 such operational stations generating an average of 547 megawatts.
The pollution from this coal burning comes in many forms: toxic emissions, smog, soot, acid rain and global warming. To those who deny man-made CO2 as a contributor to global warming, there is an irrefutable answer. Carbon in CO2 released from the burning of fossil fuels presents a unique signature through delta13C negation. This is because plants have less of the 13C isotope of carbon than that in the atmosphere so that the burning of fossil fuels reduces the isotope in the atmosphere. It is measured as negative delta13C. The more negative the delta13C (as atmospheric CO2 increases), the higher the proportion of carbon from fossil fuels. Since 1980, delta13C has been on a consistent negative slope from -7.5 per mil to a -8.3 per mil in 2012 imputing human hands. Before the industrial revolution, it was -6.5 per mil. Put another way, our fingerprints are all over this crime scene.
The current EPA administrator, Scott Pruitt, has repeatedly expressed doubts about the issue. Yet the Intergovernmental Panel on Climate Change Fifth Assessment Report (2013) has enough detail to convince any rational skeptic.
For the Trump administration's climate change deniers, one can only present measurable, undeniable facts. The latest Arctic Report Card released December 13, 2016, by the National Oceanic and Atmospheric Administration does exactly that. The peer-reviewed report brings together the work of 61 scientists from 11 nations, and is key to tracking changes in the Arctic.
Even Indonesian farmers are responding to the effects of climate change. Surely the American public has the right to expect public officials to be better informed than farmers, although the latter naturally observe the problems first hand.
What is happening in the Arctic is frightening. The region has experienced record-setting surface temperatures for three years in a row accelerating the ice and snow melt. In the past quarter-century it has lost two-thirds of the volume of sea ice as well as snow cover. The result is increased exposure of water to sunlight and greater absorption of heat, which in turn melts more ice and snow in a vicious cycle (Martin Jeffries, James Overland and Don Perovich, Physics Today, October 2013). Worth noting of course is that the Antarctic is not immune.
There is a disturbing photograph of the Arctic showing a large green area in the middle. Ice cover is now so thin, sunlight is able to penetrate through, enabling plankton to grow in the water below.The effect of Arctic warming on weather in the mid-latitudes is another issue. As yet the scientific community is ambivalent because mathematical computer simulations have not proved significant, at least not on a global scale. Local effects are another matter: Loss of sea ice in the Barents and Kara Seas in the Arctic have been linked to cold, stormy conditions in Eastern Asia through both simulations and field observations. It can, of course, be a harbinger of future global effects when the Arctic ice melts further.
The effect of Arctic warming on weather in the mid-latitudes is another issue. As yet the scientific community is ambivalent because mathematical computer simulations have not proved significant, at least not on a global scale. Local effects are another matter: Loss of sea ice in the Barents and Kara Seas in the Arctic have been linked to cold, stormy conditions in Eastern Asia through both simulations and field observations. It can, of course, be a harbinger of future global effects when the Arctic ice melts further.
Whether all the evidence and the logic will gather much traction among the climate change deniers of the Trump administration is another matter. That is why the People's Climate March protesters were marching. So were the scientists. Their discipline, resilient yet based on fact, theoretical yet based on empirical evidence, bringing benefits to society as a whole, forces them to.
Author's note: This article appeared originally on truth-out.org
Report: Drought and conflict leave millions more hungry in 2017
Driven largely by climate disasters and conflict, levels of acute hunger surged in 2017, leaving some 124 million people across 51 countries facing hunger crises –11 million more than the previous year, according to a new United Nations report.
"Reports such as this give us the vital data and analysis to better understand the challenge. It is now up to us to take action to meet the needs of those facing the daily scourge of hunger and to tackle its root causes," said Secretary-General António Guterres in a video message on the report.
Presented by the UN Food and Agriculture Organization (FAO), the UN World Food Programme (WFP) and the European Union at a briefing Thursday, the Global Report on Food Crises finds that food emergencies are increasingly determined by complex causes such as conflict, extreme climatic shocks and high prices of staple food – often acting at the same time.
"We must acknowledge and address the link between hunger and conflict if we are to achieve zero hunger," said José Graziano da Silva, FAO Director-General.
The report points out that conflict continued to be the main driver of acute food insecurity in 18 countries – 15 in Africa or the Middle East – accounting for 60 per cent of the global total.
The increase is largely attributable to new or intensified conflict and insecurity in Myanmar, north-east Nigeria, the Democratic Republic of Congo, South Sudan and Yemen.
"The fighting must stop now and the world must come together to avert these crises often happening right in front of our eyes," underscored David Beasley, WFP Executive Director.
Mr. da Silva stated: "Investing in food security and livelihood in conflict situations saves lives, strengthens resilience and can also contribute to sustaining peace."
The report finds that food crises are increasingly determined by other complex causes as well, such as extreme climatic shocks and high prices of staple food – often acting at the same time.
For instance, prolonged drought conditions resulted in consecutive poor harvests in countries already facing high levels of food insecurity and malnutrition in eastern and southern Africa.
"The consequences of conflict and climate change are stark: millions of more people severely, even desperately, hungry," maintained Mr. Beasley.
The report also flags that entire communities and more children and women are in need of nutritional support compared to last year, indicating the need for long-lasting solutions to revert the trend.
Moreover, it highlights the urgent need for simultaneous action to save lives, livelihoods and to address the root causes of food crises.
The report, which brings together regional and national data and analysis from multiple sources, demonstrates that in addition to critically needed humanitarian aid, development action needs to engage much earlier so as to tackle the root causes of extreme vulnerability, therefore, building resilience.
"This Global Report on Food Crises shows the magnitude of today's crises but also shows us that if we bring together political will and today's technology, we can have a world that's more peaceful, more stable and where hunger becomes a thing of the past," Mr. Beasley concluded.
Maps with interactive data from the report can be found here.
Teaching youth to plant for the planet and change the world from the heart of Europe
A project run from a remote and beautiful part of the German countryside is transforming young people into climate scouts with a powerful message to share.
The Sustainability Guides and Climate Scouts project is run from the International Meeting Centre, St. Marienthal in Ostritz in the Free State of Saxony near the border with Poland.
Established in 1992, the centre conducts around 60 Education for Sustainable Development (ESD) events for more than 2,500 families, youths, adults and experts each year.
The guides and scouts project started in 1998 and welcomes groups of students for intensive courses that combine study with practical outdoor activities, and make good use of its forest experience trail and nature protection station.
Over 1,100 youth have taken part so far including 680 learning-disabled and socially disadvantaged young people who traditionally have very little access to ESD. Its geographical location means it is perfectly placed to bring together students from Germany, Poland and Czech Republic. And a new model project is currently underway which opens the door to ESD for refugees as well.
One of the most exciting aspects of the project is the Plant for the Planet scheme where children have planted around 34 hectares of forest and undertaken more than 30 small-scale energy and water conservation initiatives.
Project Manager Georg Salditt said: "Our message is really twofold: we are teaching peace and the environment. We are well placed at the very heart of Europe to bring young people together who may not normally have met and to demonstrate to them that we are all human beings and we must respect each other and the planet."
The work with refugees who come from Syria, Afghanistan and African countries and elsewhere also has a double aim.
"We want to make sure that if they make their lives here they know how important it is to protect the environment, but also if they are able to return home or to another country that they carry those messages back with them," said Georg.
Not only is the centre itself a model of sustainability with its own environment management system: when children leave the course they take back with them ideas on how to transform their own schools. The centre ties all theory very tightly to practice. In some schools, environmental representatives have been appointed and students introduced permanent energy saving routines for heating and ventilation and for the reduction of paper use and waste.
As part of the project young people also learn about the effects of climate change on societies in the form of soil erosion, extreme weather phenomena , rural depopulation, economies and the environment especially with regard to forest damage. They are motivated by quick feedback on successes in energy and water conservation and updates on the amount of forest planted.
Crucially children also take part in communication workshops to learn how best to share and pass on what they have learned at open school days or town halls.
For Georg one of the most satisfying aspects of his work is watching the transformation take place before his eyes.
"It might sound silly but students do actually write to me one or two years after the course and say that these five days changed their lives not only as far as the environment is concerned but as a human experience. Some had never met anyone from another country at all. And they got to plant a tree!"
And there is a new project already underway.
"We are now working to introduce a project to protect bees and insects. Everyone loves honey and honeybees so we think it will be a success," he said.
World looks to nature-based solutions for urgent water challenges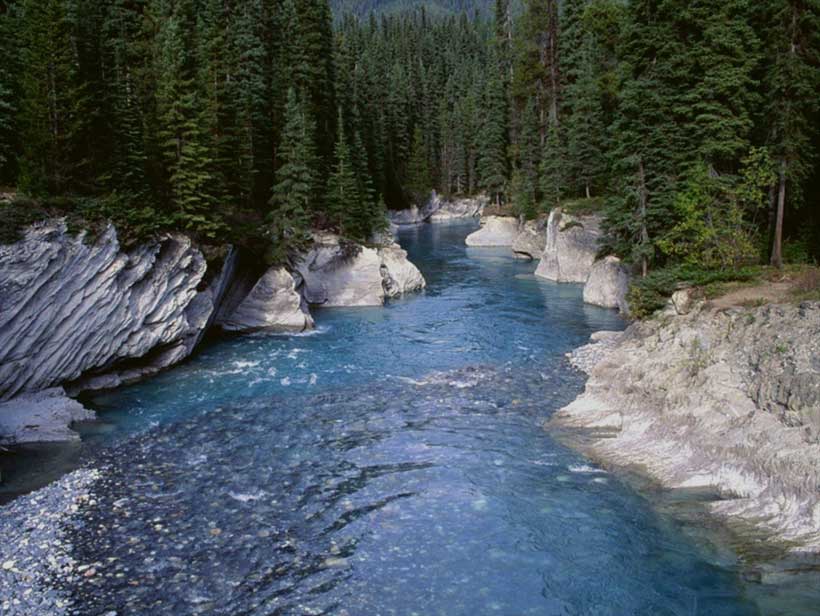 As more than 2 billion people lack access to safe drinking water and more than double that number lack access to safe sanitation, the international community is drawing attention to nature-based solutions for the water challenges of the 21st century on this World Water Day.
The theme of this year's commemoration highlights the unique and fundamental role that nature-based solutions play in regulating the water cycle, keeping freshwater clean and improving the water security of our water cycles.
With the global population continuing to grow rapidly, demand for water is expected to increase by nearly one-third by 2050, while our freshwater ecosystems are degrading at an alarming rate ­– 64-71% of the natural wetland area worldwide has been lost due to human activity in the last century. Furthermore, water pollution has worsened in almost all rivers in Africa, Asia and Latin America since the 1990's
"We need to deal with the water paradox," said Erik Solheim, head of UN Environment, calling attention to the need to work together towards a solution for our water challenge. "Water is the essence of life, but we don't save it enough. It's time to change mindsets, it's not about development versus the environment."
The 2018 edition of the UN World Water Development Report outlines a range of nature-based solutions for water management, from personal measure that can be applied in the home, to examples of "green" infrastructure that can be applied to rural and urban landscapes – such as planting new forests, restoring wetlands, and constructing green walls and roof gardens.
The report further clarifies that despite recent advances in the application of green infrastructure, a holistic approach to water management is to identify the most appropriate, cost-effective and sustainable balance between grey infrastructure and nature-based solutions.
"Today, more than ever, we must work with nature, instead of against it," said Audrey Azoulay, Director-General of UNESCO in the foreword of the report. "Demand for water is set to increase in all sectors. The challenge we must all face is meeting this demand in a way that does not exacerbate negative impacts on ecosystems."
World Water Day is celebrated every year on March 22nd. This year, the commemoration coincides with the World Water Forum, held in Brasilia, Brazil. The Forum is the world's biggest water-related event, organized by the World Water Council. The Forum brings together water experts from around the world to collaborate on making long-term progress on global water challenges. http://www.worldwaterforum8.org/