The two Koreas: Some considerations on the relationship between North and South Korea
[yt_dropcap type="square" font="" size="14″ color="#000″ background="#fff" ] I [/yt_dropcap]f the two Koreas reunified, as planned in 2000 with the joint declaration of June 15, we would have an unreasonable merging of two radically different political principles. South Korea has chosen to be a periphery of the American empire, which uses the US economy on the basis of its internal cycles and mature technologies that it exports by taking advantage of the low cost of manpower and of some raw materials.
North Korea played the Cold War card, supported only partially by China and Russia, which used North Korea as a block for the West and paid for said North Korea's commitment with political stability and some economic aid.
The Cold War, however, is really over and this holds true both for North and for South Korea.
We need to think of new worlds and new "super-concept rules", just to quote Wittgenstein.
Traditionally, unification is conceived as a Confederation, as supported by South Korea, or as a Federation with wide autonomy for both areas, as always supported by North Korea.
The two inter-Korean meetings held in 2000 and in 2007 – with the first one that even made the South Korean President be awarded the Nobel Peace Prize for his Sunshine Policy – recorded excellent economic results (including the free trade area of Kaesong and the tourist area of Mount Gumgang), but no effective political results.
Indeed, in November 2010, the North Korean Minister for Reunification officially dismissed the Sunshine Policy as a failure.
This always happens when politicians are only interested in conveying a good "image".
However, let us better analyzing the reunification policies which are currently being proposed, also by authoritative US think tanks.
The excessive psychologism – the flaw Husserl saw in the European philosophy of his time – still characterizes the North American analysis of strategic phenomena in Asia and the Middle East
Hence, both in North and in South Korea, the phenomenology of elites is often quite simplified and devoid of the necessary nuances.
The "states of mind" or the subjective tendencies of the real members of the two countries' ruling classes are not so relevant as they may appear at first sight.
"Les faits ont la tête dure" (Common sense is not so common) – just to quote Voltaire – and elites do not live on psychology, but enjoy verifiable and significant privileges that someone has to pay anyway.
Meanwhile, the Constitution establishing the North Korean Workers' Party repeats still today that conquering South Korea militarily is the primary strategic (and economic) goal of the North Korean regime – not to mention the fact that North Korea's ruling class is selected with military and national criteria, while South Korea's ruling class is more technocratic and less prone to accept the line of military confrontation.
The difference is not marginal. Pending an inter-Korean conflict, South Korea's elites would escape to the United States – thinking of being at home – while the North Korean ones would fight their war until final victory.
Furthermore, in this Asian context, our American friends quote the example of "de-Baathification" in Iraq after Saddam Hussein's fall.
Never was an example more dangerous for the theses it intends to uphold.
The abolition of Baath, namely the Party-State, and the selective and loyalist mechanism of the ruling class in Syria and Iraq was, on the contrary, a real strategic folly which voided Iraq and certainly made it viable – just to use the typical terminology of US strategic analysis – not to the bipartite "democracy" which is so fashionable in the Anglo-Saxon world, but rather to the Iranian regime and later to the Sunni sword jihad of Daesh.
This means also viable to the division of the areas of influence in a country like Iraq, having a Shiite majority and a Sunni area which, through the jihad, has now become mass of geopolitical manoeuvre for the Gulf powers.
Every manipulation of the historical heritage of peoples and Nations is bound to lead to their fragmentation into new areas of influence, which have often not even been foreseen by the crazy "social engineers" who believe – as happened to the first US Governor of Baghdad – they can use the same laws in force in Boston to regulate road traffic in the Iraqi capital city.
Turkey, too, has got its hands on Iraq – obviously with a view to settling the Kurdish issue.
Furthermore it seems to flout any "line" worked out within NATO, of which Turkey is a member.
From the Balkans' wars – waged to avoid the globalization of Russian oil and gas towards Europe and the Mediterranean region – to the massive use of the Afghan jihad to destabilize and disrupt the post-Yugoslav political system, to the stable destabilization – if I may use this oxymoron – of the Maghreb region with the silly "Arab Springs" to be completed with the end of Syria and its ethnic and religious splitting up, it seems that the current US global strategy is designed to disrupting every geopolitical region.
Nevertheless if all countries become "liquid" and viable, every political contagion will tend to spread and worsen.
Just think of Macedonia's current situation and the not-so-secret plan to achieve a Great Islamized Albania, capable of standing up to the Slavic and, hence, pro-Russian Serbia.
Reverting to the US line in this Korean region, the idea is that of a reunification creating a favourable interest for the North Korean ruling classes.
How? The North Korean system based on songbun, namely the traditional caste system, is further divided into 51 subgroups.
Obviously, as everywhere, the main criterion is loyalty to the regime – hence I do not see how the North Korean elite can accept a soft reunification, in which North Korea will inevitably lose a share of power to preserve hegemony – although with fewer elitist "privileges" – in a possible peaceful reunification with South Korea.
According to the most reliable calculations, approximately 4.4 million North Koreans can be part of the local "ruling class", but – as those who are acquainted with Pareto's and Veblen's theories know all too well – all elite classes are intrinsically factionist and must have strong symbolic and material incentives to back the regime that supports them.
Psychology and the democratic myth are not enough.
Suffice to recall the phenomenon of Ostalgie, namely the nostalgia felt by many German citizens and voters for aspects of life in East Germany after reunification – Nost-Algie for permanent and regular jobs, for the lack of unemployment, for the authoritarian but effective Welfare of the old Sociality Unity Party of Germany (SED).
Money, however, never pays for the symbol – hence intangible incentives must always be greater than the tangible ones.
There is also talk about a selective amnesty for North Korea's defectors.
Why?
How could South Korea support this new share of frustrated ruling classes coming from Pyongyang and finally what would be the strategic aim of this operation?
We may assume that the aim would be voiding the North Korean regime from inside – but are we really sure that the South Korean ruling class can safely double its size, possibly incorporating the North Korean songbun classes that are already accustomed to unlawful transactions?
Furthermore, reunification would bring no concrete benefit to South Koreans.
Quite the reverse. It would be necessary to support a population – about 50% of North Korean inhabitants – who is well below the typical economic standards of South Korea's working class.
According to our estimates, for the five years following reunification, this would create a public debt at least 24% higher than expected – which is already approximately 40% – in a situation of weak growth, due to the crisis and saturation of the US market and the contraction of the domestic market.
Being a client State never pays.
In other words, this kind of reunification would certainly lead to the default of the South Korean government.
Furthermore, currently South Korea is bearing the brunt of political uncertainty, after the impeachment of President Park Geun Hye – not to mention the already described decrease of domestic consumption, resulting from an excessive cyclical link to the US economy and the decline of exports to China.
With a 2.6% planned growth throughout 2017, South Korea certainly has not the potential to absorb or make credible its debt generated by the costs of reunification, regardless of its being an elitist or mass reunification.
Even demography does not help, as the South Korean population is expected to start falling structurally next year.
Certainly we must consider the North Korean manpower, but the labour force has a cost of training, obviously adding to the cost of the means of production which should guarantee jobs precisely to the North Korean workers.
It is worth recalling that it took over twenty years to achieve homogeneous social and economic conditions between West Germany and the old German Democratic Republic (DDR) – a goal that has not been reached yet despite the Euro manipulation and the huge German investment.
Moreover, at the time of Vereinigung, Germany was the third world economy and certainly not the respectable, but much smaller South Korea's economy.
And what about China? Obviously it is not interested in the Korean reunification.
In fact, if this were to happen, it would be the repetition – in the Third Millennium – of the unification of Northern and Southern Italy and, in this case, the economic and political "line" would be dictated by South Korean and not by North Korea.
As can be easily imagined, China does not like this.
China has every interest in freezing any geopolitical issue in Asia, by operating with peripheral States – as in the Roman legend of the Horatii and Curiatii – by dividing and later linking them with bilateral agreements.
In Asia, China wants to avoid everything may lead to the creation of a new strategic bloc capable of dictating certain conditions to its geoeconomic and military system.
Considering that South Korea is always a US client State, China would regard reunification as an undesirable increase of the North American potential in the safety buffer zone of its Eastern and Southern coasts.
In many ways, however, not even the United States would benefit from the Korean reunification.
While there is no longer such a reason to keep large troops in South Korea, the correlation of US interests is inevitably expected to change, thus leaving the Korean Peninsula uncovered while the United States is supposed to redeploy its Armed Forces in the Pacific, around the South China Sea and in the Japanese safety buffer zone.
Currently neither China nor Japan appreciate this new scenario of the American military power in Asia.
If the United States maintained a large amount of troops in the new reunified Korea, everybody would regard this as only having the aim of opposing China.
Not even Japan would benefit from a German-style reunification between the two Koreas.
Both South Korea and, potentially, even North Korea, are now global competitors of Japan – not to mention the strategic bloc represented for the country by an imperial "co-prosperity area" that a reunited Korea would undermine.
There is no Japanese geopolitics not targeted to the whole Southeast Asia – it is not possible otherwise.
And this holds true both for the Empire – the Dai Nihon about which Haushofer spoke in the 20th century – and for the Japan regionalized by the United States.
Unlike Italy, Japan was defeated in World War II, but it is still able to think big and really understand geopolitical issues without demonizing its past and worshiping its old enemy.
Hence, what can be done? It is simple.
Reopen the Six Party Talks circle, as well as fund specific projects in North Korea and help its people with humanitarian aid, but above all, with a peaceful reindustrialization policy going towards Russia, China, the EU and, possibly, also the United States.
The Asian Bank for European Infrastructure and the European financial institutions should take immediate action – and Italy is present in the Bank of Asia. In a new type of nuclear negotiations, we should also rethink the civilian potential of North Korea's nuclear system for it to sell energy to its neighbours.
Obviously the resumption of the Six Party Talks should be based on a reconstruction of North Korean free trade areas and on an effective relationship with Russia and China, which should become the new guarantors of the Korean Peninsula's nuclear and economic balance.
The Uyghur militant threat: China cracks down and mulls policy changes
China, responding to United Nations criticism, academic and media reports, and an embarrassing court case in Kazakhstan, has come closer to admitting that it has brutally cracked down on the strategic north-western province of Xinjiang in what it asserts is a bid to prevent the kind of mayhem that has wracked countries like Syria and Libya.
The Chinese Communist Party's Global Times charged in its Chinese and English editions that the criticism and reports were aimed at stirring trouble and destroying hard-earned stability in Xinjiang, China's gateway to Central Asia and home to its Turkic Uyghur and ethnic minority Central Asian Muslim communities.
The crackdown, involving introduction of the world's most intrusive surveillance state and the indefinite internment of large numbers of Muslims in re-education camps, is designed to quell potential Uyghur nationalist and religious sentiment and prevent blowback from militants moving to Central Asia's borders with China after the Islamic State and other jihadist groups lost most of their territorial base in Iraq and Syria.
Concern that national and religious sentiment and/or militancy could challenge China's grip on Xinjiang, home to 15  percent of its proven oil reserves, 22  per cent of its gas reserves, and 115 of the 147 raw materials found in the People's Republic as well as part of its nuclear arsenal, has prompted Beijing to consider a more interventionist policy in the Middle East and Central and South Asia in contradiction to its principle of non-interference in the affairs of others.
The Global Times asserted that the security situation in Xinjiang had been "turned around and terror threats spreading from there to other provinces of China are also being eliminated. Peaceful and stable life has been witnessed again in all of Xinjiang… Xinjiang has been salvaged from the verge of massive turmoil. It has avoided the fate of becoming 'China's Syria' or 'China's Libya,'" the paper said.
Five Chinese mining engineers were wounded last week in a suicide attack in the troubled Pakistan province of Balochistan, a key node in the US$ 50 billion plus China Pakistan Economic Corridor (CPEC) intended to link the strategic port of Gwadar with Xinjiang and fuel economic development in the Chinese region. The attack was claimed by the Balochistan Liberation Army (BLA) rather than Uyghurs.
The Global Times admitted that the Chinese effort to ensure security had "come at a price that is being shouldered by people of all ethnicities in Xinjiang."
China has not acknowledged the existence of re-education camps but the U.N. Committee on the Elimination of Racial Discrimination said last week that it had credible reports that one million Uyghurs, were being held in what resembled a "massive internment camp that is shrouded in secrecy."
The UN assertion of the existence of the camps is corroborated by academic research and media reports based on interviews with former camp inmates and relatives of prisoners, testimony to a US Congressional committee, and recent testimony in a Kazakh court by a former employee in one of the camps.
Writing in The Wall Street Journal, US Republican Senator Marco Rubio, the chair of the congressional committee, called for the sanctioning of Xinjiang Communist Party Secretary and Politburo member Chen Quanguo and "all government officials and business entities assisting the mass detentions and surveillance". He also demanded that Chinese security agencies be added "to a restricted end-user list to ensure that American companies don't aid Chinese human-rights abuses."
Stymying the international criticism and demands for action before they gain further momentum is imperative if China wants to ensure that the Muslim world continues to remain silent about what amounts to a Chinese effort, partly through indoctrination in its re-education camps, to encourage the emergence of what it would call an Islam with Chinese characteristics. China is pushing other faiths to adopt a similar approach.
Concern that Uighur militants exiting Syria and Iraq will again target Xinjiang is likely one reason why Chinese officials suggested that despite their adherence to the principle of non-interference in the affairs of others China might join the Syrian army in taking on militants in the northern Syrian province of Idlib.
Syrian forces have bombarded Idlib, a dumping ground for militants evacuated from other parts of the country captured by the Syrian military and the country's last major rebel stronghold, in advance of an expected offensive.
Speaking to Syrian pro-government daily Al-Watan, China's ambassador to Syria, Qi Qianjin, said that China was 'following the situation in Syria, in particular after the victory in southern (Syria), and its military is willing to participate in some way alongside the Syrian army that is fighting the terrorists in Idlib and in any other part of Syria."
Chinese participation in a campaign in Idlib would be China's first major engagement in foreign battle in decades.
China has similarly sought to mediate a reduction of tension between Pakistan and Afghanistan in an effort to get them to cooperate in the fight against militants and ensure that Uyghur jihadists are denied the ability to operate on China's borders. It has also sought to facilitate peace talks between the Afghan government and the Taliban.
Chinese officials told a recent gathering in Beijing of the Afghan-Pakistan-China Trilateral Counter-Terrorism dialogue that militant cross-border mobility represented a major threat that needed to be countered by an integrated regional approach.
Potentially, there's a significant economic upside to facilitating regional cooperation in South Asia and military intervention in Syria. Post-conflict, both countries offer enormous reconstruction opportunities.
Said Middle East scholar Randa Slim discussing possible Chinese involvement in the clearing of Idlib: "You have to think about this in terms of the larger negotiations over Chinese assistance to reconstruction. Syria doesn't have the money, Russia doesn't have the money. China has a stake in the fighting." It also has the money.
Sino-American Strategic Rivalry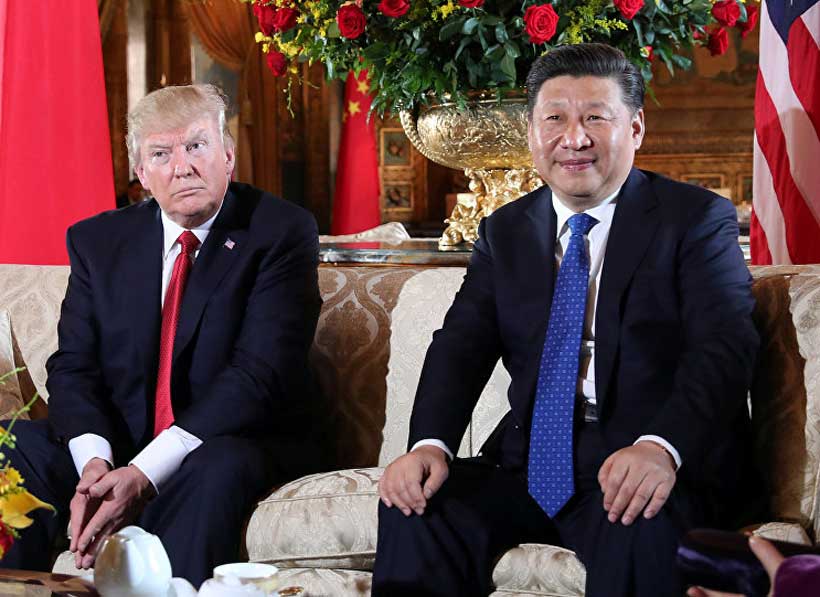 From a strategy point of view, Clausewitz and Sun Tzu are similar in least in one respect: Sun Tzu's idea of moving swiftly to overcome resistance is similar to the one endorsed by Clausewitz and practiced by Napoleon.
The modern day example can be traced to the 2003 "shock and awe" campaign by the U.S. in Iraq and the Iraqi reliance on a strategy similar to Russian defense against Napoleon's attack in his Russian Campaign of 1812. Napoleon's invasion of Russia was the beginning of the end of his ambition. He won many battles but lost the war.
And America is suffering from the same fate as the struggle for a new Iraqi political identity is not going to go the American way. The same can be said about Afghanistan.
This is precisely why discussions on war must be assessed from a geopolitical point of view as Clausewitz has noted that "war is an extension of politics". And the reverse is also true, one may add.
A quick tour of modern history reveals the true winners and losers of wars, by comparing a country's power before and after a war. The United Kingdom and Germany were both losers of the two World Wars. And the difference of losses between them is a matter of degree.
But the U.K. suffered greater and irreversible losses than Germany.  The British ceded its number one geopolitical leadership position in the world to the United States. But Germany has been able to regain its position as Europe's great economic and political power, while the prospects of the U.K. taking back the world leadership position from the U.S. are next to none.
America has been a geopolitical winner overall since the two World Wars. But its power has been in relative decline. It has failed to advance its power after the wars in Afghanistan, Iraq, Libya, and most recently Syria. It has failed so far to advance the momentum created by the Arab Spring as it has since become the Arab Winter, or to make much headway in Latin America, in Ukraine, and in Africa.
America's key failures in the past decade are failures in being able to offer tangible economic benefits to target countries while expanding its military involvements. The country can win military battles because of its overwhelming fire power but has not been successful in its after-war "nation building" efforts.
Despite China's numerous shortcomings, many developing countries quietly wish they could become a mini-China economically. They want to live better with more consumption but they probably want to do it by being able to build up their country's infrastructure and an industrial base.
America's recent announcement that it will invest $113 million in technology, energy and infrastructure initiatives in the Indo-Pacific as part of a new strategy to deepen ties with the region has received jaw-dropping reception – sarcastically speaking.
As an example, a survey of North American light rail projects shows that costs of most LRT systems range from $15 million to over $100 million per mile. So how far $113 million or even $1.13 billion can go even if one is to factor in some discounts if projects are implemented in lower cost Indo-Pacific countries? Remember, $113 million is for countries as in plural!
This pales in comparison to China's Belt and Road initiative (BRI) that ranges between $1 trillion and $8 trillion. BRI is not without its problems and critics. Concerns have been raised about increases in some participating countries' level of national debt as a result of massive infrastructure building. But because of the scale of the initiative, even if it could only succeed at the lowest end of the range, would offer some real and substantial benefits to countries that can benefit from it.
While freedom and democracy are ideals that have universal support in the abstract – the key words here are "in the abstract" – successful nation-building efforts are realized in the nitty-gritty of people's everyday economic well-being. This is particularly true among developing countries.
Cheap Chinese smart phones have enabled Africans to get market information to transact with one another more beneficially, to acquire news and information, to lower transaction costs through mobile payments. Inexpensive Chinese motor bikes have become life-saving vehicles for rural populations carrying goods to markets as well as the sick to clinics or hospitals many miles away that they previously could not do.
While the U.S. is no doubt keen on promoting democracy, it is the Chinese that provide affordable smart phones to the masses that allow the spread of information.
While some of the best and the brightest, the elites, the upper middle class in developing countries may desire to have an opportunity to earn an Ivey League degree, to emigrate to the U.S. for better opportunities, to acquire an American passport as an insurance policy, it's the Chinese that are doing the grunt work of building and training local personnel to conduct trains, to train electrical power linemen to install and repair of overhead or underground power lines as well as to maintain and repair of other electrical and hydro-electrical subsystems and components.
Regardless of how one's view of China's strategic intents in its international involvements, the strategies between the U.S. and China cannot be more different. China builds and America destroys.
But many countries especially in the Indo-Pacific region are taking advantage of the rivalry between these two powers to extract the best deals for themselves and you can't blame them. Economically they want to cooperate with China but militarily they want to get a free ride from the U.S. and the U.S. does not mind that as long as it falls within America's China Containment strategy.
And time will tell which strategy will work better – economic cooperation or military encirclement?
The 70th Anniversary of the Koreas
Seventy years ago, the Korean nation was divided into two separate states. On August 15, 1948, the Republic of Korea was founded in the south of the Korean Peninsula, and on September 9, 1948 the Democratic People's Republic of Korea was founded in the north.
A Longstanding Confrontation
The Korean War of 1950–1953, which saw the United States fighting on the side of the South under the UN flag, was the bloodiest and most destructive conflict since World War II. De jure, the two Korean states are still at war. This is because the Korean Armistice Agreement signed on July 27, 1953 to stop the war is nothing but an agreement between the commanders-in-chief of the two armies to suspend military hostilities. Two powerful military contingents with cutting-edge weapons and equipment are still at the ready on both sides of the 38th parallel that divides North and South Korea. And these contingents are not just made up of Korean troops. Under the Mutual Defense Treaty Between the United States and the Republic of Korea, U.S. contingent of 28,500 troops is deployed in South Korea. When Pyongyang started to develop nuclear weapons and missiles to prevent the United States from intervening in the inter-Korean military conflict, this further exacerbated the situation.
"The Asian Tiger" and a "Rogue State"
Today, South Korea is referred to as the "Asian Tiger." It is a highly developed and prosperous state: it is the world's second-largest shipbuilder; the third-largest manufacturer of semi-conductors and displays; the fifth-largest automobile manufacturer; and the six-largest producer of steel. South Korea invests 4 per cent of its GDP into research, more than any other OECD member, and it has the fourth-largest number of patent applications for inventions, behind the United States, Japan and China. Seoul has its own space programme and has plans to send its first probe to the Moon's orbit by 2020 and another to its surface by 2025.
North Korea certainly lags behind South Korea in its economic development; however, statements about the country's cultural and technological backwardness are largely the work of western media. And we are not only talking about the fact that Pyongyang would not have been able to develop its own nuclear programme that the world is so concerned about if it did not have a high level of scientific and industrial development. No one can deny that the new blocks of high-rise buildings in Pyongyang are practically indistinguishable from those in Seoul, that Pyongyang's metro is a year older than Seoul's, and that North Korea launched its artificial satellite before South Korea did.
Since North Korea has its own nuclear programme, the United States has declared it a "rogue state" and has not only imposed its own sanctions on the country, but has also managed to have very harsh sanctions imposed on it by the UN Security Council. It is curious, however, that the timing of the sanctions against North Korea (after the country carried out its first nuclear test) coincided with the North Korean economy emerging from the very severe economic crisis of 1995–2000, after it had overcome famine and started to show signs of economic growth. Even more paradoxically, economic growth in North Korea picked up pace significantly in 2012–2013, when the sanctions were tightened. This was primarily due to the fact that when Kim Jong-un came to power, he launched active, albeit quiet, market reforms in the country.
From Confrontation to Dialogue
The tension around Korea has been one of the greatest threats to international security in recent years. Today, the global community is focused on forcing Pyongyang to abolish its nuclear programme. However, this alone will not eliminate the threat of a new Korean war involving the United States, South Korea's military ally. Shutting down North Korea's nuclear programme requires, first, a reconciliation between the two Koreas and, second, solid guarantees to Pyongyang that the United States will not take aggressive measures.
2018 was marked by important positive events in Korean affairs. On April 27, President of South Korea Moon Jae-in met with the leader of North Korea Kim Jong-un in Panmunjom. Naturally, this summit between the heads of two Koreas (only the third ever) did not resolve all the problems that had accumulated in the bilateral relations over the decades of confrontation. However, it did open the way to move on to specific talks on trade and economic cooperation and a military and political détente.
We also saw the first ever U.S.–North Korea dialogue on the North Korean nuclear programme, with a summit between Donald Trump and Kim Jong-un being held in Singapore on June 12, 2018. Even though the summit's declaration contains nothing more than generic phrases, one thing is without doubt: no nuclear or conventional war will take place in Korea in the near future. The handshake between Donald Trump and Kim Jong-un is a real contribution to the cause of peace in Korea and throughout the world.
A Complex Knot of Problems
The North Korean leadership is clearly interested in a détente on the Korean Peninsula. While the Byungjin line proclaimed by Kim Jong-un several years ago entailed building a powerful nuclear potential and creating a prosperous economy, in April 2018 the Plenum of the Central Committee of the Workers' Party of Korea said that success in building the nuclear potential allowed North Korea to focus all efforts on building a socialist economy.
The proof of Pyongyang's words is contained in its actions. Not a single nuclear test has been carried out for almost a year now, and missile tests have not been held for over six months. North Korea's Punggye-ri Nuclear Test Site has been shut down.
Pyongyang appears to have a precise step-by-step programme of possible bargaining with both Seoul and Washington on mutual security commitments. Kim Jong-un, however, is clearly dragging his feet in developing the positive work started at the summits with Moon and Trump. The reason appears to be that he is not confident that both his opponents will stick to the deals. Back in the day, the conservative President of South Korea Lee Myung-bak had no qualms about abolishing his predecessor's "sunshine policy" in the country's relations with North Korea, while George W. Bush did not hesitate to get rid of Bill Clinton's "North Korea Appeasement Policy." Is there any guarantee that in a couple of years, peace-loving Moon will not be replaced with some North Korea hater, or that Trump, Kim's counterpart in Singapore, will not be impeached?
The nuclear disarmament of North Korea and the provision of security guarantees to Pyongyang is too complicated a knot of problems to be cut in a single stoke, and by the sole hands of the United States. The solution requires multilateral international efforts, and this cannot be done without the involvement of China and Russia, two countries that have historical and geographical ties with Korea. It would appear that both the Koreas are counting on the participation of Russia and China. This much is clear from the fact that Kim Jong-un has visited China twice over the past two months, and President of the Presidium of the Supreme People's Assembly of North Korea Kim Yong-nam and President of South Korea Moon Jae-in have both paid official visits to Moscow.
The optimal way would be to go back to the six-party talks on the Korean nuclear programme: the two Koreas, the United States, China, Russia and Japan. The talks should be structured as step-by-step negotiations using the principle of "action in exchange for action." It would be wise at the initial stage to propose that North Korea's nuclear programme be separated from its missile programme. North Korea's nuclear status is set forth in the country's Constitution, and this subject currently appears non-negotiable for Pyongyang. At the same time, a freeze on the missile programme and guarantees of non-proliferation of missile and nuclear technologies can be negotiated. Given that Pyongyang has essentially introduced a moratorium on missile launches and nuclear tests, the issue of lifting some sanctions from North Korea may be raised at the UN Security Council to stimulate Pyongyang to further roll back on its nuclear and missile programme. For instance, to get North Korea to stop developing ICBMs, freeze the production of nuclear materials and open its nuclear facilities for international inspections.
Political Steps
Several purely political steps would also be useful. For instance, it would be good to correct the entirely unnatural situation in which the United Nations, as a party to the Korean War (in that war, Pyongyang's enemy fought under the UN flag), is still officially at war with North Korea, one of its members. For that purpose, the upcoming session of the UN General Assembly could adopt a UN Security Council declaration stating that the Korean War is in the past and that the UN Security Council is putting an end to that chapter and, therefore, the UN Command is no longer needed in Korea.
To further promote the inter-Korean détente, it would probably be useful for North Korea and South Korea to conclude an agreement between commanders-in-chief of the two countries on preventing dangerous military activities; such an agreement could serve as a landmark on the road to concluding a Peace Treaty to replace the 1953 Armistice Agreement. This would mean that any incidents that may arise due to dangerous military activities would be promptly stopped and settled through peaceful means without resorting to the threat or use of force. The document could be based on provisions of the 2015 Agreement between the Government of the Russian Federation and the Government of the Democratic People's Republic of Korea.
Korean Affairs and Russia
The best way to diffuse tensions between neighbouring states and establish relations based on mutual trust is to run joint, long-term and mutually profitable economic or scientific and technological projects in. Russia could play a prominent part in such work on the Korean Peninsula.
The two Korean states are immediate neighbours of Russia, and Russia is interested in having good and mutually beneficial relations with both. And there is a good basis for this to happen. Historically, Russia has never had any disputes with either of the Koreas. Russians have never set foot in Korea as an aggressor. On the contrary, the country has always welcomed Korean people into its territory: 2014 marked the 150th anniversary of Korean resettlement in Russia. In 1945, it was the Soviet Army that liberated Korea from the colonial power.
There are no disputes between Russia and either of the Koreas today either. The leadership of South Korea, for instance, stresses its interest in taking its relations with Russia to the level of "strategic partnership." It is noteworthy that, despite the persistent pressure of the Unites States, South Korea did not join the sanctions against Russia imposed after the events in Ukraine.
During his three meetings with Vladimir Putin over the past year, Moon Jae-in has unfailingly stressed collaboration with Moscow on denuclearizing the Korean Peninsula, establishing peace there and developing Eurasia. Economically, South Korea that has virtually no mineral or other resources and is highly interested in exploring the natural wealth of Siberia and the Far East. At the same time, Russia is a promising market for South Korea's industrial products.
South Korea is also ready to collaborate with Russia in those areas where Russia has globally competitive technologies. This much is evident from the participation of Roscosmos in the construction of South Korea's Naro Space Center, the flight of a South Korean astronaut with two Russian cosmonauts in a Russian spacecraft, the launch of the Russia–South Korea Naro-1 (KSLV-1) launch vehicle, and the fact that South Korea imports Russian uranium for its nuclear power plants to meet over a third of its needs. Bilateral humanitarian ties are also being developed. South Korea is the only country in Northeast Asia that has a visa-free travel agreement with Russia.
During President Moon Jae-in's state visit to Moscow in June 2018, the parties agreed to expand bilateral cooperation in the areas of civil aircraft building, automobile manufacturing, shipbuilding and the construction and modernization of shipyards in Russia. The parties intend to expand cooperation in space research, the exploration of the Northern Sea Route and the joint development of oil and gas fields. Concluding a Free Trade Agreement would be a landmark moment in the development of trade and economic cooperation.
As regards North Korea, Russia's relations with the country were on a downturn in the 1990s. Vladimir Putin's visit to Pyongyang in 2000, the signing of the Treaty on Friendship, Good-Neighbourly Relations and Cooperation in February 2000, and settling the issue of North Korea's debt to Russia in 2012 all paved the way for the restoration a full-fledged partnership between Russia and North Korea. Such a development was intended to give a powerful impetus to trade and economic relations both in the Russia–North Korea bilateral format, and in a trilateral format with the participation of South Korea, thus contributing to building bridges in inter-Korean cooperation.
During the Russia–South Korea summit held in Moscow this past June, the two parties expressed interest in trilateral projects between Russia, South Korea and North Korea, such as: linking the Trans-Korean Main Line to the Trans-Siberian Railway; building a pipeline between Russia and North and South Korea; and connecting the power grids of the three countries. The problem is, however, that implementing these trilateral projects is currently hampered by sanctions imposed on Pyongyang due to its nuclear programme, as is the development of bilateral trade and economic cooperation between Russia and North Korea.
Further dialogue on the matter is expected at the Eastern Economic Forum in Vladivostok in September 2018, to which Vladimir Putin has invited the leaders of both Korean states.
***
The two Korean states are celebrating their 70 th anniversaries while gradually retreating from confrontation algorithms formed by the Cold War. It is in the interests of everyone that a reconciliation of the two Koreas is achieved and a solution to the nuclear problem on the Korean Peninsula is developed.
North and South Korea should become full-fledged members of the comprehensive security system in Northeast Asia.
First published in our partner RIAC