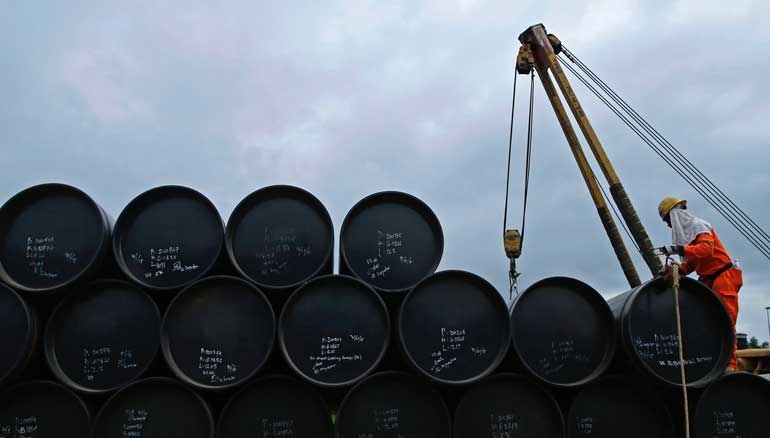 It has been a topsy-turvy story for the most traded and (politically and economically) significant commodity in the world. Welcome to the world of Crude Oil. Back in 2014 when the war between Sheikhs and Shale begun, Saudi Arabia deliberately balked to play the role of, what has been called, Swing Producer of the world. By refusing to turn off the taps Saudis envisaged a future that will, acting out of the principle of survival of the fittest, drive out high-cost producers (most importantly US Shale).
But the strategy went awry. To their, and everyone surprise, even opposite. After a year in 2015 it was Kingdom burning through their cash reserves at a precarious rate. Subsidies were cut, holidays curtailed, salaries slashed. Government largesse, of which the Saudi masses are acquainted with, were shrunk at an uncomfortable rate. There was an imminent chance of a social unrest, if things had continue to be so. Fortunately, they didn't. After much ado, OPEC was able to strike a last minute deal with Non-OPEC producers. Oil prices, after touching a nadir of $26, climbed up, gradually smashing through the $50 psychological mark. Articles and opinions were replete with positivity and that the act of rebalancing has begun. But across the pacific matters were quite different.
US Shale boom, Fracking 2.0. It has been called many names. The technological innovations in drilling and fracking coupled with certain softwares rendered the US shale industry a chance to stand in the face of low oil prices. The world saw how costs in US plunged almost 30-40%. In some areas such as Permian Basin it is even low. Instead of ousting the Shale producers, the days after the Vienna oil accord (signed 30th November 2016) saw an utterly different phenomena: rise in Shale production. Let us have a look at fundamentals. Right now the inventories stand at 527.8 million barrels down from the historic high of 535 million-not at all a bullish level, indeed. The rig count is also high: 697, highest since August 2015. The US shale production increased by 17,000 barrels per day this month. Total production has risen from 8 million barrels per day to 9.2 million barrels. Expected to touch 9.7mbpd by 2018. Bearishness spread all over! We are back at square one: oil prices are back to the pre-deal level and there has been a deluge of selling in the markets. Bloomberg reported today (5th May, 2017) "The number of contracts traded in a minute — usually in the hundreds early in the trading day — surged above 7,000 on WTI at 4:28am London time".
Now coming back to Middle-East. The KSA, after the prices stabilized has become stable as well. Deputy Crown Prince Muhammad Bin Salman is trying to ease things up. In a gerontocracy which doesn't likes the idea of a young man getting hold of the bridles of the country, it is no doubt an achievement for the young scion that he has been able to kick-start projects that will diversify the Saudi economy disconnecting, to a great extent, its dependence on oil. About 90% of Saudi revenue comes from Oil exports. But now The Saudi Vision 2030 and the National Transformation Plan, attempts to wean itself from oil, calls for a bright future, provided both the plans are implemented in letter and spirit. But why are we talking about these projects and plans? Because they lead us to what is being dubbed as the creation of the largest sovereign fund in the world. Behold, Aramco. According to some estimates it is the largest company on earth big enough to swallow Alphabet Inc., Berkshire Hathaway, Microsoft and still leaving some room for Apple Inc! Albeit its history has been shrouded in controversy due to the absence of any proper documentation and transparency now it is going public. There will be an IPO, late 2018, in which 5% shares of Saudi Aramco will be floated which is supposed to create a $1trillion sovereign fund. Once again, why Aramco? That is because it takes us to the deal. To the question that whether, on 25th May when the OPEC and NOPEC oil producers meet, the deal that was originally decided to be implemented for first six months of the year, will be extended or not? It takes us to the nuances that why KSA in the first place not only convinced OPEC and NOPEC producers to reach an entente but also went an extra mile cutting production more than what it had initially promised. It was because KSA needs oil prices more than $50 not only for the impending IPO but also for maintaining their economic health. It has reduced its tax from 85% to 50% to make Aramco more lucrative. Moreover, other Middle Eastern producers also need a stable oil as their revenue mostly depends upon oil, no surprise! Libya and Nigeria were exempted from the deal but they are in doldrums partially because of security issues and partially, economically. See what is happening in Venezuela. In a single phrase it is ripping apart, all because of low oil prices. With a war engulfed Syria a fuming refugee crisis, Middle East cannot afford another tumult as the consequence of low oil prices. Hence, my guesstimate is that there will be an extension, may be it is not for whole 6 months. Although, Saudi Oil Minister admonished the 'free-riders' at CERAweek and recently echoed that it is too early to decide, I think the Kingdom has to succumb to ground realities. This will give a support to oil prices for the remaining year.
I will conclude with a catch-22 situation: Suppose there is an extension and that the oil prices rise. What this augurs for the Shale producers (Read USA)? Euphoria! With cries of hurray their derricks are going to ooze out more black gold as higher prices makes it feasible to do so. Subsequently the rising prices will start to feel downward pressure and either come down or, in the best case, become stagnant.
A question to the readers: What is then the fun in extending the deal? Bitter, yet a reality.
Rummaging through trash to find clean energy
Landfills around the world are filling up. In 2016, humanity generated over 2 billion tonnes of waste. In the next 30 years, that figure is expected to grow to 3.4 billion.
Where will all this waste end up?
A recent report by UN Environment's International Environmental Technology Centre outlines one technology that has the potential to reduce the volume of waste entering landfills by up to 90 per cent.
Waste-to-energy plants have been around for over 100 years, but today their use is on the rise, with many seeing the plants as a quick-fix solution to growing waste challenges. This phenomenon is especially apparent in Asia, where some 1,200 of the 1,700 plants worldwide are found. Japan alone maintains over 700. China is on track to increase the number of their plants by over 50 per cent, according Yuanyang Ou of SUS Environment, a Chinese investor and operator of waste-to-energy plants.
The core concept remains largely the same as a century ago. Burn solid waste at high temperatures so that the waste is eliminated and use the excess heat to power turbines and create electricity.
Historically, this would also produce significant amounts of ash and toxic gases. Today's waste-to-energy plants, however, are much cleaner. Advanced technologies help to burn waste at extremely high temperatures, which ensures complete combustion. Emissions are also specially treated, which leaves minimal amounts of toxic byproducts like flue ash. Some tests have even shown that the air emitted by certain waste-to-energy chimneys can be cleaner than the air flowing in.
"Removing waste is the primary benefit of these plants, but not the only one," says Ou. "Energy capture mechanisms ensure that excess heat can be used for electricity generation."
Globally, 1 per cent of renewable energy already comes from waste.
Keith Alverson, director of the UN Environment Programme's International Environmental Technology Centre, points out that the climate benefits of waste-to-energy extend beyond renewables. "Waste-to-energy plants can also reduce greenhouse gas emissions compared to open burning and landfills," he says. "Open burning does not happen at a high-enough temperature for complete combustion, so emissions are dirty. And in landfills, biomaterial will decompose and emit methane, a powerful greenhouse gas."
While they are typically clean, a mismanaged plant will produce unsafe byproducts, even with advanced emission control technologies. In countries where there are detailed regulations governing waste-to-energy plants, it's less of an issue. But where countries don't have strategies for maintenance and monitoring or guidelines on health and safety, there is a much higher risk.
The plants are also hungry beasts. A large-scale modern thermal waste-to-energy plant requires between 100,000–300,000 tonnes of municipal solid waste per year over, delivered daily over its lifetime. If an operator can't procure enough waste, some plants could potentially drop below their optimal operating temperature. When that happens, efficiency drops, and the risk of toxic emissions is increased.
In an extreme scenario, operating a plant may mean a government has to import waste, or add coal to the waste stream, just to feed the fires.
And while a waste-to-energy plant may significantly reduce the amount of waste going to landfill, it does not eliminate the need for them entirely. The residues that such a plant does produce are hazardous and require safe disposal.
Even with all of the downsides, the increase in the number of waste-to-energy plants is not slowing down. While the refrain used to be NIMBY—"not in my backyard" —these days it's just as likely to be PIMBY—"please in my backyard".
"The benefits of the plants are clear, but the technology is not without its problems," says Alverson. "For those countries eyeing the technology, getting the regulations and the legislation right will ensure the technology does more good than harm."
Renewable Energy is a Brewing Geopolitical Catastrophe
According to the International Energy Agency (IEA) "the world will spend $US 162 billion subsidizing renewable energy (mainly solar and wind." This money could be spent on the over 2 billion people globally without electricity – over 600 million in just Africa – that will be used to prop-up chaotically, intermittent and grossly inefficient renewables. Every nation-state, country, or individual state that uses renewables on a wide-scale basis realizes higher electrical prices and emissions for the simple reason they need constant fossil fuel or nuclear energy backup.
Consider Australia, which has "substantial energy reserves." Green state governments have legislated keeping their oil, natural gas, and coal in the ground, and this means the Australian Defense Minister, Linda Reynolds has been seeking U.S. help for their dangerously low national fuel supplies. Australia – in a perilous, geopolitical move – is likely sending warships to the Strait of Hormuz to protect the oil-rich Persian Gulf. Australia should have never been in this predicament if it weren't for overreliance on renewables, and energy battery storage systems that cannot meet Australia's supply of energy needed causing substantial capacity issues.
Now realize the entire world going down this path except China, Russia, Iran, and North Korea, since the Paris Climate Agreement (PCA) if fully implemented:
"Will cost the world from $US1 trillion to $US2 trillion a year by 2030, neither of these hugely expensive policies will have any measureable impact on temperatures by the end of the century."
The UN Framework Convention on Climate Change has also debunked the Paris Climate Agreement by estimating: "
Even if every country makes every single carbon cut suggested in the Paris treaty to the fullest extent, CO2 emissions would be cut by only 1 per cent of what would be needed to keep temperature rises under 2C."
To reiterate the complete-nothingness of energy policy options coming from green-aligned legislators – the much-touted U.S. Green New Deal – from Congresswoman Alexandria Ocasio-Cortez, D-N.Y., and Senator Ed Markey, D-Mass., "would have no meaningful impact on global temperatures."If the U.S. entirely cut out every ounce of carbon dioxide emissions (CO2), "100 percent it would not make a difference in abating global warming."
Every green policy being considered and utilized by governments globally – particularly, in the U.S. and European Union (EU) – would:
"Fundamentally change how people produce and consume energy, harvest crops, raise livestock, build homes, drive cars, travel long distance, and manufacture good."
The entire green movement believes harnessing the sun and wind is the answer when nothing could be farther from the truth. Besides zero-carbon nuclear power plants, there is new technology from net-zero natural gas-fired power plants currently being "demonstrated," or natural gas-fired power plants are the best option, because there use allowed the U.S. to be the only industrialized nation to meet the Kyoto Protocol standard.
The other low cost, simple option to reduce emissions is planting trees. Instead, the west continues committing a suicidal, economic death spiral that will allow their enemies to pick up the pieces in their race toward authoritarian, governmental control.
If the U.S. cannot ensure the liberal-led order in place since World War II (WWII) over keeping fossil fuels in the ground and nuclear energy on the shelf then who will use realist balancing against China, Russia, Iran, and North Korea? Not Australia – realistically, and militarily, the Australians do not have the blue water navy capabilities, or force projection to deter the Iranians in the Middle East. Only the Americans backed by NATO do at this time.
The premier environmental organization – the United Nations (UN) Intergovernmental Panel on Climate Change said: "if we did absolutely nothing to respond to global warming, the total impact by the 2070s will be the equivalent to a 0.2 per cent to 2 percent loss in average income." Then a global poll of 10 million people by the UN "found that climate change was the lowest priority of all 16 challenges considered." Climate change and renewables are interwoven.
Vaclav Smil, author of the premier energy book, Energy and Civilization, endorsed by Bill Gates opined about renewables by saying: "The great hope for a quick and sweeping transition to renewable energy is wishful thinking." Al Gore's chief scientific advisor, Jim Hansen also opined the same sentiments:
"Suggesting that renewables will let us phase rapidly off fossil fuels in the United States, China, India or the world as a whole is almost the equivalent of believing in the Easter Bunny and Tooth Fairy."
Where this is geopolitically concerning comes to India. In coming years they will have a larger population than China, and they need more, not less fossil fuels for prosperity and development. According to the UN 2019 Multidimensional Poverty Index, "India lifted 271 million people out of poverty in a decade," by building nuclear power plants, coal-fired power plants, and using fossil fuels in way they never have in their history.
If India went the way of Australia, which is currently experiencing electrical blackouts from wind turbine farms, and political instability, then the Kashmir crisis could be enflamed further, and China would move to conquer or crush India in every way possible. Deterrence that comes from fossil fuels and nuclear that fuel militaries and nuclear arsenals will continue keeping the peace that has led to unprecedented global prosperity and poverty reduction. Currently, renewables cannot accomplish those goals.
What geopolitics understands is the reality that China, Russia, Iran, and North Korea are presenting to world peace. Renewables are on the precipice of causing a geopolitical disaster when policymakers believe this will solve world energy problems that actually don't exist. Renewables need to be weaned off subsides and an all-of-the-above approach is what will eventually allow solar panels and wind turbines to displace fossil fuels. But the problem of what to do with the over 6,000 products that come from a barrel of crude oil will need to be solved – including every part of the solar panel and wind turbine supply chain emanates from crude oil. Or else, the world is walking into a geopolitical disaster of their own making believing renewables will displace fossil fuels or nuclear energy.
Three priorities for energy technology innovation partnerships
Authors: Jean-Baptiste Le Marois and Claire Hilton*
Governments around the world are setting increasingly ambitious climate targets while at the same time pursuing challenging national policy goals such as affordable and sustainable energy for all. In many cases, achieving these goals will require technologies that either do not yet exist, or are not yet ready for market, meaning innovation will be critical. Technology innovation can be a game changer across all sectors, including power generation, industry, buildings and transport.
Yet it is unlikely that any single country will be able to solve all of its energy and climate problems alone. International collaboration can help countries accelerate innovation processes by identifying common priorities and challenges, tackling pressing innovation gaps, sharing best practices to improve performance, reducing costs and reaching broad deployment of clean energy technologies. Given this massive potential, the fundamental question is not if countries should collaborate, but rather who should collaborate and how they can do so efficiently.
As part of the IEA's efforts to support global energy transitions, we are working to help governments identify relevant collaborative partnership opportunities, engage with international partners and optimise possible synergies among existing initiatives. Our recent Energy Technology Innovation Partnerships report is a key step along this path, providing an overview of the global landscape of multilateral efforts relevant to energy technology innovation, and examining four selected collaborative partnerships. There are three key takeaways that highlight the challenges and potential of these efforts.
Enhancing collaboration among existing multilateral initiatives
International collaboration in the field of energy technology innovation is not new – many countries already participate in numerous multilateral initiatives, some of which have been active for decades, such as The Technology Collaboration Programme by IEA (TCP) which was established in 1974. Today, 38 independent Technology Collaborations operate under the TCP, made up of over 6,000 experts from nearly 300 public and private organisations based in 55 countries, who work together on topics ranging from renewable energy and smart grids to hydrogen and nuclear fusion.
Governments have launched several new partnerships over the last decade, such as the Clean Energy Ministerial (CEM) in 2009 and Mission Innovation (MI) in 2015, which both aim to accelerate international efforts to address climate change. The 27 members of CEM collaborate to promote the deployment of clean energy technologies through over 20 initiatives and campaigns. Similarly, MI counts 25 members who have pledged to double clean energy RD&D spending and co-lead activities under eight key innovation challenges, such as clean energy materials and affordable heating and cooling in buildings. Participation in Technology Collaborations, MI and CEM present a great degree of overlap, as countries tend to join the full suite of collaborative partnerships. In fact, 13 countries and the European Commission participate each in more than 20 Technology Collaborations, CEM and MI: the United States, Japan, Korea, Canada, China, Germany, Australia, France, Sweden, Finland, Italy, Norway and the United Kingdom. This "core" group of decision makers is in a strong position to pursue further synergies across partnerships.
There are also many relevant regional partnerships that are making valuable contributions to energy technology innovation, such as the European Technology and Innovation Platforms (EU-ETIPs), which bring together EU governments and companies to identify research priorities and relevant energy innovation strategies.
Other examples of regional partnerships include mechanisms under the African Union and other African regional partnerships; the Asia-Pacific Economic Cooperation and the Association of Southeast Asian Nations; various partnerships in the Middle East; and the Latin American Energy Organisation and the Organisation of American States. Many other partnerships focus on specific themes of interest, such as the Biofuture Platform, a group of 20 countries seeking to advance sustainable bioenergy and facilitated by the IEA.
As the global landscape of multilateral activities relevant to energy technology innovation becomes increasingly diverse and complex, it can be challenging for policy makers to identify which partnerships to engage with. In fact, despite the central role of innovation in energy transitions and the potential of international collaboration, there is limited information available on the full landscape of multilateral initiatives and how they interact.
Examining a selection of collaborative partnerships reveals that numerous initiatives focus on the same technology areas. Our own examination shows that in eight technology areas, at least three of the four selected partnerships have active initiatives: heating and cooling; carbon capture, utilisation and storage (CCUS); nuclear; bioenergy and biofuels; wind; solar; smart grids; and hydrogen. The overlap becomes even more apparent when including other global, regional and thematic partnerships: for example, Technology Collaborations, MI, EU-ETIPs, the Biofuture Platform and the Global Bioenergy Partnership all focus on bioenergy. More generally, recent trends suggest that partnerships are increasingly centring on low-carbon energy sources and cross-cutting themes including systems integration.
Focusing on the same technologies across different partnerships may induce risks of duplication, thereby diluting policy maker attention and creating fundraising or political support challenges. That said, in some instances, activities may well address different aspects of the same technology area, justifying the overlap. Yet even in those cases, stakeholders have acknowledged that the perception of duplication may be enough to trigger a degree of competition between multilateral efforts. Policy makers would therefore benefit from identifying possible synergies between mechanisms to avoid replication of efforts while at the same time maximising complementarity.
Enhanced cross-mechanism collaboration may increase the impact of ongoing activities. For instance, co-locating stakeholder dialogue, events and roundtables may mobilise more actors and bring varied and valuable perspectives, attract attention from policy makers and enhance networking opportunities. Co-branding technology policy and market analyses may reveal new findings thanks to the combined experience, knowledge and networks of the initiatives involved. Collaboration between early-stage activities executing RD&D and initiatives providing competitive funding or grant opportunities may facilitate the development of energy technologies and their demonstration in real-life conditions or in strategic markets.
However, innovation stakeholders have also reported challenges in engaging with other collaborative mechanisms, in part because of a lack of systematic co-ordination processes. As a result, the number of interactions between existing partnerships, whether at the political or working level, remains low relative to the number of ongoing activities.
Despite these challenges, there are some initiatives that are already effectively collaborating across partnerships. For example, last year the co-leads of collaborative activities on smart grids under the International Smart Grid Action Network (ISGAN) (both a TCP and a CEM Initiative), identified a strategic opportunity to work more closely with the relevant Innovation Challenge under MI and formalised this co-operation.
Focus on emerging markets
Participation in collaborative partnerships continues to grow and diversify every year. IEA Members and Association countries currently account for the broadest participation in Technology Collaborations, CEM and MI, as illustrated by the "core" group of top-collaborators mentioned above.
While a strong central core of support is invaluable, an important trend for global innovation ecosystems is the increasing participation of emerging economies, such as China (currently a member of 23 Technology Collaborations), India (11), Mexico (10), South Africa (8) and Brazil (5).
Emerging market countries also tend to participate in regional partnerships, which allow governments that are not necessarily members of global efforts to benefit from international co-operation. The transition from regional to global collaboration is an encouraging trend for key emerging market countries, with which the IEA seeks to deepen engagement as part of the Clean Energy Transitions Programme (CETP).
Partnerships have made it clear that emerging economies are a top priority. As part of a survey conducted in 2019 by the IEA Secretariat, India was identified as a key prospective partner by 14 Technology Collaborations; Brazil by 12; Chile and China by 8; Mexico and Indonesia by 7. If prospective membership materialised, China would consolidate its high participation by holding membership in over 30 Technology Collaborations; India would join the "core" group of top-collaborative countries; and both Mexico and Brazil would be involved in over 15 Technology Collaborations.
Strengthening public-private cooperation
In addition to public agencies, private-sector actors play a critical role in RD&D and in ensuring key technologies reach markets. Examining both public and private contributions can help governments better understand the broader innovation ecosystem, engage with companies to leverage corporate expertise, influence and capital; and strategically allocate public funds in those energy sectors that remain underfunded or face financing access challenges.
While there is substantial interest from collaborative partnerships to deepen engagement with private-sector actors, this engagement is, at least for now, relatively uncommon. Among the four partnerships analysed in the report, only EU-ETIPs are co-led by industry stakeholders while some 80% of participants in Technology Collaborations are public bodies. For now, membership in MI and CEM is restricted to national governments, although engagement of private sector is actively sought and governments may designate in-country private sector experts to represent national interests in certain initiatives.
Different factors may be preventing companies from seeking engagement with government-led multilateral initiatives, including a lack of awareness of such programmes, differing working cultures between public and private actors, diverging priorities and little incentive to share information, and burdensome administrative procedures. On the other side, some stakeholders within collaborative partnerships remain reluctant to engage with industry, fearing the influence of corporate interests on their strategic decisions, work programmes or outputs. These reasonable concerns need to be overcome for effective public-private co-operation to take place.
Thankfully, we are seeing some positive developments. For instance, over 100 private-sector companies are now participating in the technical work of CEM activities, resulting from both CEM stakeholders reaching out to companies, and vice versa. In collaboration with the IEA, CEM also leads an Investment and Finance Initiative (CEM-IF) to help policy makers mobilise investments and financing, particularly from private sources, for clean energy deployment. Policy makers, collaborative partnerships and energy innovation stakeholders may benefit from further research on private-sector participation, building on these encouraging cases, to find ways to best leverage corporate capabilities.
Ways forward
As we continue to enhance our efforts related to technology innovation to support global energy transitions, the IEA encourages broad international collaboration to tackle pressing innovation gaps, share best practices and accelerate the deployment of clean energy technologies. Enhancing collaboration between existing initiatives, engaging with emerging markets and leveraging corporate capabilities, are three areas of promising focus for policy makers looking forward.
*Claire Hilton, Energy Partnerships Analyst.