Trump goes weak in his knees and ends up attacking Syria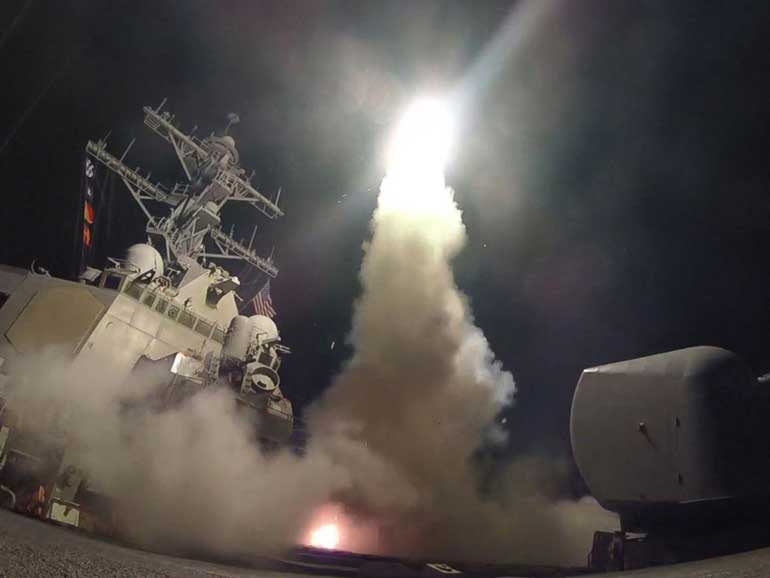 [yt_dropcap type="square" font="" size="14″ color="#000″ background="#fff" ] A [/yt_dropcap] suspected chemical attack occurs in Syria killing 72 people including 11 children. More than 550 people get injured in the attack. 'Beautiful babies were slaughtered. That is unacceptable' says Trump. Immediately, he launches an attack on Syria as some sort of a protest against the regime using chemical weapons and as a protest against the innocent children getting killed. So what effect did the Tomahawk missiles have?
This killed many people including nine civilians and four children. What about the four children who died due to the missiles? Who will lament for these beautiful babies who have died? First of all, how did Trump conclude that Assad was the perpetrator in this chemical attack? Not a shred of evidence has been provided to either the American people or the Congress. Yet everyone seems to be happy about Trump's attack on Syria. They are convinced that it was Assad without any concrete evidence for the same. As for the attack, there are three possibilities.
Scenario 1
Assad did not carry out the attack. He had zero motive for that. Even in order for any crime to be committed, a motive has to be there. Assad was gaining in the war. He took back a lot of territory from the rebels. Added to that, very importantly, the US, for the first time since the start of the war, had declared that removing Assad was no longer a goal. So why would he want to risk everything by launching a chemical weapons attack? He had all the reasons to avoid using chemical weapons.
What if this attack had been a 'false flag attack' done by the rebels? UN's senior official Del Ponte has mentioned in the past that the rebels have used Sarin in the past. The rebels had all the motive to commit such an attack. They were losing the war. For the first time since the war had started, Russia and America had started speaking in one voice saying that the staying of Assad was acceptable to them. All that they had to do was to carry out a false flag attack and let Assad take the blame. If Assad had to commit this, either he had to be most stupid person or he had to be taking Ganja when he took such a decision. Neither is he stupid nor is there any evidence for the latter too.
Scenario 2
That was scenario 1. Now let's look at scenario 2. Just because the rebels are in possession of the chemical weapons does not mean that Assad could not have carried out the attack. What if Assad had carried out those attacks? There are contradictions in Russia's and Assad's claims. Russia initially said that Syrian aircraft carried out the raid. However they claimed that the chemicals were part of a terrorist (meaning rebel groups) stockpile that hit the ground during the course of the attack. Later on Assad went on air claiming that the attack did not take place at all and he doubted whether the video was genuine. On one hand, Russia is saying that the attack did take place but the stockpile got released and that was the reason for the attack. On the other hand, Assad has gone on record saying that the attack never took place. Clearly, Russia and Syria are contradicting each other. There is more to it than meets the eye.
Scenario 3
What if both the scenarios were false? Not many have discussed a third scenario. What if some officer in Assad's regime, disgruntled with Assad or America, or for any other reason, carried out the attack without getting Assad's nod? In this scenario, Assad would be forced to deny the attack because admitting to the attacks would mean admitting to having chemical weapons. It would also mean that he does not have full control over his army. Also, one notable point is that the vehemence with which Assad denied any responsibility for the bombing attack in Aleppo did not match the somewhat mute denial of any responsibility towards the chemical attack.
Did Trump even think about these possible scenarios? Everyone is talking about the motives of Assad. But no one is talking about the motives of Trump in launching the tomahawk missiles. Why did Trump do that? That Trump was moved by the videos/pictures of the children dying a slow and painful could be true. No doubts the pictures.videos were horrifying and would have moved any human being. But surely, he would not have taken a decision to attack another country based on these pictures. Without a proper investigation by a neutral agency like the UN or the Organisation for the Prohibition of Chemical Weapons (OPCW), when the situation is so complicated as was pointed above, how could he do that?
Clearly, there seems to be two motivations. One was his tendency to react impulsively and immediately to any slights/insults. That could be seen from his twitter attacks to each and every comment/remark which he considered as an insult. He was somehow convinced, mainly by the war-mongering Washington establishment, that it was Assad who did it. Just after a few days after he (the US) declared indirectly that Assad can stay, how can Assad do this to him? He (Trump) will be the one ending up with egg on his face.
Secondly and equally importantly, Trump went weak in his knees. Allegations about his campaign team having connections with Russia were filling up the media. Michael Flynn had to leave. There were allegations against Jeff Sessions. Investigations were going on left, right and centre over Trump's alleged connections with Russia. How could he get away from all these? Pat came the idea. He used the Syria bombing as a pivot from the Russia connections. It seems to have had its effect.
So what about the subsequent bombing that happened in Aleppo a few days after the chemical attack? Around 126 people were killed including around 70 children. This attack, in all probability, was carried out by the rebels. This convoy was carrying around 5000 people, including civilians and several hundred pro-government fighters. This was part of an agreement between the government and the insurgents. It was a cowardly attack because it was done against fleeing civilians. Around 70 children died. Yet Ivanka Trump did not cry out "Oh Daddy, it is horrible. You've gotta do something!!!" Donald Trump did not give out any statements lamenting about beautiful babies dying. While all in the mainstream media went gaga about the Trump administration's strikes on Syria, hardly anyone mentioned the second bomb attack on the civilians. That is because it was the rebels groups who are believed to have done it and not Assad.
Let's have a look at a schedule of the CNN programs
07.00 – 09.00 – A special program on Trump's connections with Russia
09.00 – 11.00 – A special program on Russia's special connections with Trump
11.00 – 13.00 – Don Lemon's interview with US Political Analysts on Trump propaganda machine and Russia
13.00-15.00 – Kate Bolduan special program on 'How Russia meddled in the US elections'
15.00-17.00 – Jake Tapper anchors – 'Did Russia influence the US elections'
17.00-19.00 – Anderson Cooper hosts the special episode 'Trump's business interests in Russia'
19.00-23.00 – A Fareed Zakaria special – 'How Trump's close relations with Putin is dangerous to America'
From 23.00 – Repeat of the same cycle
Penultimately, Trump had the vision to see that a better relationship with Russia could have made things better for the US. Sadly, he lacked the courage to implement it……..
Until clear evidence emerges about the chemical attack, one should remember what is happening in Syria is not a fight between The Good, The Bad and The Ugly. What is happening is a fight between The Bad, The Uglier and the Ugliest. Neither For a Fistful of Dollars or maybe even For a Few Dollars More will this writer say that Syria should get into the hands of The Uglier (al Qaeda) or The Ugliest (ISIS) !
Disclaimer: Views expressed in this article are those of the author
Which Coronavirus Policies Succeed, And Which Fail: N.Y. Times Analysis Confirms Mine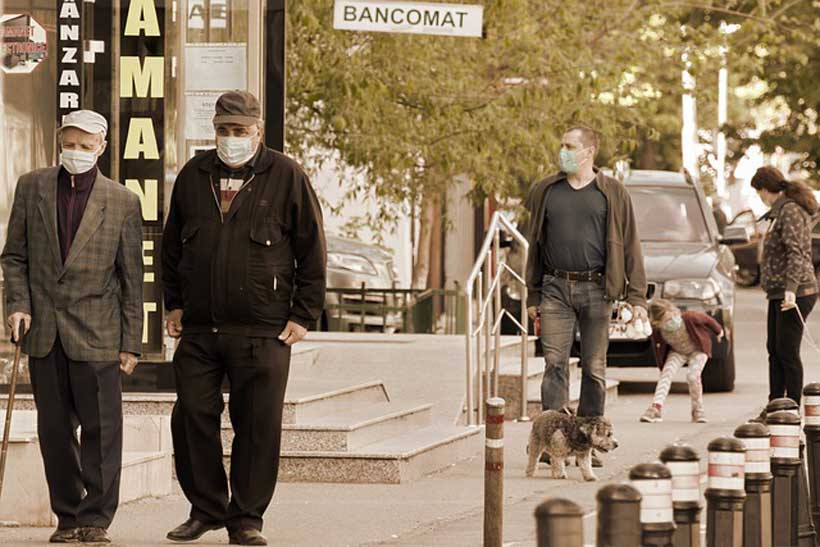 According to an analysis by and in the New York Times on November 18th, which is headlined "States That Imposed Few Restrictions Now Have the Worst Outbreaks", "Coronavirus cases are rising in almost every U.S. state. But the surge is worst now in places where leaders neglected to keep up forceful virus containment efforts or failed to implement basic measures like mask mandates in the first place, according to a New York Times analysis of data from the University of Oxford."
At Strategic Culture, on May 21, I had published my own analysis, which was based upon tracking the data globally and within countries, and within the various states of the United States, which analysis concluded that countries (and states) which apply the least-stringent regulations in order to keep as low as possible the spread of the virus are failing the most to contain or limit that spread. I labelled those the "libertarian" countries, and I noted that what I called the "socialist" countries — the nations which were the most strictly imposing scientifically confirmed regulations in order to keep those numbers down — were having the best success at limiting the spread of this virus. My study was global, and its headline was "Ideology and Coronavirus". Unlike the Times article, I was forthright about the ideological implications of the coronavirus data — because those implications are vastly important. (The handling of this pandemic is providing reams of data that test the effectiveness of the various locales' predominant ideology at dealing with a global life-or-death years-long public-health emergency in regions throughout the world. This is like a global laboratory experiment testing the two opposite ideologies: libertarianism, which is against government regulation, versus socialism, which applies government regulation. No government is purely one or the other, but those are the two poles.)
The analysis in the Times article shows a chart, and represents on it almost all of the states, as dots that indicate both the amount of regulation which has been applied, and the lowness of the infection-rate which has resulted; and, at the upper left corner on it, are the two Dakotas, as "Weak recent containment measures and many cases," while at the bottom rightmost corner is Hawaii as "Strict measures and fewer cases."
The Times chart is showing, only locally within the United States, during just the past few weeks, what my analyses had shown, regarding not only the international and longer-term data, but also within the United States itself and recently, not only longer-term and internationally. One of my articles, on November 1st and titled "The Highest Covid-Infection-Rate States", showed the infection-rate for all 50 states, and noted that, "In 2016, the top 17 [the states with the highest rates of this infection in 2020] voted for Trump, and the bottom 5 voted for Clinton. All but 3 of the top 24 voted for Trump, but from numbers 25 to 45, there was a political mixture. The highest infection-rate state, North Dakota, has a Covid-19 infection-rate that is 14.6 times higher than the lowest Covid-19 infection-rate state, Vermont." Of course, the Republican Party (Trump's Party) is the more libertarian Party, and the Democratic Party (Clinton's Party) is the more socialist (though actually just as totalitarian) of the two Parties. (Both Parties represent only their billionaires, who also own and control the media; and this is the way that America's aristocracy controls the Government. For example, the very pro-Democratic-Party website PoliticalWire quoted from and linked to the NYT's article, but always fails to include any of mine, because I am critical against both Parties. Truly independent news-media are almost non-existent in the United States.)
Whereas the Times's chart of "Avg. new cases per 100,000" failed to include Vermont, Vermont is the state that has, for the longest time, been among the best three on not only cases per million but also deaths per million, from this virus, and substantially better even than Hawaii, and both states are among the two or three that in recent decades have been the strongest for Democratic candidates, and the weakest for Republican candidates. However, Vermont especially is politically independent, and, so, it has a Republican Governor, Phil Scott, whose record on containing this virus has been the best in the nation; and he was just re-elected in a landslide, 69% of the votes (largely because of this terrific record). Right now, however, the number of daily new cases has shot up suddenly about fivefold in just the past week; so, Phil Scott's record is in jeopardy. If that surge quickly ends, then he could become the strongest Republican to run against Kamala Harris or Joe Biden in 2024. He would not only receive almost all Republican votes (since that's his Party), but also at least a third of Democratic votes, and almost all independent votes. However, this doesn't necessarily mean that he would be the likeliest to win the Republican nomination, because (just as is true about the Democratic Party) that Party's billionaires will be making that choice. (It was blatantly true also with regard to Biden and Harris.) This epidemic will be a major political challenge both in 2022 and in 2024. Anyone who wants to see Governor Scott's press conferences regarding this crisis, so as to know precisely what his coronavirus-policies have been, can see them here. His November 20th press conference is here. He and his governing team receive and answer there many intelligent questions, so that the policies which have led to the best results in America are amply explained there.
On November 16th in South Dakota (and then repeated nationally on National Public Radio on November 20th), reporter Seth Tupper headlined "Two States, Different Paths: Vermont Keeps Virus Low While Rivaling SD's Economy" and provided a thorough report, including graphs of infection-rates over time, comparing two states, South Dakota, which has the nation's second-highest infection-rate (after only North Dakota's 9%) of 7.8%, versus Vermont, which has the nation's lowest infection-rate, of only 0.5% — one-fifteenth as high. Tupper explained the different policies that the Governors of those two states had applied, and how those policies produced vastly different results for the infection-rates and the death-rates in their states' populations, but only moderately higher increase in unemployment in Vermont than in South Dakota, which at the peak in April had reached 16% unemployment in Vermont, versus only 10% peak in South Dakota; and, by the time of August, both states had nearly identical low unemployment-rates. Whereas the death-rates from the disease soared around a thousand fold, between April and November, in South Dakota, the death-rate remained virtually flat, almost no increase, in Vermont, throughout that entire period. However, both states were now experiencing soaring infection-rates during the current, second, wave of the epidemic.
Author's note: first posted at Strategic Culture
Trump's Election Shenanigans Pale Before The Threats From Melting Polar Glaciers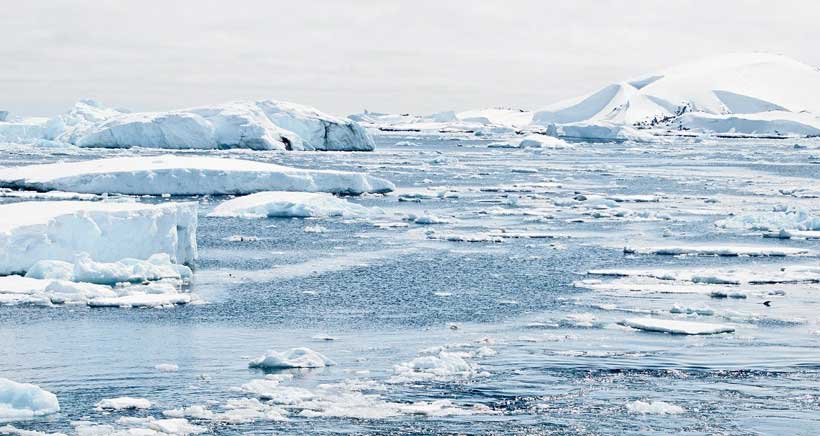 Despite Joe Biden exceeding the magic number of 270 that guarantees a majority in the electoral college, President Donald Trump has not conceded. Does he have a plan to overturn the wishes of the electorate?
According to Trump he did not lose, he was cheated out of a legitimate win by voter fraud and ballot stuffing. Accordingly, he has filed lawsuits in those critical states with narrow margins of victory for Biden — so far without tangible success — to block certification of the vote and persuade Republican legislatures to overturn the state vote as fraudulent and award the electoral votes to him.
Trump's window of action is narrowing. A major target state was Michigan with 20 electoral votes. However, Democratic Governor Gretchen Whitmer has now certified Biden's victory meaning he should get its electoral votes.
While Trump's shenanigans continue, the world faces a real danger of melting ice sheets and glaciers. A long term denier of global warming, Mr. Trump now accepts it but believes the earth will right itself without any effort by humans.
Scientists meanwhile are particularly concerned with the Florida-sized Thwaites glacier in the Antarctic. Its collapse they fear could destabilize surrounding glaciers eventually causing catastrophic global sea level rises measured not in inches but feet.
The glacier rises 60 to 75 feet above water across its 75 mile face. Remembering that 90 percent of it is under gives some notion of the quantity of ice. The Nathaniel B. Palmer research vessel is conducting a survey this winter for the first time as part of a five-year international research program to learn just how fast the glacier is melting and how much it might be adding to rising seas.
The problem is the shape of the glacier under the water and the warming waters eating away that core while the ice on top gets thicker and thicker as the glacier retreats inland. At some point the glacier is likely to collapse of its own weight into the ocean. Scientists who have modeled the scenario fear the process is unstoppable once it starts. Worse it puts much of the West Antarctic ice sheet at risk of following it into the sea. Any wonder then that Thwaites is also known as the Doomsday glacier.
At the other pole the Greenland ice sheet had a record-breaking 2019, shedding the most ice since 1948 — an estimated 532 billion tons. It of course increases coastal flooding along the eastern seaboard particularly the Carolinas and Florida. Fortunately for the residents, the 2020 melt from Greenland, while well above the 1981 to 2010 average, was lower than recent years particularly 2019.
Donald Trump does not believe he lost the election and he does not believe in global warming. Christmas is just around the corner and it's reassuring to know he believes in Santa Claus . . . and the tooth fairy.
Sino-US relations under Joseph Biden?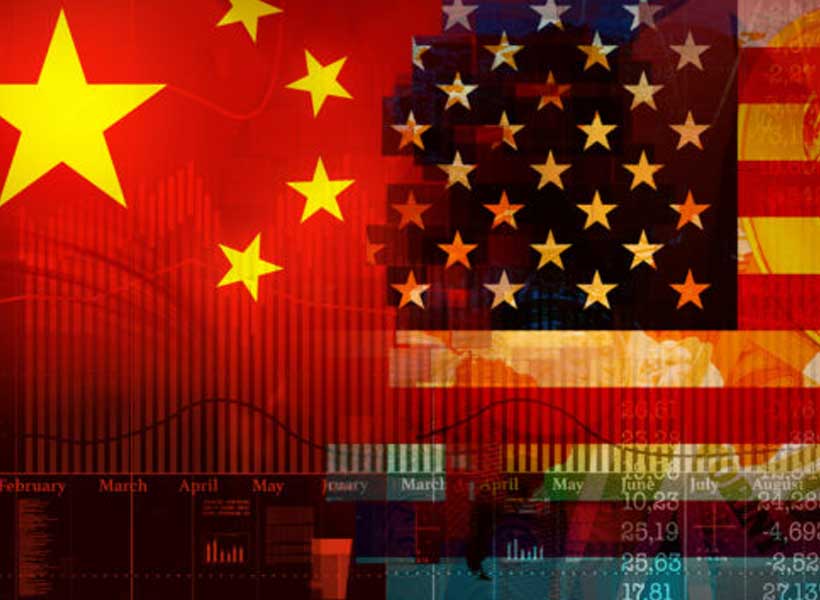 President Trump, hopefully outgoing, was not an out-and-out failure for his electorate. Yet, he was shown the door.
He had many feathers for his cap. Wages among the poorest quarter of workers rose by 4.7 per cent a year, small-business confidence attained a 30-year pinnacle. By restricting immigration and outsourcing, he sliced back jobs for his natives. He blocked China at every step to pander to sentiments of the China-bashing lobby.
His faux pas was desecration of American values of decency, tolerance, truthfulness and honesty. Without proof, he declared his adversary Biden corrupt. He viewed protest against killing of a black, Floyd `an orgy of looting and left wing violence'. He saw `left' all around, even around ballot-counting staff.
He saw a cheat around. Pfizer with tardy vaccine-trial success announcement, the WHO chief by not naming `China virus', and so on.
Rising-China threat
Mr. Trump was viscerally predisposed to viewing China as a looming military threat to peripheral countries, in general, and the USA, in particular. True, Mr. Biden is also viewed as an America Firster. True, China has been the fastest growing economy since 1979. Yet, it is nowhere near surpassing the USA even on one account that is gross Domestic Product, as is obvious from the table:
| | | | | | | |
| --- | --- | --- | --- | --- | --- | --- |
| Country | 1977 ($) | 1987($) | 1997($) | 2003($) | 2008($) | 2019 ($ tr.) |
| China | 843,097 | 1,883,027 | 3,706,647 | 6,187,983 | 8,908,894 | 14.4 |
| USA | 3,868,829 | 5,290,129 | 7,109,175 | 8,431,121 | 9,485,136 | 21.44 |
If nothing, the new president is expected to restore an element of decency to the White House
China much behind the USA in military prowess
China trails behind the USA in terms of expenditure on its defence forces and possession of actual military equipment. Despite ongoing modernization, China spends approximately $ 5 billion in arms export far below US exports of about $ 46.5 billion. China\s sales are about 3 per cent of global sales while the USA's are about 79 per cent.
The US has over 8,000 operational and inactive warheads as against China's 240 mostly non- deployed. The US has 2,000 nuclear weapons with strategic/intercontinental range compared with China's twenty. US have sixteen ballistic missile submarines compared with China's one, and more than 1000 US nuclear cruise missiles, compared with none for China.
The US has ten aircraft carriers plus one under construction attached to the Fifth and Seventh Fleet. China currently has two aircraft carriers, with a third in early construction, and a fourth planned for sometime in the mid 2020 or 2030s. Their first carrier, the Liaoning was commissioned by the PLAN in 2012, though it was first laid down in the early 1990s.
China's critics
China critics in the USA are not monolithic. They have many shades including `Engagers', `Realists', `Duopolists', ` China Lead', `Declinists' and so on.
The `Critics' have an un-reconcilable antipathy toward China because of its repression of a wide spectrum of human rights (religious, labour, media and ethnic minority).
The `engagers' look up for a common ground with China as a matter of national interest. The `engagers' are optimistic that globalization, economic interdependence and rules of multilateral trade will lead to democratrisation in China.
`Realist engagers' are convinced that China has learnt lessons from the collapse of former Soviet Union about the dangers of imperial overstretch. As such, China understands the realities of the current international system and limited capacity to change it.
`China Duopolists' believe the USA and China could cooperate to bring into being a Chimerica (G-2), being the two most important countries.
The `China lead' school believes China is already on the verge of replacing the USA as the world's number-one power.
The `Declinists' believe that demise of the US global leadership already occurred as `Washington consensus' has been replaced by `. It is now Beijing, not Washington that is dictating new rules to govern the international economy.
Joseph Biden belongs to the `America Firster' School that China can't replace the USA as number-one, even if it tries to. After visiting China, Biden wrote `the United States has nothing to fear from China since it is far ahead of China in size of the economy, per capita income, scientific innovation, and educational excellence among other indicators' (Biden, China's Rise Isn't Our Demise, New York Times, September 7, 2011, online ed.).
Global Leadership
At present, China lacks the soft and hard power to supplant the USA. To do so, China needs to:
(a) Command loyalty of the majority of the countries.
(b) Initiate, innovate and articulate policies, programmes and activities, including dispensing rewards and punishments.
(c) Being a `model', worth emulating, of values, culture, language, laws, and social and political practices.
(d) Excel in soft-power resources such as educational and public-health systems
Inference
Biden is being welcomed as a whiff of fresh air, though he has no magic wand to change the climate and trade atmosphere. He has promised to rebuild America's decrepit infrastructure, spend more on health and education, and ease immigration. . He has pledged to raise tax on firms and the wealthy.
He is no revolutionary though his policies are tilted to the left of what Trump did.
His job is to re-unite fractious American democracy. He is supposed to shun the personalized style of his predecessor's rule, scorning decency and truth.
If Mr. Trump exits with grace, Joe's job would be easier. If Trump makes transition difficult for Biden, the democrats may do tit for tat to Trump. Deprived of immunities, Trump's tax accounts would be exposed to public scrutiny. And action by enforcement.
Joe understands China better than his predecessor. But, it remains to be seen how the USA would set right the topsy-turvy alliances that Trump had interwoven.
It would be hard for Biden to ignore the plight of minorities in India and the `imprisoned' Kashmiris. Joe would have to balance strategic interests against conniving at human rights violations.