Unrest in Kashmir: Why is India in no mood to resolve the explosive issue?
[yt_dropcap type="square" font="" size="14″ color="#000″ background="#fff" ] I [/yt_dropcap]ndia suffers from an illogical superiority complex and situation has become very serious under the Hindutva nationalist BJP rule. India government, irrespective of which party or coalition rules the country, does not change its policy for Jammu Kashmir which it sees through its policy for Pakistan.
India possibly thinks if it ends criminal operations in Kashmir and let Kashmiris win freedom and sovereignty from New Delhi that would be misunderstood by the world as India's weakness.
Having been robbed off their sovereignty, Kashmiris are placed in a precarious position under a powerful military of India and they do not have support of veto powers to make any difference to Indian military yoke in Kashmir and they do not have high precision weapons that Israel has in order to defend themselves from military attacks on them; India very cleverly exploits the weaknesses of Kashmiris. State government being elected by Kashmiris does not think they have a duty to protect the life and property of Kashmiris in Kashmir.
The Kashmiri parties like National Conference (NC) and PDP use the Hindutva parties like BJP and Congress to threaten the Muslims in Kashmir with action if they continue to demand freedom and sovereignty from Indi, the big power of South Asia. While they and their intelligence-media target Muslims in Kashmir aided by military, India and BJP in JK government do all possible things to make Hindus very happy.
Knowing the weak predicament of Kashmiris, Indian federal government is in no mood for talks with Kashmir "separatists" despite JK state chief minister Mehbooba Mufti pushing for discussion with all stakeholders, especially the freedom fighting groups or the so-called separatists. Even the British government eventfully had understood the need to talk to Indian freedom fighters, especially with Mahatma Gandhi to find credible ways to end the struggle. But India continues to evade that proper, legal route and hit the Muslims in Kashmir with terror goods, including imported Zionist arms.
Already over 100,000 Kashmir shave laid their valuable lives to see a soverign Jammu Kashmir.
Now New Delhi, armed with huge arsenals of nuclear and conventional terror goods, does not think the time is ripe go for a talk with Syed Geelani and other Hurriyet leaders who are spearheading the freedom struggle. As India keeps killing the Kashmiri Muslims, their leaders look to Pakistan for help mainly because they can't approach the UNSC directly for safety and sovereignty.
India has money and arms in plenty and it keeps bribing foreign lobbyists and buying terror goods from big powers with an understating that they won't interfere with Indian colonialist operation in Kashmir which according to New delhi is apart of modern democracy.
In order to divert the global attention on the state crimes in occupied Kashmir, Indian terror specialists say the Kashmiri freedom fighters are separatists, terrorists and they should be dealt with sternly and Indian government should be supported in its regular massacre operations in Kashmir, leading to creation of secret graveyards in the valley.
While the federal government in New Delhi is unwilling to find solutions to the problems being faced by Kashmiris, Jammu Kashmir Chief Minister Mehbooba Mufti met Prime Minister Narendra Modi and Home Minister Rajnath Singh in Delhi with a message that the government should restart talks with Hurriyat separatists for normalcy to return in the Valley. However, India appears to be in no mood for discussion with Hurriyat leaders whom Indian government calls the Pakistani agents, worse than Indian agents in Kashmir and Pakistan. Sources said the government is not in favour of talks with "pro-Pakistan lobby" in the Valley despite such demands from various quarters, including from foreign powers.
Heavily nuclearized India says entire Kashmir belongs to it and Pakistan should not dream of getting more Kashmir lands. India is ready for any number of terror wars with Pakistan.
India threatens the Kashmir freedom fighting groups to be silent about sovereignty and Indian government believes that talks with separatists even on its terms would yield no result as all such attempts have failed in the past. Pointing to the need to hold talks with all stakeholders, Mehbooba Mufti said that talks with the separatist Hurriyat (Conference) had taken place during the tenure of former prime minister Atal Bihari Vajpayee. She said talks were the only way forward.
As situation in the Valley remains tense and incidents of stone pelting continues unabated, the government has decided to go ahead after the top aggressive leaders of Kashmir. Indian agencies have been directed to break the backbone of "terror infrastructure" in Jammu Kashmir.
In recent times Kashmiri agitations have embarrassed New Delhi who claims everything is calm and cool in Kashmir. The continued agitations of Kashmiris, authorities of JK government have also been asked by New Delhi to continue the crack down on social media inciting violence in the region. Nearly 300 WhatsApp groups were being used to mobilize stone-pelters in Kashmir to disrupt security forces' operations at encounter sites. Most of these groups – at least 90 per cent of them – have been successfully shut down in the last three weeks.
PDP chief and Jammu Kashmir CM Mehbooba Mufti has reminded New Delhi once again of the Atal Bihari Vajpayee doctrine on Kashmir when she said only dialogue similar to the ones held during the former prime minister's era more than a decade ago could save the Valley. "There was dialogue when Atal Bihari Vajpayee was the Prime Minister and LK Advani his deputy. They even held dialogue with the Hurriyat and others," Mufti told reporters after meeting Prime Minister Narendra Modi at his 7, Lok Kalyan Marg residence in New Delhi. Vajpayee ruled between 1998 and 2004. His approach towards addressing the Kashmir issue came to be called Vajpayee Doctrine. It also included improving relations with neighbouring Pakistan.
The Vajpayee doctrine on Kashmir called for peace, progress and prosperity in the Valley by imbibing the spirit of Insaniyat (Humanity), Jamhuriyat (Democracy) and Kashmiriyat (Identity of the people of Kashmir). The doctrine was universally acclaimed by all segments across of political spectrum in the state, including the extremist elements in the Valley. Vajpayee's mantra included resolving all outstanding issues with Pakistan, including that of Jammu and Kashmir issue in a peaceful manner through bilateral dialogue without any third party intervention. He carried his message of peace to Pakistan during a bus journey to Lahore on February 19, 1999. Vajpayee made it a point to visit to Minar-e-Pakistan where he re-affirmed India's commitment to the existence of Pakistan. He reached out to the people of Pakistan in a passionate speech at the governor's house in Lahore telecast live both in Pakistan & India.
Vajpayee signed a Lahore Declaration with Prime Minister Nawaz Sharif on February 21, 1999 in the form of roadmap for peace. As part of the declaration, Pakistan agreed to resolve all bilateral issues between the two countries, including the issue of Jammu and Kashmir in a peaceful manner and through dialogue and to promote people to people contact. The Delhi-Lahore Bus Service Sada-e-Sarhad (Call of the Frontier) was launched as a symbol of the efforts of the Vajpayee government to promote peaceful and friendly relations with Pakistan on the basis of reciprocity.
Seeking to let diplomacy win, Vajpayee did allow the bus service to be terminated even when Pakistan army chief President Parvez Musharraf launched an attack in Kargil between May and July, 1999, which the Indian armed forces successfully repulsed forcing the Pakistani army to vacate the occupied hills in the region.
However, the bus service had to be suspended during the heightened tension between the two neighbours in the aftermath of what New Delhi specialists say "the Pakistan-ISI sponsored terrorist attack" on the Indian Parliament on December 13, 2001. Later, it came out that the parliament attack was planned by Indian sources to terrorize Indian Muslims and to launch scathing rhetoric against Pakistan. But service was restored on July 16, 2003 when Pakistan assured the Indian government that Islamabad would not allow its territory to be used for terrorists' activities. But later it allowed US led NATO terrorist militaries to use Pakistan to launch terror attack on neighboring Afghanistan and leading to attack Pakistani themselves.
Though it sought strategic partnership with USA refused USA and NATO its territories to be sued by them to attack Afghanistan.
Vajpayee on whom the BJP government bestowed nation's highest civilian honor for his contribution to social work and politics, extended a hand of friendship on the basis of reciprocity and mutual trust and called for collective fight against poverty in the Indian subcontinent devoid of terrorism and drug-trafficking. His emotional speech made Prime Minister Nawaz Sharif to say: "Vajpayee Saheb, ab to aap Pakistan mein bhi election jeet sakte haein (Vajpayee now you can win elections even in Pakistan)."
All the setbacks to his dialogue initiatives, including Kargil conflict, hijacking of an Indian Airlines plane to Kandhar and terrorist attack on the Indian Parliament, notwithstanding, Vajpayee did not allow the peace process to derail despite serious provocations by the Pakistan army and the ISI.
Perhaps, Mehbooba Mufti wants PM Modi to follow the Vajpayee doctrine to normalize the situation in the Kashmir Valley and lower the tension with Pakistan.
"We must start from where Vajpayee ji left… Modi ji has repeatedly said that he would follow the footsteps of Vajpayee ji, whose policy was of reconciliation, not confrontation," Mufti said. "There is no option but to talk," she asserted.
Mufti's meeting with Modi came in the backdrop of the worsening security situation in the state that has also rattled the ruling PDP-BJP alliance in Jammu and Kashmir. The government headed by Mehbooba Mufti is under mounting attack in the face of fresh spurt in violence in the state.
The security situation in Jammu and Kashmir regions has been fragile in the last few months, and the worst Army-civilian relationship has been in the news for all reasons unsavory. Further, the rise in stone-pelting incidents to thwart counter-insurgency operations in the state has been a cause of worry for the security forces.
New Delhi systematically denying fundamental rights of Kashmiri youth global connectivity and refuses them to use mobile and internet so that world does not know what is happening in Kashmir. Nearly 300 WhatsApp groups were being used to mobilize stone-pelters in Kashmir to disrupt security forces' operations at encounter sites.
Nearly 300 WhatsApp groups were being used to mobilize stone-pelters in Kashmir to disrupt security forces' operations at encounter sites. However, most of these groups–at least 90 per cent of them–have been successfully shut down in the last three weeks. "We identified the groups and the group administrators, who were called in by police for counseling.
Indian atrocities include the following:
Each of these 300 WhatsApp groups had around 250 members; the police official explained how determined attempts were being made to disrupt the operations of the occupation forces by mobilising stone-pelting mobs at the encounter sites.
The government's policy of suspending internet services appeared to be showing positive results in curbing stone-pelting during encounters and cited the case of the encounter in Budgam district on Saturday. Just a few youth gathered to hurl stones after two militants were gunned down in the encounter.
This was in sharp contrast to an encounter in Durbugh village in the same area on March 28, when a large number of stone-pelters had assembled and three of them were killed in firing by security forces. "With no internet services, the mobilization of mobs has almost become impossible. Earlier, we would see youth from as far as 10 kilometres from the encounter sites joining the protesters to pelt stones at security forces to disrupt the anti-militancy operations," the official said. "That did not happen on Saturday during or after the encounter in the absence of internet on mobiles".
Some of the youth listed personal issues like alleged harassment by security forces as reasons for taking to stone-pelting. "Most of them get carried away momentarily," authorities are also looking at further sensitizing the personnel on the need to adopt a humane approach while dealing with the youth.
Stone-pelting on security forces near the encounter sites has been causing major operational problems for the law enforcing agencies over the past one year. More than half a dozen youth have been killed in such incidents in the first quarter of this year. "With the internet facility withdrawn, the activity on these social networking groups and other sites like Facebook has come down drastically".
However, people especially those from the business community say they are facing hardships, because of the inability to stay connected online. "Today, the business depends on internet for communication. I am into stock markets and I have had no business since the mobile internet services were withdrawn last week," Mudasir Bhat said. He said most of the people had done away with landlines and broadband internet services as mobile internet facility gave them more freedom and were also cheaper.
Ishfaq Ahmad, a contractor by profession, said life, without internet, had come to a standstill. "I had to submit a tender document two days after the internet facility was withdrawn. As the document was to be submitted online, we had to request the concerned department to extend the date till we make arrangements for e-filing," Ahmad said. He said he has applied for landline connection but the service provider, BSNL, has informed him that it will take time. "BSNL is the only landline services provider here in Kashmir. I hope the government takes steps to ensure that businesses do not suffer because of this internet ban," he added.
The government in JK is defunct but the BJP, the ruling partner of PDP, said there were no differences between coalition partners in Jammu and Kashmir and the state government was "working well". The PDP-BJP government is working well. Everyone is performing his or her task," state BJP unit Chief Sat Sharma told reporters.
The PDP had earlier accused the BJP of betraying it in the council elections, in which an associate member of the PDP voted in favour of the BJP candidate on assurance of a post.
BJP pursues the RSS Hindutva agenda in Kashmir valley with help from Congress, PDP, NC, etc. BJP knows it is rather easy to fool the Kashmiri politicians with some money and NOC for foreign trips.
Observation
Jammu Kashmir is reeling under tension also because the PDP lost the seat to National Conference in the April 9 bypoll, in about 3 years after the 2014 General elections. The election to the Srinagar Lok Sabha constituency was marred by violence and witnessed the lowest voter turnout. Mufti is, hence, expected to review working of PDP-BJP coalition government in the state and discuss with Modi the roadmap to restore peace in the Valley.
JK CM Mehbooba Mufti wants PM Modi to follow the Vajpayee doctrine to normalize the situation in the Kashmir Valley and lower the tension with Pakistan.
The deteriorating security situation in JK state and reports of strains in the PDP-BJP coalition indicate negative functioning of the BJP – PDP government. Mufti, who attended the Niti Aayog meeting in Delhi, discussed the current situation in Jammu and Kashmir with Modi and seeks a solution from the Centre to address the issues of the people of the Valley; especially after the increase in the incidents of stone-pelting. The rise in these incidents also led to a friction between the PDP and the BJP, which are running the coalition government in Jammu and Kashmir.
India wants to continue with its terror programs by using terror goods manufactured in India and abroad to terrorize Kashmiris who still think Pakistan would make them free from colonialist occupational crimes of India and help them make a home for themselves. However, going by the rhetoric and action of Pakistan, it is clear that Pakistanis fight for Kashmir to be added to Azad Kashmir which then be made an integral part of a destabilized Pakistan – and they are indeed not fighting with India for the sake of unfortunate Kashmiris.
Both India and Pakistan are fighting for Kashmir. Naturally, India is in no mood to resolve the explosive Kashmir issue as it has the upper hand. And world powers like UNSC and NATO have not putting any pressure on India to vacate Jammu Kashmir.
South Asian Geopolitics: Saudi Arabia: 1 Iran: 0?
It may be reading tea leaves but analysis of the walk-up to Saudi crown prince Mohammed bin Salman's visit and his sojourn in Islamabad suggests that Pakistan may be about to fight battles on two fronts rather than just the Indian one in the wake of this month's attacks in Kashmir.
Prince Mohammed's expressions of unconditional support for Pakistan coupled with his promise of US$20 billion in investments in addition to US$6 billion in desperately needed financial aid raise the spectre of a shift in Pakistani efforts in recent years to walk a fine line in the rivalry between Saudi Arabia and Iran.
That fine line included a 2015 Pakistani refusal to send troops to the kingdom in support of the Saudi military intervention in Yemen.
Speaking to the Arab News this week, Major General Asif Ghafoor, head of the Pakistan army's media wing, suggested that Pakistan's commitment to Saudi Arabia was equally unconditional. "Pakistan is committed to standing by its Saudi brethren," Maj. Gen. Ghafoor said.
Pakistani Foreign Minister Shah Mehmood Qureshi seemed to fine tune the officer's statement by not mentioning Yemen in his remarks to the Saudi paper and limiting Pakistan's commitment to the kingdom itself. "If anyone would create chaos in or attack the Kingdom, Pakistan would stand by its brethren Saudi Arabia," Mr. Qureishi said.
The stakes for Pakistan that borders on Iran and is home to the world's largest minority Shiite Muslim community could not be higher.
Concerned that Pakistan's position may be shifting, Iran this week dialled up the rhetoric by warning that Pakistan would "pay a high price" for last week's attack in the Iranian province of Sistan and Baluchistan that killed 27 Revolutionary Guards.
Like with India in the case of Kashmir, Iran asserted that the perpetrators, Jaish-al-Adl, were operating from Pakistani territory with at least the tacit knowledge of Pakistani authorities. In an unusual disclosure, Iran said three of the six perpetrators of last week's attack, including the suicide bomber, were Pakistani nationals.
In the past, Iran has by and large said that militants who had launched attacks were Iranian nationals rather than Pakistanis.
The tone of Revolutionary Guards chief Major General Mohammad Ali Jafari's statement holding Pakistan, alongside the United States, Saudi Arabia and Israel, responsible for the recent attack reflected Iranian concern with what may flow from Prince Mohammed's visit.
"Why do Pakistan's army and security body … give refuge to these anti-revolutionary groups? Pakistan will no doubt pay a high price. Just in the past year, six or seven suicide attacks were neutralized but they were able to carry out this one,"," Maj. Gen. Jafari said in remarks live on state television.
Initially, Iran had limited itself to blaming external powers rather than Pakistan for the attack.
Indications suggesting that Prince Mohammed's visit to Pakistan may have been about more than economic cooperation were severalfold and involved gestures that despite Pakistani denials would not have come without a price tag.
Saudi Arabia and Pakistan expressed in a little noticed declaration in their joint statement at the end of the crown prince's visit "the need to avoid politicization of the United Nations listing system."
The statement was implicitly referring to Indian efforts to get the UN Security Council to designate Masood Azhar as a global terrorist. Mr. Azhar is the head of Jaish-e-Mohammed, the group that has claimed responsibility for the Kashmir attack.
China, which at Pakistan's behest has blocked Mr. Azhar's designation in recent years, this week rejected an Indian request that it lift its veto. China asserts that Indian evidence fails to meet UN standards.
The reference to UN listing in the Saudi-Pakistani statement seemingly failed to resonate in New Delhi where Prince Mohammed stopped after visiting Islamabad.
In another tantalizing incident, Mr. Qureshi, the Pakistani foreign minister, did nothing to distance his country from a statement in his presence by Saudi State Minister for Foreign Affairs Adel Al-Jubeir accusing Iran of being the "world's chief sponsor of terrorism"
Similarly, in preparation of Prince Mohammed's talks, retired General Raheel Sharif, the Pakistani commander of the Saudi-based, 40-nation Islamic Military Counter Terrorism Coalition (IMCTC), flew from Riyadh to Islamabad for talks with prime minister Imran Khan and Pakistani chief of staff, General Qamar Javed Bajwa.
Pakistan agreed to General Sharif's appointment as commander despite its refusal to join the coalition in the belief that the 2017 Saudi request that he be seconded put the South Asian nation between a rock and hard place.
Pakistani military officials argued at the time that while the appointment would irritate Iran, refusal of the Saudi request would expose Pakistan to criticism from many more in the Islamic world.
Neither the Pakistani government nor the IMCTC gave details of General Sharif's discussions. The IMCTC, however, said in a tweet that "salient contours of IMCTC's domains and initiatives in the fight against #terrorism were discussed."
The tone and gestures during Prince Mohammed's visit contrasted starkly with positions adopted by Mr. Khan during his election campaign and immediately after he took office last year.
In his first post-election televised speech Mr. Khan made a point of discussing his country's relationship with Saudi Arabia and Iran.
"We want to improve ties with Iran. Saudi Arabia is a friend who has always stood by us in difficult times. Our aim will be that whatever we can do for conciliation in the Middle East, we want to play that role. Those tensions, that fight, between neighbours, we will try to bring them together," Mr. Khan said.
The geopolitical fallout, if any, of what for now amounts to symbolism will likely only be evident in the weeks and months to come.
Beyond Iran's toughening stance towards Pakistan in the wake of the attack on its Revolutionary Guards, tell-tale signs would be a closer Pakistani alignment with the Saud-led anti-terrorism coalition and the degree to which Pakistan-based militant launch attacks inside Iran.
Middle East scholar Michael Stephens, who heads the Royal United Services Institute (RUSI) operation in Qatar suggested that reading the tea leaves may best be done with a grain of salt.
"Geography is what it is, and Pakistan will always have to maintain a relationship with Iran (economic and security) regardless of how much cash it gets from Riyadh… Pakistan will do what's best for Pakistan, and not Riyadh, the US or Tehran. Telling everyone what they want to hear is kinda how this all works," Mr. Stephens said.
The Indo-Pak Conundrum: Victims to their Own Narratives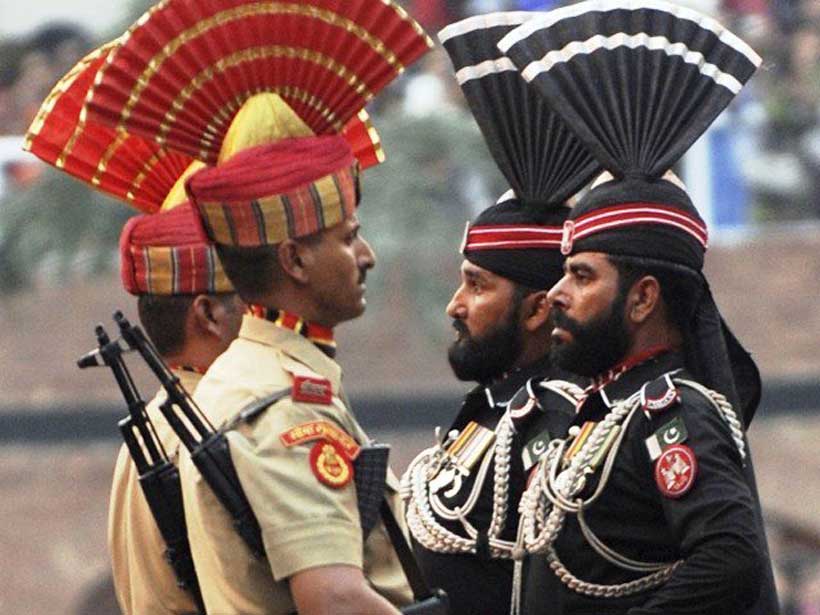 As tensions between nuclear armed India and Pakistan once again escalate in the wake of the devastating attack on Indian paramilitary personnel in Pulwama, one can't help but bemoan the Sisyphean manner in which both countries seem locked in extolling the same narratives over and again. This applies not only to those aiming to broker some semblance of peace between the two age-old rivals, but also those capitalizing on the ensuing discord and enmity for their own benefit. There seems as a result an inescapable script which both the Indian and Pakistani sides seem condemned to follow.
For those unaware of the above reference, it is perhaps better to give a brief account of Sisyphus in order to understand its relevance to Indo-Pak ties. Sisyphus of Ancient Greek legend was condemned by the Gods to rolling a giant boulder up-hill only to watch it roll back down, repeating the tasked infinitum. This punishment, meted out to Sisyphus against his hubris has since often come to denote the futility of human action, in a harsh and unforgiving world. This idea has since been presented by many artists and thinkers in relation to mankind's own search for the very meaning of existence.
In the near timeless case of India and Pakistan, Sisyphus's punishing task which he is doomed to carry out eternally, bears a striking resemblance to the futility faced by statesmen and policy-makers from both sides in reaching an agreement over Kashmir. Their inability to break free from the decades old vitriol and bad blood, and to resort to the same threats of war and retaliation have come to characterize the narrative underlying Indo-Pak ties following every major Kashmir linked attack that has taken place in India. The Pathankot and Uri attacks from two years back, the Gurdaspur attack from 2015, the 2008 Mumbai attacks as well as the 2001 attacks on the Indian Parliament in New Delhi have all served to crystallize the animosity between both countries.
All and any efforts made towards even just normalizing relations have been as a result instantly derailed. It's as if the recent strides made at the ground-breaking ceremony of the Katarpur corridor, the designation of Most Favored Nation (MFN) status with regard to trade, and the decades of people to people ties built around cultural and cricket diplomacy by countless artists, writers, poets musicians and professional athletes from both sides of the border; has all been rendered meaningless in just a matter of days following Pulwama.
It is extremely unfortunate that based on these dynamics, the very idea of brokering a sustainable and lasting peace between the two countries has itself reached mythic proportions. This gap has further widened based on the willful construction of a nationalist identity and narrative that is directly premised on the politics of 'otherness' both within and across the borders dividing India and Pakistan.
In the case of India, this aspect of otherness has reached an unprecedented scale with the rise of far right nationalist discourse premised on the principles of the BJP led Hindutva movement. In direct tension with the secular foundations of Indian democracy, many have attributed India's descent into a religious inspired nationalism as a worrying precursor to regional instability. As the ruling BJP government comes to increasingly resort to the politics of otherness as part of its bid for re-elections, many have accused it of willfully spurring anti-Pakistan sentiments in an attempt at uniting a diverse and divisive electorate against a singular common enemy.
Prime Minister Imran Khan, in his recently televised official statement on Pulwama, addressed this very issue and directly attributed it to the reason behind the bellicose rhetoric being espoused by Indian leaders. In the same speech he also reiterated Pakistan's resolve to retaliate and defend itself should tensions escalate to the point of military conflict.
This entire diplomatic exchange represents thus the same narrative that both sides have remained locked in as a result of Kashmir. The BJP led government in India, constrained by its inability to move beyond pandering to its core electorate, seems perhaps more unable than unwilling to break free from its own set narrative. On the other side, Pakistan's position has more or less been characterized as being dominated by its influential military to which its foreign policy on India has widely been accused of being held hostage from its civilian government. Both narratives are in turn deeply ingrained in the above discussed politics of otherness, to which both sides seem condemned to repeating over and again.
However, if one was to go back to Prime Minister Khan's inaugural speech from September last year, he has repeatedly claimed that both the Pakistani government and its military are on the same page with respect to its regional interests and foreign policy. Even in his statement on Pulwama, he offered in clear terms Pakistan's commitment to working with India against terrorism across the region. He has clearly indicated that he is willing to move beyond these set narratives and work towards attaining the much illusive peace between the two countries. Whether Imran Khan is successful in bridging this ever growing divide between the two countries remains to be seen. However, the fact that he has willfully acknowledged and taken up this Sisyphean task for what it is, presents some hope for those worryingly looking at the war clouds looming over the South Asian region once again.
Breaking Down the South Asian Dynamic: Post Pulwama attack & Saudi Prince's visit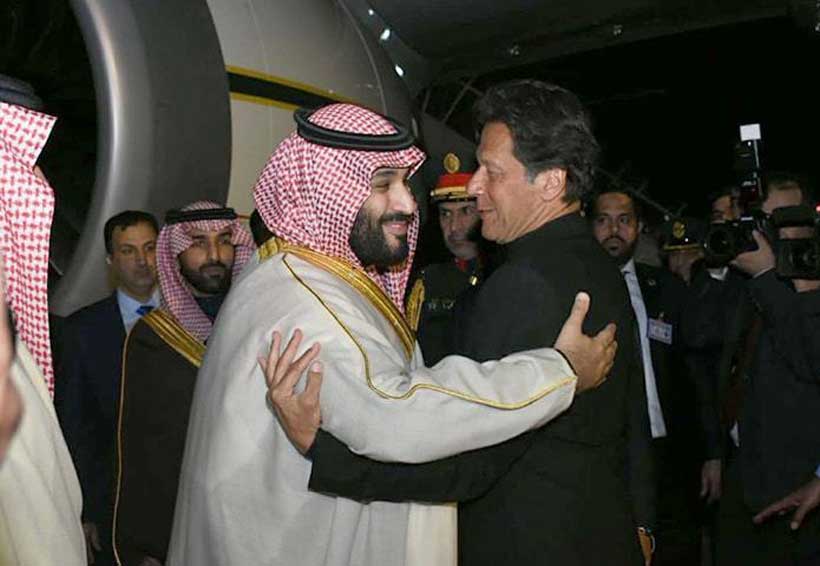 The political and strategic activities of the South Asian region have been on a high for the past week or so. The region faced a very unfortunate incident on 14th February, 2019 when 40 Indian soldiers were killed in an attack in Pulwama, India. The already torn region of Kashmir faced yet another blow and has been in turmoil since the attack. The 14th February attack somehow translated into more violence against the innocent civilians of Kashmir. Not only Kashmir but other cities of India have also been actively involved in hate crimes against Muslims, particularly Kashmiri students. BBC news reported the violence against students from Kashmir in various universities across the country and how they were being thrown out of their residences.
The attack has been condemned by all alike, however, the Indian nation has assumed Pakistan to be behind the attack. The Prime Minister Nirendra Modi has given his two cents on the matter and his words seem to be clearly motivated by his desire to cash this unfortunate incident for a win in the upcoming Indian general elections. India's highest Diplomat in Pakistan has also been called back and the action has been reciprocated by Pakistan as well. As we break down the current rush of hostilities between the two nuclear neighbors there are mainly two theories revolving around. The Indian theory is short and bitter, it claims Pakistan is responsible because it is an irresponsible state that provides safe havens to terrorists. The group linked to this attack has also been declared close to Pakistan's agencies on many occasions. The theory is evidently childish and sounds like it is being repeated for the 100th time with no solid proof or credible information yet again. The mere allegations have brought no good but unfortunately India's higher names are set on fueling the age old fire for their petty gains.
We have a theory from Pakistan's side as well. Although it is not an official theory nor has it been discussed by any of the higher leaderships publicly but it is nonetheless doing the rounds in the policy circles. It claims Indian officials themselves were involved in not only the Pulwama attack but the less spoken of, Iran attack as well. Both the attack were significantly close to Pakistan's Eastern and Western borders. This is something the state of Pakistan would not bring upon itself at such a crucial time when the security situation of the state was desired to be at its best for the arrival of the Saudi crown prince, Muhammad Bin Salman. The visit was not only a remarkably significant diplomatic achievement for Pakistan but was also very significant for the South Asian region and Muslim countries around the globe. In times like this when the state of Pakistan was consumed in making preparations for the arrival of the Prince it would be a rather immature strategic move to involve itself in something so disastrous and fragile at the same time. However, some believe Indian officials planned this to create unrest in the region as an attempt to halt the Prince's visit.
The visit, however, took place anyway and was a rather successful one. Not only were MoU's signed between the leadership of Pakistan and the Royalty of Saudi Arabia but mechanisms to implement the MoU's were also chalked out. The spontaneous release of 2107 Pakistani prisoners from Saudi prisons n the request of Pakistan's prime minister was a clear show of the blooming Saudi-Pak relations. It not only took the friendship and trust between the two nations to new heights but created a new sense of love and respect for the Prince amongst the general public of Pakistan which has not been seen so evidently before. The prince being awarded with the highest civil award of Pakistan marks the utmost success of the visit which did not settle well with many of the self-proclaimed key players of the region.
The prince has plans to visit India as well where it is expected that peace between India and Pakistan would be suggested as a key desire. It can also be expected that India's leadership would take this opportunity to trade peace in return of other favors from the Saudi delegation. Regardless of the absurd reaction from the neighboring country, Pakistan has remained calm and acted with utmost maturity during the entire blame game. Regardless of knowing very well how capable the Pakistani army is, the state has made no loose remarks and has also recorded its reservations against India's escalating remarks in a letter penned down by the Foreign Minister of Pakistan to the General Secretary of the United Nations. Pakistan always has, still does and always will promote peace and prosperity in the region.