Kulbhushan Jadhav Affair and India-Pakistan Conflict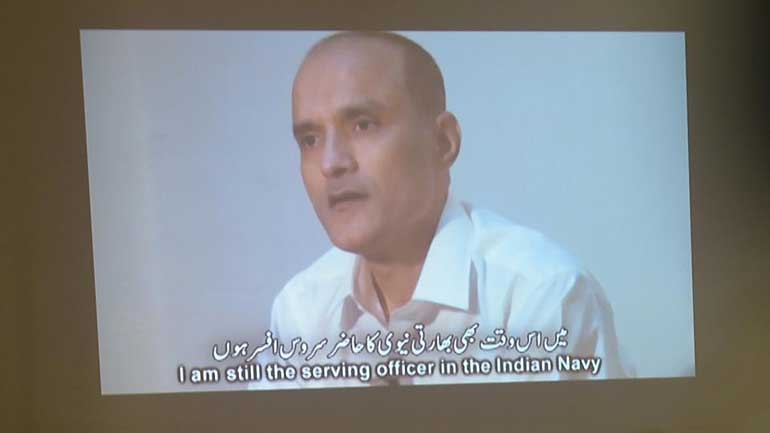 On April 10, 2017, a former Indian Navy officer national Kulbhushan Yadav was given the death sentence by a by an its Field General Court Martial under provisions of the Pakistan Army Act and the Official Secrets Act. Jhadav can appeal the death sentence to Pakistan's Supreme Court within 60 days.
H was convicted for espionage, anti-state activities, role in terror incidents and sabotage in the country. Yadav was taken into custody by Pakistani agencies in March 2016 in Balochistan. Diplomatic ties between India and Pakistan plunged following Jadav's conviction, with external affairs minister Sushma Swaraj warning Islamabad of "consequences" if Jadav's death sentence was carried out.
Jadhav had admitted before the court that he worked for the Indian intelligence agency Research and Analysis Wing (RAW). He was involved in several clandestine activities to create instability in Karachi and Balochistan areas. During the trial, he was provided the services of a defending officer, as per law. India responded to this verdict by calling Pakistan's High Commissioner Abdul Basit to the Ministry of External Affairs and gave him a demarche saying that the court proceedings that led to the death sentence of Jhadav were "farcical" and it would consider it as "premeditated murder'. It also said that the ministry had "repeatedly sought" consular access to Jhadav but was not permitted by the Pakistani authorities. A day after India called conviction of Yadav in Pakistan a 'farcical trial', the United Nations declined to take a position on the death sentence handed to the self-confessed Indian spy. India denied Yadav was working for RAW but admits that he is a retired naval officer.
India was expected to be take up the matter when the US National Security Advisor McMaster visits India to meet PM Narendra Modi, Foreign Minister Sushma Swaraj, and his Indian counterpart Ajit Doval. Doval was said to be preparing to raise the matter with his counterpart. The United Nations have already made it clear that it will not intervene in the matter, The Indian government has been arguing it was difficult for India to verify Pakistan's claims that Jhadav, a serving Indian Naval officer on an alleged spying mission entered Pakistan with original Indian passport.
Pakistan too was in no hurry to execute him and was likely to put him as a bargain to seek advantage in bigger negotiations.
As expected, Indian reaction was immediate and intense. There was fierce criticism of the verdict in the Indian media. Defense Minister Khawaja Asif quickly announced that the death sentence against Jhadav will not and cannot be carried out quickly. Meanwhile, it was reported that a retired Pakistani military officer in Nepal had disappeared which suggested that the spy wars between India and Pakistan had intensified. Certainly, the issue had to be handled calmly for the sake of normal relations between India and Pakistan. Meanwhile, Nawaz Sharif played it cool, addressing an Air Force passing-out parade, said: "Cooperation rather than conflict and shared prosperity instead of suspicion are the hallmarks of our policy." National Security Adviser and former Army general Nasser Khan Janjua, too, said India and Pakistan "cannot be enemies forever and must engage in dialogue to resolve disputes." But Modi is heavily into populism based on hatred of Muslims and will not budge, especially as global politics is veering toward a new cold war between the U.S. and China in South and Southeast Asia. Helplessly, the Pakistan-India spy war will go on, hurting the future of the people living in the region.
An editorial "Reducing Pak-India tensions" published in Dawn, April 13th, 2017 argued that for four years now, Nawaz Sharif had expounded the same message of regional integration, trade and prosperity, but he had been incapable of convincing either India or the security establishment here. The National Security Adviser too has been "ineffective, notwithstanding the occasional willingness to speak candidly". Meanwhile, Pakistan still did not have a foreign minister and the defense minister was "effectively irrelevant" because he had to foremost responsibility to tackle the electricity crisis as he was he minister of the power sector and that was his main portfolio. The teams advising the Premier in the domains of both national security and foreign policy are ad hoc. From that "self-created position of weakness, it is unlikely Mr. Sharif will have much success in implementing the vision he so often articulates".
To complicate matters, Lt Col (retd) Muhammad Habib Zahir went missing from Nepal on April 6. The Foreign Office on Thursday hinted at the involvement of Indian intelligence agencies behind the abduction of a retired Pakistani colonel in Nepal. The media was abuzz with speculation that India's Research and Analysis Wing (RAW) has abducted the retired lieutenant colonel as a retaliatory act to the conviction of Kulbhushan Jhadav. Observers believe India could use the abducted Pakistani retired army officer as a bargaining chip for the RAW agent.
Indian Minister of External Affairs Sushma Swaraj said India would go to any extent to ensure safety for Jhadav, calling Pakistan's verdict 'premeditated murder'. India would not leave any stone unturned to ensure safe release of Jhadav Pakistan Defense Minister Khawaja Muhammad Asif on April 13, 2017 informed the Senate that due process was followed in the trial of the serving Indian naval officer, who has 60 days to appeal the verdict.
On April 13, 2017, the Pakistan Army's corps commanders agreed during a meeting at the army GHQ that there would be no concessions made in Jhadav's death penalty because the man was convicted of serious offences against the state of Pakistan. The Foreign Office has also made it clear that there was irrefutable evidence against Jhadav and his role in terrorist activities as well as financing those activities on the soil of Pakistan. For a man who was initially disowned by his own countrymen, Jhadav had suddenly become somewhat of a cause celebre. Why else would 13 requests for consular access be made by the Indian diplomatic mission here if there was no connection between Jhadav and his handlers? Foreign Office spokesman Nafees Zakaria had explained that though New Delhi and Islamabad have a bilateral agreement on consular access it is Pakistan's prerogative to refuse the same in the name of Article VI of the accord.
Meanwhile, media reported that there were 27 Pakistanis arrested for espionage
Most of the spies caught by the intelligence agencies have been apprehended from either military sensitive locations or in border towns. On April 14, 2017 India decided to put on hold all bilateral exchanges with Pakistan in reaction to the Jhadav affair. The Indian government called off talks between the two neighboring countries on maritime security which was scheduled to be held on April 17. India officially told Pakistan that it was not ready to host a delegation from Pakistan Maritime Security Agency (PMSA). Both Pakistan and India had earlier approved dialogue between PMSA and the Indian Coast Guard in a bid to break the deadlock caused by a militant attack on an Indian military base in Uri in September last year. According to the Indian Defense Ministry, it was not the time to discuss security with Pakistan when it had awarded the death sentence to Jhadav. The only engagement that Pakistan and India have had until now this year has been the 113th meeting of the Permanent Indus Commission talks for which an Indian delegation visited Islamabad in March this year.
An editorial "No concessions on terror" published in The Express Tribune, April 15, 2017 argued that:
As Pakistan stiffened its stance on the death sentence handed out to Indian spy Kulbhushan Jhadav in the wake of threats by officials in New Delhi that the move would carry severe repercussions for Islamabad, there are mounting suspicions that hostile agencies are behind the recent abduction of a retired Pakistani serviceman in Nepal. …. Aggravating already fraught relations between India and Pakistan is the appearance of wild speculation in the Indian media about the alleged link between Jhadav's case and the disappearance of Pakistani ex-serviceman Habib Zahir. Indian media outlets have claimed that Zahir had been part of the team that captured Jhadav. The truth, however, is that Zahir retired from military service several years before Jhadav's arrest. What is becoming increasingly clear is that the Research and Analysis Wing or some such hostile agency may have entrapped him and kept him in its custody for leverage in the Jhadav case. Instead of relying on legal and diplomatic measures, New Delhi appears to be working on some hidden fronts as usual.
On April 14, 2017, Prime Minister's Adviser on Foreign Affairs Sartaj Aziz shared with media the state's charge sheet against Indian spy Kulbhushan Jhadav and a timeline of his trial. Aziz told a press conference that Jhadav had been held responsible for the following terrorist activities in Pakistan:
Sponsored and directed IED and grenade attacks in Gwadar and Turbat; directed attacks on a radar station and civilian boats in the sea opposite to Jiwani Port; funded subversive secessionist and terrorist elements through hawala/hundi for subverting Pakistani youth against the country, especially in Balochistan; sponsored explosions of gas pipelines and electric pylons in Sibi and Sui areas in Balochistan; sponsored IED explosions in Quetta in 2015, causing massive damage to life and property; sponsored attack on Hazaras in Quetta and Shias en route to and back from Iran; and abetted attacks through anti-state elements against LEAs, FC and FWO in areas of Turbat, Punjgur, Gawadar, Pasni and Jiwani during 2014-15, killing and injuring many civilians and soldiers.
On the occasion, Aziz also asked why Jhadav had been carrying official documents under an alias at the time of his arrest. "I would like to ask India why he [Jhadav] was using a fake identity and masquerading as a Muslim," Aziz asked. "Why would an innocent man possess two passports — one with a Hindu name and other with a Muslim name," he asked.
Reassuring critics that steps had been taken to ensure transparency during the trial of the Indian spy under Pakistan's laws and the Pakistan Army Act, Aziz also provided a timeline of the trial and proceedings against Jhadav.
Indian external affairs minister V. K. Singh had reiterated that the Indian government was considering all steps to get access to Jhadav. The case of Kulbhushan Jhadav continues to remain at a boiling point. While India has postponed talks between the coast guards, Pakistan is apparently compiling a new dossier for the international community on the Indian national accused of being a RAW spy. While Pakistan has not yet given a copy of the judgement, it will apparently be part of a new dossier on Jhadav, which will be handed over to the United Nations and ambassadors in Islamabad, Pakistani newspaper The Nation reported. The new dossier was to be based on the early testimonial as well as statements given in front of the court by Jhadav. Pakistan had collected "fresh evidences on Indian involvement inside Pakistan to spread anarchy and militancy, sources stated," according to the report. Meanwhile, external affairs minister V. K. Singh reiterated that the Indian government was considering all steps to get access to Jhadav. "Pakistan government has denied consular access to Jhadav despite India trying for 13 times. We are trying everything to get access to Jhadav," he told reporters. Meanwhile, there has not been any statements from India or Pakistan on April 15, 2017 about the retired Pakistan army soldier, who reportedly went missing near the India-Nepal border two days before Jhadav's death sentence was publicly revealed. Pakistan officials had pointed fingers at India saying that he had been "lured" by foreign intelligence agencies, but Indian diplomats – in Delhi and in Islamabad – have told the media that they don't have any information.
Vishwa Hindu Parishad (VHP) leader Pravin Togadia said on April 14, 2017 that "India should bomb Pakistan to secure the release of ex-navy officer Kulbhushan Jhadav and carpet bomb Kashmiri "jihadis" to stop the spread of militancy…Our government should show similar resolve of India First by bombing Pakistan, which is barely 800 km from New Delhi and securing the Indian soldier's release,".
Meanwhile, the law-enforcement authorities of Azad Kashmir, Pakistan claimed to have arrested three Indian intelligence agents for alleged anti-state activities on April 13, 2017. The charges leveled against the three "Research and Analysis Wing (RAW) recruits" included bombing a police station in the region. The three have been booked under the Anti-Terrorism Act (ATA) and Explosives Act.
Meanwhile, Pakistan's defense minister has tried to assure that the death sentence of Jhadav was not carried out without due process. He has made an appeal for amnesty to the president. The Indian media had most predictably hit the roof. Mohammad Waseem, in his article. "Political temperature on the rise, The News, April 16, aptly stated that:
Diplomacy in a political environment characterized by vitriol of the worst kind emanating from the two sides of the spectrum is bound to suffer. On a larger scale, the world opinion has yet to give its final verdict… One can only hope for a deft handling of the issues at hand whereby peace and harmony, instead of tension and confusion, emerge as milestones of political strategy at home and foreign policy abroad.
On April 16, 2017 Pakistan stated that a dossier on Kulbhushan Jhadav's involvement in espionage will be handed over to foreign envoys in Pakistan. The dossier will also be sent to the UN and other institutions. Sources said details about Indian interference in Pakistan, Jhadav's involvement in sabotage and subversive activities in Pakistan were added in the dossier. Talking to state-run media, Foreign Office spokesman Nafees Zakaria said India was involved in spreading terrorism in Pakistan. He said India was also involved in terror financing activities in the country. To a question, he said barbaric activities against innocent Kashmiris in the Indian-held Kashmir had been exposed. To another question regarding Col (r) Habib Zahir, he said the Nepalese government was cooperating with Pakistan in this matter.
India was looking to mount yet another diplomatic offensive to save Jadhav and the government was awaiting a response from Pakistan over its demand for a copy of the charge sheet against Jadhav as it mulled options to secure his release. The government was contemplating a move like the one it launched last year after the Uri attack to "isolate" Pakistan. As a first step, India blocked maritime security dialogue between the two countries. This was the first move by the Indian government to raise the stakes for Pakistan after the Jhadav sentencing as it suggested that the two countries could be returning to the situation which prevailed in the immediate aftermath of the Uri attack last year in which 19 Indian soldiers were killed. Pakistan had consistently maintained that the two governments need to start the comprehensive bilateral dialogue, as announced in December 2015, to resolve outstanding issues. The maritime talks, coupled with meetings mandated by Indus Waters Treaty, were a small beginning by both the countries to move on after the bitter exchanges over Uri. The Indian government was also likely to review its attempts in the past few months to encourage people to people contacts with Pakistan.
Are India and Pakistan heading towards possibly the nastiest crisis in South Asia since the Mumbai terrorist incident of 2008? By Barkha Dutt, in her article "Pakistan's move to execute alleged Indian 'spy' may be a ploy to sabotage the prime minister", The Washington Post, April 16, 2017 maintained that:
In any case, whether Jadhav is a spy is moot. What is beyond dispute is that the Pakistan Army's declaration of a death sentence for him via a clandestine court-martial breaks with all standard practice; it is almost an open invitation to escalation from India…. … "The timing and manner of announcement of the Jadhav decision indicates that it is either a bargaining chip to exchange someone in India's custody or is meant to deter the country's civilian prime minister from any new initiatives to mend fences with India," …. Like all seasoned practitioners of statecraft, he knows that Pakistan is unlikely to take things to a dangerous precipice with India over the arrest of a spy; the motive lies elsewhere. Another explanation: Pakistan wants to use Jadhav as leverage to counter the aggressive global push by Delhi to isolate Islamabad as the perpetrator of state-sponsored terrorism. But the Narendra Modi government has never gone by the conventional playbook on Pakistan. From dropping in to visit Nawaz Sharif on his birthday to surgical strikes across the line of control, the Indian prime minister has followed his own script of shock and awe on Pakistan, in both friendship and hostility. Pakistan's move on the tactical chessboard may prove to be a gambit gone wrong if India decides to play back in kind.
Indian-Pakistani relations weren't going well even before the Jhadav affair. India's dialogue process with Pakistan has been stalled since the attack on the Pathankot air force base in January 2016. Last month, India sent its officials to the meeting of the Permanent Indus Commission in Islamabad. During the meeting, World Bank officials had mooted that water resources secretaries could meet in Washington from April 10 -13 to find a resolution over the dispute mechanism. India, however, had conveyed its reluctance to accept those dates in March.
Indian interference in the affairs of Karachi wasn't just baseless Pakistani propaganda, it was a fact. Uzair Jan Baloch, the notorious dacoit of Karachi's Lyari, was arrested in January 2016 in Pakistan after a period of hiding outside the country. He will face a military court for "espionage activities, providing secret information regarding Army installations and officials to foreign agents (Iranian intelligence officers) which is a violation of the Official Secret Act 1923."
A symbol of the criminalization of Karachi politics, Baloch belongs to the family of Rehman Dakait, the underworld boss of Karachi who was politically embedded in the Muhajir-Sindhi conflict that played out between the Muttahida Qaumi Movement (MQM) and Pakistan Peoples Party (PPP). Uzair has confessed to an Iranian "connection" in the Baloch nationalist movement in restive Balochistan; hence implying an Indian "connection" as well. Lest one forgets, Iran has accused Pakistan of aiding Iranian Baloch who often target Tehran's soldiers. Abdolmalik Rigi, who was hanged in an Iranian jail in 2010, was educated on the sly in Saudi-funded Madrassa Banuria in Karachi before he joined the killer Jundallah with Al Qaeda in Pakistan and began attacking inside Iran.
The "Indian connection" finally reduced MQM to a shell of its former glory in Karachi. The PPP too has been weakened by the ongoing military operation in the metropolis against its extortionists. Pakistan sees an "Indian hand" in the uprising in its Balochistan province.
There was apprehension that the matter had to be calmly tackled otherwise it would blow up in to a new crisis between the two estranged seigneurs
Clearly, Pakistan was unable to move towards any dialogue with India on any issue, including spy wars. Meanwhile, Pakistan had decided in principle not to accept any pressure on the issue. Most probably the Jhadav affair would be settled with a deal of some sorts between India and Pakistan. Some concessions will be given by India in exchange of the spy being handing over to them in due time. It was just a matter of time when the trade took place. Pakistan did not want to escalate the already tense situation further. Despite the bravado, a deal would be made and Jhadav would be freed soon.
The need of China- Pakistan ties
At times the significance of neighboring countries can't be denied or ignored. History is the biggest beholder that any country who fancied cordial terms with its neighbors has enjoyed the taste of development and otherwise. In the contemporary world, the links get to establish on the plank of how strong are you economically. Gone are the days when the relationships would foster for the reason of being the nuclear might. At the present era, the countries offer you even hand in case you are economically well instituted and dominate the world market. China the world's biggest emerging economy is fantasized by the majority of the countries. The countries perceive China as an ideal country to foster good terms.
In this respect, Pakistan is fortunate enough to have the best terms with China. The amicable terms of Pakistan and China are an eyesore for many countries particularly the U.S. and India. The saga of Pak-Sino ties began in 1951 when Pakistan recognized nationalist turned communist China. From those very moments, the relationship between both states experienced the unending boom. The friendship between China and Pakistan has now strengthened much more than ever. The rationale behind that intimate bond is now transactional and strategic needs of both the states.
China an economic giant shares 523kms border with Pakistan and situated in the northeast side of the latter. During recent times its significance for Pakistan has grown multiple times. China is vital for Pakistan strategically and transactionally. The BRI (Belt Road Initiative) that envisages China's connectivity with the world incorporates CPEC is fate changer for Pakistan. The thriving consummation of CPEC would ensure Pakistan's economic triumph. Pakistan shares a history of a troubled relationship with India. As per the designs of India, it wants Pakistan diplomatically isolated from each front. When it comes to Afghanistan, the North Alliance there doesn't enjoy good terms with Pakistan. It doesn't possess virtuous viewpoints about Pakistan. It has ever blamed Pakistan for the instability in Afghanistan. In the west, Pakistan has another neighbor Iran, with which the relationship rosary is somewhat fragile. The U.S. sanctions bearer country (Iran) has mixed contemplations about Pakistan. The story of Pakistan's ties with Russia doesn't portray the perfect portrait. Across the continent, there is a global power the U.S. that has a longing desire to dictate Pakistan. It has commanded Pakistan whether it is the cold war or the global war against terror. The U.S. outpoured the money in Pakistan whenever it desired and froze the aid according to its desire. Thus, Pakistan is not at good terms with the U.S.
Amidst all the scenario, Pakistan is in dire need to maintain good terms with the one that could mitigate its sufferings. In this respect, China holds the best prospect. Besides, China always came forward to assist Pakistan on international organizations like the U.N. and the S.C.O (Shanghai Corporation Organization). Along with it China being the dominant member of N.S.G (Nuclear supplier group) has always endorsed Pakistan's membership bid. On the other side, China negates India's desire to become a member of the N.S.G. The resolution of the Kashmir issue is among the national interest of Pakistan, and China always stood by Pakistan in this matter. The matter is not confined here, China being an industrial and the technological giant outpours its products in Pakistan. The transfer of technology and products from China to Pakistan has helped the latter up to a greater extent.
Indeed China has been kind to Pakistan, but the question is; why China showers its magnanimity over Pakistan.
The answer has multiple dimensions. Aforementioned, China is dominating the global economy. It is emerging as the world's biggest economy by upsetting the U.S. This upkeep of China is an eyesore for the U.S. Globally, China shares irksome ties with the U.S. Last year the U.S. entered into the trade war with China. When it comes to the region, Asia, China finds India as its competitor that seeks regional dominance. Additionally, the consummation of the BRI has now become considerably important for China. China is well aware of these challenges and astute enough to read the trends of the time. It deems Pakistan as a considerate opportunity in this respect.
Pakistan and India are rival countries and vie for the dominance in the South-Asia. Also, India seeks Pakistan's isolation on the diplomatic front. Whether it is LOC skirmish, water dispute, and the Kashmir issue; India and Pakistan ever remain at loggerheads over any of these issues. Such stalemate is an ideal context for China because the U.S. has opted India as its strategic ally in South-Asia. China, Pakistan, and India all the three countries share borders with each other. Regrettably, these three countries have reservations over territory and have fought wars as well. The nexus of Pakistan and China is undoubtedly capable of countering the Indian interests. However, this nexus is more in favor of China than Pakistan. Engaged in other affairs like trade war, operating the BRI, seeking an alliance with other states; China doesn't want to involve more in countering India. China sees Pakistan as the best option for this purpose because this serves the interests of China and Pakistan as well.
When it comes to technological advancement, China has hit the mark in the world. Industries, power sector, automation houses, such departments require energy to run. Central Asian Republics (CARs) are renowned for being rich in energy resources, and the unique location of Pakistan joins it with the CARs. The CPEC is initiated for this purpose of providing the shortest route for transiting fuel to China from energy-rich countries, and Pakistan is playing its role as the energy-conduit state. Pakistan through the CPEC is conserving China's transit cost and time as well.
China and the U.S. share a fraught history of bonds and remain at loggerheads; Pakistan in recent times has also experienced cold shoulder from the U.S. The cold war rival of the U.S., Russia is yet another camp that is not at good terms with the former. The neighbor of Pakistan, Iran that is reeling from the vicious cycle of the economic downturn is also the victim of the U.S. rage. Last year the U.S. torpedoed the JCPOA unilaterally, and during the same year, Donald Trump heralded the sanctions on Iran. Iran also initiated a project with India to counter the CPEC on its Chabahar port. China by the cooperation of Pakistan can incorporate Iran in the CPEC, and the alliance of China, Pakistan, Iran, and Russia can counter the dominance of the U.S.
The recent visit of Chinese Vice President Wang Qishan to Pakistan is a good omen for both countries. The Chinese reservations that reared head following the terrorist attack in Gawadar would diminish by the visit of vice president. Wang Qishan also held meetings with PM Imran Khan, President Arif Alvi, CM Usman Buzdar and Governor Punjab Chaudry Ghulam Sarwar.
It is also in the national interest of Pakistan that it should seek an alliance with other countries and the foreign policy agenda of Pakistan has also the same appeal. PM Imran Khan with his foreign minister Shah Mehmood Qureshi must have to strengthen the bond further since the cordial bonds with China would ensure Pakistan's prosperity.
India's Continuing Tussle Between Hindu Nationalists And Reformists
On the evening of January 30, 1948, as he walked to his regular interfaith prayer meeting, Mahatma Gandhi was shot and killed. The assassin Nathuram Godse was a Hindu nationalist who opposed Gandhi's inclusiveness towards those of other faiths, particularly Muslims.
Manifested in its worst form in the assassination of a revered figure, this conflict between liberal and nationalist Hindus continues to this day. The chief minister of West Bengal, Mamata Banerjee, is the current target of the Hindu nationalist BJP's scorn.
In India's recent general election, the BJP and Narendra Modi the prime minister were returned to power with an increased majority in the lower house of India's parliament. Their usual poor showing in West Bengal, even though improved in this election, has led to comments designed to arouse public ire — like the state has been turned into a mini-Pakistan. It is worth noting that Gandhi's killer was a former member of the RSS, leaving it to form an armed group. Also the RSS is considered the ideological fountainhead of the BJP, and Mr. Modi continues to be a member.
Not long ago Gauri Lankesh was murdered outside her home for expressing liberal views. This time in the Kolkata disturbances against Banerjee, it was a bust of a secular reformist liberal that was decapitated: the venerated Ishwar Chandra Vidyasagar (1820-1891) was a lawyer, philosopher and reformist who contributed to rationalizing the Bengali alphabet and prose, and fought for Hindu widows' right to remarry.
But the difference between Hindu nationalists and liberals is of earlier origin. In the 19th century, social reformers like Justice Mahadev Govind Ranade were opposed by others like B. G. Tilak. If Ranade supported the Age of Consent Bill raising the age when girls could be married from 10 to 12, then Tilak thought it to be an interference by foreigners in Indian customs and traditions. Tilak had also formed cow protection societies raising communal tensions in his Bombay base — sound familiar to the present situation where meat eaters and leather tanners are often targeted? Ranade sought to keep religion private and foresaw the potential conflict
The practice of celebrating the birthday of the god Ganesh was old and the 'puja' or worship usually performed in the home. Tilak now encouraged a public 'puja', encouraging people to bring the Ganesh idols out of their homes and celebrate openly. The festival of loud music and idols in procession continues to this day and is now spread out over ten days.
The consequences had been predicted by Tilak's reformist adversaries, notably Justice Ranade and G. G. Agarkar, the latter a friend 0f Tilak who had become a critic. In September 1893, Bombay suffered its first communal riot leaving nearly 100 dead and 500 injured. Minor clashes had already occurred over the incessantly loud music and general disruption of daily activity.
The religious flavor so imparted to the independence movement gave pause to Muslims; the glue binding secular society was being dissolved. Feeling marginalized, they soon formed the Muslim League to protect their rights, and not long thereafter began to demand a separate homeland … Pakistan.
Nuclear Suppliers Group: 29th Plenary Meeting
Following the June's 2018 plenary in Latvia, Nuclear Supplier Group is once again all set to held its next meeting in June 2019 in Kazakhstan. From transparency till criteria based admittance and further discussion upon technical and political admittance, NSG stepped through the innumerable stages. The 29th meeting is expected to be mostly focused on the agenda of accepting the memberships of new applicants, India and Pakistan.
28th plenary meeting came forward with discussion of 48 governments on all the developments of NSG meetings till date along with observers. They revised the strong binding on prevention of proliferation of nuclear weapons. Participating governments also exchanged the information regarding global proliferation challenges and implementation of NPT worldwide. It included reconfirmation of commitment of Democratic Republic of Korea (DPRK) to United Nations Security Council resolutions 2371, 2375, 2397 and all previous resolutions.NSG also reviewed continued binding of Iran to Joint Comprehensive Plan of Action (JCPOA) and E3/EU+2. Discussions were also proceeded on requests of participation. As it was discussed earlier in 2016th meeting to create space for technical, legal and political aspects of non-NPT members.
Earlier NSG discussed about strengthening the transparency of the organization. It felt need to update its guidelines considering the nuclear related industry and global security. Strengthening the NSG policies, its transparency, Peaceful use of nuclear energy, prevention of nuclear proliferation, nuclear exports with appropriate safeguards, physical and technical protections, adherence to the NPT and JCPOA policies are the basic aims behind the organization. Previously NSG condemned DPRK's nuclear tests and Iran's nuclear program showing its strong assertion. The process however was often politicized and biased in historical events where China seems to be in favor of Pakistan while Russia and USA preferred India's stance. Back in 2012 Australia supported India's entry to the group. Previously India and America condemn the sale of nuclear reactors of China to Pakistan. It was the part of same series in global politics.
NSG released "Updated Control List" following the 28th plenary meeting to reaffirm the strong binding and implementation of NPT as well as JCPOA. In January 2019 China once again made it obvious with its statement. The admittance of non NPT members is against the basics of NSG. It will be worth assuming that the rules and regulations of NSG or any other international or national organization are always tend to get mold at the need of the hour. Governments are manipulating these basics according to their benefits. Acceptance of applications of membership by India and Pakistan would definitely mean to deviate from the basics of the NSG. As most of the meetings in previous decade were focused on criteria based membership and adherence to the NPT rules along with observation of IAEA principalities.
Going through the sequence of events Nuclear Supplier Group nurtured through the couple of years. Accepting the membership of non NPT members Pakistan and India are against guidelines of NSG. Nuclear non-proliferation and productive use of weapons is its basic principle. If NSG governments make a consensus upon accepting the memberships based on legal, technical and political reasons it will deviate from basic norms and principles of NSG. However flexibility is the second option. It can be the softest possible gesture in any kind of setup. Through flexible rules and regulations and to absorb changing whenever required, any organization can be best fitted into the system. Likewise NSG may become supple enough to consider the options otherwise then the non NPT membership condition. Flexibility is the beauty of anything. Rigidness does not let any setup modernize according to the hour of the hour. Same fits for the NSG membership for Pakistan and India. However on the other hand taking stake of the very basics of any organization would be behind normal. It may demolish its transparency and reputation. So NSG has choice whether to maintain its reputation or to become flexible enough to absorb the changes at greater platform.