Kulbhushan Jadhav Affair and India-Pakistan Conflict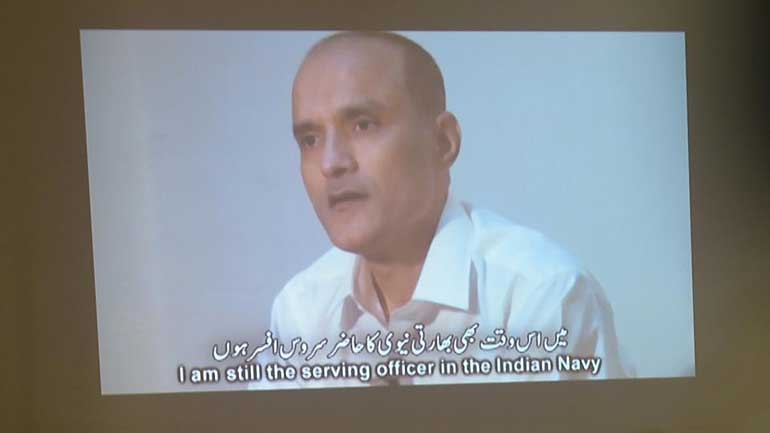 On April 10, 2017, a former Indian Navy officer national Kulbhushan Yadav was given the death sentence by a by an its Field General Court Martial under provisions of the Pakistan Army Act and the Official Secrets Act. Jhadav can appeal the death sentence to Pakistan's Supreme Court within 60 days.
H was convicted for espionage, anti-state activities, role in terror incidents and sabotage in the country. Yadav was taken into custody by Pakistani agencies in March 2016 in Balochistan. Diplomatic ties between India and Pakistan plunged following Jadav's conviction, with external affairs minister Sushma Swaraj warning Islamabad of "consequences" if Jadav's death sentence was carried out.
Jadhav had admitted before the court that he worked for the Indian intelligence agency Research and Analysis Wing (RAW). He was involved in several clandestine activities to create instability in Karachi and Balochistan areas. During the trial, he was provided the services of a defending officer, as per law. India responded to this verdict by calling Pakistan's High Commissioner Abdul Basit to the Ministry of External Affairs and gave him a demarche saying that the court proceedings that led to the death sentence of Jhadav were "farcical" and it would consider it as "premeditated murder'. It also said that the ministry had "repeatedly sought" consular access to Jhadav but was not permitted by the Pakistani authorities. A day after India called conviction of Yadav in Pakistan a 'farcical trial', the United Nations declined to take a position on the death sentence handed to the self-confessed Indian spy. India denied Yadav was working for RAW but admits that he is a retired naval officer.
India was expected to be take up the matter when the US National Security Advisor McMaster visits India to meet PM Narendra Modi, Foreign Minister Sushma Swaraj, and his Indian counterpart Ajit Doval. Doval was said to be preparing to raise the matter with his counterpart. The United Nations have already made it clear that it will not intervene in the matter, The Indian government has been arguing it was difficult for India to verify Pakistan's claims that Jhadav, a serving Indian Naval officer on an alleged spying mission entered Pakistan with original Indian passport.
Pakistan too was in no hurry to execute him and was likely to put him as a bargain to seek advantage in bigger negotiations.
As expected, Indian reaction was immediate and intense. There was fierce criticism of the verdict in the Indian media. Defense Minister Khawaja Asif quickly announced that the death sentence against Jhadav will not and cannot be carried out quickly. Meanwhile, it was reported that a retired Pakistani military officer in Nepal had disappeared which suggested that the spy wars between India and Pakistan had intensified. Certainly, the issue had to be handled calmly for the sake of normal relations between India and Pakistan. Meanwhile, Nawaz Sharif played it cool, addressing an Air Force passing-out parade, said: "Cooperation rather than conflict and shared prosperity instead of suspicion are the hallmarks of our policy." National Security Adviser and former Army general Nasser Khan Janjua, too, said India and Pakistan "cannot be enemies forever and must engage in dialogue to resolve disputes." But Modi is heavily into populism based on hatred of Muslims and will not budge, especially as global politics is veering toward a new cold war between the U.S. and China in South and Southeast Asia. Helplessly, the Pakistan-India spy war will go on, hurting the future of the people living in the region.
An editorial "Reducing Pak-India tensions" published in Dawn, April 13th, 2017 argued that for four years now, Nawaz Sharif had expounded the same message of regional integration, trade and prosperity, but he had been incapable of convincing either India or the security establishment here. The National Security Adviser too has been "ineffective, notwithstanding the occasional willingness to speak candidly". Meanwhile, Pakistan still did not have a foreign minister and the defense minister was "effectively irrelevant" because he had to foremost responsibility to tackle the electricity crisis as he was he minister of the power sector and that was his main portfolio. The teams advising the Premier in the domains of both national security and foreign policy are ad hoc. From that "self-created position of weakness, it is unlikely Mr. Sharif will have much success in implementing the vision he so often articulates".
To complicate matters, Lt Col (retd) Muhammad Habib Zahir went missing from Nepal on April 6. The Foreign Office on Thursday hinted at the involvement of Indian intelligence agencies behind the abduction of a retired Pakistani colonel in Nepal. The media was abuzz with speculation that India's Research and Analysis Wing (RAW) has abducted the retired lieutenant colonel as a retaliatory act to the conviction of Kulbhushan Jhadav. Observers believe India could use the abducted Pakistani retired army officer as a bargaining chip for the RAW agent.
Indian Minister of External Affairs Sushma Swaraj said India would go to any extent to ensure safety for Jhadav, calling Pakistan's verdict 'premeditated murder'. India would not leave any stone unturned to ensure safe release of Jhadav Pakistan Defense Minister Khawaja Muhammad Asif on April 13, 2017 informed the Senate that due process was followed in the trial of the serving Indian naval officer, who has 60 days to appeal the verdict.
On April 13, 2017, the Pakistan Army's corps commanders agreed during a meeting at the army GHQ that there would be no concessions made in Jhadav's death penalty because the man was convicted of serious offences against the state of Pakistan. The Foreign Office has also made it clear that there was irrefutable evidence against Jhadav and his role in terrorist activities as well as financing those activities on the soil of Pakistan. For a man who was initially disowned by his own countrymen, Jhadav had suddenly become somewhat of a cause celebre. Why else would 13 requests for consular access be made by the Indian diplomatic mission here if there was no connection between Jhadav and his handlers? Foreign Office spokesman Nafees Zakaria had explained that though New Delhi and Islamabad have a bilateral agreement on consular access it is Pakistan's prerogative to refuse the same in the name of Article VI of the accord.
Meanwhile, media reported that there were 27 Pakistanis arrested for espionage
Most of the spies caught by the intelligence agencies have been apprehended from either military sensitive locations or in border towns. On April 14, 2017 India decided to put on hold all bilateral exchanges with Pakistan in reaction to the Jhadav affair. The Indian government called off talks between the two neighboring countries on maritime security which was scheduled to be held on April 17. India officially told Pakistan that it was not ready to host a delegation from Pakistan Maritime Security Agency (PMSA). Both Pakistan and India had earlier approved dialogue between PMSA and the Indian Coast Guard in a bid to break the deadlock caused by a militant attack on an Indian military base in Uri in September last year. According to the Indian Defense Ministry, it was not the time to discuss security with Pakistan when it had awarded the death sentence to Jhadav. The only engagement that Pakistan and India have had until now this year has been the 113th meeting of the Permanent Indus Commission talks for which an Indian delegation visited Islamabad in March this year.
An editorial "No concessions on terror" published in The Express Tribune, April 15, 2017 argued that:
As Pakistan stiffened its stance on the death sentence handed out to Indian spy Kulbhushan Jhadav in the wake of threats by officials in New Delhi that the move would carry severe repercussions for Islamabad, there are mounting suspicions that hostile agencies are behind the recent abduction of a retired Pakistani serviceman in Nepal. …. Aggravating already fraught relations between India and Pakistan is the appearance of wild speculation in the Indian media about the alleged link between Jhadav's case and the disappearance of Pakistani ex-serviceman Habib Zahir. Indian media outlets have claimed that Zahir had been part of the team that captured Jhadav. The truth, however, is that Zahir retired from military service several years before Jhadav's arrest. What is becoming increasingly clear is that the Research and Analysis Wing or some such hostile agency may have entrapped him and kept him in its custody for leverage in the Jhadav case. Instead of relying on legal and diplomatic measures, New Delhi appears to be working on some hidden fronts as usual.
On April 14, 2017, Prime Minister's Adviser on Foreign Affairs Sartaj Aziz shared with media the state's charge sheet against Indian spy Kulbhushan Jhadav and a timeline of his trial. Aziz told a press conference that Jhadav had been held responsible for the following terrorist activities in Pakistan:
Sponsored and directed IED and grenade attacks in Gwadar and Turbat; directed attacks on a radar station and civilian boats in the sea opposite to Jiwani Port; funded subversive secessionist and terrorist elements through hawala/hundi for subverting Pakistani youth against the country, especially in Balochistan; sponsored explosions of gas pipelines and electric pylons in Sibi and Sui areas in Balochistan; sponsored IED explosions in Quetta in 2015, causing massive damage to life and property; sponsored attack on Hazaras in Quetta and Shias en route to and back from Iran; and abetted attacks through anti-state elements against LEAs, FC and FWO in areas of Turbat, Punjgur, Gawadar, Pasni and Jiwani during 2014-15, killing and injuring many civilians and soldiers.
On the occasion, Aziz also asked why Jhadav had been carrying official documents under an alias at the time of his arrest. "I would like to ask India why he [Jhadav] was using a fake identity and masquerading as a Muslim," Aziz asked. "Why would an innocent man possess two passports — one with a Hindu name and other with a Muslim name," he asked.
Reassuring critics that steps had been taken to ensure transparency during the trial of the Indian spy under Pakistan's laws and the Pakistan Army Act, Aziz also provided a timeline of the trial and proceedings against Jhadav.
Indian external affairs minister V. K. Singh had reiterated that the Indian government was considering all steps to get access to Jhadav. The case of Kulbhushan Jhadav continues to remain at a boiling point. While India has postponed talks between the coast guards, Pakistan is apparently compiling a new dossier for the international community on the Indian national accused of being a RAW spy. While Pakistan has not yet given a copy of the judgement, it will apparently be part of a new dossier on Jhadav, which will be handed over to the United Nations and ambassadors in Islamabad, Pakistani newspaper The Nation reported. The new dossier was to be based on the early testimonial as well as statements given in front of the court by Jhadav. Pakistan had collected "fresh evidences on Indian involvement inside Pakistan to spread anarchy and militancy, sources stated," according to the report. Meanwhile, external affairs minister V. K. Singh reiterated that the Indian government was considering all steps to get access to Jhadav. "Pakistan government has denied consular access to Jhadav despite India trying for 13 times. We are trying everything to get access to Jhadav," he told reporters. Meanwhile, there has not been any statements from India or Pakistan on April 15, 2017 about the retired Pakistan army soldier, who reportedly went missing near the India-Nepal border two days before Jhadav's death sentence was publicly revealed. Pakistan officials had pointed fingers at India saying that he had been "lured" by foreign intelligence agencies, but Indian diplomats – in Delhi and in Islamabad – have told the media that they don't have any information.
Vishwa Hindu Parishad (VHP) leader Pravin Togadia said on April 14, 2017 that "India should bomb Pakistan to secure the release of ex-navy officer Kulbhushan Jhadav and carpet bomb Kashmiri "jihadis" to stop the spread of militancy…Our government should show similar resolve of India First by bombing Pakistan, which is barely 800 km from New Delhi and securing the Indian soldier's release,".
Meanwhile, the law-enforcement authorities of Azad Kashmir, Pakistan claimed to have arrested three Indian intelligence agents for alleged anti-state activities on April 13, 2017. The charges leveled against the three "Research and Analysis Wing (RAW) recruits" included bombing a police station in the region. The three have been booked under the Anti-Terrorism Act (ATA) and Explosives Act.
Meanwhile, Pakistan's defense minister has tried to assure that the death sentence of Jhadav was not carried out without due process. He has made an appeal for amnesty to the president. The Indian media had most predictably hit the roof. Mohammad Waseem, in his article. "Political temperature on the rise, The News, April 16, aptly stated that:
Diplomacy in a political environment characterized by vitriol of the worst kind emanating from the two sides of the spectrum is bound to suffer. On a larger scale, the world opinion has yet to give its final verdict… One can only hope for a deft handling of the issues at hand whereby peace and harmony, instead of tension and confusion, emerge as milestones of political strategy at home and foreign policy abroad.
On April 16, 2017 Pakistan stated that a dossier on Kulbhushan Jhadav's involvement in espionage will be handed over to foreign envoys in Pakistan. The dossier will also be sent to the UN and other institutions. Sources said details about Indian interference in Pakistan, Jhadav's involvement in sabotage and subversive activities in Pakistan were added in the dossier. Talking to state-run media, Foreign Office spokesman Nafees Zakaria said India was involved in spreading terrorism in Pakistan. He said India was also involved in terror financing activities in the country. To a question, he said barbaric activities against innocent Kashmiris in the Indian-held Kashmir had been exposed. To another question regarding Col (r) Habib Zahir, he said the Nepalese government was cooperating with Pakistan in this matter.
India was looking to mount yet another diplomatic offensive to save Jadhav and the government was awaiting a response from Pakistan over its demand for a copy of the charge sheet against Jadhav as it mulled options to secure his release. The government was contemplating a move like the one it launched last year after the Uri attack to "isolate" Pakistan. As a first step, India blocked maritime security dialogue between the two countries. This was the first move by the Indian government to raise the stakes for Pakistan after the Jhadav sentencing as it suggested that the two countries could be returning to the situation which prevailed in the immediate aftermath of the Uri attack last year in which 19 Indian soldiers were killed. Pakistan had consistently maintained that the two governments need to start the comprehensive bilateral dialogue, as announced in December 2015, to resolve outstanding issues. The maritime talks, coupled with meetings mandated by Indus Waters Treaty, were a small beginning by both the countries to move on after the bitter exchanges over Uri. The Indian government was also likely to review its attempts in the past few months to encourage people to people contacts with Pakistan.
Are India and Pakistan heading towards possibly the nastiest crisis in South Asia since the Mumbai terrorist incident of 2008? By Barkha Dutt, in her article "Pakistan's move to execute alleged Indian 'spy' may be a ploy to sabotage the prime minister", The Washington Post, April 16, 2017 maintained that:
In any case, whether Jadhav is a spy is moot. What is beyond dispute is that the Pakistan Army's declaration of a death sentence for him via a clandestine court-martial breaks with all standard practice; it is almost an open invitation to escalation from India…. … "The timing and manner of announcement of the Jadhav decision indicates that it is either a bargaining chip to exchange someone in India's custody or is meant to deter the country's civilian prime minister from any new initiatives to mend fences with India," …. Like all seasoned practitioners of statecraft, he knows that Pakistan is unlikely to take things to a dangerous precipice with India over the arrest of a spy; the motive lies elsewhere. Another explanation: Pakistan wants to use Jadhav as leverage to counter the aggressive global push by Delhi to isolate Islamabad as the perpetrator of state-sponsored terrorism. But the Narendra Modi government has never gone by the conventional playbook on Pakistan. From dropping in to visit Nawaz Sharif on his birthday to surgical strikes across the line of control, the Indian prime minister has followed his own script of shock and awe on Pakistan, in both friendship and hostility. Pakistan's move on the tactical chessboard may prove to be a gambit gone wrong if India decides to play back in kind.
Indian-Pakistani relations weren't going well even before the Jhadav affair. India's dialogue process with Pakistan has been stalled since the attack on the Pathankot air force base in January 2016. Last month, India sent its officials to the meeting of the Permanent Indus Commission in Islamabad. During the meeting, World Bank officials had mooted that water resources secretaries could meet in Washington from April 10 -13 to find a resolution over the dispute mechanism. India, however, had conveyed its reluctance to accept those dates in March.
Indian interference in the affairs of Karachi wasn't just baseless Pakistani propaganda, it was a fact. Uzair Jan Baloch, the notorious dacoit of Karachi's Lyari, was arrested in January 2016 in Pakistan after a period of hiding outside the country. He will face a military court for "espionage activities, providing secret information regarding Army installations and officials to foreign agents (Iranian intelligence officers) which is a violation of the Official Secret Act 1923."
A symbol of the criminalization of Karachi politics, Baloch belongs to the family of Rehman Dakait, the underworld boss of Karachi who was politically embedded in the Muhajir-Sindhi conflict that played out between the Muttahida Qaumi Movement (MQM) and Pakistan Peoples Party (PPP). Uzair has confessed to an Iranian "connection" in the Baloch nationalist movement in restive Balochistan; hence implying an Indian "connection" as well. Lest one forgets, Iran has accused Pakistan of aiding Iranian Baloch who often target Tehran's soldiers. Abdolmalik Rigi, who was hanged in an Iranian jail in 2010, was educated on the sly in Saudi-funded Madrassa Banuria in Karachi before he joined the killer Jundallah with Al Qaeda in Pakistan and began attacking inside Iran.
The "Indian connection" finally reduced MQM to a shell of its former glory in Karachi. The PPP too has been weakened by the ongoing military operation in the metropolis against its extortionists. Pakistan sees an "Indian hand" in the uprising in its Balochistan province.
There was apprehension that the matter had to be calmly tackled otherwise it would blow up in to a new crisis between the two estranged seigneurs
Clearly, Pakistan was unable to move towards any dialogue with India on any issue, including spy wars. Meanwhile, Pakistan had decided in principle not to accept any pressure on the issue. Most probably the Jhadav affair would be settled with a deal of some sorts between India and Pakistan. Some concessions will be given by India in exchange of the spy being handing over to them in due time. It was just a matter of time when the trade took place. Pakistan did not want to escalate the already tense situation further. Despite the bravado, a deal would be made and Jhadav would be freed soon.
Growing insecurity in Rohingya Refugee Camps: A Threat to South Asian Security?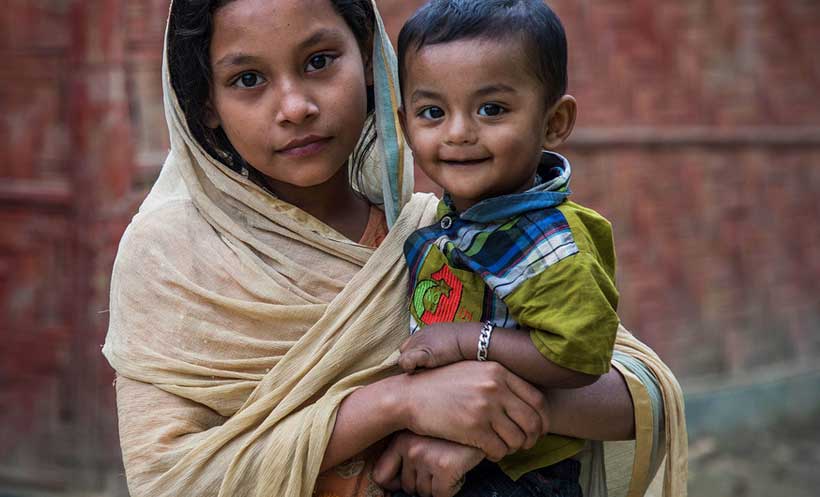 5 years have passed since the Rohingya refugee influx in August, 2017. Bangladesh is currently hosting 1.2 million Rohingya refugees in 34 camps in its southern district of Cox's Bazar. The increasing rate of trans-border crime in those bordering camps is not only making the Rohingya refugees vulnerable and prone to crimes but also threatening South Asian security as a whole. The Rohingya community leader's speech of "We don't want to stay in the camps. It's hell." in the 'Go Home' campaign in 20th June, 2022, made us rethink about the security situation in the camps and how the safety and security of Rohingya refugees is linked to South Asian Security.
Security Situation inside the Rohingya Camps
More than 1,200,000 Rohingya refugees are now living in the camps in Ukhiya and Teknaf in Cox's Bazar, making it the largest refugee settlement in the world. While Bangladesh has the ninth-highest population density in the world, around 40,000 to 70,000 refugees are living in per square kilometre in the Rohingya camps, which is 40 times higher than the average population density in Bangladesh. With no sign of repatriation combined with the lack of economic alternatives for Rohingyas and the difficulty in maintaining law and order in overcrowded camps, frustrated Rohingyas are increasingly becoming involved in criminal activities or being targeted by criminal groups.
Currently, around 14 armed criminal gangs are operating in the camps, in which seven gangs known as Hakim Bahini, Hasan Bahini, Sadeq Bahini, Nurul Alam Bahini, Nur Mohammad Bahini and Hamid Bahini are in Teknaf and seven gangs named Munna Bahini, Asad Bahini, Jamal Bahini, Manu Bahini, Rahim Bahini, Kamal Bahini, and Giyas Bahini are active in Ukhiya camps.
According to law enforcement agencies at least 10 groups among these are engaged in 12 types of crimes including murder, rape, kidnapping, drug smuggling and human trafficking. The fighting over controlling the camps among the armed gangs is also deteriorating the security situation inside the camps. A Rohingya refugee in the camps said in an interview, "Everything seems calm in daytime. After sunset, the situation becomes fully different." As there is no police or army surveillance from 4 pm to 8 am, camps come under the control of gangs at night. They are equipped with weapons like lead meat choppers, knives and other made weapons.
According to Prothom Alo report citing the police, in the last two and half years, more than 50 Rohingyas have been killed in clashes between Rohingya armed gangs over establishing supremacy in the camp area, drugs and gold smuggling, money laundering and extortion. Recently, the Armed Police Battalion (APBn) has recovered M16 assault rifles with 491 bullets from a camp in Ukhiya which indicates the worsening security situation in the camps. At night Rohingya women are also taken from their houses & are return in the morning. At least 59 women have been raped in the Rohingya camp. As crimes often go unpunished, no one in the camps has the courage to speak against the criminals. Sometimes, for ensuring own security, Rohingyas themselves, including children become engaged with smuggling, narcotics trafficking and other crimes.
As of May 2022,a total of 12,97 cases have been filed against 3,023 Rohingyas. Among them, 73 cases are in charge of murder, 762 are narcotics cases, 28 cases are filed on the allegation of human trafficking, 87 for illegal weapons, 65 are rape charges, 35 for kidnapping and ransom, 10 for robberies, and 89 are other cases related to crime and violence.
Besides, it is believed that Arakan Rohingya Salvation Army (ARSA), a Rohingya insurgent group are also active in Rohingya camps and made contract with a Jamaat-ul-Mujahideen Bangladesh (JMB). ARSA is not only relying on arms like AK-47s, M-22s, M-21s and M-16 rifles but also gaining support through other means. More than 500 madrassas in the Rohingya camps are said to be controlled by an ARSA affiliates which will help ARSA to gain sympathy, spread propaganda and extend their network.
A Threat to South Asian Security
Since Cox's Bazar provides a strategic route for smuggling and a shelter to Rohingyas refugees who have lack of economic alternatives, the bordering Rohingyas camps are turning into a breeding place for criminalities and the insecurity in the camps can threaten the security of the whole region.
Cox's Bazar is used as a direct route from eastern India to Nepal for arms smugglers to reach Indian and Nepali buyer. United Liberation Front of Assam (ULFA), an insurgent group seeking independence from India, also buys arms from China and smuggles them using Bangladeshi ports and overland to India.
The Naaf river, the border between Bangladesh and Myanmar, is also the busiest drug route in the region. Almost 80% of Yaba enter in Bangladesh through Naikhyangchhari and 70% of them are stored in Rohingya camps before distributing them and Rohingyas are increasingly getting involved in peddling yaba for their survival.
Besides, drug trafficking, Rohingyas are also taking part in trans-border crimes, including human trafficking, extremism, arms fighting and the camps can be a potential base for extremist activities and the insecurity in the camps and border could transcend to Bangladesh anytime and create insecurity for the whole region of South Asia. As there is a growing concern over the recruitment of refugees by the extremist networks like Hizb-ut Tahrir and Jamaat-ul-Mujahideen Bangladesh (JMB), as well as by radical Islamist groups like HeI. It is also reported that the influence of HeI is growing among the traumatized and frustrated Rohingyas which could fuel militancy not only in Bangladesh but also across the South Asian region. Along with this, the Rohingya militant groups bordering Myanmar i.e. Arakan Rohingya National Organization (ARNO), Rohingya National Alliance (RNA), the Arakan Rohingya Islamic Front (ARIF), and Rohingya Solidarity Organization (RSO) could also recruit from Rohingyas and threaten regional security.
From security perspective, ensuring the security of Rohingyas is directly linked to the security of the region Though Bangladesh has taken several measures to ensure the security of these displaced people, it is tough to maintain law and order in the densely populated camps near the border. Therefore, safe, sustainable and dignified return of these displaced people is the only solution. Since Rohingya refugees have also expressed their desire to go home through the "Go Home" campaign, in which thousands of Rohingyas in Ukhiya & Teknaf camps staged demonstration on World Refugee Day demanding their repatriation back to Myanmar. Bangladesh as well as the international community should act together to facilitate Rohingya repatriation to ensure the security of Rohingyas as well as the South Asian region before its too late.
Rohingya repatriation between Myanmar-Bangladesh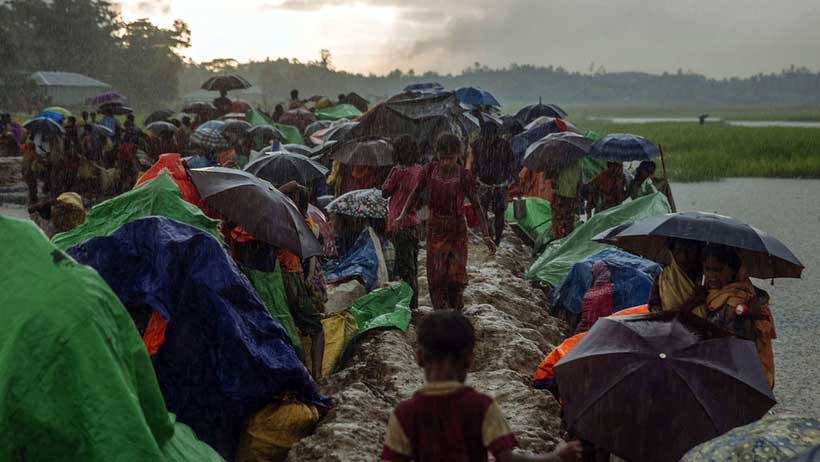 Refugees find themselves in a situation of limbo because of the prolonged refugee scenario. They are neither eligible for repatriation nor do they qualify as citizens of the host nation or a third country. However, they must deal with the harsh reality of the nature of vicious politics because of the complexity of state systems and the institutional weaknesses of international institutions.
Prolonged refugees, according to UNHCR (2004), are trapped in an impenetrable and protracted condition of limbo. Despite not being in danger or facing threats, they significantly lack access to basic rights, financial aid, and support for their psychological and social needs. As they are pushed toward outside help, they feel unable to escape the core of forced dependence.
Are Rohingya refugees in some way contributing to an ongoing, serious refugee crisis? In relation to the Rohingya crisis, statistics from UNHCR shows that more than 0.7 million Rohingya fled to Bangladesh in 2017. There are 1.1 million Rohingya refugees in Bangladesh, the prime minister of Bangladesh stated in 2018 during the 73rd United Nations General Assembly.
For this South Asian emerging nation in 2017, the flow of this deluge was nothing new. These migrants have been entering Bangladesh since the 1970s after being forcibly uprooted by the military dictatorship.
According to a survey, there were around 0.25 million refugees in Bangladesh throughout the 1990s. Nearly 0.02 million people were returned after the 2000s, but the SPDC (State Peace and Development Council) and the Bangladeshi government's inability to settle their differences has made this process difficult to complete.
The world's most persecuted minority, who is clearly stateless and has strong proof of persecution and genocide on account of race, ethnicity, and religion, is currently being cared for by Bangladesh. The responses of international organizations like the UN and its branches like the ICJ and IOM are not positive enough for Bangladesh in this regard to produce a permanent solution.
West African nation Gambia filed a 35-page application with the International Court of Justice (ICJ) in November 2019 against Myanmar. The ICJ's extraordinary victory in the Gambia v. Myanmar case regarding the ethnic cleansing and genocide of Rohingya people is the first of its kind. This was founded on an "erga omnes" premise, which periodically reports on the situation of the Rohingya.
However, Bangladesh continues to push for international organizations to take humanitarian action through the UN. Though this worry might attract their attention and drive them to consider ensuring human rights for these forcibly displaced persons, it has instead placed a heavy load on Bangladesh.
Tom Andrews, the UN special rapporteur on Myanmar, issued a warning to the international bodies regarding the Rohingya crisis just a few days ago during his visit to Bangladesh in December 2021. Bangladesh "cannot and should not bear this duty alone," he said, urging foreign groups to express grave concern. He went on to say that Myanmar, not Bangladesh, was the origin of the conflict and where it will ultimately be resolved.
Bangladesh, a developing nation with a population of 160 million, is being horribly impacted by the Rohingya people in terms of social, economic, and political spheres. Rohingyas have been in a condition of limbo since at least 2017, which is now more than five years ago.
They have been relocated, assisted, and given security by Bangladesh and several international organizations, but they still yearn for a long-lasting solution.
Bangladesh has been taking every action imaginable to bring the Rohingya refugees' home. Since the 2017 refugee inflow, the Bangladeshi government has worked with various international groups to promote peaceful voluntary repatriation; however, the Myanmar military junta has consistently resisted these efforts. Refugees from the Rohingya minority are currently suffering greatly as a result of the political unrest in Myanmar.
As Cox's Bazar's refugee camps are already overflowing with 1.1 million Rohingya refugees, the Bangladesh is moving them to Bhasan Char in order to provide for them improved living conditions.
International organizations had doubts regarding the safety and security of the Island; however, Bangladesh eventually persuaded them to cooperate. Bangladesh was left with no choice but to relocate some Rohingya refugees to Bhasan Char. Bangladesh now faces a security danger from overcrowded camps. The Rohingya camps in Bangladesh are home to numerous terrorist and armed rebel organizations. One of them is the Arakan Rohingya Salvation Army (ARSA). Despite the issues, Bangladesh has continued to push for bilateral discussions while also applying international pressure to the junta.
Myanmar, on the other hand, is a lawless state that disobeys international law and order. The arrangements established for the peaceful return of Rohingya refugees were broken.
In Myanmar, the regime has been increasingly hostile since the military takeover. Myanmar is utterly unwilling to help the Rohingya refugees develop a strong sense of desire for return. There is no "supranational" authority in anarchy, which is advantageous for Myanmar. It is now time for the international community to recognize that the Rohingya refugee crisis has grown into a regional security issue.
Myanmar-related news indicates a new genocide. the country's rebel and protest groups are being repressed by the military junta with violence.
The Myanmar military is still buying new weapons from China and Russia, including the SU-30SME multi-role heavy fighter, the YAK-130 light attack advanced jet trainer, the K-8W advanced trainer, and Ming class attack submarine, among others, despite an arms embargo. The world community is concerned that these weapons could accidentally attack defenseless populations. A peaceful voluntary return will face further obstacles as a result of internal unrest in Myanmar.
The Rohingya catastrophe, which forced 1.1 million individuals to leave their country of birth due to state-sponsored persecution, was of a size that is easy to comprehend. When the state commits the crime, the environment becomes more hostile. The main duty of the state is to uphold the rights and interests of its citizens.
Refugees are currently skeptical of the military junta in Myanmar. They have a long and painful history of persecuting people. Therefore, persuading the refugees to return home voluntarily won't be simple. Myanmar must extend their hands in mutually beneficial ways. More discussions between international parties, including the Rohingya, will build confidence and facilitate a peaceful voluntary return of the Rohingya refugees. Humanity and peace should ultimately triumph over all other factors.
Why the implementation of the CHT peace agreement is still elusive?
When the "Top boxer" of Bangladesh, for the past eight years, Sura Krishna Chakma raised the national flag of Bangladesh in the first-ever professional boxing tournament held in last month, it reminds the contribution of the UK Ching Marma and other minority people who fought valiantly in the Liberation war of Bangladesh in 1971.
Bangladesh began its independence journey with a population that is ethnically homogeneous, with less than 1% of the population being ethnically diverse. However, Bangladesh had struggled to deal with Chittagong Hill Tracts' (CHT) tribal people as they have been waging an insurgency movement for autonomy. Later, Peace Accord was signed aiming to end the conflict in 1997. But, after 25 years of its signature, the treaty is still failing to instil trust among national political parties and factional groups. Currently, the situation in the CHT area is a complex mix of conflicts and negotiations. The area is also beset by ethnic tensions between indigenous communities and groups, interferences from neighbouring states, widespread poverty, resource scarcity, and low literacy rates.
Why peace in the CHT is still elusive?
In recent years, remote areas of CHT have become more prone to violence due to the involvement of various active groups in the area. The four ethnic political groups – PCJSS, Jana Samhati Samiti (Reformist-MN Larma), United People's Democratic Front (UPDF) and UPDF (Ganatantrik) – in the region appear to be at odds with one another. They have no ideological disagreements but are involved in inter-conflict for narrow self-interest rather than protecting the minority rights. All factions have specific armed wings with advanced weapons such as rocket launchers, automatic sniper rifles, and heavy machine guns, according to law enforcement. They extort wood trade, cooking markets, livestock markets, transportation, and a variety of other services, each on their own turf. Ransom for the abduction of ethnic groups and Bangalis are also a major source of income. Contractors also have to pay at the rate of 10 percent of the original budget. To stay safe, locals were forced to maintain good relationships with all parties. They are compelled to pay monthly tributes to remain in their homes. There are even reports of indigenous women being abducted and raped by rival groups. They are so vulnerable and frightened that they do not even move after the sunset. The inter-group conflicts have claimed more than 1100 lives since the signing of the peace accord. Although according to the terms of the accord, the guerrillas were to surrender and surrender their weapons but many haven't surrendered arms yet.
What's to blame for the present unrest?
The agreement's lethargic implementation has reignited separatist tendencies among the Paharis. Recently, the Kuki-Chin National Front (KNF), an insurgent organization of small ethnic group, demanded a separate state in CHT with full autonomy and threatened strict armed movement. Prior to this, The UPDF, a breakaway group, continues to oppose the treaty and seeks full regional autonomy.
The most pressing concern in CHT, however, is extensive Christianization among the tribal population. 'Evangelization' is generally carried out by the missionaries through a number of NGOs operating under the umbrella of "development partner." Christian missionaries use money and other worldly trappings to entice poor tribal people to become Christians. So far, 4344 families in CHT became Christian in the last two decades and the number of churches increased dramatically from 274 in 1998 to 644 in 2022. It's worth noting that more than a third of the Bandarban district's tribal population is now Christian.
Impact of the Peace Accord on the Situation of ethnic People
Certainly, the Peace Accord made room and rendered opportunities for the CHT's development. In these 25 years, comprehensive and systematic development efforts have contributed to the socio-economic development of the Pahari people, which immensely contributed in reducing the gap between the Pahari and Bengalis. Many tribes are well-integrated into mainstream middle-class Bangladeshi society, with officers and ambassadors serving in Bangladesh's military and diplomatic corps.
With its contrasting topography of hilly terrains, immense lakes, wide-open spaces, as well as rich ethnic and cultural diversity, tourism industry flourished in the CHT. Tourism boosted due to the infrastructural projects connecting the remote and mystic parts with the main areas of the country and security ensured by the law enforcement agencies from the precarious hilly terrain to the remote bordering area. The treaty also integrated the CHT people into the mainstream economy, while permitting them to retain their specific ethnic and cultural identities.
The 'Small Ethnic Groups Cultural Organisation Act 2010' was passed in order to safeguard and foster the cultural expressions of Bangladesh's small ethnic groups. Small ethnic groups' rights are now more recognized by the government in Bangladesh than before. The development allocation per capita in the CHT districts is significantly higher than in the rest other districts. The government has amended some laws to allow for the implementation of the peace accord mainly the formation of the 'CHT Regional Council' and the 'Ministry of CHT Affairs', establishing the 'Land commission' to deal with conflicts over land and natural resource rights. The government is also gradually reducing military camps. The number decreased from 546 to 206. Another feature of post-agreement development in the hills has been the influx of development partners and the extension of NGOs and INGOs in the CHT area.
Way Forward
The first and foremost, the Bangladesh Government must take into cognizance the factors behind the failure of establishing peace in CHT areas to ensure peace in the hilly region. Secondly, the implementation of the remaining articles should also need to be prioritized. So far, out of 78 provisions, 48 provisions of the Accord have been implemented. Hill people strongly believe that the implementation of the Accord is the key to solving problems in the CHT. Thirdly, it is crucial to control the armed factions to evict violence and restore peace to CHT on an urgent basis. Fourthly, both the Hill and the Bengali people emphasize that land disputes need to be resolved immediately. And finally, there is a need for consolidating the progress achieved so far.
Nevertheless, an established misconception is prevailing among the hilly people that their voices are not heard and they are treated differently from the rest of the Bengalis. To eradicate this misconception and build trust and harmony, more initiatives should be undertaken by the government.