Kulbhushan Jadhav Affair and India-Pakistan Conflict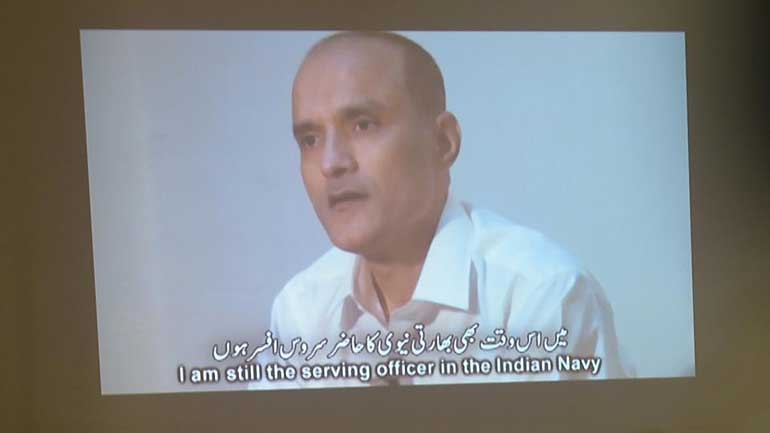 On April 10, 2017, a former Indian Navy officer national Kulbhushan Yadav was given the death sentence by a by an its Field General Court Martial under provisions of the Pakistan Army Act and the Official Secrets Act. Jhadav can appeal the death sentence to Pakistan's Supreme Court within 60 days.
H was convicted for espionage, anti-state activities, role in terror incidents and sabotage in the country. Yadav was taken into custody by Pakistani agencies in March 2016 in Balochistan. Diplomatic ties between India and Pakistan plunged following Jadav's conviction, with external affairs minister Sushma Swaraj warning Islamabad of "consequences" if Jadav's death sentence was carried out.
Jadhav had admitted before the court that he worked for the Indian intelligence agency Research and Analysis Wing (RAW). He was involved in several clandestine activities to create instability in Karachi and Balochistan areas. During the trial, he was provided the services of a defending officer, as per law. India responded to this verdict by calling Pakistan's High Commissioner Abdul Basit to the Ministry of External Affairs and gave him a demarche saying that the court proceedings that led to the death sentence of Jhadav were "farcical" and it would consider it as "premeditated murder'. It also said that the ministry had "repeatedly sought" consular access to Jhadav but was not permitted by the Pakistani authorities. A day after India called conviction of Yadav in Pakistan a 'farcical trial', the United Nations declined to take a position on the death sentence handed to the self-confessed Indian spy. India denied Yadav was working for RAW but admits that he is a retired naval officer.
India was expected to be take up the matter when the US National Security Advisor McMaster visits India to meet PM Narendra Modi, Foreign Minister Sushma Swaraj, and his Indian counterpart Ajit Doval. Doval was said to be preparing to raise the matter with his counterpart. The United Nations have already made it clear that it will not intervene in the matter, The Indian government has been arguing it was difficult for India to verify Pakistan's claims that Jhadav, a serving Indian Naval officer on an alleged spying mission entered Pakistan with original Indian passport.
Pakistan too was in no hurry to execute him and was likely to put him as a bargain to seek advantage in bigger negotiations.
As expected, Indian reaction was immediate and intense. There was fierce criticism of the verdict in the Indian media. Defense Minister Khawaja Asif quickly announced that the death sentence against Jhadav will not and cannot be carried out quickly. Meanwhile, it was reported that a retired Pakistani military officer in Nepal had disappeared which suggested that the spy wars between India and Pakistan had intensified. Certainly, the issue had to be handled calmly for the sake of normal relations between India and Pakistan. Meanwhile, Nawaz Sharif played it cool, addressing an Air Force passing-out parade, said: "Cooperation rather than conflict and shared prosperity instead of suspicion are the hallmarks of our policy." National Security Adviser and former Army general Nasser Khan Janjua, too, said India and Pakistan "cannot be enemies forever and must engage in dialogue to resolve disputes." But Modi is heavily into populism based on hatred of Muslims and will not budge, especially as global politics is veering toward a new cold war between the U.S. and China in South and Southeast Asia. Helplessly, the Pakistan-India spy war will go on, hurting the future of the people living in the region.
An editorial "Reducing Pak-India tensions" published in Dawn, April 13th, 2017 argued that for four years now, Nawaz Sharif had expounded the same message of regional integration, trade and prosperity, but he had been incapable of convincing either India or the security establishment here. The National Security Adviser too has been "ineffective, notwithstanding the occasional willingness to speak candidly". Meanwhile, Pakistan still did not have a foreign minister and the defense minister was "effectively irrelevant" because he had to foremost responsibility to tackle the electricity crisis as he was he minister of the power sector and that was his main portfolio. The teams advising the Premier in the domains of both national security and foreign policy are ad hoc. From that "self-created position of weakness, it is unlikely Mr. Sharif will have much success in implementing the vision he so often articulates".
To complicate matters, Lt Col (retd) Muhammad Habib Zahir went missing from Nepal on April 6. The Foreign Office on Thursday hinted at the involvement of Indian intelligence agencies behind the abduction of a retired Pakistani colonel in Nepal. The media was abuzz with speculation that India's Research and Analysis Wing (RAW) has abducted the retired lieutenant colonel as a retaliatory act to the conviction of Kulbhushan Jhadav. Observers believe India could use the abducted Pakistani retired army officer as a bargaining chip for the RAW agent.
Indian Minister of External Affairs Sushma Swaraj said India would go to any extent to ensure safety for Jhadav, calling Pakistan's verdict 'premeditated murder'. India would not leave any stone unturned to ensure safe release of Jhadav Pakistan Defense Minister Khawaja Muhammad Asif on April 13, 2017 informed the Senate that due process was followed in the trial of the serving Indian naval officer, who has 60 days to appeal the verdict.
On April 13, 2017, the Pakistan Army's corps commanders agreed during a meeting at the army GHQ that there would be no concessions made in Jhadav's death penalty because the man was convicted of serious offences against the state of Pakistan. The Foreign Office has also made it clear that there was irrefutable evidence against Jhadav and his role in terrorist activities as well as financing those activities on the soil of Pakistan. For a man who was initially disowned by his own countrymen, Jhadav had suddenly become somewhat of a cause celebre. Why else would 13 requests for consular access be made by the Indian diplomatic mission here if there was no connection between Jhadav and his handlers? Foreign Office spokesman Nafees Zakaria had explained that though New Delhi and Islamabad have a bilateral agreement on consular access it is Pakistan's prerogative to refuse the same in the name of Article VI of the accord.
Meanwhile, media reported that there were 27 Pakistanis arrested for espionage
Most of the spies caught by the intelligence agencies have been apprehended from either military sensitive locations or in border towns. On April 14, 2017 India decided to put on hold all bilateral exchanges with Pakistan in reaction to the Jhadav affair. The Indian government called off talks between the two neighboring countries on maritime security which was scheduled to be held on April 17. India officially told Pakistan that it was not ready to host a delegation from Pakistan Maritime Security Agency (PMSA). Both Pakistan and India had earlier approved dialogue between PMSA and the Indian Coast Guard in a bid to break the deadlock caused by a militant attack on an Indian military base in Uri in September last year. According to the Indian Defense Ministry, it was not the time to discuss security with Pakistan when it had awarded the death sentence to Jhadav. The only engagement that Pakistan and India have had until now this year has been the 113th meeting of the Permanent Indus Commission talks for which an Indian delegation visited Islamabad in March this year.
An editorial "No concessions on terror" published in The Express Tribune, April 15, 2017 argued that:
As Pakistan stiffened its stance on the death sentence handed out to Indian spy Kulbhushan Jhadav in the wake of threats by officials in New Delhi that the move would carry severe repercussions for Islamabad, there are mounting suspicions that hostile agencies are behind the recent abduction of a retired Pakistani serviceman in Nepal. …. Aggravating already fraught relations between India and Pakistan is the appearance of wild speculation in the Indian media about the alleged link between Jhadav's case and the disappearance of Pakistani ex-serviceman Habib Zahir. Indian media outlets have claimed that Zahir had been part of the team that captured Jhadav. The truth, however, is that Zahir retired from military service several years before Jhadav's arrest. What is becoming increasingly clear is that the Research and Analysis Wing or some such hostile agency may have entrapped him and kept him in its custody for leverage in the Jhadav case. Instead of relying on legal and diplomatic measures, New Delhi appears to be working on some hidden fronts as usual.
On April 14, 2017, Prime Minister's Adviser on Foreign Affairs Sartaj Aziz shared with media the state's charge sheet against Indian spy Kulbhushan Jhadav and a timeline of his trial. Aziz told a press conference that Jhadav had been held responsible for the following terrorist activities in Pakistan:
Sponsored and directed IED and grenade attacks in Gwadar and Turbat; directed attacks on a radar station and civilian boats in the sea opposite to Jiwani Port; funded subversive secessionist and terrorist elements through hawala/hundi for subverting Pakistani youth against the country, especially in Balochistan; sponsored explosions of gas pipelines and electric pylons in Sibi and Sui areas in Balochistan; sponsored IED explosions in Quetta in 2015, causing massive damage to life and property; sponsored attack on Hazaras in Quetta and Shias en route to and back from Iran; and abetted attacks through anti-state elements against LEAs, FC and FWO in areas of Turbat, Punjgur, Gawadar, Pasni and Jiwani during 2014-15, killing and injuring many civilians and soldiers.
On the occasion, Aziz also asked why Jhadav had been carrying official documents under an alias at the time of his arrest. "I would like to ask India why he [Jhadav] was using a fake identity and masquerading as a Muslim," Aziz asked. "Why would an innocent man possess two passports — one with a Hindu name and other with a Muslim name," he asked.
Reassuring critics that steps had been taken to ensure transparency during the trial of the Indian spy under Pakistan's laws and the Pakistan Army Act, Aziz also provided a timeline of the trial and proceedings against Jhadav.
Indian external affairs minister V. K. Singh had reiterated that the Indian government was considering all steps to get access to Jhadav. The case of Kulbhushan Jhadav continues to remain at a boiling point. While India has postponed talks between the coast guards, Pakistan is apparently compiling a new dossier for the international community on the Indian national accused of being a RAW spy. While Pakistan has not yet given a copy of the judgement, it will apparently be part of a new dossier on Jhadav, which will be handed over to the United Nations and ambassadors in Islamabad, Pakistani newspaper The Nation reported. The new dossier was to be based on the early testimonial as well as statements given in front of the court by Jhadav. Pakistan had collected "fresh evidences on Indian involvement inside Pakistan to spread anarchy and militancy, sources stated," according to the report. Meanwhile, external affairs minister V. K. Singh reiterated that the Indian government was considering all steps to get access to Jhadav. "Pakistan government has denied consular access to Jhadav despite India trying for 13 times. We are trying everything to get access to Jhadav," he told reporters. Meanwhile, there has not been any statements from India or Pakistan on April 15, 2017 about the retired Pakistan army soldier, who reportedly went missing near the India-Nepal border two days before Jhadav's death sentence was publicly revealed. Pakistan officials had pointed fingers at India saying that he had been "lured" by foreign intelligence agencies, but Indian diplomats – in Delhi and in Islamabad – have told the media that they don't have any information.
Vishwa Hindu Parishad (VHP) leader Pravin Togadia said on April 14, 2017 that "India should bomb Pakistan to secure the release of ex-navy officer Kulbhushan Jhadav and carpet bomb Kashmiri "jihadis" to stop the spread of militancy…Our government should show similar resolve of India First by bombing Pakistan, which is barely 800 km from New Delhi and securing the Indian soldier's release,".
Meanwhile, the law-enforcement authorities of Azad Kashmir, Pakistan claimed to have arrested three Indian intelligence agents for alleged anti-state activities on April 13, 2017. The charges leveled against the three "Research and Analysis Wing (RAW) recruits" included bombing a police station in the region. The three have been booked under the Anti-Terrorism Act (ATA) and Explosives Act.
Meanwhile, Pakistan's defense minister has tried to assure that the death sentence of Jhadav was not carried out without due process. He has made an appeal for amnesty to the president. The Indian media had most predictably hit the roof. Mohammad Waseem, in his article. "Political temperature on the rise, The News, April 16, aptly stated that:
Diplomacy in a political environment characterized by vitriol of the worst kind emanating from the two sides of the spectrum is bound to suffer. On a larger scale, the world opinion has yet to give its final verdict… One can only hope for a deft handling of the issues at hand whereby peace and harmony, instead of tension and confusion, emerge as milestones of political strategy at home and foreign policy abroad.
On April 16, 2017 Pakistan stated that a dossier on Kulbhushan Jhadav's involvement in espionage will be handed over to foreign envoys in Pakistan. The dossier will also be sent to the UN and other institutions. Sources said details about Indian interference in Pakistan, Jhadav's involvement in sabotage and subversive activities in Pakistan were added in the dossier. Talking to state-run media, Foreign Office spokesman Nafees Zakaria said India was involved in spreading terrorism in Pakistan. He said India was also involved in terror financing activities in the country. To a question, he said barbaric activities against innocent Kashmiris in the Indian-held Kashmir had been exposed. To another question regarding Col (r) Habib Zahir, he said the Nepalese government was cooperating with Pakistan in this matter.
India was looking to mount yet another diplomatic offensive to save Jadhav and the government was awaiting a response from Pakistan over its demand for a copy of the charge sheet against Jadhav as it mulled options to secure his release. The government was contemplating a move like the one it launched last year after the Uri attack to "isolate" Pakistan. As a first step, India blocked maritime security dialogue between the two countries. This was the first move by the Indian government to raise the stakes for Pakistan after the Jhadav sentencing as it suggested that the two countries could be returning to the situation which prevailed in the immediate aftermath of the Uri attack last year in which 19 Indian soldiers were killed. Pakistan had consistently maintained that the two governments need to start the comprehensive bilateral dialogue, as announced in December 2015, to resolve outstanding issues. The maritime talks, coupled with meetings mandated by Indus Waters Treaty, were a small beginning by both the countries to move on after the bitter exchanges over Uri. The Indian government was also likely to review its attempts in the past few months to encourage people to people contacts with Pakistan.
Are India and Pakistan heading towards possibly the nastiest crisis in South Asia since the Mumbai terrorist incident of 2008? By Barkha Dutt, in her article "Pakistan's move to execute alleged Indian 'spy' may be a ploy to sabotage the prime minister", The Washington Post, April 16, 2017 maintained that:
In any case, whether Jadhav is a spy is moot. What is beyond dispute is that the Pakistan Army's declaration of a death sentence for him via a clandestine court-martial breaks with all standard practice; it is almost an open invitation to escalation from India…. … "The timing and manner of announcement of the Jadhav decision indicates that it is either a bargaining chip to exchange someone in India's custody or is meant to deter the country's civilian prime minister from any new initiatives to mend fences with India," …. Like all seasoned practitioners of statecraft, he knows that Pakistan is unlikely to take things to a dangerous precipice with India over the arrest of a spy; the motive lies elsewhere. Another explanation: Pakistan wants to use Jadhav as leverage to counter the aggressive global push by Delhi to isolate Islamabad as the perpetrator of state-sponsored terrorism. But the Narendra Modi government has never gone by the conventional playbook on Pakistan. From dropping in to visit Nawaz Sharif on his birthday to surgical strikes across the line of control, the Indian prime minister has followed his own script of shock and awe on Pakistan, in both friendship and hostility. Pakistan's move on the tactical chessboard may prove to be a gambit gone wrong if India decides to play back in kind.
Indian-Pakistani relations weren't going well even before the Jhadav affair. India's dialogue process with Pakistan has been stalled since the attack on the Pathankot air force base in January 2016. Last month, India sent its officials to the meeting of the Permanent Indus Commission in Islamabad. During the meeting, World Bank officials had mooted that water resources secretaries could meet in Washington from April 10 -13 to find a resolution over the dispute mechanism. India, however, had conveyed its reluctance to accept those dates in March.
Indian interference in the affairs of Karachi wasn't just baseless Pakistani propaganda, it was a fact. Uzair Jan Baloch, the notorious dacoit of Karachi's Lyari, was arrested in January 2016 in Pakistan after a period of hiding outside the country. He will face a military court for "espionage activities, providing secret information regarding Army installations and officials to foreign agents (Iranian intelligence officers) which is a violation of the Official Secret Act 1923."
A symbol of the criminalization of Karachi politics, Baloch belongs to the family of Rehman Dakait, the underworld boss of Karachi who was politically embedded in the Muhajir-Sindhi conflict that played out between the Muttahida Qaumi Movement (MQM) and Pakistan Peoples Party (PPP). Uzair has confessed to an Iranian "connection" in the Baloch nationalist movement in restive Balochistan; hence implying an Indian "connection" as well. Lest one forgets, Iran has accused Pakistan of aiding Iranian Baloch who often target Tehran's soldiers. Abdolmalik Rigi, who was hanged in an Iranian jail in 2010, was educated on the sly in Saudi-funded Madrassa Banuria in Karachi before he joined the killer Jundallah with Al Qaeda in Pakistan and began attacking inside Iran.
The "Indian connection" finally reduced MQM to a shell of its former glory in Karachi. The PPP too has been weakened by the ongoing military operation in the metropolis against its extortionists. Pakistan sees an "Indian hand" in the uprising in its Balochistan province.
There was apprehension that the matter had to be calmly tackled otherwise it would blow up in to a new crisis between the two estranged seigneurs
Clearly, Pakistan was unable to move towards any dialogue with India on any issue, including spy wars. Meanwhile, Pakistan had decided in principle not to accept any pressure on the issue. Most probably the Jhadav affair would be settled with a deal of some sorts between India and Pakistan. Some concessions will be given by India in exchange of the spy being handing over to them in due time. It was just a matter of time when the trade took place. Pakistan did not want to escalate the already tense situation further. Despite the bravado, a deal would be made and Jhadav would be freed soon.
Kashmir: The Unconquerable Will of Kashmiris is still Alive
Every dictatorship flourishes more on the continuing incapacity of the public to examine and evaluate reality in the way that a scientist does in a practical manner; and that's the reason why these skills, are not being taught in public education in order to keep them ignorant of the truth. In India, the children are reinforced with hatred for minorities especially Muslims, which develops into uncontrollable animosity, instilled in the minds of the masses by the dictators, without logical grounds. This is what has been happening in India since decades and now transformed into the genocidal agenda of RSS. The actual issue is actually with the Muslim identity that the people of Kashmiri have.
Kashmir, at the moment, is a prison under military control, not because of any rebellion which had happened there (none did); rather it is simply because of a senseless unconstitutional invasion, on August 5th, to conquer the valley (Muslim majority state) totally by Hindu Indian troops, to practice the nefarious designs of Hindu-totalitarian BJP government. Thus, turning India itself into an apartheid-supremacist regime, much like Israel is over Palestine. India has made this abrupt move to turn Kashmir into India's own Palestine, grabbing the lands of Kashmiris by revoking Article 35A and turning it into a huge prison for Muslims.
Decades have passed, however, and the plebiscite promised was never held. Kashmir is the most militarized region in the world, with armed Indian troops deployed in the Indian-administered Kashmir for more than three decades. They have occupied Kashmir through the use of colonial war measures acts, including the Armed Forces Special Powers Act and the Public Safety Act that have given Indian troops complete impunity. The Genocide Watch, which keeps an eye on disputes across the world, gave a brief history of Kashmir in its alert while detailing the reasons which led it to issue the warning. The report was issued for Occupied Kashmir in the wake of India's ongoing suppression in the Muslim majority region following revocation of its special status.
While explaining the reasons behind issuing the alert, the organization also recalled the Indian atrocities in Kashmir where occupation forces have carried out genocide and massacres, killing people mercilessly. The people of Kashmir have been suffering the human rights violations which include gang rapes and mass disappearances of thousands of people. As many as 100,000 Kashmiris have been killed and several thousand wounded, blinded with pellet guns and maimed, including through torture tactics in custody.
Though the imperialistic forces have tried their best to silence and suppress the Kashmiris, yet they have been fighting for self-determination for hundreds of years. Today, the Hindutva ideology disguised in the mask of nationalism to control the valley continue crushing the Muslims without any ignominy. Hence, India's decision to revoke Jammu and Kashmir's special status, is nothing other than yet another act of shameless imperialist aggression.
There can be no legal justification of Modi's traitorism to the Indian Constitution which he has been doing to J&K ever since August 5th. The only real question is instead whether Indian media will start to publicize this important fact or will it follow the path of yellow journalism as ever. Meanwhile, the Indian government races forward with its rape of India's Constitution, in the hope that the Muslims of J&K will evacuate that land so as to enable Hindus 'democratically' to enforce some sort of apartheid anti-Muslim regime there, which is a clear violation of Indian law merely to implement the RSS wicked strategies to achieve the Hindu control there.
There is no denying the fact that fascists everywhere are traitors to their country, and this is now being made manifestly clear in India where Modi seems to be like Hitler. Hence, the status of India as a democracy has been badly derailed because a country where the constitution is illegally exploited does not deserve to be called a democratic country. There is a procedure to be followed (to amend) any constitution i.e., an amendment bill must be passed by each house of Parliament by a two-thirds majority of its total membership when at least two-thirds are present and vote.
Therefore, Modi's hold of Kashmir is unconstitutional, at least unless and until India's Constitution is amended. Moreover, if Indian military continues its occupation there, then it is likely to spark a war in Kashmir, which could quickly become a war between Hindu-majority India and Muslim-majority Pakistan, next door to India.
Pakistan is the loudest to voice its opinion against change. Pakistan has always responded promptly when it comes to Kashmir and stated, ''Pakistan will exercise all possible options to counter the illegal steps. Kashmir is the jugular vein of Pakistan, and anyone laying a hand on our jugular vein will meet a frightful end."
In a nutshell, the BJP government is openly violating the international humanitarian law by means of this brutal and entirely unjustifiable military crackdown. The attempt to change demography of Kashmir through ethnic cleansing by India is being watched by the world and the international organisations are helpless in playing their role on Kashmir issue. Furthermore, it is unfortunate that the important Muslim countries including Saudi Arabia and UAE have not condemned Indian atrocities in IHK. It is only Pakistan which has always played a positive role and made constructive efforts to resolve Kashmir issue, where India has always responded back with aggression. But India should keep in mind that Pakistani forces are fully prepared to respond any Indian aggression in a befitting manner.
'Six weeks of Indian Disinformation in Kashmir Lockdown'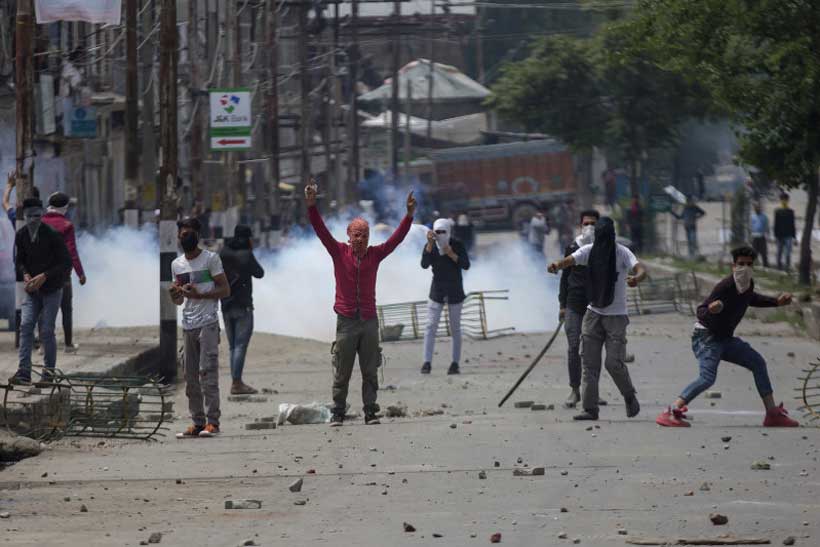 The Indian curfew in Srinagar, capital to Jammu and Kashmir territory climbs to six weeks. Not only are the roads concealed with military troops but the reality and misery of eight million people remains unexposed plus disinformed to the world. Despite of all international media spelling in unison the perturbed lifestyle of Kashmir, alas New Delhi's state media still presents a rare tranquil plot of the region. Only state centric news is transmitted with favorable changes and molds. Kashmir crisis is not an Indian debut with disinformation operations instead the Modi dominion is today termed a pro in this regard. The 'Bharatiya Janata Party (BJP) landslide' in 2019 electoral is largely credited to his 'bundle of lies' which induced the Indian general public to vote on the ideological lines of Rashtriya Swayamsevak Sangh (RSS).As supported by the popular American magazine 'The Atlantic'- many of India's misinformation campaigns are developed and run by political parties. Another Washington based institute labels 'What's more alarming is that political parties, including Prime Minister Narendra Modi's BJP, are behind most of these disinformation campaigns'. The critique and accounts of Pakistani leadership are pronounced as a tool of forged propagandaby Indian press -Zee TV and 'The Economic Times'.
Repression of truth with oppression
Discrete vistas have appeared between the on aired news from international broadcasting and New Delhi. The normalcy and ease of restrictions has been claimed in Srinagar since August as mentioned by 'The Economic Times' – Restrictions eased in J-K; life returning to normal. whereas AI Jazeera – the leading Qatar pay television channel repetitively discusses the torment of stranded people in lockdown. Al Jazeera, identifies back to back ' average 20 protests each day' which explicitly notifies that the curbing termed curfew is alive.
According to DW, a German news network the 'truth cannot be verified' as the security forces turn the camera away, 'the right to speak freely will not simply be restored when the phones start ringing again' as the newspaper editors in Srinagar complain being dictated what to write and what not to. Under the fascist policies of Narender Modi people are detained from speaking actual situation on media and are facing harassment from Indian troops resting all over the roads since August 5,2019. The few days back episode of Dr. Omer Salim is an exemplar who on spot during his interview to a BBC reporter was captured by Indian police. The video clip is a vivid demonstration that how the truth is delayed from reaching world. The doctor had merely requested the government to reopen the communication infrastructure and treatment facilities for chemotherapies and patients who needed urgent dialysis sessions. Another broadcasted report by DW television identifies untreated patients due to closed operation theaters.
The fingers are raised on Indian ideals of democracy by the foreign media. New Delhi can dub the Islamabad news sources as self-fabricated so lets take in the statement of Urmila Matondkar, an Indian actress converted politician: "The question is not only about abrogating Article 370. It was done in inhuman manner,". IAS Officer Kannan Gopinathan, resigned from his reputed post last month with his utterance on India Today, "I joined civil service with the hope that I can be the voice of those who have been silenced. But here, I lost my own voice."
Concealed tragedy of Kashmir
'The Times of India' mentions "not a single bullet has been fired" in the state since August 5″. Al Jazeera in its September apprise jots 'Electric shocks, beatings': Kashmiris allege abuse by India army. New York Times registers 'Asrar was known as a smart young boy who stayed away from protests, hedied after security officers hit him in the face with buckshot. As stated by 'The Guardian',the 16-year-old, Asrar Ahmed Khanwas fired with a pellet gun on 6 August and due to severe injury deceased in the following month. The news remained uncovered by any prominent channels in New Delhi. According to TRT World, Turkish press network, Lieutenant of Indian army Jeet Singh Dhillon has denied to use any weapon despite of medical verification his conference professed that a stone was hit to the young teen.
The criterion of justice
Under the present adopted stratagem of New Delhi against the Muslim community in Kashmir, Modi government is highly defamed at various platforms except in India which still nominates it as a hero of nation. The world needs to define its justice criterion with exception of caste creed and color. Unfortunately the ethical code remains absent throughout the globe.
Abrogation of Article 370 and Pakistan's Pathetic Response
Pakistan, which is a party to Kashmir dispute could not make significant move after the Indian decision to scrap Article 370. The fragile economy, conventional military asymmetry and limited influence in international community restrict the options for Pakistan to take any strong stance against Indian illegal decision.
A month ago the government of BJP illegally dissolved the special status of Jammu and Kashmir through demolishing the Article 370. The article provides immunity to Jammu and Kashmir from Indian laws except foreign affairs, finance and communications. The decision is profoundly rejected by masses of Jammu and Kashmir and Pakistan. In the mean time the opposition parties in India also expressed strong dissatisfaction against decision and predicted severe repercussions for Indian state. The decision has also been challenged in the Indian Supreme Court and hearing has already been started. Yet, since the 5th August Kashmir is under siege, curfew has been imposed, communication network, medical and health facilities have been blocked. The international human rights organizations and defenders issued a genocide warning and warned India not to commit genocide.
In this critical situation which is developed by India, Pakistan took stance to stand by Kashmir. Pakistan highlighted the violent action which engulfed the rights and lives of Kashmiri people's. Although Pakistan expressed strong resistance and proclaimed to use all the means to give Kashmiri's their right, but there is a huge difference in words and deeds. On behest of Pakistan, China called UN Security Council meeting to discuss the issue and Chinese ambassador strongly condemned the Indian action and urged both parties to resolve the dispute through peaceful means. Yet it is important to point out that permanent members of UNSC refused to issue a post meeting joint statement.
Here it is wise to highlight that the international politics is dominated by the self-interests of dominant powers and weak states have no say in the system. Pakistan could not compete with Indian power in international relations. After scrapping the article, India immediately sought foreign support and Prime Minister Narendra Modi went to different states. Modi visited France, Bahrain and UAE, while Prime Minister of Pakistan Imran Khan only made phone calls to seek support against Indian action. This clearly disclosed the inefficiency of Pakistan to counter the Indian narrative.
Indian economic and investment potential is another factor behind cool response of international powers. India is trading partner of many countries and most prominent among them are USA, UK, UAE, China, European Union and Australia. The US has invested 9 million in India during the 2016 and UK has signed the commercial deals of 9.3 million recently. Australia is benefitted from Indian students and its education export is 2 billion dollars. EU a group of 27 independent states is another major investor and trade partner of India with 2.5 % international shares.
In contemporary international politics, diaspora is a backbone of any nation and same is true for India. It is observed that Indians are residing almost every influential state. More than 3.5 million Indians are working in UAE. During the 2015, Indian share was 16% in expats residing in the US, and Saudi Arabia host 1.9 million Indians. Kuwait having 1 million Indian workers and Oman 777,632 Indians. Europe also host the 1.2 million Indians.
The bilateral trade of India with US, China, EU, Japan, and Australia is impressive. In 2019, bilateral trade of India-China crossed the 100 billion, which expects to grow further. The US is second largest trading partner of India in goods, and the single largest export destination of Indian exporters. The bilateral trade has been grew at 7.59% annually from 68.4 billion in 2008 to 142.1 billion in 2018.
The 8.8 million Pakistanis are residing in western states, 4.7 million are living in EU and 1.2 in U.K. But Pakistan failed to activate its diaspora to promote national interests of the state. The Pakistani leadership never paid serious attention to engage diaspora, which resulted in poor representation of Pakistan in international community. On the other hand, Indian diaspora is much influential and have strong say in policies of US and EU. Their skills and education help them to climb the ladder of success and influence. So, it is high time for Pakistan to devise an effective strategy to lobby the national interests and engage diaspora. The diaspora is considered the defense line as they bridge the gap between their parent and host state.
Pakistan's economic structure is fragile with rising debt and prices of commodities. The country is dependent on international monitory institutions to repay its debt which crossed over 100 billion dollars. It is on 150thposition in poverty index among 189 countries according to UN Human Development Indicators. The value of rupee is decreased to lowest level and government is losing its credibility. Pakistan is spending its 20% budget on Army which is higher than education, health and social development allocation. The fragile economy, poor coordination in policy making and influence of military in foreign policy making has reduced the role of other state institutions. Although, current civilian government claims that civilian and military leadership is on same page, but the poor and ill-coordinated response exposed the fault lines. The top hierarchy of civilian and political leadership did not bother itself to convey Pakistani position on Kashmir, except making statements.
If Pakistan really want to influence the international community, then it needs to fix its poor economy, to improve its human and social system, engage diaspora, make effective and inclusive foreign and security policy. The economic, political and military power can guarantee the national interests of the country. So Pakistan work tirelessly on all the fronts to achieve the status of major power.