Kulbhushan Jadhav Affair and India-Pakistan Conflict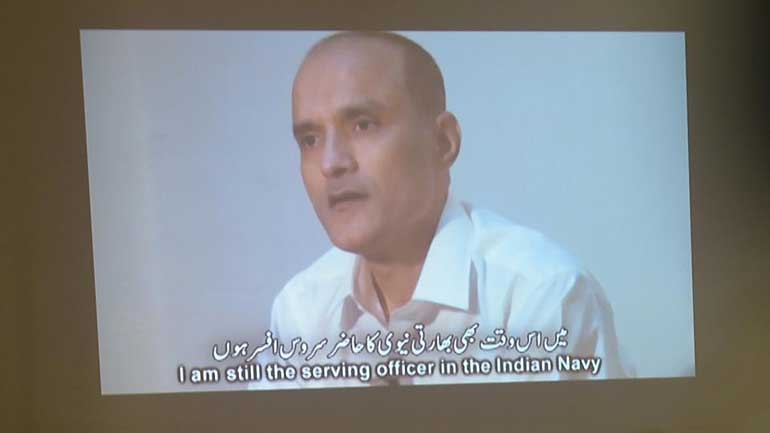 On April 10, 2017, a former Indian Navy officer national Kulbhushan Yadav was given the death sentence by a by an its Field General Court Martial under provisions of the Pakistan Army Act and the Official Secrets Act. Jhadav can appeal the death sentence to Pakistan's Supreme Court within 60 days.
H was convicted for espionage, anti-state activities, role in terror incidents and sabotage in the country. Yadav was taken into custody by Pakistani agencies in March 2016 in Balochistan. Diplomatic ties between India and Pakistan plunged following Jadav's conviction, with external affairs minister Sushma Swaraj warning Islamabad of "consequences" if Jadav's death sentence was carried out.
Jadhav had admitted before the court that he worked for the Indian intelligence agency Research and Analysis Wing (RAW). He was involved in several clandestine activities to create instability in Karachi and Balochistan areas. During the trial, he was provided the services of a defending officer, as per law. India responded to this verdict by calling Pakistan's High Commissioner Abdul Basit to the Ministry of External Affairs and gave him a demarche saying that the court proceedings that led to the death sentence of Jhadav were "farcical" and it would consider it as "premeditated murder'. It also said that the ministry had "repeatedly sought" consular access to Jhadav but was not permitted by the Pakistani authorities. A day after India called conviction of Yadav in Pakistan a 'farcical trial', the United Nations declined to take a position on the death sentence handed to the self-confessed Indian spy. India denied Yadav was working for RAW but admits that he is a retired naval officer.
India was expected to be take up the matter when the US National Security Advisor McMaster visits India to meet PM Narendra Modi, Foreign Minister Sushma Swaraj, and his Indian counterpart Ajit Doval. Doval was said to be preparing to raise the matter with his counterpart. The United Nations have already made it clear that it will not intervene in the matter, The Indian government has been arguing it was difficult for India to verify Pakistan's claims that Jhadav, a serving Indian Naval officer on an alleged spying mission entered Pakistan with original Indian passport.
Pakistan too was in no hurry to execute him and was likely to put him as a bargain to seek advantage in bigger negotiations.
As expected, Indian reaction was immediate and intense. There was fierce criticism of the verdict in the Indian media. Defense Minister Khawaja Asif quickly announced that the death sentence against Jhadav will not and cannot be carried out quickly. Meanwhile, it was reported that a retired Pakistani military officer in Nepal had disappeared which suggested that the spy wars between India and Pakistan had intensified. Certainly, the issue had to be handled calmly for the sake of normal relations between India and Pakistan. Meanwhile, Nawaz Sharif played it cool, addressing an Air Force passing-out parade, said: "Cooperation rather than conflict and shared prosperity instead of suspicion are the hallmarks of our policy." National Security Adviser and former Army general Nasser Khan Janjua, too, said India and Pakistan "cannot be enemies forever and must engage in dialogue to resolve disputes." But Modi is heavily into populism based on hatred of Muslims and will not budge, especially as global politics is veering toward a new cold war between the U.S. and China in South and Southeast Asia. Helplessly, the Pakistan-India spy war will go on, hurting the future of the people living in the region.
An editorial "Reducing Pak-India tensions" published in Dawn, April 13th, 2017 argued that for four years now, Nawaz Sharif had expounded the same message of regional integration, trade and prosperity, but he had been incapable of convincing either India or the security establishment here. The National Security Adviser too has been "ineffective, notwithstanding the occasional willingness to speak candidly". Meanwhile, Pakistan still did not have a foreign minister and the defense minister was "effectively irrelevant" because he had to foremost responsibility to tackle the electricity crisis as he was he minister of the power sector and that was his main portfolio. The teams advising the Premier in the domains of both national security and foreign policy are ad hoc. From that "self-created position of weakness, it is unlikely Mr. Sharif will have much success in implementing the vision he so often articulates".
To complicate matters, Lt Col (retd) Muhammad Habib Zahir went missing from Nepal on April 6. The Foreign Office on Thursday hinted at the involvement of Indian intelligence agencies behind the abduction of a retired Pakistani colonel in Nepal. The media was abuzz with speculation that India's Research and Analysis Wing (RAW) has abducted the retired lieutenant colonel as a retaliatory act to the conviction of Kulbhushan Jhadav. Observers believe India could use the abducted Pakistani retired army officer as a bargaining chip for the RAW agent.
Indian Minister of External Affairs Sushma Swaraj said India would go to any extent to ensure safety for Jhadav, calling Pakistan's verdict 'premeditated murder'. India would not leave any stone unturned to ensure safe release of Jhadav Pakistan Defense Minister Khawaja Muhammad Asif on April 13, 2017 informed the Senate that due process was followed in the trial of the serving Indian naval officer, who has 60 days to appeal the verdict.
On April 13, 2017, the Pakistan Army's corps commanders agreed during a meeting at the army GHQ that there would be no concessions made in Jhadav's death penalty because the man was convicted of serious offences against the state of Pakistan. The Foreign Office has also made it clear that there was irrefutable evidence against Jhadav and his role in terrorist activities as well as financing those activities on the soil of Pakistan. For a man who was initially disowned by his own countrymen, Jhadav had suddenly become somewhat of a cause celebre. Why else would 13 requests for consular access be made by the Indian diplomatic mission here if there was no connection between Jhadav and his handlers? Foreign Office spokesman Nafees Zakaria had explained that though New Delhi and Islamabad have a bilateral agreement on consular access it is Pakistan's prerogative to refuse the same in the name of Article VI of the accord.
Meanwhile, media reported that there were 27 Pakistanis arrested for espionage
Most of the spies caught by the intelligence agencies have been apprehended from either military sensitive locations or in border towns. On April 14, 2017 India decided to put on hold all bilateral exchanges with Pakistan in reaction to the Jhadav affair. The Indian government called off talks between the two neighboring countries on maritime security which was scheduled to be held on April 17. India officially told Pakistan that it was not ready to host a delegation from Pakistan Maritime Security Agency (PMSA). Both Pakistan and India had earlier approved dialogue between PMSA and the Indian Coast Guard in a bid to break the deadlock caused by a militant attack on an Indian military base in Uri in September last year. According to the Indian Defense Ministry, it was not the time to discuss security with Pakistan when it had awarded the death sentence to Jhadav. The only engagement that Pakistan and India have had until now this year has been the 113th meeting of the Permanent Indus Commission talks for which an Indian delegation visited Islamabad in March this year.
An editorial "No concessions on terror" published in The Express Tribune, April 15, 2017 argued that:
As Pakistan stiffened its stance on the death sentence handed out to Indian spy Kulbhushan Jhadav in the wake of threats by officials in New Delhi that the move would carry severe repercussions for Islamabad, there are mounting suspicions that hostile agencies are behind the recent abduction of a retired Pakistani serviceman in Nepal. …. Aggravating already fraught relations between India and Pakistan is the appearance of wild speculation in the Indian media about the alleged link between Jhadav's case and the disappearance of Pakistani ex-serviceman Habib Zahir. Indian media outlets have claimed that Zahir had been part of the team that captured Jhadav. The truth, however, is that Zahir retired from military service several years before Jhadav's arrest. What is becoming increasingly clear is that the Research and Analysis Wing or some such hostile agency may have entrapped him and kept him in its custody for leverage in the Jhadav case. Instead of relying on legal and diplomatic measures, New Delhi appears to be working on some hidden fronts as usual.
On April 14, 2017, Prime Minister's Adviser on Foreign Affairs Sartaj Aziz shared with media the state's charge sheet against Indian spy Kulbhushan Jhadav and a timeline of his trial. Aziz told a press conference that Jhadav had been held responsible for the following terrorist activities in Pakistan:
Sponsored and directed IED and grenade attacks in Gwadar and Turbat; directed attacks on a radar station and civilian boats in the sea opposite to Jiwani Port; funded subversive secessionist and terrorist elements through hawala/hundi for subverting Pakistani youth against the country, especially in Balochistan; sponsored explosions of gas pipelines and electric pylons in Sibi and Sui areas in Balochistan; sponsored IED explosions in Quetta in 2015, causing massive damage to life and property; sponsored attack on Hazaras in Quetta and Shias en route to and back from Iran; and abetted attacks through anti-state elements against LEAs, FC and FWO in areas of Turbat, Punjgur, Gawadar, Pasni and Jiwani during 2014-15, killing and injuring many civilians and soldiers.
On the occasion, Aziz also asked why Jhadav had been carrying official documents under an alias at the time of his arrest. "I would like to ask India why he [Jhadav] was using a fake identity and masquerading as a Muslim," Aziz asked. "Why would an innocent man possess two passports — one with a Hindu name and other with a Muslim name," he asked.
Reassuring critics that steps had been taken to ensure transparency during the trial of the Indian spy under Pakistan's laws and the Pakistan Army Act, Aziz also provided a timeline of the trial and proceedings against Jhadav.
Indian external affairs minister V. K. Singh had reiterated that the Indian government was considering all steps to get access to Jhadav. The case of Kulbhushan Jhadav continues to remain at a boiling point. While India has postponed talks between the coast guards, Pakistan is apparently compiling a new dossier for the international community on the Indian national accused of being a RAW spy. While Pakistan has not yet given a copy of the judgement, it will apparently be part of a new dossier on Jhadav, which will be handed over to the United Nations and ambassadors in Islamabad, Pakistani newspaper The Nation reported. The new dossier was to be based on the early testimonial as well as statements given in front of the court by Jhadav. Pakistan had collected "fresh evidences on Indian involvement inside Pakistan to spread anarchy and militancy, sources stated," according to the report. Meanwhile, external affairs minister V. K. Singh reiterated that the Indian government was considering all steps to get access to Jhadav. "Pakistan government has denied consular access to Jhadav despite India trying for 13 times. We are trying everything to get access to Jhadav," he told reporters. Meanwhile, there has not been any statements from India or Pakistan on April 15, 2017 about the retired Pakistan army soldier, who reportedly went missing near the India-Nepal border two days before Jhadav's death sentence was publicly revealed. Pakistan officials had pointed fingers at India saying that he had been "lured" by foreign intelligence agencies, but Indian diplomats – in Delhi and in Islamabad – have told the media that they don't have any information.
Vishwa Hindu Parishad (VHP) leader Pravin Togadia said on April 14, 2017 that "India should bomb Pakistan to secure the release of ex-navy officer Kulbhushan Jhadav and carpet bomb Kashmiri "jihadis" to stop the spread of militancy…Our government should show similar resolve of India First by bombing Pakistan, which is barely 800 km from New Delhi and securing the Indian soldier's release,".
Meanwhile, the law-enforcement authorities of Azad Kashmir, Pakistan claimed to have arrested three Indian intelligence agents for alleged anti-state activities on April 13, 2017. The charges leveled against the three "Research and Analysis Wing (RAW) recruits" included bombing a police station in the region. The three have been booked under the Anti-Terrorism Act (ATA) and Explosives Act.
Meanwhile, Pakistan's defense minister has tried to assure that the death sentence of Jhadav was not carried out without due process. He has made an appeal for amnesty to the president. The Indian media had most predictably hit the roof. Mohammad Waseem, in his article. "Political temperature on the rise, The News, April 16, aptly stated that:
Diplomacy in a political environment characterized by vitriol of the worst kind emanating from the two sides of the spectrum is bound to suffer. On a larger scale, the world opinion has yet to give its final verdict… One can only hope for a deft handling of the issues at hand whereby peace and harmony, instead of tension and confusion, emerge as milestones of political strategy at home and foreign policy abroad.
On April 16, 2017 Pakistan stated that a dossier on Kulbhushan Jhadav's involvement in espionage will be handed over to foreign envoys in Pakistan. The dossier will also be sent to the UN and other institutions. Sources said details about Indian interference in Pakistan, Jhadav's involvement in sabotage and subversive activities in Pakistan were added in the dossier. Talking to state-run media, Foreign Office spokesman Nafees Zakaria said India was involved in spreading terrorism in Pakistan. He said India was also involved in terror financing activities in the country. To a question, he said barbaric activities against innocent Kashmiris in the Indian-held Kashmir had been exposed. To another question regarding Col (r) Habib Zahir, he said the Nepalese government was cooperating with Pakistan in this matter.
India was looking to mount yet another diplomatic offensive to save Jadhav and the government was awaiting a response from Pakistan over its demand for a copy of the charge sheet against Jadhav as it mulled options to secure his release. The government was contemplating a move like the one it launched last year after the Uri attack to "isolate" Pakistan. As a first step, India blocked maritime security dialogue between the two countries. This was the first move by the Indian government to raise the stakes for Pakistan after the Jhadav sentencing as it suggested that the two countries could be returning to the situation which prevailed in the immediate aftermath of the Uri attack last year in which 19 Indian soldiers were killed. Pakistan had consistently maintained that the two governments need to start the comprehensive bilateral dialogue, as announced in December 2015, to resolve outstanding issues. The maritime talks, coupled with meetings mandated by Indus Waters Treaty, were a small beginning by both the countries to move on after the bitter exchanges over Uri. The Indian government was also likely to review its attempts in the past few months to encourage people to people contacts with Pakistan.
Are India and Pakistan heading towards possibly the nastiest crisis in South Asia since the Mumbai terrorist incident of 2008? By Barkha Dutt, in her article "Pakistan's move to execute alleged Indian 'spy' may be a ploy to sabotage the prime minister", The Washington Post, April 16, 2017 maintained that:
In any case, whether Jadhav is a spy is moot. What is beyond dispute is that the Pakistan Army's declaration of a death sentence for him via a clandestine court-martial breaks with all standard practice; it is almost an open invitation to escalation from India…. … "The timing and manner of announcement of the Jadhav decision indicates that it is either a bargaining chip to exchange someone in India's custody or is meant to deter the country's civilian prime minister from any new initiatives to mend fences with India," …. Like all seasoned practitioners of statecraft, he knows that Pakistan is unlikely to take things to a dangerous precipice with India over the arrest of a spy; the motive lies elsewhere. Another explanation: Pakistan wants to use Jadhav as leverage to counter the aggressive global push by Delhi to isolate Islamabad as the perpetrator of state-sponsored terrorism. But the Narendra Modi government has never gone by the conventional playbook on Pakistan. From dropping in to visit Nawaz Sharif on his birthday to surgical strikes across the line of control, the Indian prime minister has followed his own script of shock and awe on Pakistan, in both friendship and hostility. Pakistan's move on the tactical chessboard may prove to be a gambit gone wrong if India decides to play back in kind.
Indian-Pakistani relations weren't going well even before the Jhadav affair. India's dialogue process with Pakistan has been stalled since the attack on the Pathankot air force base in January 2016. Last month, India sent its officials to the meeting of the Permanent Indus Commission in Islamabad. During the meeting, World Bank officials had mooted that water resources secretaries could meet in Washington from April 10 -13 to find a resolution over the dispute mechanism. India, however, had conveyed its reluctance to accept those dates in March.
Indian interference in the affairs of Karachi wasn't just baseless Pakistani propaganda, it was a fact. Uzair Jan Baloch, the notorious dacoit of Karachi's Lyari, was arrested in January 2016 in Pakistan after a period of hiding outside the country. He will face a military court for "espionage activities, providing secret information regarding Army installations and officials to foreign agents (Iranian intelligence officers) which is a violation of the Official Secret Act 1923."
A symbol of the criminalization of Karachi politics, Baloch belongs to the family of Rehman Dakait, the underworld boss of Karachi who was politically embedded in the Muhajir-Sindhi conflict that played out between the Muttahida Qaumi Movement (MQM) and Pakistan Peoples Party (PPP). Uzair has confessed to an Iranian "connection" in the Baloch nationalist movement in restive Balochistan; hence implying an Indian "connection" as well. Lest one forgets, Iran has accused Pakistan of aiding Iranian Baloch who often target Tehran's soldiers. Abdolmalik Rigi, who was hanged in an Iranian jail in 2010, was educated on the sly in Saudi-funded Madrassa Banuria in Karachi before he joined the killer Jundallah with Al Qaeda in Pakistan and began attacking inside Iran.
The "Indian connection" finally reduced MQM to a shell of its former glory in Karachi. The PPP too has been weakened by the ongoing military operation in the metropolis against its extortionists. Pakistan sees an "Indian hand" in the uprising in its Balochistan province.
There was apprehension that the matter had to be calmly tackled otherwise it would blow up in to a new crisis between the two estranged seigneurs
Clearly, Pakistan was unable to move towards any dialogue with India on any issue, including spy wars. Meanwhile, Pakistan had decided in principle not to accept any pressure on the issue. Most probably the Jhadav affair would be settled with a deal of some sorts between India and Pakistan. Some concessions will be given by India in exchange of the spy being handing over to them in due time. It was just a matter of time when the trade took place. Pakistan did not want to escalate the already tense situation further. Despite the bravado, a deal would be made and Jhadav would be freed soon.
Sri Lanka's election results and their implications
Authors: Tridivesh Singh Maini & Mahitha Lingala*
The Sri Lankan election result, was closely observed, not just for its likely impact on domestic politics in Sri Lanka, but it's impact on geopolitical dynamics in South Asia. Gotabaya Rajapaksa, Former Defence Secretary, and brother of former President, Mahinda Rajapaksa, won by a massive margin, defeating his opponent Sajith Premadasa (son of a former President who was assassinated in 1993). He was sworn in on Monday, November 18, 2019 as President.
While Rajapaksa, the candidate of the Sri Lanka Podujana Peramuna (SLPP or People's Party) polled over52% of the vote, the runner up Sajith Premadasa of the United National Party (UNP)polled 42% of the votes. It is pertinent to note, that the UNP did much better in North Eastern districts of the South Asian country, which are dominated by Muslims and Tamils.
Analysts believe, that the triumph of the former Defense Secretary, is likely to result in Sri Lankamoving closer to China – as was the case during Mahindra Rajapaksa's term (which ended in 2015, Rajapaksa lost to Maithripali Sirisena, the latter had served in Rajapaksa's government but in 2014 he decided to part ways and was the Presidential candidate of the opposition).There is a belief however, that Gotabaya Rajapaksa, may not veer as much towards China, as his brother given the changing ground realities.
Sri Lanka's tilt towards China during Mahindra Rajapaksa's tenure
During Mahindra Rajakapsa's tenure, Sri Lanka took a turn towards China, much to the chagrin of India. While one of the reasons cited for the same, was China's economic prowess, and ability to deliver fast on key infrastructure politics. It would be pertinent to point out, that there was an equally, if not more important reasons for the Former President warming upto China –Beijing turned a blind eye to the Human Rights violations (an estimated 40,000 Tamils – which included journalists and opponents) were killed in operations against Tamil separatists)
New Delhi-Colombo ties also took a hit, during Rajapaksa's tenure, due to the opposition of regional parties – AIADMK (All India Anna Dravida Munnetra Kazhagam) and DMK (Dravida Munnetra Kazhagam) — from the Southern Indian state of Tamil Nadu. Political parties from Tamil Nadu have been constantly alleging Sri Lankan govt failed to follow their 13th amendment (which sought to provide devolution to the Tamil Community and reduce the harmony with the community) and also allege, that many innocent civilians were killed during the war for which Mahinda Rajapaksa must be held accountable. The previous Congress led UPA (United Progressive Alliance) government voted against Sri Lanka in 2009, 2012 and 2013, supporting a US passed resolution against Sri Lanka at the UN. In 2014, India made a slight change to it's approach and rather than voting directly against Sri Lanka, New Delhi abstained from voting against Sri Lanka. In 2013, Indian PM Dr. Manmohan Singh due to pressure from Tamil Nadu's regional parties did not attend the Common Wealth Head of Government Meeting (CHOGM) meeting in Colombo.
In 2015, when Mahinda Rajapaksa lost elections, Tamilian parties including the BJP TN unit in India termed it as a victory of the Sri Lankan Tamils. Indian PM, Narendra Modi had invited Mahindra Rajapaksa for his swearing in as PM in 2014 and also congratulated Gotabaya Rajapaksa. Modi also invited the newly elected President to visit India. The new President is likely to visit India on November 29, 2019.
Economic tilt towards China under Mahindra Rajapaksa
Colombo's economic tilt to Beijing, was strongly reiterated by the Hambantota Port project, which was handed over to China, and given on lease for 99 years. The port was built with 85% of the funds coming from Exim Bank in China. After money shortage in 2017 in regard to this loan, Sri Lankan government handed over the port and 15,000 acres of associated land to China Merchants Port Holdings for 99 years. This was cited, as one of the strong instances of China's 'Debt Trap' Diplomacy. US drew attention to this, and so did a report by the Centre for Global Development (CGD)but Sri Lanka has rejected this fear while admitting that the debt pressure is huge.
China remains one of Sri Lanka's largest creditors accounting for an estimated 10% of its total foreign debt. China is investing in large infrastructural projects through its flagship programme the Belt and Road Initiative(BRI) in Sri Lanka, some of the major ones include; Mattala Rajapaksa International Airport, Mahinda Rajapaksa International Cricket Stadium, and the Magampura Mahinda Rajapaksa Port in southern Sri Lanka. Another project which has proven to be controversial is the Lotus Tower. The 17 story structure – South Asia's tallest self supporting structure – has been criticised not just for the fact that it represented a wrong utilisation of resources, but the company which had the contract for building the tower was accused of misappropriating funds (a whopping 11 Million USD) by former President Maithrapali Sirisena.
Mahindra Rajapaksa's close ties to China were also evident in the strategic sphere (two Chinese submarines docked in the South Asian Island nation in 2014)
Balancing of relationships
Rajapaksa's successor, Maithripali Sirisena did try to balance out relationships, and reduce the South Asian country's dependence upon China, but was unable to do so. President Sirisena said that he would treat major Asian countries equally. India and Sri Lanka in February 2015 signed a nuclear pact to improve relationships and agreed to improve defence ties.
A number of important projects were taken over by Japan, and there have also been some strong instances of India-Japan working together in Sri Lanka. India, Japan and Sri Lanka have signed an agreement to develop the East Container Terminal (ECT) of Colombo Port. While India and Japan will retain 49% stake in this project, while Sri Lanka will have 51% (work on the project will begin in March 2020).
This investment has been seen as a joint effort by India- Japan to counterbalance China's growing influence in the Indian Ocean region. Apart from this project, both India and Japan have also been working on an LNG project terminal near Colombo. India's Petronet LNG (one of the country's energy giants) will have a 47.5% stake in the project, while Japan's Mitsubishi and Sojitzcorp will have a 37.5% stake)
US has also been trying to make Sri Lanka part of the Indo-Pacific narrative.
The US has also begun to pay more attention to Sri Lanka, especially in the context of being an important stakeholder in the US vision for a 'Free and Open Indo Pacific'.
US Secretary of State for Political Affairs David Hale, and Sri Lankan Foreign Affairs Minister Tilak Marapana held the third US-Sri Lanka Partnership Dialogue in Washington DC in May 2019. Both sides, according to a joint statement issued after the dialogue, resolved to work together for a"a safe maritime domain in the Indian and Pacific oceans through a rules-based order that ensures respect for international laws and norms" . Furthermore, after the defeat of Mahinda Rajapaksa, Sri Lanka also became a Logistics hub for the US Navy in the Indian Ocean
Domestic Politics
It is not just geo-politics, even in the context of Sri Lankan politics, it remains to be seen what approach he takes towards Muslims and Tamils. The electoral verdict is polarized. On his part, the newly elected President, did state that
"I am conscious that I am also the president of those who used the vote against me…. "It is my duty to serve all Sri Lankans without race or religious discrimination. I promise to discharge my duties in a fair manner'
Conclusion
In conclusion, it remains to be seen whether there will be a drastic change in both domestic policies, as well as Sri Lanka's foreign policy orientation. While, Sri Lanka is dependent upon China, in the economic sphere, it is important to acknowledge the fact, that there have been a number of economic and geo-political changes in recent years. First, China's economy has witnessed a slowdown, and Beijing will be unable to assist Sri Lanka to the degree it did earlier – though it's overall economic influence could grow. Second, US has been paying attention to Sri Lanka, due to it's strategic importance especially in the context of Indo-Pacific, as was mentioned earlier. In this context, it is likely that US, Japan and India could work jointly in Sri Lanka (Japan and India have already initiated some projects) .The new Sri Lankan President would do well to pay attention to the fact, that South Asian countries like Bangladesh have been able to balance ties and not remained solely dependent upon China.
Finally, the US reaction to the election, and the warning with regard to Human Rights is significant. The outside world, is likely to keep a close watch on Sri Lanka, and it is likely, that the new President while upgrading economic ties with China will do a balancing act, so that Colombo is not totally dependent upon China.
*Mahitha Lingala is a student at the OP Jindal Global University
The era emerged from "RuwanWeliSaya": Aftermath of Presidential Election in Sri Lanka
Authors: Punsara Amarasinghe & Eshan Jayawardane
Civilizational influence in shaping national political consciousness is an indispensable factor that one cannot deny or completely abandon albeit how rationalized or tries to be radical he is. The Oath ceremony of the president of the US is traditionally culminated by pledging alliance to the US constitution and God and the people in Britain chant "God save the Queen "as their aged long belief in Christianity is imbued with Anglo Saxon political consciousness. This given examples are the ideal instances proving the gravity of nationalism still prevailing in nation states system and this examples pave the path to ascertain the civilizational message symbolized by the newly elected president of Sri Lanka by choosing the ancient Buddhist stupa Ruwan Weli Saya in its ancient monastic city Anuradhapaura as the location to take oaths.
First and foremost, the recently concluded presidential election in Sri Lanka became a battle between emotions and many appealing dazzled in Sri Lankan society due number of reasons. Mainly majority of Sri Lankans felt anxious about the rule of former president Maithripala Sirisena who came into power in 2015 as a leader committed to restore the good governance and the international image of Sri Lanka. Even though his emphasis on good governance and reconciliation seemed to be appealing at outset, his inefficiency in implanting the promises jeopardized his rule gradually. In particular, people were heavily gutted after an Islamic militant group supported by ISIS carried out a deadly attack on Easter Day this year in Sri Lanka. All this circumstances set the cause in Sri Lanka to revive its aged long romanticism on Sinhalese Buddhist nationalism as it has always played the last resort for the majority of the Sinhalese community in island throughout its history.
The arrival of Gotabaya Rajapaksa as a one of main presidential candidates for this year election marked a new revival in Sinhalese Buddhist community and which was further bolstered by the echoing voice of Buddhist monks and so many other social factors. On the other hand, his dynamism as former defense secretary during his brother president Mahinda Rajapaksa's era in defeating 30 year long civil war in Sri Lanka against Tamil separatist movement and the contribution he made in urban development kept lingering in the minds of the people when they suffered from inefficient bunch of rulers for past five years. However, in comparing the decisive factors that intensified the victory of Mr. Gotabaya Rajapaksa, it becomes evident his main opponent Mr. Sajith Premadasa's manifesto and his political stances became less appealing for the majority of Sinhalese in Sri Lanka as his political campaign was consisted of many dubious characters hated by common people.
In analyzing the election results, it is evident that Gotabaya Rajapaksa's victory in Sri Lankan presidential elections was manly attributed to the votes of Sinhalese Buddhists and this simply reminds of the victory of Modi in India from Hindu majority votes and Orban's victory in Hungary from the votes of the Catholic Magyars. The recent growth of nationalism around the globe has again created a serious concern on returning the Hobbesian idea of strong sovereignties with strong nationalist sentiments. The outcome in Sri Lankan presidential election denotes the continuation of strong global tendency towards nationalism, yet, in the case in Sri Lanka the election results has given a clear sign that Tamil and Muslim minorities are displeased with Gotabaya to be their president as many Tamil and Muslim electorates were mainly won by Sajith Premadasa. The situation arising from this ethic division should be healed by newly elected president as it appears to be the most important task he needs to accomplish.
Perhaps, it may be an interesting analysis to look at his choice for taking oaths as the 7th executive president of Sri Lanka, because the place he chose for this ceremony RuwanWaliSaya in ancient city of Anuradha Pura is a powerful icon for Sinhalese Buddhists as how Varanasi becomes important for Hindus and Jerusalem inspires Jews. The ancient pagoda called "RuwanWaliSaya" was built by King DutuGamunu after defeating Tamil Chola ruler Ellalan who ruled Anuradhapura for 40 years. The saga of king Dutugamunu was glorified in the Sinhalese psyche as a civilizational hero who appeared in the most awaited hour in their history to defeat the enemy and restore Buddhism. Also, the Buddhist pagoda he built called " RuwanWaliSaya" has always been an inspirational point for the idea of Sinhalese Buddhist nationalism. The pictured depicted in Sinhalese Buddhist society in Sri Lanka regarding Anuradhapura and RuwanWaliSaya is a such a venerated one mixed with nostalgia and a yearning to restore its glory.In modern history of Sri Lanka after independence, no leader chose this ancient symbolic place as the venue to take oaths till Mr. Gotabaya Rajapaksa did so. The given idea simply proves that Sinhalese Buddhist majority finally reached their awaited moment of choosing a leader who understands their national aspirations. Moreover, it shows the unbreakable role of religion, race and cultural identities in South Asian politics. We do not criticize the emotional symbolism erupted from Gotabaya Rajapaksa's choice of Buddhist pagoda as a place for taking oath, because history has proven sometimes nationalist leaders have been great leaders who protected every community in the society and in his inaugural speech president Gotabaya mentioned the importance for leading Sri Lanka from its political and economic chaos to a greater future with the support of all the communities. In that context, the man who appeared from the strong communal based nationalist background might be the best leader Sri Lankans have been waiting so far if he addresses the ethnic minorities Tamils and Muslims in the island without isolating them. Furthermore, neutralizing the foreign policy in Sri Lanka would be another crucial factor newly elected president needs to envisage.
*Eshan Jayawardane is an independent researcher currently lives in New Zealand and he holds a master's degree in international relations from Jawaharlal Nehru University in New Delhi, India. He can be reached at Eshan.Jayawardane[at]gmail.com
India's Continuing Arrogance in Kashmir
On October 31, 2019, India formally split up the Muslim-majority region of Jammu and Kashmir into two federal (union) territories. By doing so India violated the UNSC resolutions on the matter and officially issued a new political map indicating Ladakh and Jammu as Indian Union Territories. According to this formal split,both the Jammu and Kashmir and Ladakh union territories will be administered by two lieutenant governors, Girish Chandra Murmu and Radha Krishna Mathur respectively. They are supposed to report to the Indian home secretary based in New Delhi. This clearly defines the motives of the Hindu nationalist government of BJP led by Prime Minister Narendra Modi which revoked Article 370 on August 5.Unfortunately, the prevalent security environment in Kashmir is dominated by the BJP, which has led India's arrogance to determine the fate of the disputed region.
In the same vein, right before the formal enforcement of the constitutional split, a local body electoral exercise was carried out in the region. The maiden Block Development Council (BDC) Election was held on October 24 under much hype due to the evolved dynamics of the region. However, the region's main parties such as the National Conference, Peoples Democratic Party, and Peoples Conference and other small parties had boycotted the local elections terming them as an 'undemocratic' exercise. These parties which have remained the major stakeholders in the politics of the region had turned out against the abrogation of Article 370 that granted the region special rights. It was also observed that the political parties had perceived this election as instead a "forced election" primarily because the region was still then under severe restrictions. Contrary to this general perception, the Indian government still carried out the post-revocation electoral exercise. This arrogant policy adopted by the Indian government seems to forcefully instill this notion of 'our plan our vision' by the BJP to decide the fate of the Kashmir region.
In addition to this notion, the Hindu-supremacist government of India, headed by Prime Minister Narendra Modi has been shamelessly flaunting the narrative that Kashmir has been 'put in its place'. This means that contrary to the previous position of the Kashmir region as an autonomous entity under the Indian Union, it has been demoted to now being a 'union territory' like other union territories under the federal (Union) government of India. By doing so it seems that India is following a dangerous trajectory of dealing with Kashmir vis-à-vis Pakistan and the international community. In pursuit of its fascist vision inspired by its RSS ideology, the BJP led Indian state has blatantly ignored the global implications which its moves could have regarding the disputed region. Moreover, the ongoing crisis also provides an insight into Kashmir being a victim of the so-called rules based international order that has repeatedly failed to shield the Kashmiri people from the human rights violations of the Indian forces and protect their sovereign will.
It is worth mentioning here that Kashmir is one of the oldest issues pending at the UNSC table. The international community acknowledges Pakistan's significance as the most important stakeholder vis-à-vis any development on the Kashmir issue. Contrary to Indian moves and suppression of Kashmiris, Pakistan has always insisted on the peaceful settlement of the Kashmir dispute under the UN mandate. Moreover, Pakistan has always encouraged international mediation offers from influential countries especially by the U.S. This was evident during Prime Minister Imran Khan's first-ever visit to the US on July 23, 2019, when President Trump had offered to mediate between India and Pakistan. The offer was greatly appreciated by Pakistan as it was aimed at some prospect of seeking a settlement given the evolved security dynamics of the South Asian region for the last few months. Whereas, India has often rejected such offers claiming Kashmir as its internal matter.
As evident from the above-mentioned developments, it seems that India aspires to increasingly project itself as a regional hegemon and as a potential superpower that can do whatever it pleases with a complete disregard for basic human rights. Under this notion, the BJP government led by Prime Minister Modi and inspired by Hindutva ideology is taking offensive measures to forcefully make Kashmir an integral part of India via its brutal political and military actions. The most considerable aspect of such belligerence is that India wrongfully perceives that Pakistan is unlikely to or perhaps unwilling respond to any Indian move based on certain political, economic and strategic restraints vis-à-vis India. This however is once again a grave underestimation of Pakistan's resolve and the sensitivity with which such moves are being taken by the Pakistani leadership.
Hence at the present, the rash and irresponsible actions of the BJP led Indian government has once again put at stake the peace and stability of the entire South Asian region, bringing it once again to the brink of conflict. Despite all the criticism worldwide, with its politico-military offensive in Kashmir, it seems that India has already decided to determine the fate of the disputed region through sheer arrogance and brutality. India is mistakenly perceiving that such moves would likely tighten its grip over the restive region that is at the heart of more than 70 years of hostility with Pakistan. India's policy to forcefully make Kashmir a part of the Indian Union by annexing it through political and military means would serve as a dangerous precedent. This poses a serious detriment towards the long-desired peaceful settlement of the Kashmir dispute and even with more disastrous consequences for the whole region.