Armenia's Russian-Backed Aggression a Danger to Region
The Nagorno-Karabakh region of Azerbaijan was illegally occupied by neighboring Armenia during a three-year war that ended with a ceasefire in 1994. The occupied 4,440-square-mile territory – four times the size of Rhode Island – and its Armenian residents are so dependent on Armenia that they use Armenian currency. Much like the ongoing crises in Ukraine and Crimea, Nagorno-Karabakh is an example of Russian meddling in the affairs of sovereign, democratic nations. In this case, Russia is trying to tip the scales in favor of its proxy Armenia.
There's no dispute about the Nagorno-Karabakh territory. The United Nations and several other international organizations agree the land belongs to Azerbaijan and that it is under illegal occupation by Armenia. They also condemn the forced expulsion of Azerbaijani residents during the war.
Unfortunately, International denunciation has not moved Armenia toward the negotiating table. Instead, criticism has only made the regime – and its Russia backers – more intractable. Especially worrisome are the increasingly belligerent words and actions coming from its government. These threats are accompanied by new military hardware in the form of nuclear-capable missiles purchased from Russia and pointed at Azerbaijan.
The result is a toxic and unstable Armenian policy, supported and facilitated by Russia, which is escalating tensions in an already fraught part of the world.
It is clear to everyone except Armenia that discussions must be held between the two nations to reduce military tensions and, ultimately, to return the stolen territory to Azerbaijan's control.
The co-chairs of the OSCE Minsk Group have repeatedly called for the resumption of the negotiations between Azerbaijan and Armenia. Without negotiations, they say, "the prospects for renewed violence will only increase." Talks between Armenia and Azerbaijan are "an essential element in building confidence and moving the peace process forward," the co-chairs have said. Much as it does in lip-service talks with Ukraine, Russia shows two faces in the Nagorno-Karabakh conflict: It supplies Armenia with weapons while co-chairing the Minsk Group.
Despite pressure, Armenia has ignored all requests for peace talks. Since last September, the government has refused to engage in serious negotiations. Not only has Armenia turned its back on peace talks, it is sending aggressive signals related to militarization.
In his inaugural speech to the nation's parliament last October, Armenian Defense Minister Vigen Sargsyan called for the creation of a "nation army," saying "the armed forces should play a greater role in the country's social and economic life." Sargsyan would require all branches of the Armenian government, its political bodies and civil society organizations to embrace roles in the nation's defense. The nation-army would become a "workshop for military and patriotic education," he said.
At the same time, Armenia is investing in game-changing new weaponry. The nation has received Iskander missiles from Russia, its regional sponsor, that can be fitted with nuclear warheads. Deployed along Armenia's eastern front, the Iskanders can reach targets throughout Azerbaijan, including the capital, Baku. Russia and Armenia have also established a joint air defense system for the Caucasus region and created joint forces to "ensure security in the Caucasus region," the two nations have said. All signs are pointing toward a further integration of Russian and Armenian forces.
Armenia's dangerous tack is drawing critics from inside and outside the country.
Armenian opposition leader and former President Levon Ter-Petrossian has called for his nation to engage in a phased resolution of the conflict, the return of the occupied Azerbaijani territories and open borders to restore economic relations between Azerbaijan and Armenia.
Ter-Petrossian also criticized the "nation army" idea, calling it ill-conceived. He said its goal is to maintain the status quo, just using different, more hostile language.
Azerbaijan has repeatedly sought to engage with Armenia to end the standoff, return the illegally occupied territory and resume trade between the two nations.
In October 2016, Azerbaijan President Ilham Aliyev proposed making the Nagorno-Karabakh region an autonomous republic. The people of the region want to have a hand in determining their fate and this goodwill gesture accommodated that desire. The proposal was welcomed by the U.S.
Armenia's reaction? Days after the Azerbaijani overtures, Armenia's foreign minister declared that any potential settlement talks were frozen.
Azerbaijan and international observers can only conclude that Armenia has no interest in peace or negotiations.
Armenia has no legal claim to the Nagorno-Karabakh territory nor to the people it has subjugated. Its thuggish behavior is a risk to Azerbaijan and the region and cannot continue unchecked. Instead of rejoining the community of nations, Armenia continues to withdraw into its militarized, rogue-nation status.
With Russia's help, Armenia is on the verge of becoming the North Korea of the Caucasus. It's time for the U.S. and the West to get more involved and bring the parties to the bargaining table.
Latvians will choose their future
The general elections in Latvia will take place on October 6, 2018. On Saturday Latvians will choose their future. Though it sounds very pathetic, future of the country really depends on the results of these elections.
In an interview with Latvian information agency LETA, Foreign Minister Edgars Rinkevics, commenting the atmosphere during this pre-election period, said that a serious battle of people's minds and hearts is going on right now.
And this is true. But this fight is too cruel. Just this pre-election period shows all things bad as they are. The "truth" about corruption on high banking and political levels all of a sudden has been poured out on population. "Latvia's central bank chief has been charged with bribery. A lawyer liquidating the bank that was accused of bribing him was killed in a hail of machine-gun fire. One of the country's biggest lenders was shut down after the U.S. levied allegations of money laundering and violations of sanctions on North Korea. What's going on in Latvia? " ask the authors of article "Where Latvia's Financial Corruption Scandal May Lead" published in Bloomberg on September 27.
Situation in small Latvia reminds gangster times in the United States, when criminals held people in awe. The difference is only in the fact that American gangsters were not high ranking officials. Gangsters' activity was officially considered criminal. On the contrary, Latvian case demonstrates activity of corrupted authorities, who influence the whole country, all 2 milllion people.
Ilmars Rimsevics, who's been in charge of Latvia's central bank as governor or deputy since 1992, is accused of soliciting a bribe from Trasta Kommercbanka AS, a small lender that was shut in 2016 after being implicated in a $20 billion money-laundering scheme. Specifically, he's accused of receiving 250,000 euros five years ago.
It is difficult to imagine, that he got a bribe once, ruling the bank for so many years. Nobody saw his misconduct, nobody knew about it. Nonsense!
Now it is a question of trust to all top officials in Latvia.
For example, about 1 percent of all U.S. dollars moving around the world in 2015 were going through Latvia, according to Daniel Glaser, then a top official in the U.S. Department of the Treasury. It means that Latvia had a chance to become the second Switzerland at least.
But Latvians did not even feel the benefits. They tried to survive in 2015 and they continue to survive in 2018. Nothing has changed. Rich people have become richer and poor have become poorer. That is Latvian Reality.
The other news stroke Latvians this week. Prime Minister Maris Kucinskis confirmed that EUR 2 million more could be allotted for national defense.
He said with pride that "thanks to the increasing budget revenues, the funds will not have to be taken away from other national economy sectors."
A question arises: why should these additional revenues go to defense and not to other national economy sectors? Is it the sphere that needs money most of all?
Corrupted political system decides for people where their money should go and for what purposes. It is well known that it is very difficult to track money spending in military sphere because this sector of economy is not transparent to the society due to security measures.
The only thing Latvians can do under such circumstances – to choose the right politicians to rule the country and they are surely should not be the same corrupted officials.
Lithuania violates the Universal Declaration of Human Rights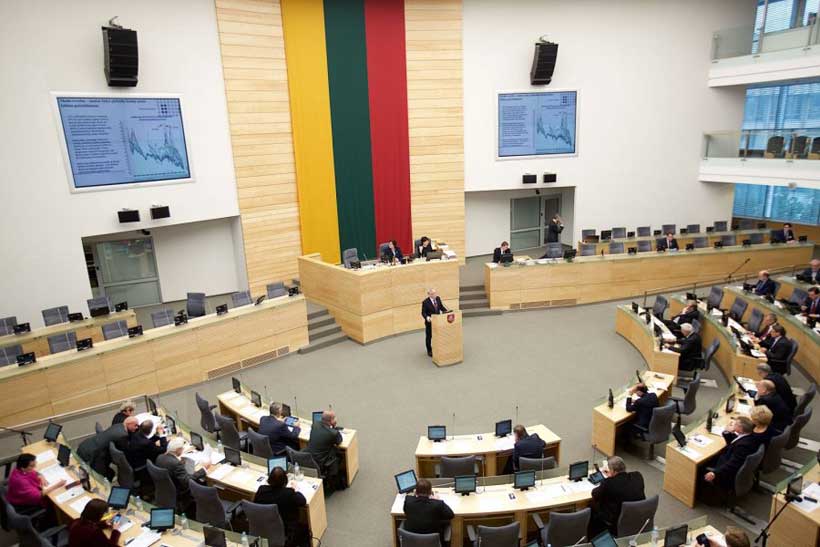 DELFI, which is the major Internet portal in the Baltic States providing daily news, stated on September, 10 that the number of emigrants from Lithuania exceeds that of immigrants by 1,000 in August. Shocking statistics shows that the country has registered a negative migration balance. Some 4,382 people left Lithuania in August. Thus, Lithuanians are leaving the country despite authorities' claims on economic growth, stability and favorable perspectives.
On the one hand, according to "Lithuanian economy review – 2017", the GDP growth in Lithuania accelerated. In 2017, as compared to the previous year, Lithuania`s GDP increased by 3.8%. On the other hand, this fact contravenes the increasing number of emigrants.
What makes people change their life and say "Good bye" to their homes? This is a rhetorical question. The answer lies on the surface.
Lithuanians do not satisfy with their standards of living. For example, survey of public opinion and market research company "Baltijos tyrimai" reveals that Lithuanians still haven't domesticated the Euro. The pool conducted in July shows that more than 46,3% of Lithuanians blame the European currency in lowering their life standards. In other words they do not agree with the authorities' decision to adopt the euro.
People compare their life with the other European countries and it is not in favor of Lithuania. The words and promises are not fulfilled, corruption flourishes. Thus, Freedom House document "FREEDOM IN THE WORLD 2018" reports that "the major problem for Lithuania's democracy – corruption – continued to dominate the public sphere, as a series of scandals plagued members of the Seimas (parliament) and public institutions. Even Lithuanian President Dalia Grybauskaitė on Monday called on lawmakers not to waste their time on squabbling.
Officials, who today name themselves democrats, did not manage to get rid of Soviet thinking and way of behavior. When they get political power they forget about their duties. Permanent political scandals in small country led to the fact that people stopped believing authorities. And authorities' activity is seemed to be suspicious in all spheres of life.
Thus, Lithuanians are wary of a new agreement on the country's defense policy for the next decade signed by Lithuania's parliamentary parties on Monday. The document calls for joint efforts to resist "irresponsible speculation that sets defense funding in opposition to other sensitive areas". It means that Lithuanians do not have the right to decide to what area allocate budget money though they pay taxes. They do not have the right to speak on this topic and express their opinions if they contradict the official point of view. The parliament members forget the basic human rights. Article 19 of Universal Declaration of Human Rights of the United Nations states that "everyone has the right to freedom of opinion and expression; this right includes freedom to hold opinions without interference and to seek, receive and impart information and ideas through any media and regardless of frontiers."
An ordinary person cannot solve the puzzle why television and Government controlled media describe his country just another way he sees it. Freedom House states also that "Regional economic disparities remain acute. The minimum wage remains one of the lowest within the EU, and the share of the population at risk of poverty and social exclusion is a little over 30 percent.
This discrepancy forces Lithuanians to seek better life abroad, usually in Old Europe. More than 20 years of expectation is too much. Life is too short to waste it to sit around waiting for changes.
Will Russia serve the old wine in a new bottle?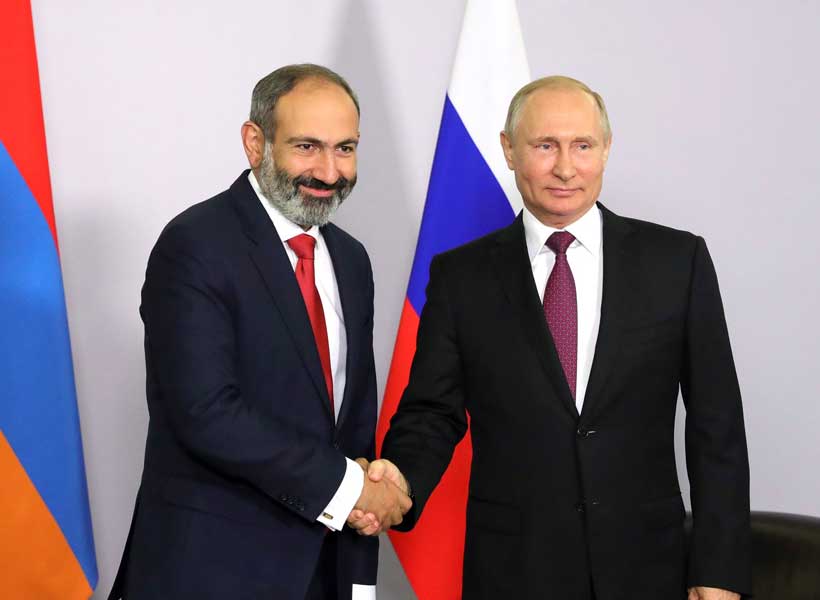 Nowadays, one of the main features of global political developments are non-violent or color revolutions. These revolutions are brought about by wide-spread corruption, poverty, unemployment and a deep gap between masses and the ruling elite with the latter being the biggest political risk for the ruling party. Most analysts argue that these factors are combined also with outside support, which can culminate in the revolution. However, what happened in Armenia after a few weeks of peaceful demonstrations, the Velvet revolution, that brought down the regime and has exercised true people power, is considered to be unprecedented for it didn't owe its origin to the external assistance or wasn't an attempt by ''US to export democracy'' in Armenia. The geopolitical factor was initially excluded.  In fact, Russia has traditionally had negative attitude towards color revolutions and has seen them ''as a new US and European approach to warfare that focuses on creating destabilizing revolutions in other states as a means of serving their security interests at low cost and with minimal casualties''.This means that Russia, desperate to maintain its own standing in the Caucasus, was likely to intervene in the events unfolding in Armenia. However, the Kremlin didn't view turmoil in Armenia as a Ukraine-style revolution. Asked if Russia would intervene, Kremlin Spokesman Dmitry Peskov said the matter was "exclusively an internal affair" and Russian action would be "absolutely inappropriate". Moreover, after Armenia's unpopular leader Serzh Sargsyan's resignation, Russian Foreign Ministry spokeswoman Maria Zakharova called Armenians "a great people" and wrote, "Armenia, Russia is always with you!"
The prospect of a Russian intervention was low for 2 key reasons
One of the possible reasons behind Russian inaction was that Moscow didn't regard the revolution in Armenia as a threat to its geopolitical prerogatives, but rather as an opportunity to make a strategic move through a global panic over Russia's continued warlike behavior. Satisfied that this is genuinely an internal Armenian issue directed at an incompetent and ineffective government, Russia proved with its muted response to Armenia's color revolution that Kremlin embraces the policy of non-interventionism.
Secondly, a rapid spread of pro-Western sentiment among local journalists, civil society representatives and youth was prevalent in Armenia in the past decade. This process only accelerated after Armenian President Serzh Sargsyan unexpectedly decided in 2013 to join Russian-led Eurasian Economic Union (EAEU) over EU Association Agreement.Yerevan's decision of September 3, 2013 to involve in Eurasian Economic Union (EAEU) was mostly conditioned by Moscow's ultimatum imposition, which left a deep track in the perception of Armenia-Russia relations and formed a comparatively new cliché. Anti-Russian sentiments were on rise in Armenia in recent years due to major levers of influence that Russia maintained over Armenia: Armenia's corrupt oligarchic system and the military threat coming from Azerbaijan. Civil society and the opposition in Armenia viewed Russia as the sponsor of the autocratic, oligarchic system of governance in Armenia. They have traditionally criticized the government for having closest ties with the country which provides 85 percent of arms export to Azerbaijan-a country which is in continuous conflict with Armenia over the disputed territory of Nagorno Karabakh.  This anti-Russian sentiment reached its apex in 2016 when the intense fighting broke out in Karabagh known as Four-Day War. This drew the public attention to the Russian-supplied arms which played a role in the deaths of dozens of soldiers.
Both opposition leaders and civil society members demanded not only Armenia's exit from the EAEU, but also an end to the Russian military presence in the country. The anti-Russian rhetoric was useful for both the Armenian government and the opposition to alert Russia not to take Armenia for granted.Hence, in one way the April Revolution in Armenia was a test for Russian-Armenian relations, and Russia viewed it as a new impulse for mutually beneficial relations aimed at restoring the damage of Russia's protective image among Armenians.Needless to say,Armenia is important to Russia, as losing Armenia would cause fundamental changes in Moscow's influence in the South Caucasus. Furthermore, Armenia can't cherry-pick among its closest allies because its landlocked position limits the freedom to maneuver in its foreign policy and its economic and defense imperatives dictate a close alignment with Russia. This was reaffirmed by new prime minister and protest leader of Armenia, Nikol Pashinian, who not only supported maintaining the current Russian-Armenian relationship but also suggested a "new impulse" for political and trade relations during the meeting with Russian president Vladimir Putin in Sochi on May 14. During another meeting a month later, Armenian PM expressed his hope that ''the relations will develop more effectively on the basis of mutual respect for the best interest and sovereignty of the two States''.
On the whole, Armenia will continue to pursue its "Complementarian" or multi-vector foreign policy, which means that no radical change in the realm of foreign policy is expected to take place.  Yet there is no strong anti-Russian current in Armenian political and society rhetoric. The recent civic movement was significant in realizing the potential of Russian-Armenian mutual relations for economic development and security. Undeniably, Russia should adopt new approaches towards Armenia and it should realize that under new circumstances the backward-looking policies are destined to be counter-productive. In Armenia people hope that Kremlin wouldn't serve the old wine in a new bottle.