Russian annexation of Crimea is final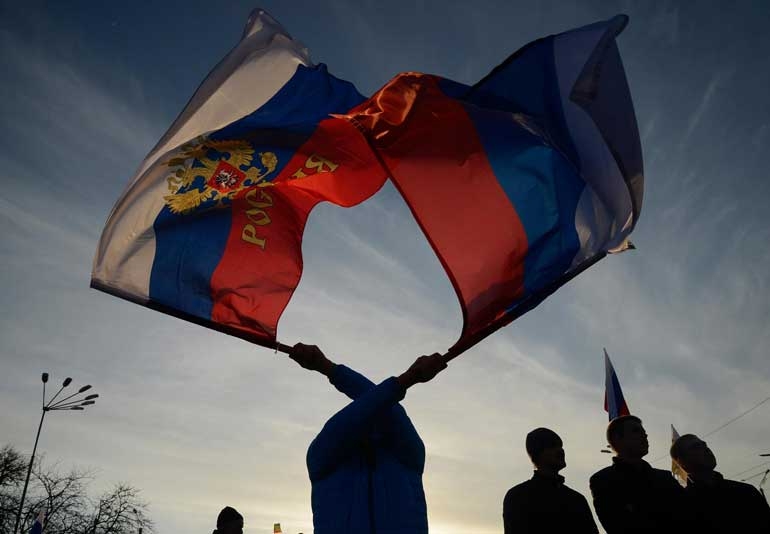 [yt_dropcap type="square" font="" size="14″ color="#000″ background="#fff" ] C [/yt_dropcap]rimea was an integral part of Russia for centuries and is historically, culturally and linguistically Russian.
Just like some European nations continue to see European Turkey as being a part of Asia mainly because of its Islamic religion; they now view Crimea as being a part to Ukraine just because it became a part of the Soviet nation as a part of Ukrainian Republic but now it is an East European nation. Soviet President Khrushchev, who belonged to Ukraine, had gifted Crimea from Russian Republic to Ukrainian Republic as a part of territorial rearrangement.
Angry over Ukrainian support for USA and it move away from Moscow, Russia annexed Crimea in 2014 and made it an integral part of Russia once again. Even if Ukraine changes its anti-Russia stand, Crimea would remains with Russia henceforth.
Clearly, if Putin's statements are of any indication, Russia is not going to give Crimea to Ukraine any time in future. As such, all calls for Russia to leave Crimea are useless and as pointless. Continued occupation of many Arab nations as well as Afghanistan and Pakistan by the USA and anti-Islamic allies, does not offer any chance for forcing Russia as well.
Meanwhile, French Presidential candidate Francois Fillon warned that Russia was "unstable" and "should be handled with care." "Can we lift sanctions against Russia without progress in Crimea?" he said. "We have to respect two important yet contradictory principles: respect for sovereign borders and the right to self-determination. No one doubts that Crimea has been historically, culturally and linguistically Russia, and pointless to keep demanding that Russia leaves Crimea: it's never going to happen." Fillion had been seen as a forerunner in the French elections until February this year, when French police began to investigate claims that he had deliberately squandered public money by hiring his wife in a nonexistent role as a "parliamentary assistant." He's recently made a comeback in the polls, reaching third place. The first round of the French presidential elections takes place this Sunday.
Russia remains strong notwithstanding all economic sanctions by USA and EU, and its other allies. Putin said he would stress Superpower status in Presidential Campaign next year. Restoring Moscow's global influence will be a dominant theme of the 2018 election. There are obviously no signs of Putin asking the military to leave Crimea for Ukraine and EU to take it away.
2018 Presidency poll
In 2016, Donald Trump rode a wave of popular discontent to the White House on the promise that he would "make America great again." As Russia's presidential election, scheduled for March 2018 draws nearer, President Vladimir Putin may try a similar tactic — by contending that he has already restored Russia's greatness. Since annexing Ukraine's Crimean peninsula in 2014, Russia has increasingly asserted its role on the global stage.
Following annexation of Crimea, the Kremlin has also ignited a separatist movement in eastern Ukraine and supported the unrecognized "people's republics" that emerged there. In 2015, Russia entered the longstanding Syrian civil war in support of embattled Syrian President Bashar Assad. Trump's electoral victory and the demise of the Western consensus against Russia's violation of international law has also been a major coup for the Kremlin.
These events have all catapulted Putin to the position of a powerful broker in the international arena and fulfilled the country's longstanding desire for international influence. They signify that, Russia is once again a global player on par with the USA—much like the USSR was thirty years ago.
Russia's military prowess
Earlier this month, it emerged that Russia had deployed a 22-member special forces unit to a base in western Egypt, near the Libyan border. Russia's goal is likely to support Khalifa Haftar, a renegade Libyan National Army general who currently controls most of the country's east and poses a serious challenge to the UN-backed government in Tripoli.
The general made two high-profile visits to Moscow in 2016, and signed a series of undisclosed agreements with the Russian military in January. But it is significant because it undermines UN efforts to stabilize the north African country. The deployment shows that Russia is thinking "not just about its continued presence in Syria, but in the Greater Middle East," says Alexei Malashenko, a regional analyst at the Dialogue of Civilizations foundation.
Recently, Russia has also increased its role in Afghanistan. In February, the Kremlin organized an Afghanistan peace conference in Moscow that brought together representatives from Afghanistan, Pakistan, India, China, and Iran. Notably absent were the United States and other NATO coalition members. Russia has also advocated for including the Taliban in any solution to the conflict in Afghanistan, presenting the Islamist militants as a bulwark against the Islamic State (IS). In February, Gen. John Nicholson, commander of U.S. military operations in the country, alleged that Russia had increased covert and overt support for the Taliban to undermine the USA and NATO in Afghanistan.
Russia has sincere concerns about conflict spillover from Afghanistan into Central Asia, says Malashenko. But it is also using the IS and Taliban presence in Afghanistan to assert the role of the Collective Security Treaty Organization (CSTO), a Russia-led military alliance of post-Soviet states in the region.
On March 20, David McAllister, chair of the European Parliament Committee on Foreign Affairs, accused Russia of deliberately destabilizing Serbia in order to prevent the Balkan country from joining the EU. He has also alleged that Russia supports nationalist leaders throughout the Balkans. In Montenegro, two Russian intelligence officers stand accused of masterminding a failed coup on election day in October 2016 to prevent the Balkan nation from joining NATO. Last month, a Montenegrin special prosecutor stated that "Russian state bodies were involved on a certain level."
Any move that destabilizes the Balkans would send a strong message to the West: Russia is a critical regional powerbroker.
Europe could serve as another staging ground for restored Russian influence. As political uncertainty grows in the EU, Russia is reasserting its influence in the Balkans. Earlier this month, when EU foreign affairs representative Federica Mogherini spoke in the Serbian parliament, a group of pro-Russia parliamentarians met her with chants of "Serbia! Russia! We don't need the EU!"
Observation
The sanctions, imposed by USA and EU on Russia against the annexation Crimea, have not yielded any fruits. It is mainly because of economic position of Moscow. The major sources of economy include arms and oil. Unless weak countries like Pakistan or Afghanistan, Russia cannot be bullied by sanctions or threat of terror attacks the powerful Kremlin.
Threats of USA are not going to weaken Russia in any manner. And there is no reason for the Kremlin to leave Crimea.
So far, there is no consensus in the Kremlin on whether to boost tension in Serbia. Cooler heads understand it may be riskier than involvement in Syria.
Meanwhile, decision makers must take into account the public mood.
Last year, polls repeatedly showed that Russians are tired of war.
Armed conflicts are increasingly seen as an irrational waste of resources, and human losses—first in Ukraine, then in Syria—as something Russia doesn't need.
The Russian public sees the country's newly achieved superpower status as a source of international respect, but Russians are more eager for this status to be used for dialogue, than for confrontation.
The challenge for the Russian leadership will be to avoid backsliding into real conflicts that might undermine stability, something Russians hold dear. Putin seems to understand this. He is too cautious to attempt a full-scale restoration of Soviet grandeur. Besides Syria and Ukraine, it's either isolated local episodes, or just talk So far, there is no clear indication that the Kremlin has decided on a central idea for Putin's electoral platform. One of the challenges for the Kremlin will be addressing economic stagnation and declining living standards that will likely persist in Russia for a few more years. The other will be getting voters to the polls. But nostalgia for Soviet greatness could still drive electoral mobilization. Recent debates over holding the election on the fourth anniversary of the Crimean annexation reflect an appeal to that nostalgia.
Restoring Russia's superpower status was the purpose of Putin's third term. Russia's global influence will be a key part of the campaign, but the nostalgia card has already been played. EU cannot expect Putin to explain why Russians need global influence and what they get from it.
Russia's quest for global influence won't end in the near future. The upcoming presidential election will be utterly predictable, lacking real competition. As a result, Putin will likely spend 2017 demonstrating Russia's global greatness to spur enthusiasm and drive Russians to the polls.
This does not mean that Russia will rush to war, however. . But it does mean the Kremlin must project an image of strength abroad. The idea is to show influence. Putin will need to make headlines, assert Russia's global presence and demonstrate that it is returning its spheres of influence.
Russia, Ukraine And The Disputed Crimean Peninsula
In this exclusive video for In Homeland Security, American Military University's Dr. Matthew Crosston, Doctoral Programs, School of Security and Global Studies, discusses the tumultuous relationship between Russia and Ukraine since the 2014 'Maidan Revolution' and how each nation, the United States, and NATO all view the disputed peninsula of Crimea. There is a transcript of the video below.
Transcript of Dr. Crosston's Analysis:
If we're looking at the Russian Ukrainian conflict, sort of en mass, going back to its beginning foundation, for Russia at least it starts with the Maidan Revolution – or even the precursors to what created the Maidan Revolution. And, that's something that we get a little bit of a debate or a discussion in the West about. The Russians feel that the West sort of made some sneaky promises behind the scenes to Ukraine – the people who would ultimately lead this revolution and cause the sitting president to flee to Russia and have a new president come in and take his place who was much more EU-friendly much more-NATO friendly much less Russian friendly. The Russians always saw some subterfuge in that action. They never saw it as a natural organic revolution. They always saw it as an example of Western interference, and they – therefore – felt justified to say well if you can interfere, we're going to interfere because if you're just playing out your interests on the ground in Ukraine why can't we play out our interests on the ground in Ukraine?
Besides, we also think Ukraine is a better partner to us and should be a bigger compatriot of our interest because we have religious, cultural, historical ties. No matter how you try to play it in the West, Ukraine and Russia should not be at odds against each other, Ukraine and Russia should not be enemies. They are the more natural allies. And in the end since you're making false promises we're going to find out how much you really mean it when you tell Ukraine secretly whisper-whisper behind our backs [saying] don't listen to Russia don't do anything about Russia. Come to us instead. Ukraine really believed in that the people who led the Maidan Revolution believe that would happen. So then what we call the annexation of Crimea (but yet in Russia they call the secession of Crimea into the Russian Federation because the people in Crimea held a referendum saying we want to be part of Russia) – we don't want to be part of Ukraine anymore. We portray that as being Russia forced that on Crimea. The Russians say the Crimeans voiced their political will, and we back them up – which is what you guys in the West didn't do for Ukraine when we did it.
The Kerch Strait
What's above the Kerch Strait – which never gets played in Western media – is this massive eight-lane superhighway that actually the Russians built and had actually in place as a as an agreement and was already begun to be built before the Maidan Revolution and is now complete. What it does is it connects as a land bridge – it connects from Rostov in Russia and over into Crimea. So that you don't have to go through Ukraine at all to get into Crimea. That's where those naval vessels were;  that's where the Russians they were getting near the bridge – without any knowledge or any announcement of anything preordained.
So, the Russians said 'what are you doing here?' Ukrainians don't answer. And, the Russians start playing with it, and they said 'well we'll see how tough you really are … you really going to use these naval ships? Are you really going to do an action here? That's why the Russians call it a provocation. And, in the West – we say the Russians are just making up the word 'provocation' because these vessels weren't doing anything. But, we are ignoring how the perspective of the Russians – near this massive land bridge (that literally now connects Russia to Crimea), how would they interpret the presence of military vessels unannounced with no declared plan of action – just this sort of mysterious presence? They did what most countries probably would do, but what they did goes against our interests, so therefore we have a problem with Russia's actions.
No World War 3 Imminent
Russia has seen – really, quite frankly – since the 90s (with Clinton) this sort of slow very gradual encroachment where more and more members of what they used to consider their sphere of influence or their regional neighborhood (the Russian regional neighborhood) more and more people become part of NATO. But the one part they've always laid out is like the parts that have always sort of been Russian, and you can't underestimate what Ukraine means to Russians in their memory as far as their historical cultural and even religious memory – that area Ukraine and Russia has always been tied together. So that might be the red line (no pun intended) for the Russians drawn in the sand – Ukraine will not go to NATO – will stand up against that. And, I think maybe the possibility was that NATO thought 'well let's test that a little bit because maybe they're saying it of course we understand why you say we need machismo on that, you need some bravado on that, but let's see if you really mean it.' And, as it turns out, the Russians said 'yeah, we do really mean it. Now do you really mean it? Are you really going to come to bat for Ukraine if we step up?' They stepped up, we stepped back. That sounds bad but it's not World War 3, and won't be World War 3 because it means the two big sides – the two big players (Russia and the United States) – are declaring: Ukraine is enough for us to get into [inconsequential] fights over, [but] it's not enough for us to get into a real war with each other over. And, that's the part that's going unsaid in the West that we should emphasize more.
Author's note: This video first appeared at Homeland Security
The Death of the 'Lisbon to Vladivostok' Project?
Russian relations with Europe are part of a complicated story rooted in military, economic and often ideological realms. Both entities have for centuries tried to find a modus vivendi, but have so far failed. One compromise suggested for Europe and Russia was an economic space stretching from Lisbon to Vladivostok – the space characterized by a unified economy, political understanding and even deep military cooperation.
Russia's President Vladimir Putin for years advocated the idea, making speeches about the case. To be clear, Putin was not the first to propound it, but was merely reflecting on similar ideological arguments of the past. A transcontinental union spanning the Atlantic to the Pacific is a geopolitical concept that pops back up from time to time and is linked to neo-Eurasianism, before which the geopolitical space was made up by the triangle of Nazi Germany, Soviet Russia and Imperial Japan.
One space from Lisbon to Vladivostok, which one might also call "Greater Eurasia", would make Russia pivot to the West. This was an attractive idea for the European and Russians. Indeed, even German Chancellor Angela Merkel once said that she hopes "Russia would increasingly develop ties with the European economic area, finally resulting in a common economic area from Lisbon to Vladivostok".
How would such cooperation look? Perhaps it would imply at least a free trade agreement (FTA), whose core features might involve the cutting of tariffs and non-tariff barriers. Business interests in the EU as well as Russia are likely to be supportive of such a proposition. Putin stated that "in future, we could even consider a free trade zone or even more advanced forms of economic integration. The result would be a unified continental market with a capacity worth trillions of Euros".
Surely when we talk about Russia in this context, we need to understand this space as including neighboring post-Soviet states. Russia launched its Eurasian Economic Union (EEU) project back in 2015.
One would think that for the EU, an FTA with the EAEU would be an advantageous proposition from an economic standpoint, since it would give preferential access to an important market. But one would expect the pre-conditions posed by the EU for the opening of negotiations to be many and quite stringent.
For Moscow, this positioning might be more economically advantageous, as the EEU could be a bridge for China's Belt and Road Initiative (BRI) to connect with the European market. On the map, all appears logical and attractive, but in reality, China's BRI, although not against being cooperative with other blocks, still aims at pulling major Eurasian resources towards itself. Russia's EEU, weaker in dimension than the BRI, will inevitably be drawn to Beijing with growing grievances on the Russian side.
Back to the unified Russia-Europe economic space, there remains the fundamental question as to whether or not Russia would consider an FTA with the EU to be in its interests. Is the 'Lisbon to Vladivostok' idea serious? In Russia, many would fear that an FTA with the EU would be too imbalanced, or asymmetric in favor of the EU. Indeed, most Russian exports to the EU, such as oil and gas, are already being traded without tariffs. Also, the challenge for any petro-economy to sustain a substantial and competitive industrial sector would be a tough task to pull off.
So far, we have given a pretty rosy picture of the two stood regarding the project just several years ago, in the period before the Ukraine crisis.
When discussing Russian geopolitical moves, one needs to remember how important Ukraine is and how the latter has been a driving factor in Russia's calculus. Ukraine has always been the main point of any of Russia's grand projects of the past and present. The modern EEU, an ambitious project that goes well beyond the simple removal of borders between the five ex-Soviet countries (Armenia, Belarus, Kazakhstan, Kyrgyzstan and Russia), is weak economically and geographically without Ukraine. Many believe that even before the Ukraine crisis, Russia-Europe relations were strained and a crisis was inevitable, but it should not be forgotten that it is still Ukraine which made the differences insurmountable. It could even be argued that the Ukraine crisis put an end to any grand strategic view between Russia and Europe. The "Lisbon-Vladivostok" vision, it could be argued, is now dead.
Beyond the Ukrainian issue are also other important issues which are likely to stop any furtherance of the Greater Eurasia project. Europe and Russia are not just two competing economic blocs, but two blocs with opposing values and political systems. A compromise between the two has not been seen in the history of the past several centuries, except for short periods of time when Russian military power was needed in settling inter-European problems.
Moreover, put in the longer-term perspective, we see that the abandoning of the grand Lisbon-Vladivostok vision follows what is taking place across the entire Eurasian continent, where pragmatism and a reliance on real state interests and capabilities are back in fashion following the hopeful post-Cold War years.
Over the past several years, Russia has also leant towards the East. And while it is often put to question just how deep the Russian pivot to the East is, certain geopolitical tendencies lead us to support the idea as fact. Moscow portrays this policy as its own choosing, but the reality is that from three grand avenues (Eastern Europe, South Caucasus, and Central Asia) of projection of Russian geopolitical influence, it is only in Central Asia that Moscow does not meet important pushback from any Western power, while Chinese influence is only seen in economics. This simple vector of projection of Russian power is quite telling at a time when Moscow is more drawn to the East rather than the West, spelling a death note to once grand plans of an economic space from Lisbon to Vladivostok.
Author's note: First published in Georgia Today
Russia invites African leaders to Sochi Summit
Russia has finally announced that it would host African leaders and corporate business tycoons in a high-level October summit in Sochi, south coastal city, to roll out a comprehensive agenda and strategy aimed at raising the existing overall Russia's economic profile in Africa, St Petersburg based Roscongress, the official organizer of the October summit, said on its website.
It is currently collaborating with the Russian Ministry of Industry and Trade, the Russian Ministry of Foreign Affairs, the Russian Export Center and the African Export-Import Bank in organizing the forthcoming business summit.
Roscongress is a non-profit foundation that has grown into a high-profile organization and gained recognition as an effective organizer of the most important business conventions and exhibitions, both in Russia and beyond.
Anton Kobyakov, an Advisor to the Russian President, said that the Russia-African summit primarily seeks to deepen understanding of the business climate, accelerate investment and partnership possibilities in Africa.
"The upcoming summit will be unique in the history of relations between Russia and African countries, and will plot the vector for the further development of bilateral and multilateral contacts for decades to come," he said.
In his contribution, Professor Benedict Oramah, President and Chairman of the Board of Directors of the African Export-Import Bank (Afreximbank), explicitly noted that Russia had the necessary capabilities and, most importantly, the experience and professionalism of its people who could support in these efforts in consolidating the relations.
Russia, by holding various events regularly, would provide an additional impetus for the development of trade and investment opportunities for both countries.
Quite recently, Vyacheslav Volodin, the Chairman of the State Duma, told an instant meeting held with the Ambassadors of African countries in the Russian Federation, that Russia would take adequate steps to deliver on pledges and promises with Africa countries. "We propose to move from intentions to concrete steps," he said.
Russian Foreign Affairs Ministry has expressed optimism and full-fledged support.
"It is evident that the significant potential of our economic cooperation is far from being exhausted and much remains to be done so that Russia and Africa know more about each other's capacities and needs," Foreign Affairs Minister Sergey Lavrov acknowledged in the current Russia's relations with Africa.
He explained further that arranging an event of such a scale with the participation of over fifty heads of state and government required most careful preparation, including in terms of its substantive content and equally important was African businesspeople who have been looking to work on the Russian market.
"The economic component of the summit has a special significance as it would be of practical interest for all the parties. As such, specific Russian participants in bilateral or multilateral cooperation should be identified, which are not only committed to long-term cooperation but are also ready for large-scale investments in the African markets with account of possible risks and high competition," Minister Lavrov noted in an interview.
For decades, Russia has been looking for effective ways to promote multifaceted ties and find new strategies of cooperation in energy, oil and gas, trade and industry, agriculture and other economic areas. Undoubtedly, holding a Russia-African summit would help deepen economic cooperation on the full range of spheres in Africa.