Russian annexation of Crimea is final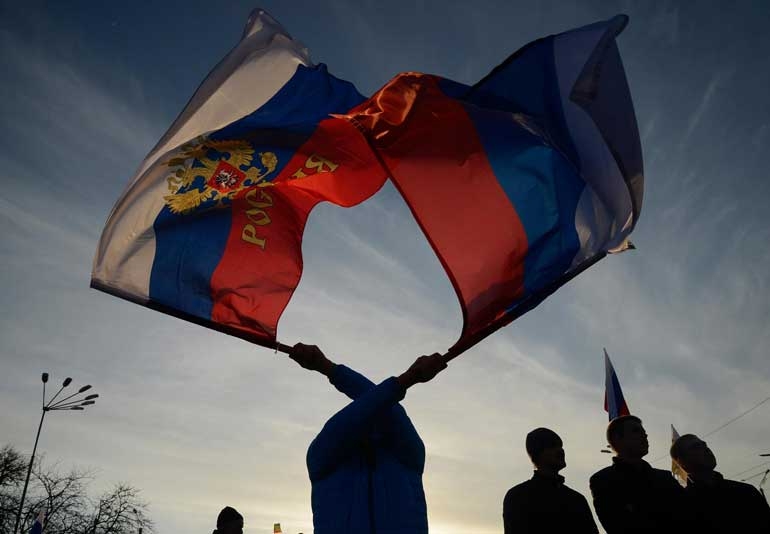 [yt_dropcap type="square" font="" size="14″ color="#000″ background="#fff" ] C [/yt_dropcap]rimea was an integral part of Russia for centuries and is historically, culturally and linguistically Russian.
Just like some European nations continue to see European Turkey as being a part of Asia mainly because of its Islamic religion; they now view Crimea as being a part to Ukraine just because it became a part of the Soviet nation as a part of Ukrainian Republic but now it is an East European nation. Soviet President Khrushchev, who belonged to Ukraine, had gifted Crimea from Russian Republic to Ukrainian Republic as a part of territorial rearrangement.
Angry over Ukrainian support for USA and it move away from Moscow, Russia annexed Crimea in 2014 and made it an integral part of Russia once again. Even if Ukraine changes its anti-Russia stand, Crimea would remains with Russia henceforth.
Clearly, if Putin's statements are of any indication, Russia is not going to give Crimea to Ukraine any time in future. As such, all calls for Russia to leave Crimea are useless and as pointless. Continued occupation of many Arab nations as well as Afghanistan and Pakistan by the USA and anti-Islamic allies, does not offer any chance for forcing Russia as well.
Meanwhile, French Presidential candidate Francois Fillon warned that Russia was "unstable" and "should be handled with care." "Can we lift sanctions against Russia without progress in Crimea?" he said. "We have to respect two important yet contradictory principles: respect for sovereign borders and the right to self-determination. No one doubts that Crimea has been historically, culturally and linguistically Russia, and pointless to keep demanding that Russia leaves Crimea: it's never going to happen." Fillion had been seen as a forerunner in the French elections until February this year, when French police began to investigate claims that he had deliberately squandered public money by hiring his wife in a nonexistent role as a "parliamentary assistant." He's recently made a comeback in the polls, reaching third place. The first round of the French presidential elections takes place this Sunday.
Russia remains strong notwithstanding all economic sanctions by USA and EU, and its other allies. Putin said he would stress Superpower status in Presidential Campaign next year. Restoring Moscow's global influence will be a dominant theme of the 2018 election. There are obviously no signs of Putin asking the military to leave Crimea for Ukraine and EU to take it away.
2018 Presidency poll
In 2016, Donald Trump rode a wave of popular discontent to the White House on the promise that he would "make America great again." As Russia's presidential election, scheduled for March 2018 draws nearer, President Vladimir Putin may try a similar tactic — by contending that he has already restored Russia's greatness. Since annexing Ukraine's Crimean peninsula in 2014, Russia has increasingly asserted its role on the global stage.
Following annexation of Crimea, the Kremlin has also ignited a separatist movement in eastern Ukraine and supported the unrecognized "people's republics" that emerged there. In 2015, Russia entered the longstanding Syrian civil war in support of embattled Syrian President Bashar Assad. Trump's electoral victory and the demise of the Western consensus against Russia's violation of international law has also been a major coup for the Kremlin.
These events have all catapulted Putin to the position of a powerful broker in the international arena and fulfilled the country's longstanding desire for international influence. They signify that, Russia is once again a global player on par with the USA—much like the USSR was thirty years ago.
Russia's military prowess
Earlier this month, it emerged that Russia had deployed a 22-member special forces unit to a base in western Egypt, near the Libyan border. Russia's goal is likely to support Khalifa Haftar, a renegade Libyan National Army general who currently controls most of the country's east and poses a serious challenge to the UN-backed government in Tripoli.
The general made two high-profile visits to Moscow in 2016, and signed a series of undisclosed agreements with the Russian military in January. But it is significant because it undermines UN efforts to stabilize the north African country. The deployment shows that Russia is thinking "not just about its continued presence in Syria, but in the Greater Middle East," says Alexei Malashenko, a regional analyst at the Dialogue of Civilizations foundation.
Recently, Russia has also increased its role in Afghanistan. In February, the Kremlin organized an Afghanistan peace conference in Moscow that brought together representatives from Afghanistan, Pakistan, India, China, and Iran. Notably absent were the United States and other NATO coalition members. Russia has also advocated for including the Taliban in any solution to the conflict in Afghanistan, presenting the Islamist militants as a bulwark against the Islamic State (IS). In February, Gen. John Nicholson, commander of U.S. military operations in the country, alleged that Russia had increased covert and overt support for the Taliban to undermine the USA and NATO in Afghanistan.
Russia has sincere concerns about conflict spillover from Afghanistan into Central Asia, says Malashenko. But it is also using the IS and Taliban presence in Afghanistan to assert the role of the Collective Security Treaty Organization (CSTO), a Russia-led military alliance of post-Soviet states in the region.
On March 20, David McAllister, chair of the European Parliament Committee on Foreign Affairs, accused Russia of deliberately destabilizing Serbia in order to prevent the Balkan country from joining the EU. He has also alleged that Russia supports nationalist leaders throughout the Balkans. In Montenegro, two Russian intelligence officers stand accused of masterminding a failed coup on election day in October 2016 to prevent the Balkan nation from joining NATO. Last month, a Montenegrin special prosecutor stated that "Russian state bodies were involved on a certain level."
Any move that destabilizes the Balkans would send a strong message to the West: Russia is a critical regional powerbroker.
Europe could serve as another staging ground for restored Russian influence. As political uncertainty grows in the EU, Russia is reasserting its influence in the Balkans. Earlier this month, when EU foreign affairs representative Federica Mogherini spoke in the Serbian parliament, a group of pro-Russia parliamentarians met her with chants of "Serbia! Russia! We don't need the EU!"
Observation
The sanctions, imposed by USA and EU on Russia against the annexation Crimea, have not yielded any fruits. It is mainly because of economic position of Moscow. The major sources of economy include arms and oil. Unless weak countries like Pakistan or Afghanistan, Russia cannot be bullied by sanctions or threat of terror attacks the powerful Kremlin.
Threats of USA are not going to weaken Russia in any manner. And there is no reason for the Kremlin to leave Crimea.
So far, there is no consensus in the Kremlin on whether to boost tension in Serbia. Cooler heads understand it may be riskier than involvement in Syria.
Meanwhile, decision makers must take into account the public mood.
Last year, polls repeatedly showed that Russians are tired of war.
Armed conflicts are increasingly seen as an irrational waste of resources, and human losses—first in Ukraine, then in Syria—as something Russia doesn't need.
The Russian public sees the country's newly achieved superpower status as a source of international respect, but Russians are more eager for this status to be used for dialogue, than for confrontation.
The challenge for the Russian leadership will be to avoid backsliding into real conflicts that might undermine stability, something Russians hold dear. Putin seems to understand this. He is too cautious to attempt a full-scale restoration of Soviet grandeur. Besides Syria and Ukraine, it's either isolated local episodes, or just talk So far, there is no clear indication that the Kremlin has decided on a central idea for Putin's electoral platform. One of the challenges for the Kremlin will be addressing economic stagnation and declining living standards that will likely persist in Russia for a few more years. The other will be getting voters to the polls. But nostalgia for Soviet greatness could still drive electoral mobilization. Recent debates over holding the election on the fourth anniversary of the Crimean annexation reflect an appeal to that nostalgia.
Restoring Russia's superpower status was the purpose of Putin's third term. Russia's global influence will be a key part of the campaign, but the nostalgia card has already been played. EU cannot expect Putin to explain why Russians need global influence and what they get from it.
Russia's quest for global influence won't end in the near future. The upcoming presidential election will be utterly predictable, lacking real competition. As a result, Putin will likely spend 2017 demonstrating Russia's global greatness to spur enthusiasm and drive Russians to the polls.
This does not mean that Russia will rush to war, however. . But it does mean the Kremlin must project an image of strength abroad. The idea is to show influence. Putin will need to make headlines, assert Russia's global presence and demonstrate that it is returning its spheres of influence.
'Russian Rebellion': Local and Global Consequences
The military conflict in Ukraine today is at the nerve of relations between Russia and the West, and largely sets the tone for security policy in the Euro-Atlantic region. It also has many global implications. In the ideological sphere, it is increasingly presented as a struggle between the liberal world order and the "rebellion of the discontented". It is Russia that today has assumed the role of the vanguard of such a rebellion, openly challenging its Western rivals.
The use of the concept of rebellion here is not accidental. The West is promoting a liberal world order based on clear ideological premises. These include the market economy; the globalisation of standards, markets and technologies; democracy as a no-alternative political form for the organisation of states; an open society and a diversity of cultures and ways of life; and human rights. In practice, the implementation of these principles varies from country to country and changes over time. However, the diversity of practice has little effect on the integrity of the ideology. Unlike the West, Russia does not offer an alternative ideological menu. So Russia differs from the Soviet Union, which at one time adopted another modernist ideology – socialism – and actively promoted it as a global alternative.
At the same time, both liberalism and socialism are Western doctrines. Both are based on the ideas of progress, rationality and emancipation. There are more similarities between them than you might think. Socialists offer a different view of private property, pointing to the excesses of the uncontrolled market. Already in the twentieth century, however, there was a convergence of liberal and socialist ideas in the form of a combination of state regulation and the market. With regards to their political ideation, democracy and the power of the people are no less important for socialism than for liberalism. Traces of the idea of globalisation could be found in the concept of international worker solidarity. Liberation from prejudices and the rationalisation of all spheres of life are expressed as clearly in socialism as in liberalism.
The problem with the Soviet Union was that the implementation of socialist ideas eventually turned into an imitation. The principles of democracy remained on paper, but in reality they were crushed by an authoritarian (and at certain stages – totalitarian) state. In the rationalisation of the economy and industrialisation, the USSR achieved amazing success, but later it ran into stagnation, unable to adapt its economy to rapidly changing world realities. The periphery of the economy, with its raw-material bias, was identified back in the Brezhnev era. Emancipation proved unprecedented, but was also ultimately hobbled by the increasingly rigid social structure of the Soviet state. At the end of the Cold War, the picture was completed by double standards and a cynical attitude towards the ideology of Soviet society itself and its elite.
Despite the collapse of the Soviet project, the policy of the USSR could hardly be called a rebellion. Throughout its history, the USSR still offered a systemic alternative. Relations with the bourgeois environment could be called an attempt at revolution, and then rivalry and competition, but not a revolt. Soviet policy had a positive agenda, offering a holistic picture of the world.
The current "Russian rebellion" is based on dissatisfaction with the established status quo of the liberal world order, or rather, its individual consequences for Russia.
There are reasons for such dissatisfaction. Scepticism about democracy was determined by the practical possibilities of foreign states to "hack" democratic institutions. Colour revolutions in the post-Soviet space only strengthened this attitude. The flip-side of democracy was the possibility of interference in democratic institutions from the outside in order to 'correct' the political course. The United States, not without reason, was considered a key "hacker" of national sovereignty through the manipulation of democratic institutions abroad. All the more ironic was the indignation of Washington itself after Russia allegedly also tried to "hack" American democracy.
Russia's greatest annoyance was its secondary role in the unipolar world order, the disregard for its interests, and that system's increasingly clear refusal to perceive it as an equal partner. Interestingly, economic factors were secondary for the "Russian rebellion". In theory, Russia can be considered dissatisfied with its peripheral status in the global economy and its role as a raw materials appendage. In practice, Russia has become very deeply integrated into the international division of labour. However, compared to the stories about democracy, sovereignty and foreign policy, Russia's dissatisfaction with its place in the world economy was articulated in a very weak way. Liberal emancipation can hardly be considered the main political problem for Moscow. In some aspects, the Russian narrative has distanced itself from the Western mainstream. This concerns such topics as multiculturalism and sexual minorities; although in the West itself, perceptions of these remains extremely heterogeneous. At the same time, in terms of lifestyle, Russia is still more of a European and Western country, so culture, like the economy, can hardly be considered a key source of the problem.
Given the concentration of Russian discontent in the political sphere, it is hardly surprising that it was the Ukrainian issue that became the trigger for the "Russian rebellion". The Maidans and the change of power were seen by Moscow as a cynical hack into the country's political system, as well as a threat of such a hack targeting Russia itself. In addition, at the doctrinal level, Ukraine was increasingly positioned as a fundamentally different project, drifting further and further towards Western values. From the point of view of foreign policy, it was with regards to the Ukrainian issue that Russian interests in the field of security were discriminated against in the most acute form. Economic issues here also acquired political overtones: Moscow could put pressure on Kyiv with gas prices and threats to diversify its transit, but it was clearly losing to the European Union and other Western players in the very model of economic integration. It is not surprising that all those contradictions that had accumulated after the Cold War made themselves known in Ukraine.
Realising that the game was being played according to fundamentally unfavourable and discriminatory rules from the Russian point of view, Moscow not only slammed the table with its fist and brushed the pieces off the board, it also decided, figuratively speaking, to hit its opponents hard on the head with this board. Rivalry "according to the rules" turned into a fight, the field of which is Ukraine. At the same time, on the part of the West itself, there is a degree of irritation, discontent and rejection of Russia, proportional to its own discontent or even surpassing it. The West is frustrated by the very fact of a decisive rebellion, its senselessness in terms of the balance of benefits and losses, and the ruthlessness of Russian pressure. Hence the obvious non-selectivity and emotionality of retaliatory strikes, a bizarre mixture of sanctions bombings, plans to confiscate Russian property, defeat the "oligarchs" (the most pro-Western wing of the Russian elite) and equally senseless bullying of the Russian cultural, sports and intellectual elite, and society as a whole. Only the threat of a direct military confrontation with Russia keeps them from using military force.
The West has every reason to fear the "Russian rebellion." Worries about a liberal world order arose long before 2022 and even before 2014. Compared to Russia, China poses a far greater danger. If the "Russian rebellion" is successful, it will become clear that China's ambitions will be even more difficult to contain. Moreover, unlike Russia, China can offer an alternative economic model, and its own view of democracy, as well as a different ethic of international relations.
The success of the "Russian rebellion" may become a prologue to much more systemic challenges. Therefore, the pacification of Russia for the West has become a task that clearly goes beyond the boundaries of the post-Soviet and even the Euro-Atlantic space.
Meanwhile, in the actions of Moscow, there have been signs of progress that are unpleasant for the West. Yes, the Western blockade will increase the lag and backwardness of the economy. Yes, military operations are costly. Yes, they can cause unpredictable social reactions and even present a challenge to political stability. None of these challenges, however, are capable of knocking Russia off its political course from now on. Moscow is slowly developing an offensive and seems to be determined to integrate the occupied Ukrainian territories into its political, information and economic space. Ukraine faces not only colossal economic and human losses, but also the threat of losing territory. Large-scale Western aid is having an effect, making it difficult for Russia to act. Apparently, however, it is not able to stop Russians: infusions of military equipment are simply ground up by military operations. The longer the conflict drags on, the more territory Ukraine could lose. This presents the West with the unpleasant realisation that it is necessary to reach at least a temporary agreement with Russia. It will be preceded by an attempt to reverse the military situation. However, if it fails, Ukraine will simply not be able to stop the further loss of its statehood.
In other words, the "Russian rebellion" has a chance to end in success in the sense that it may end in a fundamental reformatting of a large post-Soviet state that has recently been hostile to Russia. It will show the readiness and ability on the part of Russia to back up its claims with the most radical actions.
Will the success of the rebellion mean its victory? This will depend on two factors. The first is the international political implications. A military success in Ukraine could set off a chain of global consequences leading to the decline of the West. However, such a scenario is far from predetermined. The West's margin of safety is high, despite its apparent vulnerability. The readiness of other non-Western players to give up the benefits of globalisation for the sake of abstract and vague political guidelines like a multipolar world is completely unobvious. It is likely that the West will have to endure the new status quo in Ukraine, but this does not mean the defeat of its model. Russia does not systematically challenge this model and does not have a complete picture of how to change it. In Moscow, perhaps, they believe that the model has become obsolete and expect it to collapse by itself, but this conclusion is far from obvious.
The second factor is the consequences for Russia itself. By avoiding promoting a global alternative to the liberal order, Russia will at least have to decide on a programme for its own development. So far, its contours are also built mainly around the denial of the West and its models in certain areas. Given that, the vast majority of other non-Western countries, while defending their sovereignty, are actively developing and cultivating Western practices that benefit them. These include the organisation of industry, developments in the field of science and education, and participation in the international division of labour. The rejection of such practices, just because they are conditionally "Western", as well as the "cosplay" of Soviet practices created amid different historical conditions and left in the distant past, can only increase the difficulties that Russia is currently facing. The preservation and development of a market economy as well as an open and mobile society remain among the most important tasks.
From our partner RIAC
BRICS creating early warning system for epidemic risks
In their final declaration, leaders of the BRICS group (Brazil, Russia, India, China and South Africa) at the end of their 14th summit hosted by China, have emphasized their commitment the need for creating complex early warning system for epidemic risks within the group, and underscored that the member states must be better prepared for future healthcare emergencies.
The group also advocated "equitable distribution of vaccines" and called on international agencies and charities to purchase vaccines and boosters "from manufacturers in developing countries, including in Africa, to ensure that the manufacturing capabilities being developed are retained."
Russia has been advocating for closer collaboration among the members, but China seems to be the fastest in taking actions concerning health related matters. Under the leadership of Russia, it first proposed cooperation on countering infectious diseases as a priority for BRICS. The final joint declaration of the 2015 BRICS summit in Ufa, Russia, has instructions by the leaders to work consistently on managing the risk of disease outbreaks.
"We are concerned about growing and diversifying global threats posed by communicable and non-communicable diseases. It has a negative impact on economic and social development, especially in developing and in the least developed countries," said the 2015 BRICS declaration.
Among the group, China and India were ready to step up the sharing of information, and experience with BRICS countries and conduct joint research and development of drugs and vaccines based on respecting each other's sovereignty and national conditions.
During the rotating chairmanship of South Africa, it firmly re-proposed the creating of full-scale coordinating research and development center and planned to be located in Johannesburg, South Africa.
Nevertheless, there has not been any practical achievements in that direction. Then Covid-19 began in December 2019 and was declared pandemic the following year by the World Health Organization (WHO). As China took the helm of BRICS, effective from January 2022, experts and research analysts have since showed deep interests and were further discussing possibilities of multilateral cooperation, existing challenges and identifying diverse priorities, the strength and weaknesses of BRICS.
With noticeable efforts, BRICS has consistently been pushing for diverse health initiatives, most especially vaccines, to halt the coronavirus pandemic that has shattered the global economy. There are Chinese and Russian vaccines, both reported as effective and safe, and currently getting ready to ramp up large-scale production.
March 22 marked the launch the BRICS Vaccine Research and Development Centre, involving the heads of relevant agencies from the five countries. The initiative to establish the BRICS Vaccine R&D Center was incorporated in the final declaration of the BRICS summit in Johannesburg, South Africa (July 26-27, 2018).
The main objective is to share best practices and strengthen practical cooperation in research, development, production and distribution of vaccines to ensure their greater availability. The new format is designed to develop mechanisms for the prevention, diagnosis and prompt response to new viruses, as well as to ensure timely and widespread Covid-19 vaccination.
The launch of the BRICS Vaccine R&D Center is considered as a major achievement of the five-sided cooperation, in strengthening cooperation in the field of healthcare in particular through the implementation of the Russian initiative to establish the BRICS Integrated Early Warning System for preventing mass infectious disease risks, in the Chinese chairmanship of the BRICS.
China's Foreign Ministry Spokesperson Wang Wenbin explained, during his regular media briefing on March 23, that the BRICS Vaccine R&D Center and workshop on vaccine cooperation would be a network of internet-based virtual centers, and the establishment of physical centers would only begin later after comprehensive feasibility assessment.
As the BRICS Chair this year, China hosted the 14th BRICS Summit in June under the theme of "Foster High-quality BRICS Partnership, Usher in a New Era for Global Development" and public health and vaccine cooperation are among the key areas of BRICS cooperation this year. At present, the pandemic is still dragging on across the world.
The establishment of the BRICS Vaccine R&D Center demonstrates the determination of BRICS countries to focus on vaccine cooperation, deepen public health cooperation and build a BRICS line of defense against Covid-19.
"We hope that the vaccine R&D center will pool the strengths of BRICS countries, further promote scientific and technological cooperation among BRICS countries, enhance the five countries' capability of preventing and controlling infectious diseases contribute to the global fight against Covid-19 and make new contributions to international public health cooperation," Wang Wenbin explained during the media briefing.
The BRICS countries are making efforts to contribute to an enhanced international cooperation to support the efforts of countries to achieve the health goals, including the implementation of universal and equitable access to health services, and ensure affordable, good-quality service delivery while taking into account different national circumstances, policies, priorities and capabilities.
The BRICS member countries (Brazil, Russia, India, China and South Africa) collectively represent about 26% of the world's geographic area and are home to 3.6 billion people, about 40% of the world's population and a combined nominal Gross Domestic Product (GDP) of US$16.6 trillion.
Biden forces Russia to retake all of Ukraine, and maybe even Lithuania
The Soviet Union had included what now are Armenia, Azerbaijan, Byelarus, Estonia, Georgia, Kazakhstan, Latvia, Lithuania, Moldova, Russia, Tajikistan, Turkmenistan, Ukraine, and Uzbekistan.
There is no indication that Russia's President Vladimir Putin had intended on February 24th anything more than to add to Russia the extremely pro-Russian former Donbass region of Ukraine. Russian troops were, however, sent also to surround Ukraine's capital Kiev only in order to prevent Ukrainian troops there going south and joining Ukraine's troops who already for eight years had been and still were in Donbass, so that Ukraine could then reinforce its Donbass troops against Russia's invasion. Once Russia determined that its forces and the (highly pro-Russian) local Donbass Government forces in Donbass were clearly on the path toward victory there, the Russian troops surrounding Kiev became withdrawn southward toward Donbass. The clearer that it has since become that Russia would succeed in its Donbass operation, the more that America and its allies supplied weapons to Ukraine, and the less willing, to negotiate with Russia, this made Ukraine's Government. That encouragement to Ukraine's Government, from the U.S. and its allies, caused Ukraine's Government to commit itself to victory at any cost against Russia (even promising to invade Crimea to retake it). The negotiations between Russia and Ukraine therefore collapsed.
Biden seems to have made some sort of deal with Ukraine's President Zelensky that if Ukraine would do that (resist Russia all the way), then America and its allies would commit to Ukraine all the way up to World War III, but not by sending troops, only weapons and economic aid, which total so far this year the U.S. has been authorized in an amount of $54 billion. America's allies have donated far less. Basically, the deal is between Biden and Zelensky, to fight Russia all the way to a "victory" by Ukraine (actually by America) against Russia.
However, now that Ukraine is losing its war, Biden and his allies are allowing the war to expand closer and closer to WW III. Ukraine has several times bombed nearby cities in Russia, though constantly promising that it won't. And now, Lithuania, which is part of America's alliance, has closed Russia's rail traffic through Lithuania into Russia's province of Kaliningrad. Analogous would be if an anti-U.S. Canada were to block U,.S. rail traffic between the lower 48 states and the American state of Alaska. That sort of thing violates international law and is the international-law equivalent of a declaration of war, which Lithuania has now done (though not yet formally declared), with the approval of the U.S. and of America's other allies, all of which are thereby daring Russia to enforce its own international-law rights by Russia's bombing any Lithuanian-or-allied forces that would attempt to enforce the U.S.-and-allied blockade against Kaliningrad.
An excellent discussion of the ramifications of this situation can be found here.
where the reasons why this pushes Russia, to retake all of Ukraine, plus to retake Lithuania, are well explained. Whether Putin will decide to do that, however, is not yet known. What is known is that if Russia is forced to either go to war against the U.S. and its allies, or else to continue to allow this international-law violation by Lithuania being backed-up by America, against Russia, then either Putin will back down and Biden will win, or else Biden will back down and Putin will win, or else we all will experience WW III no longer in just its proxy-war (Ukrainian battlefield) stage (such as has been the case), nor in any other merely traditional-war stage, but finally as an all-out nuclear exchange, which will be completed within less than an hour and doom everyone.
Biden has already decided to bring on a global recession or even depression in order to defeat Russia, but whether he will go all the way to WW III in order to force Russia to become just another 'U.S. ally' (but it would be the biggest one of all, since Russia is by far the world''s biggest country, even without its former partners in the Soviet Union), isn't yet known.
As Russia's Government has said on many occasions, what is at stake for Russia in this matter is "existential," namely whether or not Russia will continue to exist as a free nation, since it will not accept becoming yet another U.S. colony. However, for America, as America's own Government has said on many occasions, what is at stake is continuation of U.S. hegemony over the world, or else there coming to be no hegemon. That fixed objective of the U.S. Government has been stated in many ways, but perhaps the clearest of all being by President Barack Obama on 28 May 2014, when addressing America's future generals:
The United States is and remains the one indispensable nation. That has been true for the century passed and it will be true for the century to come. … Russia's aggression toward former Soviet states unnerves capitals in Europe, while China's economic rise and military reach worries its neighbors. From Brazil to India, rising middle classes compete with us, and governments seek a greater say in global forums. … It will be your generation's task to respond to this new world.
To be a "hegemon" is to be the only nation that is indispensable — all others are, according to that view, dispensable. Russia's Government is now being tested to determine whether it will accept being dispensable, or else continue as it has been at least since 1991, as a free country, no mere colony of some foreign government.
In order for the U.S. to win this conflict, the entire world will have to accept rule by America's Government (i.e., being a U.S. 'ally'). In order for Russia to win this conflict, the U.S. Government would have to change what has been its overriding objective ever since, actually, 25 July 1945: hegemony.
NOTE: Officially, the term "hegemony" is merely a synonym for "domination." The reason dictionaries lie about it is: a term that means domination over all other countries conveys a Hitlerian image, and the U.S. Government wants to avoid being viewed as Hitlerian. The fact is that no country can be a hegemon unless it dominates over all other countries — leads an all-inclusive global empire (even if never officially declared to be an "empire" at all). The correct usage of the term "hegemon" therefore is exclusive ("the hegemon"), not not merely one of several ("a hegemon"). In any case, Obama made the point unambiguously clear by asserting that "The United States is … the one indispensable country." Hitler felt the same way about Germany. This is the challenge that Russia faces. America ideologically switched sides right after WW II. But Russia remains (and passionately) anti-nazi. So, if Russia will have to retake all of Ukraine, and also Lithuania, in order to continue its own independence, it will do that, because Russia has remained anti-nazi. How Biden would respond to that is unknown.