China's Growing Role in Peacekeeping: Thoughts and Recommendations
[yt_dropcap type="square" font="" size="14″ color="#000″ background="#fff" ] I [/yt_dropcap]ts rising economic strength and productive way of governance provide China with a historic opportunity to become one of the main players in modern international relations. As a permanent member of the UNSC and an important player in international relations,
China has the capability and authority to address and solve internationally important problems. In turn, international society is also interested in Beijing continuing its active involvement in the improvements in world security. China's involvement in UNPKO provides China an opportunity to solidify its reputation in the world as a responsible power and strengthen its position in countries that are at risk. It is notable that China has achieved good relations with several states located in Africa and Middle East compared to Western countries having tense relations. Good relations with so-called rogue states give Beijing opportunities to mediate relations between conflicting parties and help UNSC to get permission from the governments of these countries to allow peacekeepers to their territory. For instance, UN was able to obtain permission from Sudan to send peacekeeping forces into Darfur and end genocidal activities with China's assistance. The peacekeeping operations map shows that China was mostly involved in operations in Africa. Up to the end of the Cold War, China had not attained an economic and political influence in African and Middle Eastern countries, whereas after the Cold War, the situation changed, as China made huge investments in these areas. China's economy continues to grow, and this process is made possible with the help of secure and accessible energy resources from reliable partners. China is buying most of its energy resources from the Middle East and Africa, which is the main reason why China participated primarily in ongoing peacekeeping operations in these areas. Indeed, China wants to maintain stability in these areas to obtain energy resources without problems. Moreover, peacekeeping operations and peacebuilding can be helpful for the Chinese "New Silk Road Economic Belt" as this program may be possible in areas that are stable and safe for Chinese investments. If the Chinese "New Silk Road Economic Belt" program is successful, it can make great contributions to the development of the countries located from the Far East to Europe and from the Far East to the Middle East and Africa. New workplaces and economic prosperity would make the world more secure and stable.
It is also worth mentioning that Beijing's involvement in UN peacekeeping operations enhances China's reputation as a responsible power. After the 2000s, China can be considered one of the main contributors to the UNPKO and continues to improve the knowledge of its personnel that are recruited for peacekeeping operations. within a short period of time, China succeeded in establishing its schools and structures to prepare well-qualified peacekeepers. China was successful in creating friendly ties with other countries that are involved in peacekeeping operations and in organizing joint landmark conferences, trainings and seminars, in addition to sharing its experiences with them. China's peacekeeping facilities are open to training peacekeepers from China and other countries.
Conclusion and Recommendations
As an active participant in peacekeeping operations, China plays an important role in maintaining peace worldwide. Peacekeeping operations provide Chinese and foreign troops opportunities to cooperate and share experiences. This cooperation will provide an added impetus to the international community to improve its mechanism for preventing genocide, ethnic cleansing and aggression and will create opportunities for the international community to improve and strengthen its methods of cooperation in joint operations intended to prevent wars and/or natural disasters.
China endorsed the "Brahimi Report" and began to support its implementation. China also voted for several resolutions (1265, 1295, 1674, 1820, 1894) aiming to take more reliable action to protect civilian populations during military conflicts. Beginning in 2008, Beijing was involved in the struggle against piracy. As a responsible power, China's naval force defended not only its own vessels but also foreign vessels.
In general, China's peacekeepers were involved in peacekeeping operations in Africa, Eastern Europe, Southeast Asia, Middle East and North America. As China strengthens its position as a great power and Chinese companies increase their investments in countries that are located in the so-called "Silk Road Economic Belt," Beijing will increase its role in peacekeeping operations to make this territory safe and stable. The stability of the main communication roads from the Far East to the Middle East, Africa and Europe will give the Chinese government the opportunity to attempt to actualize Xi Jinping's "Silk Road Economic Belt" project. The main argument of the above-mentioned hypotheses is that China sent its first infantry battalion for UN peacekeeping to the South Sudan for the first time in 2014, which means that China revised its traditional position, choosing to participate in the enforcement of peace. In turn, the international community is also interested in China deepening its role and sending more troops to UN peacekeeping operations because China offers both quality and quantity. UN officials have praised Chinese peacekeepers for their professional work during peacekeeping operations. For instance, on June 19, 2013 In Beijing UNSC Secretary-general Ban Ki-moon made several remarks on China's involvement on peacekeeping operations, "I have seen the bravery of Chinese blue helmets helping struggling communities around the world. China provides more peacekeepers to the UN than all of the four other permanent members combined. I applaud this solidarity." The cooperation between China and other countries that are involved in peacekeeping improves the level of the world security. China also opened several training facilities to improve the skills of Chinese peacekeepers. At these centers, China hosts and trains foreign peacekeepers.
In sum, from 2000–2013, China increased its involvement in peacekeeping and served as an active participant in ongoing operations. China's policy on peacekeeping helped to sustain peace in different countries and maintain world peace and stability. China is an active participant in peacekeeping operations and thus plays an important role in maintaining peace. China's policy on peacekeeping has helped to sustain peace in different countries and to maintain world peace and stability.
Recommendations to the UN
China's expanding engagement in UN peacekeeping provides good opportunities for the UN to solve the problem of shortages in the contributions of troops, which appeared when Western countries reduced their involvement in peacekeeping. The relevant UN agencies and officials could consider the following measures:
Encourage China to send more military units.
Encourage those countries with ethnic conflicts to use the Chinese experience to solve problems between different ethnic groups, as 56 nationalities live in harmony in China.
Support China to realize its "New Silk Road Economic Belt" program because it can help countries from the Far East to the Middle East and Europe develop their economies and become more secure. 4. Support Chinese universities in teaching Chinese worldwide, which will prepare Chinese language specialists to serve as a language bridge between Chinese peacekeepers and locals.
Recommendations to China
As Western powers reduce the number of their troops engaged in peacekeeping, China can take the initiative and fill this vacuum with its well-trained forces. This step will help maintain stability in African and Middle Eastern countries in which China has economic interests.
Send more military troops for peacekeeping operations. As a result, Chinese forces will gain experience and maintain tactical efficiency.
Continue to train peacekeepers from third world countries and teach them Chinese. This step will help increase the skills of foreign peacekeepers and provide opportunities to establish cooperation between Chinese and foreign peacekeepers.
Offer creative and practical suggestions to the international community with the aim of beginning peacekeeping operations in Syria and Iraq. Help the above-mentioned countries defeat the so-called Islamic State of Iraq and the Levant and help them to restore their territorial integrity. The unstable situation in Syria and Iraq is dangerous and can harm the security of the Middle East and the Persian Gulf, which are primary energy sources for China.
Actively participate in negotiations on peacebuilding in the South Caucasus because it is located in the center of important communication roads.
Mher D. Sahakyan- Ph.D. (International Relations), School of International Studies, Nanjing University. China, Director of the "'China-Eurasia' Council for Political and Strategic Research" Foundation, Armenia and the author of the article China's Reforms to Improve its Peacekeeping Capabilities: Chinas Growing Role in UNPKO (2000-2013), (Moscow University Bulletin. Series 13. Oriental Studies, No. 1, 2016, pp. 56-67), from which this essay is adapted. Used by permission. All rights reserved.
China's new strategic positioning
While China is "narrowing" its production lines at national or international levels, a very important signal is the new relationship established between Turkey and the United States to replace China as a supply chain.
Obviously the new "cold war" between China and the United States cannot but create good opportunities for countries such as Turkey which aspire to establish their hegemony over Central Asia and hence to reduce China's weight both in global and regional trade.
This is the price that Turkey pays happily and without particular problems to the United States for affording its autonomous policy in the Maghreb region, in the Eastern Mediterranean, in the Balkans and in Central Asia, up to supporting the Xinjiang Muslims in China above all to nip the Chinese Belt & Road Initiative in the bud.
Meanwhile Botas, the state-owned distributor of Turkish natural gas, has proposed the construction of a pipeline from its Northern Turkish coast to Nakhicevan, Armenia, so as to reduce Armenia's imports from Iran and thus slowly distancing from Iran. This is music to American ears.
Therefore, Erdogan's Turkey also bets on the new "cold war" between the United States and China, thus proposing itself as a third wheel and hence as the basis for the technical and commercial replacement of the production networks from China itself to the area controlled by Turkey.
There is a "but", however: Turkey has a public deficit of 5.6 billion U.S. dollars (according to April 2020 data), but so far only Chinese capital and funds have arrived to support a 400 million swap between the renmimbi and the Turkish Lira.
A Chinese company bought the Kumport Terminal, on the Sea of Marmara, for 940 million, and in November 2019 Turkey saw the first train arriving from Xi'an, through the Maramay tunnel built and funded by China, which allows to have a non-stop line from China to Europe. An asset not to be overlooked.
The Turkish e-commerce platform, Trendyol, was later acquired by Alibaba but, as all Turkish finance experts say, it would require a further and probably strong devaluation of the Turkish lira which, however, needs substantial "fresh" investment from abroad.
Therefore, it is unlikely for an economy such as Turkey's to take harsh and definitive action against Chinese interests.
Nevertheless, what does Donald J. Trump's America really want from China?
The US Presidency' Strategic Approach to China, published on May 26, 2020, maintains that the threat posed by the CPC to U.S. economic, military and strategic interests, as well as to its "values" is a primary danger.
If we look at the history of such statements, only in the days of the harshest "Cold War" with the USSR were such terms used.
As to economic competition, the United States accuses not the State, but directly the CPC, of overtly "protectionist State policies that have harmed American workers and businesses".
With damage caused also to global markets, the environment and global trade law. Nevertheless,the sanctions imposed by China on U.S. goods in 2019 were anyway adopted by the WTO, whose negotiation system has been called into question by the United States itself.
In fact, Trump's America accuses particularly the CPC of "taking advantage of its WTO membership to become the world's largest exporter, but systematically and harshly protecting its domestic market".
What is the United States doing? The U.S. real and deep accusation is against the Belt & Road Initiative: the United States interprets this great commercial-strategic operation as an attempt to reshape the world market according to the internal needs of the Communist regime in China.
Moreover, as the United States always maintains, China wants to use not the international networks, but its own courts, as arbitration courts. Is it true or false? Obviously there is the ICC, but other courts of reference are also formally possible, based on UN-type commercial law.
As to the Chinese challenge to American values, the U.S. document states that "China is engaged in an ideological competition with the West".
The U.S. current idea is based on President Xi Jinping's old statement (dating back to 2013) whereby China must prepare for a "long phase of cooperation and conflict" with the capitalist West, and it is always stated that "capitalism is dying and Socialism will triumph". It could not be otherwise considering his Marxist background and ideas.
Obviously so, since President Xi does not certainly come from a salon in Manhattan.
Moreover, the United States never wants China to project itself as a world leader and a country of great global influence. Here again it wants the fight against corruption to stop, since for the United States it was only and exclusively a way to eliminate president Xi's opponents.
Is it true? Yes, but obviously not only so. One and a half million corrupt people punished by the State, but many of them are real, while others are certainly "enemies" of President Xi's policy line.
The U.S. Presidency, however, is mainly afraid of the Chinese Military-Civil Fusion and hence of the commercial-security blockade that, in the very long run, could put an end to the traditional U.S. hegemony in the Pacific.
Moreover, the two military games made by the RAND Corporation, about a year ago, concerning a clash in the South Pacific between U.S. and Chinese-Russian forces, demonstrated that the United States would soon be defeated.
Hence, as usual, for the United States once again it is primarily a matter of "protecting the People, the Homeland, the American way of life". There is great fear for Chinese "propaganda" in the United States, as if it could not be opposed at all. A sweeping analysis was made for Chinese students, the largest foreign community in the United States, and a regulation called Foreign Investment Risk Review Modernization Act was enacted. In January 2020 the United States and China signed also the "Phase One" of a major trade agreement that, according to the United States, is expected to change Chinese business practices significantly. In fact, the agreement provides that the CPC cannot force or orient foreign companies to transfer their technology to keep on producing or selling in China. It also strengthens the rules on the protection of intellectual data in China and finally opens up Chinese markets to U.S. agricultural products, on which it has much relied for its foreign policy.
On the military level, the U.S. Administration (and it would be anyway the same if there were another President) wants a new relationship with "similar" and "friendly" countries so as to counter the Chinese military build-up and develop the Indo-Pacific Strategy Report. In other words, obviously the U.S. block of every "One China Policy", but hence implicit support to internal factionalism, in Hong Kong and Taiwan, as well as proposing a stop to the Chinese expansion between Xinjiang and Pakistan's maritime network.
Furthermore, as to the ideological struggle, support for Religious Freedom, the usual fight for "human rights", the U.S. protections for "minorities' liberties". That is all. But we do not think it will be enough.
Certainly, Chinese infrastructural investment is currently designed to competing with the United States and better controlling civil society.
The 55-kilometre bridge going from Hong Kong to Macao, with two artificial islands that allow the road to sink 7 kilometres into a very long underwater tunnel is an eminently political and strategic project.
Obviously, it is in fact a matter of building a Unified Commercial Zone, like the one in New York or Tokyo.
But it is also a matter of creating a strategic control zone to currently protect those coasts, which are currently more economically important than China. However, it is precisely in this area that as much as 4% of the regional and national GDP is dedicated to the construction of quantum computer networks and encryption. The classic civil-military dual objective.
Currently China is already a leading country in quantum communications between Space and Earth. It has already built a Quantum Computing Laboratory in Hefei, Anhui Province, with 10 billion U.S. dollars, while the China-U.S. Economic and Security Commission has established that, as early as 2000, China had bridged the technological gap with the United States with regard to quantum computing.
Is it true? We do not know for sure, but this is certainly where the real economic and intelligence war between China and the United States is developing.
As Krugman maintained in an old article for Foreign Affairs, nations are not corporationsand they do not compete one another as companies always do. Nations, however, certainly compete for market outlets, for financial resources, for technologies and for cultural or influence operations.
There is nothing else. Nevertheless, we must never forget that the major countries' strategic "policy line", to which Italy adapts in a sheep like way, envisages variables – also for the small and medium countries – which are not at all negligible.
Also at military level, China's operations in Ladakh and Tibet are an example of the interest – dating back to Mao Zedong's times – in using Tibet as "the palm of the Chinese hand" to expand China's influence throughout South Asia, which is a primary strategic axis.
It is a matter of encircling India and later stable geo-economic blocs are built, just against India, with the Chinese expansion in Myanmar, Sri Lanka and Pakistan.
There must always be a spatial logic – we would classically define as geopolitics – which follows the definition of a country's primary interest. When it knows how to evaluate it,however, which certainly does not happen currently in Italy.
In any case Tibet would have been India's first natural defence line, if China had not already taken itas early as 1950.
Hence Tibet, with its strategic "five fingers", i.e. Ladakh, Sikkim, Nepal, Bhutan and Arunachal Pradesh, will be China's checkpoint from the South, and we do not believe it will be easily opened by India's collaboration with other countries, such as the United States.
Without Tibet available, economic, military and intelligence operations against the Belt&Road Initiative will be largely blocked.
Furthermore, President Xi Jinping – who knows the Party and State apparatus very well – has recently launched a campaign of "Security Apparatus Clean-up". Since November 2012, President Xi Jinping has also marginalised the old leader of the Chinese security apparatus, Zhou Yongkang, directly acquiring an assignment from Politburo and not from Politburo Standing Committee.
Nowadays, China's security apparatus budget is officially estimated at 183,272 million yuan, equivalent to 26.6 billion U.S. dollars.
While Zhou Yongkang, a man of Hua Guofeng and later of Deng Xiaoping, was arrested in 2012, Hu Jintao himself sent as many as 3,000 Intelligence Service executives to re-education camps.
3,000 executives in a total of 1.97 million officials and operatives.
Nevertheless, this year the turning point has been the establishment of the Safe China Construction Coordinating Small Group, now led by Guo Shengkun.
Later Lin Rui came. President Xi Jinping still trusts him and, however, he is a computer engineer.
Nevertheless, the "clean-up of the security apparatus"in Xi Jinping's hands will most likely be completed next year.
A new "Yan'an Rectification Movement", like the one that Mao Zedong promoted.
Rectification campaigns, collection of Xi Jinping's sayings to "set the policy line", with the collection of the "four consciences" (ideology, the whole country, principles and policies) and the four trusts (Socialism with Chinese characteristics; trust in a system that proposes the nature of Chinese Socialism; trust in its own culture and values).
Hence this will be the intellectual and operative scenario with which Xi Jinping will fight against the United States. A fight which will not be easy, but not even with a predictable result.
Here is How China Responds to US in Indo-Pacific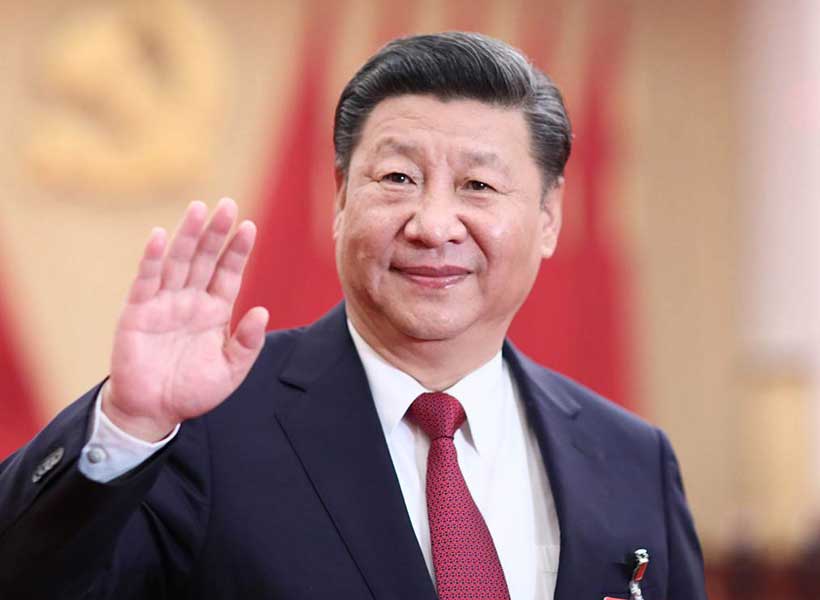 Trump administration recognizes the Chinese style of war with the term of "Unrestricted Warfare," unlimited war on all fronts, not merely a matter of arms war. Therefore, Trump continues to try to bulldoze China from various sides, the economy, corporation, media, education, the military, etc. How China sees war is not a new things. James Burnham in his book "The War We Are In", half a century ago, has very clearly been explained. I argue, in addition to continuing to enjoy the "Thucydides trap" theory, the way how China has been looking at war is also crucial in determining the Chinese style of facing America in the South China Sea. China clearly hopes to play with a long-term strategy, given its very long leadership period. Unlike the American President, who will always be threatened by his position once every four years.
So China most likely will not fight America openly in the South China Sea, but continue to increase its power. While on the other hand, China begin to undermine America's strategic partners one by one. Such as, South Korea, Japan, India and Australia. That's why, China certainly needs North Korea to disrupt. Why? Based on the American "island line" strategy, South Korea is the center of the first "island line". There are approximately 28,000 more American troops in South Korea. Moreover, North Korea's nuclear warhead can reach Japan, even reaching the center of America's second "island line" on Guam. Providing dangerous threats in America's first and second "island line" circles will make Taiwan easier to seize and then disrupting the coordination lines of American power in South China Sea with its closest partners
While in the East, China continues to press and is ready to have a military dispute with India on the Line of Actual Control. Without much public attention, China has surrounded India for the past several years. China already has military bases in Djibouti and possibly in Gwadar Pakistan, both thanks to the cooperation of the Road and Belt Initiative, where Djibouti was finally unable to pay debts, then its port was diverted to China and made a military base. The same thing happened with Gwadar. And most likely, China will be very able to convince Russia not to get involved by offering economic benefits from the war between India and Russia, because both countries –China and India — are consumers of Russian weapons.
On the other hand, China will continue to wreak revenge on trade war with America to Australia, to the maximum extent that losses can be received by the land of Kangoroos. Especially after the involvement of the Australian Frigate in the American international navigation convoy on South China Sea and after Australia reacted on China about covering up Covid 19. China is Australia's biggest trading partner. China seems to be quite sure, with the application of high tariffs for many Australia's export commodities will weaken the country's economic capabilities. And all the shock therapy will give a bad signal to the countries around the South China Sea.
The same way will be played with Canada that has imprisond Meng Wanzhou, CFO Hua Wei, at the request of American extradition law. And don't forget, slowly but surely, the Belt and Road Initiative has also divided Europe, Africa, and slowly in the Middle East. Now, when it comes to Chinese matters, the European Union does not all agree that China is a threat (just competitor even after Covid 19 and Hong Kong Case), since the fast train line and any infrastructure projects have split the blue continent.
Then at the American domestic level itself, China will probably continue to intervene and infiltrate elections, ride various issues that have the potential to weaken Trump's position. Although China said, it is very happy if Trump was re-elected because Trump has the potential to damage the American alliance with many countries. But, it's pretty sure to translate that China really want Joe Biden to win. It's easier for China if democrats are enthroned.
Is America likely to lose? I still believe, the Chinese war is not for today. Today, militarily and economically, America still has the upper hand. However, Xi is a marathon runner, Xi may be the president for life. But the signals of the threat of Unrestricted War are already visible. Today, on the other hand, geostrategically America has long made an alliance to surround China. In South China Sea, America still has Taiwan, Vietnam, the Philippines, Malaysia, Singapore (maybe Indonesia) even though South Korea and Japan are intimidated by North Korea. Also in economic side, for example, though China stay growing 6 percent stably and America is only 1-2 percent stably, China still needs decades to catch up to America's GDP per capita.
Therefore, China will play long and pay in instalments one by one the target. China will probably not focus on South China Sea with hard power, but on Taiwan first, after Hong Kong was successfully acquired without war, by continuing to spread threats in the South China Sea to divide American concentration. After Tse Ing Wen came to the power, peace unification with China had failed. The offer of "one country two systems" was rejected by Tse Ing Wen and the people of Taiwan. As a result, China will boast more power around Taiwan, while preoccupying South Korea and Japan with North Korea's actions, and still looks aggressive at South China Sea.
This is one form of "Omni-dimensional war" of China, as Burnham wrote. But China will really need a lot of energies and patience to play long, more over after pandemic which has been throwing them to the corner of international order. Meanwhile, in short, US will be more aggressive in South China Sea to get more attention from Trump's domestic supporter till the next election day. So, the more successful Trump in making Americans angry (hate) at China is one of the keys to Trump getting a majority of votes in the elections later. I'm pretty sure, Trump will continue to play this Chinese card in the next few months ahead, until the election comes. And the medium term result is that South China Sea will just be provocative theater for both.
What Does Beijing's Wolf-Warrior Diplomacy Mean for Moscow?
Moscow wishes to remain a "non-regional power" in the "Indo-Asia-Pacific" region (IAPR) – it wants to maintain commonly held perceptions of itself as a non-threat to the region's security and economic structure; and it frequently notes that it has no ulterior motives in changing said structure.
However, with Beijing increasingly threatening sanctions and retaliation against those who oppose it's economic/political practices, violating sovereign waters in the South China Sea (SCS), and continuing on with the extortionary Belt-and-Road Initiative (BRI), Moscow's neutrality may be brought into question. China's recent actions in the SCS and on the Line of Actual Control with India – courtesy of Beijing's nationalistic, "wolf-warrior" policy – have brought it in greater conflict with the international community; a conflict that will also extend to Russia.
Wolf Warrior: Undercutting Moscow's Great Power Status
While Moscow has calibrated its position on the "Indo-Pacific" in congruence with that of Beijing's, i.e. it is a redundant conception designed to exclude/contain China, challenge inherent regionalism, and prop up US allies and interests, Beijing's continued use of aggressive economic and territorial policies may test this position in the immediate future.
This is because Moscow's approach to the region is based on three interests – its ambitions to maintain 'great-power' status, its need to balance a growing US military presence, and its desire to cultivate greater economic ties with Southeast Asia. Unfortunately, it would seem that only one of these interests is fulfilled by siding with Beijing, that of countering US military presence. Moreover, the other interests – remaining a neutral great power, and developing greater economic relationships with Southeast Asia, are directly obstructed by Beijing's wolf-warrior diplomacy.
By siding with Beijing on all fronts, or even remaining silent on these trespasses, not only is Moscow undercutting its image a "great-power", it also brings itself directly in conflict with Beijing, and antagonises its relationships with IAPR members such as India and ASEAN. E.g. against the Indo-Pacific, Moscow continues to regard the Indian Ocean and India as supernumerary to the IAPR question (something may have to reconsider in light of recent events); China's territorial claims in East Asia have a direct impact on Moscow's navigation of its own territorial disputes with Japan and South Korea; Russian infrastructure projects in the SCS are stymied due conflicting China-ASEAN territorial claims.
The Economics of Being in Beijing's Shadow
On the economic front, Moscow has made use of the 'Greater Eurasia' mission centred on Russian-led economic multilateralism, with itself as a net-energy provider, physically as a conduit between Asia and Europe, and as an arms supplier. Among a number of highway, railway, sea-port, oil-rig infrastructure projects, two key ones are the Eastern Siberia-Pacific Ocean Pipeline network, and the Trans-Korean Railway system. With these projects, Moscow hopes to create trans-regional connectivity with Russia at the centre, beginning in the Russian Far East and Siberia, and ending in Europe.
Arms sales are a major contributor to Russia's image and economic advantages in the region; 60 percent of all arms purchased between 2014-18 in Southeast Asia were of Russian origin. In exchange for these sales, Moscow wishes to not only develop greater security cooperation in maritime, anti-piracy/terrorism and intelligence fields, but also directly barter the development of cooperative economic zones and other energy projects.
Unfortunately, the absence of appropriate funding, political will, and wider international interest, Greater Eurasia found itself tied, almost subservient to Beijing's BRI; an initiative that in itself is being challenged by both participants and non-parties. This spells not only the death knell of a "Russia-led" multilateralism, but also the strategic autonomy required by the Kremlin to maintain 'great-power' status.
Such is Beijing's shadow, that even individual deals with Vietnam and the Philippines for oil/gas exploration are viewed as contentious, e.g. Chinese fishing militias blocked Vietnamese and Rosneft workers from continuing oil-rig work in the Vanguard Bank in 2019, after Beijing warned Moscow not to do so in 2018.
And finally, while the economic field is already dominated by Beijing's commercial imperialism and the BRI, Russian arms sales also come into direct competition with China's growing defence export industry. It is yet another space, where the highly unequal partnership between Moscow and Beijing may spell poor crops for the former.
Normative Dilemma and Medium-Term Concerns
Many of the countries that Russia holds as gateways to the region – Japan, South Korea and ASEAN members – are in conflict with Beijing's territorial claims and economic imperialism; some directly under threat, others within the US-China dilemma.
Even though the Russia-US relationship has deteriorated over the years, essentially forcing a de facto, long-term Russia-China commitment, Moscow must realise that this relationship is harmful to its own interests. If Moscow's aims are to remain autonomous and neutral, and develop greater diplomatic and economic relationships in the region, an approach based on Chinese influence or within its shadow will permanently taint those aims. No longer will Russia be viewed as a non-regional power, even its attempts to wean away from Euro-centric trade will be choked by international controversy and resistance to Beijing's influence.
On the security front, analysts in the Kremlin are also taking cognisance of the fact that Russia's current position may require it to actively participate in a medium-term US-China conflict; something that would not only strain its own limited resources and hamper the revitalisation of the Eastern Military District and modernisation of the Pacific Fleet, but also its relationship with Southeast Asia.
Conclusion
Moscow's normative approach to the IAPR, its economic outreach to Southeast Asia, its 'Greater Eurasia' project, its desire to effectively balance US and allied presence, all are now under threat due to China's belligerency. The question though remains – how long will it take Moscow to pull away from Beijing's influence? The economic and security implications of pivoting support away from China, would be massive in Russia; the cost of losing amenable economic ties with Beijing, and a cohesive bulwark against US presence would be enormous.
Barring the issues of Hong Kong and Taiwan (issues that it will never take up), Moscow's desire to retain good-will and productive partnerships in Southeast Asia will however in the long-term, come under great duress due to China's nationalistic and belligerent foreign policy in the IAPR.