Has Technology Stripped Our Banks of Human Values?
While maintaining ethical standards in every profession is fundamental to its efficient functioning and ultimate success, I am writing this commentary with a deep sense of anguish and pain. Although developing on modern lines and infrastructure in terms of machinery and technology is imperative, however I regret to maintain that we have not achieved optimum levels of success and customer satisfaction still in our country.
While use of new machinery and technology is not bad but the fading human face and highly personalized treatment of customers as its consequence, is the real worry. Somewhere along the line, we are missing the very vital human element, that too very brutally. Banking staff throughout the country needs to be sensitized enough to deal with illiterates, semi-literates and especially women and elderly, to sustain a judicious balance of the human face of banking as a business and socio-economic institution in a country that is still struggling with poverty, illiteracy, ignorance, helplessness, lack of technological know-how, lack of access to internet, etc. Though I understand that the somewhat harried banking staff may have multiple issues like heavy workload (that got further added due to demonetization) lack of sufficient staff to cope with in addition to discharging their daily duties in an efficient and speedy manner, and that these factors may contribute to the constantly irritated behavior they display on a somewhat routine basis but for how long can they expect customers to keep taking it, is a matter of conjecture and concern! Also getting modernized does not mean just meaning business and a formal communication with every customer irrespective of his/her age, background, context, etc. As a customer, many a times, I have felt embarrassment because of the banking staff who hardly have the time to listen to you or your queries reflecting their lack of professionalism and human sensitivity. I have also witnessed enough incidents where even the elderly and women are not spare such brusque handling, are mistreated and their queries avoided. It remains a fact that whenever I went to our country's prestigious bank- the State Bank of India, I felt deeply sad by the kind of irritated behavior of the employees there (even before the demonetization move).
Recently I went to a bank for a passbook update. The official pasted the bar code on it and I went to update the same. The machine though couldn't update all my entries in full due to some fault which made me return to the same official. Very reluctantly and after much pleading, he updated it on his system and while I was there, one elderly lady came for the similar updating of her passbook. The official reacted rudely and said, "When the bar code is already pasted, why are you here still bothering me?" The elderly lady's gaze was a picture of affronted dignity and she left helplessly, not knowing what to think and with the confusion clearly mirrored on her face! I was shocked at this incident and asked the official very respectfully, "how can she update when she does not know anything about the uses of the new machine?" I further asked, "is there anybody that can help her or guide her or does your bank have any guidelines for such people who don't know how to deposit cheques, cash or update their passbooks through machines and need to be assisted?" With a frown, he stared at me and replied that 'she should request the security guard outside." I was dumbfounded by such a bizarre reply.
In yet another recent incident I went to a branch of State Bank of India for a Demand Draft that I was in urgent need of for an application of employment in a university. The bank official out rightly rejected my request citing that we are a big bank and do not issue DD of just Rs.300/- that I was asked for by the employer institution. Not only this, the official added that he can make the DD for me only if I had a cheque ready for the same amount and for that I needed to be the account and cheque-book holder of the same bank. I was shocked and dismayed to the core to see such a system which has no place for a student or for a customer who is not their account holder. The big banking leaders of India have to think about it and make banking inclusive in a country where exclusion still prevails and people feel discriminated and humiliated by such unfriendly policies. That day I wanted to write a letter to PM and RBI governor and ask that just Jan Dhan is not sufficient in our country, banking system as a whole needs to be streamlined.
I think that society has dichotomous views about banking, based on their personal experiences, expectations and the medley of problems that they have encountered at various levels and in different situations, in their dealing with several bank personnel. The level of society you belong to, your literacy and levels of technological familiarity are a significant factor in determining how much of challenge or pleasure the entire banking process is bound to be. For those more savvy with bank procedures and their intricacies and adept at coping with routine procedures and quickly assimilating slightly more complex and complicated procedures and processes of banking, banking is a pleasure and a swift means to realizing your aims and goals in achieving the necessary target. However for those who hail from the rural areas, are illiterate and uneducated in terms of even basic banking formalities, even routine bank transactions can assume the monumental proportions of your worst nightmare and prove to be a stumbling block in moving forwards.
Banks have a varied approach as regards dealing with the demands and banking needs of society. It is, I think, largely influenced by the personality factor and your individual sense of humaneness and readiness to help another human being, with patience and perseverance, without losing your innate ability to relate with that person on a humane level and a potential customer. They are definitely over-burdened and short-staffed many times and frustrated by the unimaginative policies and decisions of the higher level banking authorities, who do not release the requisite number of suitably qualified personnel to assist customers and thus attend to their problems in a kind and courteous manner. Sometimes, though, the banking officials tend to be somewhat high-handed in their basic approach towards clients and this is what needs to be guarded against in the long run, as it tends to create arguments, irritation and bad feeling.
The old ideas of banking do matter to some extent but it is impossible in this highly techno-savvy age, when both man and machine are so much more equitably equipped to deal efficiently and speedily with situations where earlier they would have plodded through procedures in a painstaking manner, plodding along slowly and explaining the matter to the customer at every step, thereby sacrificing efficiency palpably, to maintain the same level of the human touch as before. There has to be an understanding of this very vital factor and the changing equation of banker versus client, by both sides so that both sides can make a concerted effort to acquire more knowledge of the other's domain and coalesce at a harmonious level. Only then will meaningful banking come of age and the erstwhile faith of the community be restored in the banking personnel, not only as the facilitators of their financial needs and dispensations, but also as the true caretakers of their essential needs and interests.
On self operating/knowing the bank Apps and mechanized procedures, we must realize that even literate people in this country do not necessarily know all banking procedures, not to talk of elderly people and many others and therefore the bank authorities have to take into consideration a much broader need-based approach and the much needed human face of banking that is fast vanishing. There must be strong assistance guidelines especially for those who don't know how to use these new machines like cash deposit machine, self pass-book updating, etc. Also to adopt a line of behavior that is both professional and humane with the customers, banks need ample sensitization, gender sensitization and greater sensitization towards the elderly and all those who don't know the use of new machines and, therefore, are more prone to needing help. There must be distinct and clearly defined guidelines in this respect and branch help committees must be set up in every big and small bank in the country. After all banks are there because of the customers whether illiterate or literate. If such an indifference and lack of ethical banking persists unabated and unchallenged it may tantamount to yet another form of structural violence that is still the hallmark of many of our public institutions.
On asking how society today perceives banking, my feminist friend Aparna Dixit said, "As a part of society I would say that we are totally connected with banks in our day to day life that is much in a technology led phase. We can do most of the things on phone, laptop or e-banking kiosk today. Apart from this there are bank executives who are supposed to assist a client for their queries and problems and they shouldn't forget it that they are behind the counter for their customers .One more thing is that to respect every human being is a humanity and after all they are a service provider so they shouldn't neglect any customer. Though they have their work deadlines but that should be internally managed from their end".
While asking how banks perceive the society, well known Banking Executive and a friend Ankita replies from a banking perspective. She says, "From a bank perspective and as a service provider the motive is business. Therefore, banks give more attention to the elite class customers that they feel are more relevant to them. There are lots of enhanced facilities and services for customers and nowadays, most people are doing banking so logically it is true that their work pressure is increasing but customers shouldn't be affected by this. However I would say an ethical banking is a two way process and therefore both the bank staff and the customers should display utmost professionalism and humanity. How many times we entered in a bank and wished the staff with a good morning or hi or hello? We as customers are also in hurry and sometimes neglect the human from the other side."She further adds, "As per my observation, there is a difference to attend or serve a customer in Government and Private Banks. I've been visiting both the public and Private banks and I find the difference that private banks are more public friendly so I think the government bank staff should be educated and trained in the same manner as private banks orient their staff and this can change the current scenario of government banks while dealing with the people especially those who are not acquainted with modern technology."
In my opinion, in banking, every new idea has originated from the older one and all these are just to serve people more and more and not to trouble them. Banking is upgrading or advancing day by day just to serve the customers efficiently which could not be possible with older ideas or patterns. But while we change the pattern, we have to be friendly towards those who are not so tech-savvy. We can see and feel the revolution in banking sector only taking the innocent masses along be that the recent demonetizing decision, Jan Dhan or maintaining high ethical standards.
The Covid After-Effects and the Looming Skills Shortage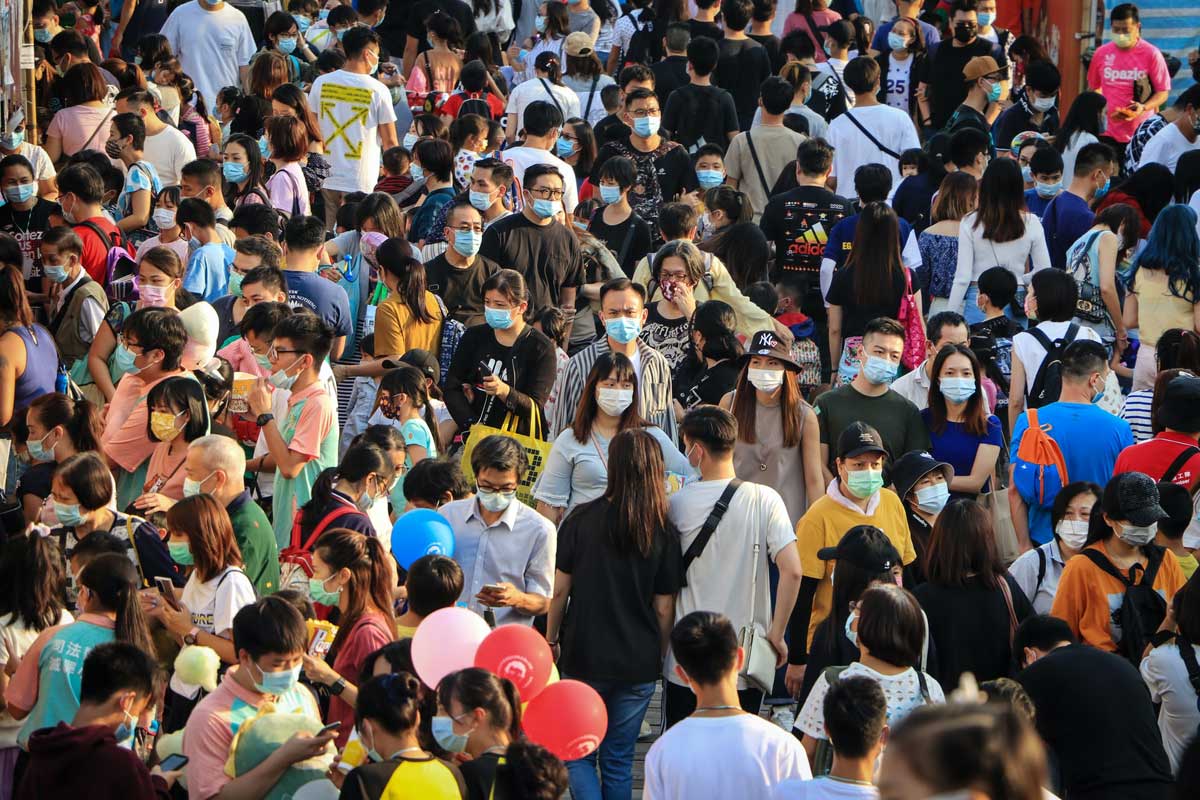 The shock of the pandemic is changing the ways in which we think about the world and in which we analyze the future trajectories of development. The persistence of the Covid pandemic will likely accentuate this transformation and the prominence of the "green agenda" this year is just one of the facets of these changes. Market research as well as the numerous think-tanks will be accordingly re-calibrating the time horizons and the main themes of analysis. Greater attention to longer risks and fragilities is likely to take on greater prominence, with particular scrutiny being accorded to high-impact risk factors that have a non-negligible probability of materializing in the medium- to long-term. Apart from the risks of global warming other key risk factors involve the rising labour shortages, most notably in areas pertaining to human capital development.
The impact of the Covid pandemic on the labour market will have long-term implications, with "hysteresis effects" observed in both highly skilled and low-income tiers of the labour market. One of the most significant factors affecting the global labour market was the reduction in migration flows, which resulted in the exacerbation of labour shortages across the major migrant recipient countries, such as Russia. There was also a notable blow delivered by the pandemic to the spheres of human capital development such as education and healthcare, which in turn exacerbated the imbalances and shortages in these areas. In particular, according to the estimates of the World Health Organization (WHO) shortages can mount up to 9.9 million physicians, nurses and midwives globally by 2030.
In Europe, although the number of physicians and nurses has increased in general in the region by approximately 10% over the past 10 years, this increase appears to be insufficient to cover the needs of ageing populations. At the same time the WHO points to sizeable inequalities in the availability of physicians and nurses between countries, whereby there are 5 times more doctors in some countries than in others. The situation with regard to nurses is even more acute, as data show that some countries have 9 times fewer nurses than others.
In the US substantial labour shortages in the healthcare sector are also expected, with anti-crisis measures falling short of substantially reversing the ailments in the national healthcare system. In particular, data published by the AAMC (Association of American Medical Colleges), suggests that the United States could see an estimated shortage of between 37,800 and 124,000 physicians by 2034, including shortfalls in both primary and specialty care.
The blows sustained by global education from the pandemic were no less formidable. These affected first and foremost the youngest generation of the globe – according to UNESCO, "more than 1.5 billion students and youth across the planet are or have been affected by school and university closures due to the COVID-19 pandemic". On top of the adverse effects on the younger generation (see Box 1), there is also the widening "teachers gap", namely a worldwide shortage of well-trained teachers. According to the UNESCO Institute for Statistics (UIS), "69 million teachers must be recruited to achieve universal primary and secondary education by 2030".
From our partner RIAC
Accelerating COVID-19 Vaccine Uptake to Boost Malawi's Economic Recovery
Since the onset of the COVID-19 pandemic, many countries including Malawi have struggled to mitigate its impact amid limited fiscal support and fragile health systems. The pandemic has plunged the continent into its first recession in over 25 years, and vulnerable groups such as the poor, informal sector workers, women, and youth, suffer disproportionately from reduced opportunities and unequal access to social safety nets.
Fast-tracking COVID-19 vaccine acquisition—alongside widespread testing, improved treatment, and strong health systems—are critical to protecting lives and stimulating economic recovery. In support of the African Union's (AU) target to vaccinate 60 percent of the continent's population by 2022, the World Bank and the AU announced a partnership to assist the Africa Vaccine Acquisition Task Team (AVATT) initiative with resources, allowing countries to purchase and deploy vaccines for up to 400 million Africans. This extraordinary effort complements COVAX and comes at a time of rising cases in the region.
I am convinced that unless every country in the world has fair, broad, and fast access to effective and safe COVID-19 vaccines, we will not stem the spread of the pandemic and set the global economy on track for a steady and inclusive recovery. The World Bank has taken unprecedented steps to ramp up financing for Malawi, and every country in Africa, to empower them with the resources to implement successful vaccination campaigns and compensate for income losses, food price increases, and service delivery disruptions.
In line with Malawi's COVID-19 National Response and Preparedness Plan which aims to vaccinate 60 percent of the population, the World Bank approved $30 million in additional financing for the acquisition and deployment of safe and effective COVID-19 vaccines. This financing comes as a boost to Malawi's COVID-19 Emergency Response and Health Systems Preparedness project, bringing World Bank contributions in this sector up to $37 million.
Malawi's decision to purchase 1.8 million doses of Johnson and Johnson vaccines through the AU/African Vaccine Acquisition Trust (AVAT) with World Bank financing is a welcome development and will enable Malawi to secure additional vaccines to meet its vaccination target.
However, Malawi's vaccination campaign has encountered challenges driven by concerns regarding safety, efficacy, religious and cultural beliefs. These concerns, combined with abundant misinformation, are fueling widespread vaccine hesitancy despite the pandemic's impact on the health and welfare of billions of people. The low uptake of COVID-19 vaccines is of great concern, and it remains an uphill battle to reach the target of 60 percent by the end of 2023 from the current 2.2 percent.
Government leadership remains fundamental as the country continues to address vaccine hesitancy by consistently communicating the benefits of the vaccine, releasing COVID data, and engaging communities to help them understand how this impacts them.
As we deploy targeted resources to address COVID-19, we are also working to ensure that these investments support a robust, sustainable and resilient recovery. Our support emphasizes transparency, social protection, poverty alleviation, and policy-based financing to make sure that COVID assistance gets to the people who have been hit the hardest.
For example, the Financial Inclusion and Entrepreneurship Scaling Project (FInES) in Malawi is supporting micro, small, and medium enterprises by providing them with $47 million in affordable credit through commercial banks and microfinance institutions. Eight months into implementation, approximately $8.4 million (MK6.9 billion) has been made available through three commercial banks on better terms and interest rates. Additionally, nearly 200,000 urban households have received cash transfers and urban poor now have more affordable access to water to promote COVID-19 prevention.
Furthermore, domestic mobilization of resources for the COVID-19 response are vital to ensuring the security of supply of health sector commodities needed to administer vaccinations and sustain ongoing measures. Likewise, regional approaches fostering cross-border collaboration are just as imperative as in-country efforts to prevent the spread of the virus. United Nations (UN) partners in Malawi have been instrumental in convening regional stakeholders and supporting vaccine deployment.
Taking broad, fast action to help countries like Malawi during this unprecedented crisis will save lives and prevent more people falling into poverty. We thank Malawi for their decisive action and will continue to support the country and its people to build a resilient and inclusive recovery.
This op-ed first appeared in The Nation, via World Bank
An Airplane Dilemma: Convenience Versus Environment
Mr. President: There are many consequences of COVID-19 that have changed the existing landscape due to the cumulative effects of personal behavior. For example, the decline in the use of automobiles has been to the benefit of the environment. A landmark study published by Nature in May 2020 confirmed a 17 percent drop in daily CO2 emissions but with the expectation that the number will bounce back as human activity returns to normal.
Yet there is hope. We are all creatures of habit and having tried teleconferences, we are less likely to take the trouble to hop on a plane for a personal meeting, wasting time and effort. Such is also the belief of aircraft operators. Add to this the convenience of shopping from home and having the stuff delivered to your door and one can guess what is happening.
In short, the need for passenger planes has diminished while cargo operators face increased demand. Fewer passenger planes also means a reduction in belly cargo capacity worsening the situation. All of which has led to a new business with new jobs — converting passenger aircraft for cargo use. It is not as simple as it might seem, and not just a matter of removing seats, for all unnecessary items must be removed for cargo use. They take up cargo weight and if not removed waste fuel.
After the seats and interior fittings have been removed, the cabin floor has to be strengthened. The side windows are plugged and smoothed out. A cargo door is cut out and the existing emergency doors are deactivated and sealed. Also a new crew entry door has to be cut-out and installed.
A new in-cabin cargo barrier with a sliding access door is put in, allowing best use of cargo and cockpit space and a merged carrier and crew space. A new crew lavatory together with replacement water and waste systems replace the old, which supplied the original passenger area and are no longer needed.
The cockpit gets upgrades which include a simplified air distribution system and revised hydraulics. At the end of it all, we have a cargo jet. If the airlines are converting their planes, then they must believe not all the travelers will be returning after the covid crisis recedes.
Airline losses have been extraordinary. Figures sourced from the World Bank and the International Civil Aviation Organization reveal air carriers lost $370 billion in revenues. This includes $120 billion in the Asia-Pacific region, $100 billion in Europe and $88 billion in North America.
For many of the airlines, it is now a new business model transforming its fleet for cargo demand and launching new cargo routes. The latter also requires obtaining regulatory approvals.
A promising development for the future is sustainable aviation fuel (SAP). Developed by the Air France KLM Martinair consortium it reduces CO2 emissions, and cleaner air transport contributes to lessening global warming.
It is a good start since airplanes are major transportation culprits increasing air pollution and radiative forcing. The latter being the heat reflected back to earth when it is greater than the heat radiated from the earth. All of which should incline the environmentally conscious to avoid airplane travel — buses and trains pollute less and might be a preferred alternative for domestic travel.