Russia vs. West: EU-Russia strained relations
[yt_dropcap type="square" font="" size="14″ color="#000″ background="#fff" ] W [/yt_dropcap]est continues to be anti-Russia even during the early reign of President Trump who claimed to try and drastically improve relations with its Cold War foe. End ideology in Russia and Eastern Europe has not helped the situation to improve. USA continues to control policy making processes in Europe and does not let Europe think for itself and EU does not want lose the US help. As such Russia's efforts to bring EU out of US control mechanisms have not been successful for obvious reasons.
US hand in Ukraine
Russian ties with the western world have never been smooth though at times they are seen making some efforts to make up and even stop fighting each other. Mutual mistrust is the main cause for the conflictual situation and this mistrust is not without any base. The 9/11 that helped both to forget their differences and forge a common front against Islam on the promotion of media Islamophobia, could not sustain itself too long as the trust deficit between them is too strong.
USA influenced the government of Kiev (Ukraine), considered historically bound with Russia since its early formatary stages, to oppose Russia. That indeed annoyed Russian iron President Vladimir Putin who in order to redeem Russia's lost prestige retook Crimea. Annexation of Crimea from Ukraine, now a part of Europe and EU, by Russia has cut its relations with both USA and Europe almost simultaneously.
Mutual sanctions hurt EU and Russia, economically. USA continues to press EU not to lift the sanctions on Russia. It is three years since Russia annexed Ukraine's Crimean peninsula and began its covert invasion of eastern Ukraine. At the time, it seemed like the start of a more ambitious Israel-like land-grab. His rhetoric implied that Ukrainian and Belarusian independence was only a historical anomaly.
President Vladimir Putin, a former KGB boss working in Europe, first came to power in 2000 by killing Chechen Muslims in a well planned military attack on Chechnya; he has made all efforts to make Russia super power once again and he shrewdly managed the foreign policy, made Russia emerge as a super power. When Putin described Russians as "one of the biggest, if not the biggest ethnic group in the world to be divided by borders," Russia's neighbors — some of them homes to large Russian minorities — wondered whether he meant to erase those borders. Eastern Europe, dotted with frozen conflicts of Russia's making, is stuck in transition to an uncertain future. Though he still holds Crimea and parts of eastern Ukraine, Putin has alienated the rest of Ukraine. But the West also has little to congratulate itself on.
Putin's pet project has been to bring in former Soviet states into Russian fold. Three years on, one is not quite sure if Putin's project has made any headway. But the west says he has clearly failed. But Moscow's willingness to use economic and military coercion in its neighborhood has alienated many who might otherwise have felt an affinity with Russia.
Conspiracy
With Superpower instinct, Vladimir Putin opposes the fall and disintegration of the mighty Soviet Union as a western conspiracy and said that Ukrainian and Belarusian independence was only a historical anomaly. When he described Russians as "one of the biggest, if not the biggest ethnic group in the world to be divided by borders," Russia's neighbors — some of them homes to large Russian minorities — wondered whether he meant to erase those borders.
Today, the USA and the EU remain extremely cautious about Russia's imperial intentions and see a hidden agenda of the Kremlin to revive Soviet Union in another format. Russia is unhappy that most of the former Soviet Republics have been admitted into US led NATO and Germany led European Union (EU). The European Union has consistently dodged the issue of possible EU membership for any of the six former Soviet states that now lie in Europe (Armenia, Azerbaijan, Belarus, Georgia, Moldova and Ukraine). Russia has a clearer vision for the region than the West does. It has never treated the six states as fully sovereign. After Putin became president for the third time, in 2012, he stepped up efforts to keep former Soviet states inside what his predecessor, Dmitriy Medvedev, described as a "region of privileged interests".
As USA guides European policies, Western leaders do admit that Russia has a veto on its neighbors' foreign policies. But even a few want a fight with Russia even with US backing. They are scared of Russian military prowess. Eastern Europeans who want their countries (and Turkey that would join the EU) to meet European "standards" of governance and join Western institutions have become disillusioned by the West's failure to offer full-throated support against the Kremlin.
Meanwhile, a After Kiev announced the travel ban on Samoylova from entering Ukraine for the next three years, the Russian TV network Vesti declared that Russian television will not broadcast this year's Eurovision contest, though the broadcasting rights for the 2017 competition actually belong to a rival station in Russia, Channel One. It's not yet clear if Channel One will agree to the EBU's offer, having announced previously that it will send Samoylova as Russia's contestant for Eurovision 2018, in light of Ukraine's "unreasonable" decision.
Eastern Europeans who want their countries to meet European standards of governance and join Western institutions have become disillusioned by the West's failure to offer full-throated support. Few Western leaders admit that Russia has a veto on its neighbors' foreign policies. But even fewer want a fight with Russia.
So what can Eastern European countries do if they do not want to be in Russia's orbit but cannot join Western institutions? Have they lost their independent capacity to decide their own matters?
Region of privileged interests
Russia has a clearer vision for the East European and former Soviet zone regions than the West does. It has never treated the former six Soviet states as fully sovereign. After Putin became president for the third time, in 2012, he stepped up efforts to keep former Soviet states inside what his predecessor, Dmitriy Medvedev, described as a "region of privileged interests". But Moscow's willingness to use economic and military coercion in its neighborhood has alienated many who might otherwise have felt an affinity with Russia.
The top priority of EU should be establishing the rule of law. Countries where courts work and laws are stable will be more attractive to foreign investors and less vulnerable to economic pressure. The West can help by making it harder for local elites to launder the proceeds of corruption through the EU or US. Denying Turkey its due place in EU as a European state just because of Islamic religion is not at all fair.
Meanwhile, Russia needs to treat all regions fairly. Geography and economics mean that the Eastern Partnership countries would benefit from good political and trade relations with Russia. They should not shy away from this, as long as relations are on the basis of sovereign equality, consistent rules and mutual benefit. Ensuring that minority ethnic groups are fairly treated is also vital. Disaffected minorities have been fertile soil for Russia to promote separatist conflicts — there is less scope for mischief if all communities have a stake in society.
The West should use the coming years to try to persuade Moscow that, whether or not more countries join Western institutions (and even the most advanced are decades away from membership), it is in everyone's interests that they should be prosperous, stable and well-governed.
West tells Moscow that it is time to give up its nostalgia for empire. The biggest policy shift must come from both USA and Russia that continue to behave as though their prestige and fate depends on controlling Europe and neighbours. Europe's other imperial powers have realized that it is better to create shared economic and other interests with former possessions than to try to coerce them.
Putin said US-Russia relations have touched the lowest level now as President Trump continues to behave erratically, especially with his bombing Syria, in order to get special media coverage.
A major issue
The European Union has consistently dodged the issue of possible EU membership for any of the six former Soviet states that lie in Europe (Armenia, Azerbaijan, Belarus, Georgia, Moldova and Ukraine). NATO leaders agreed in 2008 that Georgia and Ukraine "will become members of NATO." But after Russia invaded Georgia in 2008 and Ukraine in 2014, NATO dragged its feet on fulfilling that promise.
Europeans have an important job at hand as they have the future of the fragile union in their own hands. As they strive to remain united because in unity lies their strength they Russia a disturbing or destabilizing factor.
Both USA and EU talk about 'common values" and say Russians do not share their values. While, any genuine rapprochement with Russia is difficult to foresee in their differences in the near future, the EU would strive to engage Russia where possible and speak out when their views clash as they are too important to one another. But any engagement is firmly based on the grounds of the international rules-based system and its principles and values. The spirit of Eurovision's values of inclusivity goes against any real truck with Russia.
Between Russia and the EU, Eastern Europe's Future is Uncertain. Eastern Europe, dotted with frozen conflicts of Russia's making, is stuck in transition to an uncertain future. It is three years since Russia annexed Ukraine's Crimean peninsula and began its covert invasion of eastern Ukraine. At the time, it seemed like the start of a more ambitious land-grab.
Three years on, Putin's project has clearly failed. Though he still holds Crimea and parts of eastern Ukraine, he has alienated the rest of Ukraine. But the West also has little to congratulate itself on. Eastern Europe, dotted with frozen conflicts of Russia's making, is stuck in transition to an uncertain future.
Will European Union survive?
Lighting or illumination is considered to be a happy expression for something that has happened well, the Tel Aviv city hall building in Israel was illuminated in "solidarity" with Russia after the blast in the St.Petersburg metro in Tel Aviv, Israel, April 3, 2017. As a terrorist nation, making terrorizing the besieged Palestinians as their major hobby, Israel is through about state terror operations and their needs. Whether or not Israel was happy and over joyous about the terror attacks in Russia is not very clear, though.
The survival of European Union as multinational continental entity is a major theme of debates and media reports as the fate of survival depends on factors that seem to be intractable.
Obviously, Brexit has given a jolt to Germany's efforts to strengthen the Union with further measures. Though many in Britain rethink the decision to quit EU for good, the decision of the people and parliament is final and only few formalities need to b completed to make UK a totally soverign nation.
In fact, the fate of EU had been the subject of heated debates even much before Britain opted out of EU. Over years of meticulous steps undertaken by the EU make it look a cohesive multi-nation, now it is much better than a few years ago.
Recently, European leaders came together to celebrate 60 years of the continent's greatest peacetime project: the European Union. And today, 60 years later, the vision remains alive and we can be proud of our achievements. Europe has turned from a continent of war to a continent of peace. This project has brought together 28 European states, more than 500 million people speaking 24 languages in one union, the EU.
The EU today might symbolize peaceful cooperation, respect for human dignity, liberty, democracy, equality and solidarity among European nations and peoples. It is the largest trade power and development and humanitarian aid donor. The world's largest single market and the euro is the second most important global reserve currency.
Back on March 25, 1957, the Founding Fathers signed the Treaty of Rome – an act that resolutely put an end to the trend of devastating wars between neighbors on our continent. Fundamentally a people's project, Europeans pledged "farewell to arms" and "never again war." President Juncker stated that they are the heirs of those who first established Europe, of those men and women who in 1945 returned from the front and the concentration camps to towns and villages which had been destroyed. He added that putting behind them animosities among neighbors and reconciling the feeling of national identity with a commitment to the common good, Europeans vowed to work toward a vision of a peaceful, united and prosperous Europe.
EU today may be home to the largest union of democracies in the world and legally European citizens are free to live, work and retire anywhere in Europe. It is at the cutting edge of innovation. EU membership has resulted in increased and shared prosperity. This makes them a strong partner when they all together need to adapt and to face the new challenges of the world: effects of rapid globalization continued armed conflict and the rise of terror, poverty and migration, a degrading environment and resource depletion.
USA insists that Russia is a destabilizing factor in their ties and the term "challenge" is also used nowadays to describe the state of EU-Russia ties. As spelled out in the EU Global Strategy, "managing the relationship with Russia represents a key strategic challenge for the European Union." For the last couple of decades, the EU and Russia had assumed a strategic partnership based on the convergence of values, economic integration, and modernisation of our societies.
Economic partners
However, the partnership faced a breakpoint in 2014 with the illegal annexation of Crimea and the destabilization in Eastern Ukraine. From that point forward and today, it is clear that Russia and the EU have some deep differences: they relate to the European security order, principles of pluralism and human rights, the need for an open market economy and a rules-based trading system. At the same time, Russia and the EU remain strategically important to each other.
The EU remains the largest trading partner for Russia, while Russia is the EU's fourth largest. We also have a number of shared concerns, such as the threat of terrorism, climate change and the situation in the Middle East. The success of the joint efforts to reach a nuclear deal with Iran demonstrates that we can cooperate in the international arena.
Many see Europe's long-term security in regime change in the Kremlin would welcome the opportunity to bring into question the incumbent's assertions that Russians are alone and embattled. A few small-minded individuals somehow think St. Petersburg does not "deserve" sympathy because of Sevastopol, who assume that every terrible incident is some kind of "false flag" operation instigated by Putin to generate some kind of "rally-round-the-flag" sentiment, is not only wrong, it's dangerous.
To move forward by shedding the US luggage, the EU would continue to undertake substantial and significant steps that provide a direct impetus to strengthening people to people contacts both within the Union and with Russia. From cooperation across our common border through student exchanges to support for civil society – those are the efforts that form the real glue between our peoples.
Observation
The West seeks to spread confusion, dismay, suspicion and uncertainty, globally. Everything is symbolic, and by not showing solidarity, Europe played into the hands of a Kremlin narrative that has been deployed again and again on far flimsier grounds. The Kremlin argues that the West is fundamentally Russophobic, and it delights in seeing woes of every kind besetting Russia.
Unlike the Cold War between superpowers, Europe wages a "hybrid war" or 'political war' against Russia engineering disinformation and political subversion. The corollary is that every time the European Court of Human Rights censures Moscow, every time an EU delegation calls for greater transparency, every time a Western observer notes flaws in electoral processes, it can neatly be discounted as European mischief-making at best, and at worst 'hybrid war.'
World is in the midst of a renewed Cold War and there are all kinds of reasons for Europe to feel hostile toward Russia, from its annexation of Crimea, to its aggressive intelligence activity. Nonetheless, there is a higher calling of human sympathy, a sense that we are all united in the face of the unexpected and undiscriminating threat of terrorism.
Many in EU seek a ban their dirty-money oligarchs and their paranoid-patriot lawmakers, but they do welcome their students, tourists, artists and entrepreneurs. This supposedly denies the Kremlin's propagandists easy opportunities. Indeed, it actively undermines their pernicious narrative that seeks to force Russians into an artificial choice between us and them, patriot or traitor.
NATO and EU do not want any truck between Russia and former Soviet republics most of them are now their own members NATO leaders agreed in 2008 that Georgia and Ukraine "will become members of NATO." But after Russia invaded Georgia in 2008 and Ukraine in 2014, NATO grew panicky and dragged its feet on fulfilling that promise.
Notwithstanding the US opposition to Russia and future of Euro-Russia relations, 60 years of experience since the signing of the Rome Treaty shows that a united EU is capable of strengthening and extending the wellbeing of European people. And a united EU will be a strong and reliable partner to countries around the world, including Russia.
Ethnic tensions in Montenegro
On Sunday, July 7, the citizens of Montenegro had the opportunity to witness another incident, that is, the open provocation of radical Albanian elements in Montenegro. Traditionally, on the feast of the Nativity of St. John the Baptist, in Svac, near Ulcinj (a town on the southern coast of Montenegro) liturgy is served at the ruins of a 1, 000 year-old medieval church.
The Metropolitanate of Montenegro and the Littoral held this year the liturgy in Svac, but at the entrance to the locality, where the ancient church is located. As the Montenegrin police, at the request of Albanian politicians, did not allow the liturgy service in the church. At the gathering, strong police forces were present, especially on the entry to the site.
Priest Slobodan Zekovic, who served the liturgy, stated:
"We are no strangers here, we come here for decades. We come here on the foundations of our statehood and spirituality. With a single goal, not to forget our holy ancestors, aware of the graves that are here. I am sending the blessing of Metropolitan Amfilohije, who was supposed to bring the hand of St. John the Baptist. But, due to tensions, that will be done next yеаr. The President of the municipality said that the access to the site has been banned until December, because archaeological research is being done".
However, last year also there were tensions in Svac. Then, about ten local Albanians blocked the road, so that Metropolitan of Montenegro and Littoral Amfilohije and the believers of the Serbian Orthodox Church could not come to Svac. The leader of this group was Hadzija Sulejmani, a member of the Ulcinj Assembly and a member of the Democratic Party of Albanians. Sulejmani tried to explain his shameful act by saying that the church has never been an Orthodox holy place, and that he, as a Muslim and a representative of the Ulcinj municipality, does not allow access to the church.
Everything becomes much clearer after seeing a monument that the local Albanian politicians set up in 2005 in the form of a memorial plaque, which says: "In the name of our ancestors Illyrians who founded this ancient town of Svac as the legacy of our Albanian culture …" In other words, then the Albanians marked their territory and now slowly begin with violent means to "defend" it.
History is clear about the Svac. The city of Svac has never been the city of Illyrians, and especially not the city of Albanians. In 2012, the Ministry of Culture of Montenegro started exploring Svac. The research team, led by archaeologist Mladen Zagarcanin, discovered Serbian and Roman pottery in the same layer, which clearly shows the centuries-long presence of Serbs in that area. Stefan Nemanja, the Serbian Grand Prince (Veliki Župan), merged Svac to Serbian Grand Principality (also known as Raška, lat. Rascia) in 1183. When the Mongol hordes in 1242 conquered and demolished the city of Svac, it was restored by the Serbian queen Jelena, the wife of King Uros, who lived in Ulcinj at the time. For architectural decoration, the painters and masters are brought from Serbian Grand Principality Raška (lat. Rascia) . The remains of the Church of St. John are still visible in the city today, where still writes that it was built in 1300. In 1571, the town of Svač was completely destroyed by the Turks. However, what is important to mention is that the Albanians took part in the destruction of the Svac, together with the Turks. So today we have come to a crazy situation that the people who ruined Svac, and that's the Albanians, want to acquire the historical heritage of that medieval city. In a doctoral dissertation "The influence of the Austro-Hungarian Empire on the creation of the Albanian nation", Bulgarian historian Teodora Toleva, who studied the Vienna imperial archive, writes:
"After thorough studying of the archives we may claim that at the beginning of the 20th century the Albanian population did not still represent a formed nation. The ethnical groups in Albania live isolated; they do not have connections between themselves, except when fighting. The possibilities for their convergence were practically nonexistent; murders are common, even for the people from the clan. There were two basic dialects in the country that were so different that people could hardly understand each other. There was no unique literary language, but more than twenty different manners of writing in local dialects. The coefficient of literacy did not even exceed 2%. The population belonged to three religious confessions – Muslims, Orthodox and Catholics. The Albanians did not have national awareness, they did not have general interests, they did not express solidarity and they did not develop in the direction of waking the national feeling. Hence, at the beginning of the 20th century there was no Albanian nation." Toleva also noted that:
"At a time when Vienna decides to implement a new plan for Albania, there are about twenty different transcripts of Albanian dialects. Three are basic: one uses the Arabic letters, the other is Cyrillic, the third is Latin. " Official Vienna also had a decisive influence on the unification of the Albanian language. A letter that the Albanians still use today was accepted at a congress in Bitola in 1908. The decisive role was played by the Austro-Hungarian consul Karl. Grammar, literary books, history books, all printed in Vienna. The promotion of the Albanian language was carried out at every step. The reason why Austro-Hungary did all this was Serbia, which was then the main enemy of the Austro-Hungarian Empire. Through the creation of the Albanian nation, the Austro-Hungarian Empire wanted to weaken Serbia. And, they did it.
Today, the Austro-Hungarian Empire policy has been taken over, dominantly by the United States and United Kingdom, but also from some other Western states. The main goal is to create Greater Albania. Recently, the self-proclaimed Kosovo and Albania decided to implement a common foreign policy. Unlike the West, which supports that unlawful act, which raises tensions in the Balkans, the Russian Ministry of Foreign Affairs condemned that act.
"The provocative steps of Tirana and Pristina, which are in line with the realization of the concept of 'Greater Albania', cause serious concern. In this context we see the signature on July 2, the Albanian-Kosovo agreement on unification of diplomatic missions in third countries. We note that the US and EU prefer not to respond to such destructive measures and to effectively cover the 'Greater Albanian events' that are destructive for the region ", stated Russian Foreign Ministry.
In accordance with the support from the West, political representatives of Albanians in Montenegro every day behave more and more insolently. The current Montenegrin authorities do nothing to make Albanian politicians know that they have to respect the laws of Montenegro. While Serbs in Montenegro are strictly forbidden to display Serbian flags, Albanians in the places where they are majority display Albania's national flag. Albanians every day show more clearly that Greater Albania is the only thing that would satisfy their national interests. The recent event that happened in Svac is something that previously could be seen in Kosovo and Macedonia. Therefore, now, while the fire is still weak, it is necessary to extinguish it. Otherwise, the Greater Albania's fire can swallow both Ulcinj and other parts of Montenegro.
From our partner International Affairs
New "executive branch" of EU and Russia: EU hostile, but not united
The recent decision by the European Council to nominate Ursula von der Leyen of Germany for the post of European Commission Chairperson and Christine Lagarde of France for President of the European Central Bank has caused many eyebrows to raise. Nevertheless, since this "feminist" set of candidates will surely receive the approval of the European Parliament, it's these people that Russia will have to deal with. (Nominees for the posts of European policy chief and president of European Council – Josep Borrell of Spain, and Charles Micheln of Belgium – became less of a surprise: their victory in the European Parliament is a sure thing too.)
Significantly, both the "prime minister" and the "foreign minister" from the European Union's new team have been spotted making outrageously averse remarks regarding Russia. Ursula von der Leyen, holding the post of Minister of Defense of the Federal Republic of Germany, said less than a year ago that one ought to speak with Russia from a position of strength. In response, Russian Defense Minister Sergei Shoigu advised Ms. von der Leyen and other Germans to ask their grandfathers what happens when Germans try to speak with Russia from a position of strength. Josep Borrell, speaking in an interview with the Spanish El Periodico, described Russia as "an old enemy" of Spain and Europe that is somewhat "posing a threat again," whereas China, in his words, is but a "rival".
The Russian Foreign Ministry reacted by demanding that Borrell account for these words, which clearly do not fit into the framework of friendly relations between Russia and Spain. The EU's foreign policy chief-to-be came out of this situation with an elephantlike grace, chiding the Russian Foreign Ministry for "excessive" reaction and explaining his position by saying the following: "I said that Europe's old defender – the United States – is no longer defending it, causing the rise of Europe's former rival – the USSR ". Thus, the European diplomat has managed to strengthen a prejudice-based lie (about Russia as an enemy) with another (about the notorious "attempts by Putin to restore the USSR"). And there is a third lie – a hint at the now dishonored theory of a conspiracy between Trump and Russia. For someone burdened with the responsibilities of the head of European diplomacy, there seem to be too many prejudices and stereotypes. In all likelihood, these new representatives of the EU will not be easy to deal with.
Nevertheless, the near victory of von der Leyen and the removal from the race of the Dutch socialist Frans Timmermans, and representative of the European People's Party (i.e."Democratic Christian") Manfred Weber of Bavaria, speaks of serious differences, bordering on hatred, within the EU. After all, it's these two nominees (plus Danish liberal Margrethe Vestager, who served as European Commissioner for Competition) that were considered favorites for the post of European Commission chief right up to the G20 summit in Osaka. Chancellor Angela Merkel, who openly supported Weber's candidacy and wanted the job of European Central Bank chief for the current head of the German Central Bank, Jens Weidmann, appears to be on the losing side, given the current layout of forces. Even such a well-informed player in European affairs as George Soros, predicted on the platform of the globalist Project Syndicate that in the event of Weber's "failure" to head the European Commission, Merkel's ambitions would be offset by the appointment of Jens Weidman. But this just didn't happen: the EU's top finance position went to Christine Lagarde.
Why did the options planned for so many weeks for the above mentioned candidates, which cannot be seen as 100% losers (Timmermans will remain vice-chairman of the European Commission, and Weber is set to become chairman of the European Parliament) were dropped?
The European Union makes it no secret that countries of the "Visegrad group", first of all, Poland and Hungary, came out against Timmermans. And this is no wonder: it was Timmermans, as vice-president of the European Commission, who "oversaw" Poland's punishment for its "sins against democracy" and has called for sanctions against Warsaw if it does not abandon so unwelcome for the EU judicial reform. As for Hungary, Timmermans was as harsh with its Prime Minister Viktor Orban. As a result, even Andrei Babis, the Prime Minister of the Czech Republic, which did not have time, unlike Poland and Hungary, to experience the negative rhetoric of Timmermans, said bluntly: "Timmermans is not the person who can unite Europe."
As it happens, by voting against Timmermans, the current Polish leadership took revenge for their own failure last year, when they made an attempt to remove Donald Tusk, former Polish prime minister considered to be EU-loyal political opponent of the current ruling party in Poland, "Law and Justice".
Thus, the current choice of candidates has become a sign of ever increasing instability and unpredictability of the European Union, including in its relations with Russia. In my opinion, two trends are gaining strength at the same time. Firstly, the selection of candidates for top jobs in the European "mainstream" is based, among other things, on the principle "who speaks harshiest of Russia will win" ( this guaranteed success of von der Leyen and Borrell). Secondly, as Eastern European countries are slowly gaining weight, their attitude towards Russia ranges from hostile ( Poland and the Baltic States) to neutral and conciliatory ( Hungarian Prime Minister Orban).
The Orban factor, according to a variety of reports, became a key one for "not supporting" Manfred Weber's candidacy on the part of France, which eventually led Weber to defeat. President Macron did not conceal his discontent with the fact that Weber, as head of the European People's Party faction in the European Parliament, did not exclude Viktor Orban and his party Fides from this faction.
The French newspaper Le Monde carries detailed reports on the issue. For the French president, who deems Orban, along with Italian Interior Minister Matteo Salvini, his personal enemies over disagreements on migration issues, any means will do to fight against the Hungarian politician. Le Monde carries reports about Macron's attempts to cut down EU payments to the Hungarian budget due to Hungary's unwillingness to bear its share of the migration burden on the EU. And although Macron has not succeeded in these attempts, the battle between the "progressists" (Macron) and the "traditionalists" (Orban and the Visegrad Group, which is behind him) is driving the main wedge into the European Union, including its position towards Russia. Both the elections to the European Parliament and the differences over the candidacies for the "executive branch" of the European Union have clearly demonstrated this.
From our partner International Affairs
North Macedonia and Albania not allowed even in EU "waiting room"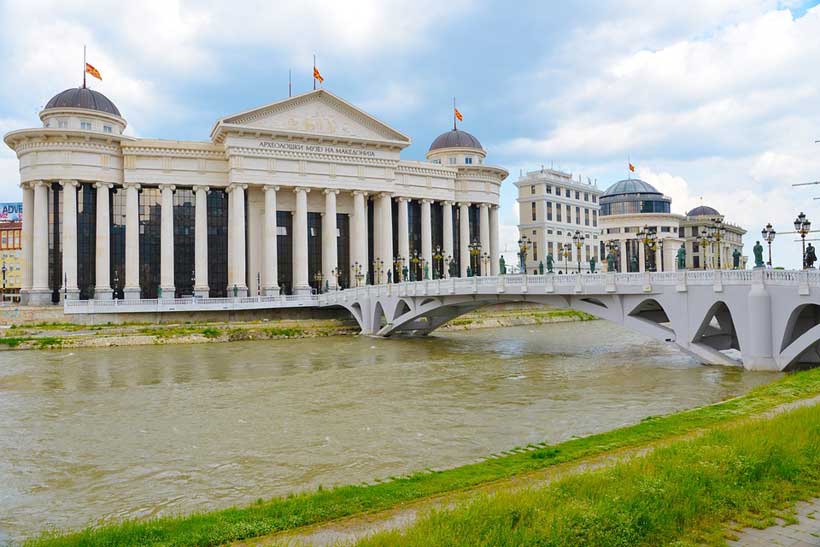 The recent decision by an EU summit to postpone until October the solution on welcoming in Albania and North Macedonia as new members marks yet another setback for the European Union, which testifies to lack of unity among its members. Both Albania and North Macedonia have done all they could in the past few years to prove their loyalty to NATO and the West with a view to secure early admission to the European Union. Albania has joined NATO and supports Kosovo separatists, while the former Yugoslav regional capital Skopje chose to change the name of its country from Macedonia to North Macedonia, despite the unconvincing results of the de facto failed referendum on this issue in February this year. All these efforts were not rewarded, not even by a formal announcement on the start of the membership talks.
The matter is that European capitals make no secret of the reasons for such a postponement: the parliaments of Germany and the Netherlands opposed the entry of North Macedonia, and Albania in particular. These parliaments have thereby refused to implement the recommendations of the European Commission of May 29 which advised member states to speed up the process of welcoming new members into the Union from countries of Western Balkans.
Instead of information on the beginning of the negotiations, North Macedonia and Albania received a humiliating communiqué of the European Council, calling on these "hopefuls" of the EU membership to do more to secure the rule of law, strengthen democratic institutions, etc.
Macedonians and Albanians feel deceived also because the EU's Commissioner for Enlargement, Johannes Khan, promised last year that membership negotiations would begin in June 2019 if both countries carried out reforms of their judiciaries and security services.
Albanian Prime Minister Edie Rama said that his country has fulfilled the reforms required by Brussels and that Tirana has thus earned the right to enter admission negotiations.
"I want to say that the European Union should proceed from geostrategic and geopolitical considerations, and it also should take into account the achievements of candidate countries," – Prime Minister Rama was quoted as saying on June 11, 2019. "If candidate countries deserve to be admitted, the European Union should not deny them this right."
The Prime Minister of North Macedonia, Zoran Zaev, went as far as stating that postponement of negotiations on his country's accession to the EU could lead to the fall of his government and the victory of nationalist forces "hostile to the European Union".
Behind all these statements lies demonization of Russia and the attempts to present it as a "destabilizer" of the situation in the Balkans, just as it was done by Montenegrin leader Milo Djukanovic, who accused Moscow and so-called "Serbian nationalists" of an attempt to stage a coup in his small country for the purpose of preventing Montenegro from entering NATO.
The version of what happened was provided by a Montenegrin court, which blamed leaders of the opposition Democratic Front for an attempt to seize power in Podgorica with the help of two dozen Serbian militants. The court described the incident as a typical conspiracy and a "high-profile process" in the style of Andrei Vyshinsky. Nevertheless, the Western press has accepted this version, telling its to readers about plans by wicked Russians and Serbs to kill Mr. Djukanovic, who positioned himself as a Serbian-Montenegrin nationalist during the "Yugoslav Wars" of the early 1990s.
Will North Macedonian Prime Minister Zaev succeed in performing the same trick, will the EU accept his version that "forces hostile to the European Union" will take over if his country does not join the European Union in the near future? It seems that the European Union is skeptical about Zaev's "warnings". It knows only too well that Zaev himself came to power as a result of a Macedonian "color revolution" that removed the former leader Nikolu Gruevsky, who led the left-wing party VMRO-DPNE. This party is still the largest opposition party in the parliament of Northern Macedonia.
Shortly after coming to power Zaev reoriented the country to NATO, hoisting a NATO flag in front of the Macedonian government building. Taking advantage of people's hopes for joining the European Union, Zaev ensured the victory in the presidential election of his henchman Stevo Pendarovsky. But now that the prospect of starting negotiations looks remote and indefinite, Zaev and his entourage may indeed face a destabilization. The position of Albanian government of Edi Rama, who is facing powerful protests across the country, is hardly better.
From our partner International Affairs