The Potential Threats Posed by ISIS's Use of Weaponized Air Drones and How to Fight Back
Authors: Ahmet S. Yayla, Ph.D. and Anne Speckhard, Ph.D.
[yt_dropcap type="square" font="" size="14″ color="#000″ background="#fff" ] L [/yt_dropcap]ike every other recent technological advancement, commercial aerial drones entered to our daily lives swiftly for a variety of practical uses. Drones have become widely available and fairly inexpensive over the years. Furthermore, there are constant technological improvements with drones from enabling their applications in different areas to extending their capacities and ranges.
While the ISIS interest of drones goes back to 2013, ISIS terrorists have been using drones actively to capture video recordings for intelligence purposes and to record their suicide and other types of attacks, particularly when they record their suicide bombings and their after effects from the air since August 2014[1]. ISIS, additionally, have been inviting engineers, scientists and its highly-skilled supporters from the early days of the establishment of the Caliphate to move to their regions to contribute to the cause.
Drones are very easy to use and facilitate for different tasks and are even being sold in as toys in many marketplaces. A sophisticated individual can easily use and navigate different kinds of drones. Along with the ISIS war machine, drones started to become deadly tools for many, particularly in Mosul now. ISIS formally announced its drone program with a teaser drone picture in it Telegram application channels on January 24, 2017. Soon, it released a fully-recorded video of a small drone carrying out grenade-sized munitions and dropping the munitions on its targets successfully. Since then, ISIS weaponized drones became a daily part of the battlefield in Mosul, killing or wounding 39 Iraqi soldiers in a single week[2].
The first recorded terrorist attempt and intention to use drones for attacks was in September 2011 in the United States. A model hobbyist, 26-year-old physics graduate from Massachusetts, was arrested in an FBI operation for "planning to build small, explosive-laden drones to attack the Pentagon and the Capitol," according to an FBI affidavit[3]. While the Massachusetts man was not successful in his attempt, ISIS now carries out daily attacks in Mosul against military personnel, targets and armored vehicles. ISIS also updates daily about its drone attacks on social media by releasing the numbers of attacks and their causalities.
The ammunitions used in those attacks are not sophisticated and less than a pound each. However, the success ratio in killings and the damage on even armored vehicles cannot be ignored. In fact, when compared with the ISIS suicide bombers, we can easily see the trend that drone bomb-dropping is about to replace the frequently carried out ISIS suicide bombings simply because drone attacks do not require a volunteer, and it is fairly inexpensive to prepare a drone with its ammunitions compared to an explosives-laden suicide vehicle.
According to confiscated documents and raided warehouses of ISIS, ISIS has purchased large numbers of drones and related parts for its drone program. Some parts were also ordered to extend the range of both remote controls and the drones in air[4]. Furthermore, recently, ISIS released another video on social media presenting a class with students studying different types of drones and trying to learn how to assemble and use them. Clearly, the terrorist organization is expanding its drone program and passing the know-how to its members by teaching how to engineer the drones to facilitate carrying their explosive loads, to aim and precision drop them on their targets.
The drone threat by groups like ISIS is increasing for several reasons. First of all, it is clear that ISIS is expanding and enriching its drone program simply because it proved successful with initial use. We should expect to see the use of drones for attacks not only in Mosul, but in the other parts of the battlefield as well, perhaps even beyond its borders in the West, where ISIS also likes to attack. Secondly, it would be wise to expect ISIS will try to expand the range of its drones. Most probably and based on the confiscated order lists[5], the ISIS engineers have been testing to extend the reach of drones. Under normal circumstances, some of the commercial drones can reach up to 3 miles without modifications. However, there are available kits to extend this range over 30 miles[6]. ISIS managing to fly drones over 30 miles would be a great concern as that would mean they could carry out attacks in the areas they do not control. In addition to the range, it is also possible to increase the load capacity by modifications as currently, most drones can only carry around 5 to 10 pounds of weight.
However, the utmost risks and threats come from two points that should be the chief concern for the security forces of the world. The first is the use of ISIS drones against civilians, particularly, in the West. ISIS can pass the know-how very fast, even without face-to-face interactions. It should be fairly easy to teach someone in the West how to assemble and modify a drone to carry explosives and drop them on targets. It is quite possible; an ISIS drone specialist can teach the know-how even to a teenager. If the ISIS can enable someone in Europe, even in Turkey, to modify the drones and provide the explosives to be used through different cells as happened in the Istanbul Reina Club attack where another cell member provided the weapons and explosives, ISIS can fairly easily carry out attacks against civilian populations. In Brussels we know that Kalashnikovs for various terrorist attacks were procured through the black market, likely grenades and other explosives are also readily available through criminal networks in Europe. And we know that ISIS has successfully seduced and directed cadres in the West to carry out attacks as well as sent back trainees to carry out attacks. The possibility of such an attack against a crowded venue and its aftermath could be catastrophic.
The second possibility, as much as it is more concerning, is another prospect of the drone use by terrorists, which is the weaponization drones with biological, chemical or nuclear agents. It is unknown if ISIS managed to confiscate military grade chemical weapons and agents from Syrian army depots and also possibly from former Saddam regime stockpiles[7]. It is believed that ISIS used different chemical agents, including blister agents, sarin gas, mustard gas or chlorine gas in the past years on different occasions[8]. It is also known that ISIS tried to produce chemical gas filled mortars to deliver agents[9]. Terrorists normally know no bounds in their pursuit for deadly agents. From this perspective, based on the recent reports of available, possible threats may include the prospect of the use of even small quantities of low-quality chemical agents in a drone attack against different populations. While the likelihood of ISIS's facilitating professional military grade chemical weapons to be dropped as munitions is low for now, it appears that ISIS, like al-Qaeda before it, has managed to produce different low-grade chemical weapons over the past years. It is also reported that some European ISIS scientists with the assistance of local ISIS members conducted tests and experiments with different chemical agents[10].
Therefore, it would be very naïve not to consider the possibility of ISIS drone attacks in the West and the use of explosive or chemical agents, even in small quantities, in those attacks while also acknowledging severe limitations ISIS would face in production and deployment of such chemical agent-filled munitions to be dropped from the air. Nonetheless, the security forces must seriously consider countering both threats including the prospect of drone attacks on civilians with explosives and munitions filled with chemical agents.
On the side of fighting back against drone attacks, Western companies are already developing anti-UAV weapons, and amazingly golden eagles are also being trained by Dutch and French security forces to attack and take down enemy launched drones.[11] So there are good answers—provided those engaging the anti-drone mechanisms have enough forewarning to launch their retaliatory forces.
(*) Both authors are sought after counter-terrorism experts and have consulted to NATO, OSCE, foreign governments and to the U.S. Senate & House, Departments of State, Defense, Justice, Homeland Security, Health & Human Services, CIA and FBI and CNN, BBC, NPR, Fox News, MSNBC, CTV, and in Time, The New York Times, The Washington Post, London Times and many other publications.
Reference for this article: Ahmet S. Yayla & Anne Speckhard (Feb 28, 2017) The Potential Threats Posed by ISIS's Use of Weaponized Air Drones and How to Fight Back. ICSVE Brief Reports http://www.icsve.org/brief-reports/the-potential-threats-posed-by-isiss-use-of-weaponized-air-drones-and-how-to-fight-back/
[1] https://www.washingtonpost.com/world/national-security/use-of-weaponized-drones-by-isis-spurs-terrorism-fears/2017/02/21/9d83d51e-f382-11e6-8d72-263470bf0401_story.html?utm_term=.62baf93b7b72
[2] https://www.washingtonpost.com/world/national-security/use-of-weaponized-drones-by-isis-spurs-terrorism-fears/2017/02/21/9d83d51e-f382-11e6-8d72-263470bf0401_story.html
[3] https://www.washingtonpost.com/national/national-security/mass-man-accused-of-plotting-to-hit-pentagon-and-capitol-with-drone-aircraft/2011/09/28/gIQAWdpk5K_story.html?utm_term=.9788cd0454b6
[4] https://www.ctc.usma.edu/posts/ctc-perspectives-the-islamic-states-drone-documents-management-acquisitions-and-diy-tradecraft
[5] https://www.ctc.usma.edu/posts/ctc-perspectives-the-islamic-states-drone-documents-management-acquisitions-and-diy-tradecraft
[6] http://www.fpvmodel.com/50km-long-range-fpv-sets-for-fixed-wings_g997.html
[7] https://www.memri.org/tv/former-isis-emir-charge-weapon-depots-corruption-military-defeats-and-al-baghdadis-disappearance
[8] https://www.ctc.usma.edu/posts/the-islamic-state-and-wmd-assessing-the-future-threat
[9] https://www.academia.edu/29424862/ISISs_New_Threat_Possible_Use_of_WMDs
[10] https://www.memri.org/tv/former-isis-emir-charge-weapon-depots-corruption-military-defeats-and-al-baghdadis-disappearance
[11] https://www.youtube.com/watch?v=kAYVyj6vf3Y and https://www.washingtonpost.com/news/worldviews/wp/2017/02/21/terrorists-are-building-drones-france-is-destroying-them-with-eagles/?utm_term=.a4aef4817927
A Resurging Possibility and an Increased Hope for a United Balochistan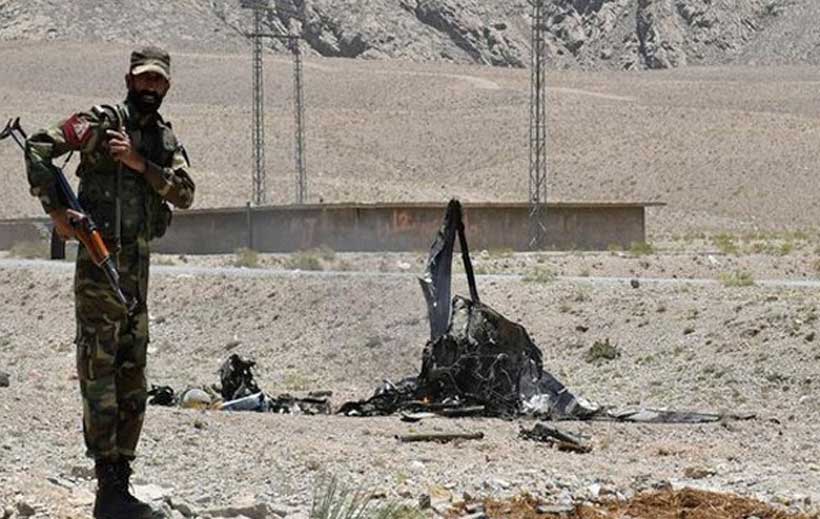 According to the Balochistan Liberation charter formulated under Hyrbyair Marri, the division of Balochistan into several parts is a legacy of the British Empire. The ultimate aim of the Baloch Liberation Struggle is to reunify the divided territories of Balochistan into one country and to grant full sovereignty to a single national Baloch state. Balochistan has for long been cheated out of its sovereignty and faced discrimination within Pakistan. Insurgencies against the Pakistani government started after Pakistan annexed the Baloch state of Kalat in 1948. This state is now divided between Iran and Pakistan. Along with continuous suppression of the Baloch in Iran by the government, Pakistan has been accused of committing genocide in the Balochistan region by Baloch Leaders such as Naela Qadri Baloch, a politician who fled Pakistan and in 2016 even asked India to intervene and free Balochistan.
Many, however, call the movement dead or dying and lack of media coverage in the region has shown a lack of detailing of the current Balochistan movement. This movement has not died down in actuality and there seems to be a spike in the number of attacks carried out around the region by its proponents, most of the recent ones centered around Quetta. A majority of these attacks have been aimed at either the military, paramilitary or police forces. Claims have appeared for most of the major attacks especially by the Baloch Raaji Aajoi Sangar, a coalition of the Balochistan Liberation Front, the Balochistan Liberation Army and the Balochistan revolutionary guards which have been designated as terror groups by the Pakistani Government. However, there have been no claims against the recent attacks in Quetta which are seemingly random in nature. The attacks may lack in intensity but definitely not in frequency.
This Liberation movement for Balochistan does not only occur in Pakistan but in the Iranian provinces of Sistani and Baluchestan as well. However, there are two different, distinct groups on either side. The Baloch on the Pakistan side find support in the BLA and BRAS and the Iranian side finds its support in Jaish Al-Adl. Their attacks are mostly in retaliation to the Suppression on either side. The Jaish Al-Adl was formed in 2012 by Salahuddin Farooqui and has carried out attacks in the Southeastern province of Iran in retaliation to the oppression of Sunni Muslims. According to reports the BRAS and the Jaish Al-Adl have their differences mostly in regards to Jaish Al-Adl's religious motivations. The aims of both the groups concerning each other are unclear as there have been skirmishes on the border between them. An alliance between the two seems unlikely as the BLA are beneficiaries of Iran's ignorance of the group, whereas the Jaish Al-Adl are active fighters against Iran.
On September 9th 2019, banners appeared in front of the venue for the 42nd session of the UN Human Rights Council in Geneva, highlighting the acute violation of human rights in Balochistan. There have been massive efforts to internationalize this movement in the past as well, but it has always been impeded by the lack of autonomy the people possess. Suppression and extensive military operations have been carried out against the "insurgents" by the Pakistani army in Balochistan, which has been justified on the same basis. However, as mentioned previously, after 30 years of suppression the Baloch still fight on which is apparent in the spike of their continuous efforts against the suppression. These attacks are highlighted in the table below.
| | | | | | |
| --- | --- | --- | --- | --- | --- |
| Date | Death count and attack | Attack details | Location | Perpetrator | Reason |
| 30/8/2018 | 3 Chinese engineers injured | Suicide attack by son of Baloch leader | Dalbandin, Pakistan | BLA | |
| 16/10/2018 | 12 Iranian Revolutionary Guards (IRGC) | Kidnapped from border outpost | Mirjaveh, Iran | Jaish Al-Adl | In response to previous attack on 4 Sunni militants by IRGC |
| 23/11/2018 | 4 people (Indian police and civilians) | Hour long shoot out at the Chinese consulate | Chinese Consulate, Karachi, Pakistan | BLA | Against Chinese occupation and CPEC |
| 6/12/2018 | 5 dead + 44 wounded | Suicide car bomb | Chabahar, Iran | Jaish Al-Adl | |
| 14/12/2018 | 6 Pakistani Soldiers + 14 wounded (Frontier Corps) | | Kech District, Pakistan | BLA, BRAS | |
| 29/1/2019 | 3 police wounded | Double bombing | Zahedan, Iran | Jaish Al-Adl | |
| 29/1/2019 | 9 Killed (5 police+ 4 civilians), 21 injured | Bombing plus firing | Office of deputy Inspector General, Loralai, Pakistan | Terrorists? | |
| 2/2/2019 | 1 IRGC killed and 5 wounded | | Basij Base, Nik Shahr, Iran | Jaish Al-Adl | |
| 13/2/2019 | 27 Iranian border guards killed | Suicide vehicle attacks Bus | Between Zahedan and Khash, Iran | Jaish Al-Adl | |
| 16/2/2019 | 2 Frontier corps Killed | | Loralai, Pakistan | Unknown | |
| 18/2/2019 | 4 Frontier corps Killed | | Panjgur district, Pakistan | BLA | |
| 29/3/2019 | Several Chinese engineers and workers killed | 22 vehicle envoy attacked by remote controlled bomb | Hamdard University, Karachi | BLA | Seeking termination of CPEC- Coincides with Pakistani Prime ministers visit to Gwadar |
| 18/4/2019 | 14 (10 navy, 3 air force, 1 coastguard) | 15 attackers stop bus | Makran coastal highway, between Karachi and Gwadar, Pakistan | BRAS | |
| 12/5/2019 | 5 killed (4 hotel workers and naval officer) | Bomb on 5-star hotel | Gwadar, Pakistan | BLA | Retaliation to Chinese projects in Balochistan |
| 20/7/2019 | 1 policeman killed, 10 injured | | Double road, Quetta, Pakistan | Unknown | |
| 30/7/2019 | 5 killed, 32 injured | Bomb near Police station | Quetta,Pakistan | Taliban | |
| 26/9/2019 | 3 policemen wounded | | Bypass, Quetta | Unknown | |
| 29/9/2019 | 3 killed and almost a dozen injured | Bomb | Chaman, Pakistan | Unknown | |
| 16/10/2019 | 1 police killed, 5 injured | | Bypass, Quetta | Unknown | |
| 21/10/2019 | 3 killed, 9 wounded | | Spinny road, Quetta | Unknown | |
| 30/10/2019 | 1 policeman killed | Suicide bomber on Motorbike | Loralai, Balochistan | Unknown | |
| (Source: Multiple news agencies based in Pakistan, Iran, India, Saudi and US) 16/11/2019 | 3 paramilitary troops killed | Roadside Bomb | Kalach, Quetta | Unknown | |
Source: Multiple news agencies based in Pakistan, Iran, India, Saudi and US
The general increase in the attacks in the Balochistan region is pretty clear through the data on the aforementioned table. The attacks in Quetta consist of multiple unknown attacks where no groups claimed responsibility. The responsibility of such attacks is generally claimed within one week of the attack but the perpetrators of these attacks are yet to come to the forefront. Seeing that Quetta is the prime factor in Balochistan, being termed as its capital, these attacks must be motivated by the BLA and the BRAS, if not directly carried out by them.
2019 has also seen attacks by the Balochistan against Chinese sponsored enterprises which are part of the China Pakistan Economic corridor. Balochistan sentiments angle away from the investments citing it to be more detrimental to the Baloch rather than beneficial. Hyrbyair Marri, the leader of the Free Balochistan Movement, said that the allegiance of Pakistan to CPEC would be another step in turning Balochistan into a Military Garrison for China. The Baloch now don't only have to deal with the Pakistanis that have destroyed their sovereignty but also the Chinese influx into the country as well.
The fight for international support has also been on the rise where advertisements have been released in certain prominent papers in the US. A particular advertisement placed by the World Baloch Organization and the Baloch Republican Party in July 2019 in the Washington Post sought support from President Donald Trump. This advertisement addressed to the President calls on the US support in addressing Human rights exploitation, economic deprivation and political exclusion in Balochistan. It also called on the US to bring restriction to the use of US-supplied weapons used on the Baloch nationalist group which were meant to help suppress religious extremist groups rather than them. However, the US government has not issued any official statement regarding the same and it doesn't seem like it will. The US recently branded both the Jaish Al-Adl and the Baloch Liberation Army as terrorist organizations and seem to classify the entire movement as being motivated by these "terrorists". Even an appeal from Members of the European Parliament regarding the deteriorating situation in Balochistan in a letter in July 2019 has not received a response from the US government.
On the Iranian side, the Jaish Al-Adl seem to be motivated more by the Sunni identity of the Population rather than the Baloch identity. And therefore, apparent cross border conflicts with the group and the BLA have emerged as well with reports of it being caused due to the over-emphasis on the religious identity. Especially with allegations that the Sunni militant group has support from the Pakistan government, it is unlikely to partake in a unified movement. At odds with Pakistani support, the BLA apparently enjoys covert support through the lack of Iranian attention whereas all the Jaish Al-Adl's attacks are aimed at the Iranian government. These groups are on two opposing ends of the spectrum not only in terms of their allegiances but also on the basis of religion. The Balochistan Liberation movement in Pakistan aims at a secular Balochistan nation which is at complete odds with Jaish Al-Adl's Sunni leanings.
The spike in attacks indicates the possibility of a mass resurgence of the Balochistan Liberation Movement. Leaders of the multiple movements have become even more active on twitter such as Hyrbyair Marri, Mehran Marri, Naela Quadri Baluch who have also shown support for the Kurdish cause and the Indian stance on Kashmir in defiance of Pakistan. There has also been a resurgence of protests outside the UN and across cities seeking a Free Balochistan. The Balochistan republican Party in London and the Balochistan Voice Association in other major cities including outside the UN in Geneva have actively protested for Balochistan.
Select active leaders of the Baloch Freedom movement
Hyrbyair Marri
Hyrbyair Marri was born to the family of Baloch national leader Nawab Khair Baksh Marri in Quetta, capital of Balochistan. He completed his early education in Quetta and then moved to study journalism in Russia. In 1997, he was elected to the Balochistan Provincial assembly and became the Education minister of the province. In 1999, after his father was arrested and charged with the murder of Balochistan high court judge, Justice Nawaz Marri, he left Pakistan. He traveled to Europe and was granted political asylum in the UK in 2011. He is the leader of the Free Balochistan movement and Pakistan alleges he is the head of the Balochistan Liberation Army. He has accepted the invitation of, Bharatiya Janata Party's senior leader and president of Delhi Study Group, Mr. Vijay Jolly to travel to India. On the 10th of December 2019, he will address a seminar on 'Human Rights in Balochistan,' in New Delhi.
Mehran Marri
Mehran marri is the sixth son of Baloch nationalist leader Khair Bakhsh Marri and is believed to be the current leader of the United Baloch Army (UBA). He is the brother of Hyrbyair Marri. The UBA was classified as a terrorist organization by Pakistan and also Switzerland. Since being banned in 2013 by the Pakistani government, the group has been largely inactive with no resurgent attacks on any news websites. Marri was arrested at Zurich Airport and put under a lifetime ban on entry to Switzerland on the 16th of November 2017. He was later deported from Switzerland and currently resides in the United Kingdom. Mehran Marri is active on Twitter and continues to show support for the Baloch insurgency in Eastern Pakistan.
Brahumdagh Bugti
Brahamdagh Khan Bugti or Brahumdagh Khan Bugti is the founder and leader of a Baloch nationalist political organization, the Baloch Republican Party which broke away from his uncle Talal Akbar Bugti's Jamhoori Watan Party in 2008. After the assassination of his grandfather Akbar Bugti, a Baloch nationalist politician, he fled his hometown Dera Bugti in Balochistan in 2006. Initially, he lived as a state guest in Afghanistan and was then flown to Switzerland in October 2010 where he has been living in political asylum with his family. In 2018, India was in talks about granting him citizenship. India would have also given citizenship to Brahumdagh's key lieutenants in Switzerland, including Sher Muhammad Bugti and Azizullah Bugti, his trusted aides. The BRP has held campaigns all over the UK under the banner of End Enforced Disappearances in Pakistan. The month of June saw an increase in campaigns all over London, resulting in newspaper advertisements, billboard signs and joint awareness campaigns with the World Balochistan Organization. These campaigns also included the flying of "Free Balochistan," Banners during a Pakistan Afghanistan match at Headingley Stadium, London on June 29th this year. On the 27th of August 2019, Brahamdagh Bugti delivered an address during the martyrdom anniversary of Shaheed Nawab Akbar Bugti saying, "We do not mourn this day but rather celebrate it, for it reminds us, the Baloch in Balochistan and abroad, how Shaheed Nawab Akbar Bugti founded this movement with his blood." The Baloch Republican Party held events across Balochistan and overseas in places like London, Switzerland, and Busan in South Korea, and his speech was broadcast in the same. He is also believed to be the head of the Baloch Republican Army by Pakistan.
Khalil Baloch
Khalil Baloch is currently the chairman of the Balochistan National Movement (BNM). This party was one of the strongest in Balochistan during the 1990s. It still retains a stronghold and according to its manifesto will actively form a political coalition outside of Pakistan's National Assembly. It has pledged its support to the Balochistan freedom fighters under this released manifesto. In an email interview, he stated, "The recent escalation in militant attacks is a direct reaction to Pakistan army's growing atrocities in Balochistan and China's relentless plunder of Baloch resources." This interview was published on the 15th of July 2019, and since then there have been multiple attacks again as can be seen in the table above. He also stated in the same interview that the Baloch National Movement is no longer ready to negotiate autonomy in the Pakistani political system but in fact, will fight for a separate state altogether. Dil Murad Baloch, the cultural secretary of the BNM is also a key proponent against the Pakistani forces and atrocities carried out by them. He posts regularly on Twitter as well, condemning the Pakistani armed forces, recently calling out the kidnapping and continuing torture of BNM member, Rafiq Baloch.
Dr. Allah Nazar Baloch
Allah Nazar Baloch is the founder and the chief of the Balochistan Liberation Front. He was born in Mashkai, Awaran District in 1968 and has a premedical degree. He heads the BLF which was designated as a terror organization since being one of the prime fighting groups seeking Balochistan Liberation. In an interview published on 22nd July 2019, when asked about why democratic means have not been used to resolve grievances with Pakistan he said that there is no democracy in Pakistan and the Baloch are compelled to rebel against the oppression and slavery. In a statement, he said that the Baloch liberation movement was moving towards the right direction and every supporter of the Pakistani state are enemies of the envisioned Baloch nation.
Implications of a Resurgence
This resurgence of activity surrounding the Balochistan Freedom Movement can only signify a shift in the lull it had experienced for a while. Though many may call it dead, a united Balochistan may still be in the making. Details of any resurgent movements in Iran's Sistan and Balochistan is lacking but it is clear that the movement in Pakistan has begun to regain traction. Coinciding with the increase of attacks in the Balochistan region, active protesting across the world in multiple organizations has emerged. The call for help from India has increased especially since Prime Minister Modi showed support in a speech indirectly instigating Baloch Activists to actively seek help.
Quetta has been termed as the home base of the Balochistan Liberation movement seeing that it is the apparent capital of Balochistan. The increase of attacks in this very city emphasizes the significance of the movement's resurgence. Perhaps, not all attacks accounted for are carried out by either the BLA or the BRAS but the unrest in the city is apparent, further egged on by the heightened international movements surrounding the Balochistan freedom struggle. The Baloch are spread from Iran to Pakistan and even in southern Afghanistan and an integrated new Baloch nation would lead to an uproar in South Asia. Whether the fight for a unified Balochistan would materialize in success is yet to be seen and if so, how much of the region would actually fall to them is another cause for speculation. A proposed map of Balochistan (image 1.0) shows it to possess a landmass almost equaling that of current day Pakistan. It is very unlikely that any of the countries involved would give up their territory as has been clear in the failures of the previous resurgences in the 1970s and 1980s, but the fight for autonomy and sovereignty still persists. The success of a resurgence in Pakistan would depend greatly on successful movements across the border in Iran. Though the council of Independent Balochistan formed in 2009 under Mir Suleman Dawood the Khan of Kalat did not lay claim to the Baloch dominated region in Afghanistan, who is to predict what new demands may or may not be made.
A new country would not only ruffle a good many feathers of these three neighboring states but also of other countries who have vested interests in the current region, the most prominent of which is China. The China Pakistan economic corridor would be the worst affected which is clear in the Baloch hate for the country and its investment in the region. A unified Balochistan or even a radical resurgent movement would bring a complete halt to all the infrastructural under the CPEC. The total CPEC project was valued at about $62 Billion as of 2017, which has definitely been surpassed as of 2019. The Gwadar International Port along with its international airport and the East-Bay Expressway which fall under this CPEC project, all run through the Balochistan region and have been the site of multiple attacks. Interestingly, unified Balochistan will not only contain this port of Gwadar but also the Chabahar port on the Indian side.
Though this resurgence would be highly detrimental to the CPEC corridor and Chinese investments in the Larger One Belt One Road initiative, it is important to acknowledge an important outcome of the same which is the gains that another particular country would make. India has for long been accused of supporting the Balochistan cause in Pakistan and a resurgent Balochistan movement serves to bolster support for India in laying claim to an extra ally in the region. Whether Prime Minister Narendra Modi's reference to Balochistan in his speech was meant as anti-Pakistan rhetoric concerning the Kashmir issue or actual support for the movement is yet to be understood. However, it is clear that many vested interests in the region will serve to either bolster the fight or open increased fronts against the Balochistan Freedom Movement. Though the movement seems to be increasing in intensity one can still question the optimism that the Baloch and its supporters can afford to have in seeking their sovereignty.
Lesson to be Learn from Monsanto's Involvement in the Vietnamese War: The Agent Orange
Monsanto is an American multinational company founded in 1901 by John Francis Queeny, a thirty-year pharmaceutical veteran married to Olga Mendez Monsanto, for which Monsanto Chemical Works is named. In the 1920s Monsanto expanded into industrial chemicals and drugs, becoming the world's bigger maker of aspirin and acetylsalicylic acid, which was found toxic. During this time period, the company introduced their polychlorinated biphenyls (PCBs), an oil that wouldn't burn, resistant to degradation and with limited applications. Eventually, its use was banned after fifty years for causing such devastation, but it is still present in almost all animal and human blood and tissue cells across the globe and is considered one of the most dangerous chemicals on the planet.
The Vietnam War (1961-1975) is most known for the extensive bombings of North Vietnam. More dangerous, however, yet less well-known to the general public, was the chemical war carried out from 1961 to 1971 against South Vietnam. The involvement of the U.S. government escalated over a period of twenty years, peaking in 1968 and ending with a complete withdrawal of troops in 1973. During this period, it engaged with the companies Dow Chemical and Monsanto, which were assigned the task of designing herbicides that would contaminate the jungles where the North Vietnamese forces operated. The project, known as ''Rainbow Herbicides'' included Agent Pink, Agent Green, Agent Purple, Agent Blue, Agent White, and Agent Orange. As a result, a total of 20 million gallons of herbicide have been sprayed across Vietnam for ten years, that is until scientific research studies had proven that the dioxin present in Rainbow Herbicides, caused cancers in laboratory rats.
American air forces, the navy as well as tanker trucks, and men with backpack sprayers, diffused 72 million liters of the chemical Agent Orange to spoil the coverage of communistic North Vietnam, as well as destroy the rice fields. Their goal was to pursue from the jungle the combatants taking shelter there, to cut the Ho Chi Minh trail by which supplies, weapons, and medication arrived down from the North, to facilitate surveillance of roads, coastlines, and waterways and to destroy the rice fields, depriving the guerrillas of food and aid.
The contained dioxin TCDD in Agent Orange was classified as "super poison" and as a consequence 3 million people got sick, and 150,000 children were born with disabilities. Even today there are still 3,500 children a year who are born disabled according to the aid group Green Cross. Lavallard claims that to the millions of Vietnamese victims, must be added the American veterans and their Canadian, South Korean, New Zealand and Australian allies who used defoliants without knowing they were dangerous. Herbicides were delivered separately, and mixtures were made on the scene before being loaded into tanks, without provision and without protection. Military bases and they're encircling were regularly sprayed with defoliants to remove the bush growth. Furthermore, soldiers saved rainwater for drinking or washing in empty drums and prepared barbecues in them. Indeed, veterans have experienced same pathologies as the Vietnamese, and their children have also been affected.
An immense environmental disaster and a human catastrophe taking different forms, including health, economic as well as socio-cultural, which had dramatic consequences that are still felt today. For years, a conspiracy of silence has ulterior the toxicity of the defoliants used. Agent Orange was one of them, a chemical containing two herbicides, one of which turned out to be contaminated with a highly toxic strain of dioxin.
According to official and unofficial documents about the history of the dangerous defoliants, the U.S. chemical companies that made the Rainbow Herbicides as well as the government and military authorities who ordered its spraying on Vietnam, knew the human health cost it could take. Indeed, a review of the documents related to the use of Agent Orange, a dioxin-laden herbicide, including public papers from the companies that manufactured it and the government that used it, provides compelling evidence that those in charge also covered information about the devastating effects it could have on people.
Nowadays, Monsanto is a known agricultural company, claiming to help farmers grow food more sustainably. From seed to software, to fiber and fuel, they are developing tools to assist growers in protecting natural resources while providing sustenance to the world. With it headquarter in St. Louis, 69 subsidiaries across the world, including over 20.000 employees, Monsanto believes that in the face of a changing climate and other environmental challenges, it is helping to ensure that the agricultural system continues to suit the needs of everyone.
In regard to legal and non-legal responses, the international community has done a lot to hold the company liable, however without results. In fact, many lawsuits have been filed against Monsanto, and various activists and organizations worldwide had and are still fighting against the atrocities committed. The greatest accomplishment was, therefore, the establishment of the ad hoc International Monsanto Tribunal, which aimed to include the crime of ecocide in the Rome Statute that would allow the prosecution of individuals and legal entities suspected of having committed this crime. Yet, without positive outcomes.
Monsanto, being one of the largest and most powerful companies in the United States, is an ambitious target for non-profit organizations and protests groups. Moreover, their direct cooperation with the government makes it even more difficult to prosecute. As Derricks points out for the last 50 years, the company has gotten away with this crime. However, I believe justice can and must be done with the right resources and support of the international community. Indeed, with the support of different governments worldwide programs such as Agent Orange Education can be set up to share awareness about the wrongdoing.
Psychological programming and political organization
Contemporary politics and the ensuing organization of consensus currently employ techniques and methods never used before.
We are going through an era in which completely new mechanisms operate within the traditional Parliamentary political representation, inherited from the liberal and democratic thought of the eighteenth century and of the following century. These mechanisms are much more powerful than those that – in the modern imitation of the Athenian agora -formed the will of the people and the guidelines and directions of the government.
Democracy of Ancients and Democracy of Moderns – just to use the simile of Benjamin Constant – were basically similar, but different in their functioning.
The number of citizens did not constitute a substantial difference, except that, according to Constant, modern democratic citizens delegated to the ruling class what did not fall within their being "private individuals, with private interests".
Again according to Constant, the reason lay precisely in the new category of "private individuals" who, with a view to maintaining their wealth or work, deemed it right to delegate to someone else their power to make and break laws. Nowadays the private sphere does no longer exist. But not in the sense of the society of "one thousand eyes" and of continuous supervision and surveillance, but because the very category of "private" is over even in the political discourse.
Hence a mass totalitarian society, with a repressive apparatus that applies to everything would previously have been the subject of the strictly personal sphere of life.
Everything has currently changed, but everything still appears to be similar to the criteria and principles we have studied in the manuals of history of political doctrines. This is not the case.
Meanwhile, since the beginning of the 20th century, Eduard Bernays, Freud's nephew and the father and pioneer of public relations, had established some connections between Sigmund Freud's psychology (and with Gustave Le Bon's Psychology of the Crowds, Mussolini's favourite book) and political practice.
That was the beginning of what we now call "corporate communication".
The suffragettes smoked and that was an operation funded by Bernays through the US tobacco producers.
The exaltation of sex – following the publication of the Kinsey Report and the mass spread of the contraceptive pill-changed and upset the consumption styles and habits of vast masses of young people who, in the 1960s, were to shape the consumption habits of what Galbraith called the "affluent society".
That was the objective, not sex.
Hence, based on what discovered by Sigmund Freud, with a view to selling or prompting and inducing political behaviours, there was the need to "work" above all on the unconscious.
Currently, whatever is implanted from outside into the unconscious – if repeated constantly – always becomes real in the future.
The real for itself always becomes in itself, because what individuals think -in crowds, but solitarily (Riesman's "lonely crowd") -becomes either consumption or political behaviour, which is basically the same.
The subconscious has a huge power, i.e. controlling all subjective experiences. It is the autopilot of life, also from a practical viewpoint.
Nowadays no one speaks to the "reason", the myth of the eighteenth century, but to instincts, to the subconscious, even to the unconscious.
The whole mechanism of the subconscious is already well in place and ready at 7-8 years of age and continues all lifelong.
With a view to reprogramming it, we need at first to limit the external and environmental negativities.
Indeed, we need to look for fully "positive" people, things and environments, as well as information.
Needless to say, this rule is carefully followed by all political propagandists and, above all, by advertisers.
Currently politics always follows the rules of consumer goods advertising. The leader is a testimonial. The script is the program and the government an oligopoly.
With a view to de-programming the "negative" mind, we need instead to visualize – as in a daydream – positive situations which we have already experienced.
We also need to reprocess the feelings of joy, which reach the subconscious immediately, well before the other ones.
The subconscious mind always and only knows the present.
Past and future are conceptual notions and processing – hence they are conscious. The subconscious interprets the negative of a negative proposition only as negative.
Creating positive propositions that counteract the negative ones processed and produced by the subconscious and then continuously repeat these actions. This is the basic technique.
This is, in short, the subjective mechanism that is currently used in political and commercial communication.
What are, however, the current technologies used to program and reprogram people's minds?
We can mention the theory of social warfare, the virtual but all-out clashtaking place in the minds of citizens of a target country, using current technologies.
The aim of any reprogramming campaign is, in fact, to make the enemy (the enemy people, indeed) think like us.
It is a new kind of manipulation, much wider than the one carried out with the old disinformation or with the intelligence intoxication that was the non-violent part of the Cold War.
The most used information technologies are now Precision Targeting – which sends messages and behavioural inductions to a specific group – as well as the wide range of Artificial Intelligence mechanisms that are used to simulate online the behaviour and thought in relation to the primary information we wants to convey. There is also the algorithmic decision-making, which processes information through specific algorithms in view of formulating recommendations or taking fully automated decisions.
This holds true both for decision-makers and for the vast mass of users, citizens and voters of the aforementioned decision-makers.
We can also mention the Virtual Reality (VR) and Augmented Reality (AR) technologies, which create partially or completely artificial environments for both the programmers of the public opinion and the public itself.
But also the Internet of Things (IoT) is used in this field, by correlating machines and sensors for the construction of a Complete Reality, which becomes facts and data to be spread as such.
In this context of complete manipulation of information, which becomes the Complete Reality, also voice interfaces are useful. They allow to exchange information between the Source and the User or between Users, thus allowing the psychological reinforcement of news.
Again in the field of information manipulation, blockchains are also important. They allow to control and process information only through the users enabled to use the "chain".
We should also recall the computerized programs that generate completely false videos and images – fakes which, however, are absolutely plausible.
Precision Targeting is used above all to reprogram groups of pre-selected individuals, who provide the Web with a continuous flow of information, from mobile phones, from the Web and from the other channels, to those who can selectively access the Web. All this is currently used, above all, through social media.
In this case, we have already reached the phase of neuromarketing, which changes the desires and habits of specific population groups, by combining the mental effects with the emotional ones.
As if it were a sign which, according to De Saussure, is the indestructible connection between signified and signifier. But the product of neuromarketing is not at all a language sign.
In this case, the above mentioned technology could be used for indirect facial recognition, manoeuvred by Artificial Intelligence systems.
Facial recognition will enable those who manoeuvre -also temporarily – the Web to quickly check the emotions of millions of people, and we all know how important emotions are now to tamper with the psyche and communicate concepts that often have very little relevance at conceptual and even at emotional or mental levels.
By 2035 these technologies are expected to be spreading like wildfire, since they are very important both for commercial operations and for political marketing.
Artificial Intelligence is the primary axis of development of all the other technologies we are talking about. AI will be used above all in verbal and textual recognition, as well as in the collection and analysis of very broad spectrum data, and for the processing of raw initial data, again in a very large population.
AI, however, will above all be used for defining an automated decision-making that can support the human decision-makers when they do not know, remember or understand all facts and, above all, the underlying determinants of facts.
We will get to imitate, without realizing it, Elsa Morante's book "The World Saved by Kids" and certainly what is happening in global communication already guarantees this future to us. They are more manipulable. They have no memory and they are perfect for the Brave New World that stands before us.
We can easily imagine what all this means for advertising, for the selection of markets, for business decisions but, above all, for the development of political platforms, both in terms of the electoral process and for the more specific decision-making process.
The next level will be content, which will often be produced directly by AI systems.
But let us better analyse what algorithmic decision-making is.
It is often currently applied in medicine.
Disease analysis, therapy forecasting, statistical analysis of diseases and their effects, both at subjective and population levels. In the near future, however, other sectors will be ever more like the banking system. Human Resources, even political decision itself, will be the subject of these applications, which will often become so complex as not to be understood – in the future – by the computers using them.
If you collect a lot of data, it is increasingly likely that a sequence of decisions or simple new data is not recognized by the program operating in the computer.
Also for AI networks we will have a process of learning by doing.
There are two dangers. Firstly, that the private ownership of the most important databases makes competition between systems impossible; secondly that the algorithms are hackable or manipulable by third parties unknown to the system.
There are also Virtual Reality and Augmented Reality.
If we proceed with the increasingly analytical and obsessive adaptation of the devices to the Ego of the User, or to his/her tastes- considered, for some reason, immutable – we risk an ideological drift of new technologies, i.e. that of hyper-subjectivism and, as happens in current educational practice, that of the permanence of the mass Ego in an eternal childhood.
The "Minor Ego" advocated by some people is a very real risk and it is not even clear how a super-massified production can be adapted to the increasingly self-referential psychologies of the Consumer Ego.
Not to mention the natural limit – currently often evanescent – that the Augmented Reality keeps between the imaginary and reality – a limit that, in the propaganda and political implementation of the Virtual Reality, could become very dangerous to cross.
Immanuel Kant spoke of the 100 gold Thalers that can be in your pocket or just in your imagination, but that cannot certainly be mistaken one for the other.
Hence beyond any technological processing, Reality is never the Imaginary.
Although the imaginary can induce behaviours very similar to those that the subject would have if subjected to reality, the one that – as Voltaire said – has "hard head".
By Internet of Things (IoT) we generally mean an environment full of machines that interact with one another through the Web.
As can be easily guessed, the IoT information potential is huge.
Human consumption habits, but also communication, ways of life, lifestyles, exchanges between subjects, positions and information exchanged between individuals will be part of huge databases.
Probably, in the future, it will be difficult to find exactly what is needed in those databases, considering that the bias of the IT and data storage systems tends to increase with the quantity and complexity of data.
It is estimated that, by 2030, there will be over one and a half trillion sensors connected to IoT networks, which will be worth half of the entire Internet traffic of "simple" users.
According to Deloitte, the entire IoT market is expected to be worth a trillion, in addition to further 750 billion for IoT network connection modules.
It can be easily imagined to what extent this makes it possible to hack data not only from IoT networks, but also from all other networks connected to the Internet and ending up in an IoT structure.
By 2030 blockchains will be the basis of financial, control, check and analysis networks.
It will be the beginning of virtual monetization, which is, in itself, the opening of the financial gates of Hell.
The miserable level of the current economic thinking allows it.
Nevertheless, all this technological development – between imagination and reality – will lead us towards a society of the unverifiable and probable, with no possibility of responding to a government financial or information fake and with an increasing penetrability of information networks, to which the whole social fabric and not only its control will be delegated.
However, the society of the imaginary 100 Thalers – believing that the imagined ones are already in the pocket – will not be able to pay anything.