Why India does not want the United States to mediate in India-Pakistan parley?
[yt_dropcap type="square" font="" size="14″ color="#000″ background="#fff" ] T [/yt_dropcap]he India authorities' refusal to Nikki Haley's proposal of involving Donald Trump's administration in de-escalating tension between Pakistan and India may sound an abrupt and unplanned response, but was actually a result of meticulous and thorough examination of different factors that may affect India's regional and transregional ties.
US ambassador to the United Nations(UN) Nikki Haley in remarks at a news conference on Monday, 3rd April 2017, said that the United States is concerned about the current India-Pakistan impasse and would like to "find its place" in moves to ameliorate tensions between both the neighbors. The newly appointed US Security Council Chair said this in response to a question: "It's absolutely right that this administration is concerned about the relationship between India and Pakistan and very much wants to see how we de-escalate any sort of conflict going forward". She further added, " I would expect that the administration is in going to be in talks and try and find its place to be a part of that and we don't think we should wait till something happens. We very much think that we should be proactive in the way that we are seeing tensions rise and conflicts start to bubble up and so we want to see if we can be a part of that." However, just a few hours after this press conference, India sent a strong signal to the United States that its suggestion wasn't welcome. Although Haley appeared to be signaling a shift in American position when she emphasized the US President Donald Trump direct involvement in efforts to mitigate the India-Pakistan rift, but the New Delhi's rebuff to the US offer has adumbrated the need to examine the Indian policy in solving the issue with Pakistan bilaterally.
The first reason of India not wanting the United States to meddle in India-Pakistan rift is India's strong position of not being open to any third party intervention in the issue. It has stressed upon it in the past and has again reiterated its stance on Tuesday in a press release in response to Haley's proposal where it enunciated that New Delhi's stance on the importance of the bilateral redressal of all issues between the two countries has not changed. The Indian government believes that peace talks between India and Pakistan on the issue of Kashmir, the Indus Water Treaty and the Line of Control (LoC) should be held in an environment free of terror and violence. However, India does expect the United States to enforce international mechanisms & mandates concerning terrorism emanating from Pakistan that continues to be the single biggest threat to peace in Subcontinent region and beyond.
Secondly, India wants the United States to stick to its Post-Cold War policy of not interfering in the Kashmir issue. Though the history indicates that the United States have kept on playing an affirmative role in Kashmir problem, but it has always respected the privacy and freedom of both the countries to solve the problem by themselves. That is precisely the reason that Barack Obama administration revoked from interfering in the Kashmir issue even after declaring that it will play an active role to defuse tensions between India and Pakistan. After this, former state department spokesman John Kirby formally announced that the issue of Kashmir is for the two nations to work out and the United States had no role to play in it. Kirby also elucidated that it is for India and Pakistan to determine the pace, scope, and character of talks on the Kashmir issue. Therefore, India now wants Trump's administration to continue to follow the preceding government policies and India's blatant response to Haley the other day was a clear indication of that.
Thirdly, India does not trust the US' intentions because of its nebulous policy in South Asia region. Along with the United States, other major powers also backed India in the war of 1965 and betrayed it at the last moment. During the early 1960s, the United States has been openly and secretly providing military aids to India which it during the war. During the war of 1965, when Pakistani troops invaded Kashmir, India moved quickly to internationalize the regional dispute. It asked the UN to reprise its role in the First India-Pakistan War and end the current conflict. The Security Council passed Resolution 211 on September 20 calling for an end to the fighting and negotiations on the settlement of the Kashmir problem, and the United States supported the UN decision by cutting off arms supplies to both belligerents. Though the UN resolution and the halting of arms sales had a definitive impact on the conclusion of the war, but it did affect the India and Pakistan's trust in the United States.
Moreover, in the war of 1971, the United States sympathized with Pakistan, because of various reasons. Among them two reasons were that: firstly, Pakistan belonged to American-led military Pact, CENTO, and SEATO; secondly, the United States believed that any victory of India will be considered as the expansion of Soviet influence in the parts gained by India with the victory, as it was believed to be a pro-Soviet nation, even though they were non-aligned. Andrew Small has also written in his book "The China-Pakistan, Axis" that, how Henry Kissinger, United States Secretary of State of that time, planned to move American ships in the vicinity, allowing Jordan, Iran, Turkey and Saudi Arabia to send American arms to Pakistan when it was on the brink of losing the war of 1971 against India. Because of this mistrust developed towards the United States, India has the inkling of being betrayed from the Leading super power again and because of this ersatz surety of its belief, it does not want the Unites States to take part in peace talks with Pakistan.
Furthermore, Indian envoys and policy experts believe that American improved relationship with India post-1990s has made possible the further exacerbation of the prickly relations between India and Pakistan. They believe that increased American exports of military technology have acted as a security threat to Pakistan, engendering it to accrete its military resources as well. This has resulted in the increase in military and nuclear arsenal competition between the two countries, leading to the further obfuscation of the tortuous bilateral relations.
Finally, The recent report card of the United States involvement in the Middle East and Afghanistan shows a record of misunderstanding, hubris, and failure. Therefore, India would not want the United State to indulge itself in the India-Pakistan conundrum and to turn South Asia as its next battlefield. India has witnessed the Unites State involvement in Syrian Conflict where it has supported Syria's main opposition alliance, the National Coalition, and provides limited military assistance to the "moderate" rebels. Also, since September 2014, the United States have been conducting air strikes on IS and other jihadist groups in Syria as part of an international coalition against the jihadist group. Furthermore, the United States had also started a program to train and arm 5,000 Syrian rebels to take the fight to IS on the ground. This, along with the India's learning from four wars experience with Pakistan, has a comprehensive idea that how any conflict between Pakistan and India can escalate the involvement of the superpowers, nuclear-armed states and neighboring countries which might turn into a World War three. India also knows that both Pakistan and India have nuclear fusion weapons now and a slight misunderstanding between both the states can lead to a nuclear war, the results of which will be more devastating than the catastrophe caused by dropping the fission bombs in Nagasaki and Hiroshima. Therefore, India has a wary and chary diplomatic policy towards Pakistan and believes that it will be a facetious decision to involve the United States in India-Pakistan subtle relations.
Many critics have excoriated the India's snub to the US offer, arguing that it will result in demurring the India-US burgeoning ties. However, critics have failed to realize that involving the United States will impair the current mushrooming relations between the two countries sorely as compared to the damage that a rebuff will cause. Prime Minster Modi has taken calibrated efforts at the highest political level to transform bilateral relations between India and the United States. Modi has been extremely careful while dealing with the United States as he believes that India's developmental priorities cannot be met without substantive cooperation with the United States. Also, India constantly requires the support of the United States for the structural changes in India's security environment brought about by an aggressive China and its growing strategic convergence with Pakistan via CPEC, leading to a re-think on 'non-alignment' as a guiding principle of foreign policy. Moreover, Modi has taken painstaking efforts to seek economic opportunities in deepening defense ties and technology cooperation with Washington. Modi had been proud to stand among the tech CEOs of Silicon Valley to announce the transformation of India into the "Digital India". Moreover, India is proud to be the only country outside Washington's formal treaty allies that will gain access to almost 99 per cent of latest U.S.'s defense technologies after being recognized as a 'Major Defense Partner'. It certainly captures what is emerging as a unique relationship between India and United States and India does not want the banal India-Pakistan babbling to act as a hurdle in it.
Nuclear Suppliers Group: 29th Plenary Meeting
Following the June's 2018 plenary in Latvia, Nuclear Supplier Group is once again all set to held its next meeting in June 2019 in Kazakhstan. From transparency till criteria based admittance and further discussion upon technical and political admittance, NSG stepped through the innumerable stages. The 29th meeting is expected to be mostly focused on the agenda of accepting the memberships of new applicants, India and Pakistan.
28th plenary meeting came forward with discussion of 48 governments on all the developments of NSG meetings till date along with observers. They revised the strong binding on prevention of proliferation of nuclear weapons. Participating governments also exchanged the information regarding global proliferation challenges and implementation of NPT worldwide. It included reconfirmation of commitment of Democratic Republic of Korea (DPRK) to United Nations Security Council resolutions 2371, 2375, 2397 and all previous resolutions.NSG also reviewed continued binding of Iran to Joint Comprehensive Plan of Action (JCPOA) and E3/EU+2. Discussions were also proceeded on requests of participation. As it was discussed earlier in 2016th meeting to create space for technical, legal and political aspects of non-NPT members.
Earlier NSG discussed about strengthening the transparency of the organization. It felt need to update its guidelines considering the nuclear related industry and global security. Strengthening the NSG policies, its transparency, Peaceful use of nuclear energy, prevention of nuclear proliferation, nuclear exports with appropriate safeguards, physical and technical protections, adherence to the NPT and JCPOA policies are the basic aims behind the organization. Previously NSG condemned DPRK's nuclear tests and Iran's nuclear program showing its strong assertion. The process however was often politicized and biased in historical events where China seems to be in favor of Pakistan while Russia and USA preferred India's stance. Back in 2012 Australia supported India's entry to the group. Previously India and America condemn the sale of nuclear reactors of China to Pakistan. It was the part of same series in global politics.
NSG released "Updated Control List" following the 28th plenary meeting to reaffirm the strong binding and implementation of NPT as well as JCPOA. In January 2019 China once again made it obvious with its statement. The admittance of non NPT members is against the basics of NSG. It will be worth assuming that the rules and regulations of NSG or any other international or national organization are always tend to get mold at the need of the hour. Governments are manipulating these basics according to their benefits. Acceptance of applications of membership by India and Pakistan would definitely mean to deviate from the basics of the NSG. As most of the meetings in previous decade were focused on criteria based membership and adherence to the NPT rules along with observation of IAEA principalities.
Going through the sequence of events Nuclear Supplier Group nurtured through the couple of years. Accepting the membership of non NPT members Pakistan and India are against guidelines of NSG. Nuclear non-proliferation and productive use of weapons is its basic principle. If NSG governments make a consensus upon accepting the memberships based on legal, technical and political reasons it will deviate from basic norms and principles of NSG. However flexibility is the second option. It can be the softest possible gesture in any kind of setup. Through flexible rules and regulations and to absorb changing whenever required, any organization can be best fitted into the system. Likewise NSG may become supple enough to consider the options otherwise then the non NPT membership condition. Flexibility is the beauty of anything. Rigidness does not let any setup modernize according to the hour of the hour. Same fits for the NSG membership for Pakistan and India. However on the other hand taking stake of the very basics of any organization would be behind normal. It may demolish its transparency and reputation. So NSG has choice whether to maintain its reputation or to become flexible enough to absorb the changes at greater platform.
Space Diplomacy: India's new foreign policy tool
For 25 years, Space stations and GPS satellites have been mapping the outer space 12,000 miles above the earth's surface. Space has always been an unchartered territory in the international order. Due to high economic costs and heavy investments, space technology and 'stratosphere diplomacy' is a privilege only for developed nations and world leaders. With humanity evolving into interplanetary beings there is an unprecedented call from developing countries for commercialisation and democratisation of space economy. A large section of scientists and global policymakers believe that space can act as a driver to address global challenges by improving relations on Earth by exploring space. However, for sustainable development of the world, it is of paramount importance that every economy has equal access to space.
Within a month of coming into power, Modi 2.0 is reshaping its neighbourhood policy. A powerful and prosperous neighbourhood is vital for economic cooperation and national security of India. Neighbourhood diplomacy in this context may be defined as "the established method of influencing the decisions and behaviour of foreign governments and peoples through dialogue, negotiation, and other measures short of war or violence."Today, India is looking at space as a domain to enhance diplomatic influence in the South-Asian region.
In 2018, the Indian Space Research Organisation (ISRO) announced that it is planning to send humans for the first time in space by 2022 while its ambitious project Chandrayan 2 will be completed in 2019 with the landing of an indigenous spacecraft. Within a month of the announcement, India successfully launched the PSLV-C43/HysIS mission (India-Colombia joint initiative) from the Satish Dhawan Space Centre in Sriharikota. This was a compelling signal to other developing countries who were looking at the United States for space and military matters that the Indian Space agency has the capability of achieving inter-planetary missions in a cost-effective manner. This came as a godsend after the successful Mars Mission which made India a global leader in cost-effective but state-of-the-art space technology. ISRO and NASA are also jointly working on the NASA-ISRO Synthetic Aperture Radar (NISAR) mission to co-develop and launch a dual frequency synthetic aperture radar satellite by 2021. The satellite will be the world's most expensive earth-imaging satellite to date, costing around $1.5 billion.
With multiple MoUs for inter-planetary missions and technological advancements in rocket propulsion coupled with a strong government at the centre, India is strengthening its space diplomacy. India's focus on the neighbourhood-first policy will not be constructive unless it orchestrates the pack in innovation and infrastructure. With the Indian economy growing at 7 per cent, India is now the fastest growing large economy in the region. But the influence in the South-Asian region is not limited to domestic economics. Considering the geopolitics in the region, India has been constantly taking efforts for the collective development of neighbouring nations by strategic research and military innovation. India's diplomacy of interlinking space research with regional cooperation is crucial to counter China's influence in the region.
Addressing a press conference in New Delhi last week, ISRO chief K Sivan said, "India is planning to launch its own space station. India will not join the International Space Station. The ambitious project which will enable the agency to send more humans to space when executed."He said the mission will also be an extension of the Gaganyaan project implying that there will be several phases to the human space mission project. The Central Government has already sanctioned ten thousand crore rupees for this Mission, which is being guided by the Gaganyaan National Advisory Council that has eminent scientists and persons as members.
Earlier China along with Pakistan, Bangladesh and a number of other countries had set up a regional partnership organization called the Asia-Pacific Space Cooperation Organization, with projects that include sharing data, establishing a space communication network, and tracking space objects. India's decision not to join the International Space Station has sent a clear message of its technological independence and capacity to work alone in the field. The move is expected to attract many emerging economies to lend their support to India, who otherwise would have been mere scapegoats with global players at the benefitting end.
The UN Sustainable Development Goals (SDGs) has Industry, Innovation, and Infrastructure as an important goal. Indian space technology's advantage lies in cost-effectiveness and high performance. Applications of space technology in areas such as infrastructure, disaster management and security are expected to ease the lives of common people and improve the delivery of Government's welfare programmes. The Indian soft power-based space diplomacy aims not just to cater to the domestic development needs of neighbouring countries but also to further India's interest in the immediate neighbourhood.
PTI Government in Pakistan: To full-fill its promise on curbing Corruption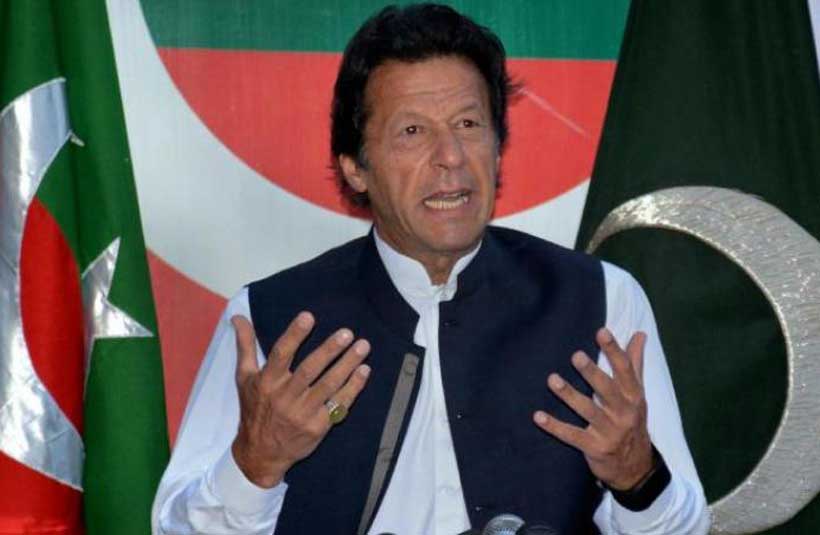 Big achievements of PTI (Pakistan Tehreek-E-Insaf) Government in Pakistan. Corruption is an international phenomenon, especially among developing and underdeveloped countries. Corruption is a major hurdle in the fight against poverty and development. However, the beneficiary of corruption is still the developed world. The rulers from developing and underdeveloped world, transfer all their black money to developed countries and in the end, developed world enjoy out of their black money.
Pakistan, being a developing country, no exception to this curse. During the last few governments, it was very much visible. Either it was financial corruption of moral corruption, all are equally harmful to the country. Previous few governments, appointed corrupt and unqualified persons on key posts and used them as their front men in corruption.
Some of their front men were an evil genius and committed heinous crimes in such a technical manner that it is very difficult to find out evidence. Either it is fake accounts or various forms of money laundering or in the form of subsidies or government grants, commissions or kickbacks in projects or procurement, bribes or gift, all are the same but with different forms to harm the socio-economic of this country.
It was in the manifesto of PTI, and part of its slogan during the election campaign, to fight against corruption. Prime Minister Imran Khan in his speech on several occasions has promised with the nation that, he will fix all corrupt, irrespective of their status in the society. It is logical to start from the big fish and later on to common corrupt officials at junior levels.
Pakistan's judiciary and the military are also on the same page and extending full support to the PTI government's mission to eliminate corruption from this society once for all. The recent arrests are just the beginning of accountability and have to go on a long journey. May it take one term or even next term, but the accountability process must keep on going till the eradication of corruption completely.
Pakistan is under the heavy foreign-debt, worth US Dollars 100 billion approximately. Who took this huge loan? Have they worked out, how to pay back? Have they spent all the loans on the development of Pakistan? Why this loan has not been trickled down impact? Why this heavy loan could not improve Pakistan's economy? How useful was this loan to common man of Pakistan? Why IMF could not improve the governance of Pakistan? Why IMF failed to improve performance of Pakistan? Why IMF could not give positive advice to Government of Pakistan? The lenders also need to be blamed for lending without any feasibility and failure of IMF packages offered to Pakistan during last one decade or so long. Why few families (rulers) become more rich and country become poorer?
If the sitting governments of that times have been borrowing without any planning or homework or without considering how to pay back, all of them must be held responsible for this heinous crime against the nation. Whether they are inside Pakistan or left the country, they must be arrested and brought back to face justice.
If only a few corrupt families are arrested and asked for the return of looted money, Pakistan can get rid of its major part of foreign-debt. We may not need any bailout package from the IMF or any help from any friendly country. All the looted money must be returned, all the illegal assets must be confiscated and suctioned out. All the recovered money must be used to pay back our foreign-debt.
There is no need to impose additional taxes and duties on the common man. Electricity, Fuel, Gas and consumer products may be kept on the original position. It is illogical that the common man, who is not responsible for the debt and still suffers due to the corruption of rulers. It is desired, the previous rulers, who have pushed the country into economic chaos, should be held responsible and all damages need to be compensated by them only. There is no need to punish the whole nation for few criminals. Recovery from previous corrupt rulers is very much do-able and very much possible, above all very much desired. There are examples available in the world, how they recovered looted money from their big shots. Saudi Arabia has done it well. China is a role model to be followed in this regard. The Chinese government is willing to share its experience and expertise in fighting against corruption.
Our internal resources may be utilized fully to control corruption and recover all black money. Even if there is a need to introduce new legislation, the Government should not hesitate. Masses in Pakistan stands with Government on this issue. The government should move smartly in this direction with full strength and confidence. Public support is already there. However, if the Government fails to accomplish this task, it may lose popularity.