[yt_dropcap type="square" font="" size="14″ color="#000″ background="#fff" ] T [/yt_dropcap]he past few days have been full of so-called coincidences in the Middle East that can't help but to raise eyebrows in the post-Iraq War era. On Tuesday, "a suspected chemical attack by government forces" took place in Idlib, one of the few major cities still under rebel control in President Assad's Syrian Arab Republic. Two days later, the US launched 59 Tomahawk missiles at a government air base near Homs, right as President Trump was in the middle of a delicate dinner conversation with his nemesis (and Assad ally) Chinese Premier Xi.
All of this tumult is occurring right as regional strongman President Erdogan of Turkey is making his final pitch for an April 16th referendum to vastly expand his executive powers…
Now, why would Trump, who warned against attacking Syria 45 times & who ran on a largely non-interventionist platform, suddenly go against one of his few consistently stated policy creeds? Especially seeing as Trump said that he'd focus military efforts on fighting ISIS, Assad's strongest opposition force? According to Trump , it's because, "Assad choked out the lives of helpless men, women and children… Even beautiful babies were cruelly murdered in this very barbaric attack." A bleeding-heart statement from a man who has twice tried to bar all Syrian refugees fleeing such violence & who recently said on live TV that, "when you get these terrorists, you have to take out their families."
The real reason has everything to do with politics. The attack occurred right as Trump was in the middle of a "very difficult" meeting with China's leader, Xi Jinping. Trump's disdain for China has gone back many years… He has accused the world's largest greenhouse gas emitter of creating climate change as a hoax to undermine US manufacturing, condemned China repeatedly as a currency manipulator, & warned that, "We can't continue to allow China to rape our country." Just last year, Trump's Chief Strategist Steve Bannon guaranteed that the US would be going to war with China within a decade. What better way to try to create leverage with your rival than by announcing a sneak attack on one of his allies to his face, right as he's digging into a Big Mac at Mar-a-Lago?
Trump ally President Erdogan has his own reasons to want a conflagration in the region. Turkey is Syria's super wealthy northern neighbor and, incidentally, one of the key players in Syria's war. Almost all of ISIS' foreign recruits (and supplies) come to Syria through the Turkey-Syria border; so much so, that the US begged Turkey to secure its border. Turkish officials, most notably Erdogan's son-in-law Berat Albayrak, have been implicated as being complicit in the smuggling of ISIS oil through Turkey. At one point, ISIS was making $50M a month from this illicit source of income. Erdogan is holding a referendum on April 16 that could vastly increase the scope of his already authoritarian powers; a yes vote could allow him to lock up even more journalists & purge even more academics. Nothing coalesces support for strongmen like fear. With an airstrike and maybe much more to come to neighboring Syria from Uncle Sam, Erdogan will be able to play the role of Protector, vowing to guard the Motherland from terrorists and US invaders alike.
Who was the biggest winner of the "alleged chemical attack" that Rep. Ron Paul derided as making no military or political sense for a regime that had solidified control of the country months back after seizing Aleppo & that had received a de facto truce with Western powers previously been eager to focus on ISIS? Trump. Prior to Friday's missile strike, the whole world was enraptured by constant stream of reports of the Trump presidential campaign's ties to Russia. The political spectacle had an ever-growing cast of characters: Manafort, Flynn, Nunes, Kushner, etc. Trump's approval rating dropped to just over a third of the country. The word "impeachment" was on the lips of many people throughout Washington, the media and water coolers. Now, Congress, the media & the international community (besides Canadian PM Justin Truadeau) are blindly praising him for his decisive attack in response to one alleged Assad atrocity out of the countless confirmed atrocities he's committed over the past 6 years. Even Democrats in Congress have almost unanimously supported the missile strike; Senate Minority Leader Chuck Schumer was only unhappy that Trump "didn't consult with Congress before implementing it." Best of all for Trump, he can use his attack on Russia's close ally as evidence that he couldn't possibly have been colluding with Putin (though a Trump-as-Russian-mole conspiracy theorist could argue that the attack was jointly choreographed by Trump and Putin to throw people off Trump's trail).
We've seen this kind of chemical-weapons-in-the-Middle-East-flavored "manufacturing consent", as Noam Chomsky puts it, just 14 years ago. Almost everyone in the Establishment, including Hillary Clinton, Tony Blair and the NYT, blindly accepted the Bush Administration's bizarre conspiracy theory about staunch secularist Saddam Hussein supporting al-Qaeda & harboring a secret stash of WMDs and that the only logical solution was to topple the dictatorship of Ronald Reagan & Karl Rumsfeld's buddy in the 1980s. Prior to that, we had the completely unfounded bombing of the Al-Shifa pharmaceutical factory on Aug 20, 1998. The attack on the Sudanese "chemical weapons facility" occurred literally one day after the Monica Lewinsky scandal started blowing up. Or who could forget when "Nayirah", the daughter of the Kuwaiti Ambassador, was hired by the PR firm Hill & Knowlton to fabricate before Congress horror stories about witnessing soldiers of Saddam Hussein (remember him) killing babies in incubators? Clearly, the Kuwaiti ambassador's daughter would have no incentive to draw the US military into repelling Saddam's invasion of Kuwait…
If the US and its allies sign onto another ground war in the Middle East due to some presumptive and poorly fact-checked reports on an alleged chemical attack in the world's most complex warzone, where there are no outside journalists or doctors to examine the victims firsthand, then everyone may end up feeling duped… again.
Hardened US and Iranian positions question efficacy of parties' negotiating tactics
The United States and Iran seem to be hardening their positions in advance of a resumption of negotiations to revive a 2015 international nuclear agreement once Iranian President-elect Ebrahim Raisi takes office in early August.
Concern among supporters of the agreement to curb Iran's nuclear program which former US President Donald J. Trump abandoned in 2018 may be premature but do raise questions about the efficacy of the negotiating tactics of both parties.
These tactics include the Biden administration's framing of the negotiations exclusively in terms of the concerns of the West and its Middle Eastern allies rather than also as they relate to Iranian fears, a failure by both the United States and Iran to acknowledge that lifting sanctions is a complex process that needs to be taken into account in negotiations, and an Iranian refusal to clarify on what terms the Islamic republic may be willing to discuss non-nuclear issues once the nuclear agreement has been revived.
The differences in the negotiations between the United States and Iran are likely to be accentuated if and when the talks resume, particularly concerning the mechanics of lifting sanctions.
"The challenges facing the JCPOA negotiations are a really important example of how a failed experience of sanctions relief, as we had in Iran between the Obama and Trump admins, can cast a shadow over diplomacy for years to come, making it harder to secure US interests," said Iran analyst Esfandyar Batmanghelidj referring to the nuclear accord, the Joint Comprehensive Plan of Action, by its initials.
The Biden administration may be heeding Mr. Batmangheldij's notion that crafting sanctions needs to take into account the fact that lifting them can be as difficult as imposing them as it considers more targeted additional punitive measures against Iran. Those measures would aim to hamper Iran's evolving capabilities for precision strikes using drones and guided missiles by focusing on the providers of parts for those weapon systems, particularly engines and microelectronics.
To be sure, there is no discernable appetite in either Washington or Tehran to adjust negotiation tactics and amend their underlying assumptions. It would constitute a gargantuan, if not impossible challenge given the political environment in both capitals. That was reflected in recent days in Iranian and US statements.
Iranian Spiritual Leader Ayatollah Ali Khamenei suggested that agreement on the revival of the nuclear accord was stumbling over a US demand that it goes beyond the terms of the original accord by linking it to an Iranian willingness to discuss its ballistic missiles program and support for Arab proxies.
In a speech to the cabinet of outgoing President Hassan Rouhani, he asserted that the West "will try to hit us everywhere they can and if they don't hit us in some place, it's because they can't… On paper and in their promises, they say they'll remove sanctions. But they haven't lifted them and won't lift them. They impose conditions…to say in future Iran violated the agreement and there is no agreement" if Iran refuses to discuss regional issues or ballistic missiles.
Iranian officials insist that nothing can be discussed at this stage but a return by both countries to the nuclear accord as is. Officials, distrustful of US intentions, have hinted that an unconditional and verified return to the status quo ante may help open the door to talks on missiles and proxies provided this would involve not only Iranian actions and programs but also those of America's allies.
Mr. Khamenei's remarks seemed to bolster suggestions that once in office Mr. Raisi would seek to turn the table on the Biden administration by insisting on stricter verification and US implementation of its part of a revived agreement.
To achieve this, Iran is expected to demand the lifting of all rather than some sanctions imposed or extended by the Trump administration; verification of the lifting; guarantees that the lifting of sanctions is irreversible, possibly by making any future American withdrawal from the deal contingent on approval by the United Nations Security Council; and iron-clad provisions to ensure that obstacles to Iranian trade are removed, including the country's unfettered access to the international financial system and the country's overseas accounts.
Mr. Khamenei's remarks and Mr. Raisi's anticipated harder line was echoed in warnings by US officials that the ascendancy of the new president would not get Iran a better deal. The officials cautioned further that there could be a point soon at which it would no longer be worth returning to because Iran's nuclear program would have advanced to the point where the limitations imposed by the agreement wouldn't produce the intended minimum one year 'breakout time' to produce enough enriched uranium for a bomb.
"We are committed to diplomacy, but this process cannot go on indefinitely. At some point, the gains achieved by the JCPOA (Joint Comprehensive Plan of Action) cannot be fully recovered by a return to the JCPOA if Iran continues the activities that it's undertaken with regard to its nuclear program…The ball remains in Iran's court, and we will see if they're prepared to make the decisions necessary to come back into compliance," US Secretary Antony Blinken said this week on a visit to Kuwait.
Another US official suggested that the United States and Iran could descend into a tug-of-war on who has the longer breath and who blinks first. It's a war that so far has not produced expected results for the United States and in which Iran has paid a heavy price for standing its ground.
The official said that a breakdown in talks could "look a lot like the dual-track strategy of the past—sanctions pressure, other forms of pressure, and a persistent offer of negotiations. It will be a question of how long it takes the Iranians to come to the idea they will not wait us out."
Wendy Sherman's China visit takes a terrible for the US turn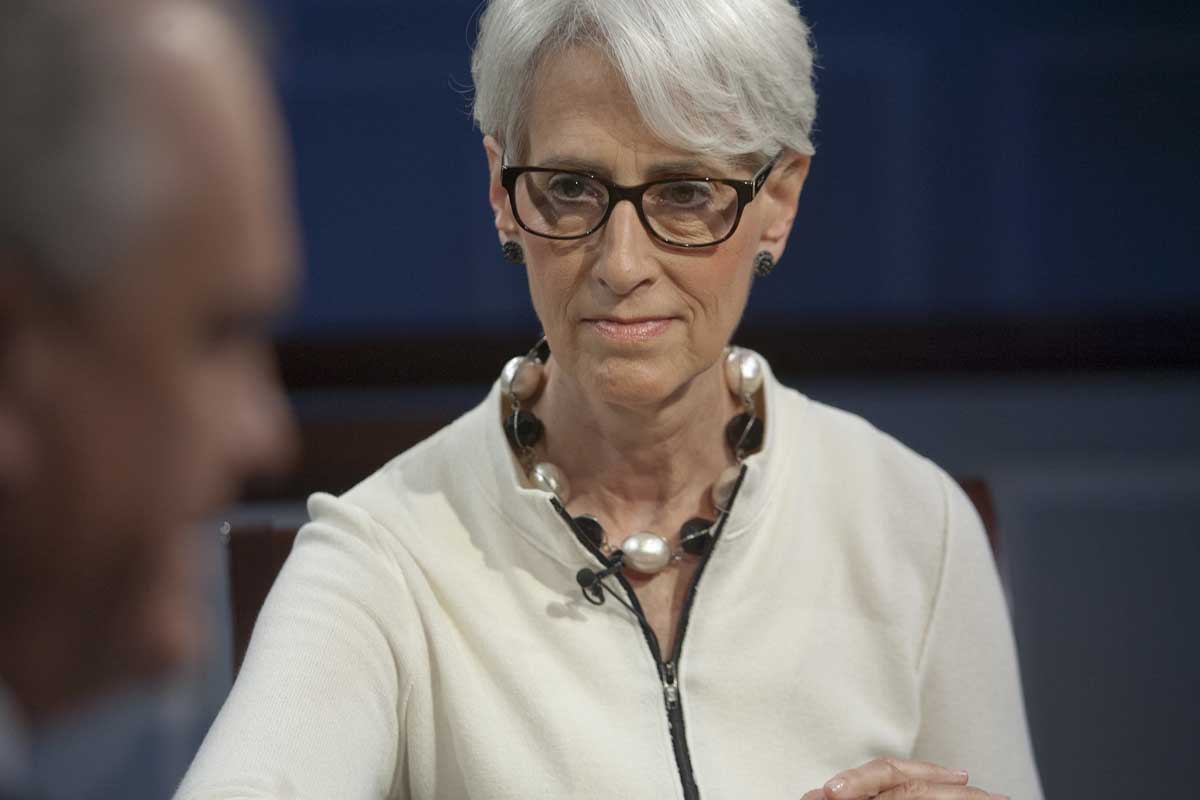 US Deputy Secretary of State, Wendy Sherman, had high hopes for the meeting in China. At first, the Chinese side did not agree to hold the meeting at all. The reaction had obvious reasons: Antony Blinken's fiasco in Alaska left the Chinese disrespected and visibly irritated. This is not why they travelled all the way.
So then the State Department had the idea of sending Wendy Sherman instead. The US government actually needs China more than China needs the US. Sherman was in China to actually prepare the ground for Biden and a meeting between the two presidents, expecting a red carpet roll for Biden as if it's still the 2000s — the time when it didn't matter how the US behaved. Things did not go as expected.
Instead of red carpet talk, Sherman heard Dua Lipa's "I got new rules".
That's right — the Chinese side outlined three bottom lines warning the US to respect its system, development and sovereignty and territorial integrity. In other words, China wants to be left alone.
The bottom lines were not phrased as red lines. This was not a military conflict warning. This was China's message that if any future dialogue was to take place, China needs to be left alone. China accused the US of creating an "imaginary enemy". I have written about it before — the US is looking for a new Cold War but it doesn't know how to start and the problem is that the other side actually holds all the cards.
That's why the US relies on good old militarism with an expansion into the Indo-Pacific, while aligning everyone against China but expecting the red carpet and wanting all else in the financial and economic domains to stay the same. The problem is that the US can no longer sell this because there are no buyers. Europeans also don't want to play along.
The headlines on the meeting in the US press are less flattering than usual. If the US is serious about China policy it has to be prepared to listen to much more of that in the future. And perhaps to, yes, sit down and be humble.
Why Jen Psaki is a well-masked Sean Spicer
When Sarah Huckabee Sanders showed up on the scene as White House Press Secretary, the reaction was that of relief. Finally — someone civil, normal, friendly. Jen Psaki's entry this year was something similar. People were ready for someone well-spoken, well-mannered, even friendly as a much welcome change from the string of liars, brutes or simply disoriented people that the Trump Administration seemed to be lining up the press and communications team with on a rolling basis. After all, if the face of the White House couldn't keep it together for at least five minutes in public, what did that say about the overall state of the White House behind the scenes?
But Psaki's style is not what the American media and public perceive it to be. Her style is almost undetectable to the general American public to the point that it could look friendly and honest to the untrained eye or ear. Diplomatic or international organization circles are perhaps better suited to catch what's behind the general mannerism. Jen Psaki is a well-masked Sean Spicer, but a Sean Spicer nevertheless. I actually think she will do much better than him in Dancing With The Stars. No, in fact, she will be fabulous at Dancing With The Stars once she gets replaced as White House Press Secretary.
So let's take a closer look. I think what remains undetected by the general American media is veiled aggression and can easily pass as friendliness. Psaki recently asked a reporter who was inquiring about the Covid statistics at the White House why the reporter needed that information because Psaki simply didn't have that. Behind the brisk tone was another undertone: the White House can't be questioned, we are off limits. But it is not and that's the point.
Earlier, right at the beginning in January, Psaki initially gave a pass to a member of her team when the Politico stunner reporter story broke out. The reporter was questioning conflict of interest matters, while the White House "stud" was convinced it was because he just didn't chose her, cursing her and threatening her. Psaki sent him on holidays. Nothing to see here folks, move along.
Psaki has a level of aggression that's above average, yet she comes across as one of the most measured and reasonable White House Press Secretaries of the decade. And that's under pressure. But being able to mask that level of deflection is actually not good for the media because the media wants answers. Style shouldn't (excuse the pun) trump answers. And being able to get away smoothly with it doesn't actually serve the public well. Like that time she just walked away like it's not a big deal. It's the style of "as long as I say thank you or excuse me politely anything goes". But it doesn't. And the American public will need answers to some questions very soon. Psaki won't be able to deliver that and it would be a shame to give her a pass just because of style.
I think it's time that we start seeing Psaki as a veiled Sean Spicer. And that Dancing with the Stars show — I hope that will still run despite Covid.