India Will RK Nagar outcome define future of Tamil Nadu politics?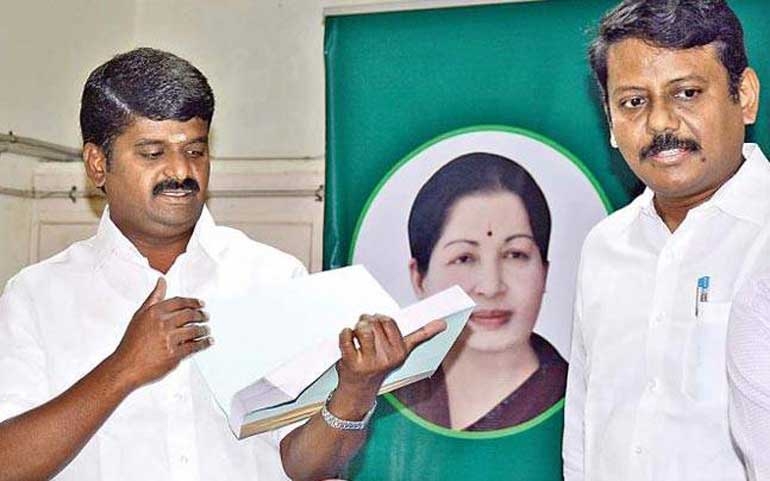 [yt_dropcap type="square" font="" size="14″ color="#000″ background="#fff" ] W [/yt_dropcap]ith just a few days left for the crucial RK Nagar bypoll in Tamil Nadu, campaigns are gathering momentum in the constituency of former chief minister J. Jayalalithaa and stakes are running high especially for the ruling All India Anna Dravida Munnetra Kazhagam (AIADMK) which is now split into three factions, making it difficult for any of the factions to win for AIADMK.
A bypoll was necessitated following Jayalalithaa's demise on 5 December under mysterious circumstances. RK Nagar in Chennai will see 62 contestants—the highest since its inception in 1967— when the constituency goes to vote on 12 April.
Historically speaking, the incumbent ruling party has always had an advantage in by-elections in Tamil Nadu. But now the ruling AIADMK party does not look confident to retain the seat while Panneerselvam look forward to win it for Jayalalithaa- even public seems to have sympathy for his Puratchithalaivi faction but DMK is all out to outsmart him. Deepa may not have chance to win this time.
The poll is particularly important for the DMK, ruling faction and OPS faction of AIADMK and end game fight is very tensed. Money is being distributed for votes and ruling AIADMK is being blamed for buying votes.
Now that the ruling AIADMK is formally split into AIADMK (Amma) and AIADMK (Puratchithalaivi Amma) and with the EC freezing the party's two leaves symbol, the traditional AIADMK voters would be weighing between the new symbols—hat and lamp post.
DMK has fielded N. Maruthu Ganesh—the party's secretary for RK Nagar east division and a journalist with party mouthpiece Dinakaran—as its candidate. While former chief minister O. Panneerselvam camp—AIADMK (Puratchithalaivi Amma) which has been allotted the lamp post—is fielding veteran E. Madhusudhanan as its candidate, the Sasikala faction—AIADMK (Amma) with the hat symbol—has Sasikala's relative T.T.V. Dinakaran in fray.
According to analysts, the opposition DMK is in a better position amid the confusion within the ruling party. Depending on which faction of AIADMK takes the second and third positions, the future course of the party will unveil. Analysts don't rule out the possibility of a merger between the two groups even one day before the poll day.
However, Ruling faction is interested in knowing which of the factions would ains more votes will be in a commanding position to bring the party together. Depending on which camp (of the AIADMK) wins or who gains better share of votes, there could be a consolidation or realignment within the two factions of the party.
RK Nagar, Chennai
Traditionally any bypoll is won by the ruling party, but given the political turmoil and chaos over the last three months within AIADMK, the opposition DMK would have an edge.
Dr. Radhakrishnan Nagar, the high-profile constituency in north Chennai that elected former Chief Minister Jayalalithaa twice, is all set to once again choose its legislative representative on April 12. A total of 62 candidates, including eight women, are in the fray in the by-election. The AIADMK has won seven out of 11 times in the constituency in the last 40 years. This time, three candidates are are claiming to be the 'real face of the AIADMK.'
The late Tamil Nadu chief minister Jayalalithaa contested from the RK Nagar (Chennai) constituency for the first time in the 2015 by-elections. She chose it again the following year to win the assembly elections. RK Nagar has become Jayalalithaa's home turf in public perception, even though Srirangam was the Iyengar-Brahmin' (which is what she was, by birth) constituency, from where she won to become the CM in 2011. Freshly acquitted, wrongly, of any wrongdoing in the disproportionate assets case, Jayalalithaa won by a margin of over 1,50,000 votes in the 2015 by-elections. This might seem like a bonafide celluloid miracle wrought by a party that was born and raised by filmdom, and run by 'Amma', who was once 'Anni'
In 1989, after MGR's death, the AIADMK split into the Janaki faction and the Jayalalithaa faction. In the ensuing elections, the DMK won hands down, since the votes were split between the two factions and their allies. Both AIADMK factions (Jayalalithaa Vs Janaki) in 1989 laid claim to the 'two leaves' symbol.
The AIADMK's two leaves have – metaphorically speaking – split, into the Sasikala faction and the O Panneerselvam faction. There is the DMK, led by Stalin, and the MGR Amma Deepa Peravai, led by Deepa Jayakumar (Jayalalithaa's estranged niece). All four parties now seek to fill the legendary and occasionally notorious shoe-rack of Jayalalithaa.
Sasikala's ADMK, with Edappadi Palanisamy as the chief minister, is by far the most stable party. As the ruling party, they will have access to resources and the machinery to whip up a good campaign- and they are doing that even though public is not impressed. The lack of trust is all thanks to the public angst against Sasikala, who is still seen as a conspirator in Jayalalithaa's demise.
Political analysts say a win for Dinakaran would assert his position in the party and he could even claim the chief minister's post. But Mr. Dinakaran had said that Edappadi K. Palaniswami will continue to head the government.
The fate of both Sasikala and Dinakaran's party posts will be decided by the Election Commission as the rival AIADMK camp has claimed that the appointments are not in line with the party's constitution. The Enforcement Directorate has imposed a ₹28crore fine on Mr. Dinakaran for money laundering. He is also facing two 20-year-old FERA cases for acquiring foreign exchange from unauthorised dealers.
Votes for currency notes
The Election Commission (EC) is closely monitoring the bypoll. Following a complaint by opposition Dravida Munnetra Kazhagam (DMK), the EC ordered the transfer of Chennai police commissioner S. George. It has also transferred almost all the officials involved in the RK Nagar bypoll, appointed as many as five observers—the highest-ever for a constituency in the country—and deployed two IAS and two IPS officers on night patrol until the polling is over.
Meanwhile, income tax officals have raided the residences and offices of many important people in Chennai and elsewhere, including ministers, VC of MGR University. Money and documents shave been reportedly recovered from them.
Ahead of RK Nagar by-poll In Tamil Nadu, 15 Lakh seized and 28 men arrested. Public says money Rs500 and 200 are bribed for each vote and a lot of money is being distributed to voters even in public. Reports suggest around Rs. 15 lakh was seized and 28 persons were arrested on Wednesday for their alleged roles in various incidents of money distribution to voters and violence in the run up to the April 12 RK Nagar assembly bypoll. Authorities said seizure of Rs. 14.92 lakh was made by EC's flying squads and static surveillance teams in RK Nagar where bypoll was necessitated due to former Chief Minister J Jayalalithaa's death.
The day also saw the Election Commission ordering transfer of 22 police officials, including two IPS officers, out of RK Nagar even as the opposition parties lodged complaints with Tamil Nadu Chief Electoral Officer Rajesh Lakhoni against the alleged distribution of money to voters by the AIADMK's VK Sasikala faction. While three AIADMK activists (VK Sasikala's Amma faction) were arrested for allegedly attacking DMK cadres over a row, 25 others were arrested on the basis of 15 cases registered for alleged distribution of money to voters, police said.
The attack on DMK men was over a row related to the alleged money distribution. Meanwhile, videos of alleged money distribution in RK Nagar and markings made in the area to facilitate it are doing the rounds in social media and messaging app Whatsapp.
Commenting on the alleged money distribution, PMK chief Ramadoss demanded countermanding of RK Nagar bypoll and said it should be held after the cash distribution's impact faded. The bypoll should be held by drafting officers only from outside Tamil Nadu and by deploying Central police forces, he said. EC replaced Additional Police Commissioner (North) MC Sarangan with H M Jayaram (now IGP, Operations) besides 21 other police personnel.
Meanwhile DMK Rajya Sabha MP, RS Barathi in a petition to Chief Electoral Officer Rajesh Lakhoni said, "The ruling party (Dinakaran faction) is planning to continue the illegal distribution of money to voters. We, herewith, enclose proof of the illegal distribution of money." He demanded steps to stop it. Former Minister KP Munusamy of O Panneerselvam-led faction too petitioned the CEO on the matter.
Anger toward ruling Sasikala AIADMK
As the fight over the seat started, AIADMK spokesperson CR Saraswathi, who was campaigning at the 42nd ward in support of VK Sasikala's nephew and party deputy general secretary TTV Dinakaran, had slippers and tomatoes thrown at her.
The whole of Tamil Nadu is concentrating on the upcoming RK Nagar by-election, which is now being considered as the zone that will decide the future course of politics in the state. As the fight over the seat started, AIADMK spokesperson CR Saraswathi, who was campaigning at 42nd ward in support of VK Sasikala's nephew and party deputy general secretary TTV Dinakaran, had slippers and tomatoes thrown at her. Saraswathi was heard screaming, "You are throwing stones and slippers at me. Is this right? We've come to ask for your votes but you're throwing slippers at us!"
Team EPS and team OPS have been hurling allegations at one another, with Dinakaran accusing the rebel party faction led by O Panneerselvam of manipulating its poll symbol of electricity pole as 'two leaves'. Not to be outdone, team OPS blamed team EPS of distributing money for votes.
And in support to the claim by team OPS, a man was yesterday arrested for distributing money for vote, and what apparently gave him away was his flashy 'hat' (symbol for team EPS) carrying the AIADMK flag's color. Already many videos have gone viral on social media where people had altercation with such money distributors.
Candidates and promises
Every candidate has come out with certain promises but the ruling AIADMK and Panneerselvam faction have put forward interesting promises.
Dhinakaran, the candidate from team EPS for the by-elections, has promised people that should he win, 57,000 house would be constructed for RK Nagar residents. Team OPS, which is fielding Madhusudhanan as its candidate, has on the other hand promised a judicial inquiry into Jayalalitha's death within a week of their victory, and to also turn the late TN Chief Minister's house into a memorial. When asked how their promises are related to RK Nagar victory, they said that whoever wins the by-poll, will control the party and by the government.
An AIADMK veteran, E. Madhusudhanan was the party's presidium chairman. He has contested in R.K. Nagar four times and represented the constituency in the Assembly during 1991-96, the first tenure of Jayalalithaa as Chief Minister. Madhusudhanan was convicted and later acquitted in a free dhoti-saree scam during his term as Handloom Minister. He has some 19 criminal cases pending against him, which he claims were politically motivated. When Madhusudhanan switched to former Chief Minister O. Panneerselvam's side, Sasikala dismissed him from the party. Maintaining that he is still the party's presidium chairman, Madhusudhanan 'expelled' Sasikala. . Madhusudhanan is a strong Jayalalithaa loyalist and stayed with her when the AIADMK split into Jaya and Janaki factions in 1989. He has been associated with the AIADMK since the party was formed and is a North Chennai strongman. He is contesting using the 'Electric Pole' symbol under party name 'AIADMK Puratchi Thalaivi Amma'.
The DMK has fielded N. Marudhu Ganesh as its party's candidate. A journalist-turned-politician, Mr. Ganesh is the party's area secretary of R.K Nagar (East) unit and belongs to a family of DMK cardholders. Ganesh hopes that his introduction to the local people as a Dinakaran journalist will work in his favour. R. Loganathan is the CPI(M)'s candidate. But the CPI and the VCK, alliance partners of the People's Welfare Front, have declined to support his candidature. Loganathan is a member of the party's North Chennai district Executive Committee. The party is banking on the sizeable working class population in the constituency.
P. Mathivanan is DMDK's North Chennai District Secretary. He lost to Mr. M.K. Stalin in the 2016 Assembly elections. As a resident of Kodungaiyur,he is pinning hopes on voters to elect a 'local person.' Film director-turned-politician Seeman's Naam Thamizhar Katchi has fielded Kalaikottudhayam as its candidate. Kalaikottudhayam runs a Tamil news channel called Tamizhan TV and has produced a few movies.
Tamil music director Gangai Amaran, younger brother of legendary music composer Ilayaraaja, is the BJP's candidate for the bypoll. He joined the BJP in 2014 and is currently the president of the State unit's cultural cell. Gangai Amaran had accused Sasikala of forcing him to sell his 22-acre farm at Payyanurin 1994. He was one of the prosecution witnesses in the disproportionate assets case. The BJP is betting on Amaran's popularity and caste. The constituency has a significant number of Dalits, and the BJP hopes they would vote for him.
J. Deepa
Jayalalithaa's niece J. Deepa is also contesting the bypoll as an independent. She has been allotted the "boat" symbol. Ms. Deepa rose to fame after the death of Jayalalithaa. She claims to be the "rightful successor of Jayalalithaa" and had managed to gain support from a section of AIADMK followers. A staunch opposer of Sasikala and her family, Ms. Deepa floated a political outfit called MGR Amma Deepa Peravai on Jayalalithaa's birthday last month, putting an end to rumours that she will join hands with the Panneerselvam camp.
The Election Commission on Thursday tightened the screws on the by-election to the RK Nagar Assembly constituency, scheduled for April 12, by putting in place more measures to ensure free and fair polls.It appointed as many as five Observers, the highest ever in any constituency in the country and deployed two IAS and two IPS officers on night patrol until the polling is over. Deputy Election Commissioner Umesh Sinha said, "The Commission will monitor the arrangements closely and will not leave any stone unturned to ensure free, fair, transparent and inducement-free election." CCTVs would be deployed in major streets and junctions and checkpoints in the constituency to monitor movement of vehicles and persons.
Observation
Election commission is making all efforts to help the people vote without fear.
So far the ruling Sasikala faction of AIADMK has made any move for merger of factions as it is keen to see OPS faction is finished even if DMK wins comfortably in that process. Possibly Sasikala is working towards ending MGR-Jayalalithaa rule in the state. .
Now Tamil Nadu without Jayalalithaa as the only vote puller of the party one has to see if OPS could emerge the winner of the hearts of Tamils, even if unable to win the poll due ot split politics.
Absence of Jayalalithaa phenomenon in Tamil Nadu politics, both DMK and BJP are back with new hopes. While DMK wants to win the RK Nagar to push for a government change in Madras Fort sooner than later, BJP is eager to make a presence in Tami Nadu politics once again.
DMK has got a solid vote bank unlike the AIADMK where there seems to be a three way split. Moreover Congress party is backing the DMK candidate. CM Palanisamy has not been able to make a decision to take step forward, without prisoner Sasikala's nod, to merge with Panneer Selvam faction to let Jayalalithaa legacy live in the state without further major setbacks. Sasikala seems to be toying with idea of ending the MGR rule in the state. She knows once down, AIADMK cannot revive its fortunes as there are no charismatic and loyal leaders in the party. .
Without the symbol of two leaves, the voters who want to vote for Jayalalithaa party could be confused. New symbols are bound to confuse the common or 'aam voter'.
Money and other resources play very important role in polls. Sasikala's faction and the DMK have the money-power to repeat this tradition. The OPS and Deepa camps lose this round.
The by poll results in RK Nagar constituency in Tamil Nadu's capital Chennai would give an idea of the changing course or otherwise of politics in Tamil Nadu in the post-Jayalalithaa era, particularly an assessment of popularity of the ruling AIADMK (Amma). The results would also show the benefits of DMK would gain from the death and division of AIADMK in the state and, if BJP could make any profits from the fluid situation obtaining from the untimely demise of Jayalalithaa.
The current situation indicates that DMK could sail through albeit with a small majority and that would be big success for the opposition party which is eagerly awaiting a government change in Madras Fort for quite some time and so long as Jayalalithaa was in control, it could not make any head way in achieving its goal.
When Jayalalithaa won the general poll with a resounding victory for the AIADMK for the second consecutive term without any truck with any of the parties, notwithstanding the BJP's attempts to be a partner of the ruling AIADMK to win a few seats in this southern state, she indeed made a history in Tamil Nadu politics and took all politicians by shock.
Now the situation is back to square one! Speculation is indeed thrilling!
Pakistan's Increasing Tilt towards China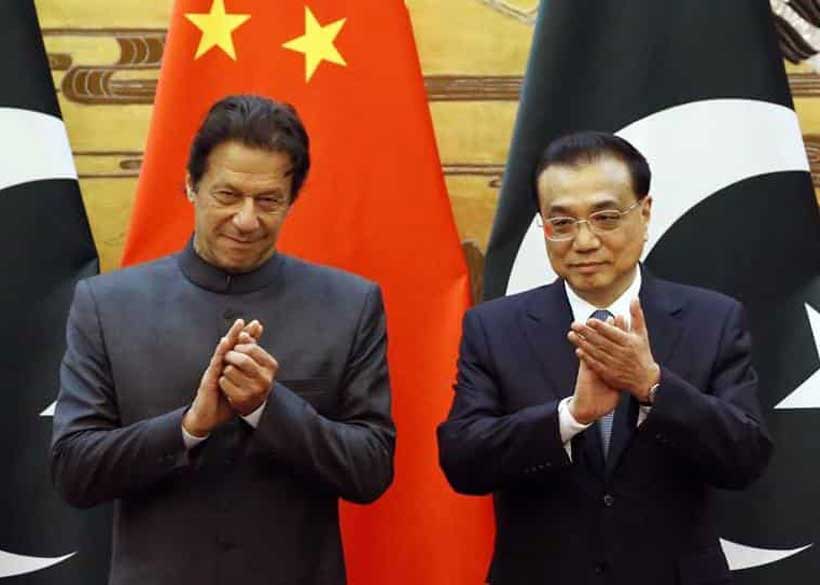 In a recent interview with the Washington Post; Prime Minister Imran Khan was asked what kind of relationship he wanted from the US. He responded by pointing out Pakistan's long and storied relationship with China as an example of a successful and mutually beneficial relationship. He explained how Pakistan's relationship with China, unlike the US was not one-dimensional and built more on trade, respect and mutual cooperation. In doing so he in effect presented the underlying reasons why China is often termed as Pakistan's 'All-Weather' friend.
In fact, the very notion of China being an 'All-Weather' friend is borne in contrast out of the US's more fair-weather and sporadic approach to Pakistan. This approach has been evident in Pakistan's long-standing complaints of how after helping the US repel the Soviet Invasion of Afghanistan, Pakistan was left to pick up the pieces as the US unilaterally withdrew from the region, leaving behind a devastating humanitarian and political crisis. The last two decades' war on terror for which Pakistan once again allied with the US is also following a similar blue-print, which the Prime Minister made clear was an example of history repeating itself. In defining his country's most recent reservations against the US, he made it clear that Pakistan would no longer serve as a hired gun for the US, and desired a more equitable relationship based on mutual respect.
Considering how Pak-US relations have deteriorated over the last few years, the Prime Minister's remarks come as little surprise to observers who have witnessed this uneasy partnership throughout its peaks and troughs. Yet, what's striking is the fact that this is perhaps the first time that a Pakistani head of state has directly presented its relations with China as the ideal blue-print for which to measure the long and troubled history of Pak-US relations.
In contrast, the official narrative ascribed to the Pak-China bilateral framework, has stood out amongst diplomatic and policy-making circles due to the broad poetic license that has more recently been attributed to it. The oft-quoted phrase of how Pak-China Friendship is 'higher than mountains, deeper than the ocean, stronger than steel and sweeter than honey', has been repeatedly used by officials representing the highest levels of government, from both countries to emphasize the far-reaching significance of their bilateral relations.
This includes their significance both within a more localized context, as well as a broader more regional context as evident in the $62 billion China Pakistan Economic Corridor (CPEC). The corridor which promises an end to Pakistan's development woes focuses instead on fostering peace and stability through economic growth and development. This is as opposed to the more security and strategically driven approach of the US, which has seen the region become increasingly violent and militarized. It is based on this difference that CPEC has been widely hailed as a viable solution to the relative instability and insecurity that has for years characterized the South Asian region.
However, over the past few months, Pak-China relations have themselves undergone an uncharacteristic period of friction and uncertainty. Interestingly, one of the major reasons behind this friction has been none other than the newly elected Prime Minister himself. As part of his anti-corruption campaign rhetoric leading up to the elections, he had promised greater over-sight and transparency with regard to Chinese investments under CPEC. This came at a time where growing trade and economic tensions between the US and China, had led to greater scrutiny and broad reservations against China's rising influence the world over. Calls to re-evaluate China's investments were echoed across countries such as Malaysia, Sri Lanka, Myanmar and Kenya; with allusions to unsustainable loans and China's 'Debt Trap Diplomacy' doing the rounds amidst key influencers and policy-makers across the globe. Pakistan's rising debt too was linked to CPEC projects by none other than the US secretary of State, who had ruled out the possibility of US loans being used to bail out Chinese bond-holders in Pakistan.
Prime Minister Imran Khan has since gone to great lengths to dispel such sentiments, as was evident in his official visit to Beijing last month. In all his statements, he has been careful in acknowledging the benefits of China's strategic partnership with Pakistan, and has lauded China's tremendous achievements in eradicating poverty; something that he wants to emulate as part of his own government's policies. His recent statements in the above-mentioned interview too, are based in part on these same reasons.
Taken together, the PM's statements thus present a clear and very public declaration that the Pakistani government is quite willingly choosing to side with China in the ongoing US-China economic rivalry. Unlike before where Pakistan had to carefully balance its strategic relationships between China and the US, China's grand overtures and the US's more inward focus on 'America First' have accelerated Pakistan's gradual tilt towards China. With the US-China rivalry currently seeming far from any sort of resolution, Pakistan's need to pick a side in favor of the other represents a clear indication of which side the government believes its long-terms interests lie with.
Sirimavo of Sri Lanka: Refocusing on World's first Women Prime Minister
Authors: Srimal Fernando and Pooja Singh*
In 1970s, there was a time when Sirimavo Bandaranaike caught the global attention and her premiership was one of the most momentous times in Sri Lanka's political history. On 21 July, 1960, she became the first ever woman Prime Minister of Sri Lanka (formally known as Ceylon) and the world. Even today nearly half a century later, Sirimavo's name is remembered among the thousands of Sri Lankans and among the Sri Lanka Freedom Party (SLFP) supporters. Thus the Sri Lankan voters expectations about Sirimavo rose within no time after the unfortunate assassination of her husband S.W.R.D. Bandaranaike in 1959.
In the summer of 1970, the Sri Lanka Freedom Party (SLFP) , the Lanka Sama Samaja Party (LSSP) and also the Communist Party (CP) was sweeping electorates in a general election by winning 115 seats out of 151. In essence, Sirimavo's administration presented far-reaching constitutional and socio-economic reforms that were suitable for a small island nation.  In fact Mrs. Bandaranaike handled the transfer of island nation becoming a republic under a new constitution tactfully. In this context, Dr. N.M. Perera, Felix Dias Bandaranaike, Philip Gunawardena was some of the primary shapers of her administration. At that time, unlike her predecessors, the former premier showed great interest in developing cement, paper, steel and chemical industries. Despite promising signs under her leadership, uneven inequalities from 1948 to 1970 and economic stagnation created tensions within rural masses. Surprisingly, a coup in 1971 by the southern insurgents headed by Rohana Wijeweera, the leader of the Janatha Vimukthi Peramuna (JVP) shattered the hopes of Bandaranaike government for a short time. Although coup was unsuccessful because of Sri Lanka's military support to premier's rule.
It is noteworthy to mention Sirimavo era solidified Sri Lanka's foreign policy in the coming decades, which set the stage for the island to increase bilateral ties with India and China. In fact, Indian Prime Minister Indira Gandhi was a trustworthy friend of Mrs. Bandaranaike. This period also saw the closest bilateral relations between the neighbouring countries. Especially, Mrs. Bandaranaike was a giant among Non-Alignment leaders. In the summer of 1976 at the fifth Non Aligned Movement (NAM) summit held at the Bandaranaike Memorial International Conference Hall(BMICH) in Colombo, Mrs. Bandaranaike stated, "The non-aligned countries should fight against injustice, intolerance, inequality, old concept of empire and intervention."
On the domestic political scenario, the opposition leader J.R. Jayewardene and his deputy Ranasinghe Premadasa had been outspoken critics of Sirimavo Bandaranaike policies. When she lost 1977 general elections, it was extremely a difficult situation for Mrs. Bandaranaike and for the Sri Lanka Freedom Party (SLFP) coalition partners who had developed a remarkable sense for socialist political culture within the multicultural society in  Sri Lanka. Seven years later Mrs. Bandaranaike had lost her civic rights, the party hierarchy nominated veteran SLFP stalwart Hector Kobbekaduwa for the forthcoming referendum. The Referendum results did not reflect the true situation. Then while the    atmosphere began to change in the island country after the eruption of ethnic conflict and signing of the Indo-Lanka accord. This scenario caused strong anti-United National Party (UNP) regime change feeling.  In a closely fought presidential election in 1988, the SLFP leader Mrs. Bandaranaike lost to UNP presidential candidate Mr. Premadasa. There were no immediate solutions to the crisis in Sri Lanka under Premadasa's presidency.  Hence  in  the South, due to the JVP uprising and the Tamil tiger (LTTE) attacks in Northern and Eastern provinces, conditions inside the Island nation was going from bad to worse.
At the same time, the crisis in the Sri Lanka Freedom Party (SLFP)  came to surface and the party was divided into several wings.  Thus, the time had come for SLFP party unity for doing away with the seventeen years United National Party (UNP) rule. Mrs. Bandaranaike was convinced that it was time for a new generation of party leadership. She opened the corridors of political power to Chandrika Bandaranaike Kumaratunga, Mahinda Rajapaksa, and Maithripala Sirisena who later became presidents of Sri Lanka. In late years, Mrs. Bandaranaike was a prime minister for a short time from when her daughter Mrs. Kumaratunga was president. On the Foreign Policy front she reworked strong bilateral ties with India and China and her policies remained important for Non Aligned Movement (NAM) nations and for India  and China ties with Sri Lanka. After more than fifty years of service to the Sri Lanka Freedom Party (SLFP), to the nation many of the Sri Lankan's were finding it hard to come to terms with Sirimavo's sudden death on 10th October, 2000.Late premier Sirimavo Bandaranaike's pragmatic policies mattered very much for the South Asian island nation, the region and to the world at large.
* Pooja Singh, a scholar of Masters in Diplomacy, Law, Business at Jindal School of International Affairs, India.
Indian Human Rights violation in Kashmir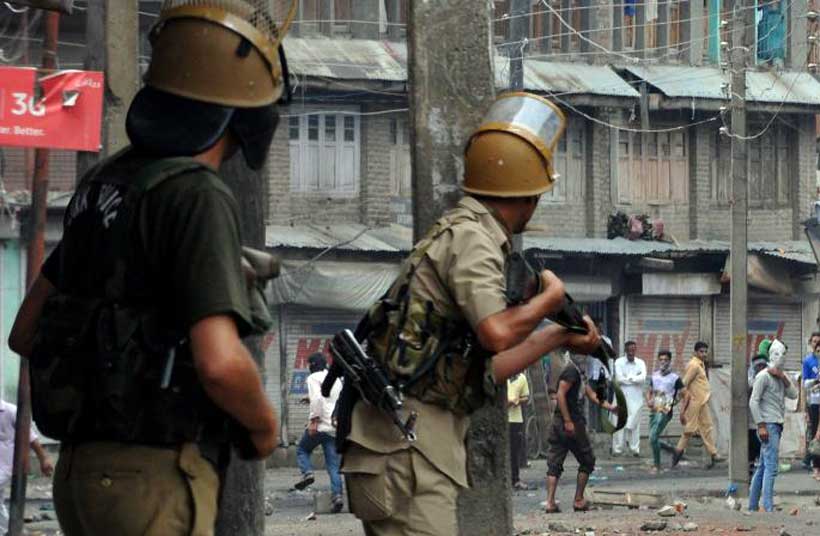 In International conflict management, the models and approaches to solve the deep-rooted issue are vital and applicable but these models became fragile if any one of the belligerent states lacks the intent to solve any tangible solution. India rigid stance of avoiding any Peace Talks on Kashmir issue is the main irritant between rivalries which derails the conflict resolution. It is far important for rivalries to elucidate the dispute to move ahead.  Because it is ultimate truth that all the conflict and crises have an alternate way of tenacity.
In South Asian framework, Indian strategic ambitions are the main stumbling block in the way of Kashmir Resolution. While in the Global framework, major powers like Russia and USA military and then ideological interests compels states not to play any significant role for the resolution of Kashmir conflict.
Kashmiri Freedom Movement started from 1931 and still in 2018 it is constantly being exploited in the hands of Indian aggressive leaders. From 87 years, Indian barbarism is not a top-secret. Indian wanted to sideline and suppress the Kashmir issue in the prism of their national interests but the issue will remain alive with determined efforts of the Kashmiri and Pakistani people, human right activists, political and military leaders. The issue of Jammu and Kashmir must be resolved as per aspirations of Kashmiris.
Pakistanis and Kashmiris across the world chronicled their protest against Indian brutality and illegitimate occupation in Kashmir. Struggle for freedom of Kashmiri people will one day succeed by the grace of Almighty Allah.  Each day is like a black day until the resolution of Jammu and Kashmir with the consent of Kashmiri people.
There are many pragmatic choices for the resolution of Kashmir issue but the real dilemma is that India is not ready to come on Table for Peace talks due to their hegemonic ambitions. Recent Talks at UNGA 73rd session was also negated by Indian. As a rational nuclear state, they should realize that Kashmir is a nuclear flashpoint. Both the nuclear states should talk constructively and negotiations are the only way forward in which mutual national interests must be considered.
In 1948, it was India who went to United Nations and then it was decided unanimously a plebiscite in Kashmir. It is the right of every Kashmiri to decide his destiny indigenously. As there are no law enforcement agencies of international organizations to implement its resolution but the role of P-5 states can facilitate for resolution. Till now no such role is played by them but the importance of UN forum cannot be negated as states like Pakistan can raise their voices at international level against Human Rights violations.
The Indian occupational forces under the cover of Armed Forces Special Protection Act (AFSPA) and other black laws frequently involve in religious cleansing of Muslims. After the martyrdom of Burhan Wani in 2016 Indian forces started using most dangerous weapons of pellet firing shotgun. Where are Human Rights Law against the killing of innocent Kashmiris? The lives of Kashmiris are as important the people killed in 9/11, London attacks, in Mumbai attack or a single Indian soldier. The US fought the war on terror and still engage in most complex war but What about Terror of India in Kashmir. Kashmir needs not to be forgotten at all. US Secretary of State Michael Pompeo asked Pakistan to abandon terrorist attacks into India but from Where Kashmiri demand Freedom. The US needs to let her interest go, at least for once, to settle the Kashmir issue. For Pakistan, it is not just a matter of territorial importance but relates to the lives of Kashmiri people who are suffering at the hands of India's state terrorism.
Modi government is supporting to have Direct Talks with the Taliban, but when it is about Kashmir, they became silent. There is a dire need for the Indian government to review their mindless Kashmir policy. Kashmiri people must be given the right of plebiscite to decide them their destiny. Pakistan's foreign policy is on right direction that the tools of diplomacy need to be improved for better results and peace process is the only way forward.