A frozen conflict in the Caucasus reaches a boiling point
[yt_dropcap type="square" font="" size="14″ color="#000″ background="#fff" ] A [/yt_dropcap]s most of the industrial world and major powers focus on the conflicts in the Middle East, the obstinate behavior of North Korea, and the deterioration in the relationship between Russia and the West, there exists a "frozen conflict" that has the possibility of affecting the Middle East, Europe, and every nation within the Caspian periphery.
It is the current crisis between Armenia and Azerbaijan over the Nagorno-Karabakh region and if it is not resolved or successfully mediated soon then the possibility is high that armed conflict between the two nations will occur; an action that serves the interests of no one on the geopolitical stage outside of the jingoistic goals of the two belligerents. The territorial dispute has gone on for decades and has cost tens of thousands of lives with charges of ethnic cleansing levelled by both sides.
The Caucasus was the ancient crossroads between former empires and their heirs: Russian (tsarist and modern), Ottoman (Turkey), Persian (Iran) and Armenia, the first country in history to recognize Christianity as the official religion of the state, decades before Theodosius did so in Byzantine empire. All four, whose control of the area waxed and waned over the centuries, believe they have historical precedent in controlling the area.
The beginning of the dispute can be traced to Stalin's decision to carve out a large district, the Nakhichevan Autonomous Soviet Socialist Republic, and put it under the control of Soviet Azerbaijan, both to divide and rule and to placate Turkey, whose close ties with Azerbaijan convinced Stalin that the maneuver could be used to forge closer ties with the Turks. What Stalin could not foresee was the simmering discontent the region would foster over the next half century, the result being that most of those in the region were Armenian under Azerbaijani control.
Soviet control maintained a somewhat firm hand over the region until the first signs of the dissolution of the Soviet Union in the late 1980's. The discontent assumed organized form from 1988 to 1992 as the Karabakh movement, a nationalist movement that began in the Nagorno-Karabakh Autonomous Oblast that advocated for the transfer of the majority Armenian-populated Nagorno-Karabakh region of neighboring Azerbaijan to the jurisdiction of Armenia. In 1988, the autonomous Nagorno-Karabakh region, comprised of a majority Armenian population, passed a referendum to join Soviet Armenia. This created enormous tension as Azerbaijan fiercely decried the legitimacy of the vote. This led to the intervention of Soviet troops in response to heavy interethnic conflict in the region between Azerbaijani troops and Armenian secessionists. On November 26, 1991, the Azerbaijan parliament revoked the autonomous status of the Nagorno-Karabakh Autonomous Oblast and attempted to divide the region and incorporate it piecemeal into five Azerbaijani districts, Shusha, Khojavend, Tartar, Goranboy, and Kalbajar. Because of this action, the Armenian population in the disputed region immediately declared their independence under the banner of the Nagorno-Karabakh Republic two weeks later on December 10th. Full scale fighting intensified in late 1992, and the conflict quickly escalated into a full-scale war in which 30,000 people were killed and over one million Azerbaijani refugees were displaced. Over a two-year period, a succession of Armenian victories put the disputed region firmly under Armenian control before a ceasefire was brokered by the Russians and successfully implemented in 1994. At the signing of the ceasefire, Armenian forces controlled almost 20% of Azerbaijani territory.
As a result of the war, most of the former autonomous oblast has since remained under the control of the ethnic Armenian forces of Nagorno-Karabakh. After the dissolution of the Soviet Union, the United Nations passed several resolutions recognizing the Nagorno-Karabakh region as part of the Republic of Azerbaijan. To this day, the Nagorno-Karabakh Republic is not officially recognized by any government outside of its own. Armenia does not recognize it because of the volatility in doing so would limit their flexibility in diplomatic negotiations; in addition, Russia, a key ally of Armenia, is resolute in not granting the area official recognition.
The ceasefire was violated hundreds of times over the last two decades until April of 2016, when heavy fighting took place along the Armenian-Azeri contact line in Nagorno-Karabakh resulting in hundreds of deaths. The clashes lasted four days and a larger conflict was avoided via the implementation of another ceasefire; however, the events highlighted the incendiary risk of a full-fledged war that has been omni-present for decades.
Compounding this problem is the labyrinthic array of alliances that rival the Byzantine foreign policy that was present in the area millennia ago. Azerbaijan has strengthened ties with Israel over the past few years. Trade exchanges, security agreements, and increased cooperation from agricultural projects to telecommunications have led to a symbiotic relationship between the two countries. Azerbaijan is Israel's top partner in trade within the Muslim world, supplying Israel with millions of tons of oil every year, amounting to 40% of Israel's oil being directly provided by Azerbaijan. Exports from both countries increased from a paltry $2M in the late nineties to almost half a billion at present time. In 2012, both countries signed an arms agreement totaling 1.6 billion dollars, in which the Israeli-run Aerospace Industries would provide drones, anti-aircraft and missile defense systems. After last year's skirmish in April, Israeli media reported that Azerbaijan bought five billion dollars of Israeli weaponry, including advanced intelligence equipment. The Azerbaijanis have reportedly already put their newly acquired weapon systems to use, as the Armenians have protested to the Israeli government on the use of Israeli-bought suicide drones (the Israeli Harop) being used to seek and destroy Armenian targets.
But why this odd coupling? What are the reasons that these two countries, a Jewish state and the other being primarily dominated by Shia Muslims? There are shared mutual security concerns. Both nations view Iran as a existential threat, Israel for obvious reasons and Azerbaijan because of Iranian support for Armenia. Secondly, for Israel, the deterioration of its relationship with Turkey have forced the state to strengthen ties elsewhere within the geo-graphical vicinity. Azerbaijan shares a border with Iran, making it ideal for Israeli covert operations to have a point of access. Indeed, Iran has not failed to recognize this and has accused the Israelis of using Azerbaijan as a corridor to allow their operatives to kill their nuclear scientists, as well as provide continual ground-level Israeli spying. Additionally, most intelligence analysts have speculated that the Israelis could use Azerbaijani airfields to launch possible airstrikes against Iranian nuclear facilities, eliminating the need for long re-fueling endeavors and other logistical obstacles. Increased cooperation and shared security concerns over oil also addresses a continual worry for Azerbaijan, countering Iranian and Russian attempts to control oil export routes, especially considering the volatility of the Nagorno-Karabakh region in destabilizing their energy industries. Minor concerns for both countries are their cooperation against smaller threats such as the Hizb ut-Tahrir, whose pan-Islamic ideology threatens both states.
Both countries try to keep their relationship discreet; this was evident in a leaked 2009 cable in which Azerbaijan's President Ilham Aliyev was quoted as saying that his country's relationship with Israel was as like an iceberg: "nine-tenths of it below the surface."
Outside of the aforementioned security concerns, within the political arena Baku hopes that allying itself with a democratic nation will remove or diminish western criticism of its one-party state over which President Ilham Aliyev presides. Attention from human rights organizations, including Amnesty International, and a ranking near the bottom on the Democracy Index have plagued his government for years, with continual accusations of harassing or killing dissenting journalists, restricting opposition parties, as well as vote tampering comprising the bulk of international criticism. Armenia is subject to much of the same criticisms – the recent Armenian election, won by President Serzh Sarksyan's ruling Republican Party, was also tainted by vote-buying according to OSCE monitors; though not to a degree previously feared by international third party observers. Both countries have modified their constitutions to allow for long term rule, solidifying inherent power structures that allow both countries to continue their militant policies toward each other.
Turkey, whose relationship with Israel is rocky, nevertheless is the other member in the trifecta opposing Armenia. They are united by economic trade and a shared defense pact ratified by both countries seven years ago, promising military and political aid against an outside aggressor. Erdogan has made the Turkish position clear concerning their support for Azerbaijan in any conflict with Armenia, telling an Azerbaijani reporter that "we will support Azerbaijan to the end." As Turkey is also a member of NATO, there is added incentive to Azerbaijan in signing the pact, certainly cognizant of NATO's defense policy concerning its member states, indirectly linking certain military actions that might possibly be evoked in case of Armenian aggression in response to Turkish aid to Azerbaijan. In addition, Armenian insistence that Turkey recognize the Armenian genocide of 1915 is an ongoing issue that divides the two even further.
Georgia, while having somewhat cordial relations with Armenia, clearly supports Baku's stance, so much so that previous Georgian President Mikheil Saakashvili commented in 2001 that "whoever opposes Azerbaijan" is Georgia's "enemy."
For Armenia, the options are limited but they include Russia, which has no desire to see their orthodox brethren subjected to Shia aggression. Ties between both countries run deep; both countries signed a defense pact in Yerevan, and there are several Russian staging bases within Armenia. Russia has also supplied Armenia with over one billion dollars in arms sales. Within Armenian infrastructure, Russian involvement has deep roots, with Russian companies controlling or owning almost all of Armenia's railways and gas pipelines.
For Moscow, Azerbaijan is the prize and Armenia is the tool for achieving that. Azerbaijan's geopolitical location and rich oil resources are what interest the Kremlin in addition to their suspicion of a Shia Muslim country on their periphery. While sympathetic to the Armenian cause concerning the disputed Nagorno-Karabakh region, the Russians have stated, however, that their mutual defense pact does not cover the disputed area and that it falls on Armenia alone to defend it if it is attacked. While the pact guarantees protective military aid for the sovereignty of Armenian territory, the Armenians know that they are alone in defending their interests in the disputed region as Russia does not recognize it as part of Armenia proper. Adding intractability to the situation is the fact that Russia has been selling arms to both Armenia (over one billion dollars' worth) and Azerbaijani (four billion dollars) under the supposed justification that controlled parity ensures peace. In the previous conflicts that have flared up over the last year, casualties on both sides were primarily inflicted by purchased Russian weapons. Azerbaijan's defense budget greatly exceeds Armenia's entire national budget, and previous Armenian successes on the battlefield can no longer be taken for granted, with recent Azerbaijani spending on weapons that dwarfs Armenian expenditures in the same area. To counter this imbalance, a disturbing scenario has developed with the Armenian acquisition of the Iskander ballistic-missile systems from Russia last year. Armenia is the only foreign country to allowed to acquire the advanced Russian missile system, despite bids from much wealthier nations, indicating Russian interests in assisting Armenia to achieve parity in the face of increased Azerbaijani military spending. This was later echoed by the Armenian President Serzh Sargsyan, who argued the missiles were necessary to address the growing surplus of offensive weapons procured by Azerbaijan, a strategic argument that has the backing of Moscow (a paradoxical position as Moscow has sold Tos-1A Buratino thermobaric heavy rocket artillery systems, a weapon that can reduce a city block to rubble) to Azerbaijan. The Iskander-M missile has a range of five hundred kilometers (putting it well within reach of Azerbaijani oil facilities) and is considered highly accurate. Outside of being equipped with conventional warheads, it can also be adapted to carry nuclear warheads. While this nuclear capability may seem at first glance to be an improbable scenario, there is enough circumstantial evidence to be of concern, suggesting that the Armenians are more interested in acquiring tactical superiority that will make the increases of Azerbaijani conventional weaponry redundant. At a press conference on April 29 in Armenia, MP Hrant Bagratyan, a former prime minister, claimed that Armenia has nuclear weapons, later adding that they also "have the ability to create nuclear weapons" when asked to clarify his original comment. While most of the intelligence community considers his comment to be nothing but bluster, recent arrests of Armenians in Georgia trying to sell enriched uranium, as well as recent comments by both military and civilian leaders in Armenia either claiming to have a nuclear weapon or the capability in developing them, have not put their neighbors at ease.
Iran has cordial, friendly relations with Armenia, to the extent that Iran tolerates and bestows special recognition to the Christian Armenian population present in northern Iran. The ties between the two countries run deep, during the Iran-Iraq war, a significant number of Armenians died fighting for Iran. Iran even allows them to be represented by choosing their own delegates in parliamentary elections. The coinciding interests of both Armenia and Iran result in a rarely observed phenomena within the arena of international relations, an Islamic Republic working with a Christian orthodox Armenia concerning shared geo-political interests as well as economic endeavors, such as the construction of a hydro-electric plant on their shared border. In addition, Armenia is providing Iran with electricity in exchange for natural gas imports; with the lessening of international sanctions, Iran also views Armenia as an outlet to Eurasian markets, as Armenia is the sole Eurasian Economic Union member that borders Iran.
There are large numbers of Iranians of Azerbaijani descent (more so than the entire population of Azerbaijan); as Iran has conflicting interests with Azerbaijan, there is always an ever-present Iranian fear of a possible Azeri insurrectionist movement within Iran. While not problematic to the degree that some speculate, there have been problems in the past with separatist movements, and Iran casts a watchful eye on its second largest minority. Iran considers the working relationship between Israel and Azerbaijan to be a major security threat on its Northern border. It serves Iranian interests to have a weakened Azerbaijan and supporting Armenian expansionist aims over the conflicted Nagorno-Karabakh strengthens their hand. Azeri off-shore operations have been subject to harassment by Iranian naval vessels, which have tried to disrupt Azeri attempts to mine the Caspian for oil; and the Azeri's have accused Iran of training operatives, arresting several within the Azerbaijan border on charges of terrorism. Disagreement with Turkey over its strategic initiatives in both war-torn Syria and Iraq has led to disputes between Ankara and Tehran, which adds even more baggage to the labyrinthic relations between all the aforementioned countries.
Armenia also has strong ties with Greece, both in their historical past within their shared Eastern Orthodox faith, as well as mutual co-existence throughout the centuries under both the Byzantine and Ottoman empires. They have signed bilateral treaties of cooperation, and Greece is one of Armenia's military partners; Greece trains much of the Armenian officer corps. The fact that Greece has had a historically difficult relationship with Turkey certainly isn't lost on Armenia and like most multi partner alliances, this relationship is useful leverage to Yerevan.
Internal turmoil in both countries, fueled by economic woes, can also accelerate the path to conflict. Azerbaijan's currency has plummeted for several years (though it has shown recent signs of strengthening through an enlarging tourist trade); Baku is heavily dependent on petroleum and natural gas exports and falling prices have continued unabated for several years. Azeri's have been keeping most of their savings in foreign currency, exasperating the situation. Armenia isn't much better. Dire economic conditions in both countries could tempt the leadership on either side to engage in small scale military endeavors to shift attention away from criticism of the government's record on repressive measures taken on dissent (opposition parties, the press, etc.), as well as shift attention away from their struggling economies. Patriotism is strong in both countries among the general populace, and serves as a ready distraction by the governments of both countries to keep internal criticism low.
The repercussions that could result from an emerging conflict could be devastating not only to the surrounding area, but could deeply affect Europe as well. The Azerbaijani Defense Ministry releases almost daily reports of Armenian violations of the current ceasefire, for example: On March 23rd the Azerbaijani Defense Ministry claimed that Armenia violated the current ceasefire along the line of contact between Azerbaijani and Armenian troops 126 times in a 24 hour period; on March 30th, there were 146 violations, April 3rd 110 violations, etc. Armenia makes similar claims against Azerbaijan violations, stating similar numbers.
There are two major export routes that the Caspian region uses to export oil/gas to Europe and it is primarily Azerbaijan, which some analysts state sits on a potentially exploitable two trillion cubic meters of gas, which can provide a substantial European need. It is a symbiotic relationship for both Europe, which desires to move away from dependence on Russian gas, and Baku, where a substantial part of its revenue (20%) is derived from its energy sector. In addition to the established routes in existence, Baku is currently building what is referred to as the Southern Gas Corridor, a proposed 3,500-kilometre-long network of three gas pipelines from Azerbaijan's Caspian Sea basin that will enable Europe to offset Russian price fixing and using its supply of gas to Europe as a foreign policy tool. Russia supplies over one-third of the EU's crude oil needs and Russian pipeline dominance is expected to continue for at least two full decades if measures are not taken to diversify the EU's energy needs. European hope that existing and proposed Caspian oil/gas pipelines will alleviate them from relying on fickle Russian gas policy to meet their crucial energy needs could be dashed by a conflict between Armenia and Azerbaijan, even more so considering previous statements out of Yerevan that said pipelines would be a legitimate military target if a conflict ensues. The best-case scenario in such a conflict is that Azerbaijan would likely shut down the pipelines down to avoid spillage due to leaks caused by targeting. This would be devastating, as the Baku-Ceyhan pipeline ships over one billion barrels of oil per day, supplying Turkey as well as Israel. In addition, the ongoing construction of the Southern Gas Corridor, in which a predicted ten billion cubic meters of gas could be shipped into European markets, could also be targeted in a conflict between the two countries. The economic repercussions that would happen if an emerging conflict would arise are enormous; just the mere possibility of such a conflict make emerging pipeline projects risky financial endeavors, and damaging hostility can cause a spike in the global oil market. With long term plans to add more pipelines reducing European need for Russian gas, the greater the impact if conflict arises in the future. It should be noted that it would be against Russian economic interests if the Azerbaijani-supplied Southern Gas Corridor is completed, further complicating the issue, given Russian support for Armenia.
Russian interests are best explained by Maksim Shevchenko, who has on two separate occasions been a member of the Public Chamber, a group of advisors under Putin: "If a new war erupts between Armenia and Azerbaijan in Nagorno-Karabakh, Russia, Georgia and Turkey will be involved in it." The Russians fear that a war between the two countries (or an emerging civil war in either country) could descend into chaos and will provide the right fertilization for radical terrorism as an emerging vacuum would result from chaotic instability, citing examples in both Syria and Iraq as a horrifying template. Claiming that the West has little interest on the region, it is up to Russia, Turkey, and Iran to put pressure on both Armenia and Azerbaijan to reconcile their differences over the disputed region. Shevchenko stressed that the Russia-Turkey-Iran format, consisting of three countries with a shared disdain for Western influence in the region, is ideal for a Nagorno-Karabakh settlement. Criticizing Armenian support for joining the EU, Shevchenko, echoing Russian political sentiment, believes that such aspirations only make the problem worse, and will create more conflict with the addition of other countries who do not understand the instability of the Caucus region to begin with.
For the United States, their decade-long support for nations in the Caspian region Georgia, Armenia, and Azerbaijan to achieve autonomy and provide a bulwark against Russian expansion could be thwarted. Reducing reliance on Russian gas delivery weakens Russian leverage, so it serves Western interests to foster Caspian energy resource distribution to Western markets. Conflict could destabilize the entire area and lead to Russian intervention and an increased military presence within the Southern Caucus region. A protracted conflict could also lead to millions of refugees, straining the capabilities of surrounding countries like Georgia to handle the sudden influx. Of secondary concern would be the alliance entanglements that would involve both Turkey (a NATO member) and Russia.
According to the International Energy Agency, 95% of the global economy is affected by the actions of half a dozen states in the Middle East which are facing internal crisis, terrorism, corruption and a host of destabilizing scenarios; adding more convoluted problem scenarios inherent within the Caspian region and surrounding countries is problematic at best and catastrophic at worse, especially considering the close relationships that Israel, Iran, and Turkey have with Azerbaijan and Armenia.
So what can be done? What can bring peace to the region or at least a sustainable stability?
Past attempts have only been moderately successful. The Organization for Security and Cooperation in Europe (OSCE) created the Minsk group in an attempt to create a peaceful resolution to the frozen conflict through negotiation, but, like the Russian attempts, nothing permanent has resulted in anything other than ceasefires. Neither the Russians nor the Minsk group have been able to de-escalate the tension between the two countries whose hatred of each other displays a depth past their respective leaderships all the way down to the community level.
The United States is limited both by geography and currently poor relationship with Russia, Turkey, and Iran. Its diplomatic initiatives would be limited to coercion, economic packaging which includes assistance and financial investments, etc., and in the same economic stratus could curtail those activities in order to exert direct pressure on either Baku or Yerevan by withdrawing economic assistance or establishing sanctions. In this regard, the United States could be joined by the EU in discouraging economic assistance and halting projects that both countries (especially Azerbaijan) need to boost their economies if there is no collective push by bother countries to mediate their differences peacefully. Putting a halt to outside projects that benefit both nations could certainly be used as substantial leverage to bring both parties back to the table.
Both the United States and the EU should encourage Russian mediation, as past experiences have shown some success in Moscow's attempts to broker peace by dealing directly with the military leadership of both Armenia and Azerbaijan. However, Russia's options are limited as well as both Baku and Yerevan express deep hesitation in accepting any semblance of Russian peace-keeping forces in the disputed region, as it would insinuate a return to the subservient roles that both countries played within the Soviet Union.
All of the major powers that are influential in this region – Russia, Turkey, Iran, the EU, and the United States – must work directly together to produce a clear schematic of how disastrous a conflict would be to both nations. Ideas that would defuse the situation must include how to deal with the sole main issue that divides the two nations so deeply, the Nagorno-Karabakh region. Various solutions have been discussed, from the obvious return of the territories surrounding Nagorno-Karabakh to Azerbaijani control to awarding a limited autonomy that will allow for self-governance to a degree while still allowing for an Azerbaijani influence, somewhat like the status of Hong Kong in China. International security guarantees by Russia and the EU in addition to international peacekeeping forces along any disputed borders are also another option.
There are two specific actions that the United States could enact that will affect the two countries separately. The U.S. could threaten to pull out of the Minsk peace process and take the matter to the United Nations. Armenia would fear such an action because of past rulings where the Security Council has expressed support for Azerbaijan's territorial claim to the disputed region. In turn, however, Azerbaijan would likely dissuade the Americans from doing this, as the Azeri's use American involvement as a counter to Russian influence in the region, specifically in regards to the close relationship between Yerevan and Moscow. Both proposed actions come with large risks as a diminished American role in mediation in the Caucus region will be seized by Moscow as legitimately ceding the area to the Russian sphere of control.
Recent joint Russian and Turkish cooperation concerning their respective roles in the Syrian conflict gives both countries a progressive familiarity with each other and this current working relationship may yet be successful in brokering a lasting peace between their secondary allies in Baku and Yerevan. Additionally, Moscow must stop their practice of selling weapons to both sides under the bizarre notion that it achieves "parity."
Certain steps must be taken as a resolution is being worked on. International observers must be allowed in greater numbers as well as increased and better communication on a tactical level between the military leadership of both countries, not only to minimize the chances of an incendiary spark that could ignite a conflict, but also as a step toward working to a solution by adhering to third party observation as a common denominator in solving almost daily disputes. A proposed UN Security Council resolution condemning any future substantial military action could also be used to award coveted legitimacy to the nation pressing its case.
The OSCE must realize that simply managing the current dispute between the two countries isn't acceptable and that a resolution and the long-term commitments that come with it must be the primary goal. This includes everything from daily mediation to post-settlement security issues as well as addressing the multiple issues that come with such a resolution, such as community displacement from the previous fighting and the possibility of their eventual return. The alternative to failure would be an additional conflict (the other being the Ukrainian crisis) that the OSCE would have to manage.
In the past both Armenia and Azerbaijan have been malleable when international attention has been acutely focused on their disputes; and their belligerency toward each other manifests itself physically when international attention wanes. Vigorous attention by the major powers affecting both countries should be sharp and focused. Both countries must be convinced that their future lies in economic integration within the Caspian periphery and that open conflict will achieve nothing beneficial to either country. Armenia must understand that they stand alone in lacking international allies concerning their claim; their worsening economy and a lack of energy-producing integration projects that their Caspian neighbors have begun in their own countries only highlight their isolation. Azerbaijan must understand that procuring offensive weapons at great expense in anticipation of achieving their goals militarily will not remove the problem and in turn, will destroy the economic projects both recently created and planned to bring prosperity to their nation. There will always be violence unless both sides procure a peace agreeable to both. There is everything to gain and everything to lose.
Years ago, the late Meir Dagan, former Director of the Mossad, visited Azerbaijan. Knowing his love for chess, his Azeri hosts took him to a local high school chess club where he lost every game. His hosts were embarrassed that their honored guest was humiliated and were not expecting this outcome as Dagan fancied himself a good player. While unsettling within the narrow confines of diplomatic protocol, the current chess game being played over the disputed Nagorno-Karabakh region is far, far riskier.
Is Ukraine at War? Navigating Ukraine's Geopolitical Conundrum
In April this year, amidst rising tensions with Russia, a Ukrainian diplomat warned that Kyiv may be forced to acquire nuclear weapons to safeguard the country's security if NATO does not accede to its membership demand. On the same lines, Ukrainian president Volodymyr Zelensky challenged his Russian counterpart President Vladimir Putin, to meet him in eastern Ukraine's Donbass region to talk on ending ongoing conflict in the region. He further urged the west to give "clear signals" of whether they were willing to support the country in its standoff with Russia.
But why has this situation emerged? Why is NATO and west so reluctant to proceed with forming partnership with Ukraine? Is Russia aggressive towards Ukraine? And as no geopolitical conflict in today's complex world is possible in isolation or between just two parties, who are the other actors involved in this conflict? This paper investigates these questions to analyse the case of post-soviet Ukraine and how Ukraine remains important to the geopolitical dynamics of not just the post-soviet space, but also the broader Eurasian region as well as the world.
Background
Ukraine has been often deemed as the cornerstone of the Soviet Union. It was not only the second-most populous republic, after Russia, but was also home to much of the Soviet Union's agricultural production, defence industries and military. However, Ukraine's history is intertwined deeply with the birth of Russian kingdom itself, as the beginning of Ukraine was the establishment of Kievan Rus which united the Eastern Slavs and laid the foundation for Russian identity. After centuries of direct existence under Russian rule however, Ukraine post-1991, decided to embark on its separate journey, hoping to de-intertwine its fate with that of Russia's. However, this has not become a success to the extent Ukrainian leaders might have expected. The nation's proximity to Russia has meant that any government in Moscow will do anything in its capacity to maintain some control over Kiev's foreign as well as defence policy, in order to keep at bay any adventurist objectives by the western bloc of EU and US. Today, Russian policy's primary aim is to keep Ukraine out of foreign alliances and geopolitical blocs like that of EU and NATO, and for this, periodic show of strength has become an explicit policy in the last decade for Russia. Further, post the Russia-Ukraine conflict of 2014, where Russia allegedly invaded Ukraine and annexed Crimea according to Russian critics, NATO has been forced to increase its presence in the Black Sea region where Crimean Peninsula exists geographically and has stepped up maritime cooperation with Ukraine (as well as Georgia, who too have similar concerns with Russia). However, although the relations between NATO and Ukraine were updated in June 2020 and Ukraine is now one of the six countries having tag of 'Enhanced Opportunity Partner' and makes significant contributions to NATO operations and other alliance objectives, NATO's scepticism and reluctance on giving full member status to Ukraine is seen in Ukrainian political circles as west's non-serious attitude towards the nation. Similarly, while EU remains the most important trading partner for Ukraine, its path to becoming an EU member has been harder than the leaders would have imagined. In the later parts of this article, the 2013 trade war between Ukraine and Russia over the possibility of Ukraine joining EU, and the subsequent toppling of the presidential regime in Ukraine in the next few months is highlighted.
However, even though Russia, EU and NATO have been primary geopolitical actors in Ukraine, recently, new actors have joined the ongoing geopolitical conundrum. The entry of the likes of China and Turkey has not only made the situation more complex but has also raised the stakes for the primary actors. Ukraine has in recent years, encouraged the presence of Chinese businesses in its market and welcomed further expansion of bilateral trade and economic cooperation, to the extent that in 2019, China replaced Russia as Ukraine's main bilateral partner. In case of Turkey, president Tayyip Erdogan has time and again reaffirmed its support for Ukraine's territorial integrity as well as Ukraine's bid to join NATO. Further, Turkey-Ukraine cooperation in the military sector has dramatically increased in the recent years, replacing the traditional Russian base. Interestingly though, Ankara has maintained and has even grown in its partnership with Moscow which somehow softens the stance towards conflict between Ukraine and Russia as gets limited to following the EU-US stance more often than not, unlike in the case of Azerbaijan-Armenia's Nagorno-Karabakh conflict where Turkey had explicitly supported Azerbaijan when Russia has tried to balance between Armenia and Azerbaijan.
The Perennial Question: What does Russia want?
Prior to 2014 Ukraine-Russia conflict, Russia had hoped to have Ukraine into its single market project- Eurasian Economic Union (EAEU) and benefit from the enormous Ukrainian market and population which could have boosted Russian industrial base. However, post the conflict, any hopes for integrating Russia-Ukraine markets have collapsed. Whereas Russia supplied most of Ukraine's gas until 2014, the supply stopped entirely by 2016. Today, Russia is looking to complete infrastructure projects in terms of energy commodities, which would bypass Ukraine to starve Ukraine from the billions of dollars of transit fee that Russia has paid since long to Ukraine to reach Central and Eastern European markets. Further, since 2014, EU became the main trading partner and has been in talks with Ukraine since very long for Ukraine's accession to EU. However, Russia for long has seen EU membership as an immediately preceding step to NATO accession, and hence sees the aspect of avoiding EU membership for Ukraine as not only an element of Russian economic policy, but also that of its security policy. Further, Russia now sees EU as not just an economic bloc, but 'a potential great-power centre in the making', whose further expansion in post-soviet region is bound to negatively affect Russian credentials of a hegemon as well as the arbiter in the regional conflicts. Russia's recent mobilisation of troops at the Ukrainian borders which was more of show of strength rather than a potential act of aggression, had raised concerns in the new US presidential regime. In one interview, Russian defence minister Sergei Shoigu explicitly linked Russia's mass-mobilization drills to NATO's 'Defender Exercise', which has been the biggest military exercise taken in the Black Sea region since the cold war era, saying that 'The scale of US led military activity required response'. In a way, Ukraine has become a battleground for both Russia and US to showcase their influence and Ukrainian leadership is finding itself in a dilemma, being unsure and insecure of the extent of intentions from both the warring blocs.
The Western Dilemma: Why Ukraine still not in EU and NATO?
There have been several factors at work which has made Ukraine's path to membership to EU and NATO difficult. Firstly, in the recent years, there has been a concern in the EU political circles that there is no political will in Ukraine to fight vested interests and go beyond the promises of showing credible commitment to genuine domestic reforms. However, on the flip side, the argument is often made that beyond financial and technical assistance that EU can provide to Ukraine and its market, Brussels does not have any new offer to motivate Kyiv in implementing reforms. Further, since the coming of new presidency in 2019 (of Zelensky), the primary focus of the government has shifted to resolving the Donbass conflict where Ukraine is struggling against separatists in Donetsk and Lugansk, who are allegedly supported by the Russian side.
Moreover, it is also an open secret that many member nations in EU itself would prefer to have a different relationship with Russia, who since 2014 has been facing several sanctions in realm of trade, be it in energy sector, consumer goods, or defence and space technology. This is clear when we take in consideration the case of Germany and how the government has for long insisted on getting the Nord Stream 2 pipeline project completed amidst mounting pressure from other members of EU and the US. The project is expected to resolve the energy demand issue for majority of German households for the near future once in function.
In Russia, EU is deemed as the 'Trojan horse' for NATO expansion as already mentioned before. However, for NATO, a different set of concerns exist altogether. NATO has been wary of Russia's continued destabilization of eastern Ukraine and the continuing unrest in the Donbass region. If, however, Ukraine becomes a NATO member, any such conflict would mandate NATO to get involved in the region and aid Ukraine, which then might escalate in a bigger conflict. And this is another important reason for NATO's restrained stance.
China- The 'Well-settled' player in Ukrainian Market
In recent times, China's economic might has enabled it to leverage the benefits in a variety of ways. Not only does China influence the decisions indirectly at times, but any economy which is intertwined and dependent on Chinese economy, can today expect to feel direct effects of this economic inter-dependency when it comes to foreign policy. An increasingly observable phenomenon is that China in gaining foothold much quicker in those nations of the post-soviet space, where Russia is deemed as a hostile neighbour or state. This was visible in a 2020 public opinion survey by SOCIS which highlighted that almost 60 percent of Ukrainians see Chin as a 'neutral' state even if only 13 percent see China as 'friendly', but over 63 percent see Russia has a 'hostile' state, with only 5 percent deeming Russia as 'friendly'. Today, China is complementing Ukraine for its deficits, for instance in the field of technology and defence where it is replacing Russia and competing with Turkey, and in realm of exports, China is proving to be a worthy destination for Ukraine's agricultural products by having a large population and increasingly developed market system. This is quite clear by the statistics which show that Ukrainian exports to China surged 98% in 2020 driven by iron ore, grains, and palm oil. Ukraine's president on his part recently praised China for respecting Ukraine's sovereignty and territorial integrity and highlighted China's assistance in combating COVID-19, however, it remains to be seen how these developments would be perceived by both US and Russia.
Turkey- An Emerging Vector
Turkey-Ukraine cooperation in military technology has increased dramatically post the 2014 Russia-Ukraine conflict and today, Ankara supports Kyiv's bid for membership to NATO as well as peaceful solution to the conflict in Donbass (Donetsk and Luhansk region). Further, in April this year, the two sides pledged in a 20-point statement, 'to coordinate steps aimed at restoring the territorial integrity of Ukraine within its internationally recognized borders, in particular the de-occupation of the Autonomous Republic of Crimea… as well as the territories of Donetsk and Luhansk regions'.
However, there is a renewed enthusiasm in the recent Ankara-Moscow dynamics, where the two have come closer since President Erdogan's policies have become more nationalistic and non-secular in nature, driving Turkey away from the ambit of west and US, and raising concerns about the increasingly populistic approach being undertaken by Turkish government. Further, US' plans to build new naval bases in the Black Sea region and enhancing military cooperation with Ukraine and Georgia also concerns Turkey, as it directly would result in reduced role of Turkey and a blow to Turkish president's ambitions of renewing Turkey's status as a regional powerhouse.
Conclusion
The seven-year war between Ukraine and Russia, which is still ongoing, has changed the relationship between the two countries completely and permanently. Since Ukrainian market is now open to EU and China, a competition to dominate this market is soon to become more and more visible. While Russia would want to avoid Ukraine's EU accession till as long as possible, Moscow will go to even greater lengths to prevent Ukraine's NATO membership. On its part, not only will NATO be wary of Russian insecurities, but it will also consider the fact that increasing tensions with Moscow might push it towards Beijing, and a possible military alliance between the two military powers might be the greatest challenge for NATO in the coming future. Since Russia has lacked the economic might post the Soviet union's dissolution, an alliance with China might balance out almost every limitation that Russia and China have in terms of their superpower capabilities. EU on the other hand keeps a close eye on developments in Kyiv too. Although Kyiv is yet to come up with overhauling reforms which would strengthen EUs believe in Ukrainian system, EU member states themselves will need to overcome a sort of internal division, where several member states hope of having a more normal relationship with Moscow. US on its part is expected to align with Turkey and US in bringing Ukraine in close cooperation with EU and NATO and to do everything possible to detach Kyiv from a possible rapprochement with Moscow. It remains to be seen, how other post-Soviet states like Georgia, Armenia and Azerbaijan react to these developments taking place in Ukraine and assimilate this in their own discourse of balancing the west and Russia.
'Strategic Frivolity' of the West and the Belarus Issue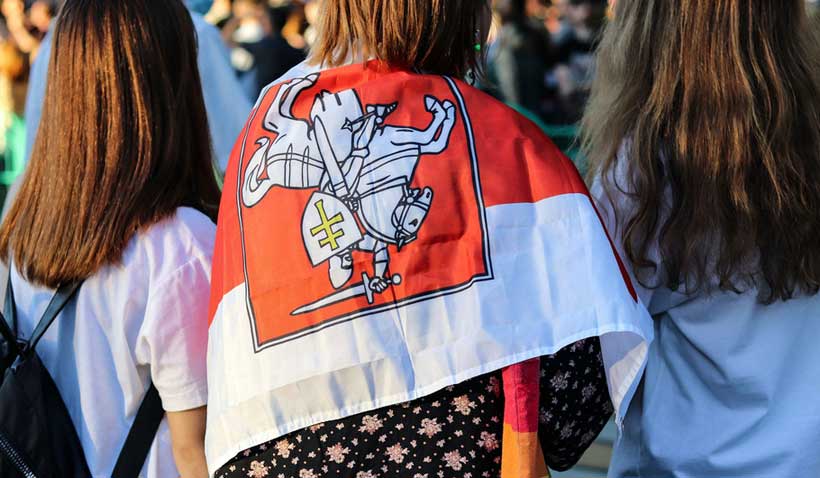 The Western countries' reaction to the detention of an opposition leader in Minsk has revealed the high degree of readiness of the United States and its allies to create risky situations for the sake of momentary political benefits. No matter how the actions of the Belarusian authorities were consistent with international aviation law and customs, the behaviour of Washington and most of European capitals showed that they are difficult, if not hopeless partners for the rest of the world community. Now we have no reason to fear that developments will turn into an uncontrolled escalation — the attacks of the West against Lukashenko do not directly impact Russian interests. However, what has happened in the media and in diplomatic circles in recent days provides ample opportunity to consider the need for new containment measures in relation to the habit of the US and Europe to take European and international security so lightly.
So far, Russia's reaction to these emotional outbursts has been restrained, because the actions of the Western countries did not directly harm its interests. But if such hysteria repeats, it will confirm the lack of intentions in the West to establish any kind of stable dialogue with those powers that are not willing to subordinate their respective domestic and foreign policies to its demands. Is this some kind of a "strategic frivolity", whose appearance in international affairs and the behaviour of the EU and the US has become more and more regular as the balance of power in world politics shifts? Russia, for its part, can show any amount of restraint, but the line beyond which this will become impossible, may be passed unnoticed.
As a matter of fact, such a reaction of the West to the stoppage of an international flight by the Belarusian authorities and the detention of one of the passengers did not come as a surprise. In recent years, Russia, China and others have become accustomed to the fact that the United States and Europe have been quick to sacrifice international stability when it has suited their concurrent goals.
The EU countries have been grasping at any straw in their attempts to confirm their greater relevance in terms of international law on the world political stage. It hasn't been working out very well so far.
At the summit on May 25, the leaders of the European Union countries approved a resolution calling for a package of measures against Belarus — personal sanctions and broader measures against the Belarusian economy. But it is clear how ineffective these measures will be, even to the European observers. After the failure of the EU to work out a common position on the conflict between Israel and the Palestinians, the failure of another attempt to "punish" the government of Alexander Lukashenko will serve as another blow to the international reputation of the EU.
Britain, which left the EU, but remains the closest satellite of the United States, is in principle trying to behave as the main opponent against any country whose position does not coincide with Washington's wishes. Now London's position is aligned with that of the Baltic states, which are most irresponsible in their statements and actions. It is unlikely that this will strengthen London's position on the world stage. The United States, for its part, is acting in its usual way — while lacking any direct interests, it easily creates risks for others. Surprisingly, in this respect, the behaviour of the US resembles the behaviour of Minsk, which is also not always ready to take into account Russia's diplomatic wishes.
For Russia, the recent diplomatic "plane crash" involving Belarus does not pose immediate threats, but it may become another test for Russia's legendary restraint. Moscow is clearly accustomed to the fact that the Western states are not always predictable in their actions and, in principle, live "in their own world", where there are certain rules for them, and completely different ones for others. So far, Russia has reacted to all this in a very reserved manner. The measures the West has taken against Minsk do contradict basic Russian interests in the field of European security, but they do not create threats and do not harm Russia. However, it is the ease with which the West enters a conflict with any nation, at the slightest pretext, that causes Russia's concern.
It will be extremely fortunate if, during the Russia-US summit, scheduled for June 16 in Geneva, the parties can deliver some appeasement to international or regional politics. It is unlikely that the summit will result in any breakthrough of a general nature; there are no preconditions for this. But the very ability of Russia and the United States to discuss common interests will show that both great powers retain the responsibility necessitated by their strategic importance. So far, however, we cannot be sure even of such a minimal positive outcome of the expected meeting.
Russia concurs that the actions of the Belarusian authorities are no example of prudence. Nevertheless, one gets the impression that Moscow has adequately estimated the scale of Western pressure on Minsk and understands that in the situation that has arisen, reactions such as that of the Belarusian government are quite predictable, and even justified. In 2020, a number of Belarus' neighbours in the West openly supported a movement to overthrow President Lukashenko. Russia then supported the legitimate Belarusian government and warned of its readiness to provide it with practical assistance.
Lukashenko himself can pursue his interests as much as he wants, and sometimes even refuse to coordinate actions with Russia — Belarus is a sovereign state. However, the alternative to his regime now is an attempt to bring to power such forces that will confidently follow the Ukrainian scenario.
The internal political crisis in Belarus, even if it enters a hot phase, would be beneficial to the interests of the United States and would have a devastating effect on European security. However, as we can see, now the countries of Western Europe are in a state of political "knockdown" and cannot control events that risk putting an end even to the minimal independence and choice possessed by Europe. Britain and the countries of Eastern Europe are ready to create risky situations, because outside the conflict with Russia, they have no future in international politics. The fact that the future within the framework of this conflict may turn out to be very short for all of them does not bother them at all. Britain and the countries of Eastern Europe are dominated by forces, for which adventurous behaviour has become the basis of politics inside and outside. Germany and France cannot stop them because they are engulfed in colossal internal problems.
We can hardly expect that the next surge of "strategic frivolity" will have really dramatic consequences. In any case, the world history of all-out wars does not know examples when large-scale armed conflicts would have really insignificant incidents as a pretext. In all known episodes, a "tragic accident" has always involved the interests or security of one of the leading powers. Now we don't see this, and most politicians in the West are therefore behaving irresponsibly, because they do not expect a serious escalation. Moreover, the Lukashenko government is indeed becoming one of the permanent opportunities for the United States and Europe to stage high-profile political campaigns without a real threat to the world. But this is not a guarantee that if there are grounds for a big conflict, the behaviour of the West would be more reasonable than these days.
From our partner RIAC
Ryanair Incident: Five Sanctions Risks for the Republic of Belarus
The detention in Belarus of a plane operated by the Irish company Ryanair has caused a sharp reaction in the US and the EU. The issue of expanding sanctions was again on the agenda. They may turn out to be even more serious than the restrictive measures introduced last year in response to the situation around the presidential elections.
The approach of Washington and Brussels is defined by several lines of argument which converge at one point. First, the detention of the plane resulted in the arrest of opposition politician Roman Protasevich. The incident reignited the theme of democracy and human rights violations, which have long served as a basis for sanctions. Second, the Western powers proceed from the fact that the aircraft was detained under the false pretext of a terrorist attack threat on board. The statements of the Hamas movement that they were not involved in the events added their share of farce. Third, the detention was carried out with the use of an Air Force fighter, that is, this aspect of the incident can be interpreted as the use of force. History knows a number of examples of such detentions, including the forced landing of Bolivian President Evo Morales' plane in Vienna in 2013. From a formal point of view, Minsk acted in the interests of national security within Belarusian territory. However, this formality and the existence of precedents are unlikely to play a serious role. In the USA, the incident is understood as a "shocking act" that endangered the lives of passengers and has served as a new reason to condemn Lukashenko for undermining democracy. Similar assessments were given in Brussels and London. Threats of new sanctions were voiced almost immediately. There are five main sanctions risks for Belarus.
The first risk is that of a ban on the use of the territory of Belarus for aircraft transit, a ban on flights to Belarus, as well as on the reception of aircraft from Belarusian airlines. Threats quickly began to shift to a practical level. The leaders of the EU countries called for a ban on flights of Belarusian aircraft in EU airspace. The UK and France have already introduced such measures. Some airlines have cancelled flights through Belarus. The big questions are: how long will such measures last and how unanimous will states and companies be in implementing them? However, it is clear that all this will complicate supply chains, as well as cause economic damage to the country and its partners abroad.
The second risk is that of diplomatic sanctions. In response to the replacement of the state flag of Belarus with the flag of the Belarusian opposition in Riga (with the participation of the Minister of Foreign Affairs of Latvia), Minsk decided to expel all employees of the Latvian embassy. Similar decisions were made in Riga with regard to the employees of the Belarusian embassy.
The third risk is the denial of EU investment programmes. The government of Belarus would hardly receive such assistance even without the incident with the plane. The condition of assistance is a democratic transition in the country.
The fourth risk is another wave of sanctions against Belarusian officials. Such sanctions were widely used in response to the events in 2020. They play a rather symbolic role and do not do much economic harm. Usually they entail visa bans and the freezing of assets. At the same time, their psychological function should not be ignored. Such sanctions are usually aimed to sow discontent among the political elite, betting on its dissatisfaction with the political course of the country's leadership. The EU may assume that even the security forces may not like to play the role of pariahs.
Finally, the fifth risk is that of blocking sanctions against strategic enterprises. Such sanctions have also been used in the past. A number of large Belarusian enterprises are already in the sanctions list (SDN) of the US Treasury. Most of them have a general license. Previously, such licenses were extended for long periods (up to two years). However, in April, the license was renewed for only a month and a half. It expires on June 2, 2021. Will the US, and after them the EU, carpet bomb the Belarusian economy? The lifting of the exemptions and the renewal of sanctions would cause serious economic damage. However, the threat of such actions will remain inevitable.
The resumption of blocking sanctions against big companies has not yet been discussed loudly. Despite the visceral opposition to the Belarusian leader and the country's political system, the West is hardly eager to strengthen Russia's position in relations with Belarus. This would deprive the Belarusian leadership of room for manoeuvre in its dialogue with Moscow and make Minsk much more dependent. But this is theory. In practice, such sanctions will provide a headache for Russia itself. They will hit the economic ties of Belarusian and Russian enterprises. The latter may fear secondary US sanctions. In addition, Belarus is likely to need large-scale economic assistance. The threat of sanctions poses important problems for the Union State of the Russian Federation and the Republic of Belarus. Among them is the creation of payment mechanisms that would ensure uninterrupted economic ties in the event of an aggravation of the sanctions pressure.
From our partner RIAC