Deep State and the Potential End of European and American Democracy: Trouble in Paradise?
[yt_dropcap type="square" font="" size="14″ color="#000″ background="#fff" ] A [/yt_dropcap] new book by the Yale University Press has just been published. Its title is The End of Europe: Dictators, Demagogues, and the Coming Dark Age. The author is James Kirchick, a Yale University alumnus, journalist and foreign correspondent, recipient of the Journalist of the Year Award, conservative leaning politically, who however supported Hillary Clinton in the 2016 presidential elections branding Donald Trump as a "brashly authoritarian populist."
With that as an introduction, I'd like to now proceed to an analysis of the book's thesis on European democracy by expanding it to American democracy, to demonstrate that in many ways the two may be intertwined and that they may have a common future, for better or for worse, as the case may turn out to be.
I have subtitled my article "Trouble in Paradise" which is also the subtitle of chapter four of the above mentioned book: "The European Union: Trouble in Paradise?" Indeed, there is trouble in paradise but that paradise is called democracy and there is a river that traverses both sides: it's called the Atlantic Ocean. Their destiny may be intertwined, far more than we care to admit when we declare that it is time to go our separate ways.
Before beginning my own analysis let me provide the readers with the titles of the 8 chapters, the introduction, and the conclusion of the book. It will give the readers a better idea of its import. I recommend it as an eye-opener of sorts to the present predicament of Western Civilization.
Introduction: The European Nightmare; chapter 1: Russia: On Europe's Edge; chapter 2: Hungary: Democracy without democrats; chapter 3: Germany: The Return of Rapallo?; chapter 4: The European Union: Trouble in Paradise?; chapter 5: France without Jews; chapter 6: Brexit: From Great Britain to Little England; chapter 7: Greece: From Polis to Populists; chapter 8: Ukraine: The New West Berlin; Conclusion: The European Dream.
As mentioned, of particular interest are the chapters on Russia, the one on England, and the one on the EU. They make the point that there is indeed a democracy deficit in Europe which, in tandem with a rising ultra-nationalism, dangerously close to authoritarianism and fascism, is endangering the whole democratic structure built in Western Europe after World War II and culminating with the new polity called the European Union.
And who might be the enemy of the traditional order which has survived for seventy years now? Let's consider the conspiracy theory called Deep State. As an example, almost chosen at random, let us briefly survey an article which has recently appeared in the daily publication Modern Diplomacy by a US attorney Raul Manchanda with the title: "Deep State Members and their Agents Are Slowly Revealing Themselves."
It merits mention here that there is presently, prominently lodged in the White House, a security advisor by the name of Steven Bannon, who used to edit the Breibart News, an eminent conspiracy theory publication. He has been amply mentioned and examined at length in other pieces in this publication. What they all have in common is a commonly perceived enemy which they call Deep State.
But what might Deep State be? In the above mentioned article it is conveyed best by its illustration showing the Washington Capital as the tree on top being sustained by its deep roots beneath it. Of course those roots are considered nefarious. If that is in fact the case, the question logically arises: now that the Republican party controls both Congress and the Executive, whom are those roots sustaining? I suppose the logical answer is the present legitimate government of the US, and that's why they need to be eradicated as enemies of the state or they will corrupt that legitimate and pure state.
In fact attorney Manchanda does identify those roots. They are at the very least: the original Nazi intelligentia, spies brought over by the American elites and privileged classes (Trump excluded, of course, for he is an Andrew Jackson populist), after World War II. Names are supplied: Gottlieb von Braun Rudolph, plus 15,000 others who were supplied with fake identities so that they could establish the foundations of Deep State. So, Deep State is in its origins a Neo-Nazi state. Also Trotsky Communists wishing to establish a New World Order based on intellectual elitism and "Luciferian ideals," among which "God according to my right" and social engineering (read the social programs which are not fully American). Also, the power to kill and murder at will (read the intelligence agencies that keep the Deep State in power); not to mention the spy agencies, the media, the Federal Reserve.
Finally, Mr. Manchanda goes on, the American people wake up and voilà, Donald Trump appears on the scene as if on a cloud (as we witnessed at the reality show that was the Republican National Convention). Populism is here to save the day. But there are many left-overs, the "useful idiots" and "bastards" who have struck a pact with the Lucifer and are ready to strike back to protect the New World Order established after World War II. They conduct the resistance via Mainstream Media, Face Book, Social Media; hence the massive investigations going on as we speak by Deep State agents on Capital Hill against Trump. A purge may be needed and the sooner the better.
How do we recognize those subversive agents? Manchanda does not hesitate to enlighten us by furnishing 7 telling signs: 1) they wish to start World War III. Their tactic is to demonize peace-loving, non-threatening nations such as Russia, Iran, Syria, China, 2) divide and conquer strategy focusing on divisions and centrifugal forces rather than a united patriotic stance as advocated by Trump, 3) fighting the alternative media (read the deceiving lying media contemptuous of facts) as 4) practiced by the Tweeter in Chief; 5) decoupling Europe from the US by destroying NATO and the Atlantic allegiance, 6) the refusal to abolish the "Luciferin" Federal Reserve Bank, 7) social engineering (the social programs) smelling of socialism, and the manipulation of the judiciary and the courts.
It goes without saying that Alternate State advocates find all the above as conspiracies against the American people, against Human Rights and against the Constitution, as judged by them or some ultraconservative judge, of course. If it all sounds slightly incoherent and deranged, it is. That's what a pernicious ideology produces when lodged firmly in the human mind. It leads to the denial of facts and reality itself. What elsewhere I have dubbed the reign of Emperor Caligula.
But the most alarming and troubling phenomenon, is not the conspiracy theory itself, which can easily be judged by its own merits and sheer lack of common sense, but what it reveals, when examined carefully, about loyalty to truly democratic ideals, and the anti-democratic authoritarian spirit it reveals. What you have at play is addiction to power and influence parading as populist love of the underprivileged and the powerless. Slogans such as "unpatriotic bastards," "fake news" "alternative media" "non threatening nations such as Russia, Iran, Syria" give the game away. The ultimate Machiavellian goal seems clear enough: to eliminate democracy as we know it and as implemented after it was rescued by World War II some seventy years ago.
Perhaps this brief review of a conspiracy theory alive and well in the present White House will furnish an initial idea of the present predicament of democracy in the West (on both sides of the Atlantic). We have reached the sorry stage wherein Europe and the US, bastions of democratic values around the world, now have to confront their own demons which they thought they had put to rest once and for all.
The old pathologies and centrifugal forces of rabid nationalism, authoritarianism, territorial aggression, fascism and racism, are menacing the consensus reached after World War II while the present leaders, so called, pursue shallow disingenuous policies such as Brexit, and Moslem bans, even anti-Semitism, and leave the two continents of Europe and North-America open to Russian imperial ambitions out to destabilize, divide and conquer, not so much with the threat of nuclear weapon which could prove self-destroying, but with digital information techniques, considered the new weapon to achieve geo-political parity; a strategy which has found a more than willing ally in Trump and his conspiracy theory minions, beginning with Steve Bannon, who typically advocates the abolishing of NATO and the Atlantic Alliance.
In other words, the liberal world order fought over in World War II and guaranteeing the two continents' security, is now in serious jeopardy. What did Marx say? "Those who neglect to pay attention to their own history are bound to repeat it." Marx got it wrong on many fronts, but perhaps on this one he had it right on target. He who has ears to hear, let him hear.
Poll Shows Trump's Israel Policy Is Opposed Even by Republicans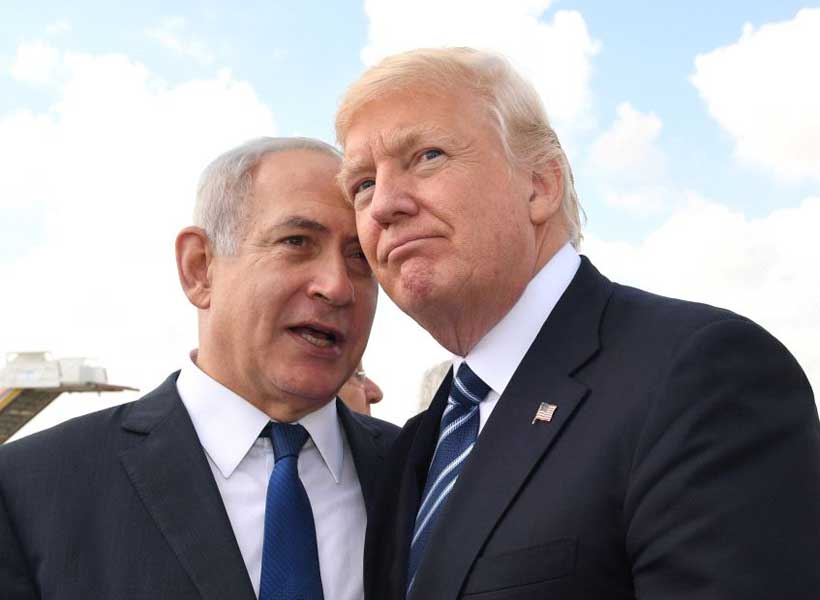 On Monday, November 18th, Reuters headlined "U.S. backs Israel on settlements, angering Palestinians and clouding peace process" and reported that, "The United States on Monday effectively backed Israel's right to build Jewish settlements in the occupied West Bank by abandoning its four-decade-old position that they were 'inconsistent with international law,' a stance that may make Israeli-Palestinian peace even more elusive." This article made clear that, of all entities Reuters could contact about the matter, only U.S. Secretary of State Mike Pompeo thought that these illegal settlements are legal, and even Pompeo was offering no other reason than that "'The establishment of Israeli civilian settlements is not, per se, inconsistent with international law,' Pompeo told reporters at the State Department, reversing a formal legal position taken by the United States under Carter in 1978." It was merely his dictat, as authority for this major U.S. policy-change.
One poll was recently taken of Americans on the matter. It was done by Scarborough Research, a joint venture by The Nielsen Company and Arbitron, and its sample size was unusually large for such a poll and employed rigorous sampling techniques. Thus, its findings should be considered to be close to the reality. Here is a summary of that poll's methodology and findings. [I add my explanations in brackets].
The survey was carried out September 12 – October 9, 2018 online from a nationally representative sample of Nielsen Scarborough's probability-based panel, originally recruited by mail and telephone using a random sample of adults provided by Survey Sampling International. The national sample was 2,352.
Q57. As you may know, the United States has been acting as a mediator between the Israeli government and the Palestinian Authority, with the aim of reaching an agreement in the IsraeliPalestinian conflict. Whether or not these efforts succeed, there is a question about what kind of future for Israel and the Palestinians the U.S. should be supporting over the long term, and many analysts feel that time is running out for some options. Here are four possible approaches that are frequently discussed. Please select the one you think the U.S. should support.
Rep Dem Ind Total
1. A two-state solution: Israel and a Palestinian state side by side. The Palestinian state would be established on the territories that Israel has occupied since 1967. 24% 48% 31% 36% [That's 24% "Rep"; 48% "Dem"; 31% "Ind"; 36% "Total."]
2. A one-state solution: A single democratic state in which both Jews and Arabs are full and equal citizens, covering all of what is now Israel and the Palestinian Territories. 33% 36% 38% 35%
3. Annexation without equal citizenship: Israel would annex the Palestinian territories, but keep a majority-Jewish state in the expanded territories by restricting citizenship rights of Palestinians. 14% 3% 4% 8%
4. Maintain the occupation of both the territories Israel has captured in 1967 and the Palestinians inhabiting them indefinitely. 18% 5% 13% 11%
Refused 11% 8% 14% 10%
[71% support either a two-state or a one-state solution (a sort of democratic solution). 19% support either "Annexation without equal citizenship" or Israel's permanent militarily imposed "occupation of both the territories (West Bank and Gaza)." On this question, only 19% support Trump's Israel policy, but 25% of Republicans do. However, 67% of Republicans don't.]
One of the issues of tension between the United States and Israel has been its construction of Israeli settlements in the territories occupied by Israel in the 1967 war. These settlements are considered illegal by most of the international community and have been opposed by every U.S. administration, both Republican and Democratic. The Israeli government has continued to build settlements. … How do you believe the U.S. should react to new settlements?
1. Do nothing: 38% 17% 33% 28%
2. Verbally criticize: 30% 22% 27% 26%
3. Economic sanctions: 17% 41% 22% 17%
4. More serious action: 9% 15% 11% 12%
[Trump's "Do nothing" is supported by 28% of American voters. That even includes only 38% of Republicans. 56% of Republicans want some type of at least criticism against Israel.]
Consequently: Trump has now gone far out onto a far-right limb here in his policies toward the state of Israel and its dictatorship over Palestinians (the people who are the descendants of what were the vast majority of Israel's population until the ethnic cleansing that slaughtered and displaced them).
The Intellectual Doomsday Clock: 30 Seconds to Midnight?
As someone who has dedicated his entire professional career to higher education, to engaging young minds and striving to advance new thinking across a whole host of critically important global issues, it is with great sadness that I write this article. Not only do all of the scientific surveys point to a coming calamity, my own career provides extensive anecdotal confirmation of the sad reality that we are, as a human society, pushing ourselves down into an intellectual abyss from which we might not be able to emerge. Perhaps most disturbing of all, this pushing momentum is not done by accident. Rather, most of society today seems hell-bent on orgiastically rejoicing in our diminishing skills and our dismissal of 'smartness.' Refined thinking, nuanced analysis, and subtle reasoning are now the supposed domain of out-of-touch elite, of people who do not know about reality and are therefore happily removed from the debate/discussion stage. This is not the same kind of anti-elitism we have seen in decades past. This is not simply a fight between the benefits of 'book learning' versus 'experiential wisdom.' This is more about total war being waged against the intellectual process itself with adjacent side-battles against research, open-mindedness, and scientific thinking. It is not about the quality of the journey of intellectual engagement. It is about the attempt to annihilate discussion in total, surrounding ourselves with our own anti-intellectual camps of sycophantic chatter amounting to nothing. It is not about inquiry leading to epiphany. It is about the biased construction of self-affirmation. We are a society of self-delusional dullards. May this be a not-so-subtle early warning to stop our own dumb and dumber destruction.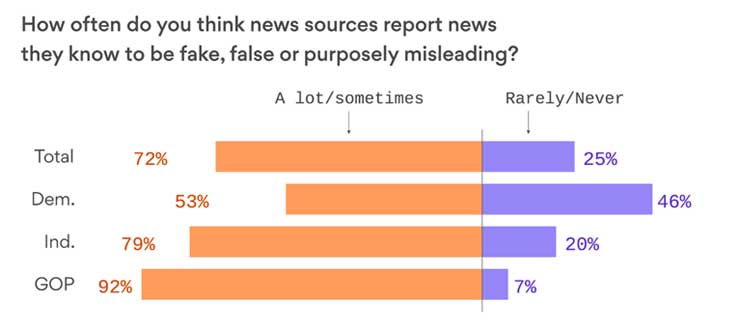 The above chart is fairly self-explanatory. The chief aspect to focus on is how most Democrats will actually use this as supposed 'proof' of their open-mindedness and ability to think more independently, far more so than the other two representative groups covering most of society in America. While I can grant it is horrifically appalling to see percentages amongst Republicans to go all the way to 92% and even "independents" proving they are not so independent at all by going up to 4/5 of their numbers, the surveys still show one out of every 2 democrats, slightly more than that actually, are in the exact same boat as the other members of society. Why does this matter? It matters because on one very crucial aspect this chart explains the secret ingredient that currently powers the base rationalization and self-justification most people use to fuel their purposeful refusal to seek out alternative arguments, embrace people with differing viewpoints, and understand the crucial humility needed in the world of politics and social order, that being there are very few, if any, questions that have one single undebatable answer that should rationally end all further debate. When you can reject all of these things, it allows you to be content with rejecting even the search for multiple sources, the comparative analysis crucial to any real truth-finding, and the rational thinking that creates true deep thought and nuanced intellectualism. The rejection of the impartiality of news sources as an entity de facto turns into behavior that rejects the need to be discerning about sources overall. If the sources are all tainted, then why do we need them at all? All we need is our own thinking, backed of course by the resident echo chambers we create by surrounding ourselves only with like-minded people. As long as the people I spend most of my time with (and that is increasingly becoming a measure based on 'virtual exposure' rather than 'face-to-face living engagement') agree with me, why do I need to care about other fools with different opinions?
The above chart clusters Republican (red) and Democrat (blue) representatives on a spectrum of ideology (defined by how often they vote with the rest of their party) then links opposite party members according to their votes together. The links grow larger and darker the more often representatives vote across party lines. In this case, that symbolizes the positive representation of independent thinking and the ability to make decisions NOT according to knee-jerk party lines or blind ideological allegiance. The graphs' evolution over time is simply remarkable in that not only does the prevalence of cross-party line votes diminish radically over the decades, the behavior by 2011 de facto evaporates while adhering staunchly to party ideology. Exclusionary thinking becomes intensely concentrated and exclusive. It is also disappointing to note that this fascinating study ended in 2011: one year before the second term of President Barack Obama and fully five years before the controversial first term of President Donald Trump. It is not scientifically radical to say the ideological tendencies in American partisanship have only worsened since that 2011 end-of-study date. In fact, heading into 2020, most political discussions in America no longer even include the possibility of any cross-party thinking, let alone behavior. The idea itself is dismissed as being symbolic NOT of independent thinking but of social betrayal that should be shunned and punished.
This final chart is the cherry on top of the stupid sundae. It shows the clear and inevitable path that global IQ is taking from 1950 all the way to 2110. Some may say that a decline from an average of 92 to a new average of 84 is not much given it is covering 160 years. Some might even be motivated to invoke the old "Malthusian Dilemma" to criticize the data, pointing out that such long-term extrapolations are only based on current trends remaining immutable and cannot, therefore, take into account what future counter-measures might be taken by society to right the wrong indicators. I would like to be a member of the Malthusian camp, quite honestly. In its own way, this article is an effort to kick-start those supposed Malthusian strategies, bringing future resolutions to our 'stupid problem' sooner to the forefront rather than later. But all of this is wishful thinking. It is not hard science. My hopes, in fact, are based on the opposite of what the data shows, what society currently rejoices in, and what so many individual people profess as being an advancement in 'popular intelligence.' As long as our global society, led most decidedly by the most powerful and influential country on earth, continues to revel in anti-intellectualism as proof of its own grassroots intelligence, as long as people rationalize away critical reasoning and analytical thinking as just so much elite ivory tower snobbery, then the only path we craft for ourselves as a society is one of blissful ignorance, confrontational delusion, and self-righteous obliviousness. The only society to emerge from this path is a dead society. A society of stagnation and regression. The intellectual doomsday clock is at 30 seconds to midnight. The ability to shift the ticking second hand backwards, back to enlightenment and dynamic knowledge engagement, may already be gone. May the Malthusian Army appear soon.
U.S.-Turkey relations: From close friendship to conflict of interests
Relations between the U.S. Turkey have strained since the failed July 2016 coup in Turkey. Now, the most important reasons for the tension is Washington's strong opposition to Turkey's plan to buy S-400 missile system from Russia and Turkish military invasion into northern Syria.
Although Turkish President Recep Tayyip Erdogan's visit to the U.S. on November 13 was intended to resolve the two countries' disputes and open a new horizon in economic and trade relations, differences still remain.
Though after the meeting at the White House, Trump made some pledges, including increasing trade ties to $100 billion, it takes a long time to fulfill these promises.
Contrary to such pledges, the Pentagon announced that it had replaced all F-35 fighter parts made by Turkey.
While the Turkish and U.S. leaders were meeting, F-35 production program executive Lt. Gen. Eric Fick said at a congressional hearing that Turkey would be completely phased out until March.
At the moment the U.S. has narrowed the number of parts down from 1,000 to 12.
Undersecretary of Defense for Acquisition and Sustainment Ellen Lord affirmed to Rep. Donald Norcross, D-N.J., that as of Wednesday, Turkey's exit from the program was not expected to cause any F-35 production delays.
The U.S. government believes Ankara's move to buy S-400 missile system from Russia is not in line with NATO policies. Washington also sees Turkey's decision as a threat to U.S. F-35 fighters. However, Ankara has announced that it will go ahead with its decision to buy the missile system.
Erdogan said it is not a right policy to ask Ankara to deprive itself of the Russian S-400 missile defense system.
Erdogan's remarks came in response to some reports that Trump had requested Turkey to cancel the purchase of S-400 system, a defense system that has been deployed in some parts of Turkey since July 2019.
But after Trump and Erdogan's meeting, the Turkish president claimed that the U.S. president had a positive view on buying the missile system.
Though Trump may seek to strike a deal with Erdogan on the S-400 missile system and F-35 fighter aircraft, based on his own businessmen approach, Ankara's military intervention in northern Syria and its insistence on buying the S-400 system are at odds with Washington. For this reason, the House of Representatives has passed two resolutions against Turkey.
On October 30, the House approved a resolution against Turkey recognizing the Ottoman massacre of Armenians in 1915. 305 representatives voted in favor of the resolution, with only three opposing it. It also passed another resolution calling on Trump to impose sanctions on Turkey over military operations in northern Syria. The resolution was also adopted by 403 votes in favor and 16 against, a move that rose Turkey's anger.
After Erdogan's meeting with Trump, attended by some Congress representatives, senior Republican Senator Lindsey Graham and chairman of the Senate Judiciary Committee vetoed the resolution recognizing the massacre of Armenians by the Ottoman Empire.
Earlier, Senate Majority Leader Robert Menendez had called for the resolution to be approved. Lindsey Graham noted that he had listened to Erdogan's speech at the White House and criticized a House resolution that recognized the Armenian genocide.
Menendez argued that "U.S. policy must be unanimous and honest in the face of human rights violations, crimes against humanity, ethnic cleansing, and genocide" and sent it to the Senate for approval.
There is a difference between the White House and Congress in how to deal with Turkey. Also, there is a difference between Republicans and Democrats despite Trump's promises to Erdogan.
From our partner Tehran Times