Recovery, Rehabilitation & Reintegration of the "Lost" Children Living and Serving Under the Islamic State
[yt_dropcap type="square" font="" size="14″ color="#000″ background="#fff" ] H [/yt_dropcap]undreds of thousands of children around the world have been seduced and forced into being child soldiers and cadres in the service of armed and violent groups. Many have been successfully treated using a combination of individual, family and community interventions that relied on combinations of expressive, cognitive and behavioral therapies as well as play, song, art and dance mixed in with culturally indigenous cleansing and healing rituals. Is there a possibility of the same for the children of ISIS— the Iraqi and Syrian boys and girls seduced and forced into slavery and violence; raped; beaten and tricked into serving the brutal non-Islamic State?
We are in a prison just outside of Suliamania trying to find out. The first boy we talk to, sixteen-year-old Nabil, is brought into the interrogation room in an orange jumpsuit reminiscent of Guantanamo Bay. His eyes and face are covered in a black mask and his hands shackled in metal cuffs. When the prison guard uncovers his eyes, I explain our purpose and ensure he's speaking freely. Then in response to gentle questions, Nabil begins to open up to tell us how he happened to join ISIS.
"There were two mullahs in the mosque. When the Islamic State came to our village, the older guys in the mosque started convincing kids to join. They started talking about money and cars. They told us, 'This is a good thing to do. You are going to be really comfortable.'"
The mullah himself drove Nabil to the neighboring village where he underwent ISIS shariah and weapons training and gave his bayat (pledge of allegiance) to the most nefarious terrorist group of our day. "I spent a month in shariah training," Nabil explains referring to ISIS's practice of indoctrinating all their new cadres into Islamic law as interpreted by ISIS. He denies that kids had to kill a prisoner upon graduation as we've heard from those who took their training in Syrian camps.[1] Although he does recall, "A guy my age killed four of our relatives. He was from Mosul."
The middle child of a family of seven kids, Nabil keenly missed his father who had travelled out of ISIS territory to try to get his pay as a policeman. Salaries were no longer being paid in ISIS territory. "There was no way to get paid so he went to Kirkuk to collect his salary, but he couldn't get back. We had no money."
"I was away from my father. They played with my mind," Nabil explains, his voice fills with bitterness recalling how he got sucked into serving the Islamic State. Nabil's mother and older brother fought with him, ultimately kicking him out of the house when he told them he was going to join. Unfortunately this move to protect him simply propelled Nabil into the home of the mullah who eventually literally drove him into the arms of ISIS, delivering him by car to their training camp. "They trained us on weapons, shariah, verses of the Prophet, women—what they are allowed to do and not. They focused on that women need to dress like this and told us,
'If not, we might hurt her—but we are going to hurt her family members more. A married guy who cheats on his wife, we stone him to death. An unmarried man who is caught in an affair, we flog him.'" Nabil recites the horrific list of ISIS's rules and punishments while puffing on a thin cigarette handed to him by his prison handler, smiling jauntily when he admits that he smoked even while inside ISIS—when no one was looking.
"I was terrified in the beginning," Nabil admits. I ask if he liked his shariah trainer. Syrian cadres reported that their ISIS shariah trainers were very charismatic and knowledgeable, brought in from the Emirates, Jordan and Saudi, often describing them as shining and filled with a religious charisma that made them able to easily persuade their future cadres into suicide missions.[2] Not so in Iraq. "Till the time he got killed he was a monster; till he got killed no one liked him."
Nabil trained on the AK 47 and was assigned to the infantry. He remembers, "In the beginning the food was good." Nabil was sixteen when he joined, but there were six or seven kids as young as fourteen who trained with him in the camp.
Nabil spent four months serving ISIS, in which he took part in three battles against the Pershmerga. "There were three lines," he recalls of those battles. "I never went to the first line, the older, more experienced fighters went first." When asked for more details, he admits that the first line, just as we heard in Syria, were suicide soldiers, wearing vests to detonate if they were about to be captured—fighting to the death.[3] "Yes, they always got killed. The front lines carried guns and went in on foot and they wore suicide vests. If he doesn't get killed, he will detonate himself."
Nabil is a clever boy. Once in prison, still horribly missing his father, Nabil accused his father of being a member of ISIS and thereby tricked the Kurdish security officials into bringing him in for interrogation—a jubilant event for Nabil who joyfully reunited with his innocent, former policeman father. "I cannot live without my Dad. It's been two years since I saw him," the boy admits sheepishly—a big, irrepressible grin plastered across his face. The Kurds released Nabil's father when they realized the trick and now his Kurdish prison handler gently ribs Nabil about it. I watch the good rapport with this child who doesn't appear afraid of the prison handler at all—rapport necessary for him to begin rehabilitating here, even inside the prison, something the Kurds tell me they want to attempt with kids like Nabil.
It's March of 2017 and I am in Iraq with our International Center for the Study of Violent Extremism (ICSVE) research director[4] in response to a request by Iraqi Prime Minister Haider al Abadi to advise on how to deal with children who lived and served under ISIS. There are 300,000 children, many finally being liberated, who have been taught under the brutal ISIS curriculum, learning topics about who and how to behead, while others have actually served as ISIS cadres, forced to take the lives of others in the most ruthless ways. Tough questions are posed in the Prime Minister's conference about if such children can be recovered, rehabilitated and reintegrated into society, or is this a lost generation that either needs to be captured or killed? Some say they should be punished; others that they need to be isolated so they don't contaminate the rest.
When I ask Nabil about his future possibilities of reintegration—if his parents can forgive him for serving ISIS, Nabil replies, "A father will not hold anything against his son no matter what." His smile is big as he tells me this confidently, but his face clouds over and becomes very serious when I ask about his mother. "My mother will forgive," he assures, but seems less sure. His brother and mother kicked him out of the family home when he told them his plans to join ISIS. But later Nabil helped his family to escape out of ISIS territory into the refugee camp in Kirkuk. "When I last saw her—when I looked at her—I don't think she holds anything against me," Nabil states. "I saw her in the morning before I was arrested," he explains of their time together in the refugee camp in Kirkuk.
Nabil got paid $100 a month in ISIS, money he spent recklessly, like any young boy, "I spent it on myself. I bought a motorcycle." His boyish adventures however were short- lived and quickly disillusioned by the brutality of the group. "I wanted to leave when I started to see the killings," Nabil admits. "I knew they were doing wrong things," he explains, referring to the executions of those punished for minor infractions of ISIS laws, although there is not time today for him to share his memories of all he saw.
Nabil begin to look for ways to escape. "I was always thinking of a way to take my family and cross back into Kirkuk," he recalls, although his first attempt to escape was on his own. "The first time I ran away, I got captured by ISIS. They whipped me 35 times and told me I had to go back to my post. 'Do your duties,' they warned.
Nabil was lucky—others we've heard about who were caught trying to escape were beheaded on the spot. "I had a friend with me [in ISIS]," Nabil recalls. "He knew the roads of the mountains. My friend didn't know that I wanted to run away. He told me the route, about the road that had no IEDs."
For his second attempt to escape Nabil went home to gather his brother, sister, mother and some other close relatives. "I came home and talked to my family telling them, 'I want to take you to Kirkuk.' I talked to them and then went back to my duties. I knew the timing to cross. The second time we made it."
I turn the interview to the possibilities of his future, if he's to be released. "I want to see my mom first thing," Nabil answers, wistfully. "She's in Kirkuk. That's my only wish in the world. I don't care if I die. That's the only thing I want."
Strong words for a young kid. When asked if he can back to the family home, he explains, "I have to live in Kirkuk with them [my family]. I have nowhere else to go. If I leave from here [Kirkuk area], I know I will get killed for sure. This is the fate of anyone who works with them."
"Nabil is terrified, afraid of everyone," his prison handler explains. Indeed there are many who want to revenge on former ISIS cadres and ISIS also kills those who have defected—if they can. Among the other forty-four defectors ICSVE staff have interviewed thus far we've heard too many stories of defectors being caught and beheaded on the spot.
"I know you've gone missing. Our people in Kirkuk are going to kill you," the mullah said over the phone to Nabil when he arrived in the refugee camp. "If you are not going to work for us—if you are not going to be a sleeper cell in Kirkuk, our people will kill you," he threatened the boy.
"As soon as I got in the refugee camp. Mullah Omar was the one calling," Nabil explains dully. Constant terror has that effect—a need to dull the senses, go "dissociative" and feel nothing but hopeless depression. Dulling ones senses can provide a brief refuge at least from a too painful life.
When I ask Nabil if he told his parents about the mullah telephoning him, Nabil shakes his head no and his eyes widen as he explains, "Because my father was a policeman, I was scared for him." He continues monotonously again, "I don't know, only Allah can protect me. I must die."
Nabil's already got the sense of a foreshortened future, that trauma survivors that kids and adults often feel after surviving a trauma they can't get over. Nabil has the posttraumatic sense of being damned from the bright future with which he started his childhood.
I ask if the government can provide protection for him as he nods despondently, but then negates his nod by saying, "If I get released from here [prison], another unit will take me and kill me. They won't be like the Persmerga. I'm afraid of anyone who has lost someone. The Spiecher [military] Base lost 2000 soldiers…It can be anyone with a desire for revenge," he says referring to the ISIS massacre of Shia soldiers at the captured military base in Tikrit. Nabil admits having crossed into Kirkuk because, "I knew the Kurds are more easy going. I knew for sure I'm going to get captured, but in Shia areas, I'll get killed right away."
What can we do for this boy? He should be in school, but he can't go home—ISIS still controls the territory he's from. If he's released, he'll go to a refugee camp where there are some studies offered, but not much, and everyone surrounding him is traumatized and angry at ISIS. The security forces acknowledge that there are ISIS recruiters and cadres in the camp. We have evidence that in Syrian and Turkish camps kids get recruited into ISIS right in the camps.[5] It won't be safe for him. His family may forgive him, but family members of those who were raped, kidnapped and killed won't be so forgiving.
And what about his release? Surely those who hold him will want kids like him to help them rat out the ISIS guys in the camp. He can be useful as an informant—if he can be trusted.
It's all too much for a young kid. Psychologically, he's terrified. Perhaps guilty for what he's taken part in. He's sure his life will end badly, and yearns badly for his parents' love, protection, acceptance and shelter. Nabil is a lost boy and needs help. If he manages to reunite with his parents, they can love and forgive him, but can they protect him from the wider community's stigma and punishment?
The government may be able to offer him some limited protection but may insist that he pays for it by turning informant as together they route out the scourge that poisoned his life—but that too involves dangers and possible additional stigma in the end.
And release may also go another way. Can an ISIS recruiter still manipulate him? Inside the prison there's an older ISIS emir—Abu Islam—that prison officials tell me is capable of talking any of the others into the glorious wonders of taking a "martyrdom" mission. As a result, the prison guards keep him isolated from the others. Suicide could be a way out for Nabil—instant forgiveness if he buys the lies of the ISIS "martyrdom" myth, release from constant terror, and a way to strike out—perhaps at someone that a recruiter can convince him is the reason for his lost and stolen childhood? Palestinians told me taking a suicide mission wasn't that hard when you have to dull your senses to endure the traumas you've lived through—when you feel that you are already dead. Nabil is showing some of those features.
No one wants it to end that way. But as long as political grievances leading to Islamic State's rise remain in place, as long as security and justice are not delivered to everyone in Iraq regardless of religion and sect, and as long as there's no safe way to return home or some kind of amnesty offered—at least to kids who were tricked into ISIS ranks, like Nabil was—the Iraqi authorities will either have to keep them locked up or release them back into society while holding eyes shut tight. In that scenario they'll be hoping for the best, knowing it's not likely to turn out well.
Today, the Iraqi Prime Minister wants to make a plan for kids who lived and served under ISIS—and he's right to want it. But it's got to start soon and it's got to be good— involving schooling, amnesty, and strong psychosocial support for teachers, parents and communities to accept these kids back into society. It will need to involve careful and caring treatment and redirection for the kids themselves as well as for their families and communities so they can be saved from all they've learned and trained into and to also avoid their becoming the next iteration of something like ISIS, in a world gone mad.
---
[1] Speckhard, A., & Yayla, A. S. (2016). ISIS Defectors: Inside Stories of the Terrorist Caliphate: Advances Press, LLC.; Speckhard, A., & Yayla, A. S. (December 2015). Eyewitness accounts from recent defectors from Islamic State: Why they joined, what they saw, why they quit. Perspectives on Terrorism, 9(6), 95-118.
[2] Speckhard, A., & Yayla, A. S. (2016). ISIS Defectors: Inside Stories of the Terrorist Caliphate: Advances Press, LLC.; Speckhard, A., & Yayla, A. S. (December 2015). Eyewitness accounts from recent defectors from Islamic State: Why they joined, what they saw, why they quit. Perspectives on Terrorism, 9(6), 95-118.
[3] Speckhard, A., & Yayla, A. S. (2016). ISIS Defectors: Inside Stories of the Terrorist Caliphate: Advances Press, LLC.; Speckhard, A., & Yayla, A. S. (December 2015). Eyewitness accounts from recent defectors from Islamic State: Why they joined, what they saw, why they quit. Perspectives on Terrorism, 9(6), 95-118.
[4] Thanks to ICSVE Research Director Ardian Shajkovci for accompanying me in these research interviews in Iraq and elsewhere.
[5] Crozier, R. (May 11, 2016). Why young Syrians are joining ISIS. Newsweek. http://www.newsweek.com/religion-not-main-motivator-young-syrians-isis-458653 Retrieved from http://www.newsweek.com/religion-not-main-motivator-young-syrians-isis-458653 and Speckhard, A., & Yayla, A. S. (2016). ISIS Defectors: Inside Stories of the Terrorist Caliphate: Advances Press, LLC.; Speckhard, A., & Yayla, A. S. (December 2015).
Reference for this article: Speckhard, Anne (March 29, 2017) Recovery, Rehabilitation &Reintegration of the "Lost" Children Living and Serving Under the Islamic State ICSVE Brief Reports http://www.icsve.org/brief-reports/recovery-rehabilitation- reintegration-of-the-lost-children-living-and-serving-under-the-islamic-state/
Why FATF treats India as a protégé and Pakistan as a bête noire?
Indian media is never tired of describing Pakistan as hub of money laundering and terror financing in the world. Indian representatives echoed their babble in recent United Nations' meeting also.
India makes no bones in declaring its intention to link Pulwama blasts with money trail to Pakistan. By doing so India hopes to get Pakistan blacklisted by Financial Action Task Force.
Little focus on money laundering and terror financing by India: Nowadays, Major powers' geo-political and economic interests have forced them to ignore suspicious financial transactions by India. However, not long ago, the world was more concerned about money laundering in India than in Pakistan.
Even the USA called upon India to do more to prevent financing of terror networks. USA's Assistant Secretary of State for Economic and Business Affairs Anthony Wayne told the Senate Banking Committee, 'In India, two accounts belonging to terrorist individuals/entities have been identified, but the Government of India has not frozen any assets to date. It is aware of the UN 1267 Committee List, however', Wayne noted that India's Prevention of Money Laundering Act `criminalises money laundering and requires banks and other financial institutions and intermediaries to report individual transactions valued over US$ 23,000 to the financial-investigation unit'. Wayne added, 'India has also indicated it wants to join the Financial Action Task on Money Laundering. However, at a recent FATF plenary meeting in Paris, concerns were raised regarding its ability to provide effective international cooperation in a timely manner and to extend mutual legal assistance'.
Here is a glimpse of corrupt India. World Bank estimated that capital flight of Rs 50 to 100 crore took place in four fertilizer plants projects via Italian firm Snam Projetti. Minimum commission of seven percent was charged on imports of the public sector. Indian government paid no regard to the recommendations adopted by the Financial Action Task Force on money laundering, set up in July 1989 by the Paris summit of the seven most-developed countries. The conventional money-laundering techniques (smurfing, cover companies, etc.) are used to the hilt in India. The average amount stashed away from India during 2002-06 is US$27.3 billion (about 136,466 crore). It means that during the 2007-2018 period, the amount stashed away is 27.3×15=US$ 4, 095 billion. Just imagine the volume of money stashed abroad since 1947, including Nehruvian era when Birlas and Tatas gave blank cheque to Congress.
Lid on laundered money lifted: To what end, the laundered money is put is anyone's guess. However, a recent document-based report by the International Consortium of Investigative Journalists has blown the lid off the suspicious financial transactions by Indian banks, public and private sector companies.
The ICIJ report based on Financial Crimes Enforcement Network (FinCEN) files "represent less than 0.02% of the more than 12 million suspicious activity reports that financial institutions filed with FinCEN between 2011 and 2017."
Earlier a study, conducted by Conflict Armament Research, had confirmed that seven Indian companies were involved in the supply chain of over 700 components including fuses or detonating cords used by the Islamic State to construct improvised explosive devices .Even the Sri Lanka blasts were linked to terrorists hiding in Indian Southern States. As an eye wash, India arrested Islamic State moles. To bypass banking channels, even gold and diamond are `legal tender' for money laundering.
How the FATF favoured India: In both India and Pakistan, money laundering is popularly known as hawala, or hand –to-hand-transaction. The Financial Action Task Force was scheduled to review India's money laundering and terrorist financing regime, a ten year cycle, in September-October 2020. But, it has been tentatively postponed to January February 2021 ostensibly `in view of COVID19 pandemic in India. The year-long review evaluates `Indian legal system against financial crimes at its plenary meeting in February 2022 and subsequently issue a statement and recommendation about the country.
The FATF happily agreed with India that `it is impossible for assessed jurisdictions and asssessories alike to conduct on-site visits and in-person meetings' (no relaxation for Pakistan).
How India hoodwinked the 2013 FATF team: In the 2013 review, India managed to hoodwink the FATF by pleading that `it has set up a joint working group comprising 22 central investigation, intelligence-gathering and regulatory agencies to check illegal financial transactions. The agencies include the Central Bureau of Investigation. Enforcement Directorate, Income Tax Department, Directorate of Revenue Intelligence, Financial Intelligence Unit, Customs, Market regulator, Securities and Exchange Board of India, banking regulator and insurance regulator TRDAL.
The 2013 review team was much impressed by Rahul Navin, a 1993-batch Indian Revenue Service Officer of the Income Tax Department deputed with the Enforcement Directorate. Navin who had earlier worked with the Organisation for Economic Cooperation and Development had authored a book Information Exchange and Tax Transparency: Tackling Global Tax Evasion and Avoidance.
How the ICIJ blew lid off India's US$ 2 trillion money laundering and terror financing: The International Consortium of Investigative Journalists based its report on two million Suspicious Activity Reports filed by prestigious banks with Financial and Crime Enforcement Network (FinCEN). The ICIJ report is just tip of the iceberg. Its revelations are based on `only 0.02% of the more than 12 million suspicious activity reports that financial institutions filed with FinCEN between 2011 and 2017'. The US banks who filed reports include Deutsche Bank Trust Company Americas, BNY Mellello, Citibank, Standard-Chartered and JP Morgan. The reasons mentioned in the reports include `high-risk jurisdiction for money laundering or other financial crimes, adverse media or public information on the client', unidentified parties, and the fact that source of funds and purpose of transaction could not be ascertained'. Not only the banks but also the public and private sector companies were the culprits. They include Hindustan Aeronautics Limited, Bhushan Steel Limited, Bharti Airtel and Essar. Heretofore is a bird's-eye view of the findings.
Indian banks figure in over 2000 transactions, linked to Indian entities, valued at over US$ 1 billion (Rs. 7, 369 crore) between 2011 to 2017. These banks include State Bank of India, Punjab National Bank, Canara Bank, HDFC Bank, Kotak Mahindra Bank, Axis Bank, and Indus Ind Bank.
Open Question: While the ICIJ has shared the information with Buzzword and 108 other media outfits, India's `Special Investigation Team on Black Money' stays mum. The SIT was formed on the directions of India's Supreme Court.
Inference: The FATF should undertake an even handed investigation to India's multi-facetred money laundering and terror financing.
Stateless and Leftover ISIS Brides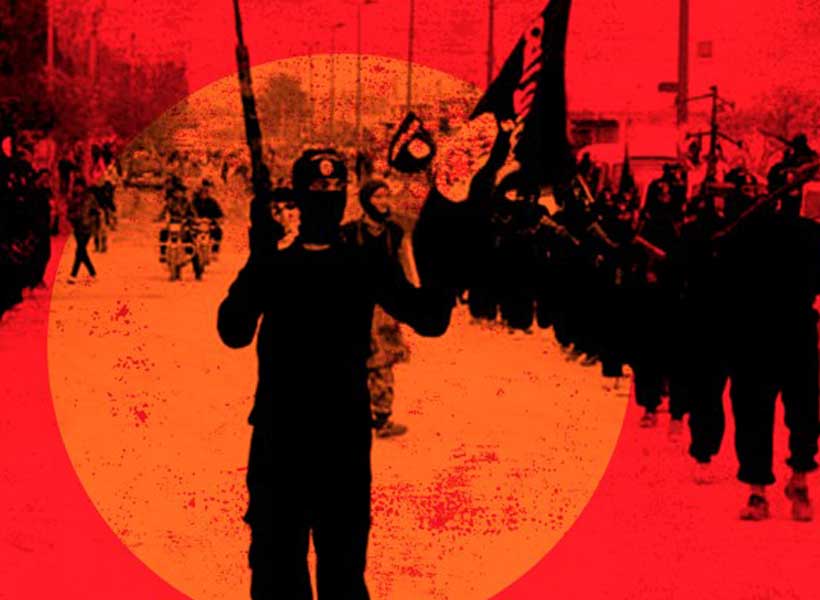 While the World is busy fighting the pandemic and the economic devastation caused by it, one of the important problem that has been pushed to dormancy, is the status of the ISIS(Islamic State of Iraq and Syria) brides. The Pandemic has crippled the capacity of the law enforcement and exploiting this the ISIS executed attacks in Maldives, Iraq, and the Philippines. The United Nations Secretary-General Antonio Guterres has warned that terrorists are exploiting the COVID-19 Pandemic. Albeit the ISIS has been defeated, approximately ten thousand of them are in ISIS detention centres in Northern Syria under Kurds. Most of these detention centres are filled by women and children, who are relatives or widows of the ISIS fighters. With their native states denouncing them, the status of the stateless women and children is unclear.
As it stands today states' counter-terrorism approach has been primarily targeting male militants but women also have played a role in strengthening these terrorist organizations. Women involvement in militant organizations has increased as they perform several activities like birthing next-generation militants/jihadists, managing the logistics and recruiting the new members to the organizations. The world did not recognize women as key players in terrorist organizations until the 1980s when females held major roles in guerilla wars of southern America. Women have either willingly or unwillingly held a variety of roles in these extremist organizations and Islamist terrorist organizations like Hamas and al-Qaeda women do simply provide moral support.
According to the media reports since the US withdrawal from Iraq in 2006 female suicide attacks have been increased and they have been extensively part of ISIS. The ISIS had a female brigade which they called as Al-Khansaa which was established to perform search activities in the state. Both foreign and domestic recruits in the Islamic state have participated in brutal torture. A recently acquired logbook from a guesthouse in Syria provides important information about 1100 females who joined the organization, the western women who are called as 'the muhajirat'.
When the people from rest of the world joined organizations such as ISIS, they burnt their passports and rejected their national identity. Especially women from western countries who were radicalized online based on their phenomenon 'ISIS brides/Jihadi brides' to marry terrorists. Since Islamic State isnot recognized by the world these marriages are not legally valid, apart from this a number of these brides have experienced sexual torture and extreme violence.
While the erstwhile members of the extremist organizations like ISIS and others are left adrift the one challenging question remaining is should states and their societies keep them and reengage or rehabilitate or prosecute them. How firmly the idea of their erstwhile organization is stuck in their minds and especially the followers who crossed the world to join remains a concern to many. The U.S backed Kurdish forces across turkey border hold thousands of these left-behind women and children in their centre. Hundreds of foreign women and children who were once part of an aspirant state, The caliphate are now floating around the concentration camps in Syria, Turkey and Kurdish detention centres and prisons. Many are waiting to return to their origin countries. They pose a unique challenge to their native states like whether to include them or not and even if they include how to integrate adults who at least for a time part of these terrorist organizations and what to do with children who are too young to understand the politics and obstacles keeping them in camps and detention centres where resources are scarce. Women present a problem because its hard to know what kind of crimes they have committed beyond the membership of the terrorist organization.
It is no secret that women also have been part of insurgency across the world, like in ISIS,LTTE,PIRA and PFLP. The responsibility of women in ISIS includes wife to ISIS soldiers, birthing the next generation of jihad and advancing ISIS' global reach through online recruiting. The International Center for Study of Radicalization (ICAR) estimates that out of 40000 people joined ISIS from 80 different countries nearly 8000 are women and children. After the defeat of ISIS and such extreme organization those who are left behind possess the ideological commitment and practical skills which again a threat upon return to home countries.
The states across the world are either revoking the citizenship or ignore their responsibility. The most famous case of Shamima Begum a UK citizen married to an ISIS fighter whose citizenship was revoked by the UK government. In other cases like HodaMuthana of the USA and Iman Osman of Tunisia have been the same case. As recently as Tooba Gondal an ISIS bride who now in a detention camp in northern Syria begged to go home in the UK in a public apology.
The American president Donald Trump issued a statement saying women who joined ISIS cannot return. The NATO deputy head said "…returning ISIS fighters and brides must face full rigours of the law". Revoking the citizenship and making someone stateless is illegal under international law and it is also important to know how gendered these cases are because the UK have successfully prosecuted Mohammad Uddin and the USA has also done it so. Stripping off their citizenship itself a punishment before proper trail and the only good out of it would state can take their hands off in dealing with cases. Samantha Elhassani the only American who repatriated from Iraq so far and pleaded guilty for supporting ISIS. Meanwhile, France is trying to route its citizens who joined the ISIS and extradited few who are under trial in Bagdad.
As experts and political analysts say "countries should take responsibility for their own citizens" because failure to do so will also make the long term situation more dangerous as jihadists will try to a hideout and turn into militant groups for their protection. The children, the second-generation ISIS need cultural centres and rehabilitation centres and this is an international problem. These women known as jihadists brides suffer from a post-traumatic stress disorder and many are pregnant or multiple children born in ISIS territory.
In some countries travelling abroad to join the insurgencies in North Africa and Syria was not always a criminal act, Sweden criminalized such act recently but to prosecute them proof of offences committed in the conflict zone is difficult to collect and most countries in the world do not allow the pre-trial detention for more than 14 days. With problems of different national Lawson extradition and capital punishment and to prosecute them in conflict countries is also a challenge for states. Since Kurdish forces have signalled that they cannot bring all the prisoners into justice the home countries will have to act or else it might create a long term dangerous situation. With the civil war in Syria is about to end it is time to address these issues because since there are more ISIS fighters in Kurdish prisons and detention centres they could be influenced to join rebels who are fighting the regime of Assad in last standing province of Idlib.
If the governments reject the repatriation applications then they will be signalling that their action is essential for national security and thus asserting that failed or poorly resourced states are better equipped to handle potential extremists. The criminal system in Iraq is corrupt and human rights violations have been reported and which creates the risk of further radicalization. One should not forget that even citizenship of Osama bin laden was also stripped but which did not stop him from forming al-Qaeda in Afghanistan. If the citizens commit crimes and forget their responsibility then the states must bring them to justice instead of stripping citizenship. The states must come with a solution for this problem before its too late, setting up an international tribunal to deal with these cases would be a great start but these tribunals are time-consuming and expensive.
States must act as a responsible actor in the international system. Jihadist terrorism is a global problem and states must act together to deal with it because with nearly 40000 fighters joining caliphate from across the world it only shows how global and deeply rooted the phenomenon is. Instead of stripping their citizens' citizenship, states must find a way to act together for the peace and security of the international community.
COVID-19: Game-changer for international peace and security
The world has "entered a volatile and unstable new phase" in terms of the impact of COVID-19 on peace and security, the UN chief told a virtual meeting with world leaders on Wednesday.
Speaking at one of a series of international meetings among heads of State to enhance global cooperation in fighting terrorism and violent extremism, as part of the Aqaba Process, Secretary-General António Guterres said the pandemic was more than a global health crisis.
"It is a game-changer for international peace and security", he spelled out, emphasizing that the process can play a key role in "promoting unity and aligning thinking" on how to beat back the pandemic.
Warning lights flashing
Mr. Guterres maintained that the coronavirus has exposed the basic fragility of humankind, laid bare systemic and entrenched inequalities, and thrust into the spotlight, geopolitical challenges and security threats.
"The warning lights are flashing", he said, pointing out that as the virus is "exacerbating grievances, undermining social cohesion and fueling conflicts", it is also likely to "act as a catalyst in the spread of terrorism and violent extremism".
Moreover, international tensions are being driven by supply chain disruptions, protectionism and growing nationalism – with rising unemployment, food insecurity and climate change, helping to fuel political unrest.
A generation in crosshairs
The UN chief also noted that a generation of students is missing school.
"A whole generation…has seen its education disrupted", he stated. "Many young people are experiencing a second global recession in their short lives."
He explained that they feel left out, neglected and disillusioned by their prospects in an uncertain world.
Wanted: Global solidarity
The pandemic has highlighted vulnerabilities to emerging threats such as bioterrorism and cyber-attacks on critical infrastructure.
"The world faces grave security challenges that no single country or organization can address alone", upheld the Secretary-General, "there is an urgent need for global unity and solidarity".
Recalling the UN's Virtual Counter-Terrorism Week in July, he reminded that participants called for a "reinvigorated commitment to multilateralism to combat terrorism and violent extremism".
However, a lack of international cooperation to tackle the pandemic has been "startling", Mr. Guterres said, highlighting national self-interest, transactional information sharing and manifestations of authoritarianism.
'Put people first'
The UN chief stressed that "we must not return to the status quo ante".
He outlined the need to put people first, by enhancing information sharing and technical cooperation "to prevent terrorists exploiting the pandemic for their own nefarious goals" and thinking "long-term solutions rather than short-term fixes".
"This includes upholding the rights and needs of victims of terrorism…[and] the repatriation of foreign terrorist fighters, especially women and children, and their dependents to their countries of origin", he elaborated.
Closing window
Meanwhile, the risk of COVID-19 is exacerbating the already dire security and humanitarian situation in Syrian and Iraqi camps housing refugees and the displaced.
"The window of opportunity is closing so we must seize the moment", the UN chief said. "We cannot ignore our responsibilities and leave children to fend for themselves and at the mercy of terrorist exploitation".
He also expressed confidence that the Aqaba Process will continue to "strengthen international counter-terrorism cooperation, identify and fill capacity gaps, and address evolving security threats associated with the pandemic", and offered the UN's "full support".
Post-COVID rebuilding
The Secretary-General also addressed the Centenary Summit of the International Organization of Employers (IOE) on how private and public sector cooperation can help drive post-COVID change.
He lauded the IOE's "significant contributions" to global policymaking for economic and social progress, job creation and a mutually beneficial business environment, calling it "an important pillar of the International Labour Organization (ILO) since its earliest days".
"Today, our primary task is to defeat the pandemic and rebuild lives, livelihoods, businesses, and economies", he told the virtual Summit.
In building back, he underscored that workers and small business be protected, and everyone be given the opportunity to fulfil their potential.
Businesses input
The UN chief urged businesses to engage with the multilateral system to create a "conducive global environment for decent work, investment, and sustainability"; and with the UN at the national level, to help ensure that multilateralism "works on the ground".
He also encouraged them to actively participate in national and global public-private dialogue and initiatives, stressing, "there must be space for them to do so".
Tripartite cooperation
ILO chief Guy Ryder highlighted the need for "conscious policy decisions and tripartite cooperation to overcome transformational challenges", such as technological change and climate change, as well as COVID-19.
Mr. Ryder also flagged that employers must continue to collaborate in social dialogue and maintain their commitment to both multilateralism and the ILO.
The IOE represents more than 50 million companies and is a key partner in the international multilateral system for over 100 years as the voice of business at the ILO, across the UN, the G20 richest countries and other emerging forums.