The Up-coming GOP Tax Reforms will make Health Reforms Look like a Tremendous Success in Comparison
After the failure to enact a health reform bill that would have discarded some 24 million people from their insurance over a period of 10 years, raised premiums for seniors, and cost states billions (California alone estimated that it would lose some 24.3 billion annually by 2027), Trump is now moving on and getting ready to sell his tax-reform proposal. It provides for tax benefits for the wealthiest Americans, a whopping 270 billions, in a period of 10 years.
As per such a plan, the top 0.1%, the wealthiest Americans, would receive a windfall tax reduction averaging $207,000.
So much for relief for neglected ordinary Americans whose wages have stagnated for the last thirty years or so, a promise that Trump went around peddling during his presidential campaign. It looks more like the philosophy of savage social Darwinism and survival of the fittest and the elites. Ayn Rand could be a reliable predictor of what to ultimately expect. She is the well-known social philosopher that a Republican such as Paul Ryan grew-up with, as he himself has proudly declared. One of Rand's essays which Ryan has surely read, is titled "The Virtue of Selfishness." Aristotle, the promoter of "virtue ethics," must surely be turning in his grave.
British General explains how intelligence has shaped the Russia-Ukraine war
This is a confession of General Sir James Richard Hockenhull (photo), Commander Strategic Command, and he direct involvement of Great Britain and its special services in the war against Russia in Ukraine, as he discussed the use of 'open source intelligence' at a Royal United Services Institute (RUSI) Members Webinar.
"I'm a career intelligence officer and certainly, for long periods of my career, it felt like I was responsible for making a jigsaw from the available information…
There's a lot of confirmation and availability bias in some of the things that we've learned from Ukraine. Because of this we should caveat those lessons slightly and make sure we're applying the right diagnostics and analysis to make sure that we're pulling through the correct lessons.
This is open source for intelligence, but it's also open source and broader understanding which is supporting our intelligence making and decision making. If we can fully understand the availability of this information the impact will go beyond just thinking about intelligence or open source.
Open source fits into a wider set of changes around how we're using information intelligence.
The availability of commercial satellites has enabled an extension of reach in the Ukrainian military's situational awareness and their ability to conduct surveillance and reconnaissance. We're seeing artificial intelligence used alongside commercial software applications to increase the speed of action. It's also increasing utility. We're seeing an attempt to sense and understand the environment, to decide and orchestrate, to act and then to learn and adapt. Those four stages are about being able to do that with sufficient pace to be able to outpace the adversary, and whoever learns fastest is going to win.
Open source and its role in intelligence has had a significant range of impacts and I would group these into six categories.
The first is adding to anticipatory intelligence. How we're understanding the posture of forces and the fusion of commercial imagery, tech data and social media analysis, provided significant insight into Russian deployments. This goes all the way back to spring 2021 through the autumn and winter of 21 into 22, showing us what was happening and where it was happening. That anticipatory intelligence is being used not just by sources inside the military but it's being projected for all to see and for all to interpret.
The second change would be that the impact of conflict is shifting public confidence. We had the ability to share information around Russian activity widely, whether it was in deployment, when fully deployed and postured for invasion, or indeed at point of invasion and beyond. That widely shared a picture has changed the way the public understand how the conflict has taken place. That's true, certainly in Ukraine for example, but it's also true in the wider West. One of the crucial elements of success in Ukrainian conflict has been the commitment of Western nations to provide support.
The third area is countering Russia's Information Operations own narrative around the war. The fact that the truth was well known meant that as soon as false narratives were put out by the Russians, they were immediately exposed or understood by the public to be a false narrative. That power of information and knowledge has had a really significant impact on the public and been a counter to Russian Information Operations.
Open source has also proved to be a force multiplier, and we've been able to move to an approach which militaries around the world have sought to do for some time. Through open source every platform and every service person is able to act as a sensor. The force multiplier is its use of commercial networks – this is the fourth.
These commercial networks are inevitably driven by a need to keep availability high the people using them, and this means they're incredibly robust. This offers alternative pathways for information to travel and sometimes goes beyond military communications which can be subject to jamming or disruption. It's incredibly difficult to overcome these commercial networks and therefore, that force multiplier of sensors, has been a really significant way in which the Ukraine military have been able to generate information advantage.
The fifth element is in the crowdsourcing and the use of standardised chatbots which has allowed these Ukrainian citizens to report Russian units and locations. The civilian sensor network has been a force multiplier but also, it's been able to provide a variety of viewpoints around information. This has enabled processing and evaluation of the availability of data to provide additional insight. The longer the conflict has gone on, the more adept the Ukrainians have become at harnessing the quantity of information to pull insights from as many sensors as possible.
This is where the combination of open source intelligence and secret sources of intelligence becomes invaluable in being able to see whether we can define greater understanding as a consequence.
We see a variety of authoritative sources available through social media platforms which provide insight and sentiment analysis. These are incredibly important because it offers the ability to understand what's happening and that has been expanded almost exponentially as a consequence.
Open source offers us an opportunity to be able to understand context in a deeper, faster, and more responsive manner than we could do in the past. We gain real power, when we can combine that with secret intelligence and what we gain from our global network.
One of the key things I take away from what's been happening in Ukraine is the need to go much faster than we've gone before in how we exploit open sources.
There are a range of lessons coming out of Ukraine and this is one of those moments in time where we must reflect. If we don't take due cognizance of what's happening in Ukraine, social media, the commercial world, and inside government, then our system will not be ready and prepared for the next challenge that we face," said General Sir James Richard Hockenhull.
"Global Times": China-Russia cooperation is broader than what US-led West can envision
On the afternoon of May 24, Chinese President Xi Jinping met with Prime Minister of the Russian Federation Mikhail Mishustin, who was on an official visit to China, at the Great Hall of the People in Beijing.
Mishustin also held talks with Chinese Premier Li Qiang on the same day. China and Russia signed a series of bilateral agreements on service trade cooperation, sports, patents, and Russian millet exports to China, which shows significant results of Mishustin's first visit to China since taking office as Russian Prime Minister. The increase in quality of China-Russia economic and trade cooperation, coupled with a full tank of oil, will drive them toward a farther and broader future, notes 'Global Times' in an editorial.
The size and level of the Russian team and the number of entrepreneurs accompanying Mishustin is rare in recent years. The visit mainly aimed at implementing cooperation projects and further expanding economic cooperation.
In March this year, President Xi made a successful state visit to Russia and outlined the blueprint for the development of China-Russia relations and cooperation in various fields with President Vladimir Putin. This visit by Mishustin to China is promoting the implementation of the blueprint, and with the joint efforts of both China and Russia, it will become a roadmap and construction plan, and eventually be built into a beautiful reality.
Some past problems have also been solved, and blockages and bottlenecks have been gradually cleared. Of course, the road must be taken step by step, and the all-round cooperation between China and Russia is steadily advancing.
This is the essence of the new type of major-country relationship, and we strongly suggest that Washington take it seriously. Because Washington's narrow-mindedness cannot accommodate China or Russia, making even the vast Pacific Ocean seem cramped.
Western media, whose minds are filled with confrontation, become nervous at the sight of normal cooperation between China and Russia. They either advocate for China and Russia to "join forces to resist the West" or stir up the old tune of "Russia is dependent on China" to provoke China-Russia relations. Is it possible for the US to contain and suppress China, isolate Russia in all respects, and try to isolate China and Russia from each other as well?
The root of this divided attitude in the US lies in its uncontrollable hegemonic impulses and the fear of the so-called "China-Russia alliance," which is considered the US' greatest geopolitical nightmare. These two factors create an internal conflict and psychological strain that the US cannot resolve. The tense atmosphere over the Asia-Pacific region is essentially an external manifestation of Washington's geopolitical anxieties. Discussing global affairs in front of the world map in their offices, armchair strategists in Washington can only perceive threats and adversaries. Through their meddling, they bring about a self-fulfilling prophecy, pushing countries that could have been potential partners to the opposite side of the US and creating the most severe strategic risks of the era.
We often emphasize that the cooperation between China and Russia is neither directed against third parties nor subject to third-party interference or coercion. This principle guides China's interactions not only with Russia but also with all countries, including those from Europe, the Middle East, and neighboring regions. It stands in stark contrast to the practices of hegemonism: one emphasizes "non-targeting" and "non-interference and non-coercion," while the other is precisely engaged in "targeting," "interference," and "coercion" worldwide. The former has created astonishing miracles of peace and development, while the latter has left countless scars and conflicts.
The resilience of China-Russia cooperation against interference has significantly strengthened, and the noise generated by the US and Western countries serves as a reverse motivation for us to continue moving forward.
Just as the famous Tang Dynasty poem quoted by Mishustin during his visit to China goes, "You will enjoy a grander sight, if you climb to a greater height," quotes "Global Times".
Newsweek: "Putin scores a win in Turkey's election"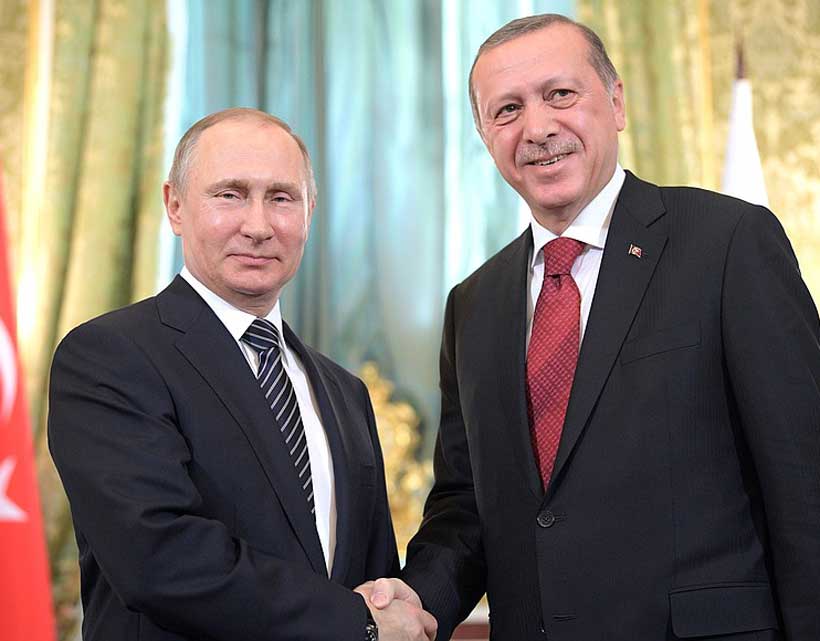 Russian President Vladimir Putin secured a victory in Turkey's presidential election results on Sunday, writes 'Newsweek'.
Turkish President Recep Tayyip Erdoğan appeared to beat back a challenge from Kemal Kilicdaroglu, the head of the center-left Republican People's Party (CHP), winning his third five-year term since taking office in 2014. Erdoğan claimed victory on Sunday, telling supporters in a speech, "I thank each member of our nation for entrusting me with the responsibility to govern this country once again for the upcoming five years," the Associated Press reported.
He ultimately prevailed by roughly 5 percentage points, according to unofficial data from state-run Anadolu Agency. Turkey's election has been defined by high voter turnout, but has also led to questions about the fairness of Turkey's electoral system.
Erdoğan's victory is viewed as good news for Putin, whose relations with many world leaders grew strained after he launched the invasion of Ukraine last February. Many governments viewed the "special military operation" as lacking justification and a violation of international norms, leading to swift backlash and economic sanctions against Moscow.
Turkey, however, has taken an important role in the conflict, often serving as a mediator between Kyiv and Moscow. Erdoğan himself has walked a fine line between support for Ukraine while also maintaining close diplomatic relations with Russia. Both countries lie along the Black Sea, so maintaining strong economic ties has remained a priority for both governments.
Erdoğan's victory likely guarantees a continuation of the status quo.
Notably, Turkey's actions in the North Atlantic Treaty Organization (NATO) have aligned with the interests of Russia. Turkey has previously blocked bids from Sweden and Finland to join NATO, which would bring the alliance to Putin's doorstep. The Russian leader has also opposed the expansion of NATO, an issue that has sparked tensions with the West.
Putin congratulated Erdoğan on his victory, writing in a statement that he appreciates the Turkish president's "personal contribution to strengthening friendly Russian-Turkish relations, mutually beneficial cooperation in various areas."
"Winning the election was a natural result of your selfless work as head of the Republic of Turkey, evidence of the Turkish people's support for your efforts to strengthen the state sovereignty and the pursuit of an independent, independent foreign policy," the Russian leader wrote.
Erdoğan has previously touted his relationship with Putin during his reelection bid.
"We are not at a point where we would impose sanctions on Russia like the West have done. We are not bound by the West's sanctions," he told CNN earlier this month. "We are a strong state and we have a positive relationship with Russia."