Will Adams' "Republic of Virtue" also end up into the Dustbin of History's Great Empires?
[yt_dropcap type="square" font="" size="14″ color="#000″ background="#fff" ] F [/yt_dropcap]ew, even among journalists, and so called Russian experts, are aware that Trump has been in business with Russian oligarchs for a minimum of three decades. In the 1980 the US Treasury Department fined him $10 million for significant, long standing anti-money laundering violations at Trump's Taj Mahal. It is a well-known "fake secret" that the Taj Mahal was a prime vacation spot for wealthy Russian oligarchs.
It is also well known that Trump incurred into five bankruptcies because he ran companies whose specialty was rigging the game against their customers. It is not very likely that Trump could obtain the large credit lines that his unbounded business appetite required in the US. Yet, given that his business ventures persist till today, and he has in fact refused to divest himself of them upon becoming president, the suspicion persists that he obtained it abroad; from where exactly? From the people for whom he was laundering money in the Taj Mahal would be a good guess. They could easily find way to deliver it to him tax-free.
Given that no one gets rich in Russia without Putin's consent, and given that Trump has been laundering money for wealthy Russians for years, it can also be suspected that many of his businesses are propped by Kremlin connected cash. Once the evidence of aiding and abetting a regime hostile to the US government is proven, that evidence will prove to be a gun to Trump's head or his presidency as the case may be. That goes a long way in explaining why Trump refuses to speak in any negative way about the Kremlin. He is a self-interested actor and may be in fact wholly beholden to Russian interests. Moreover, he willingly accepted their help in the campaign for the presidency; in fact, he requested it publicly.
It needs to be stressed, moreover, that Russia's economy is dependent on oil and it is not among the most advanced. Their military, despite its modernization, is not comparable to that of the US, or China, or NATO. The Russians have compensated by weaponizing a skill at which they have always been very good: manipulation of information, or better, disinformation. They consider that weaponized skill the equivalent of the acquisition of the atom bomb in the late forties which brought them at a par with the US. Now disinformation goes to by the less technical and more disingenuous term of "fake news."
Russia's manipulation comes in the form of surrounding Trump with people in its own orbit, the likes of Manafort, or Flynn, or Page. All that Russia had to do is align Trump's interests with its interests. Trump's interests are not ideological or very intellectual, they are purely financial.
In any case, ideology is not as important as it used to be during the Cold War, especially after the debacle of the Iraq War. Many Americans now believe that it's quite ok to deviate from the policy which was pursued by the Atlantic Alliance from the end of World War II till today. Slogans thrown around by Trump such "NATO is obsolete" or "the EU is a fake union" or "Brexit was a good thing," do no raise any eyebrows as they used to in the 80s or the 90s.
But of course there is the cover-up which is like an alarm bell alerting to the crime. Why was Devin Nunes rush to brief the White House with information he did not even share with his committee members? Why the backtracking on previous statements by Team Trump via the likes of Flynn, Manafort, Page, and Sessions?
The White House is now saying that their former campaign manager Manafort had a "very limited role" in the campaign, that Flynn who was appointed National Security Adviser was a mere "volunteer," that Nunes has never even heard of Carter Page, the man initially appointed as one of the foreign policy advisors to Trump's campaign; neither has he heard of Roger Stone, an adviser to Trump since the 1980s.
Why does the Trump branded tabloid National Enquirer assert that Flynn is a Russian spy caught by Trump? This is quite different from what the White House has been asserting all along that the entire investigation is "fake news" and a "Witch Hunt" and that those men were all great heroes and patriots being harassed.
Do blameless operatives act that way? Do these signs indicate a cover-up related to the Russian investigation on which the FBI is now intently focusing? These questions remain to be answered and clarified.
As Adams found out, to his surprise, when he studied the history of Republics throughout the ages, republics usually self-destroy once they abandon virtue and embrace public corruption and power for power's sake. Then the end justifies any means, ethical or unethical. We now call that mind-set Machiavellian geo-political thinking. This may be going on as we speak, and those who minimize the matter need to ponder Adam's conclusions on the issue of republics of virtue which betray their ideals and journey downward toward tyranny and eventual extinction.
Contrary to those who insist on ridiculing and trivializing this story of the nexus between the Trump campaign and Russia, it may prove to be the most important story of our time. The response to the remarkable efforts by the White House to stonewall its investigation will either prove the resilience of the US Constitutional Democratic government, or it will accelerate its slow descent into the dustbin of history's great empires. History will eventually render its verdict.
MoU between Armenian China-Eurasia Council and SIS of Renmin University of China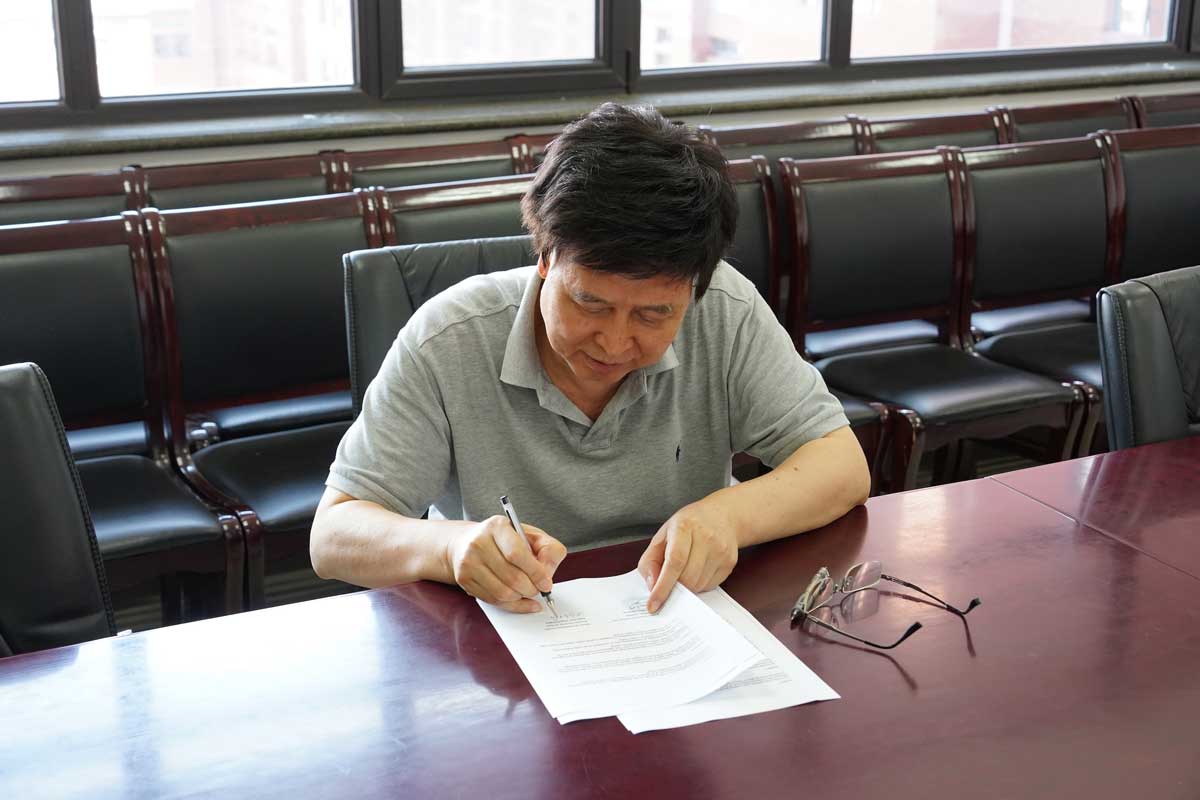 On July 7, 2022, Memorandum of understanding was signed between China-Eurasia Council for Political and Strategic Research and the School of International Studies of Renmin University of China. The cooperation of the Parties within the framework of this Memorandum of Understanding will include the following directions: conducting joint conferences, seminars, courses, expert meetings and consultations, implementation of joint research projects and preparation of publications, exchange of academic information and publications.
During last years, China-Eurasia Council for Political and Strategic Research and School of International Studies of Renmin University of China have already established cooperation. Starting from 2019, researchers of both sides attend in academic conferences, courses and seminars, such as: "Eurasian Research on Modern China and Eurasia", "RUC Area Studies Forum", "Rethinking China's Rise under the Governance of the CPC: Achievements, Initiatives and Prospects", Rethinking China's Foreign Policy" and book presentation, organized by each side.
It is also worth to mention that on April 8, 2022, both sides jointly organized "First Armenia and China Forum" dedicated to 30th Anniversary of the Establishment of Diplomatic Relations. Researchers of both sides are among co-authors of China and Eurasia: Rethinking Cooperation and Contradictions in the Era of Changing World Order book, published by Routledge in 2021.
Memorandum of understanding on cooperation between organizations was signed by Dr. Mher Sahakyan, the founding head of the China-Eurasia Council for Political and Strategic Research and Professor Yang Guangbin, the dean of Director of School of International Studies.
Dr. Mher Sahakyan emphasized the importance of this Memorandum of Understanding. He said that this agreement will provide an added impetus to bust further cooperation and implementation of academic diplomacy between both institutions. He thanked Dr. Yuntian Zheng and Professor Yang Guangbin for cooperation and support.
Professor Yang Guangbin mentioned that, congratulations on the Memorandum of Understanding between China-Eurasia Council for Political and Strategic Research and School of International Studies in Renmin University of China. Renmin University of China, which has been fostering large numbers of outstanding talents, is the first-class research base on international issues and political sciences in China. We genuinely hope to expand the academic and cultural communication between China and Armenia and enhance the relative research on this base to promote the relationship between the two countries.
Dr. Yuntian Zheng mentioned that, the Memorandum of Understanding, which is signed under the background of the 30th anniversary of the establishment of Sino-Armenian diplomatic relations, truly represents the friendship between Chinese and Armenian people. In this changing era, Belt and Road Initiative is becoming more significant in Eurasia. The scholars should be responsible for contributing to promote the relative studies. As one of the best schools in area studies, School of International Studies in Renmin University of China will make more efforts on cooperating with Armenian think tanks and universities in the future.
In Afghanistan, women take their lives out of desperation
The situation for women is so desperate in Afghanistan that they are committing suicide at a rate of one or two every day, the Human Rights Council has heard.
It comes as the top UN rights forum in Geneva agreed to Member States' request for a rare Urgent Debate on the issue this Friday.
Addressing the Council, Fawzia Koofi, former deputy speaker of the Afghan Parliament, said lack of opportunity and ailing mental health, was taking a terrible toll: "Every day there is at least one or two women who commit suicide for the lack of opportunity, for the mental health, for the pressure they receive.
"The fact that girls as young as nine years old are being sold, not only because of economic pressure, but because of the fact that there is no hope for them, for their family, it is not normal."
Bachelet highlights 'progressive exclusion'
Echoing widespread international concern for ordinary Afghans, UN human rights chief Michelle Bachelet condemned the massive unemployment of women, the restrictions placed on the way they dress, and their access on basic services.
Women-owned and operated businesses have been shut down, Ms. Bachelet added, saying that 1.2 million girls no longer have access to secondary education, in line with a decision by the de facto authorities who took power in August 2021.
"The de facto authorities I met with during my visit in March this year, said they would honour their human rights obligations as far as [being] in line with Sharia law.
"Yet despite these assurances, we are witnessing the progressive exclusion of women and girls from the public sphere and their institutionalised, systematic oppression".
Ms. Bachelet encouraged the re-establishment of an independent mechanism to receive complaints from the public and protect victims of gender-based violence.
"Beyond being right, it is also a matter of practical necessity", said the High Commissioner. "Amid the economic crisis, women's contribution to economic activity is indispensable, which itself requires access to education, and freedom of movement and from violence".
Women made 'invisible'
Also speaking at the Human Rights Council, its Special Rapporteur for Human Rights in Afghanistan, Richard Bennett, described a chilling attempt by the Taliban to make women "invisible, by excluding them almost entirely from society".]
As an example of the de facto authorities' intentions to impose "absolute gender discrimination", the independent rights expert also noted that women are now represented by men at Kabul's Loya Jirga, or grand assembly of religious scholars and elders.
Such measures contravene Afghanistan's obligations under numerous human rights treaties to which it is a State party, Mr. Bennett insisted before adding that the situation for women "massively diminish(ed) women's lives, deliberately attack women and girls' autonomy, freedom and dignity, and create a culture of impunity for domestic violence, child marriage and sale and trafficking of girls, to name but a few of the consequences".
Promises broken
Despite public assurances from the Taliban to respect women and girls' rights, they are reinstituting step by step the discrimination against women and girls. Said Ms. Koofi, a former member of the peace negotiation team with the Taliban said that the fundamentalists "obviously have not kept their promises of what they were telling us during the negotiations, in terms of their respect for Islamic rights for women".
Ms. Koofi added that "in fact, what they do is in contradiction to Islam. Our beautiful religion starts with reading. But today, Taliban under the name of the same religion, deprive 55 percent of the society from going to school".
Afghanistan's response
For Nasir Andisha, Ambassador and Permanent Representative of Afghanistan to the UN in Geneva, "the situation of women and girls in Afghanistan demands nothing less than a robust monitoring mechanism to collect, consolidate, and analyse evidence of violations, to document and verify information, to identify those responsible to promote accountability and remedies for victims, and to make recommendations for effective prevention for future violations".
A draft resolution on the situation of women and girls in Afghanistan is being negotiated at the Human Rights Council and will be considered on 7 July.
Safer roads, a global development challenge for all
Every 24 seconds someone is killed in traffic, making safety on the world's roads a global development challenge for all societies, especially for the most vulnerable, a senior UN official has said, ahead of the first ever High-level General Assembly Meeting on Improving Road Safety.
Nneka Henry, who heads the United Nations Road Safety Fund (UNRSF) Secretariat, noted that 500 children die in crashes every day, and that of the older population, women are 17 times more likely to be killed during a car crash than men, even when wearing seatbelts.
Challenge for all
Despite these statistics, road safety is not just a challenge for women or for young people. It is "for each and every one of us who walk, ride, cycle or drive on our roads," Ms. Henry told Diedra Sealey, a young diplomat in the President of the General Assembly's HOPE Fellowship programme.
The interview took place ahead of the High-level Meeting of the General Assembly on Improving Road Safety, which gets underway at UN Headquarters in New York on Thursday and Friday, organized by the President of the General Assembly, Abdulla Shahid, and the World Health Organization (WHO).
Coinciding with the meeting, is the UN Road Safety Fund pledging conference. The Fund was established in 2018 with a vision to "to build a world where roads are safe for every road user, everywhere." It specially finances projects in low- and middle- income countries, where some 93 per cent of road deaths and injuries take place.
"I am here in New York to remind all 193 Member States of their commitment to the Fund's mandate and success," Ms. Henry said.
Those successes include the announcement that as of 1 July, all vehicles imported in East Africa need to be below the Euro 4/IV emission standard and no more than eight years old.
The Fund has been working with the Economic Community of West African States' 15 members, to harmonize vehicle standard resolutions.
Major benefits
"This will have major air quality and road safety benefits," Ms. Henry said about the latest announcement.
Some of the other achievements by the Fund include legislation in Azerbaijan to help emergency post-crash response, help to increase enforcement of the speed limits and other road traffic rules in Brazil and Jordan, as well as improving data collection in Cote d'Ivoire and Senegal, and training urban planners on making safer school zones in Paraguay.
Vision for the future
As part of the High-level meeting this week, UN Member States will adopt a political declaration, to lay out a "vision for the future of mobility as one that promotes health and well-being, protects the environment, and benefits all people," according to a press release.
The interconnected targets are part of the Sustainable Development Goals (SDGs) that show how road safety is also integrated into the SDGs, from allowing safer access to education, to allowing people access to groceries and reducing carbon emissions into the atmosphere.
Halving traffic deaths and injuries by 2030 is a target under the third SDG, on good health and well-being.