India should retake Katchatheevu from Sri Lankan control
[yt_dropcap type="square" font="" size="14″ color="#000″ background="#fff" ] E [/yt_dropcap]ven as Indian Prime Minister Narendra Modi announced an investment of Rs 12,000 crore to upgrade eight state highways to National Highways in his home state Gujarat as part of efforts to boost infrastructure development and job generation in the state, the Sri Lankan government reportedly shot dead 22-year-old Tamil Indian fisherman on Monday the 06 March while he was fishing in a mechanized boat near Rameswaram Dhanushkodi at a short distance off Katchatheevu islet.
One fisherman, K. Britjo, was killed. Another who was injured was admitted in a hospital in Tamil Nadu. The tragedy has ignited tensions in the state but Colombo insisted its Navy was not involved. Sri Lanka says Indians fish on Lankan waters and six fishermen from Thangachimadam in Ramanathapuram district were fishing near the Katchatheevu isle…
Interestingly, Indian government is yet to properly react to Sri Lankan criminal arrogance; ignoring the fact SL killed an Indian on Indian sea. The 22-year-old Indian fisherman was shot dead while he was fishing in a mechanized boat at a short distance off Katchatheevu islet. Local fishermen alleged that he was killed by the Sri Lankan navy while another was injured.
Sri Lanka declined to take responsibility for the murder of a Tamil fisherman. But the Sri Lankan government on Tuesday said that an initial probe report has ruled out its navy's involvement in the shooting of an Indian fisherman, an issue raised by India with Sri Lanka's prime minister.
In New Delhi, External Affairs Ministry said as a routine matter, "Government of India is deeply concerned at the killing of an Indian fisherman. Our High Commissioner to Sri Lanka has taken up the matter with the Prime Minister of Sri Lanka (Ranil Wickremesinghe). The Sri Lankan navy has promised a full and thorough investigation." Sri Lankan Navy Spokesman Lieutenant Commander Chaminda Walakuluge in Colombo categorically denied any involvement of the navy in the fisherman's killing, saying the navy does not open fire at poaching fishermen and only arrests them. In a statement, Foreign Ministry of Sri Lanka said, "the initial investigations had indicated that the Sri Lankan navy was not involved.""Irrespective of the parties involved, if in fact a shooting has taken place, it is a matter of grave concern and all possible action will be taken in cooperation with the relevant Indian authorities to investigate into this incident utilizing GPS technology as well," it added. The statement expressed the government's deep concern "about the alleged and the connected loss of life of one fisherman and injury caused to another." It said Sri Lanka is firm in its commitment to ensuring that "all government agencies treat all Indian fishermen in a humane manner at all times".
The statement followed fisheries minister Amaraweera's letter to the defence authorities to investigate the matter. Amaraweera said he had spoken with Indian High Commissioner in Colombo, Taranjith Singh Sandhu and assured that Sri Lanka was keen not to allow the good relations between the two countries hampered by any incident.
Indian fisherman Bridgo along with others were fishing near the Katchatheevu islet when the Sri Lankan naval personnel arrived at the spot and opened fire, fisheries department officials in Tamil Nadu had said. Bridgo was shot in the neck and died on the spot and another fisherman, Saravanan (22), suffered leg injuries in the firing. Other fishermen who went along with them escaped unhurt and returned to the shore.
Katchatheevu is located in the narrow Palk Straits dividing India and Sri Lanka. The sea near the island is rich in marine life, leading to frequent clashes between Indian and Sri Lankan fishermen.
Hundreds of fishermen launched a protest at Rameswaram in Tamil Nadu against the killing. Another fisherman was injured. The Sri Lankan Navy promised "a full and thorough probe" into the incident after India took up the matter at the highest level, informed sources said. India voiced deep concern over the killing. Indian High Commissioner Taranjit Singh Sandhu took up the matter with Sri Lankan Prime Minister Ranil Wickremesinghe, the sources said.
The killing has triggered protests in Tamil Nadu, where Chief Minister Edappadi K Palaniswami condemned the incident and announced a compensation of Rs five lakh for the victim's family. Palaniswami said the state government has been repeatedly taking up with Centre the various instances of arrest and "intimidation" of fishermen by the Lankan Navy, besides seizure of their boats and pressed for a lasting solution.
Tamil Nadu Chief Minister K. Palaniswami announced a compensation of Rs 5 lakh to the family of the dead fisherman, K. Britso, and a compensation of Rs 1 lakh for the injured fisherman. The attack comes a day after Palaniswami wrote to Prime Minister Narendra Modi seeking the release of 85 fishermen and their 128 boats now in Sri Lankan custody. PMK leader Anbumani Ramadoss on Tuesday condemned the killing and said New Delhi should stop terming Sri Lanka as a friendly nation. "They were first attacked by the Sri Lankan Navy with grenades and then were shot at," Ramadoss said in Chennai. He said attacks on the Indian fishermen by the Sri Lankan Navy have been happening for the past 30 years, leaving more than 800 fishermen dead. Ramadoss said India and Sri Lanka had agreed that fishermen crossing the maritime boundary by mistake should not be attacked but handled in a humane manner. "It seems Sri Lanka is not willing to abide by any agreement," he said. He said the Tamil Nadu government should put pressure on the Indian and Sri Lankan governments to arrest the Navy personnel who killed the Indian.
Hundreds of fishermen also staged a demonstration in Rameswaram in Tamil Nadu.
Sri Lanka has taken the silence on the part of Indian government for grated as being implicit support for Lankan atrocities on Tamil fishermen. Apparently, Sri Lanka is exploiting Indian unofficial policy of "no war with neighbors except Pakistan" to its own advantage by harming the interests of Tamil fishermen. Since Indian government also had attacked Tamil fishermen, killing some of them on sea during the anti-nuke struggle of people of Kudankulam in Tamil Nadu, Sri also thinks it also enjoys the same privilege of attacking Tamils whom the majority Singhalese views as their enemy.
Tamils see some apparent secret deal between Indian and Lankan regimes to deal sternly with Tamils and therefore, Indian government allows all atrocities by Lankan military on Indian Tamils. In a civil war earlier, Lankan military committed crimes against humanity by committing genocides of Tamils as part of their goal of holocaust of Tamil population in Lankan Island.
The new regime in Colombo under Sirisena had declared loudly that it would go for reconciliation but now it has presided over the murder of a Tamil fisherman in Tamil Nadu, breaking all provisions of intentional law.
Is Lankan regime blood thirsty or is it just an isolated tragedy?
Sri Lankan regime has made its intent unambiguously clear to India. With the genocides of Lankan Tamils, attacks on Tamil fishermen on sea repeatedly that it can deal with Tamil fishermen the way they feel. They seem to leave two options to India: either recapture Katchatheevu or just ask Indian fishermen to stop fishing in their traditional zones. In this regard the action of Russia in annexing Crimea from Ukraine would serve as model action. Crimea was a part of Russia but was gifted to Ukraine during the Soviet rein by the Soviet President Khrushchev- a Ukrainian- as part of territorial integration of Soviet state. Now it is clear Katchatheevu should not have been gifted to Sri Lanka – that was a strategic mistake of India. Now Sri Lanka declines to allow Tamil fishermen in their traditional zones as per the understanding between India and Sri Lanka and that is unfair, to say the least.
Russia has retained its Crimea by military action and also interfered in East Ukraine as a punishment for supporting USA, but India still mulls over its possible action against Sri Lankan atrocities. India needs to solve the tussle quickly and retake Katchatheevu but allow Lankan Tamils to fish in there.
Sri Lanka fires all shots while India watches the show as a festival firework. Indian deliberately let the Sri Lankan military attack and even kill the Tamil fishermen. When Indian military keeps killing Muslims of occupied Jammu Kashmir it is strange why it is unable to put an end to Lankan arrogance towards Indians. Are Muslims so cheap for Indian regime?
Time is running out for India to make sure seas of Indian Territory are soverign and belong to India. The Modi government has to wake up before Sri Lanka invades Tamil Nadu if they have a hidden plan for that as Tamil people are divided because of the plotters led by Sasikala have divided the ruling AIADMK in order to promote her private interests and control both party and government?
Let the sacrifice of life of fisherman Bridgo resolve the issue of fishing rights of Tamils at Katchatheevu.
South Asian Geopolitics: Saudi Arabia: 1 Iran: 0?
It may be reading tea leaves but analysis of the walk-up to Saudi crown prince Mohammed bin Salman's visit and his sojourn in Islamabad suggests that Pakistan may be about to fight battles on two fronts rather than just the Indian one in the wake of this month's attacks in Kashmir.
Prince Mohammed's expressions of unconditional support for Pakistan coupled with his promise of US$20 billion in investments in addition to US$6 billion in desperately needed financial aid raise the spectre of a shift in Pakistani efforts in recent years to walk a fine line in the rivalry between Saudi Arabia and Iran.
That fine line included a 2015 Pakistani refusal to send troops to the kingdom in support of the Saudi military intervention in Yemen.
Speaking to the Arab News this week, Major General Asif Ghafoor, head of the Pakistan army's media wing, suggested that Pakistan's commitment to Saudi Arabia was equally unconditional. "Pakistan is committed to standing by its Saudi brethren," Maj. Gen. Ghafoor said.
Pakistani Foreign Minister Shah Mehmood Qureshi seemed to fine tune the officer's statement by not mentioning Yemen in his remarks to the Saudi paper and limiting Pakistan's commitment to the kingdom itself. "If anyone would create chaos in or attack the Kingdom, Pakistan would stand by its brethren Saudi Arabia," Mr. Qureishi said.
The stakes for Pakistan that borders on Iran and is home to the world's largest minority Shiite Muslim community could not be higher.
Concerned that Pakistan's position may be shifting, Iran this week dialled up the rhetoric by warning that Pakistan would "pay a high price" for last week's attack in the Iranian province of Sistan and Baluchistan that killed 27 Revolutionary Guards.
Like with India in the case of Kashmir, Iran asserted that the perpetrators, Jaish-al-Adl, were operating from Pakistani territory with at least the tacit knowledge of Pakistani authorities. In an unusual disclosure, Iran said three of the six perpetrators of last week's attack, including the suicide bomber, were Pakistani nationals.
In the past, Iran has by and large said that militants who had launched attacks were Iranian nationals rather than Pakistanis.
The tone of Revolutionary Guards chief Major General Mohammad Ali Jafari's statement holding Pakistan, alongside the United States, Saudi Arabia and Israel, responsible for the recent attack reflected Iranian concern with what may flow from Prince Mohammed's visit.
"Why do Pakistan's army and security body … give refuge to these anti-revolutionary groups? Pakistan will no doubt pay a high price. Just in the past year, six or seven suicide attacks were neutralized but they were able to carry out this one,"," Maj. Gen. Jafari said in remarks live on state television.
Initially, Iran had limited itself to blaming external powers rather than Pakistan for the attack.
Indications suggesting that Prince Mohammed's visit to Pakistan may have been about more than economic cooperation were severalfold and involved gestures that despite Pakistani denials would not have come without a price tag.
Saudi Arabia and Pakistan expressed in a little noticed declaration in their joint statement at the end of the crown prince's visit "the need to avoid politicization of the United Nations listing system."
The statement was implicitly referring to Indian efforts to get the UN Security Council to designate Masood Azhar as a global terrorist. Mr. Azhar is the head of Jaish-e-Mohammed, the group that has claimed responsibility for the Kashmir attack.
China, which at Pakistan's behest has blocked Mr. Azhar's designation in recent years, this week rejected an Indian request that it lift its veto. China asserts that Indian evidence fails to meet UN standards.
The reference to UN listing in the Saudi-Pakistani statement seemingly failed to resonate in New Delhi where Prince Mohammed stopped after visiting Islamabad.
In another tantalizing incident, Mr. Qureshi, the Pakistani foreign minister, did nothing to distance his country from a statement in his presence by Saudi State Minister for Foreign Affairs Adel Al-Jubeir accusing Iran of being the "world's chief sponsor of terrorism"
Similarly, in preparation of Prince Mohammed's talks, retired General Raheel Sharif, the Pakistani commander of the Saudi-based, 40-nation Islamic Military Counter Terrorism Coalition (IMCTC), flew from Riyadh to Islamabad for talks with prime minister Imran Khan and Pakistani chief of staff, General Qamar Javed Bajwa.
Pakistan agreed to General Sharif's appointment as commander despite its refusal to join the coalition in the belief that the 2017 Saudi request that he be seconded put the South Asian nation between a rock and hard place.
Pakistani military officials argued at the time that while the appointment would irritate Iran, refusal of the Saudi request would expose Pakistan to criticism from many more in the Islamic world.
Neither the Pakistani government nor the IMCTC gave details of General Sharif's discussions. The IMCTC, however, said in a tweet that "salient contours of IMCTC's domains and initiatives in the fight against #terrorism were discussed."
The tone and gestures during Prince Mohammed's visit contrasted starkly with positions adopted by Mr. Khan during his election campaign and immediately after he took office last year.
In his first post-election televised speech Mr. Khan made a point of discussing his country's relationship with Saudi Arabia and Iran.
"We want to improve ties with Iran. Saudi Arabia is a friend who has always stood by us in difficult times. Our aim will be that whatever we can do for conciliation in the Middle East, we want to play that role. Those tensions, that fight, between neighbours, we will try to bring them together," Mr. Khan said.
The geopolitical fallout, if any, of what for now amounts to symbolism will likely only be evident in the weeks and months to come.
Beyond Iran's toughening stance towards Pakistan in the wake of the attack on its Revolutionary Guards, tell-tale signs would be a closer Pakistani alignment with the Saud-led anti-terrorism coalition and the degree to which Pakistan-based militant launch attacks inside Iran.
Middle East scholar Michael Stephens, who heads the Royal United Services Institute (RUSI) operation in Qatar suggested that reading the tea leaves may best be done with a grain of salt.
"Geography is what it is, and Pakistan will always have to maintain a relationship with Iran (economic and security) regardless of how much cash it gets from Riyadh… Pakistan will do what's best for Pakistan, and not Riyadh, the US or Tehran. Telling everyone what they want to hear is kinda how this all works," Mr. Stephens said.
The Indo-Pak Conundrum: Victims to their Own Narratives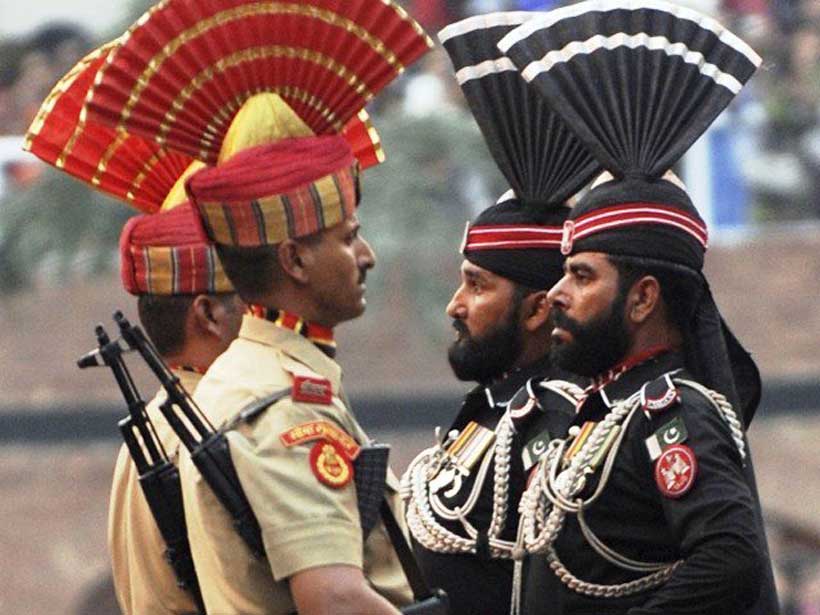 As tensions between nuclear armed India and Pakistan once again escalate in the wake of the devastating attack on Indian paramilitary personnel in Pulwama, one can't help but bemoan the Sisyphean manner in which both countries seem locked in extolling the same narratives over and again. This applies not only to those aiming to broker some semblance of peace between the two age-old rivals, but also those capitalizing on the ensuing discord and enmity for their own benefit. There seems as a result an inescapable script which both the Indian and Pakistani sides seem condemned to follow.
For those unaware of the above reference, it is perhaps better to give a brief account of Sisyphus in order to understand its relevance to Indo-Pak ties. Sisyphus of Ancient Greek legend was condemned by the Gods to rolling a giant boulder up-hill only to watch it roll back down, repeating the tasked infinitum. This punishment, meted out to Sisyphus against his hubris has since often come to denote the futility of human action, in a harsh and unforgiving world. This idea has since been presented by many artists and thinkers in relation to mankind's own search for the very meaning of existence.
In the near timeless case of India and Pakistan, Sisyphus's punishing task which he is doomed to carry out eternally, bears a striking resemblance to the futility faced by statesmen and policy-makers from both sides in reaching an agreement over Kashmir. Their inability to break free from the decades old vitriol and bad blood, and to resort to the same threats of war and retaliation have come to characterize the narrative underlying Indo-Pak ties following every major Kashmir linked attack that has taken place in India. The Pathankot and Uri attacks from two years back, the Gurdaspur attack from 2015, the 2008 Mumbai attacks as well as the 2001 attacks on the Indian Parliament in New Delhi have all served to crystallize the animosity between both countries.
All and any efforts made towards even just normalizing relations have been as a result instantly derailed. It's as if the recent strides made at the ground-breaking ceremony of the Katarpur corridor, the designation of Most Favored Nation (MFN) status with regard to trade, and the decades of people to people ties built around cultural and cricket diplomacy by countless artists, writers, poets musicians and professional athletes from both sides of the border; has all been rendered meaningless in just a matter of days following Pulwama.
It is extremely unfortunate that based on these dynamics, the very idea of brokering a sustainable and lasting peace between the two countries has itself reached mythic proportions. This gap has further widened based on the willful construction of a nationalist identity and narrative that is directly premised on the politics of 'otherness' both within and across the borders dividing India and Pakistan.
In the case of India, this aspect of otherness has reached an unprecedented scale with the rise of far right nationalist discourse premised on the principles of the BJP led Hindutva movement. In direct tension with the secular foundations of Indian democracy, many have attributed India's descent into a religious inspired nationalism as a worrying precursor to regional instability. As the ruling BJP government comes to increasingly resort to the politics of otherness as part of its bid for re-elections, many have accused it of willfully spurring anti-Pakistan sentiments in an attempt at uniting a diverse and divisive electorate against a singular common enemy.
Prime Minister Imran Khan, in his recently televised official statement on Pulwama, addressed this very issue and directly attributed it to the reason behind the bellicose rhetoric being espoused by Indian leaders. In the same speech he also reiterated Pakistan's resolve to retaliate and defend itself should tensions escalate to the point of military conflict.
This entire diplomatic exchange represents thus the same narrative that both sides have remained locked in as a result of Kashmir. The BJP led government in India, constrained by its inability to move beyond pandering to its core electorate, seems perhaps more unable than unwilling to break free from its own set narrative. On the other side, Pakistan's position has more or less been characterized as being dominated by its influential military to which its foreign policy on India has widely been accused of being held hostage from its civilian government. Both narratives are in turn deeply ingrained in the above discussed politics of otherness, to which both sides seem condemned to repeating over and again.
However, if one was to go back to Prime Minister Khan's inaugural speech from September last year, he has repeatedly claimed that both the Pakistani government and its military are on the same page with respect to its regional interests and foreign policy. Even in his statement on Pulwama, he offered in clear terms Pakistan's commitment to working with India against terrorism across the region. He has clearly indicated that he is willing to move beyond these set narratives and work towards attaining the much illusive peace between the two countries. Whether Imran Khan is successful in bridging this ever growing divide between the two countries remains to be seen. However, the fact that he has willfully acknowledged and taken up this Sisyphean task for what it is, presents some hope for those worryingly looking at the war clouds looming over the South Asian region once again.
Breaking Down the South Asian Dynamic: Post Pulwama attack & Saudi Prince's visit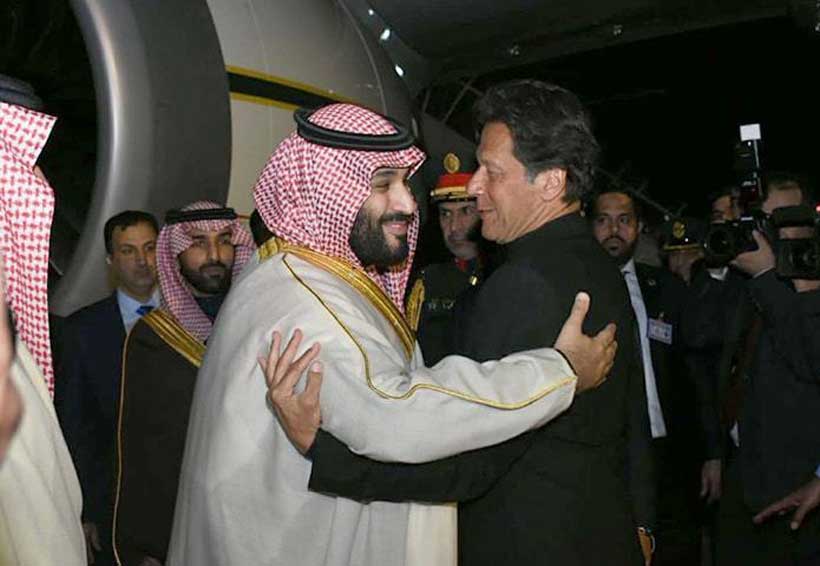 The political and strategic activities of the South Asian region have been on a high for the past week or so. The region faced a very unfortunate incident on 14th February, 2019 when 40 Indian soldiers were killed in an attack in Pulwama, India. The already torn region of Kashmir faced yet another blow and has been in turmoil since the attack. The 14th February attack somehow translated into more violence against the innocent civilians of Kashmir. Not only Kashmir but other cities of India have also been actively involved in hate crimes against Muslims, particularly Kashmiri students. BBC news reported the violence against students from Kashmir in various universities across the country and how they were being thrown out of their residences.
The attack has been condemned by all alike, however, the Indian nation has assumed Pakistan to be behind the attack. The Prime Minister Nirendra Modi has given his two cents on the matter and his words seem to be clearly motivated by his desire to cash this unfortunate incident for a win in the upcoming Indian general elections. India's highest Diplomat in Pakistan has also been called back and the action has been reciprocated by Pakistan as well. As we break down the current rush of hostilities between the two nuclear neighbors there are mainly two theories revolving around. The Indian theory is short and bitter, it claims Pakistan is responsible because it is an irresponsible state that provides safe havens to terrorists. The group linked to this attack has also been declared close to Pakistan's agencies on many occasions. The theory is evidently childish and sounds like it is being repeated for the 100th time with no solid proof or credible information yet again. The mere allegations have brought no good but unfortunately India's higher names are set on fueling the age old fire for their petty gains.
We have a theory from Pakistan's side as well. Although it is not an official theory nor has it been discussed by any of the higher leaderships publicly but it is nonetheless doing the rounds in the policy circles. It claims Indian officials themselves were involved in not only the Pulwama attack but the less spoken of, Iran attack as well. Both the attack were significantly close to Pakistan's Eastern and Western borders. This is something the state of Pakistan would not bring upon itself at such a crucial time when the security situation of the state was desired to be at its best for the arrival of the Saudi crown prince, Muhammad Bin Salman. The visit was not only a remarkably significant diplomatic achievement for Pakistan but was also very significant for the South Asian region and Muslim countries around the globe. In times like this when the state of Pakistan was consumed in making preparations for the arrival of the Prince it would be a rather immature strategic move to involve itself in something so disastrous and fragile at the same time. However, some believe Indian officials planned this to create unrest in the region as an attempt to halt the Prince's visit.
The visit, however, took place anyway and was a rather successful one. Not only were MoU's signed between the leadership of Pakistan and the Royalty of Saudi Arabia but mechanisms to implement the MoU's were also chalked out. The spontaneous release of 2107 Pakistani prisoners from Saudi prisons n the request of Pakistan's prime minister was a clear show of the blooming Saudi-Pak relations. It not only took the friendship and trust between the two nations to new heights but created a new sense of love and respect for the Prince amongst the general public of Pakistan which has not been seen so evidently before. The prince being awarded with the highest civil award of Pakistan marks the utmost success of the visit which did not settle well with many of the self-proclaimed key players of the region.
The prince has plans to visit India as well where it is expected that peace between India and Pakistan would be suggested as a key desire. It can also be expected that India's leadership would take this opportunity to trade peace in return of other favors from the Saudi delegation. Regardless of the absurd reaction from the neighboring country, Pakistan has remained calm and acted with utmost maturity during the entire blame game. Regardless of knowing very well how capable the Pakistani army is, the state has made no loose remarks and has also recorded its reservations against India's escalating remarks in a letter penned down by the Foreign Minister of Pakistan to the General Secretary of the United Nations. Pakistan always has, still does and always will promote peace and prosperity in the region.