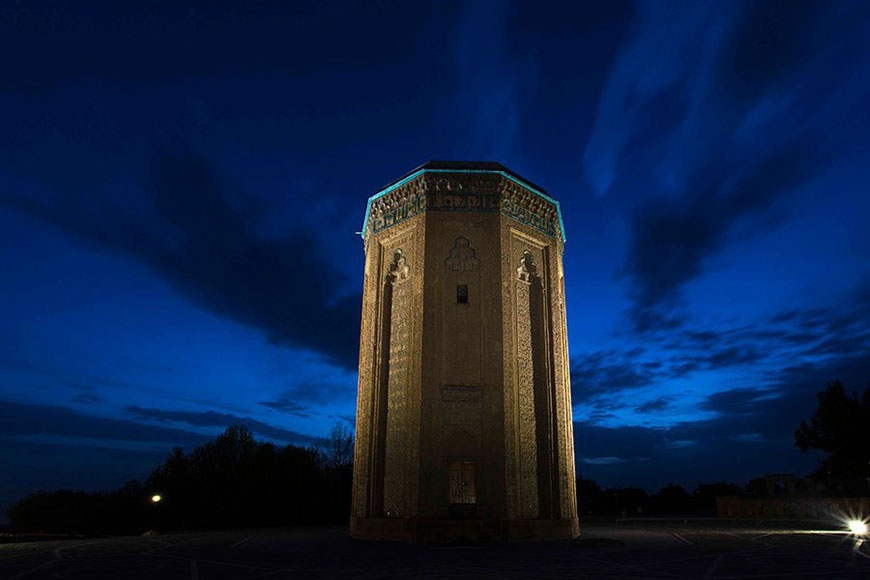 Autonomous Republic of Nakhchivan, Azerbaijan's westernmost province, welcomes everyone – including a novelist with no guidebook; it is heralded as a museum without walls. This region of Azerbaijan stretches on over 5,500 square kilometers and borders Armenia, Iran and Turkey.
Despite of the economic blockade imposed by Armenia government against Autonomous Republic of Nakhchivan (for over two decades), the birthplace of Architect Ajami ibn Abubakr Nakhchivani – and home of Prophet Noah – has dedicated most of its territory solely to illuminating research into: ancient civilizations, global archeology, human history, Azerbaijani historiography and sociology and is testimony of ancient life and inventions that have enabled men to live in harmony with nature. Some of these culturally peculiar monuments are: Alibay Kehriz, Alinja Mint, Arafsa site and its Sacred Place.
Strolling in the Tabriz Street of Ordubad City, tourists will be fascinated by the historical monument of Alibay Kehriz (a kehriz constructed by Alibay):   it was built in the floating deposits of Ordubad river and is a simple shape kehriz monument that continues to preserve its characteristic nature up to this day. The stairs of this monument proceed down perpendicularly to the kehriz stream. The base, bottom half of kehriz has been enlarged in size, overtime: its length is 1.8 meters, it has a width of 1.5 meters and a height of 2.3 meters. The walls of Alibay Kehriz have been carved neatly, however at the top section there is a big rock piece that has remained untouched. Based on the early plans and its current structure: the length of the monument is 4.93 meters; its width is 1.5 meters; and has a depth from the ground surface of up to 4.56 meters. The height of the entrance from the ground surface is 1.9 meters. The fresh water resources of Alibay Kehriz is used by locals for daily consumption.
In the East of Khanagah, Julfa Region is located Alinja Mint: it was built as a vault where precious items and monetary currency would safely be deposited.
In war times, the Alinja fortress garnered a reputation for its defense walls and for safeguarding the state treasures and members of the families of Azerbaijani feudal rulers; it served as the headquarters of minting currency during different periods.
In early XIV century, Alinja Mint was the center of silver coins, the minting of these items was done under the orders of Elkhanilar and Teymurilar; many coin samples were found in the area; indeed, Jalairi Sultans had established a well – organized process of coin minting.
The late Bronze and the early Iron ages are represented in Julfa region with Arafsa Cultural monument, located on the right banks of Alinjachay (branch of Araz river) in Alinjachay Village.
This territory is 5 acres of archeological treasures where monochrome painted clay tableware samples belong to II millennium BC. In 1974, Professor V. Aliyev and other International Scholars encountered obsidian fragments and other traces of a civilization that had been living in Arafsa since the II millennium BC. Pieces of black clay tableware of monochrome paint and polished stone labor tools (grain stones, graters, mortar and pestle) were discovered in this attractive archeological site that has recently emerged as an important destination to French tourists.
Based on the international archival documents, Arafsag settlement had taken this name in 1590, it reflects the heritage and the name etymology of Sak Turks; a local ethnic group that lived in Nakhchivan, since the II millennium BC. According to the archeological discoveries conducted by Prof. I. V. Fedorov in 1895; the local tribes have migrated from Nakhchivan to the north and subsequently spread over the Middle and Central Asia, in Altay and on large swaths of the Siberian territory.
It must be emphasized that based on meticulous investigations conducted by L. N. Gumiliyev, I. M. Dyakanov, E. E. Kuzmina, it is scientifically certain that the background of Sak tribes derives from the Turk-Azerbaijani tribes.   The component of Arafsa consists of 'Ar – ev – sak' meaning "the place (land) of Sak, courageous people." Per historical sources and based on research conducted by Prof. Rzayev F.; the territory of Nakhchivan has 23 habitable settlements that are archeologically related, scientifically proved, to be connected with the Sak Tribe (Sakazur, Sigat, Sakli, Kansak, etc.)
The Sanctuary of Arafsa Sacred Place was established in the middle ages in the village of Arafsa, Julfa Region, is located on top of a hill, to the left of Alinjachay. This ancient place, consists of two big rooms, with balconies to the south and the north. The main pilgrimage attraction is the grave in the central room, found to be somewhat large in its size. The name of this sacred place has been taken from the name of the village, a rural site that once was a metropolis and an ancient bastion of the Sak Turkish tribes; many years ago, this site has served as a center of religious dervishes.
The City of Ordubad, Arazin Necropolis, Alinja Mint and the Sanctuary of Arafsa Sacred Place are unique archeological sites where tourists are infinitely connected to their passion.
Source: Rzayev F.; "The traces of Kas and Sak Turks in Nakhchivan: the problems of Azerbaijan onomastics." B., 2003 Nr. 11.
4 Transportation Tips to Get Around in Switzerland
When someone said, "getting there is half the fun," they must have been talking about Switzerland. This European gem has such a vast availability of public transport throughout the country.
Moving past the occasional traffic jams and road constructions, they know how to make traveling comfortable for everyone. Their public transit network is orderly, on time, pristinely clean, and much popular among the locals.
So, if you are in Switzerland and are planning to travel, the number of ways you can enjoy the serenity is endless. But the first step on this journey is to get travel from the airport to your desired destination.
Zurich airport transportation gives you three ways to enter the cities from the airport with much ease. You can either take the train for a view of nature or the tram if you want to enjoy the city's sights or take a taxi, which is the most comfortable option but is also expensive.
Read on for some helpful tips that will make traveling easier for you in Switzerland.
1. Utilize Free Public Transportation
If you are traveling to Geneva, Lucerne, Bern, Basel, or Lausanne, transportation will not be something you'll have to worry about. Switzerland offers everyone free public transportation in their most traveled cities, including these. You can not only save taxi fares but also be able to explore the whole city for free.
Most of the time, the hotel you're staying at will provide you with a transport card which you can use to travel for free. So, if you are staying at a hotel, make sure to ask at the reception for potential freebies.
2. Don't Purchase Travel Passes.
A travel pass should be your last option. It takes up a good amount of funds, and if you don't end up using public transport a significant number of times, then the pass hasn't been put to use well.
Before you finally settle on buying a pass, you may ask yourself what all places you will travel to? Will you cover long distances at all, or will you stay around the same area? How frequently will you use the pass? These questions might help you understand if the pass is necessary or not.
3. Get a Free Bike
Geneva, Zug, Bern, Zurich, the Canton of Valais, and Neuchatel are some places that will offer you bikes for free. And if you are in one of these cities, you're in for a treat. You can rent bikes for a few hours, a whole day, or for an even longer time. All you will need is your valid ID and a small deposit amount, which you get back after returning the bike.
If you are not in one of these places, you can still rent out a bike. They may not be for free, but they are still cheaper than other public transports or taxis.
4. Grab the Free Activities
You will be surprised to know that there are so many things that you can enjoy for free when you are in Switzerland. You have to pay attention and look in the right direction.
Many free walking tours take place all across the country. You can visit the free wildlife parks in Winterthur, Interlaken, Zurich, St. Gallen, and other places. Museums, churches, hills for hiking, and Old towns are open and free to all.
Take a toll through parks, bridges, and botanical gardens. You can visit Europe's largest waterfalls, that is, the Rhine falls in Schaffhausen.
Experience the cheese factories and enjoy all the free samples. Talk to people and explore, and you'll find there's always something left yet to explore.
A few bonus tips to make your trip budget-friendly in Switzerland.
Avoid staying in major cities. No doubt staying in a major city has its perks, but it's too expensive, and you also miss out on the scenic beauty of nature that Switzerland is all popular for. You can instead find a hotel or Airbnb far outside of the city and the postcard Switzerland you came for.
Avoid high seasons. The high seasons are winter and summer when tourists flood this country. This is also the time when rates go very high because of the demand. If you want a good deal, then plan your visit during the spring or autumn when accommodations are cheaper, and there is a lesser crowd.
Cook your meal. Carry mini gadgets that can help you cook your food, like a mini rice cooker. Stay in a place that has a kitchen, so you don't have to buy your food.
Rent an apartment if you're planning to stay for long. This way it is much cheaper, and you can cook your food.
Take advantage of the Swiss Pass. If you do end up getting a Swiss Travel Pass, ensure you make full use of it. Visit the museums, castles, enjoy free rides as much as you can.
Eight Hilton Hotels Located in Historic Buildings Around the World
For more than 100 years, Hilton has spread the light and warmth of hospitality across the world, creating a portfolio of hotels that not only excel at offering world-class services and amenities, but also purposefully adopt local cultures, lifestyle and a general sense of place reflected in the architecture and designs. This philosophy of adopting the feel of a hotel's surroundings is especially evident in properties that have a significant historical value; making Hilton keen to preserve the property's architecture and décor while combining the modernity of offerings and amenities to offer travelers an authentic, artisanal experience.
From a historic train station in St. Louis to a colonial fort in the Bahamas, and a one-time bank headquartered in Amsterdam to a chocolate factory in Croatia, here are just eight of the many Hilton hotels that allow guests to indulge in culture and comfort.
St. Louis Union Station Hotel, Curio Collection by Hilton, United States
Built in 1894 in what was once the most ornate railway terminal in the United States, this National Historic Landmark in downtown St. Louis was converted to a hotel in 1985 and is well-known for its iconic Grand Hall, a lobby lounge area with 65-foot ornate vaulted ceilings on which a dazzling 3D light show is projected nightly.
Hampton Inn & Suites by Hilton Mexico City – Centro Historico, Mexico
The hotel is located in "Casa San Agustin," a registered historic building in Mexico that was built in the 1800s by Bienes Culturales de Mexico, the Instituto Nacional de Antropologia e Hisotria, and the Nacional de Bellas Artes. Considered an architectural jewel, the building has been used for accommodation purposes since its beginning. Various restorations have preserved much of the original exterior façade's style, including ajarcas—moldings and ornaments that were combined with tezontle exteriors in that period.
British Colonial Hilton Nassau, Bahamas
Sitting on the Old Fort of Nassau site dating back to 1695, British Colonial Hilton Nassau is the island's oldest resort operating in a historic building. Demolished in 1873, the Old Fort was built to protect the Nassau Harbour's western entrance, specifically from pirates. The original hotel was built by American industrialist Henry Flagler in 1900. The existing concrete building, known as the New Colonial, was constructed in 1923, after the original wooden building was destroyed by fire. The hotel's western wing was built on these ruins.
Waldorf Astoria Amsterdam, Netherlands
The hotel's 93 rooms and suites are housed inside six 17th– and 18th-century buildings facing the historic Herengracht canal. As the former headquarters of a bank, the hotel is still home to the original, thick-steel vault door, which stands in front of the aptly named Vault Bar. Behind the bar itself, a wall of safety deposit boxes is propped open, with some serving as bottle shelves.
DoubleTree by Hilton Lisbon Fontana Park, Portugal
Once the site of an ironworks factory dating back to 1908, DoubleTree by Hilton Fontana Park pays homage to the building's former life, fusing modern design with original character. Complete with an open-air courtyard and beautiful waterfall, the hotel provides a calm oasis for travelers after a busy day of sight-seeing in the Portuguese capital.
Canopy by Hilton Zagreb City Centre, Croatia
Once home to the Union chocolate factory, the first chocolate maker in South Eastern Europe, the hotel is one of the Croatian capital's newest lifestyle hotels, where guests are presented welcome gifts of handmade chocolates upon check-in. Finding themselves located in the heart of the city, travelers are encouraged to grab a Canopy Bike and follow the brown tourism signs throughout downtown toward the Croatian National Theatre, historic Upper Town, museums and the stunning Zagreb Cathedral.
Hilton Sydney, Australia
Housing the renowned Marble Bar—a 127-year-old underground bar—Hilton Sydney is built on the ruins of the Tattersalls Hotel. Marble Bar features authentic sheets of plate-glass mirrors, marble walls, pilasters and mosaic floors. Originally built in 1893, the Victorian structure was painstakingly dismantled, transported and reassembled in Hilton Sydney in 1973—where the restored mahogany bar and marble archways still awe guests to this day.
Waldorf Astoria Shanghai on the Bund, China
Once the renowned Shanghai Club, the hotel retains much of its original design, offering guests a unique taste of Shanghai's heritage and culture, all while enjoying unparalleled service, award-winning cuisine and views of the majestic Huangpu River. The historic building was built in 1864 and used to be the principal men's club for British residents in Shanghai. The hotel is suitably located near the iconic Bund, featuring waterside strolls and shopping.
What can I do if I lied about my criminal history to travel to Australia?
You'd be surprised to hear how many people actually lie when they apply for a visa to get to Australia. This is because Australia has very strict laws concerning visas and immigration authorities want to know about any type of offences the applicants might have committed in their country of origin or indeed in any other country where they have resided for a longer period, 12 months or more typically.
What sort of offences do you need to declare when applying for an Australian visa?
Short answer: Any offence on your record.
This is the part that baffles most foreign nationals applying for an Australian visa. Why would a minor traffic offence committed 10 years ago matter to Australian authorities? Well, it matters to them so deal with it.
Can you get away with it? Yes, if you apply for a tourist visa or a Working Holiday visa you can get away with it. You will be asked for a statement concerning existing convictions and if you say you don't have any, they'll most probably take your word for it.
What foreigners don't understand is that having minor convictions doesn't necessarily mean your visa application will be denied.
If you state that you have some offences on your record, you will be required to present a national criminal history record certificate. If your convictions total less than 12 months in prison you have no reason to worry your application will be rejected. In most cases, it is only people with lengthy prison terms on their record that have to worry and even then the immigration officer in charge of your case may grant you a visa after reviewing your circumstances.
So, why would you lie if you only have some minor offence on your criminal record?
What can you do if you lied on your visa application?
Many young people coming to Australia on a Working Holiday visa (417 visa) decide they want to stay longer if they've found a good employment. For that, your employer needs to sponsor you for a Temporary Skills Shortage visa (428 visa) and this is when that little white lie comes back to haunt you.
When you apply for a 428 visa you will need to submit a national police check from your country of origin which will include the offence you have lied about in your original visa application.
The only thing you can do is tell the truth this time and hope for the best. If you're lucky, the officer in charge of your application might not notice you omitted to mention your past convictions when you first came to Australia and granted you the 428 visa no questions asked.
However, there's a strong possibility your lie will be discovered and that's pretty serious. Even if it was a stupid traffic offence, the Department of Home Affairs might deny your request simply because you lied in the first place.
If you really want to stay and work in Australia it's best to seek professional migration assistance. There are various organisations that deal with such problems and they can guide you through the process.
It's not a guarantee, but in many cases the lie in your first visa application can be forgiven provided you can offer solid character references, which are an essential part of the character assessment.
Bottom line – If you want to travel to Australia, better don't lie to the immigration authorities, saving yourself a lot of headache!