On perpetual Indo-Pakistani tensions over Kashmir
[yt_dropcap type="square" font="" size="14″ color="#000″ background="#fff" ] A [/yt_dropcap]nyone who closely watches Indian news and debates over TV channels, especially in English and Hindi would attest an ugly truth: India does not at all seek peace with Pakistan, Bangladesh, and it is still determined to kill the remaining Kashmir Muslims. Indian TV channels in English are fully devoted to terrorism, cricket and anti-Pakistanism.
India promotes cross-fire dramas as part of 11/9 in order to advance it national interest abroad. It is therefore not sure if India would any time end hostilities and hate politics with Pakistan over Kashmir even if all Kashmiris accept Indian sovereignty in a referendum if held. Indian military congestion in Kashmir would not be reduced as forces would continue to control the Muslims there and for which Indian regime would, like USA and Israel, discover new threats, meant to terrorize and attack Muslims. After all, Manipur in India continues facing military atrocities endorsed by New Delhi with extra powers. India would curtail all basic freedom to Indians as well and if anybody opposes they are tracked brutally.
India and Israel though are not strange bed partners but who promote trade-in terror goods. None in the world media is allowed to criticize Israel and India as both track world media reports and opinions and pay to say no articles appear in the press or internet criticising colonialist crimes being perpetrated by Indi and Israel. They are among the fast emerging strategic partners globally coordinating their colonialist operations. .
India thrives on anti-Pakistani and anti-Muslim and terror victim planks, though it also plays a premier role in spreading terrorism.
Indian media and political parties hate Kashmiris for the issue an international one thanks to Pakistani efforts to take to international forums the Indian techniques of committing genocides in Kashmir. In main India both national political outfits – and secret allies on anti-Islamism – BJP and Congress, having to end the struggle in Kashmir, have one agenda now: to somehow pacify Kashmiri Muslims with some false promises and also to delete the historic case against Hindu criminals, who pulled down the Historic Babri Mosque on 06 December 1992 on a deep rooted Indian conspiracy against Indian Muslims and Islam. This destructive politics has got the backup, guidance and help from Indian state and successive governments. Indian corporate media lords work very closely with military-intelligence organizations to promote Islamophobia in media so that India looks somewhat democratic and"safe".
India committed a gracious crime by annexing Jammu Kashmir even if on the advice of former colonial master Britain and now anti-Islamic trends have come handy to perpetrate crimes against Muslims in Kashmir. It is therefore not difficult to comprehend the reason for this collective anti-Pakistani and anti-Muslim mindset of Indian regime, military, media and intelligence is the simple colonialist calculation that any peace with Pakistan would force India to shelve official tensions and try to be good to Indian Muslims albeit with a pinch of salt ,
Further, the promotion of bilateral ties with Pakistan would make India slowly lose global sympathy as a major "terror victim" and would eventually its nukes and military advantages to threaten the neighbors. In short, if it promotes peace and friendship with Muslims neighbors, India would lose its big brother status it enjoys now arrogantly. Many strategic guys think India cannot afford to lose its "strategic" advantages by mending ways with regional Muslim nations and Kashmiri and Muslims. India does not seek to end communal politics.
Above all, both India and Pakistan would lose Jammu Kashmir which both jointly occupy- while India does it brutally by targeting Muslims in Kashmir and India proper sending s warning to UK (and USA indirectly) for occupying India for centuries before granting independence in 1947, while Pakistan make Kashmiris "love" Pakistan as a "reliable" defender of Kashmiris Muslims, while it keeps killing Muslims indoors as per instructions of USA and also from India received through Washington along with service charges in dollars.
Wars, conflict, crisis and disruption of diplomatic relations and bogus talks or dialogues between the two nuclearized South Asian states are a central part of history of the region. India as well as Pakistan promotes tensions and both are not scared of them for many more years so that they continue to occupy Jammu Kashmir with backing from China, Russia and USA – all veto powers. Both are eager to escalate the tension by cross border fires, terrorizing the besieged Kashmiris.
Kashmir has been a contested area of South Asia since the partition of British India in 1947. The region is claimed by both India and Pakistan; the Indian-controlled part has periodically been convulsed by protests.
Tensions between the two nations have run high since India forces killed a Kashmiri militant commander. Then, last month, 19 soldiers were killed on an army base in India. At least 19 people have been killed as a result of India-Pakistan border disputes in Kashmir that have occurred in recent weeks, prompting some to wonder if the conflict could escalate into a drastic war over control of the region. Both nations have denied responsibility for bringing the first strike, and leaders in each country have accused the other of violating a 2003 ceasefire agreement that curbed violence in the area.
As Pakistan remains focused on Kashmir, India has been alertly pursuing an objective of maligning Pakistan in the world alleging that it is a terrorist state and it manufactures and exports terrorism. This allegation makes USA and Israel happy as India has not blamed these two fascism nations of inventing and popularizing terrorism. India does not do that because it wants their active help in targeting Muslims in Indi and Kashmir.
This summer in Kashmir saw some of the worst conflict – and worst challenge for Indian military – since 2010. Massive numbers have turned out in public demonstrations against often oppressive Indian rule and endorsement of a new age of militancy. Some 85 civilians have been killed, and at least 11,000 injured, hundreds of them by pellet guns, weapons that have become controversial symbols of this summer's turmoil for the serious eye injuries they have inflicted. Schools and commercial establishments have been periodically closed under curfews, and the internet cut off in an effort to prevent protests. Thousands of protesters have also been arrested in the ongoing crackdown, including Abyad's older brother, who was detained on July 8 and continues to be held in a police station.
India, like USA, Israel and Russia, has no concern for the murder of Muslims in Kashmiris because as Hindu majority India is eager to retain it illegal occupation at all costs even by paying huge resources to USA.
South Asian nuclear powers with a lot of poverty, Pakistan and India have not signed NPT and there seems less possibility for regional cooperation in the nuclear field By following the Israeli and American strategies against Arab world and Russia, respectively, India is keen to maintain superiority over Pakistani military postures. But Pakistan's maintenance and advancement of minimum credible deterrence at the moment discourages India to go for misadventure by launching a missile war against Pakistan. After having the full spectrum deterrence, Pakistan now has the capability to cover all kinds of threats. India has very aggressive strategic posture to contain Pakistani military, aiming at the nuclearization of Indian Ocean and projecting military power in the Persian Gulf and the Arabian Sea. However, they not allow the situation to escalate into a full-fledged war.
Voicing its concern over India's nuclear capabilities, Pakistan called on the member states of the Nuclear Suppliers Group (NSG) to make a well-considered decision over including India, keeping in view the long-term implications for the global non-proliferation regime as well as strategic stability in the region "This build-up has been facilitated by the 2008 Nuclear Suppliers Group (NSG) waiver granted to India, which not only dented the credibility of the non-proliferation regime and undermined its efficacy, but also negatively affected the strategic balance in South Asia," said Foreign Office spokesman Nafees Zakariya at a weekly press briefing, reports the Dawn.
Pakistan has been asserting that India's rapidly expanding military nuclear program poses a grave threat to peace and stability in the region and beyond. The FO spokesman warned that another country-specific exemption by the NSG on the membership question would further exacerbate the ill effects of the 2008 exemption. "It remains our hope that the NSG member states would make a well-considered decision this time keeping in view its long-term implications for the global non-proliferation regime as well as strategic stability in our region," he said.
India says that seven civilians, including two children, died following cross-border firings. Officials have evacuated several civilian villages along the disputed border region and moved them into government-operated shelters for their protection. In Pakistan, more than 10 people were killed over the weekend and Monday. "It appears as if a full blown war is going on between India and Pakistan," Mohammad Saeed, a resident of the village of Mohra in the region, told Reuters. "Please have mercy and stop it." Armies from each nation patrol the Line of Control, which divides Kashmir into two separately governed regions. Cross-border firings between officials of the two nations continued, officials confirmed.
Such disputes have led to two of the three wars between the nations in the last 70 years. As decades of tension continue to mount, some young Kashmiri men are joining militant forces to fight India, seeking a route to self-determination for the region after years of frustration and oppression. This time the uprising has spread to every artery and vein of Kashmir. This is the third generation of Kashmiris since 1947, and their anger is such that they don't want to budge.
Now, some worry that the stakes have become so high and the region so volatile that conflict could escalate into a nuclear exchange over the territory.
But other nonviolent tactics are at play in the conflict as well. India has threatened to skirt the provisions of a water treaty that regulates how the two nations share resources from three rivers by constructing two hydropower plants that would divert more water to India. Experts have criticized the tactic, and Pakistan has responded by saying it would consider a violation of the treaty to be "an act of war or a hostile act against Pakistan." "It's highly irresponsible on part of India to even consider revocation of the Indus Water Treaty," Sartaj Aziz, foreign policy adviser to Pakistani Prime Minister Nawaz Sharif, said last month. "Threats of a water war are part of a military, economic and diplomatic campaign to build pressure on Pakistan."
Each nation also expelled diplomats last week when tensions rose to a government level. The decades-old conflict has left those in Kashmir disenchanted with politics between the two nations and apt to support rogue militant causes. As protests continue in the region, some say militant groups, and local support for them, could continue to grow in response to government actions. "People have lost faith in the political struggle," Shujaat Bukhari, editor of Rising Kashmir said: "I'm not saying everyone in Kashmir is a militant. But everyone sympathizes with the militancy, and that is a new reality." He fondly remembers the 1970s and '80s in his native Kashmir – a place that was peaceful and verdant, where the now 63-year-old artist could interact with visiting artists from around the world and paint landscapes.
For Khytul Abyad, such an artist's paradise seems an elusive dream. Born in 1993, the 23-year-old artist watched as Kashmir's beauty was overshadowed by political crackdowns, torture, Army bunkers on every street, and long waits in traffic as Army convoys passed by. For her, growing up in Kashmir mainly meant negotiating the ongoing conflict between Kashmiris opposed to India's occupation of their land. Mr. Hussain and Ms. Abyad are working to document the conflict they have seen explode around them this summer, as tensions over India's occupation of Kashmir soared after the killing of the popular militant rebel leader Burhan Muzaffar Wani.
For both of them, Kashmir's brutal history has become the canvas, their art their channel of dissent, protest, frustration, and hope. And they see others choosing the same path. "In 2008, 2010, and 2016 uprising, we've been seeing new artists emerging, either as musicians, rappers, poets, or painters," says Abyad. "Being in a curfew for months, not being able to go out of home … this is the perfect time for art to emerge because there's so much going on inside and the frustration becomes internal, rather than external," she adds.
Abyad and Hussain's perspectives are shaped by their very different experiences: While Hussain knew Kashmir before the armed rebellion started in 1988, Abyad was just 18 months old when unknown gunmen assassinated her father, Mirwaiz Qazi Nissar, a popular pro-freedom leader and a Muslim cleric. As she grew older, words like azaadi (Freedom) and tehreek (movement) became familiar rallying cries.
It was during the 2008 unrest that Abyad took up her paintbrush in protest. Nearly 80 people were shot dead and many injured in the uprising sparked by government land being transferred to a Hindu shrine board, where the board wanted to construct concrete structures. "I had never seen so much anger in people," says Abyad, who has exhibited her work publicly and is participating in upcoming exhibitions and biennales. "It was tehreek, I thought. I saw people being beaten up inhumanely. I saw people who weren't ready to go home even after teargas shells were fired at them, people who wouldn't stop shouting 'We want freedom' until police would take them away."
Like everyone, Abyad also experienced intense fear that she hadn't known before. "This fear turned into sadness and brought anger," she says. When she couldn't go out and throw stones at the soldiers, it was art that became her outlet. Without being able to speak about her anger and frustration, art showed her the way to communicate the harshest of emotions in the gentlest manner. Her work is mostly a reflection of life in Kashmir and the events that have changed its history over the years. In her sketches, these days, she has been drawing short stories about various elements of the ongoing uprising, based on her own experience. "Wherever there is conflict, there's discomfort, and discomfort gives rise to art," she says.
Hussain's early work was shaped by much more quotidian experiences. As a student at Mumbai's JJ Institute of Applied Arts from 1971 to 1976, he would often visit home for vacation. After his education, he returned to Kashmir to introduce the graphic designer course in the Institute of Music and Fine Arts (IMFA). "Life was peaceful, and there was so much to do as a graphic designer," says Hussain, now a highly acclaimed artist. "I used to paint as well. We had art camps every year and artists from across the world used to visit these camps. We had great fruitful interactions with them. It would not be an understatement to say that it truly was an artist's paradise."
At the IMFA, opportunities were many, including the highly creative and culturally diverse environment when artists from all regions and religions would work together. "My works talked about our rich cultural heritage, expressed my admiration for the natural beauty through landscapes, photo documentation of our vernacular architecture, especially the lattice work," he says.
Then the conflict broke out; Hussain lost all the artwork he had created in 1993 amid protests. What he managed to salvage was then lost to floods in 2014. But that has just spurred him to do more paintings like "Death and Resurrection," a series in the form of painted relief in mixed media that shows the conflict he has witnessed. He mourns the younger generation's lack of awareness of an earlier Kashmir – one of his paintings, "Look Behind the Canvas," depicts three generations of women in Kashmir – showing Mughli, whose son was forcibly disappeared, and Rafiqa, whose husband is also disappeared, and his own daughter. In the painting, he has also incorporated cuttings from the newspapers during 2010 mass uprising as a small collage.
After the work was finished, however, Hussain tore it apart, as a metaphor for Kashmir's situation.v "I was so scared to see the situation of young boys dying in 2010. I found that there is no end to this violence and situation will not be better," he says. "We are waiting for somebody to come, who can feel our wounds. I tore apart this painting but somebody will come who will put this painting back together again."
Similarly, in July, when Abyad, a recent graduate of the IMFA, read about lead pellets being fired at civilians, the reaction came out on paper. More than 1.3 millions pellets have been fired in the first 43 days of the uprising. The hospitals are filled with young men wearing blackout glasses after undergoing operations to get out the pellets and then try to restore sight. "We have been confined to our homes for the past 52 days with violence all around us," says Hussain, who has also been making digital art on pellet survivors. "It's heartbreaking to see children losing their eye sight to pellets," he says. "Digital media is the quickest means of depicting the plight of these children to the world. Such brutal acts must be stopped."
On July 9, the capital of Indian-occupied Jammu Kashmir went unexpectedly quiet. Police barriers and barbed wire blocked the streets of Srinigar as military helicopters passed over blue skies crowded by mountains. Thousands of protesters were rioting in the streets 24 miles south. The sudden shutdown came after Indian Army forces killed 22-year-old Burhan Wani, a popular Hizb ul Mujahideen Kashmiri militant with a 1 million rupee ($15,000) Indian-issued bounty, late Friday evening in southern Kashmir. Outrage over Wani's death turned the militant into a martyr overnight, and by Wednesday, the death toll reached 35, with hundreds more injured in clashes between separatist protesters and Indian troops.
As is routine when fighting breaks out in the Valley, which has been disputed between India and Pakistan since 1947, anti-Indian separatist leaders called for a four-day shutdown of the city. Shops, restaurants, pharmacies, and fruit sellers were closed in solidarity. The mood was grim, and few dared venture out of their homes.
But on the edge of the city, it was as if nothing was out of the ordinary. Dal Lake is Srinagar's prized "jewel," an economic powerhouse for a struggling region that draws tourists with its staggering mountains and serene waters. Nearly 70,000 locals reside near its shores, and depend entirely on tourism and fishing for their livelihood. And Dal's façade of normalcy in recent days speaks to the tensions here as Kashmiris both chafe against Indian control and at the same time try to keep their shaky economy going. "Every Kashmiri wants to protect Dal Lake," explains Asif Qureshi, bureau chief of a local news station in Srinagar. "It is the jewel of Kashmir. It's a safe zone, blocked in from Dal Gate to the Boulevard near the Army Cantonment."
On Sunday, as the rest of Srinagar remained on tense lockdown, water-skiers glided blissfully across Dal Lake. Fruit and souvenir sellers rowed in brightly-painted shikara boats around the silky blue water looking for tourists. Shikara boat owners offered rides to Indian families on vacation. "It's our first time on Dal Lake," said Sagar Choudri, a tourist visiting from Maharashtra who'd just finished water-skiing. "We feel good here. People are very nice to us. We heard a little about the strike, but we feel safe."
Nearly 10 miles wide, Dal hosts some 880 wood-carved houseboats, leftover from the British before partition when the Dogra Maharaja of Kashmir prohibited them from building houses on land. Now, the Dal economy supports thousands of families across Srinagar – from taxi drivers to houseboat owners to cooks to fruit-sellers. It is one of the only areas that remains immune to fighting that can break out on short notice in Kashmir, which remains one of the most heavily militarized zones in the world. Green and white signs across Srinagar read: "Dal is our identity. Let us join our hands to preserve it." "There is no tension, there is no military here. Dal Lake is peaceful, Dal Lake is safe, Dal Lake depends 90 percent on tourists," says Latif Ahamed, a young shikara boat owner who stayed open during the strike, hoping to catch a few stray tourists. He sounded weary of talking about the recent fighting.
But it is not an easy topic to avoid. Dressed in the uniform blue kurta worn by shikara union workers, Mr. Ahamed explained that in addition to the economic difficulties of working as a shikara guide, his work carried the added burden of political pressure: Could he afford to follow suit and shut down his business? He had decided to stay open over the weekend, despite pressure to remain shut. "People are angry with us, the city people," he said, referring to shopkeepers in other neighborhoods in Srinagar. "They come to us they say, 'Why are you open?' And I say, 'Our family, we're poor people. We earn only 500 rupees.' You strike four to five days. What will I eat?"
Nearly every shop in Srinagar obeyed a statewide motion by Syed Geelani, the "father" of Kashmir's separatist movement, to go on a five-day strike in protest of the killings. It has become a customary symbol of expressing discontent against the government – and is hard to defy. But it is often Kashmir's urban poor who bears the brunt of these strikes. Ashiq Ahmad Kulo, a brass and silver jewelry seller, felt similar tensions as he rowed around Dal over the weekend looking for tourists. "Burhan Wani was a good person," Kulo says from his shikara. "He was our Muslim brother, so we're feeling sad about this. We are feeling totally bad. We want freedom. I am also hating the politics. But we have no shops, no regular salary. We people are depending only of the tourism."
The costs of unrest are well known here, and lurk in recent memory. Fighting was so extreme in 2008, and later in 2010, that tourists stopped coming in entirely – Dal Lake was forced to shut down, more than 200 people were killed, and many youths were unemployed. The periodic unrest has meant that Jammu and Kashmir has one of the highest unemployment rates in India, with roughly 600,000 unable to find work.
But in the past five years, tourism has revived, with more Indians once again venturing north. During peak season, food and jewelry sellers can earn as much as 10,000 rupees ($148) in a single day. But during days of lockdown, which frighten off many tourists, the daily income ranges from zero to roughly 1,000 rupees, depending on the business. After fighting broke out this weekend, many tourists left early; Air India offered its customers outside Kashmir free cancellations for trips booked to Srinagar. "I stay open because everywhere nothing is open," says Rafi Kulo, a local drink seller who sold water, juice, and soda. "But tourists suffer from thirst. I prefer to give people food, drinks. When protests happen, business always goes down. Before this situation we could earn 10,000 per day.
Most floating businesses on Dal Lake remained open over the weekend for tourists: Kashmiri silk and scarf shops, coat sellers, fruit and vegetable sellers, and even floating restaurants advertising popular Indian fast food like vegetable biryani, methi pakoora, zeera rice, dum aloo, and "Italian pasta." "We people depend 100 percent on the tourists," said Firdous Ahamed, owner of the floating restaurant Mango Bango. "In 2008, there was a killing on the road, local people got killed by police, in front of Dal Lake. And we people came out, we said, 'We never fight for anything. Why is this happening here?' "
For Mr. Ahamed, the region's dependency on India is clear. Many here wonder if an independent Kashmir would be able to survive, even if some current constraints on its economy were lifted. "We don't think we have anything here to be independent. We don't have nothing here, economically," Ahamed adds. "We're a small matchbox. Like India, if it stops, we can't burn anything. We can't have any factories here. We are depending on India. We say just give us democracy. That's it. If we get democracy, like a right to talk, that's the main thing."
Observation
Whereas Pakistan has been internationalize the Kashmir issue so far now India, after its "surgical attacks on Kashmir on some bogus reason to weaken the Kashmiri struggle for freedom has got the opportunity to belittle Pakistan by internationalizing the Uri event.
RSS controlled Modi's government tried its best to isolate Pakistan but failed miserably. it to be India proposed to BRICS Summit to declare Pakistan a terror state but China stood with Pakistan and rejected Indian claim.
India media are so happy that Indo-Pakistani ties are further straining and go complicated indefinitely as Uri provided the much waited chance to thrash Pakistani embassy officals.
For the sake of peace, stability and tranquility the UNSC must step in and push them to agree for a peace deal while releasing Jammu Kashmir under their joint occupation while China would also do the same as it also occupies a part of Azad Kashmir without striking secret deals with India and Pakistan. .
In order to retain occupational parts of Palestine, Israel also supports India directly and Pakistan does it passively. It is therefore necessary to clip the terror clip of the Zionist regime in Mideast and dismantle all its WMD obtained illegally form the west.
Indi a as well as Pakistan must now realize that they cannot occupy Jammu Kashmir indefinitely and must, therefore, wake up the protest calls of Kashmiris. The usual cross border firing dramas must end.
So long as India and Pakistan continue to cross fire to terrorize Kashmiris, the perpetual Indo-Pakistani tensions over Kashmir would not end especially when the UN and UNSC allow India to go on regular rampages in Kashmir and expand secret graveyards in the valley.
Abrogation of Article 370 and Pakistan's Pathetic Response
Pakistan, which is a party to Kashmir dispute could not make significant move after the Indian decision to scrap Article 370. The fragile economy, conventional military asymmetry and limited influence in international community restrict the options for Pakistan to take any strong stance against Indian illegal decision.
A month ago the government of BJP illegally dissolved the special status of Jammu and Kashmir through demolishing the Article 370. The article provides immunity to Jammu and Kashmir from Indian laws except foreign affairs, finance and communications. The decision is profoundly rejected by masses of Jammu and Kashmir and Pakistan. In the mean time the opposition parties in India also expressed strong dissatisfaction against decision and predicted severe repercussions for Indian state. The decision has also been challenged in the Indian Supreme Court and hearing has already been started. Yet, since the 5th August Kashmir is under siege, curfew has been imposed, communication network, medical and health facilities have been blocked. The international human rights organizations and defenders issued a genocide warning and warned India not to commit genocide.
In this critical situation which is developed by India, Pakistan took stance to stand by Kashmir. Pakistan highlighted the violent action which engulfed the rights and lives of Kashmiri people's. Although Pakistan expressed strong resistance and proclaimed to use all the means to give Kashmiri's their right, but there is a huge difference in words and deeds. On behest of Pakistan, China called UN Security Council meeting to discuss the issue and Chinese ambassador strongly condemned the Indian action and urged both parties to resolve the dispute through peaceful means. Yet it is important to point out that permanent members of UNSC refused to issue a post meeting joint statement.
Here it is wise to highlight that the international politics is dominated by the self-interests of dominant powers and weak states have no say in the system. Pakistan could not compete with Indian power in international relations. After scrapping the article, India immediately sought foreign support and Prime Minister Narendra Modi went to different states. Modi visited France, Bahrain and UAE, while Prime Minister of Pakistan Imran Khan only made phone calls to seek support against Indian action. This clearly disclosed the inefficiency of Pakistan to counter the Indian narrative.
Indian economic and investment potential is another factor behind cool response of international powers. India is trading partner of many countries and most prominent among them are USA, UK, UAE, China, European Union and Australia. The US has invested 9 million in India during the 2016 and UK has signed the commercial deals of 9.3 million recently. Australia is benefitted from Indian students and its education export is 2 billion dollars. EU a group of 27 independent states is another major investor and trade partner of India with 2.5 % international shares.
In contemporary international politics, diaspora is a backbone of any nation and same is true for India. It is observed that Indians are residing almost every influential state. More than 3.5 million Indians are working in UAE. During the 2015, Indian share was 16% in expats residing in the US, and Saudi Arabia host 1.9 million Indians. Kuwait having 1 million Indian workers and Oman 777,632 Indians. Europe also host the 1.2 million Indians.
The bilateral trade of India with US, China, EU, Japan, and Australia is impressive. In 2019, bilateral trade of India-China crossed the 100 billion, which expects to grow further. The US is second largest trading partner of India in goods, and the single largest export destination of Indian exporters. The bilateral trade has been grew at 7.59% annually from 68.4 billion in 2008 to 142.1 billion in 2018.
The 8.8 million Pakistanis are residing in western states, 4.7 million are living in EU and 1.2 in U.K. But Pakistan failed to activate its diaspora to promote national interests of the state. The Pakistani leadership never paid serious attention to engage diaspora, which resulted in poor representation of Pakistan in international community. On the other hand, Indian diaspora is much influential and have strong say in policies of US and EU. Their skills and education help them to climb the ladder of success and influence. So, it is high time for Pakistan to devise an effective strategy to lobby the national interests and engage diaspora. The diaspora is considered the defense line as they bridge the gap between their parent and host state.
Pakistan's economic structure is fragile with rising debt and prices of commodities. The country is dependent on international monitory institutions to repay its debt which crossed over 100 billion dollars. It is on 150thposition in poverty index among 189 countries according to UN Human Development Indicators. The value of rupee is decreased to lowest level and government is losing its credibility. Pakistan is spending its 20% budget on Army which is higher than education, health and social development allocation. The fragile economy, poor coordination in policy making and influence of military in foreign policy making has reduced the role of other state institutions. Although, current civilian government claims that civilian and military leadership is on same page, but the poor and ill-coordinated response exposed the fault lines. The top hierarchy of civilian and political leadership did not bother itself to convey Pakistani position on Kashmir, except making statements.
If Pakistan really want to influence the international community, then it needs to fix its poor economy, to improve its human and social system, engage diaspora, make effective and inclusive foreign and security policy. The economic, political and military power can guarantee the national interests of the country. So Pakistan work tirelessly on all the fronts to achieve the status of major power.
Pakistan's peace-loving gestures are considered its weakness, unfortunately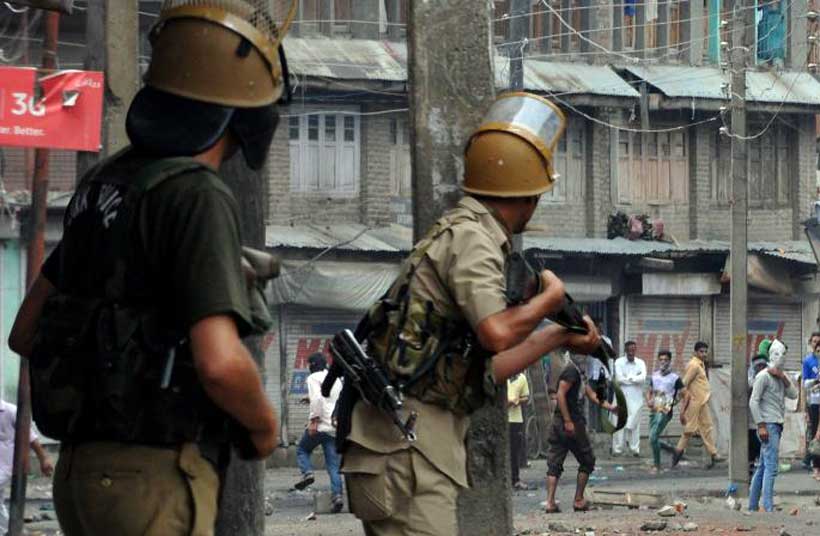 Pakistan is a peace-loving nation and a responsible state. The leadership, civil and military. Both are visionary and rational very much. Pakistan was the hub of western tourists in the 1950s, 1960s, and 1970s, due to its natural beauty, friendly and hospitable environment, and affordable living. Economic growth was one of the highest in this part of the world. But suffered a lot since the 1980s, due to the situation in Afghanistan. It was not our war, but unfortunately, we were pushed into this war. As a result, Pakistan offered 80,000 precious lives of Pakistani nationals, an economic loss of estimated up to 250 billion US dollars. In addition to it, extremism, terrorism, trafficking, smuggling, ethnicity, intolerance, gun, and drug culture, etc. were a gift. Due to the war-like situations during the last 4 decades, nations spared all resources, including human resources, financial resources etc on imposed war-front. As a result, industrial agriculture, infrastructure development, education, SW&T, R&D, Innovation, Commercialization, Health Sector, etc all walks of life suffered a lot and as result, today facing the worst economic crisis with over 100 billion foreign debt.
But, after having so many bitter lessons, the nation is even more mature and trained to survive under any circumstances. In fact, has emerged one of the most resilient nation. India staged the drama of "Pulwan" on 14 February this year, and without collecting evidence and investigation, just within hours, blamed Pakistan and threatened Pakistan. Pakistan offered to extend full cooperation in investigation and punish the responsible. But, India, according to pre-plan, attacked Pakistan on the 25th of February and dropped bombs in Balakot a city deep inside Pakistan. The leadership of Pakistan is very much sensible and rational and noticed that India is pushing Pakistan into full-scale war. The visionary leadership in Pakistan realized the consequences of war, especially when, both India and Pakistan, both are nuclear states, possessing enough piles of lethal weapons to destroy each other completely, and its impact on the region as well as global. Formulated a smart strategy to respond on the 27th of February, giving a message to India, that although Pakistan has capabilities and enjoys supremacy over India, it still sticks to "Love-For-Peace" and does not wish to opt for war, successfully averted to escalate to a full-fledged war. Even that, Pakistan released the captured pilot of Indian air force inside Pakistan territory, as a good-will gesture.
India revoked its own constitution on the 5th of August and imposed curfew in Kashmir. It is an act of war and violation of UN charter, Simla Agreement and all norms & practices of civilized world. Siege of Kashmir, complete black-out by suspending Internet, mobile phone services. Cutting all modes of communication, evacuating all foreigners and visitors from Kashmir. Keeping people under house arrest. Occupying forces are killing, arresting, detaining and raping on a mass scale and draconian laws imposed empowered the security forces to shot at a spot on suspicion only, with any judicial process. After 42 days of curfew, people are facing a severe shortage of food, fuel, electricity, medicines, and life is completely at a halt, stand-still status. It is the largest curfew in the known-history of human beings, as around 8 million people are under siege, and Kashmir has been turned into a big jail, people are treated as prisoners. India's atrocities and brutalities have crossed all records of human rights violations.
UN, Human Rights Organizations, Mainstream Media, International organizations, NGOs, the whole International community have shown deep concerns on Indian atrocities. Protests, agitations, rallies, and demonstrations, all around the world as solidarity with the people of Kashmir have been witnessed. European Parliaments, UNSC, OIC, SCO, and all other international organizations are worried about the deteriorated situation of humanity in Kashmir.
Kashmir is a dispute between China, Pakistan, and India. India has illegally occupied a part of Kashmir known as Indian Occupied Kashmir. But people of Kashmir are spread all over three parts, i.e in Pakistan known as Azad or Free Kashmir and China. Kashmir is one nation and having blood relations in all three parts. They are charged at peak to enter into India Occupied Kashmir and help their brothers and sister in Indian Occupied Kashmir. They wanted to provide them food, medicines and basic necessities of life. The government of Pakistan is trying its best to stop them to march toward Indian Occupied Kashmir, as they are unarmed and simple villagers, they might have the high spirits to rescue the lives of their brothers and sisters in Indian Kashmir but might face firing by Indian Army. I am afraid, the public pressure is growing with passing each day and they might march toward Indian Occupied Kashmir, and Pakistani Security Forces may not be able to stop them, then they might come under the Indian forces firing range. It might complicate the situation. The government of Pakistan is committed to observing restrains and avert any war, with India, but if its civilians are killed, it may create an unexpected situation, difficult to predict the reaction.
On the other hand, Indian military deployment along the line of control and frequent violations of line of control, use of cluster bombs on civilian population inside Pakistan, and war-preparations are alarming. Indian Army Chief announced that The Indian Army is well prepared to Attack Pakistan and just waiting for a signal from its Government in Delhi.
Pakistan is trying its best to observe restrains and showing maximum tolerance and patience. But India considers Pakistan "Love-For-Peace" as its "weakness", Unfortunate! Very Unfortunate!
Webinar: Kashmir Outside the Crosshairs- Does Anyone Care about Kashmir?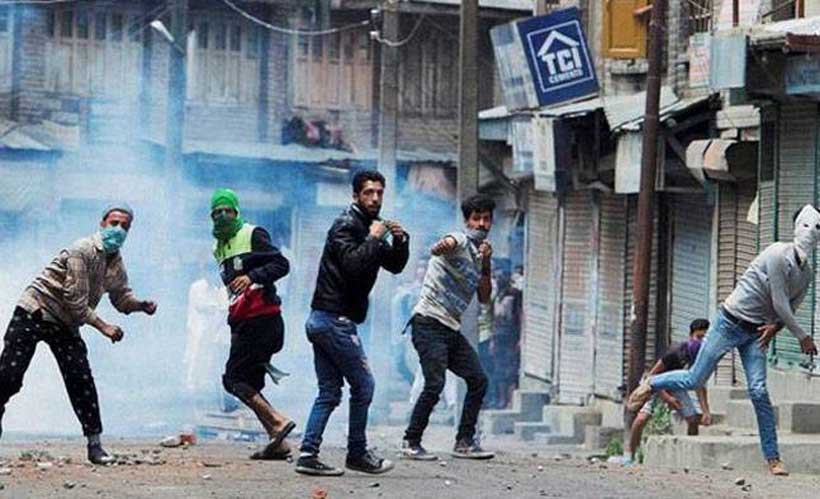 Join Modern Diplomacy and our Executive Vice Chairman, Prof. Matthew Crosston, for a Live Intelligence briefing / Webinar, on Sunday September 29 at 18:30 (IST) to learn:
* Why does the US continue to ignore Kashmir but give loads of attention to every country around it?
* Is it necessarily a positive if the US DOES start paying attention to it?
* What would be GOOD attention and what be BAD? Which one is the US likely to give?
* Can Kashmir ever be left alone to develop independently and not be a pawn of regional neighbors?
These and other controversial but critically important questions will be covered in an exciting intelligence briefing that will still allow for a dynamic, open discussion exchange with one the world's most recognized, accomplished and sought after Intelligence experts, Dr. Prof. Matthew Crosston, Executive Vice Chairman of Modern Diplomacy.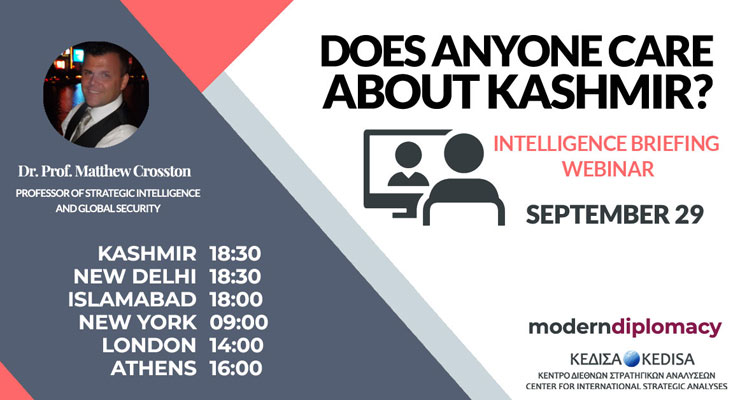 Dr. Matthew Crosston is Director over all Intelligence programs and Professor of Strategic Intelligence and Global Security in the School of Security and Global Studies at the American Military University. He is an acclaimed author and international speaker who consults with governments, media organizations, and academic institutions on a range of issues covering peace mediation, human rights conflicts, resource dilemmas, intelligence, change leadership, and education innovation. His works overall have been translated into Russian, Arabic, Chinese, Indonesian, Hebrew, Spanish, Turkish, Farsi, Greek, and Uzbek. He has a BA from Colgate University, MA from the University of London, PhD from Brown University, and completed his Post-Doctoral Fellowship at the University of Toronto.
Modern Diplomacy and Center for International Strategic Analyses