Hong Kong elects China-backed first female leader Carrie Lam as chief executive
[yt_dropcap type="square" font="" size="14″ color="#000″ background="#fff" ] M [/yt_dropcap]rs. Carrie Lam, 59, has been elected as Hong Kong's the first woman chief executive – the top government job. Lam had the backing of the Chinese government in Beijing and was widely expected to win. Mrs Lam garnered 777 votes to Tsang's 365. Woo received 21. Mrs Lam's main rival, former finance chief John Tsang, was the public's favourite, according to opinion polls.
The third candidate, and the most liberal, was retired judge Woo Kwok-hing. Pro-democracy activist Joshua Wong, who was among those protesting and was a lead figure in the umbrella movement, has called the electoral process "a selection rather than an election". When the result was announced, he tweeted that Mrs Lam had been elected with "only 777 votes".
Hong Kong is governed under the principle of "one country, two systems", under which China has agreed to give the region semi-autonomous status since its 1997 handover from Britain.
The chief executive is not chosen by public vote but by a 1,200-strong committee dominated by pro-Beijing electors. Hong Kong's Election Committee picked Mrs Lam to succeed current leader CY Leung, who will step down in July. She was formerly his deputy. Hong Kong has a degree of autonomy from Beijing but protests have been growing over Chinese interference. Pro-democracy groups held protests outside the election venue, calling the process a sham. Calls for fully free elections have failed, despite intense demonstrations, known as the "umbrella protests" in 2014.
The Election Committee includes 70 members of the territory's legislature, the Legislative Council – half of whom are directly elected. However, most of the Election Committee is chosen by business, professional or special interest groups. Critics say entities that lean towards Beijing are given disproportionately large representation.
Social tensions
In her acceptance speech, Mrs Lam said her first priority during her five-year term would be to reduce social tensions. She said she welcomed and encouraged a spectrum of voices and vowed to "tap the forces of our young people". "They are often at the forefront of society, pulling and pushing us as a whole to make progress." Mrs Lam also promised to uphold Hong Kong's "core values" such as "inclusiveness, freedoms of the press and of speech, respect for human rights" and the rule of law.
Earlier, Hong Kong chief executive CY Leung had said he will not seek re-election in March, citing family reasons for the surprise announcement. Speaking at a news conference, Leung said: "If I run my family will suffer an intolerable stress." Leung has often been accused by pro-democracy campaigners of putting China's interests above those of the people of Hong Kong. He will step down when his term ends in July 2017.
His successor was elected by a 1,200-member, mostly pro-Beijing, Election Committee, rather than by the wider electorate.
Last year, pro-democracy activists secured 325 seats on the committee – the highest number ever, but not enough seats to determine the next chief executive. On Facebook, an online protest was launched called No Election in Hong Kong Now, which showed a video montage of regular citizens going about their business as the election took place to highlight how they were not entitled to participate. Leung has proved unpopular with large swathes of Hong Kong residents who consider him too tightly aligned to Beijing. At the end of the 2016, he made the unexpected announcement that he would not run again, citing family reasons.
Uphill battle
Mrs Lam, a long-time civil servant, is nicknamed the nanny because of her background running numerous government projects. During the 2014 protests, which were spearheaded by young people, she took the unpopular stance of defending Beijing's concessions for political reform. This allowed Hong Kong people to choose their leader but only from pre-approved candidates.
Hong Kong's new leader Carrie Lam has almost four decades of public service behind her. For five years she served as deputy to the man she is now replacing, the unpopular CY Leung. She has been praised as a strong administrator and pragmatic lawmaker, and is undoubtedly Beijing's choice for the role. But she is widely disliked by the pro-democracy camp for her stance on political reform.
When mass rallies erupted in 2014, it was Mrs Lam who defended Beijing's unpopular proposal – to allow Hong Kong people to choose their leader but only from pre-approved candidates – to crowds of protesters demanding full democracy. Many have also accused her of being out of touch with voters after gaffes, including a bizarre search for toilet paper and a failure to use a transport swipe card.
Mrs Lam comes from a working-class background, and joined the civil service in 1980 after graduating from the University of Hong Kong. After spells dealing with housing and social welfare, she served as the city's secretary for development before moving into Hong Kong's number two role, chief secretary, in 2012. She was not the popular candidate to replace Leung – rival John Tsang scored far better in opinion polls – but was favored by those who decide who leads the territory.
There were multiple reports of Beijing lobbying for her and, a few days before the polls, Hong Kong's richest man, Li Ka-shing, made comments seen by many as endorsing her. Ahead of the election, Mrs Lam talked about bringing more young voices into the government, improving transparency and accelerating development. "I am worried about the discontent that has emerged in our society," she said in January. "I know our younger generation is concerned about the lack of upward mobility and the cost of housing.
But addressing young people's concerns will require more than economic measures, and on restarting Hong Kong's stalled political reform process she has been noncommittal. "The administration must consider whether the criteria and atmosphere are present," she said. "Otherwise, we will draw Hong Kong into another series of divisions, and this is not favourable for the city's development."
Critics of Mrs Lam have nicknamed her "CY 2.0" – another version of the outgoing Leung – and at the chief executive debate on 14 March, there was a telling exchange. Tsang asked her. "We are worried that if you get elected, society will experience 'Divisiveness 2.0'." His comments underline the challenge Mrs Lam is facing, balancing an intransigent Beijing with home-grown calls for full democracy that have not abated
The dynamic of Chinese Premier's visit to EU headquarters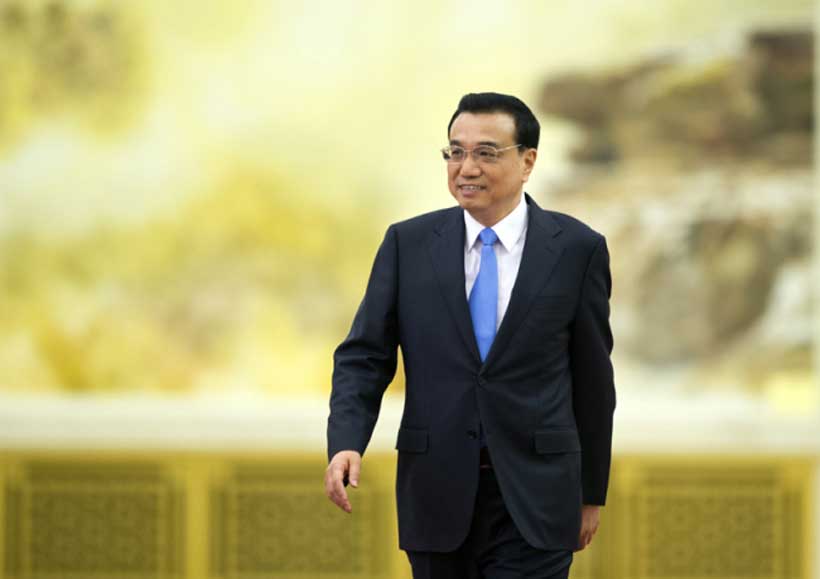 In the wake of Chinese Premier Li's attendance at the meeting of the Council of Heads of Government of the Shanghai Cooperation Organization in Dushanbe, he and his entourage started the third stop of their Eurasian trip in which Premier Li also attended the opening ceremony of the 12th Asia-Europe Meeting summit in Brussels, the Capital of the European Union. In view of the strained relations between China and the United States over the past months, it is clear that China aims to intensify the partnership with the EU.
This year's summit on the theme of "Europe and Asia: global partners for global challenges", was attended by the leaders from over 50 Asian and European countries and representatives from international organizations. As Nicolas Chapuis, EU's envoy to Beijing, remarked that it was a meeting of minds, all looking for ways to better safeguard a rules-based international order, at a time when globalization is under attack. Given that the general context where globalization is in question, China has equally faced new challenges globally. For sure, it is necessary to further work between China and the EU to bring stability, and to bring prosperity to both sides and beyond.
As the EU has aimed to play a civilian power rather than a conventional great power, China and the EU have vowed to address climate change and international developments which are two areas where China and the EU have a great deal of potential to work together and actually have cooperated substantially in addressing climate change, poverty alleviation, access to water, small and medium businesses and surely education for young women. Both the Netherlands and Belgium are the advanced member states of the EU and the original founding states of the European Common Market. In addition, they have argued for high importance on developing their relations with in all areas of agriculture, energy, infrastructure and connectivity which must be carried on under the United Nations framework. It meant that China and the EU have concluded the consensus on upholding multilateralism and common development. It is held that the treaty signed on October 18will help China and the EU further open to one each other and eventually contribute to forging free trade and fair cooperation on investment between the two sides.
EU, as the largest economy of the world, believes that the future of peace, security, stability, and prosperity lies in the multilateral framework. Due to this, it is imperative for the EU and China to continue their persistent efforts in upholding the spirit of the 2015 UN's Climate Change Conference, and finding creative solutions to the challenges facing the world right now. As what the summit meeting between Li and European Commission President Jean-Claude Juncker demonstrated that our global village is the place only where we can live, the time of closed borders is the past. The future is open borders.
Besides climate change and international development, what China would like to achieve from its Premier's visit to the EU is self-evident: China, as a rising power and also the defender of the current trade rules and the global system, has reiterated its sincerity of peaceful rise. By approaching to the EU, China aims to demonstrate its willingness to protect intellectual property rights for products from the EU alongside other countries. Equally, the two sides have reached the EU-China Comprehensive Agreement on Investment, which would further open market access for companies as well as set rules to protect investors from both sides.
For sure, trade is still a pivot in China-EU relations and has to be held through negotiations and cooperation. As the birthplace of modern diplomacy which highlights the core concepts of negotiation, persuasion and mutual compromise if necessary, EU and China would be comfortable to work together through more dialogue and joint actions in addressing challenges and pressing issues facing the world today, such as trade frictions and reform of the World Trade Organization.
Moreover, spurred by the protectionist voices in Washington, the July EU-China summit in Beijing was significant in that both sides were able to agree a lengthy statement, something that they could not achieve in the two previous EU-China summits. To that end, when both sides sought to emphasize areas of cooperation rather than divergence, they also expressed support for the rules-based multilateral trading system and agreed to set up a working group on reform of the WTO. Both sides also agreed an exchange of market access offers that should give an impetus to the ongoing negotiations for a bilateral investment agreement. Moving these talks towards a conclusion would be of critical importance in preserving free trade. China confirmed its commitment to acceding to the WTO Government Procurement Agreement (GPA). In brief, both sides have discussed connectivity — taking stock of progress in the EU-China connectivity platform — and exchanged views on the digital economy, including how to avoid introducing market access barriers through their respective cybersecurity regulations.
In addition to business and investment, China, as both a rising power and a developing country as well, has been early keen in the advanced technology and innovative learning as well. For example, Premier Li frankly said that China is willing to further enhance cooperation with Belgium in innovation and high-technology under the principle of paying full respect to law and commitment from both sides. Therefore, the cooperation in technology and innovation as well as safe use of nuclear energy were among the topics of the meetings of Chinese Premier with his host countries. Remembering that advanced technologies from the EU will have great market potential in China, and China will give strict protections to intellectual property according to the essential rules and a rules-based international order and free trade.
The EU has now come out with its own connectivity strategy for linking Europe and Asia with an emphasis on sustainability and transparency. Some have viewed it as a response to China's Belt and Road Initiative. But given the demand for new infrastructure development, there is a clear need to help countries between Europe and Asia improve their economies.
Even though we have different perceptions of some of the world issues, Chinese are optimistic about their relationship with the EU. Not long ago, however, there are complaints that the EU has reneged on a promise to grant China market economy status and its growing protectionism. China considers the proposed screening of Chinese investments in the EU as an unfriendly act. Although the EU and China have signed impressive documents outlining their mutual desire to deepen their strategic partnership, relations have rather stagnated over the above trade disputes. Yet, majority of Chinese young people and intellectual elites have looked to the EU for the originality, innovation and creativity.
Geographically far off from each other, the EU and China can understand each other from their experiences in history. Particularly, China holds fast that since it is a key part of the family of civilized states, Chinese thought or culture, the principles at the basis of Chinese history and life, must be understood through regular communications and dialogues at all the levels. This is the nature of Chinese Premier Li's visit to the headquarters of the European Union.
Twists and Turns in US -China Trade War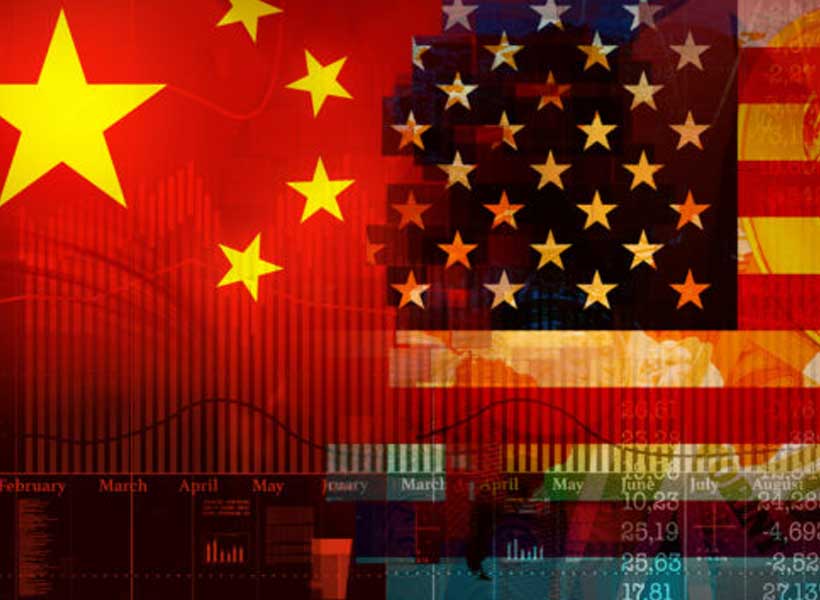 US Secretary of State Mike Pompeo's stopover at Beijing on 08 October may not have been a pleasant experience, more so in the backdrop of accusation of US Vice President Pence about  China attempting to interfere in U.S. elections. The agenda of North Korean denuclearisation, where US and China were broadly agreeing earlier, seems to have taken a back seat, and improvement of relations doesn't seem to be realistic in near future. The ongoing trade war continues as both sides dig their heels despite being the biggest trading partners of each other, because it is also linked with global dominance, strategic and military posturing, diplomatic and information offensive.
 China Braving Threat to its Vulnerabilities
China is putting a brave front despite being badly hit at some of its most vulnerable spots in the tit-for-tat trade war with both sides spiralling the slapping of tariffs on a wide range of each others' trade items. Taiwan, which is another sensitivity of Beijing is witnessing visit of US officials after Taiwan Travel Act was signed by President Trump, with a promise to arm it further with latest weaponry. US continued military posturing in South China Sea, along with the appearance of UK warship ignoring Chinese repeated warning is another concern.   A recent injection of over $110 billion by China into its banks and hardly any financial benefits coming out of BRI partners incapable to repay anything is tightening its financial freedom for global dominance. Some of its BRI partners want to get out of the 'Debt Trap' by refusing/reducing Chinese investments is adversely affecting Chinese dream project (BRI), after five years of its announcement like Philippines.
Not a Smooth Sail for US
US on the other hand cannot be celebrating either, with China digging it heals and refusing to give up either in trade war or South China Sea. On North Korean front, the policy of good optics continues with Kim managing to get a lot of goodies from South Korea (presumably at their cost), during the last summit of North and South Korea. Kim in fact has been an outright winner, managing to get another Summit with President Trump, which helps him in convincing his countrymen of his sound leadership, as well as boosting his status internationally. US sanctions on paper continue, but after the chest thumping at Singapore Summit, his friends like China automatically relaxed the sanctions on North Korea, without any worthwhile denuclearisation/reduction in his nuclear/missile arsenal. US realises that knocking out China financially is the key to its global dominance; hence is unlikely to soften up to China. US also faces another challenge of keeping its allies like Japan and South Korea satisfied while negotiating with North Korea and asking ASEAN to make choices of partners, besides continuing with CAATSA hurting some of its strategic partners who could be helpful in balancing China.
It will take some time to see that whoever has greater resilience to withstand the economic stand-off and appetite to take setbacks will have an upper edge, which seems to be US at this point of time. As per IMF assessment, China's GDP size will be 1.6 per cent lower in 2019 than it otherwise would be, if the US slaps tariffs on all Chinese imports.
How is India affected?
The Indian economy has survived some global slowdowns earlier and should be able to sail through the present one. The bigger problem is the sanction under CAATSA in dealing with Russia for urgently needed military hardware like S-400 and Iran for cheaper crude oil being paid in rupee terms, for which India has adequate refineries. The US option of buying shale oil does not suit India as it does not have adequate refineries and will have to purchase finished product in dollar terms. The port of Chabahar is also crucial for India for connectivity to Afghanistan and CAR. The silver lining is that US being our strategic partner will like to have well equipped Indian Forces to balance China and Indian connectivity to Afghanistan, in case Pakistan does not serve their strategic interest. On both counts I am hopeful that US will find a way out not to hurt its strategic partner.
The talks held in September 2018 between Kim Jong-Un and Moon Jae-In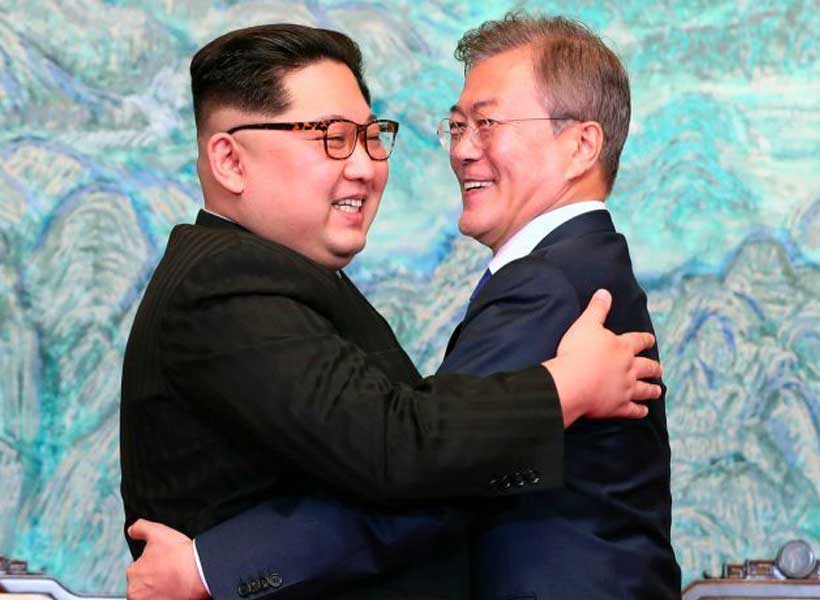 In less than one year three meetings have been held between the North Korean Leader and the South Korean President, Moon Jae-In.
In the initial meeting the two leaders had decided to put an end to the state of war between their two countries. They had also reaffirmed the goal of denuclearization of the entire peninsula, with the consequent destruction of the nuclear potential of South Korea and of the United States, in particular. They also decided to create an inter-Korean Liason Office between the two sides of the Demilitarized Zone and to bring together the families dispersed between the two Koreas. Finally, the idea was to create new communication infrastructure – railway lines, in particular – a project by which Russia has always set great store.
Indeed, Russia is betting many of its cards on a reunification between the two Koreas, capable of enabling it to keep its excellent relations with South Korea – which are essential for the economy – and to also support North Korea, which is Russia's unavoidable strategic goal.
Now the two Koreas are dealing on their own, without the US brokerage and intermediation with respect to South Korea, although President Donald J. Trump has recently stated that President Moon Jae-In is his official "delegate" for the denuclearization of the Korean peninsula.
The United States is scarcely interested in the internationalization of the North Korean economy. It only wants denuclearization, while Kim Jong-Un wants denuclearization to develop his country's economy and maintain its geopolitical and national autonomy.
A serious problem – both in talks and in the final or working documents – is also to define an effective mechanism to check denuclearization.
Indeed, between September 17 and 19, 2018, the signing of the Joint Declaration of Pyongyang has not fully clarified the mechanism of checks on the denuclearization of the Korean peninsula. Kim Jong-Un's idea is to organise these checks with a series of "experts" appointed by the friendly powers, while the South Korean idea is to accept the maximum possible denuclearization to start the long process of reunification.
The two respective Defence Ministers, however -namely Song Young Moo for South Korea and Rho Kwang Chul for North Korea – have just signed a separate document from the rest of agreements.
In that text confidence-building measures between the parties are put first, with North Korea's acceptance of dismantling a launch pad and a site for checking jet engines, with the presence of yet unspecified, but friendly international experts. From IAEA? We have some doubts, in this case.
Subsequently North Korea could also dismantle the Nongbyon site, if the United States does the same in South Korea.
It should also be recalled that most North Korean missiles are built to be launched by mobile vehicles, not from fixed bases.
In short, North Korea wants the United States to remove the nuclear umbrella protecting South Korea and Japan while, in the recent talks with North Korea, the United States thinks of a bilateral treaty regarding only the Korean peninsula and, at most, some classes of North Korean missiles.
In the US mind, the planned reduction of North Korean long-range missiles could be even equivalent to a nuclear and conventional decrease of its troops stationed in Guam.
On the basis of a new future agreement, both Koreas (and God only knows how and to what extent the North Korean conventional military potential would be useful for a South Korea unified with North Korea) would also define maritime and land buffer zones, as well as a no-fly zone over the old border, with a view to avoiding clashes or accidental air battles.
This is already partially clear, but much work shall be done to define all the details.
There would also be plans to cover or reduce artillery batteries along the coast.
Obviously, should these talks run aground, the only concrete political result would be the progressive divergence between South Korea and the United States, precisely on the problem of the peninsula's denuclearization.
Furthermore, over and above the aforementioned sites, North Korea will dismantle the site of Dongchang-ri, in addition to the site of Yongbyon, while Kim Jong-Un is also very interested in the building of fast railway links between South and North Korea.
The two Koreas will get the industrial site of Kaesong back in shape and the old tourist project concerning Mount Kumgang back in track, besides planning new joint economic and tourist areas.
The inter-Korean agreement regards also collaboration for medical and environmental issues, as well as for the protection from epidemics.
In other words, both Koreas think of an economy of compensation between them, which could also develop at a later stage and become a need for the development of both countries.
An economic-political symbiosis that could get the United States out of play and later reinstate Russia, which is increasingly interested in the South Korean economy, as well as finally favour China, which has no intention of leaving the Korean peninsula to the hegemony of North Korea alone.
At the end of the Treaty, there is also the project of a joint participation in the Tokyo 2020 Olympic Games and a joint candidature for the 2032 Olympics.
A few days ago, North Korea also expressed its intention to join the International Monetary Fund and the World Bank – a sign that the internationalization of the North Korean economy is now a certainty.
Hence it is a de facto peace treaty between the two Koreas.
If North Korea continues along this line, it is very likely that South Korea will gain a tactical advantage over the sea while, if the relations between South Korea and the United States remain as they currently are, there should be no significant changes in bilateral relations between the USA and South Korea.
However, what is the current state of relations between the United States and North Korea?
In fact, while the inter-Korean relations are all in the framework of effective confidence-building measures, the clear purpose of the fourth round of talks between the two Korean leaders is to preserve a strong US engagement in the whole negotiation process.
Kim Jong-Un wants to engage the United States for his global economic projection and he certainly does not want to remain tied to a regional economy, albeit open and "reformed" according to China's rules.
For North Korea, the procedure is simple: at first, bilateral talks with the US support for South Korea; later peace between the two Koreas and finally what is only interesting for the USA, namely denuclearization.
It is not even unlikely that the United States does not accept this timing, but it is also unlikely that it realizes the strategic and economic aspects of this timing.
North Korea wants a fundamental agreement with South Korea because: a) it is an unavoidable asset for the modernization of its economy; b) it is the fundamental strategic factor to have the support of both Russia and China, who want to avoid North Korea's hegemony over the peninsula, but also want to keep it as a rampart for US forces in South Korea; c) it is only through South Korea that North Korea will eventually be in a position to be connected to the Chinese maritime economic and strategic system and reach up to the Mediterranean.
In fact, if the relations between the United States and North Korea improve further, the site of Yongbyon could be dismantled definitively.
Hence currently Kim Jong-Un wants to thoroughly test the US goodwill, rather than South Korea's goodwill, in developing a long or very long-term peace policy.
In Kim Jong-Un's mind, there is in fact a key factor: the US behaviour in the phase in which Muammar Gaddafi accepted its proposal to dismantle his nuclear project.
Kim Jong-Un thinks that not even the story of Saddam Hussein is a guarantee for the US long-term reliability and for the stability of its leaders' word of honour.
This is the real important factor in the strategy of the North Korean Leader.
Moreover, the US immediate reactions to the last meeting between the two Korean leaders have been fast and positive, both by President Trump and by Secretary of State Mike Pompeo.
And North Korea's autonomous foreign policy has been seen also recently, with the 70th Anniversary military parade.
North Korea's military parade and its important national celebration, was attended by Li Zhansu, ranking third in the internal power hierarchy of the Communist Party of China (CPC); by Valentina Matviyenko, President of the Russian Federal Council, the third elected office in the Russian Federation; by a very significant figure, Mohamed Ould Abdel Aziz, President of Mauritania, and finally by Hilal al Hilal, deputy-General Secretary of the Syrian Baath Party.
With peace, North Korea will significantly develop its already multiple economic and political relations with Africa, which will be essential for its new economic development.
At the military parade staged on September 9, there were also authorities from Iran, South Africa and Singapore – which is the never forgotten model of the Chinese "Four Modernizations" -as well as other 60 delegations from "friendly" countries.
At economic level, in August, shortly before the big military parade of the 70th Anniversary, there was the International Fair of Razon, which hosted as many as 114 companies of which 52 North Korean ones.
The North Korean product lines mainly included pharmaceuticals, foodstuffs, textiles, electronics and cosmetics.
However, there were many Chinese large companies selling their products in North Korea despite the UN sanctions.
As from September 17, there was also the Autumn Fair which brought together 320 commercial companies from Russia, New Zealand, Australia and China.
This is in fact the new paradigm of North Korea's foreign policy.
The dollar has also grown in the exchanges with the North Korean currency, both on the official and on the "parallel" markets.
If all goes well at geopolitical level, the North Korean project will be to further improve its light industry, in addition to the diversification and quantity of products, with a view to trying its own autonomous way on the market world, as was the way of the nuclear system.
It should be recalled that this was also Kim Il-Sung's project.