China: The Democracy Question
China is not a democracy; at least not in the sense to which our western sensibility is acclimated. Starting in the 1980s (the period of opening up and reform), the government organized village elections in which several candidates would run. They labelled this "the New Democracy" or "Democracy with Chinese characteristics".
Nevertheless, in practice each of the candidates was chosen or in the least "approved" by the single dominant Communist Party of China. Higher levels within the echelons of government are indirectly elected; with candidates, in essence, being vetted by high-rankers within government. Only the former British and Portuguese colonies of Hong Kong and Macau have been given the vote. But, as in the village elections, those who run for election are strictly and closely selected by the leadership of the Communist Party. It is for these reasons, and not unfairly, that China is deemed undemocratic. And there is little effort by the Party to deny this allegation. Quick to express scepticism over democracy in China, critics of this notion nominally tout the idea that China is better off because positions are assumed by people who are qualified by due merit as opposed to popularity, not to mention that traditional Chinese values are often said to be not in line with the idea and practice of liberal democracy (though in fairness, liberal democratic Taiwan, whom they claim is a part of China may serve as a rebuttal to this claim).
Following the death of Mao, Deng Xiaoping who was much less economically (not so much politically) conservative and much more pragmatic than Chairman Mao and his comrades, rolled out a number of reforms that were calculated to stimulate and modernise the Chinese economy. A privatisation scheme was unfolded and people were paid in differentiated amounts and according to how much they produced for the first time in the 1970s and special economic zones were created in some coastal cities where government involvement was not as pronounced as it had been under Chairman Mao. Soon a middle class (claimed to be the nominal force behind democratisation in the other wealthy countries in the region such as South Korea and Taiwan) began to take form – and this was greatly encouraged as it was a signpost that China was growing. But these reforms only went so far where political life was concerned – here there was to be no free market of values and ideas; the Communist Party was still in charge. It is indeed true that, unlike before, the people could disagree with the leader and could (though in a decidedly Chinese and respectful manner in which one could not go "too far"), criticise the government's policies. This was a long way since the Hundred Flowers campaign in which dissenters were baited into voicing their opinions and then purged for doing so. But it still had its limits wedded into it. And there is no stauncher reminder of this than the infamous Tiananmen Square Massacre of June 1986 and subsequent demotion of reformist elements in the Party, most notably Hu Yaobang. The subsequent declaration of martial law and crackdown on people who seemingly were only guilty of wanting their state to politically open up and be more democratic was only more proof that the Chinese state, just three years before the Soviet Union and much of communist Eastern Europe would undergo their own largely successful conversions to democracy, was not willing to transform itself overnight into a democracy.
And in fact one could argue that the reforms necessitated an even less democratic China in that they reverted, in rhetoric and in ends at least, to the China of the Great Leap Forward. Consider the extent to which the planning is done from above and, necessarily, popular participation is seen as potentially opening a window for dissent and therefore a path towards distraction from the task at hand. So much of what China has achieved and hopes to achieve in the wake of the reforms and opening up is pinned to a particularly anti-democratic, anti-populist notion of the state and its constituent citizens.
This speaks to another reason as to why China will not democratise anytime soon. That of the outside world which China has been increasingly trading with since Deng took to opening up the republic and made it the 'world's factory'. While it would appear that in rhetoric at least, the United States and other 'standard-bearers' of liberal democracy are at odds with China over the country's anti-democratic stance and its poor human rights record, in actual fact the outside world benefits greatly from a non-democratic China. These outside forces have been able to harness the fact that China's citizens have tenuous standing and codified human rights and have used this to optimise their own costs of production. Knowing that the government wants more and more of the world to outsource manufacturing to it so that it may grow its economy by the close to 10% figure it desires and that it is willing and able to clampdown significant protests by the workers, many western multinational corporations have greatly outsourced their production to China in full confidence that the regime will remain stable and that the labour will remain cheap to compensate and with very few requirements to provide (air-conditioning, working hours cut off and even age restrictions). This essentially means then that outside "pressure" for China to democratise will be limited to Nobel Prize giving to the country's would-be reformers, speeches at the United Nations, Amnesty International reports and little else. Indeed, many cower to even allow an aged religious leader a visa into its borders in fears that it might offend the hardliners in the Chinese government and therefore compromise its investments and manufacturing.
In any case, the Communist Party has very little actual opposition. The strongest challenge it has faced in way of democratisation may be said to be the Democracy Party of China which was established by former Tiananmen Square student protestors. In just 24 hours after the founders tried to unsuccessfully register the party, the central government cracked down on the organisation's leaders. C Wong Donghai was quickly sentenced on December 21, 1998 to 11 years of imprisonment and three years of deprivation of political rights "for subversion of the tranquillity of the republic." And on the very same day, another prominent member, Xu Wenli was sentenced to 13 years "for attempting to overthrow the Communist Party." Many more were to suffer similar or close to similar fates. The only legally permitted pro-democracy party in China is the meagre, powerless 250,000-member China Democratic League which was founded in 1941 and quickly became absorbed into the United Front coalition led by the CCP.
The 2014 Yellow Umbrella Revolution in Hong Kong, the most recent episode in attempts by the citizens of that region to achieve concessions from Beijing achieved very little and in fact caused even more reaction on the part of the CCP – there were no changes in the Standing Committee of the National People's Congress which the 100,000 protestors were calling for and the grip over entertainment, media and the press was tightened even more. The timing could not have been worse, for this movement coincided with President Xi Jinping's policy of a crackdown on dissenters and factionalists. The incumbent President and Paramount Leader, touted by British leftist news magazine The NewStatesman as 'Mini-Mao' for supposedly being the most consolidated and powerful President of China since Mao, has launched a campaign under the banner of anti-corruption with the aim of purging elements that show themselves poised to threaten the status quo.
Furthermore, there is also the controversial notion that the people of China would not benefit from transparency. The Chinese practice of 'guangxi' which is characterised by usage of one's connections for self-advancement in dealings is widely used by hundreds of millions of Chinese people from social settings to business and government transactions; from small villages to megacities. Instilling democracy with its appendage of total transparency would uproot the way of life for a vast majority of China's population and would likely meet opposition no matter how minimal. And while it is difficult to generalise, China is after all home to over a billion people, it has been suggested that a large number of citizens are abject to revolutions which tend to be costly and bring their lives to a grinding halt. For not only would democracy be a change in the way of government, but also the character of social life to which the people of China have become acclimated.
When the officials of China look at the democratic world, there is not much that indicates to them that democracy breeds national unity – much the opposite. In England there is the Scottish question, in Spain there is Catalonia, in Belgium there is Wallonia, in Canada there is Quebec, and close to home in India there is Kashmir (over whom in any case, the Chinese seek to assert their claim). To them, therefore, and not at all without reason, the creation of a democratic system would only serve to stoke and fuel the flames of secessionism. Already, they are constantly having to show a firm hand and cold prison cells for those who wish to carve out of China a series of separate, independent states. Not only are there disputes with neighbours over island territories, and Taiwan over its sovereignty, but China is already having to deal with these elements in its mainland provinces. There is, most famously, the issue of Tibet and then there is that of the province of Xinjiang. The province is mostly populated by a Muslim Uygur population which sees itself as more Turkic than (Han) Chinese and who seek independence along the lines of Mongolia or even a union with one of the adjoining majority Muslim, Turkic states of Kyrgyzstan, Uzbekistan or Kazakhstan. And this has been in spite of constant intimidation and express firmness by the Chinese state. How much more of the likelihood that they would seek independence if China becomes a democracy? How much more so when the instrument of the referendum is at the disposal? Would they attempt to use it for the purposes of breaking away from the government of Beijing which, it is at least alleged, mistreats and violates their rights on account of their linguistic idiosyncrasies, ethnicity and Muslim faith which they stridently cling on to despite incentives to the contrary by the overwhelmingly atheist, Marxist government? Handing them the referendum would only be a blank cheque for them to rip from China the one-and-a-half-million square-kilometre, oil-laden and natural gas haven (the province being the largest producer of the substance in China). Democracy would stand to be a setback therefore to not only China's territorial integrity but, ultimately, to its economic prospects and explicit aims. An article by Horowitz in Quartz in 2016 detailed the extent to which China may have actually been further less incentivised towards democracy by the recent results of Brexit for the removal of Britain from the European Union.
The manner in which China's government is run also makes it unlikely that the state will, voluntarily at least, become democratic. First of all, the Paramount leader wears the three hats of President of the People's Republic of China, General Secretary of the Chinese Communist Party and Chairman of the Central Military Committee. This makes dissent from either structures very unlikely – and this is by design. In addition to this, the Politburo is garnered from a selection process by the current Politburo membership who closely vet and select their successors and colleagues accordingly those whom they deem to be most likely continue the party's line of tight control over the Chinese society. In addition to this, the party has well over 80 million card-carrying members (making it the largest political party in the world) – and has a tight grip over China's other "major" political force, the eight-party coalition, the United Front (allowed to exist, in any case, for the lack of political threat it poses).
So, will China become a democracy? It depends. As historians and Communist Party leadership alike will recall (and they most certainly do recall) the simultaneous coalition of factors, and little else, was the deciding force which made it possible to answer to the affirmative, for the most part in any case, when the question was posed on whether "could China become a one-party, communist people's republic?" We should not anticipate a democratic overhaul in China anytime soon, but likewise we should not be too surprised if it occurs.
Is Strategic Balancing a 'New Normal' in Interlinked World?
The G-20 Summit 2018 will be remembered for extraordinary  large number of bilateral and trilateral meetings, which seem to be even more significant than the main purpose of the meet. There are some high profile bilateral meetings like US – China and US – Russia (Scheduling of which has seen many flip-flops) which are very significant in context of Trade-War or Ukraine crisis. The two trilateral meetings involving US-Japan-India and China-Russia-India are also seen to be very significant because of centrality of Indian position in both the meetings. One of the reasons for this phenomenon is that the world is that the world has got interlinked so much as never before, hence even bilateral relations between global powers impact the world directly or indirectly.
When a large number of countries including US allies, strategic and trade partners joined AIIB, against the wishes of US, it was quite evident that a time has come that many countries will like to have alternate sources of funding other than west dominated IMF or Japan dominated ADB and will follow their own national interest. Similarly when China exhibited aggressive design of converting feature and atolls to artificial islands, with a view to have South China Sea as 'Chinese lake' based on unilateral interpretation of history ignoring international laws, UNCLOS and decision of ICJ, a group of democratic countries huddled together to form QUAD with a potential to counter balance such moves, which have possibility of obstructing global trade and exploitation of global commons. The Russian aggression westwards post Crimea, brought many western countries together resulting heavy sanctions on Russia, (followed by the recent standoff with Ukraine, Martial Law in some parts of Ukraine and the criticality continues. The Western opposition and sanctions was instrumental in pushing Russia nearer to Beijing. The international relationships and strategic interests of most countries in the interlinked world of today are so interwoven, that it is difficult to count countries only in one grouping; hence many new issue based groupings have emerged in last few decades.
Are Global Powers pushing everyone to Strategic Balancing?
In the exuberance of pursuing 'America First' policy, in last few years US has been highly critical of some of its allies, strategic and trade partners, whenever they did not follow a course which was of interest to America. In some cases it used threatening gestures, while some others were put under sanctions. The policy got a major jolt, when they threatened everyone to support their decision of shifting embassy to Jerusalem, but many countries junked the threat and voted as per their own perception. A similar issue came up earlier, when the last US President got all Head of States of ASEAN countries together to discuss South China Sea issue and wanted a joint statement, condemning Chinese actions, but those countries did oblige.  Pulling out of Paris accord for climate change, Iran Nuclear deal, TPP are some more examples when all the 'Friends of US' are not on the same page, and decided to continue with it even without US. Pulling out of nuclear deal with Russia is under global criticism, as it could trigger fresh arms race and a dangerous one, although US has some strategic logic to do so in American interest. The last G-7 Summit was not a pleasant experience for US allies due to alleged self centered economic approach of US. The NATO allies are also relatively lesser confident of US backing and keep waiting for next surprise from US Administration. Under these circumstances, Is US Concept of 'With US' or 'Against US' is outdated in Interlinked World?
On the other hand Chinese after announcing Belt and Road Initiative (BRI) in 2013, with elevation of President Xi Jinping from 'Chairman of everything' to 'Core' and 'Leader for life', exhibited its expeditionary design starting from South China Sea to land grabbing in Indian Ocean. With its fast growth it tried to showcase its methodology of governance better than democratic model. Its 'Incremental Encroachment Strategy' in Doklam as well as South China Sea exhibited its ambitions exceeding beyond peaceful growth to the arena of global strategic dominance; hence it started facing opposition from a group of democratic countries in various forms like formulation of QUAD and other groupings. Interestingly most of Chinese neighbors did not buy its method of governance and some of them went democratic in recent past, while maintaining good relations with it. In case of Russia also, we find Germany, a US ally drawing gas from them. Russia and China helping out North Korea with fuel and essentialities immediately after Singapore Summit between President Trump and Kim. Russia a strategic partner of India supplying military hardware to Pakistan and many other countries. A cross pollination of relations is therefore quite evident.
Analysing the cases of three global powers above, a time has come when most countries want to manage their international relations as per their own national interest, and do not want their strategic choices to be dictated by others. The strategic autonomy is quite dear to every sovereign country. It is also a fact that the world today is much more interlinked; hence issue based relationships is increasing. In context of the above let me analyze few cases justifying the 'Compulsion of Strategic Balancing' in international dynamics.
Japan's Insecurity and Prime Minister Abe's visit to China followed by meeting Indian Counterpart
During Prime Minister Abe's visit to China on the 40th anniversary of the 'Treaty of Peace and Friendship between Japan and China' hardly any issues of divergences was discussed. It was looked as an effort to 'Fostering Mutual Political Trust' and 'Cooperation and Confidence Building in Maritime and Security Affairs'. Beyond good optics, It can be seen as an effort to balance out/reset relations with China, and a messaging to Uncle Sam, about independence in foreign policy formulation of Japan. Immediately after this first visit to Beijing since 2012, Prime Minister Abe hosted Indian Prime Minister Narendra Modi, in a resort near Mount Fuji for a luncheon Sunday, just a day after returning from talks with the leader of China. While the leaders may call India-Japan partnership having been strengthened as a 'special strategic and global partnership,' but beyond the optics, it can be termed as an effort to balance relations between China and India as well.  India would perhaps be looking to move forward in convergences, and need not be concerned of Sino -Japan engagement because India and Japan have hardly any issues of divergences. The balancing/resetting by Japan in international relations was again exhibited, by the fact that Japanese PM seems to be  "determined" to wrap up talks toward peace treaty based on 1956 declaration with Putin, stipulating the return of two of four northern islands by Russia to Japan, while retaining claim on all four. The self confidence of Japan in balancing act between US, China, Russia and India is noticeable.
South Korean bonhomie with North Korea
South Korea despite being apprehensive of dangerous arsenal of North Korea, continues to be an ally of US. Deployment of THAAD, military exercises with US forces, have caused great anxiety not only in North Korea, but in China and Russia as well. Despite heavy sanctions on North Korea, it continued with its nuclear and missile tests. When President Trump started giving confusing signals of 'America First' and asking allies to pay for their security, South Korea was inclined to attempt peace in Korean Peninsula and making it nuclear free. It was successful in seemingly impossible diplomatic exercise of getting together Kim and President Trump together for a summit. As an analyst, I do not count the summit anything beyond optics, as nothing worthwhile has changed in nuclear and long range missiles capabilities of North Korea as well as UN sanctions, but South Korea has improved its relations with North considerably applying the theory of strategic balance. North and South Korea had Summits, exhibiting lot of bonhomie, decided to field one sports team under single flag, started people to people contact, and South Korea started helping North Korea with essential humanitarian needs, where China and Russia joined in to start business as usual with North Korea, immediately after Singapore Summit. The optics of keeping missiles and nukes away from North Korean parade does not mean that it will really destroy the only leverage it has, which is making US talk to him, and condemning Rouhani and Assad, looking for regime change there. Some symbolic destruction of few testing sites by North Korea and destruction of few posts along demilitarized zone does not mean that South has full confidence over North Korea but it clearly indicates that South Korea is balancing/resetting relations between them.
India's Strategic behavior: Is it different than Balancing/Resetting International relations?
Post Wuhan visit of Prime Minister Modi to China it is being alleged by western media that India has perhaps drifted towards China. In my opinion there is hardly any worthwhile change in Indian strategic behavior. India has a set of convergences and divergences of interests with major global players namely China, USA and Russia. India has so far been able to keep these relations exclusive of each other; hence has been able to successfully manage an independent foreign relationship without any bias. In the turbulent complex environment of today, our convergences and divergences have started impacting each other. India's differences with China on certain aspects of Sino-Pak nexus, use of global commons in South China Sea, its adventurism in Indian Ocean, and obstruction to Indian entry in NSG can also be viewed as convergence of interests with US. India's differences with US on trade, tariff, and CAATSA in context of Russia can be seen as convergence of interests with China The silver lining is that US being our strategic partner will like to have well equipped Indian Forces to balance China and Indian connectivity to Afghanistan, in case Pakistan does not serve its strategic interest. The US waiver on Chabahar port and connectivity to Afghanistan, as well import of Iranian oil for next six month is a welcome step by US towards its strategic partner India.
After Indian expression to expand the scope and dimension of QUAD, opening it up to other affected countries, there is a general feeling amongst other QUAD members that India is perhaps getting softer towards China in progressing QUAD agenda. The reality is that India has an independent foreign policy.  In Indo-Pacific, it stands with US, Japan and Australia in checking Chinese encroachment of global common like South China Sea, stands for seamless movement in international water and rule based order. Interestingly none of the QUAD members have common unsettled land borders with China. In land frontier and combating proxy war, India has to fight its own battle with some help from friendly countries including equipment from Russia, Israel, France to name a few, besides Indian friends from QUAD, hence it has to tackle relationship with China in a different manner than other members of QUAD. India therefore has to maintain harmonious relations with all its friends and neighbors to pursue its national interest. Despite such complexities, the silver lining is that the US, as well as China want better relations with India and vice versa. Russia also will not like to give up the largest purchaser of military hardware and a strategic partnership which stood the test of time even in 'Heated Cold War' era, hence, with smart diplomacy, India should be able to manage an independent foreign policy in current global environment. The number of bilateral and trilateral meetings attended by India clearly explains the balancing diplomatic exercises carried out by India, as per its National interest. Indian participation in two significant trilateral meetings namely US-Japan-India and China-Russia-India signifies the centrality of India. It clearly indicates the efforts required to balance out relations with two separate groupings which have wide gap in perceptions.
Unilateralism is Outdated/Impractical Concept
There is a growing opinion that US needs to revise its policy of sanctions and CAATSA. The analysis suggests that President Trump's reintroduction of sanctions on Iran,(with many of its allies still honoring Iran Nuclear Deal), as well as further push on CAATSA (without modification) on countries trading with Russia might edge US towards its own diplomatic/ strategic and economic isolation in the long run . The ICJ decision on 03 October 2018 ordering US to remove any restrictions on the export of humanitarian goods and services to Iran to some extent shows that the world may not always buy US narrative on sanctions. Similarly Chinese aggressive stance in South China Sea will continue to bring resistance in different forms by collective efforts of affected parties, and its purse diplomacy will not work everywhere. Ongoing Trade War, strengthening of Taiwan and military posturing in South China Sea are indicators which will discomfort China.  In interlinked world interactions with all countries wherever their interests converge is the order of the day. Japanese trade with China, visit of Prime Minister Abe to China followed by visit of Prime Minister Modi and Countries pursuing relations with Saudi Arabia despite CIA revelations are some examples of this new normal in future. It is also expected that in a multilateral world of today, no one country will be able to dictate the strategic choices of others or force any country not to act in its national interest in future. It also proves a point that any country, which thinks that it can rule the world all by itself, is sadly mistaken in the future world, which is overly interlinked.
Chinese Perspective on South China Sea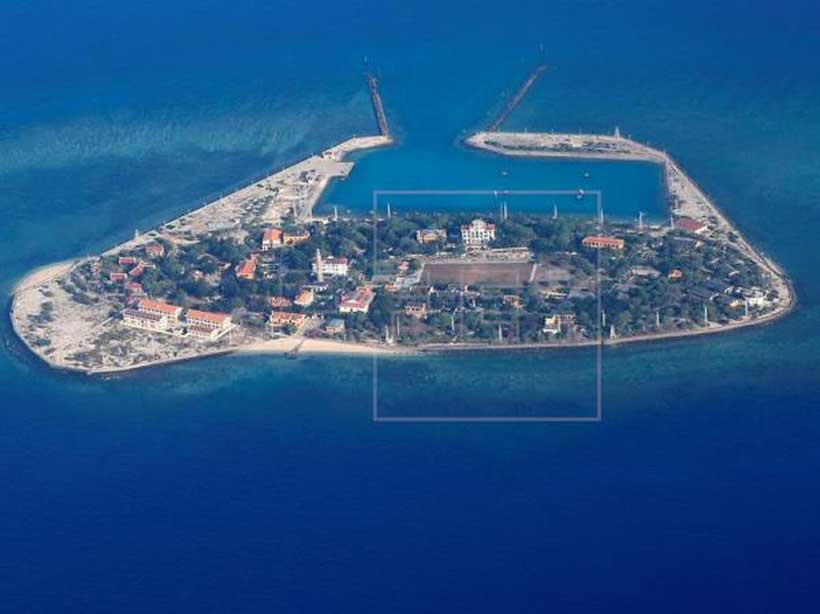 Chinese Premier Li Keqiang during his Singapore visit for the China ASEAN summit had remarked that China would work hard and ensure that the Code of Conduct (CoC) on South China Sea is concluded within three years. While the global community and regional strategic experts waited for sixteen long years (2003-2018) to get a single draft on the CoC, another three years would be acceptable. However, outlining Chinese objections and rather incoherent historical arguments might not hold true in the long discussions. The problem for Chinese is that while they have technically agreed on the single draft, the reservations with regard to conduct of exercise and the non-binding nature of the COC will once again open Pandora's box. Within China, there have been strong advocacy groups and even historical facts which are constructed to build the narrative that South China Sea belonged to China since times immemorial. However, in the same context, historically, Hainan island belonged to Vietnam, and it has been accepted by the Chinese. The reflections of which can be seen in their provincial museums. The nature of debates and discussion in this context is interesting, and it is still not clear that how much China going to accommodate the interests of other claimants and whether there would be a lasting peace.
Evaluating the developments with regard to SCS, China has made it very clear that signing of COC does not in any way means that the territorial and maritime sovereignty issue related to the contentious zone would be resolved. So if the global community is under this utopian idea that things will smoothen out, might face shock in future. China has been claiming during the PCA arbitration between 2013-2016, SCS was not peaceful and there have been untoward incidents. However, in the post PCA phase there has been relative peace in the region. China has been claiming that with the influx of new actors including US, UK, Japan and Australia, the issue of territorial sovereignty and maritime zones would give rise to new trends in regional conflicts. Of late, there has been a series of unpleasant face offs between China and US, and it has been claimed by scholars from China that SCS might influence US-China relations in future. Chinese scholars have claimed that SCS is more about geo-political interest rather than any strategic advantages in terms of sea power. It has been seen that competition between US and China is strategic and structural and the bigger challenge is that it is irreconcilable. Scholars from Chinese institutes such as National Institute on South China Sea have stated in public discourse that US have been using strong propaganda mechanisms to project that Chinese island building would jeopardize peace and tranquility in the region. China believes that there should be some balance with regard to the interactions between claimant states and the role played by non-claimants. Closely emulating US stance other US allies are trying to flare up tensions and it is stated in Chinese discourse that in May 2017 and between August -October 2018, Japan as well as other US allies have conducted operations and sorties leading to unnecessary tensions. Chinese believe that presence of US undermines peace and stability in SCS. Among the claimant states peace and tranquility is undermined because of US military interactions with Vietnam, Indonesia, Singapore and Australia focusing on the developments in SCS.
China has conducted military exercises with ASEAN in the past and is willing to build structural mechanisms to address issues of trust and confidence building. The claimant states need to work on the cooperative action plan such as developing joint cooperative mechanism for exploration and development of resources. However, the serious lacunae in Chinese proposal is that it wants to work in non-disputed areas before making any commitment in SCS. Outlining the Chinese perspective on the reasons for flare up in SCS, Chinese scholars have projected that the reasons include the conduct of US navy, interference in COC consultations, facilities and military deployment in SCS by other claimants, and unilateral action in disputed areas by the outside powers.
While the Chinese narrative might seem convincing but there are flaws in this discourse. Firstly, China has failed to outline the geographic coordinates of the nine-dash line and the nine-dash line was at one point eleven dash line also. It claims that it has resolved maritime delimitation mechanisms between China and Vietnam in the Gulf of Tonkin due to which the two dashes were removed from the claimed area.
President Xi has signed an MoU on oil and gas exploration during his visit to Philippines but China feels that the development and even exploration of any oil and gas exploration should be endorsed by China as it is the biggest party to the conflict. China has also proposed that China and ASEAN should maintain peace and stability in SCS without any outside intervention. The proposal of developing Reed bank has been made by China as it is a non-controversial area. Nevertheless, China has made it very clear that COC would not be able to solve sovereignty and territorial issues.  In conclusion, China has made it clear that it would not define the geographic coordinates of SCS claimed by the country as it would give a wrong impression that China is going to usurp the whole SCS but the challenge for China is that it has not yet done its homework and is wary of the global backlash. Of course, US-China trade war has impacted Chinese hardline stance on SCS.
Japan faces titanic struggle to balance Chinese dominance in Africa
Earlier this month it emerged that Japanese officials are planning to upgrade the country's only foreign military base, in Djibouti. The news might come as a surprise, given that the scourge of piracy in the Horn of Africa, which prompted the base's construction, has been almost completely eradicated. In 2011, when the facility opened, there were 237 incidents involving suspected pirates operating from neighboring Somalia. Last year, the figure was nine.
If the battle against piracy has been a near-total victory, why is Japan looking to redouble its offensive? The question is particularly puzzling given that government debt now stands at 200% of GDP, and the country's aging population has prompted fears of a social security crisis. Surely the Japanese government has more important things to spend its money on.
But observers on the ground in Djibouti will understand. The tiny country is a powder keg of competing global interests, none more prominent than China, which opened its own monolithic military camp there last year. Japan's political relationship with its perennial Asian rival may have thawed in recent years, yet the two countries remain locked in a fierce economic struggle that now centers on Africa, whose untapped economic potential makes it the ideal proxy battleground.
Officials in Tokyo are open about the reasons for their interest in Djibouti. When plans to expand the Japanese base were announced last year – a precursor to the latest upgrade – government sources admitted they were responding to the new Chinese hub. Now analysts suggest Djibouti's president Ismail Guelleh will gift the country's monolithic Doraleh Container Terminal to China, after ejecting Dubai's state-owned operator DP World. The Emirati company has even sued China over the dispute, claiming the state-owned China Merchants induced Djibouti to break contract.
Japan is not the only country to raise concerns. In the US, a pair of senators recently wrote to the Trump administration expressing their alarm over Beijing's rumored Doraleh deal. Yet Tokyo's priorities are very different from Washington's; while the US relies on its own Djibouti base, Camp Lemonnier, as a jump-off point for military action in nearby Somalia and Yemen, Japan has maintained a strict policy of non-intervention in foreign conflicts since 1945. Until 2015, the policy was enshrined in law, and even today the Japanese army is known as the Self-Defense Forces. With the piracy threat all but extinguished, the primary purpose of the Djibouti base is to provide logistical support for Japan's peacekeeping work with the UN.
In economic terms, however, Djibouti – and China's stake in it – matters a great deal to Japan. Because, just like China, Japan sees huge potential in Africa, and has readily copied Beijing's playbook in its attempt to capitalize. Aping China's 'One Belt, One Road' investment strategy, the Japanese government has pledged billions of dollars to Africa and encouraged the private sector to follow suit. Like China, Japan has funded several major projects, from a port expansion in Mombasa to a digital broadcasting system in Botswana. And just like Chinese Premier Xi Jinping, Japan's Prime Minister Shinzo Abe has invited Africa's leaders to glitzy summits in Tokyo, his officials talking warmly of their commitment to the continent's prosperity.
Age-old rivalry
This commitment is nothing new. Japanese companies have been investing in Africa since the early post-war period and the first edition of the Tokyo International Conference on African Development was held as far back as 1993. But the value of this relationship has been magnified by a string of factors, including rising commodities prices, Japan's chronic mineral deficit, and an energy crisis precipitated by the Fukushima nuclear disaster.
Above all, though, Japan wants to prevent China from surging too far ahead economically. Tokyo powered away from its vast neighbor after 1945, its economic miracle leaving China's clunky bureaucracy sputtering in its vapor trail. But since the mid-1980s, when China's planners mapped out their game-changing mixed economy, the balance of power has shifted. China's economy overtook Japan's in 2011. Now, it's nearly three times as big. Japan has launched a fierce counter-attack, forging its own economic corridor with India to rival Belt and Road and attempting to woo the ASEAN region, which has fallen under Beijing's sway in recent years.
In this context, it's easy to see why Africa is so attractive. The continent is a huge part of Beijing's growth strategy; what's more, China's involvement is increasingly unpopular with the African people. The hordes of Chinese companies parachuted in to deliver Beijing-backed infrastructure projects have been widely accused of racism and mistreatment of domestic workers, and there are fears that China's financial generosity is nothing more than a giant debt trap, which will soon snap shut to claim Africa's most prized possessions. Japan has played on these fears, lamenting Africa's vast debts while stressing that, unlike certain other foreign powers, they want the African people to share in the benefits of their investment.
Yet, for all Japan's optimism about claiming a major slice of Africa for itself, the reality is that China enjoys a huge head-start. For one thing, Xi's government has far more money at its disposal; Japan pledged $30 billion to Africa in 2016, so China responded by promising $60 billion earlier this year. Furthermore, China's willingness to offer loans with no strings attached appeals to some of Africa's less scrupulous rulers. Finally, China's economic model allows the state to blur the lines between international aid and investment – and means funding can be signed far more quickly than in rivals such as Japan.
If you want an example of the dominance China already enjoys in Africa, just go back to Djibouti. Guelleh's government, blighted by allegations of corruption and despotism, has amassed a debt pile approaching $2 billion and nearly 90% is owed to China. For all Tokyo presents itself as a fairer, more enlightened partner, Beijing already has Africa firmly in its grip. It's hard to see how Japan – or the region's debt-riddled constituents – can loosen it.