The Challenge of the Indigenous Arms Industry: The Ascendant and Dependent Classes
Just as Niccolo Machiavelli noted the unreliability of mercenaries [1] and interpretations of Sun Tzu [2] claiming a mercenary's real value is not more than half a native soldier, one can extrapolate from these observations to deduce that the most effective arms industry is indigenous. While this may not be much of a revaluation, its implementation, especially in developing countries (and even developed countries), is becoming exponentially difficult.
The gap between the necessity for manufacturing indigenous arms and the ability to deliver them is widening and has been since the end of WWII. This gap is not between first- and third-world states. To be more precise, if one looks at the history of weapons development since the end of WWII, one sees that countries that have had uninterrupted arms development are those that have been able to build upon and maintain military research and development programs and can deliver continuously advanced weaponry to the field. It is nearly impossible for a newly established state or an established state that wishes to enhance its defensive capabilities with serious indigenous development to do so at the same rate as established state industries, for the ever-increasing rate of change in technology is fostered by "ascendant-class states". An exception to this may be Israel, but this is due to its extensive ties with the US military industrial complex. The widening of the technology barrier is in the interest of ascendant-class states such as the US, Russia, and China as they are the leading arms exporters to the "dependent-class states".
Where has this left the dependent-class states, specifically those that have budgets, technology, development and management capabilities, and inevitably the political necessity for weapons? Given a fortuitous combination of items from the preceding list the best bang-for-the-buck is to develop nuclear weapons. Israel's nuclear program [3] began as far back as the 1950s, accelerating after the 1967 Six Day War. Some states move from dependent-class to the nuclear club sometimes at the expense of feeding their own people. North Korea is an example. If Iran were not effective in its indigenous weapons program and uranium enrichment capabilities, it might be relegated a Middle East backwater subject to a Persian Spring.
We have seen this spelled out clearly with India and Pakistan. Both have nuclear weapons. India claims to have hydrogen bombs [4] of varying yields, yet it must import its best fighter jets as does Pakistan. While joint development or licensing of technology seems a reasonable compromise in some scenarios, ascendant-class states limit the amount of technology that is exposed. Many examples can be cited, but earlier this month joint development of an Indian-Russian fifth generation fighter jet stalled over Russian concerns that its stealth technology would be compromised. [5] Pakistan was hoping it would acquire the capability to build a state-of-the-art fighter jet from scratch in their joint JF-17 Thunder program with China. This didn't happen. "…PAF [Pakistani Air Force] understood that it cannot build a backbone fighter via imports." [6] A licensing agreement between Azerbaijan's Defense Ministry and Aeronautics Defense Systems of Israel for the local assembly of Aerostar and Orbiter UAVs (Unmanned Aerial Vehicles) in Baku still has 70% of the components produced in Israel. [7] These are strong reminders of what Machiavelli and Sun Tzu observed hundreds and thousands of years ago, respectively. The dependence resulting from not reinventing one's own wheel can be a gating factor as the ascendant-class can modulate the game.
What of those states that have limited resources, and/or never had or lost their research and production capabilities to sustain a limited indigenous arms industry? These states would rank below dependent-class status. In some cases, it makes little sense in both time and effort to match technology-for-technology with a state's perceived enemies. For example, if state A has advanced tanks or other heavy weaponry, rather than to match or exceed it in quantity and/or quality, state B could use ultra-sensitive vibration and triangulation processing to locate tanks in motion from many kilometers away and target them with standard artillery. When the enemy's advanced tank is disabled and captured, further inspection and investigation could provide methods for more effective destruction. Most offensive military UAVs have anti-radiation protection. However, a UAV must either be directed or self-identify a target. Considering that the methods available for targeting are based on technologies associated with radar, ladar, electro-optical sensors, GPS, etc., rather than to match the enemy's advanced UAV systems, creating ways of disabling or degrading their tracking and target acquisition may be the way to go in defending against such technologies. Inexpensive, yet effective, (non-nuclear) directed EMP (Electro Magnetic Pulse) systems may be enough to temporarily degrade or at least cause directional errors large enough to divert the UAV. Wide field laser weapons [8] meant to blind soldiers (banned by the UN) could damage electro-optical sensors, adapted for use in combination with other defense mechanisms. Such techniques can be an alternative to developing a top of the line military UAV industry.
Then, there is cyber warfare. Some call this the great equalizer because cyber attacks are anonymous, effective, deniable, and entire state infrastructures can be taken down with a keyboard. The United States, China, Russia, and Israel are on cyber warfare technology's leading edge. Some of this is very overt. Job postings for several years in the United States include a new position called an "ethical hacker". Targeted cyber weapon efforts such as Stuxnet [9] require the prowess of a sizable state. This is due to the combination of wide systems expertise, cyber hacking technology, and human intelligence required to stage such a debilitating weapon. Less challenging, yet devastating, attacks can be the work of a single cyber soldier. Cyber warfare attacks have been reported on infrastructures in Syria, Ukraine, Estonia, Burma, Iran, Japan, Israel, South Korea, US, Georgia, etc. If there is such a thing as collateral damage from cyber attacks, the following story should shed light on this. While I was on a visit to the Republic of Georgia in 2008, hostilities between Russia and Georgia commenced. The Russians began the equivalent of a denial-of-service attack on the Georgian internet infrastructure. This resulted in the inability of Georgians to access facilities such as email; but, most importantly, accurate information simply wasn't available. One might as well have been in the dark ages, for local TV reverted to showing black-and-white movies of Georgians defeating the Persians hundreds of years earlier. Russian cable channels were severed. Rumors became "reality": flour imports were rumored halted, which caused a run on bakeries at 2pm one morning; word on the street was the country was low on beans, and within hours the price of beans in Tbilisi stores became astronomically high; Russian fighter jets were launched from air bases in Armenia (this was specifically announced as false on Georgian TV). If collateral cyber damage from not having internet access to at least neutral information were actually planned, it alone could cause erroneous decisions to be made based on false or incomplete information.
Georgia did not need a classical army of soldiers, weapons and tanks to mitigate this denial-of-service attack. I am sure lessons learned will be implemented as the boundary between ascendant-class and dependent-class or below is not easily defined in cyber warfare.
Finally, there are non-state actors. Non-state actors are either given weaponry or must secure them financially. As proxies for regional or international powers, non-state actors are subject to the vagaries of their patrons. However, as the line between state-of-the-art state-sponsored hackers and those of an astute individual is blurred, the capability of non-state actors to create infrastructure chaos is real. Six months ago, Syrian hackers claimed responsibility for hacking into Belgian news sites. Only last month, it was reported that ISIS-affiliated hackers attacked various governmental sites in the UK. [10] It could take only a few more keystrokes to hack into UK's power distribution grid even though it is actively protected against such attacks. Military and defense secrets are the most fleeting of all.
The world is increasingly technologically complex. It would be remiss of established states not to maximize their indigenous defense capabilities – if – such states are determined to minimize their dependence on the ascendant-class. Minimum dependence enhances the ability to defend one's own interests.
---
[1] The Prince, page 20
[2] Art of War; 9. The Army on the March
[3] Israel's Worst-Kept Secret
[4] Nuclear Anxiety: The Overview; India Detonated a Hydrogen Bomb, Experts Confirm
[5] Full tech transfer could derail Indo-Russian fifth-gen fighter program
[6] What did Pakistan gain from the JF-17?
[7] Azeris get Israel UAVs built under license
[8] How the US Quietly Field Tests 'Blinding' Laser Weapons
[9] An Unprecedented Look at Stuxnet, the World's First Digital Weapon
[10] Isis-linked hackers attack NHS websites to show gruesome Syrian civil war images
Is Fatigue Causing Twists and Turns in Russia Ukraine War?
As Russia Ukraine war completes three months, both sides are witnessing spectacular twists and turns, showing that reality is biting both sides. Few would have predicted a month ago that President Putin would be willing to swallow the bitter pill of Finland and Sweden's bid to join NATO, which effectively amounts to NATO's eastward expansion, adding over a thousand kilometres of direct land border between Russia and NATO, and respond only with a weak warning to react to increased weapon deployment in these two countries.
Likewise, the rhetoric of Ukraine winning the war overhyped by US led NATO through exhaustive information and perception war, seems to be fading with surrender of over 2000 Azov fighters in Mariupol, cutting off of Ukraine from Sea of Azov, besides losing a large chunk of land in Donbass Region. President Zelensky acknowledgement of diplomacy being only answer, highlighting concerns for people and soldiers is not too late, if those interested in prolonging this war let him act on it.
Parties to the Conflict
The war is sparing no-one in the world from inflationary pressures, having doubled the figures of global food insecure population, due to acute food shortage, triggering the blame game by both sides to seek concessions. While Russia can be accused of launching pre-emptive ground offensive on Ukraine, NATO can also be accused for creating conditions threatening Russia by continued eastward expansion and proxy war. While the kinetic, contact, hybrid war is on between Russia and Ukraine, the US led NATO is fighting a non-kinetic, non-contact, undeclared war in economic, information, diplomatic and political domains, against Russia; hence de-facto parties to the war.
Russian Stakes and Compulsions
After three months of war, while Russia can draw solace by sizeable territorial gains and linking Donbas with Crimea after capture of Mariupol, but at a very heavy cost of men and material, besides an unprecedented economic stress due to crippling sanctions by the West. It has made President Putin revisit his stance on Finland and Sweden, as it is cost prohibitive for Russia to open another front with NATO on Finland borders. It therefore makes better sense for him to achieve the desired end state in ongoing conflict with Ukraine by liberating Donbass Region, landlocking Ukraine and deal with Finland later. Russia realizes its limitations in economic, diplomatic, information and political warfare domain; hence more territorial gains on ground to landlock Ukraine by extending land bridge between Crimea, Odesa to Transnistria and liberating Donbass is the best option for it, to gain better negotiating position, to have the sanctions lifted.
Ukrainian Stakes and Compulsions
President Zelensky appears to recognise that neither he nor the western propaganda-based information war, which has made him a hero and outright winner, can be sustained in the long run, having lost more territory than size of some European countries, left with devastated towns, over four million refugees, heavy casualties, and the surrender of his overhyped Azov Regiments. While additional aid and weaponry with $40 billion cheque from US and $16.4 billion from EU can boost his combat power, but regaining lost ground from Russians is going to be extremely difficult, as they will use built up areas for defending their gains, as Ukraine did. Prolonging war doesn't guarantee peace for Ukraine, but it may result in greater territorial loss, unending proxy war, and a long-term Russian threat.
NATO's Stakes and Compulsions
NATO seems to be emboldened by soft Russian response to the bid of Finland and Sweden to join NATO, with a confidence that Russia has been adequately weakened to challenge eastward expansion of NATO; hence, it is keen to add these two countries with strong militaries, to secure its northern flank and have a better collective security posture in the long run. It also makes sense in context of Sino-Russian footprints in Arctic region and North Atlantic Ocean. Towards that aim, it is ready to sacrifice some of its energy and economic interests for the time being.
It is too early to predict how long this show of unified strength will continue, because the war is certainly not making Europe peaceful, with millions of refugees and non-state actors activated and a longer border with belligerent Russia, which will reorganize itself, learning from its miscalculations. While NATO may be able to handle the objections of Turkey and Croatia with few concessions/addressing security concerns, but the disagreement regarding long term energy security may not be easy to handle, once the rhetoric of united NATO starts fading with economic fatigue and energy deficit.
Is USA the Beneficiary?
In short term USA can rejoice some immediate gains. It has been able to get control of NATO, weaken Russia, create market for its arms dealers, energy companies and infrastructure contractors. It has been able to block strategic Nord Stream1 and 2, and encourage EU to find alternate energy sources, thereby reducing Russian influence drastically.
It has, however, incurred certain long-term losses, the most serious of which is driving Russia into a stronger China-Russia Axis than ever before, which is beyond its individual capabilities to handle. True, this battle has revitalised NATO, but it has also strengthened the Russia-China-Iran nexus, or anti-West alliance. Sanctions have fueled calls for an alternative financial system to avoid financial paralysis caused by a monopolized dollarized financial system, which could harm the US in the long run.
The US's global exhibition of backing proxy war by enabling Ukraine/Zelensky to fight to the bitter end in order to achieve its geopolitical aim of weakening Russia, with no American losses has tarnished the US's reputation as an ally/partner. Indeed, more than $56 billion in funding for a proxy war in Ukraine, which is more than double the amount spent in Afghanistan's 20-year war, reveals misplaced priorities, unless US is counting on making much more money from increased weapon sales by prolonging the war.
It has put Taiwan, Japan and South Korea on notice facing similar threat from aggressive China, to which US has been extremely shy of sanctioning it, despite later breaching territorial integrity of many democracies in South China Sea, violating Taiwanese air space at will, and incremental encroachment in Himalayas. The world, struggling with financial, food and energy crisis, doesn't want any extension of war, on any pretext.
The visit of President Biden to Indo-Pacific is significant to restore declining confidence of allies and partners in Indo-Pacific, without which, taking on China challenge is difficult. Many in this region accuse Biden administration of reactivating Cold War 1.0 with Russia, diluting Cold War 2.0 with China, which is a bigger global challenge with better economic muscles. The proposed launch of Indo Pacific Economic Forum is to lure more regional countries to gain lost ground in economic engagement vis a vis China.
Way Ahead
In a situation where NATO continues to persuade Zelensky to fight, giving hopes to recapture entire territory of Ukraine, and the Russians continue incremental efforts to achieve an end state of landlocked Ukraine and independent Donbass, the war will continue. Neither the sanctions have deterred Russia, nor blocking gas flow by Russia will deter NATO. As long as Ukraine is ready to be used as a tool in big power contestation and NATO continues to add fuel to the fire, the chances of talks or any mediation seems to be a remote possibility. In Russia Ukraine war, there will be no winners, but a new set of security and economic challenges will impact entire world.
Having tested US responses in Ukraine, the growing Chinese aggressiveness in Indo-Pacific is a wakeup call to US to avoid losing influence in the region, especially after losing considerable strategic space in the Middle East and Af-Pak regions. Chinese footprints in the Solomon Islands surprised US and Australia. Regular violation of ADIZ of Taiwan, belligerent North Korea threatening South Korea and Japan, reassertion of Chinese and Russian claims against Japan indicate that US resolve is under greater threat in the Indo-Pacific, where it has obligation to defend Japan and South Korea and strategic necessity to save Taiwan. It is also not easy to find another Zelensky/Ukraine in Asia, willing to act as proxy of NATO. It is for this reason President Joe Biden needs partners in Indo-Pacific, strengthen/expand Quad, and put up viable alternative economic, infrastructure, technological and supply chain in Indo-Pacific with allies and partners. The UK Foreign Minister's call for Global NATO seems far fetched at this point of time, but indicates desperation for global support to face the reality of threat from growing Chinese Russian alliance.
U.S.' Unperturbed Response to Indian BrahMos Launch in Pakistan: Aberration or New Normal?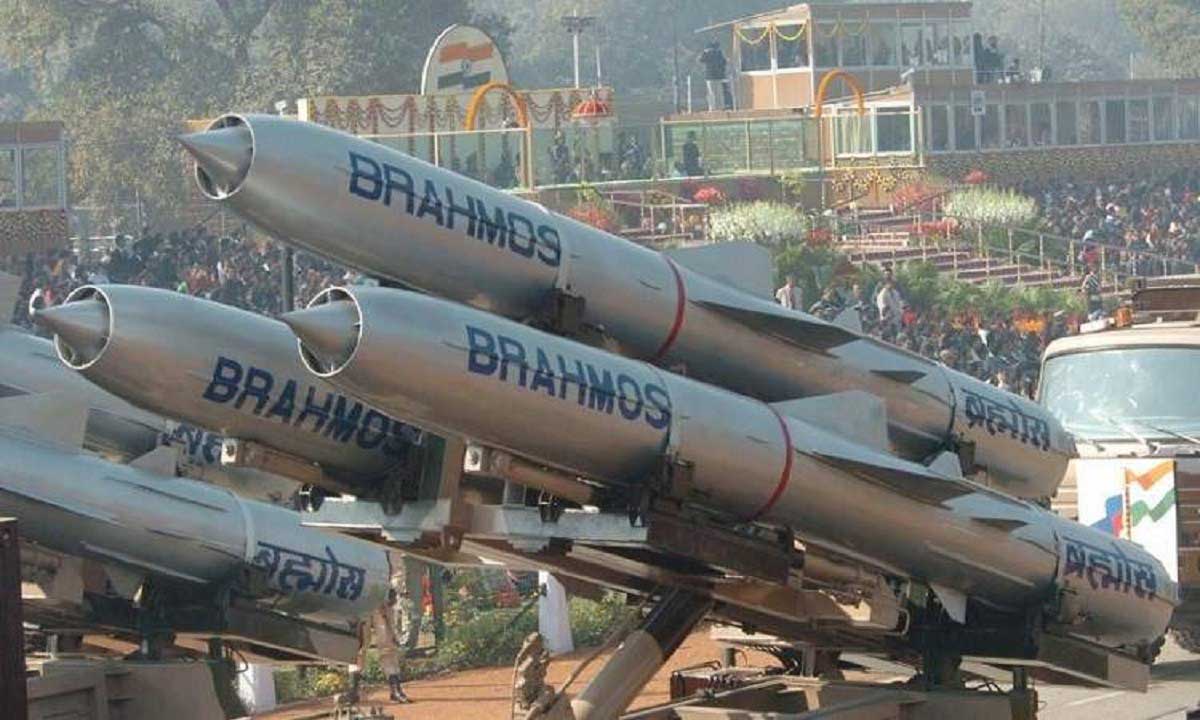 As India's nuclear-capable BrahMos cruise missile crashed into the territory of its nuclear-armed and ever-hostile adversary on the evening of March 9th almost pushing the two countries to the brink of catastrophic tit-for-tat exchange, the usually vociferous strategic experts and arms control enthusiasts in the USA maintained a cautionary conspicuous silence. Even it took the US State Department Spokesperson 06 days to issue a formal statement on the precarious issue and that too after being asked by a journalist during the daily press briefing. If one thinks for the USA – the self-proclaimed champion of nuclear safety and security – such a belated response to such a potentially hazardous "accident" constituted an anomaly, having a look at what the USA's State Department's spokesperson finally stated would be handy, which in essence uncritically endorsed the ambiguous and self-contradictory Indian viewpoint on the issue while refusing to make any further comments.
One does not need to wonder what would have been the reaction in the West had something of this character landed in India from Pakistan. Hell would have readily broken loose and the relevant academic, policy-advocacy, and policy-making circles in the West would have been up in the arms predicting a nuclear holocaust owing to irresponsible handling of sensitive weapon systems by Pakistan and making calls to fulfill their long-held desire of 'securing' Pakistan's strategic arsenal. But given it was a breach on part of India, the belated and unperturbed response despite the profound precariousness associated with the fiasco makes complete sense. Anomaly! Not really, because the apparent aberration is all set to be the new normal: only those nuclear safety and security breaches would concern the Western (specifically the US) strategic community happening apropos countries considered on the other side of the geostrategic equation and India – given its geostrategic utility vis-à-vis China – is positioned on the same side as with the Western world so even the strategic blunders like the recent one would be conveniently brushed under the carpet. Reason: any criticism of Indian BrahMos blunder or even expression of concern about the safety and security of India's cutting-edge weapons systems would have infuriated overly touchy souls in New Delhi, which Washington has been trying so desperately to woo.
Though the convergence of geopolitical interests forms the most consequential and undoubtedly the umbrella reason for the USA's unperturbed response to India's BrahMos launch into Pakistan, it is not only the only one. Currently, the Indian diaspora constitutes one of the most powerful lobbies in the USA domestic political and electoral landscape augmented by their deep ingress into academia, policy advocacy, and policy-making spheres, where they primarily act as the arm of Indian foreign policy and security establishments essentially safeguarding and qualifying all rights and wrongs by New Delhi and by default working to discredit its prime adversary Pakistan using a wide range of means and mediums. The relegation of the Jammu and Kashmir dispute from a self-determination demand of nearly 20 million people once backed by the USA at international forums to a mere Pakistan-sponsored insurgency in complete concurrence with the Indian standpoint and conspicuous apologetic attitude of the USA government and intelligentsia over India's now almost undisputed plunge into the abyss of fascism under Modi are the most vivid case studies of the lobby's influence in the USA, though backed by the umbrella of convergence of geostrategic interests.
Though the USA and Pakistan being long-time allies have their own baggage of alleged betrayals, sanctions, and double-games, the steep decline in the goodwill for Islamabad during the past few decades is attributable to years-old concerted efforts by the Indian lobby and the muted reaction to India's BrahMos launch in Pakistan even by the strategic and focusing on South Asia intelligentsia within the USA was another manifestation of the reality that the lobby has gained considerable check over the academic and policy discourse in the USA.
Ironically, the trend of overlooking India's shenanigans at home and aboard and potentially catastrophic breaches of safety and security of destructive weapons systems is all set to be the new normal as the aforementioned factors of geopolitical convergence and the lobby's role in influencing academic and policy discourse responsible for the setting the trends are only likely to be reinforced in the coming years and decades. However, there is a big question mark whether unwaveringly covering up New Delhi's abysmal domestic and regional track records undermines the USA's international legitimacy as the principal sponsor of "rules-based international order"? An unequivocal yes! But it appears policymakers in Washington are willing to let their legitimacy tarnish in barter for India's utility vis-à-vis China – a characteristic case of power politics triumphing idealistic charades.
Nuclear Weapons: How Safe Are We?
Some sixty years ago, American psychologist Abraham Maslow formulated a five tier hierarchy of needs. First, food and shelter followed by safety and so on, not that each need had to be satisfied fully to move to the next.
It might explain why thousands marched in the Campaign for Nuclear Disarmament in the 1950s when bellicose threats by leaders were not uncommon. Among the more notorious was Khruschev's, 'We'll bury you,' in 1956 during the Suez adventure by Britain, France and Israel. They seized the Canal after the Egyptian president Gamal Abdel Nasser had nationalized the controlling Suez Canal Company. Receiving no support from President Eisenhower, they somewhat shamefacedly retreated.
If one presumes all of those tensions were over with detente, then political and economic rivalries compounded by spheres of influence and their expansion have been overlooked. Thus to Ukraine with President Vladimir Putin unable to retreat further when NATO attempted to plant a dagger in the heart of Russia.
Well, some of the tensions have returned, and while an all-out nuclear war is still unthinkable, it can happen by miscalculation. For example, when one side deploys tactical weapons that a commander in an asymmetric war is unable to resist using against a large grouping of elusive combatants.
If fewer nuclear weapons are more desirable, the question remains, how few? Hence the START treaty signed by George Bush (Senior) and Mikhail Gorbachev although proposed originally by Ronald Reagan. It removed 80 percent of their nuclear weapons. So how many nuclear weapons are there in the world thirty years later, and how safe are we?
According to the latest count, Russia possesses 6,257 nuclear weapons of which 4587 are operational. In numerous ICBM silos and 11 nuclear submarines that can patrol close to U.S. shores, it is a formidable arsenal.
Of course the world has changed and Russia has removed all of its nuclear weapons from Ukraine. At the same time, it is developing new weapons and new delivery methods. This includes the very serious threat of a nuclear-propelled cruise missile with unlimited range. A very serious threat because cruise missiles can fly close to the ground under the radar. There is also Sarmat, a new ballistic missile capable of carrying up to 15 nuclear warheads, each with its own target. Thus a single missile could destroy just about all US major cities.
So what has the US been up to? It has 5600 nuclear weapons of which 3700 are operational. ICBMs based both in the US and the territory of its NATO allies place some of these next door to Russia. The very limited warning time requires a hair trigger response and should give us pause. Let's hope Putin is not enjoying a sauna at the time and some general frightened with a use-it or lose-it scenario decides to let loose and save his motherland.
Then there are the other countries: UK (200 nuclear weapons), France (300), China (350), India (160), Pakistan (165), Israel (90), and last but now least North Korea (45). With all of this, how safe does one feel? An exchange between any of them — India and Pakistan come to mind — would cause a nuclear winter and mass starvation.
The real problem is that a small country with a large more powerful neighbor — again Pakistan and India — achieves a measure of equality or perhaps a stalemate through nuclear weapons, and thus security. It would be very difficult to persuade Pakistan (or for that matter Israel) to relinquish its nuclear arsenal. Perhaps the best safety lies in an inclusive non-threatening world.