An Imaginary Conversation between John Adams and Thomas Jefferson on the Current Predicament of the US
[yt_dropcap type="square" font="" size="14″ color="#000″ background="#fff" ] A [/yt_dropcap]dams: Good morning Thomas. What is your ghost up to, strolling through the streets of Washington DC so early in the morning?
Jefferson: Good morning to you too John. I surmise my reason is the same as yours: I've been unable to rest in my grave. A grave is supposed to be one's final resting place, but these days I've been tossing and turning at the mere thought of what is happening in our beloved country. So I decided to take a walk and see what our ordinary fellow citizens are up to some 230 years after I wrote the Declaration of Independence. It's a good thing that we are invisible and nobody can see us.
A: quite right Thomas, quite right. I have been in the grave just as long as you have been. Remember that we died the same day on the 4th of July 1826, and I don't think it was a mere coincidence. In any case, it's more reassuring to stroll through Washington and simply see ordinary people going about their business unconcerned with all the Byzantine political machinations taking place in the halls of government. To look at them, you'd think that all is well with the world and nothing extraordinary is going on.
John Adams and Thomas Jefferson both died on the same day on the 4th of July 1826
J: Ah, ignorance is bliss! But I suppose that had one taken a stroll through the streets of Philadelphia any day or hour of the week during the revolutionary times, things wouldn't have appeared that much different. Surely you remember.
A: Indeed. But that "business as usual" atmosphere was quite deceptive even then. I remember only too well the words of Benjamin Franklyn reverberating in my head as I walked in the Philadelphia streets at the time: "either we hang together or we shall surely hang separately."
J: Indeed, that was an urgent and wise warning to all of us revolutionaries. To rock the boat is to run the risk of being branded a subversive and a traitor fit for hanging.
A: no doubt about it. Had we lost the war of independence, we the signers of the Declaration of Independence would all have been hung together; every last one of us. All those ideals we spelled out in the Declaration of Independence would not have been very useful to any of us. Power would have trumped liberty, pun intended.
J. Yet, as you know John, today in America we have the spectacle of people in national security departments of the government who think nothing of conducting secret deals and negotiations with foreign powers, even acting as secret agents of the same, out to dismantle the whole security apparatus built over many years, not to speak of the Constitution. Some make no secret of wishing to "deconstruct" what they now dub Deep State. One such advisor is inside the White House, almost as a Trojan horse, and his name is Steve Bonner.
A. What did the Roman senator and orator Cicero say? "O tempora, o mores." I suppose that is what you had in mind when you counseled that "eternal vigilance is the price of freedom" and that as Plato warned democracy built on ignorance is a pseudo-democracy.
J. Indeed, John, one cannot take liberty for granted just because we, the founding fathers, wrote its principles in a document called the US Constitution. Democracy demands education and eternal vigilance from all its participants. A democracy based on ignorance and apathy ignorant of its noble identity, is like a house built on sand.
A. How true. And history confirms it. As you know, I conducted a study of the history of republics throughout human history, and was somewhat surprised to discover that most republics died after an average span of approximately 300 years. That sounds rather natural, most human phenomena are born, grow and eventually die. What I found surprising and somewhat disconcerting, however, was that most of them did not die of natural causes, so to speak, or by external invasion by their enemies, but by self-inflicted suicide. The most common cause for the eventual termination was public corruption.
J. But the ancient Roman Republic lasted much longer than 3 short centuries. Can we not hope that the American republic will go beyond 300 years?
A. I wish I could answer yes but unfortunately, even Rome did not go on for very much longer after its imperial corruption culminating with the installment of the likes of Caligula and Nero.
J. Could you please elaborate on this point?
A. What happened with Rome, is that it held on to power and control but in effect the republican spirit had all but died by the time one gets to Caligula. That is to say, Rome was no longer a republic of virtue. It was on its way to becoming a swamp of corruption which would defeat it internally. It was not the barbarians that overrun the Empire; it was the Empire that forgot its foundations and traditions.
J. And how did the ancient Greeks and Romans understand virtue?
A. As you well know, Plato in the Republic, and Aristotle in his political and ethical tracts outline which virtues are necessary to govern a city. In the first place there is prudence and wisdom with concern for the common good as distinct from individual egoistic self-interest, there is also harmony among the various factions and branches of government, there is honesty, enterprise, free speech, the sincere belief and search for truth. There is democracy; there is the rule of law but also the rule of reason, compromise, tolerance; there is respect for the rights of others, for civil rights, human rights coupled with an intuition that all of these derive from the very nature of what it means to be fully human. There is the persuasion that unalienable rights are not granted by a powerful state but by the Creator and are integral part of human nature. They cannot be given and they cannot be taken away. This is the great mistake we made at the outset of our republic: we proclaimed unalienable right on paper but forgot to practice them when it came to the slaves who were also fellow human beings.
J. So, if I understand you correctly, you are saying that there is a strict correlation between the loss of those virtues you just enumerated and the eventual demise of any polity that conceives itself as democratic or republican?
A. Precisely Thomas. That's why I coined the expression "Republic of virtue." A republic of virtue has a better chance of surviving and going on for a while, albeit all of them came to an end eventually. Some of them went on for many years, even centuries, but it was only a semblance of democracy.
J. I concur. If one loses the very identity of being a republic or a democracy, one has for all intent and purpose ceased to be one. Not to be a republic of virtue is to be something else while continuing to delude oneself that one remains a democracy. That's why I counseled "eternal vigilance as the price of freedom." Not to be republic of virtue and of ideals, that is to say a perfectible political entity, is to become a tyranny or an oligarchy catering to special interests. It is to have as one's core value the worship of power. And we have seen what absolute power does to individuals and nations.
A. Quite right, Thomas. Then voting and public debates become a charade. Voting is not the essence of democracy per se; it is merely a sign. The essence resides in truth and liberty. Once those are lost you have a floundering republic. A floundering republic is one where the principle of perfectibility ("We the people, in order to form a more perfect union" begins the US constitution) has been abandoned and that of the path of least resistance and greatest advantage has been instituted.
J. And what would you say, is the most glaring sign nowadays that the present American Republic (which we and other founding fathers started as a noble experiment some 230 years ago), is a floundering social experiment which doesn't allow us to rest in peace in our tombs?
A. The most glaring sign, I dare aver, is the fact that many citizens no longer possess a great deal of respect for what the Greeks called the transcendentals: True, the Good, and the Beautiful. We seem to have gone back to the cynical question of Pilate: "What is truth?" Some talk of an Orwellian Deep State controlling everything which needs to be dismantled, or, as they put it "deconstructed."
J. You seem to be saying that the centrifugal process of political disintegration is already an ongoing one in our country, just as there was one just before the Civil War that almost broke our country apart.
A. Yes, it is going on as we speak. All you have to do is look around. Cooperation and solidarity is the exception, fierce competition and survival of the fittest, a la Ayn Rand, seems to be the norm. There is a general disdain for institutions that have served us well for over two centuries. The conspiratorial counselor in the White House calls it "deconstructing the Deep State."
J. No doubt, our country is in deep trouble. And we have not even broached the subject of our present presidential descendant, Mr. Donald Trump. He seems to be the elephant in the room here.
A. Indeed, Thomas. But we have proceeded correctly by first examining the theoretical implications of democracy and republicanism, before dealing with particular individual charges that may appear biased and unilateral to those who have voted for and support Mr. Trump.
J. I suppose we now need to address the principal cause for our turning and tossing in our graves lately. Let's therefore talk about Mr. Trump.
A. Consider this: how do you think I would have felt had I, the second president of the US, been accused by you, the third president of the US, of subversive and traitorous acts toward you while you were the president elect? Let's say, of spying on you, with secret traitorous letters, given that there were no telephones at the time. We had our differences, God knows, especially on the issue of slavery, and sometimes they hurt our friendship, but they never induced us to go beyond the threshold of honor and civic duty to our country.
J. True, John, our mutual love for our country always managed to restrain us from descending to such a low level as slander and false accusations. But today honor and genuine patriotism has become a sham, not to speak of respect for the objectivity of truth. What seems to be all important is self-interest, narcissism and what is convenient and useful at the moment, never mind Truth, Goodness and Beauty.
A. I keep hearing the slogans "the era of post-truth" and "making America great again." But it stands to reason that without truth, justice and fairness also become a chimera. The Greeks taught us as much.
J. I think we have arrived at the crux of the issue, John. It has to do with the issue of truth. What we may have sitting in the same place we used to sit in in the White House is a veritable embarrassment. We were not perfect men, far from it. Like most men, we were flawed, and historian has created for us the myth of men who never told a lie, but we never put in doubt the very concept of truth. We never denied that it had rained when the road was still wet, or that a crowd was there when it was not there, or that people had protested by the thousand in N.J. when the tween towers came down, or that unemployment statistics were fake when one's predecessor was in office but true when one was in office, etc. etc. etc.
A. Indeed, the inability to distinguish truth from falsehood is a sure sign of psychological derangement, never mind metaphysics. What is most troubling of all, is that almost half of the country actually ignored the issue and elected the man to the presidency, which says something about the present collective psychological status of our country. As in the Andersen tale, few dare proclaim, like the little boy in the tale, that the emperor goes around without clothes.
J. Which also says that my warning has not been heeded. As I walk throughout the country, I get the feeling that there isn't much of a "republic of virtue" to be discovered; that a great purging via some social catastrophe may soon ensue. That perhaps it will lethally be brought about by the deconstruction of a Bannon. That perhaps at this crucial point the burden to save the republic will fall on the shoulders of a few heroes who understand the real peril of the crisis. In 1861 that purging, or perhaps divine retribution as one may wish to interpret it, came via the civil war and a hero like president Lincoln almost failed in his mission. But I ask, what are the lesson that should have been learned? Has anything been learned? Or shall events follow their inexorable course toward extinction?
A. I am afraid I cannot offer a positive answer Thomas. I see the same resurgent centrifugal forces at work now that were in place then. Let's hope we are both wrong in this regard, but the omens do not look very good, and unfortunately my study of republics and their demise confirms it.
J. Well, it was good to see you again and chat for a while, as of old, John. We can now return to our respective tombs. History will soon render a verdict on the present dire situation. Perhaps then we can meet again under the capitol and resume our conversation.
A. I am already looking forward to it, Thomas. Perhaps we can involve a few more former presidents who must also be turning and tossing in their graves, not to speak of those who are still alive and are incredulous at what they are witnessing.
J. By all means. Be well, and God bless America.
Note: this article has appeared already as part of the Symposium Section of Ovi magazine of March 15, 2017.
A self-inflicted wound: Trump surrenders the West's moral high ground
For the better part of a century, the United States could claim the moral high ground despite allegations of hypocrisy because its policies continuously contradicted its proclaimed propagation of democracy and human rights. Under President Donald J. Trump, the US has lost that moral high ground.
This week's US sanctioning of 28 Chinese government entities and companies for their involvement in China's brutal clampdown on Turkic Muslims in its troubled north-western province of Xinjiang, the first such measure by any country since the crackdown began, is a case in point.
So is the imposition of visa restrictions on Chinese officials suspected of being involved in the detention and human rights abuses of millions of Uyghurs and other Turkic Muslims.
The irony is that the Trump administration has for the first time elevated human rights to a US foreign policy goal in export control policy despite its overall lack of concern for such rights.
The sanctions should put the Muslim world, always the first to ring the alarm bell when Muslims rights are trampled upon, on the spot.
It probably won't even though Muslim nations are out on a limb, having remained conspicuously silent in a bid not to damage relations with China, and in some cases even having endorsed the Chinese campaign, the most frontal assault on Islam in recent history.
This week's seeming endorsement by Mr. Trump of Turkey's military offensive against Syrian Kurds, who backed by the United States, fought the Islamic State and were guarding its captured fighters and their families drove the final nail into the coffin of US moral claims.
The endorsement came on the back of Mr. Trump's transactional approach towards foreign policy and relations with America's allies, his hesitancy to respond robustly to last month's missile and drone attacks on Saudi oil facilities, his refusal to ensure Saudi transparency on the killing a year ago of journalist Jamal Khashoggi and his perceived empathy for illiberals and authoritarians symbolized by his reference to Egyptian field marshal-turned-president Abdel Fattah al-Sisi as "my favourite dictator."
Rejecting Saudi and Egyptian criticism of his intervention in Syria, Turkish president Recep Tayyip Erdogan gave the United States and Mr. Trump a blunt preview of what they can expect next time they come calling, whether it is for support of their holding China to account for its actions in Xinjiang, issues of religious freedom that are dear to the Trump administration's heart, or specific infractions on human rights that the US opportunistically wishes to emphasize.
"Let me start with Saudi Arabia," Mr. Erdogan said in blistering remarks to members of his Justice and Development Party (AKP). "Look in the mirror first. Who brought Yemen to this state? Did tens of thousands of people not die in Yemen?" he asked, referring to the kingdom's disastrous military intervention in Yemen's ruinous civil war.
Addressing Mr. Al-Sisi, Mr. Erdogan charged: "Egypt, you can't talk at all. You are a country with a democracy killer." The Turkish leader asserted that Mr. Al-Sisi had "held a meeting with some others and condemned the (Turkish) operation – so what if you do?"
The fact that the United States is likely to encounter similar responses, even if they are less belligerent in tone, as well as the fact that Mr. Trump's sanctioning of Chinese entities is unlikely to shame the Muslim world into action, signals a far more fundamental paradigm shift: the loss of the US and Western moral high ground that gave them an undisputed advantage in the battle of ideas, a key battleground in the struggle to shape a new world order.
China, Russia, Middle Eastern autocrats and other authoritarians and illiberals have no credible response to notions of personal and political freedom, human rights and the rule of law.
As a result, they countered the ideational appeal of greater freedoms by going through the motions. They often maintained or erected democratic facades and payed lip service to democratic concepts while cloaking their repression in terms employed by the West like the fight against terrorism.
By surrendering the West's ideological edge, Mr. Trump reduced the shaping of the new world order to a competition in which the power with the deeper pockets had the upper hand.
Former US national security advisor John Bolton admitted as much when he identified in late 2018 Africa as a new battleground and unveiled a new strategy focused on commercial ties, counterterrorism, and better-targeted U.S. foreign aid.
Said international affairs scholar Keren Yarhi-Milo: "The United States has already paid a significant price for Trump's behaviour: the president is no longer considered the ultimate voice on foreign policy. Foreign leaders are turning elsewhere to gauge American intentions… With Trump's reputation compromised, the price tag on U.S. deterrence, coercion, and reassurance has risen, along with the probability of miscalculation and inadvertent escalation."
Trump's effects on diplomacy
No longer has Trump's haphazard behaviour persisted, more will be easy for his administration to enact actions against China, Iran and Taliban. The state department is in a quandary because of it, on each front. Trump's entrenched eagerness to remain "great" and "first" on the chessboard of International power, could damage the world more ahead than before.
Following the Iran's attacks on the Kingdom of Saudi-Arabia's oil infrastructure, US wanted to deploy troops to the Kingdom. It is primarily a justification for why the US has been imposing sanctions over Iran. Is troops deployment a solution? Or will it provide safe horizon to Kingdom oil's installation? Or will it be revolutionary in oil diplomacy? Or is it the only target retaliated on, by Iran. However, such kind of engagement has short term beneficiary spots, while in broader perspective it has consequential effects for all stakeholders. The episode of nuclear deal has, as a factor of quid-pro-quo, been further dramatised by the state department, withdrawing from. Notwithstanding, the deal has advantageous prospects for the Middle East, and an exemplary for rest of nations, has been further dramatised by the US, in order to seek its diplomatic wins. What significant at this point, is an agreement to reback to the deal.
Embracing a different economic model, China, is plausibly on a runner-up position to the US. Whether it's 5G tech. Or leading status of green energy, or ultra-scales exports or its leading developments for the nations having indigent economies, is a source of chaos for US administration. The current trade war is an antidoting tool for the whole scenario. The US should, I assume, eye China's hegemony a piece of cake, and welcome its come out while securing its interests under the umbrella of cooperation. This logic, while posing no threat, seems to be long term functional. Is it?
Trump, according to many native writers, is psychologically unfit, unstable and fickle, however have had strong narrative to prevent America's engagement into "useless wars" and end "endless" wars. Following this token, Trump announcement of troop withdrawal from Syria and Afghanistan put the world politics and even his administration into chaos. This divided strategists and Washington security officials, which was underpinned by the resignation of James Mattis and recently John Bolton. The ten months of peace process which followed the US's announcement of troop withdrawal, precipitously ended, putting once again the international and national politics into chaos. Trump, grandiloquently fired a tweet that talks with Taliban are dead and futile. The argument he contended was the Attack in Kabil, where one American soldier with 12 other people were lost. The policymakers and high officials in Washington who already negated the policy of troop withdrawal and then after peace deal. They, of course are winner in this policy discourse, have staunch beliefs in their opinion, who may make Trump's change of heart. The Kabil attack was given, probably, an agent of resurgent for Obama's approach. However, Trump's administration had already scripted their policy framework for the region, and pretending Kabul attack was perhaps a way of redemption from the peace talk.
Trump's factor in US foreign policy was chaotic to his subordinates for which, he attempted to compensate by cancelling peace deal with Taliban. However , on the domestic front, it is likely to be more pluses than on diplomatic front given to Trump in next year's presidential election. Let's see which side the wind blow.
Trump Cannot Be Impeached Over Ukrainegate, But Pelosi and Schiff Can Be Charged Criminally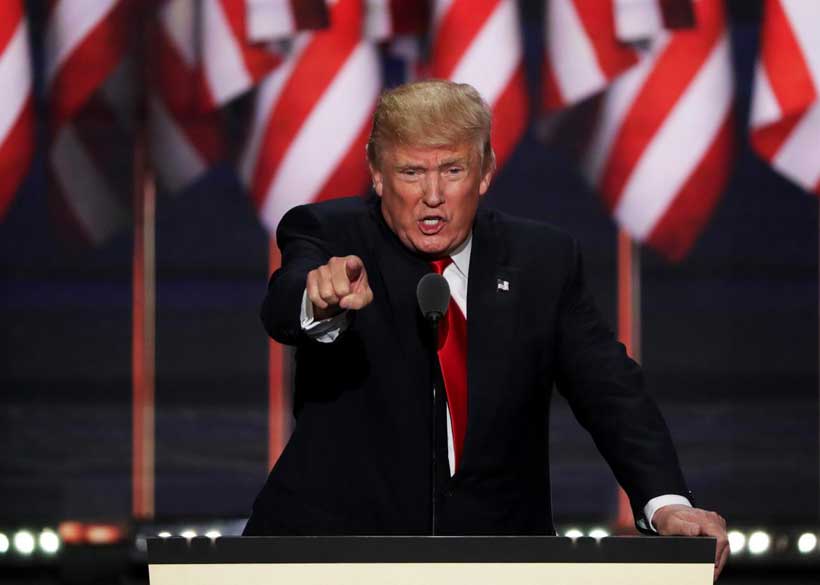 Pursuant to United States v. Curtiss-Wright Export Corp., 299 U.S. 304 (1936), the U.S. Supreme Court issued an unmistakable clear edict concerning the foreign affairs powers of the President of the United States.
In its majority opinion, the Court held that the President, as the nation's "sole organ" in international relations, is innately vested with significant powers over foreign affairs, far exceeding the powers permitted in domestic matters or accorded to the U.S. Congress.
The Court reasoned that these powers are implicit in the President's constitutional role as commander-in-chief and head of the executive branch.
Curtiss-Wright was the first decision to establish that the President's plenary power was independent of Congressional permission, and consequently it is credited with providing the legal precedent for further expansions of executive power in the foreign sphere.
In a 7–1 decision authored by Justice George Sutherland, the Supreme Court ruled that the U.S. government, through the President, is categorically allowed great foreign affairs powers independent of the U.S. Constitution, by declaring that "the powers of the federal government in respect of foreign or external affairs and those in respect of domestic or internal affairs are different, both in respect of their origin and their nature…the broad statement that the federal government can exercise no powers except those specifically enumerated in the Constitution, and such implied powers as are necessary and proper to carry into effect the enumerated powers, is categorically true only in respect of our internal affairs."
While the Constitution does not explicitly state that all ability to conduct foreign policy is vested in the President, the Court concluded that such power is nonetheless given implicitly, since the executive of a sovereign nation is, by its very nature, empowered to conduct foreign affairs.
The Court found "sufficient warrant for the broad discretion vested in the President to determine whether the enforcement of the statute will have a beneficial effect upon the reestablishment of peace in the affected countries."
In other words, the President was better suited for determining which actions and policies best serve the nation's interests abroad.
Period.
It is important to bear in mind that we are here dealing not alone with an authority vested in the President by an exertion of legislative power, but with such an authority plus the very delicate, plenary and exclusive power of the President as the sole organ of the federal government in the field of international relations – a power which does not require as a basis for its exercise an act of Congress, but which, of course, like every other governmental power, must be exercised in subordination to the applicable provisions of the Constitution.
Separation of Powers Doctrine
In other words, neither the U.S. Congress nor the U.S. Senate can say or do very much of anything to prevent or interfere with this power, and if they do, they can in fact be held responsible for violating the Separation of Powers doctrine pursuant to the U.S. Constitution wherein the three branches of government (executive, legislative, and judicial) are kept separate.
This is also known as the system of checks and balances, because each branch is given certain powers so as to check and balance the other branches.
Each branch has separate powers, and generally each branch is not allowed to exercise the powers of the other branches.
The Legislative Branch exercises congressional power, the Executive Branch exercises executive power, and the Judicial Branch exercises judicial review.
National Security and Foreign Affairs
The Curtiss-Wright case established the broader principle of executive Presidential supremacy in national security and foreign affairs, one of the reasons advanced in the 1950s for the near success of the attempt to add the Bricker Amendment to the U.S. Constitution, which would have placed a "check" on said Presidential power by Congress, but that never passed, or became law.
If Speaker of the House Nancy Pelosi and other Democrats really wanted to interfere with or prevent President Donald Trump from engaging in the activity that they are trying to prevent vis-a-vis Ukraine, China, and Joseph Biden's alleged corruption and its effect on National Security, they would have to first draft, propose, enact, and pass sweeping legislation, and this could take years and would most probably never pass.
Even so, it could not affect President Donald Trump's actions already occurred, since the U.S. Constitution prohibits ex post facto criminal laws.
Turning This All Against Nancy Pelosi and Adam Schiff
To that end if Speaker of the House Nancy Pelosi and Congressman Adam Schiff persist in pushing said "impeachment proceedings" against President Donald Trump, it is actually they who could find themselves on the wrong side of the law, with formal and actual charges of Treason, Sedition or Coup D' Etat being levied upon them by the U.S. Government.
The consequences of that occurring, are truly horrific indeed.