White Supremacy and Deep State Explained: Making Trump's America White Again
"We cannot allow a beachhead of terrorism to form inside America"–First speech by Donald Trump to a joint session of Congress.
[yt_dropcap type="square" font="" size="14″ color="#000″ background="#fff" ] T [/yt_dropcap]his is how Steve Bannon, chief Deep State strategist and deconstructionist in chief, aide to President Trump, who sits in the Security Council, described the refugee crisis in Europe in October 2015: "The whole thing in Europe is all about immigration, it's a global issue today—this kind of global Camp of the Saints…It's not a migration, it's really an invasion. It's been almost a Camp of the Saints-type invasion into Central and then Western and Northern Europe"
What is Bannon referring to by that elusive "Camp of the Saints"? Well, it's nothing but the title of an obscure 1973 French racist novel by Jean Raspail. Bannon explains the world by it. He has repeatedly used it as a metaphor to describe the largest refugee crisis in human history.
The novel has become a sort of cult favorite of the far right. The reason may well be that it's an overtly racist rant. It uses race as the main characterization of characters. Basically it describes the takeover of Europe by waves of immigrants that wash ashore like the plague or like a hurricane. The refugee is basically dehumanized and reduced to a force of nature to be escaped and fought. It turns events into a fight of death between races and a clash of civilizations. It has been repeatedly published in the US, always with the support and public acclaim of white supremacists and racists of various stripes, not excluding the KKK.
The novel was translated and published in the US in 1975. It was reviewed in the magazine Kirkus who described it as "a major event like Mein Kampf was a major event."
Let's not forget that Bannon is the undisputed puppet master behind the scene at the White House pulling Trump's strings and advising policies such as the controversial ban on Muslim travelers from seven majority Moslem countries.
Let's not also forget that he used to be the executive chairman of the right-wing news site Breitbart, the online movement of the white nationalist movement in America, known for its anti-Muslim and anti-immigrant stances.
The cover of this English translation of The Camp of the Saints calls it "a chilling novel about the end of the white world."
The plot of the book is quite simple and predictable. An armada of almost a million impoverished Indians heads for Europe. A debate follows among leaders of the EU, including a liberal Pope from Latin America (a prophecy of sorts) on whether to let them in or simply kill them all, which many think it is the hard but also the right thing to do. All the non-white people of the earth intently watch the events. If the Indians succeed in their mission to enter Europe they will all rise up and overthrow Western White Society as we know it.
By the time the French government decides to act and repeal the "invasion," it's too late. Chinese pour into the White bastion that is Russia, the queen of England is forced to marry her son to a Pakistani woman, the mayor of New York must house an African-American family (another preposterous prophecy given that the current mayor of New York, Mr. Di Biasio, is married to an African-American). The rogue heroes defending white Christian supremacy are killed in the process. The are the martyrs of the cause, so to speak.
One of those heroes and martyrs is Calgues who compares himself to past European heroes and their mythical defenses of European Christendom: Rhodes against the Ottoman Empire, the fall of Constantinople to the Muslims, the naval battle of Lepanto. He considers himself fully human. The others, brown or black, arouse disgust. Many of the others are sexual deviants.
This tragedy, as per Calgues comes about because the West has lost the belief in its own cultural and racial superiority. It doesn't take long before the reader realizes that the spirit of the Crusades is being revived. The crusade in this case, however, is against the poor and non-whites.
Raspal wrote the book at Cannes while looking at the Mediterranean sea and imagining the hordes of refugees arriving by sea, the Third World overrunning "this blessed country that is France," as he puts it. As could be expected the book did not get many favorable reviews, but there was a favorable one in the conservative Republican publication National Review which wrote the following: "Raspail brings the reader to the surprising conclusion that killing a million or so starving refugees from India would be a supreme act of individual sanity and cultural health."
Also there is this gem from Professor Jeffrey Hart who in 1975 wrote that "Raspail is to genocide what D.H. Lawrence is to sex; a great fuss is being made over Raspail's supposed racism, but the liberal rote anathema on racism is in effect a poisonous assault upon Western self-preference."
The book was re-published in 1983 thanks to Cordelia Scaife May, heiress to the Mellon fortune; and this time around it became an icon among immigration opponents, among whom John Tanton, the grandfather of anti-immigration movements in the US. He began innocently enough as an environmentalist and population control advocate, but ended up founding the Federation of American Immigration Reform, and the Center for Immigration Studies, and US English, for the advocacy of English as the US official language. Eventually he began advertising the book and championing pro-eugenics programs.
In 1995 the book saw a third publication as concerns with global demographic trends intensified. Tanton wrote then that "Over the years the American public has absorbed a great number of books, articles, poems and films which exalt the immigrant experience, it is easy for the feelings evoked by Ellis Island and the Statue of Liberty to obscure the fact that we are currently receiving too many immigrants (and receiving them too fast) for the health of our environment and of our common culture. Raspail evokes different feelings and that may help to pave the way for policy changes."
In 2001, the book was republished one more time, again by Tanton, and again gained a cult following among opponents of immigration like the Border-patrolling Minutemen and eventually the online "alt-right" which has referenced the novel multiple times. In one such references, Julia Hahn, now an aide to Bannon in the White House, compared the admonition of Pope Francis to a joint session of Congress to "open your arms to refugees" to that found in Raspal's novel by the liberal Latin American pontiff pointing out, as Bannon also does frequently enough, that migration is a disguise for invasion, that the refugee crisis did not just happen, it was planned, that something more sinister is going on. The villains in such a conspiracy theory, besides the liberal Latin American pope, are of course the secular liberals who weaken the West.
What is most intriguing about this racist paranoia and rejection of "the other" is that immigrants and refugees are not perceived as human beings in dire straits and needs, but as enemies to be exterminated. It is the resurrection of the Nazi mind-set and its final solution. The solution of the refugee crisis does not lie in compassion and solidarity, but in extermination. The aim is to win the war. As per Bannon and his minions, there is a war going on and it is between the president trying to deconstruct the established status quo, and what goes by the name of Deep State and its agents (intelligence agencies, liberal press, elite political establishment, etc).
This phenomenon can be detected even in a progressive magazine such as this one. Accepting all opinions, they are of course tolerated, but you may have noticed already that there are regular contributors who never fail to inveigh against the Deep State which they consider the traitorous enemy of a our president, never mind how he got there, never mind its derangement. Their arguments appear rational, even reasonable, but in fact are proclaimed like an article of faith. The influence of books such as the one we have examined is quite apparent. They echo the Nazi era of the thirty in Germany when scapegoats were being charged for all the troubles of Germany
"Do you believe the elites in this country have the backbone, have the belief in the underlying principles of the Judeo-Christian West to actually win this war?" Bannon asked Sen. Jeff Sessions (R-Ala.), now the attorney general, in June 2016. "I'm worried about that. … They're eroding, regularly it seems to me, classical American values that are so critical to our success," Sessions replied.
As the saying goes: birds of a feather flock together. Both Bannon and Sessions are now integral part of the White House, and that goes a long way in explaining why a Trump, who reads no book and is only capable of writing 140 characters tweets requiring two minutes span of attention, tends to conflate immigration and warfare and perceives his anti-Muslim executive orders as life-or-death national security issues comparable to a "military operation."
Considering the above analysis, perhaps we are not going too are afield in asserting that the slogan "Let's make American Great again" is a code for "Let's make America White again." In other words, let's consider the root and the heritage of America as derived mostly from Northern Europe and all others as inferior and undesirables, un-American.
Trump, Bannon and Sessions have so far managed to fool a substantial amount of people with that popular slogan, but as another president quipped once: "You can fool all of the people some of the times, and you can fool some of the people all of the times, but you cannot fool all of the people all of the times."
Note: this article has already appeared in Ovi magazine on Tuesday March 7, 2017.
Of Dissemblers And Dismemberers
The maliciously mocking, malevolent, maladroit, misfit, malappropriating the White House got his comeuppance this week … at least for a while.  Senator Elizabeth Warren released her DNA test results conducted by noted Stanford University expert Professor Carlos D. Bustamente.  The results prove a Native American ancestor six to ten generations ago, supporting her claim that her great-great-great grandmother, O.C. Sarah Smith was at least partly Native American.
Donald Trump who mocks her as 'Pocahontas' had this summer upped the ante by his offer to pay $1 million to a charity of the Senator's choice if she took a DNA test.  She has, and she has named the charity, the National Indigenous Women's Resource Center, which protects Native American women from violence, including sexual violence.  The onus is now on Mr. Trump to make good his word.
Of course he is not going to.  Somewhat lacking in grace, Mr. Trump says he will pay the $1 million only if he can test her personally.  Later, he also disavowed the offer.  And so it goes on … vintage Trump.  Suppliers to his businesses also had great difficulty getting paid.
By the way, he did say when he made the offer that he would toss the  DNA kit to her gently as it is the #MeToo generation, etc.  But most people would consider that to be theatrics, not literal.  Perhaps Senator Warren ought not to have bothered … it is almost impossible to win a facts contest against the dissembler-in-chief.
Remember the birther movement when Mr. Trump insisted President Obama was not born in Hawaii or anywhere in the U.S., thus ineligible for the presidency.  When proven wrong, he did a quick turnaround, blaming Hillary Clinton falsely for starting the whole birth issue.
There should have been more serious issues occupying President Trump.  Jamal Khashoggi, a Saudi dissident and journalist posting a monthly column for the Washington Post, disappeared after he went into the Saudi Consulate in Istanbul to sign some divorce papers.  He expected to be about ten minutes according to his Turkish fiancee waiting outside.  He never reappeared.
Imagine a country in the 21st century, an absolute monarchy, and a de facto ruler so thin-skinned that he has a critic silenced, not by wit or sophistication, but by turning a consulate into an abattoir.  The chief butcher, a forensics man holding a senior position in the country's Interior Ministry slaps on earphones to listen to music and advises the onlookers to do likewise while he dismembers the body.  The hapless Khashoggi first had his fingers cut off while alive, presumably as symbolism for his writing.
The remains were then stuffed into diplomatic bags immune to customs inspection, and the 15-man hit squad flew home in their private jet.  The latter acquired from an airline shut down earlier.  Or, did they bury their gruesome opus in a forest outside Istanbul?  Forensic technicians are searching.
How did the Turks piece up the story.  They have a tape recording, presumably because they had the place bugged — a 20th century practice the hit squads' master never suspected.  Perhaps it is what happens when the methods are medieval.
The world is revulsed and nauseated.
The future of Russia- Mexico Relations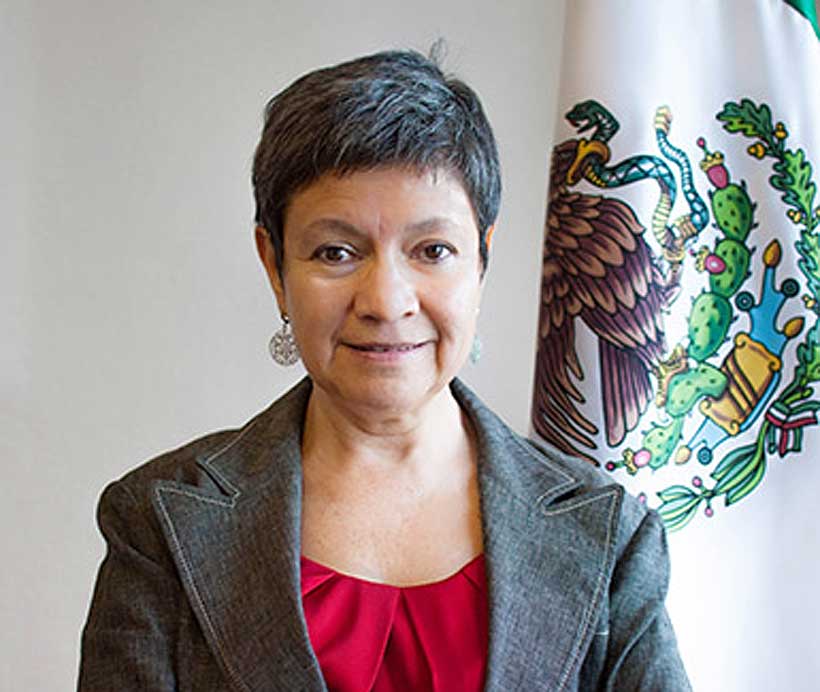 Mexico has impressive bilateral relations with the Russian Federation. During the last decade, Mexico has been exploring new opportunities with its partners in this part of Europe, in particular, with Russia. In this interview, Ambassador Extraordinary and Plenipotentiary of Mexico to the Russian Federation, H.E. Norma Pensado Moreno, talks about the key priorities, challenges and the economic changes that could possibly influence future bilateral directions of Mexico-Russia.
What are your Government's priorities in and expectations from the Russian Federation?
Mexico´s Government issued new objectives of foreign policy; one of them is building stronger relations with our partners beyond North America. In this endeavor, Eastern Europe plays a key role. Moreover, due to its dynamism during the last decade, Mexico has a special interest in exploring new cooperation opportunities with its partners in this part of Europe, in particular with Russia.
For Mexico and the Russian Federation, there is great potential in their bilateral relationship. In 2017 and 2018, considerable progress was made in its political dialogue and cooperation in various areas, but a real deepening still remains, mainly in the economic field, in order to match the size of its economies, being both among the 15 biggest in the world.
Both countries are of decisive importance in their respective regions. Within the group of Latin American countries, Mexico occupies an important place for Russia's foreign policy agenda. For Mexico, Russia is a country with high political, scientific, cultural, energy, tourist, investment and commercial potential.
The bilateral dialogue between the two countries has focused on the Mechanism of Political Consultations, official reciprocal visits, exchange and cooperation (educational, cultural, scientific and technical), energy, economy, trade and tourism. Mexico and Russia agree on positions in many International Forums and on principles such as the promotion of multilateralism. In this context, they have prioritized the issues of international security, the pacific use of cosmic space, the fight against drug trafficking and transnational crime.
The bilateral relationship is in a very good dynamic, due to the presidential meetings in BRICS and APEC summits, as well as the meetings of foreign ministers, in August and November of 2017. The celebration of the V Joint Commission of Cooperation in Culture, Education and Sports took place last February after many years, and the VI Economic Commission Mexico-Russia is expected to take place during 2019.
In short, our Government priorities and expectations are to continue and deepen the cooperation Mexico and the Russian Federation have both in our bilateral relationship in all areas and in the multilateral agenda, as well as to exploring new cooperation in areas such as energy and telecommunications, in which Russia has strengths.
Do you have the same business agenda in other ex-Soviet republics where you are accredited?
I am also accredited as Ambassador to Armenia and Belarus. Overall, Mexico's business agenda is similar in the three countries. We want to expand trade, promote investments and connect our business community to their counterparts in these countries through the organization of business missions and participation in commercial promotional events. It is also a common goal in the three countries to promote Mexico as a tourist destination.
However, we have also set specific goals based on the prospects identified in each country. Russia is a big country and it represents a wide scope of opportunities. In the case of our Armenian counterparts, we have talked about the many opportunities in the IT and renewable energies sectors. As for Belarus, we are aware of its potential in the production of tractors and agriculture machines as well as in its new industrial technologies. We need to do some work to translate this flow of information into real opportunities that can be explored by our business communities.
Could you please discuss the level of Russia's economic engagement in Mexico? Is your Government satisfied with Russia's investment interest as compared to, most probably, other foreign players in Mexico?
Both Russia and Mexico are conscious that there is significant room to grow in our bilateral economic relations given the size of our economies and the possibilities of complementarity. We want to increase economic exchanges and investments.
That said, I want to highlight that Russia has made significant steps regarding its economic engagement in Mexico. It is Mexico's most important investment partner among Eastern European countries, with a total investment of $20.9 million between 1999 and 2017. There are Russian investments in more than 80 Mexican companies, in fields such as transportation, hotels, and mining.
In June 2017, as a result of Mexico's public tender process in its oil industry, Lukoil was awarded an exploration and extraction contract in the Gulf of Mexico. In March 2018, the company announced that, in consortium with the Italian company Eni, it had been awarded another contract. This consolidates its presence in Mexico since it started to cooperate with Pemex in 2014.
Last year Minister of Trade and Industry visited Mexico heading a business delegation in sectors such as aerospace, automotive, equipment and energy. And this October, the Deputy Minister of Trade and Industry also went to Mexico with a delegation of companies in the construction sector. I can thus say that we see a positive trend in Russia's engagement in Mexico and we hope it will remain.
On the other hand, how does Mexico engage Russia? How do you view the possibility of effective trade exchanges between the two countries?
Mexican investment in Russia is also growing. In 2017 Gruma, one of the biggest producers of tortillas and other agro products opened a plant in the Moscow region with an investment of $50 million. Other companies with presence in the country are Kidzania –with an entertainment center in the Moscow region- and Nemak –with a manufacturing center for automotive components in Zavolzhie, near Ulyanovsk. Also, the Mexican air company Interjet has acquired several Russian-developed units, the Sukhoi SuperJet-100.
In addition, different Mexican governmental agencies have been encouraging Mexican producers from the agricultural sector to explore opportunities in the Russian market. As a result, representatives from more than twenty companies have visited Russia in the last four months to get acquainted with potential partners. We had a big delegation in Moscow last June, within the framework of the FIFA World Cup, and the second one in mid-September, which attended the World Food fair in Moscow.
Therefore, I can confidently say that there is keen interest from the Mexican side to strengthen its economic ties with Russia. Our goal is to translate all these steps into a substantial growth in trade exchanges.
How is Mexico's tourism business developing in Russia? Are the number of Russian tourists increasing compared to the previous years? What strategies have you adopted to further popularize your country's recreational destinations?
One of the main priorities of the Government of Mexico is tourism. Thanks to the efforts of our government in this area, in 2017 Mexico ranked sixth in the world in reception of foreign tourists, according to the World Tourism Organization, with almost 40 million visitors (39.3 million). Out of this amount, only 37,300 Russian visitors entered Mexico by airplane (an increase of 21.5% in comparison to 2016); it means less than 0.1% of all the tourists we received last year; even if it is increasing, it does not correspond to the importance of Russia in the world.
We strive for having again the numbers we had in 2013 when almost 108,000 Russians visited Mexico. The good news is that in the first 8 months of 2018, Mexico received more Russian visitors than in the whole 2017. If this trend continues we will receive more than 50,000 Russian tourists at the end of the year -something not seen since 2014-, it means almost 65% more than two years ago.
For the coming years, we are confident that the number of Russians who will visit Mexico will continue increasing thanks to the actions implemented by the Government of Mexico to popularize my country in Russia, among them:
1) the organization or participation in events aimed at the main Russian tour operators; 2) the participation in tourism exhibitions in Russia;
3) the publication of brochures or information in Russian language including the version in this language of the Website of our Tourism Office, which will be in force in the next weeks.
In this framework, a key role play the recent visit to Russia of more than 45,000 Mexican football fans to attend the World Cup who brought with them our "Fiesta", something that Russians liked very much and has motivated them to visit Mexico in the near future.
What are views about economic changes in Russia and the Eurasian region? And how would the changes possibly influence future directions in economic cooperation in Mexico?
We closely follow the economic developments in Russia, Armenia, and Belarus, including the regional integration efforts within the Eurasian Economic Union. We are aware of the challenges the countries are facing, but also of the opportunities that are being open. We want to focus on the opportunities. As I mentioned before, the interest in deepening economic relations is mutual and is growing. We will carry on with the work that has been done in the last years.
In the case of Russia, we have still to agree on a date for the next meeting of the Economic Intergovernmental Commission, which will be key to strengthen our cooperation framework. Experts from the two countries are engaged in processes that we hope will lead to the reopening of the Russian market for Mexican beef and seafood products. The trends are very positive, and we can remain optimistic in that regard.
Venezuelan refugee crisis and how it is altering the surrounding regions
Venezuela's migration crisis has been in the news lately and recent UN polls show that nearly 2.3 million have already migrated from their homeland over the past few years. However, other estimates show a figure closer to four million Venezuelan immigrants.
This crisis is rapidly sinking its claws in the neighbouring countries and if the amount of people migrating keeps increasing, it might become the worst man-made disasters since the First and Second World Wars after the Syrian refugee crisis. The Syrian crisis gave birth to more than six million refugees, and although the number here is still around half of that toll, the Venezuelan crisis doesn't seem to be slowing down anytime soon. The inflation over there is nearly a million percent – a number so absurd that the common people around the world are not able to even grasp the sheer magnitude of the situations developing every day in this country. The minimum monthly wage is a few American dollars, putting essentials like food – particularly rations like chicken – into the category of luxurious items. The economy has shrunk by half in five years. To explain the extent of this downfall, Girish Gupta – founder of Data Drum and former investigative, multimedia journalist in Venezuela/LatAm – tweeted: If you'd bought a million dollars in Venezuela's local currency when President Nicolás Maduro came to power in 2013, it'd now be worth $3.40. Diseases that were once overcome – like measles and diphtheria – are making a comeback. Infant mortality rates are going up while approximately 1.3 million refugees who have already escaped Venezuela were suffering from malnourishment (according to UN officials).
However, these are not the last of the Venezuelans' problems; the nations to whom the refugees sought to escape to are closing their doors on their faces – literally. Sunday saw Ecuador closing border crossings with Colombia to people who don't have passports. This was seen as a certain way to reduce the bulk of refugees from entering other countries as passports are fairly difficult to obtain amidst the economical and political chaos. Jonnayker Lien, a migrant standing outside the Peruvian border with his entire family said, "Imagine people like us who have sold everything, down to our beds, to come here, and they close the door on us. We don't know where to sleep, and we don't have money to go back." Crisis broke out in the town of Pacaraima, north Brazil, after local throngs started struggling against the refugees and pushed them back to the border. Already a penurious town, the locals resent sharing their remaining resources with these migrants. However, even a strong military force could not stop these migrants from coming into Brazil. Peru had twenty thousand migrants arriving in the past week.
An emergency regional summit has been called by officials from Ecuador where Venezuela and its neighbours could deal with the crisis. Yukiko Iriyama, a representative in Colombia for the U.N. refugee agency said, "The capacity of the region is overwhelmed. The magnitude of the situation really requires a regional comprehensive approach." The recently implemented passport checks by Peru and Ecuador aimed to reduce the flow of refugees into the countries. However, all it did was reduce the legal way of entering into these nations and increased the illegal border crossings.  To deal with this disaster and the refugee predicament, representatives from Colombia, Ecuador and Peru will meet in Bogota next week. Christian Kruger, the head of Colombia's migration authoritysaid in a statement, "The exodus of Venezuelan citizens is not a problem exclusive to Colombia, Peru, Ecuador or a single country. This is a regional problem and as such we must address it. Demanding passports from a nation that does not have them and whose government does not facilitate the issuance of this document is to encourage irregularity." Peru is also calling a meeting at an individual level of the permanent council of the Organization of American States to discuss the migration.
The toll of migrants entering Colombia is around a million in fifteen months but nations like Chile, Brazil, Ecuador, Peru are also receiving these refugees. Low skilled Venezuelans have flooded some Latin American job markets to find work and send money back home. United Nations Secretary-General Antonio Guterres told Colombian Foreign Minister Carlos Holmes Trujillo that he will set up a UN team that will respond to the crisis. UN spokesman Stephane Dujarric said that Guterres "told him that he would put together an internal coordination mechanism to make sure that the UN regional response is well coordinated." "This is something that is not uncommon in these types of crises," he added. Dany Bahar of the Brookings Institution suggested declaring this as a refugee crisis in order to seek help, saying, "It is up to the United Nations, together with the Organization of American States, to step up and recognize this problem as a refugee crisis so that the world can turn the proper attention to it and provide solutions." He also added that none of the nations in the regionhave taken the initiative to provide a sustainable solution to the problem.