How to implement nuclear deterrence in Europe
[yt_dropcap type="square" font="" size="14″ color="#000″ background="#fff" ] T [/yt_dropcap]he many projects circulating in Italy, as well as in the other NATO and EU countries, for the "new EU Army" lack a nuclear and chemical-bacteriological perspective, without which any Joint Armed Force in Europe – after the withdrawal of a nuclear power such as Great Britain from the EU – would be little more than a group of scouts or amateurs.
Moreover, the probable reduced US interest in European defense, combined with a possible series of tensions with the Russian Federation, make it necessary to rethink the European nuclear arsenal (as well as the chemical-bacteriological one) and the whole Eurasian peninsula's defense doctrine.
We are all still living in the Cold War spell. Of course, Russia is no longer the arch-enemy it was at that time, but it is definitely a EU global competitor with which strategic and economic agreements can and must be reached, which – however – has different views about Eurasia, the Middle East and Central Asia.
Different views not only from the American ones, but also alien to a properly understood European interest.
Therefore, after Brexit, France remains the only European nuclear power.
Thanks to its national strategic nuclear structure, France wants to "prevent war", be it nuclear or conventional.
Also in the case of France, the doctrine has not changed much from the one in force during the Cold War, even though currently the misplaced theme of "terrorism", which is rather strictly jihad, sees France using its nuclear triad against terrorist organizations or the "Heads of State using weapon of mass destruction against France's territory and interests".
Too little. And what would happen if China launched a missile attack on France?
The nuclear theory must analyze all scenarios, not just those who are thought to be the most likely.
Moreover, in his speech of January 19, 2006, President Chirac pointed again to the legitimate use of the force de frappe (the military strike force) "against the leaders of the countries using terrorist methods" and "against those who want to use weapons of mass destruction" – and this applied both to the French territory and to the "neighbouring States."
A nuclear strategic launch against the "leaders" of a country?
It is also true that the French nuclear system is extremely refined and sophisticated with regard to the accuracy of the weapons used, which – however – are not individual weapons used against a criminal.
Therefore, in essence, this is the question to be posed: is France interested in pooling its strategic nuclear arsenal with other countries, after Brexit?
Certainly a role as holder of the nuclear response would make France become the true dominus of the EU Army and of Europe, but it is equally true that France would never accept to defend intra-European targets in which it is not interested or which divert technologies and means from the already planned defense points.
Hence it would be a defense halfway, without even putting into question the issue of the chemical and bacteriological weapons of the future EU Army.
Not to mention nuclear-powered carriers, which are as important as the technology they use as weapon.
Moreover Germany – which has always been suspicious of nuclear weapons which, during the Cold War, were designed to hit targets inside the German territory – wants a strategic nuclear response organized on the basis of the existing French and British arsenals.
Germany does not want to be alone to manage a French-only nuclear arsenal – hence bound to "sacrifice" German areas, where needed, to defend positions and populations inside the French border.
Neither Germany nor Italy, however, cannot believe that strategic competition or nuclear compensation between Great Britain and France can be chosen or directed by the States which are protected almost for free.
Currently the six NATO bases hosting nuclear weapons are Kleine Brogel, Belgium; Buchel, Germany; Aviano and Ghedi, Italy; Volkel, Netherlands and Incirlik, Turkey.
They host 180 nuclear devices.
Other US nuclear weapons in Europe are currently hosted in Lakenheath, UK; Nörvenich and Ramstein, Germany, in addition to the other above mentioned German bases; Araxos, Greece and Akinci and Bolkesir, Turkey, in addition to the above stated Incirlik Turkish base.
During Barack Obama's Presidency, the United States drew up the EPAA (European Phased Adaptive Approach) program, which is expected to progressively protect the whole of Europe, although with targets and timing obviously chosen by the United States.
Furthermore we do not believe that currently the extension of the EPAA program from 2011 to 2020 would not be financially supported by the individual European countries accepting it.
In the first phase, US ships with AEGIS interceptors (with Arleigh-Burke ships) and RIM 161 SM3 missiles operating against short- and medium-range enemy missiles will come. This has already happened in the base of Rota, Spain.
Obviously, this means – at first – to protect the US forces already present in the South-Mediterranean region.
At a later stage, the United States will add a ground component to the SM-3 missiles to the North and South of Europe, always targeted against short- and medium-range nuclear intrusions.
Finally, in 2018, the whole of Europe should be covered by a network of SM-3 missiles having only a limited ability to hit the Intercontinental Ballistic Missiles (ICBMs).
Hence we are back to square one.
Without adequate coverage and ability to retaliate against an ICBM attack, the European defense – with or without the US support – is a wet fuse.
Moreover, currently France uses ballistic missiles only in the maritime component of the nuclear triad (land-sea-air), while the land-based missiles have been "decommissioned" since 1996.
France, however, still has nuclear cruise missiles that can be carried on aircraft used – according to the current French nuclear doctrine – as "tactical weapon" preceding the phase of the real nuclear attack.
The "ultimate deterrence" before a counterforce nuclear salvo.
It is not enough and, in any case, the French doctrine is not sufficient to autonomously defend the European territory – and probably nor its nuclear warheads are enough.
Moreover, Phase 4 of the US EPAA program envisages the presence of missiles in Europe, including the long-range ones, only from 2020 onwards, but obviously only with a US "key".
It is worth recalling here the old question a great strategist – and hence great politician – Charles de Gaulle, put to the North American ambassador to Paris in 1965: "What would you do if a Soviet missile hit Lyon?" That is to say: in terms of nuclear strategy, does Article 5 of the North Atlantic Treaty really apply? Just for the record, the US diplomat remained silent.
As we have already seen, currently the nuclear bombs hosted in Europe are over 180 and are B-61 weapons, model 3-4-7-10.
The aforementioned weapon can also be carried by the new F-35 fighter jets, as well as by the old Tornado or F-16 ones.
Within 2018, all B-61 nuclear weapons will be converted into the Mod-12 version.
A weapon that will be available in the 0.3 kiloton explosive yield, which is 50 times less powerful than the Hiroshima bomb, up to a maximum of 50 kiloton explosive yield.
The Mod-12 version has a strong "bunker-buster" characterization, namely designed to penetrate hardened targets or targets buried deep underground, such as military bunkers.
The over 180 nuclear bombs present in the EU would anyway be credible deterrence, considering that – as to number and power – they would not be enough to destroy the enemy command line, but could be useful against countries that can make or want to make nuclear bombs "at home" and with a low potential.
This means that Russia has no deterrence, while countries which currently have other things to think about than nuclear strategy might be blocked in the nuclear "rise to extremes". Or it is possibly thought that this nuclear posture may deter the makers of some "dirty bomb".
Rather weak strategic thinking – if we may say so.
However, which would be these countries subjected to European deterrence? Certainly neither Iran nor the Russian Federation, nor some Maghreb countries such as Morocco and Egypt – considering their small nuclear capacity.
Therefore it is just a mere political guarantee in the US hands and under its direct command.
In this context, some German analysts have suggested that the entire French nuclear system may be extended to the EU, with almost exclusively German funding and in parallel with – and not as an alternative to – the US deterrence already present in Europe.
We have seen, however, that, apart from the maritime component, the French arsenal has no true potential against the ICBMs and probably against intermediate-range nuclear carriers, if they are many and launched from sites near EU borders.
Finally, France wants to maintain absolute discretionary power on the targets and the use of its nuclear deterrent which, in the event of an extension of the French umbrella to the whole EU, should protect the Baltic States from an attack of the Russian Forces – also a conventional one.
No one wants to wake up the Russian bear, but rather to make it understand that the first Russian nuclear salvo could lead to such a counter-salvo as to cause sufficiently severe counterforce damage, but not enough to block a second salvo, which would become the basis for a political negotiation.
Moreover, in the event of a nuclear attack on Russia, it would still launch nuclear carriers directly against North America. Currently this is no longer tolerable for the United States, which has no intention of protecting a geoeconomic competitor, namely the European Union, at almost zero cost for the Europeans themselves.
However, how is the Russian Federation organized in the field of nuclear war?
According to the latest data exchanged with the West, according to the START Treaty, Russia has 1,643 nuclear warheads carried on 528 strategic delivery systems.
France has 300 nuclear warheads. They are placed on four submarines and the air component is supplied to four air squadrons.
Britain has 215 nuclear warheads. In this case, too, the carrier is mainly maritime.
China owns 260 nuclear bombs; India has 120 nuclear warheads and Pakistan 130.
Russia keeps on producing the RS 24 YARS missile (NATO reporting name: SS-29), which is a land-transportable ICBM, while it has just manufactured a new land-transportable ICBM, namely the RS-26 RUBEZH, which is specifically targeted against the enemy missile defenses.
The RS 24 is a multiple independently targetable reentry vehicle (MIRV), which can accommodate multiple warheads and has an 11,000 kilometer range, while the RUBEZH can reach up to 12,600 kilometers.
There is also a new Russian ICBM in an advanced manufacturing stage, which will be completed in 2018 and will be operational in 2019, which is placed in silos and will be liquid fuel-propelled.
As to the maritime component of the nuclear threat, in 2013 Russia already developed and deployed the R-30 BULAVA (NATO reporting name: SS-NX-30 MACE), which will be launched by the new Borei class submarines which became operational in 2013.
The BULAVA has a range of 8,000 to 10,000 kilometers.
The air component of the Russian nuclear triad is composed mainly by the Kh-55 missiles (NATO reporting name: AS-15 KENT), having a range of up to 2,500 kilometers, which are usually launched by Tupolev 95 MS (NATO reporting name: BEAR H) and Tupolev 160 (NATO reporting name: BLACKJACK) strategic bombers.
The latter is a supersonic variable-sweep wing heavy strategic bomber, with a possible load of 40 nuclear and conventional tons.
Russia has also developed another air-to-surface long-range nuclear cruise missile, namely the KH 101.
Furthermore, the Russian Federation is still making Ground Launched Cruise Missiles (GLCMs) such as the R500, operational.
Alias "Iskander", the above stated GLCM is wire-guided and has a 500 kilometer range.
For Russia, nuclear weapons and their use are needed to implement the new Russian national security doctrine, which consists in reaffirming its role as independent leading power in the world, in a global security scenario which is fluid, dangerous and uncertain, with fierce competition for economic and intangible resources.
Russia also believes that the world is heading for a polycentric composition of the new powers. Finally Russia thinks it must be surrounded by buffer zones protecting it against any kind of external threat.
Hence, if we consider also the French stand-alone nuclear force, and its doctrine of immediate "anti-terror" use, as well as the US network of medium-to-short range missiles, for the protection of Forces more than of the territory, we are faced with an unreasonable strategic equation.
It is not useful for deterrence vis-à-vis Russia and it is not needed for defense against the so-called "dirty bombs". It is not even useful to protect us from a possible nuclear salvo launched by a terrorist group.
Therefore the Russian Federation can hit the EU territory at a long range, while the possible European and NATO response is based on medium-to-short range nuclear weapons just hitting the first frontline of the enemy's attack.
Probably within the European borders.
However, for the Russian Federation, to what extent the nuclear set-up which is emerging in Europe (not considering the chemical and bacteriological component) may act as a deterrent?
This is a question which can be answered only by the Russian political and military decision-makers, who have every interest in keeping the strategic pressure on Europe high so as to create political and economic equilibriums they could not reach without the nuclear asymmetry in their favour.
Israel Shines in the Gulf Where Big Powers Falter, but That Could Prove Tricky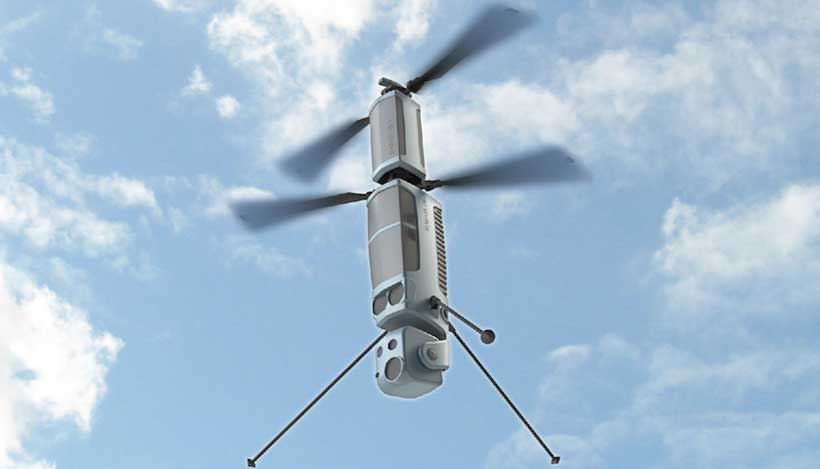 The Firefly, an Israeli-built loitering kamikaze drone, part of the Spike family of missiles that the Jewish state has sold to various European nations, may be one reason why Gulf states, and particularly Saudi Arabia, have cozied up to Israel in a seeming reversal of their past support of Palestinian rights.
If there is one lesson that Gulf states have learned from the United States' reduced commitment to the region and the strains in US-Saudi relations, it is that putting one's eggs in one basket is risky business.
That has not prevented the United States from continuing to secure its place as the region's foremost arms supplier as this month's arms and related commercial deals prove.
The US Defense Department announced a $2.6 billion USD Saudi deal to acquire 1,000 air-to-surface and anti-ship missiles from Boeing. Within days, Saudi Arabia's Al Tadrea Manufacturing Company tweeted that it had reached agreement with Oshkosh Defense to establish a joint venture to manufacture armed vehicles in the kingdom.
The Public Investment Fund, Saudi Arabia's sovereign wealth fund, disclosed separately that it had recently taken a $ 713.7 million USD stake in Boeing at a time when the company, already suffering major setbacks because of its 737-Max fiasco, took a significant hit as a result of a collapse of the civilian aviation industry.
The continued Saudi arms focus on the United States has not deprived China of opportunities. China has stepped in to help Saudi Arabia produce unmanned military vehicles after the United States refused to sell its MQ-9 Reaper killer drone to the kingdom. Saudi Arabia expects production to start next year.
Like China, Russia has been urging Saudi Arabia to purchase its acclaimed S-400 anti-missile defense system. So far, the kingdom, having watched the United States cancel NATO-member Turkey's purchase of US F-35 fighter jets and its co-production agreement of some of the plane's components after it acquired the Russian system, has been reticent to take the Russians up on their offer.
The limitations of Saudi-Russian cooperation have since become obvious with April's price war between the two major oil producers that sent oil markets into a tailspin from which they are unlikely to recover any time soon.
Israel, like China and Russia and unlike the United States, puts no problematic restrictions such as adherence to human rights and use of weaponry in accordance with international law on its arms sales.
But Israel has one leg up on its Chinese and Russian competitors who maintain close ties to Iran. Israel shares with Saudi Arabia and the United Arab Emirates (UAE) a perception of Iran as an existential threat and a destabilizing force in the Middle East that at the very least needs to be contained.
To be sure, that is a perception that Saudi Arabia and the UAE see reflected in the United States' maximum pressure policy towards Iran which aims to force the Islamic Republic to "change its behavior," if not change its regime.
The problem is that maximum pressure two years into the imposition of harsh US economic sanctions has produced little result.
Add to that the fact that the United States has proven to be an unreliable ally when the chips are down, persuading the UAE and other smaller Gulf states to reach out to Iran to ensure that their critical national infrastructure does not become a target in any future major US-Iranian military conflagration.
The watershed moment for the Gulf states was when the United States failed to respond forcefully last spring and summer to alleged Iranian attacks on key Saudi oil facilities as well as oil tankers off the coast of the UAE.
The Trump administration, in a bid to reassure Gulf states, weeks later sent troops and Patriot anti-missile defense systems to Saudi Arabia to help it protect its oil installations, although the United States withdrew two of those systems earlier this month.
It took the killing of a US military contractor in December 2019 for the United States to respond to tens of Iranian-backed attacks on American targets in Iraq. And when it did, with the killing in January of Iranian general Qassem Soleimani, Gulf states privately celebrated the demise of their nemesis, but also feared that it was overkill, bringing the Middle East to the brink of an all-out war.
Gulf states are likely to find that cooperation with Israel has its limits too. Israel may be eager to sell weaponry and have the capability to push back at Iran in Syria. If need be, Israel can also severely damage, if not take out, Iranian nuclear and missile facilities in military strikes that Gulf states would be unable to carry out.
But ties to Israel remain a sensitive issue in the Gulf and elsewhere in the Arab and Muslim world. And Israel has so far restricted sales to non-lethal equipment and technology. That could change with a resolution of the Israeli-Palestinian conflict and the establishment of formal diplomatic relations.
Public opinion, however, may be one reason Gulf states have refused to turn unofficial relations into diplomatic recognition, suggesting that there may be greater public empathy for Palestinians than Gulf rulers wish to admit.
That could count for more with Gulf rulers finding it increasingly difficult to provide public goods and services, among which first and foremost jobs, as a result of the global economic crisis and the collapse of oil prices.
Author's note: This story was first published in Inside Arabia
China's Revolution in Military Affairs with Chinese Characteristics
China's political leadership had ascribed the first two decades of the 21st century as a "period of strategic opportunity." After considerable and due evaluation of the prevailing international conditions, China's politburo determined that the weather was conducive to conduct domestic development and expand Beijing's "comprehensive national power," a term that embodies all components of state power in addition to economic capacity, military prowess, and diplomacy. The Chinese Communist Party (CCP), had engineered a successful model to utilise the paradigm of national power to cater to Beijing's overarching strategic aspirations, as well as to guarantee the protection of the CCP's control in the state while ensuring domestic political stability.
Besides, the CCP also envisaged a positive sustainable trajectory for its economic development and postulated a comprehensive plan for the defence of its national security, with the purpose of expanding globally its national status as a great power. In contrast, there was considerable reservation regarding the success of this ambitious drive within the academic community in China, questioning Beijing's capabilities to sustain the "period of strategic opportunity" during the two decades. However, the Chinese authorities in their defence pointed out the urgent need for achieving the strategic objectives, to claim the global hegemonic status. The call for an immediate rehaul of its National Defence edifice, is also the result of the constant dynamic changes in the international security structure. Rising hegemonism, power politics, and regular regional conflicts and wars have also undermined the global security order. In view of the growing global strategic competition, China is attempting to expedite its modernisation drive to achieve its twenty-year plan, with utmost focus on innovation, science & technology.
Beijing's politico-strategic community has often reiterated the importance of achieving two critical goals of economic and military landmarks by the year 2020. The first goal is meant to oversee the inclusion of a successful model of an economic structure to help sustain the growth and improve the quality of life of its people while ensuring a socio-economic stability in the state, while the second goal is intended to rehaul the national defence and armed forces through the process of mechanisation and the inclusion of "informatisation" warfare in view of enhancing its "overall strategic capabilities". These military initiatives are intended to spur the Chinese military in acquiring the capacity and strength to win potential regional conflicts, to safeguard the Sea Lines of Communication (SLOCs), to defend territorial claims in the East China Sea and the South China Sea and to protect its territorial sovereignty on the western borders.
Through multiple official press statements, prominent Chinese leaders have accentuated the imperative for a military modernisation in the 21st century, presuming Beijing aspires to gain the great power status. These statements also endorse Beijing's view that a modern military is an imperative form of deterrence against enemies and prevailing threats to Chinese interests, globally. The Chinese leadership has further articulated and justified the ongoing military modernisation programme in the Chinese defence white paper of 2019, by stating that China's strong military is a force for ensuring "world peace and stability," while assuring a "comprehensive, cooperative and sustainable security by upholding justice while pursuing shared interests" with its various stakeholders. To commensurate with what was earlier said, Chinese Premier Li Keqiang stated, "We will stick to Chinese path in strengthening our armed forces, advance all aspects of military training, war preparedness and firmly and resolvedly safeguard national sovereignty, security and development interests." In the background of all the rhetoric concerning the modernisation, one thing is certain, Beijing has systematically induced and justified the obligation for the military modernisation not only to its people but also to the global audience, by depicting a political idealist narrative.
Elements of the Modernisation Program
In the last 20 years, Beijing, in a comprehensive effort to bolster its military power, has undertaken the modernisation and upgradation programme of its services. The rationale for such an initiative accounts for achieving multiple objectives in a single stroke, such as, attaining the status of a world power, accruing of "hard" power through military reformation, harnessing and protecting the state's interests of "soft" power components of a growing economy, and enhancing diplomatic and cultural ties. Time and again, Beijing has preferred the use of hard power to protect and project its regional interests, settle its territorial claims in the South China Sea and its border disputes along the North East border with India, and also to safeguard the SLOCs which are instrumental for its energy supplies and maritime commerce.
Since the currency of military power has been identified as the primary instrument to protect, project and resolve its national interests, the Chinese leadership has initiated the revamping of its military structure by transforming it into a leaner, robust, technologically advanced force, while increasing its naval capabilities in order to serve its core national strategy. As part of this initiative, China had retired 300,000 troops in a single year in 2018, to improve the quality of recruitment by inducting elite technocrats in the ranks. Parallelly, China wants to upscale its capacities for the Military Operations Other Than War (MOOTW), with the aim of maintaining its growing global interests, by engaging and participating actively in activities such as peacekeeping missions, humanitarian assistance and disaster relief operations, anti-piracy operations and play the constabulary role of securing and maintaining the global passages. The agenda behind China's modernisation programme is the creation of a war machine that not only challenges the presence of the American might in the Indo-Pacific region, but which also establishes itself as the sole hegemon in the region.
Additionally, China's defence programme is aimed at constructing a technologically advanced force, adequately capable of engaging and winning "limited local wars under conditions of 'informatisation'."
In such a scenario, the nature of battle would be short, intense and decisive, complimented by elements of speed, agility and precision of long-range assaults, a synchronized deployment of joint operations by air, land, sea, space, and electromagnetic space (a five-dimensional warfare) which will be assisted by the state-of-art munition systems. To achieve victory in the shortest span of time without any attrition to the troops, the doctrine underscores the importance of three tactical elements of pre-emption, surprise, and shock value, since these elements are critical in defining the outcome of any conflict at its earliest stage. As a result, the Chinese modernisation programme is restructuring and adapting itself on the basis of agility, flexibility, power projection, accuracy of precision-strikes. Furthermore, it is striving towards achieving a smooth functioning of joint operations to ensure effectiveness on the battlefield which in turn will result in a comprehensive victory in the shortest time with minimum casualty.
Beijing has initiated the march to transform the PLA into a lean and mean technologically oriented force while paving way for "informatisation" warfare. This domain of warfare consists of capabilities that are tantamount to C4ISR and are considered quintessential for operational effectiveness on battlefields. In order to build this kind of techno-electronic warfare system, it is a prerequisite to integrate multiple high-end electronic and technological compounds such as the control of the electromagnetic spectrum through an integrated network electronic warfare grid while also, utilising technological advances in the field of microelectronics, sensors, propulsion, stealth technology, and other special materials. The integration of all these various components have helped arm the PLA with nuclear weapons and facilities, precision-strike weapons, including ballistic, anti-ship and cruise missiles, stealth technology and an "integrated network centric warfare" system.
With the advent of the concept of "informatisation" warfare, the Chinese military has moved from being a platform-centric to a network-centric force, where the PLA is principally dependent on the coordination of network linkages between platforms, which stands in dire contrast to the mandates of individual platforms themselves. Observing a quantum leap in the sphere of warfare strategy and in its military arsenal, the PLA has similarly witnessed a revolution at the operational level, switching from simple joint operations to a more dynamic and complex form of an Integrated Joint Operations (IJO). Formerly, joint operations were when two services operated together in any given environment, while one typically played the supporting role for the other, leading to very little coordination and integration in the command and control structure between the two services. However, with the inception of "informatisation" warfare and the induction of the IJO, the PLA has been provided with more flexibility and mobility pertaining to multi-service operations, which include non-PLA forces such as the reserved forces of the paramilitary and the local police force in certain measures.
In order to successfully operationalise the IJO system, the PLA is been tasked with the challenge of formulating a new kind of command and control structure that enables a seamless exchange of information between the three services and aids in multilevel synchronization in the decision-making process on real-time basis, during live operations. Lack of coordination between the military services has stymied the successful implementation of the IJO.
Other dimensions of technological warfare in the modernisation programme include the development of cyber and outer-space security. In the era of science and technology, cyberspace is an essential domain that needs to be controlled. It is not only a repository of data and information but also plays a vital role in building national security, economic and social growth, and development. The Chinese military has focussed its attention on its cyber security cell and has built cyber defence capabilities to rival other technologically superior countries, aiming to establish itself as the fore runner. A cyber division has been operationalised to detect and counter all foreign network intruders. The role of this organisation is to guarantee the safety of cyber data and information and asseverate sovereignty in the cyber realm.
The other key focus is on the development of the outer-space programme which Beijing perceives as a crucial domain of strategic international competition. Beijing has undertaken several international space cooperation and programmes and has initiated the development of space specific technologies and capabilities with the interest of providing strategic assistance for national and social development. It is also engaged in rendering advanced integrated space-based information resources, enhancing space situation awareness, protecting space assets, while also working to ensure free movement in the outer space.
China's military is gearing towards the optimisation of its arsenal composition, by inducting the state of art machinery. Obsolete hardware and equipment are being decommissioned paving way for high- tech weaponry. At the same time, it is fiercely working towards the successful formation of a network centric warfare system, where it can shape an efficient battle environment for smoother interoperability between different services. Complying with the era of information, science and technology, China is working unceasingly to build a military that is harnessed and powered by information and technology, in order to create a military unlike any other in the world.
Conclusion
China's fundamental perception of modern warfare transmuted after the debacle of the first Gulf War in 1992, where America displayed conspicuous military superiority and operational efficiency over their adversary through the use of technology, to conduct clinical strikes on the battle-field with minimum loss of life. Having witnessed a phenomenal exhibition of the use of military technology in a theatre of war, China recognised the significance and the indispensability of the use of technology in modern warfare and thus initiated the modernisation programme of its armed forces. Instead of engaging in protracted wars, local wars were preferred wherein, "quick battles to force quick resolution".
Taking queue from "informatisation" warfare as the kernel of the modernisation programme, the PLA has pressed for a "Revolution in Military Affairs" with typical "Chinese characteristics". It has scientifically and systematically formulated the strategic plans for its national defence and armed forces and put it into motion in 2010, while also framing a comprehensive strategy to help develop its logistics support for the development of its arms and services corps. According to its twenty-year plan, China has sought to complete the mechanisation process of its forces and has desired to make significant progress in innovation and technology to strengthen its information and communication command structure by 2020.
However, regarding the mechanisation process, the PLA "has yet to complete the task of mechanisation and is in urgent need of improving its informatisation." Since it is unable to keep abreast with the rate of technological development, it is falling behind schedule. China's latest defence white paper 2019, clearly outlines certain key elements of the modernisation programme which require immediate attention and application in the military domain, and those include, artificial intelligence, quantum information, cloud computing and the operationalisation of cutting edge-technologies. Driven by the need to "develop an intelligent military", the PLA has transformed its "quantity-and-scale model military into a quality and efficient one" that is "science and technologically-intense".
Furthermore, the PLA regards the use of innovation and information as key ingredients to the success of future combats, while assuring an asymmetric engagement. As China's rivalry with America and its neighbouring countries keeps intensifying, it will be interesting to observe the manner in which China will tackle its modernisation challenges and technological shortcomings in the coming decades, in order to challenge the American military might and to displace their global hegemonic status.
U.S. Withdrawal From Afghanistan: Implications for Pakistan
In 2003, an influential American thinker, Noam Chomsky, in his book 'Hegemony or Survival: America's Quest for Global Power' presented the case of America's pursuit of its Imperial Grand Strategy as a threat to the global security. Imperial Grand Strategy, as defined by Chomsky is 'USA's unilateral pre-emptive attack on an enemy who is strong enough to pose an existential threat to USA and weak enough to be defenseless'. The theatre of USA's Global War on Terror followed by the 9/11 incident, was set on the rugged land of Afghanistan, ruled by the Afghan Taliban. The Afghan Taliban while observing the 'Pashtun wali' culture provided safe havens to the mastermind of 9/11 attacks, Osama bin Laden. Consequently, the United States set its boots in Afghanistan hoping to achieve their military objectives as swiftly as they were able to achieve in Iraq. However, today, 17 years later, US military objectives in Afghanistan remain unfulfilled and consecutive governments of the super-power of the world stare at their defeat in dismay, hoping to find a way out. The Trump administration, however, as a manifestation of its neo-conservative policies, has been quite vocal in its intent to withdraw the US troops from Afghanistan. Pak-Afghan relations has provided India, a fault-line to be toed. While the Trump Administration seeks to withdraw from Afghanistan, and Pakistan becomes a part of the Afghan Peace Process, and India finds itself on the losing end (for not being able to become a stake-holder in the peace process), it becomes indispensable to study the positive and negative implications that the phenomenon will bring along.
Afghanistan is a familiar basket case for Pakistan. The more you try to remove from this swamp, the more you go down in it. The US-led NATO occupation led to negative security implications for Pakistan with which we are still dealing that another event going to emerge. If the US withdraws from Afghanistan after facilitating a rapprochement between the Afghan government and Taliban, there is a likely chance that peace would prevail not only in Afghanistan but also in the whole region. However, if the USA withdraws without succeeding to achieve a rapprochement between the Taliban and Afghan society, then effects of a most probably civil war would be recognized across the whole region. If the solution is the satisfaction of all sides, which is doubtful, that would be welcome development. Anyhow in both cases Pakistan would have to bear the brunt. However, the type of agreement would determine the scale of repercussions for Pakistan, provided other conditions remain the same. Any solution can further splinter Afghan Taliban and some of their diehard fighters and criminal elements within their ranks may join Daesh and try to wreck peace in Afghanistan and Pakistan. They can join hands with Pakistani Daesh and TTP affiliates and pose serious problems. But if Afghan Taliban succeed to capture power alone in Kabul under the garb of negotiations, and they are intent on doing it, then it would be the beginning of another long civil war, the repercussions of which can even endanger the integrity of Afghanistan and naturally would pose more serious security issues for Pakistan.
One cannot overlook the innate factionalism in Afghan society and Afghan government. If some elements within Kabul Administration come to the conclusion that it would be better for them to compromise with Taliban on their own than to wait for a settlement, they can do it. Some elements feel threatened with the prospects of peace and withdrawal; they can pick up arms against Taliban and even join them against Kabul government.
It has been long since Pakistan is being blamed for supporting the Afghan Taliban and is being portrayed as the sponsor of terrorism. As the U will face humiliation in Afghanistan, it will try to find a scapegoat to shift the blame of its own failure in Afghanistan. Because Pakistan is the immediate neighbor of Afghanistan and already possesses a distorted image across the world, it will exactly be the suitable scapegoat to be held responsible for all the disaster in Afghanistan. This would lead to the western powers led by the USA, imposing various economic and diplomatic sanctions on Pakistan, which would be further detrimental for Pakistan's already crumbling economy and tarnished global standing.
Peace has its cost. Pakistan would also bear it. The ascendancy of Taliban to power can definitely endanger the 18 years long achievements in the field of education, health, women freedom and freedom of expression and other civil liberties. In such a situation the desperate influx of another spate of refugees cannot be ruled out. The fence would not be able to stem the tide of desperate Afghans. It can be torn down with the help of vehicles. Afghans can resort to unthinkable in desperation and now they all know the weak point of Pakistani state.One cannot buy into this argument that Taliban have changed, Americans may offer such faulty justification for their fatigue and withdrawal hurry. Taliban leaders would naturally listen to them as they have been raised in that sort of interpretation of Islam. It's very clear that America wants Indian presence in Afghanistan to contain Chinas economic rise. Indian investment in Afghanistan will rise Indian economy and will also have access to Central Asian states.
Determined efforts by the external powers are needed to avoid difficulties. Close coordination with Americans on this score is needed albeit cautiously guarding our interests. Secondly, Moscow and Beijing must be consulted on each step. One cannot avoid the spoiler role of India which is obviously perturbed over the prospects of withdrawal and they can easily wreck the peace efforts jointly with like-minded elements in Kabul administration or increase the stakes for Pakistan. The recent anti-Iranian sanctions imposed by US can also threaten peaceful solution to increase stakes for US and Pakistan.
Pakistan should stress upon Americans to lead its allies and try to keep them united as an entity prepared for peace deal. The same situation applies to Taliban and they could be persuaded to enter united for a peace deal and avoid split within its ranks which could jeopardize peace. However, they should be persuaded for an intra-Afghan dialogue and beginning of a ceasefire. Without these two internal aspects of the solution means the unilateral push of Taliban to achieve victory in the battlefield. They know that their strength lies in battlefield. But Taliban should be warned in no uncertain terms that US withdrawal and their unilateral victory will not decrease their afflictions. In such a scenario they could be prepared for a UN-sanctioned continuous US bombardment. Comprehensive, all-embracing, and inclusive peace is in the interest of Pakistan. This sort of scenario will minimize the dangers for Pakistan. This would not impel another influx of refugees and the already remaining refugees can be forced to repatriate, though unwillingly. Another dimension is that if Afghan Taliban also comes in the government formation then it would be very helpful to Pakistan as both are against ISIS and India. This government will be in favour of Pakistan to contain India in the region.
The US withdrawal from Afghanistan is inevitable and will have multiple implications as highlighted. As proposed by Barry Buzan in his theory, the security of nations situated inside a specific geographical region is trapped with one another and any weakness inside one specific nation can spread to different nations of a specific security complex. Barry Buzanaptly describes the international security of Pakistan and Afghanistan. Most importantly the security dynamics of the neighbouring countries especially Pakistan would be seriously undermined. It is important to note that what ways US adopts to exit the battle ground. It took time just to realize that the solution to conflict is non-military. Now what political model would be adopted, whether there would be a power sharing model, or the Taliban would acquire full control over the centre and periphery are the important questions which could only be answered hypothetically in the present time. If US fails to bring out rapprochement between the Afghan National Government and Taliban, then most likely a civil war will breakout to take control over Kabul that would severely impact Pakistan. So, in order to achieve durable peace in Afghanistan US must take measured and calculated steps whereby keeping in view the interest of Afghan people who have suffered from this 17-year prolonged war.