Trump's perception of Russia and Putin
[yt_dropcap type="square" font="" size="14″ color="#000″ background="#fff" ] A [/yt_dropcap]mong all bilateral ties, the ones between the Cold War foes play most significant place in world politics. Answers to several questions on international tensions could easily be found if one knows the aspects of US-Russia relations. At least for this reason, the relations between these top most rival powers need to be comprehended properly.
Donald Trump is perhaps the only US president who in years since the WW-II never made any criticism of Russia as part of his policy rhetoric. All his predecessors, keeping in view the views of the Neocons and Israeli leadership that speaks through the powerful Jewish leaders in USA, made a special reference to Russian policy to slam that arch rival as US key position.
Upon the unexpected and rather shocking victory of Donald Trump in the US presidential election held in December 2016. In this context there have been ongoing allegations of Russia's involvement in hacking in the election campaign by the Kremlin meaning thereby on the order of the Russian President Putin, supporting Doland Trump and against the "official" candidate Hillary Clinton. This has been emphatically denied not only by the Russian Government. Even as there is an ongoing debate and controversy, the US President-elect, Donald Trump, has shrugged off allegations that Russia meddled in the election. Thus even as both Putin and Trump denied wrong doing, both seem to have benefited, according to a few critics.
As White House was battling to stop master of aggressive rhetoric Donald Trump's arrival as its custodian, President Putin has managed to showcase his leadership quality, often critical, in the media in the USA. Putin has long believed that the United States has sought to manipulate Russia's political structure, and provided covert support for democratic insurgencies through nongovernmental organizations.
On top of all this is blatant Russian interference in the recent US national election, clearly aimed along partisan lines against the Democratic Party and its candidate, Secretary Clinton.
Every president at one point or other said USA must reset ties with Russia for creating a genuinely peaceful world. But none has been serious about what they say in public. Trump has aloe said it. The Obama regime tried to have a reset with Russia, and ended up badly. The efforts of the George W. Bush administration ended up badly, too. There are fundamental differences in how the USA and Russia view the world. It is very easy to come to the agreement that we collaborate on fighting the Islamic State and other emerging threats. But putting these pledges into real actionable policies is quite difficult.
Alliance or enmity?
Today, Russia is becoming the scandal the Trump regime just can't shake. A steady drip of revelations regarding the Trump team's communications with Russian officials is dismaying congressional Republicans as well as Democrats, leading to calls for a more intensive investigation into the circumstances and substance of these connections. In particular, many lawmakers were surprised by a report in The Washington Post that Attorney General Jeff Sessions had twice spoken with the Russian ambassador during the presidential campaign. In sworn testimony during his confirmation hearing, Sessions had appeared to say that no such conversations took place.
Trump might not be a thorough politician or authoritative diplomat but he is well versed in business diplomacy. Putin's shrewd diplomacy is evident from the fact that (as reported by the Russian press on December 30, 2016) after Trump got elected he opted out of a tit-for-tat retaliation against the USA which under Obama's government in November 2016 had kicked out 35 Russian officials over allegations of hacking aimed at interfering in the US election, espionage, and harassment of US diplomats in Russia. At any rate this has further helped Trump to hold on to his contention in favour of Putin and improve relations with Russia. As a successful businessman Trump knows he would reap dividends from Russia if the ties are strengthened.
President Trump is therefore very interested in trying to figure out a way to improve relations with Russia, while Putin wants all economic sanctions slapped on the Kremlin following the annexation of Crimea, withdrawn. It appears, Trump is not entirely averse to that. But there is a lot of talk in Washington about having a grand bargain with Russia. Trump wants to use Russia to fight ISIS but Russia wants USA to support Syrian Assad but Israel and Neocons warn Trump not fall into the Kremlin's trap. Israel is unhappy that USA refused to abide by the Zionist demand of attacking Iran.
Throughout the campaign and the initial days of his presidency, Trump has continued to express admiration for President Putin and his desire for warmer relations with Moscow. Though he seemed to backtrack at a press conference in Washington and a weekend rally in Florida, and though Vice President Mike Pence offered boilerplate reassurances at a conference in Munich that Washington intends to hold Russia "accountable" for provocations aimed at undermining NATO and the European Union, Trump himself has clung to his view that closer cooperation with Russia is needed to defeat ISIS and radical Islamic terrorism. "If we have a good relationship with Russia, believe me," he said, "that's a good thing, not a bad thing."
President Trump is yet to make up his mind over foreign policy issues. Against this backdrop, there are what the media call "mixed signals" coming from the White House where Russia, among other topics, is concerned. The president's attitude (it cannot be called a policy) so far is simply that it is better to have Russia as a friend than as an enemy. The new secretary of state has been silent to date. Our ambassador to the United Nations has taken a traditionally critical position concerning Russia's actions in opposition to us and our allies. And, perhaps most ominously, senior "strategists" in the White House have signaled, at least indirectly, that they welcome the rise of a right wing, across Western democracies, that identifies with Putin's nationalism, cultural conservatism, religious orthodoxy, demonization of immigrants and resistance to social toleration.
Given the limited US interests, if the USA were to have some grand bargain with Russia, Central Asia would fall back into the Russian orbit as a place that Trump is not going to focus on. But there is counter-terrorism cooperation between Central Asian states and the USA. Some of the cooperation will remain, but it will be on a limited basis, not any big initiatives.
Compounding the confusion is the appointment of a secretary of state whose considerable interactions with Russian officials have all been corporate and commercial. Conflicts in interests are well known and documented: Russia's seizure of Crimea and de facto invasion of eastern Ukraine; tacit pressure on the "near abroad," especially in the Baltic region; troublesome relations between the Putin regime and expanding western European right-wing political parties; and Russian military and political support for the Assad regime in Syria.
Putin plan?
Putin's actions indicate he is seeking to make an effort to reestablish Soviet Union in another form, though the Kremlin continues to deny that. While most former Soviet republics have joined the EU and NATO, even the corrupt Central Asian regimes are also not very keen to return to square one. The Kremlin spokesman, Dmitry Peskov, stated prior to that meeting that Putin believed the collapse of the Soviet Union in 1991 was a mistake and disaster. While the disintegration cannot now be reversed, Putin believes in a "new integration in the space of the former Soviet Union".
Putin's leadership at domestic and regional levels has assumed significance. On December 26, 2016 Putin met with the leaders of several former Soviet republics in St. Petersburg, a day after the 25th anniversary of the dissolution of the Soviet Union.
The Presidents of Armenia, Kazakhstan, Tajikistan and Kyrgyzstan were in St. Petersburg recently for the meetings, which included informal summits of the Eurasian Economic Union, that has become a reality in 2015, and Collective Security Treaty Organisation (CSTO). Hence with that objective at that summit Putin expressed his hope that the creation of a favourable business environment was needed to achieve full-fledged development of their economies. He opined that since forming a common market with the other Eurasian Economic Union countries about two years ago, trade between them has already increased significantly. This has been possible since non-tariff trade barriers have been slashed by 30 per cent and a single market for drug and medical products has been created. Thus by 2025 the EEU aimed at the formation of a common financial market and common markets for gas, oil, and petroleum products, with harmonized rules of trade. By this Putin's objective and vision may partly be achieved. In fact ever since Putin came to power in 1999, his mission has been to make Russia great again and restore its due place in contemporary world history.
Likewise, the Trump government's attitude toward the Atlantic alliance, especially NATO, is untethered. The new president has called NATO "obsolete," and costly affair but his secretary of defense confirmed America's continuing commitment to the alliance to face the "threats". At the very least, this causes confusion in European capitals. Is the USA committed to its principal post–World War II security alliance, or should each nation make its own arrangement with Moscow? At stake in all this is not simply the future US-Russian relationship, but even more importantly the US relationship with Europe and the democratic world.
Trust deficit
USA does not trust Russia and other Socialist countries mainly because they oppose capitalist ideologies and as such they would perish. Most Americans for sure believe Russia has not fully given up its ideological agenda though the last Soviet President Michael Gorbachev helped Russians shed along with communist-socialist ideals plus implementation and imbibe so-called democratic values being exported by USA and other capitalist nations.
Humanist Gorbachev, however, mistook American political gimmicks for since intent and thought western democracies are sincere about their claim of focusing on creating genuine peace globally but the USA in fact equates its capitalist ideology as mechanism for promoting neocolonialism and universal democratic values. That is the height of nonsense.
President Trump's visceral belief, that it is better to have Russia as a friend than an enemy, makes sense. On the other hand, it blurs real differences between what Russia views as its interests and what we view as ours. And, for a president with no foreign-policy experience and still-dubious prior relationships with Russia, it can lead to serious misunderstandings and miscalculations.
Trump never criticized Russia or its president openly or rudely as he does with Muslims or even China, thereby leaving a playfield for diplomatic maneuvers. Who then says trump does not know niceties of high level diplomacy?
President Trump has expressed his admiration for the Russian leadership's quality and strength to deal with problems including fight against Islamic terrorism, which will also be his own policy priority. Moreover there is media speculation whether with improved relations with Putin, Trump will soften Western policy of economic sanctions on Russia for its annexation of Crimea and the ongoing conflict in the eastern part of Ukraine. In fact it is important to note that Trump also did not support the media allegation against Putin as a 'killer' that was reported by Times Global on February 6, 2017. Russia has demanded apology from the American media persons. Looking back, in 2016 along with Putin's rising power certain events proved positive for Russia. For instance, the Brexit vote exposed the deep rifts in the European Union that have benefited Russia as some of the EU members are critical of Putin. It may be argued that Putin's regime has taken careful aim at the soft underbelly of Western democratic institutions. Hence Donald Trump's victory might pave the way for a break from the traditional Washington policy towards Moscow that Putin has been looking for.
There is a lot of pushback among the Democratic Party in the USA against a better relationship with Russia. The controversy in the U.S. right now over what sort of influence the Russian government had in the US political system during the campaign complicates Trump's ability to implement his Russia policy. But Trump is, sometimes, unrelenting and he just decides he wants to do it. My inclination is that it might not be a successful one. Like the Obama, Bush and the Trump regimes may find the US-Russia relations end up far worse than when they began.
No one in US Congress wants to take a stand on the Russia question, then be disproved by later events. After all, former national security adviser Michael Flynn initially denied contacts with the Russian ambassador prior to the election. That turned out to be untrue and he was forced to resign. Some ruling GOP members are now joining Democratic members in calling for Sessions to step aside from an investigation into Russian interference in the election, or even appoint a special prosecutor for an independent effort. Such a probe could distract and dispirit the White House for months, as Benghazi and Iran-Contra investigations did for other administrations in different times and circumstances.
Russia boosts image in Mideast
Energy rich Mideast has one major problem-Israel which succeeded in garnering high precision terror goods from USA and Europe, maneuvering the corrupt US politicians cutting across their bi-party mischief.
Notwithstanding mutual tensions, Russia and USA coordinate their pro-Israeli policies to terrorize the Palestinians whose lands they allowed the Israelis with a managed legal basis on illegal means to confiscate to create Israel on Palestine and begin slashing the Palestinian population by regular genocide efforts on fake pretexts. That is real strength of Israel in attacking and killing the Palestinians, besieged by both Israeli and Egyptians terror blockades.
Both USA and Russia have been competing for bulk military orders from Arab nations and both enjoy their strong presence in Mideast eminently aided by Israeli provocative politics but now wing the Arab Spring and Nato terror wars in Mideast with Israeli backing USA lost its advantage at least for the time being and Russian has overtaken the upper power in selling terror goods to corrupt Arab nations.
Arrogance and Zionist instincts displayed openly by President Donald Trump leave very little hopes for the humanity and its survival. His anti-Muslim rhetoric has emboldened already criminalized Israel. As one of first foreign "dignitaries", Trump welcomed criminal PM Netanyahu at White House who speaks American English fluently facility that the Palestinians leaders badly lack. Trump, like a prominent Israeli lobbyist Mrs. Clinton would have done, would even embark upon his first foreign trip to Israel.
Image of Putin's Russia as becoming a very important military power has become explicit with its interventions in Crimea, East Germany, Syria. It is a matter of great global significance that Putin has been able to bring about a ceasefire deal in the Syrian conflict. On December 28, 2016 the Syria ceasefire deal was signed and Russia and Turkey were 'Guarantors' for the same. Putin, having signed the ceasefire agreement with Turkey, stated that the Russian military would scale down its presence in Syria, but he didn't say how many troops and weapons would be withdrawn. It appears, both USA and Russia do not vacate the land they occupy and as Putin may not withdraw his forces from Syria at least in the near future because most Russians resent the way the Soviet troops were given the march-back order by Gorbachev and now they don't appreciate ay withdrawal from Syria. More importantly, Putin has asserted that Russia will continue "fighting international terrorism in Syria" and supporting the Assad Government. The terrorism plank offers Russia the right to stay in Syria as long as it wants. While the West had been critical of Russia's aggressive acts in Syria during the last couple of years, there has been a drastic change with the signing of the peace treaty in Astana in January 2017. It is opined by some analysts including Vasily Maximov that Moscow's intervention under the leadership of Putin in Syria has an important dimension and that Russia has succeeded in trying to boost its position in the Middle East and demonstrate its global stature while attaining leverage in negotiations with the West.
In fact Putin is aware that what is binding Russia and China together has been their shared interest in balancing the USA on global issues. Putin has succeeded in increasing convergence between Russia and China on many global issues during the past few years. It is significant that in December 2016 Putin displayed renewed interest in the long-delayed China-Russia highway across the Amur River by extending technical and financial assistance to it; it is to be completed by 2019 and will enhance trade relations. China is thirsty for energy and raw materials from Russia to fuel its economic growth. It needs to be stated that another major factor drawing them together is a mutual dependence because even as Russia, though superior to China in nuclear weapons, is no match as far as the Chinese conventional military weaponry is concerned. Russia's Look-East policy subsequent to the conflict with Ukraine on the Crimean issue in 2014, which worsened Russia's political and economic relations with Europe and the USA, was welcomed by Beijing and that was "an axis of convenience" as rightly stated by Alexander Gabuev of the Carnegie Moscow Centre highlighting Russia-China relations.
Russia is also in recent years growing closer to Pakistan and this is a matter of anxiety, especially at a time that India is trying to isolate Pakistan in this region by supporting USA against funds meant for Pakistan. China is already a strong supporter of Pakistan and with the two major powers involving themselves with Pakistan; it is certainly not good news as far as India is concerned. Russia held its first ever joint military exercise with Pakistan days after the Uri terror strike in September 2016 in the Indian administered State of Jammu Kashmir and at the BRICS Goa Summit, India felt let down by Russia as Moscow did not support Delhi's stand by publicly naming the Pakistan-based "terror outfits", Lashkar-e-Taiba and Jaish-e-Mohammad, as opined by Sachin Parashar. It needs to be noted that one cannot deny that both Russia and Pakistan are opening a new era of strategic and political alliance. President Putin's proposed visit to Pakistan in May of this year will witness the inauguration of the US $ 2 billion LNG North-South Pipeline from Karachi to Lahore, as reported in the International News by Noor Aftab. This is possibly intended by Putin who wants to enhance Russia's presence and influence in South Asia.
All said and done, a steady drip of revelations regarding the Trump team's communications with Russian officials is dismaying congressional Republicans as well as Democrats, leading to calls for a more intensive investigation into the circumstances and substance of these connections. A report in The Washington Post notes that Attorney General Jeff Sessions had twice spoken with the Russian ambassador during the presidential campaign. In sworn testimony during his confirmation hearing, Sessions had appeared to say that no such conversations took place. Some Republican (GOP) members are now joining Democratic members in calling for Sessions to step aside from an investigation into Russian interference in the election, or even appoint a special prosecutor for an independent effort. For Trump administration officials, their deepening Russia problems are a frustration at best. White House is in a fix now as an investigation on the subject, something analogous to the Benghazi inquiry, ostensibly about a 2012 tragedy at a US outpost in Libya, turned up evidence that then-Secretary of State Hillary Clinton conducted government business on a private email service.
On the domestic front Putin enjoys support and popularity by over 80 per cent of the population. Even as there are some Opposition parties and political leaders, including Alexei Navalny who proposes to contest in the presidential election against Putin, he has made sure that no political Opposition exists to challenge his authoritarian rule. It is worth noting that Russia's annexation of Crimea has boosted Putin's popularity at home even as there is strong opposition in the West. Russians constitute a substantial portion of the population in Crimea which has helped in the referendum held for the annexation. Russia claims that all legal processes were in place for that purpose.
In his annual state-of-the-nation address on December 1, 2016, Russian President Vladimir Putin said that the country is unified like never before and is fully capable of achieving its strategic economic and geopolitical goals. Speaking at the Defence Ministry on December 22, 2016 Putin asserted that Russia's military is now stronger than any possible attacker but must be prepared to adjust plans to neutralise the potential threats to the country.
Observations
It is difficult to imagine normalization of US-Russian relations, either in a traditional sense or on some new, yet unarticulated basis, until the mystery of the president's personal attitudes toward Putin and whatever background they represent are clarified and laid to rest. It is difficult to disprove a negative, to prove that something that didn't happen didn't happen. But the only known way to do that is to turn over every rock, not only where Trump is concerned, but also regarding the several individuals close to him who have dabbled in Russia in recent years. Sunlight is the best disinfectant. Unfortunately, one of the rocks that must be overturned has to do with Trump's taxes, and that seems an immovable stone wall.
For US presidents, no single foreign policy challenge is more contentious, or crucial, than getting Russia right. Under President Donald Trump, Republicans and Democrats have embraced diametrically opposing views on how to handle President Vladimir Putin. Both seem to have got it wrong. Resisting Russian intimidation should be more than a campaign slogan. While almost no one wants a return to the Cold War, a world in which Russian hegemony is unrestrained increases the chance of global conflict.
For Trump officials, their deepening Russia problems are a frustration at best. Many of their attempts to get past the controversy end up feeding it – witness their attempt to enlist the FBI to knock down a previous New York Times story about administration/Russia connections. That only produced more headlines on the subject. In that context, an independent prosecutor could turn the probe into something analogous to Benghazi – much more difficult for the subject of the investigation to limit in time or subject. Remember that the Benghazi inquiry, ostensibly about a 2012 tragedy at a US outpost in Libya, turned up evidence that then-Secretary of State Hillary Clinton conducted government business on a private email service.
Perhaps a new approach to clearing the air and the deck where the Trump regime and Russia are concerned should be considered. Because of the role it played in the recent election, whatever investigations the FBI is undertaking regarding Russian connections may be suspect or discredited. Congressional inquiries, even with a Republican majority, will be partisan, politicized and media saturated. Consideration, therefore, might be given to a special panel composed of respected statesmen and stateswomen of both parties empowered to compel testimony under oath, inspect personal and classified documents (including tax returns), and issue a public report that either eliminates all suspicion of prior Trump-related activities in Russia or identifies areas of conflicting interest.
Otherwise, it seems inevitable that a cloud will linger for years to come regarding how relations between the current US government and the Putin government are being formulated, and whether in response to some prior arrangements or personal understandings. That will confuse whatever policies are adopted, either to strengthen U.S.-Russian ties, or draw lines against Russian actions in opposition to the interests of the United States and our allies.
Depending on what the investigations in the USA about relations between the Trump campaign and Russia find out, it could have very significant impacts on the Trump presidency and Trump's ability to engage with Russia. There is harsh anti-America rhetoric in Russia. After this campaign, among a certain sector of the American population, there is harsh anti-Russia sentiment in the U.S. Overcoming that will be challenging.
Why Venezuela's People Are Suffering
The case that will be documented here is that Venezuela's people are suffering from a tragic national situation which actually cannot be reversed by anything that's within the power of Venezuela's Government to do or to block. In order to understand this very unfortunate reality (if one wants to understand it), one must first understand the relevant parts of the broader situation in the world that affects Venezuela. What's dooming the country isn't merely a local situation, but instead is global and environmental. It also is economic, pertaining to the role that Venezuela is playing in the global economy. But the economic factor is definitely not  of the kind that it's commonly assumed and alleged to be. It is instead very different.
Here, this very different reality will be both described and documented (instead of just founded upon assumptions — many of which are false — such as the standard, basically local, economic 'explanation' of Venezuela's troubles is, which focuses on Venezuela's socialism, or the economy's being not sufficiently capitalist).
What it all comes down to, stated in its briefest terms, is that no nation can do anything but lose money by selling the world's dirtiest oil, tar-sands oil, which costs $100+ to clean and produce, into a global oil market that's paying less than $100 (currently around $65) per barrel. Venezuela was able to sell it profitably when oil-prices were high, but is getting crushed now, because its oil is no longer profitable to produce and sell. But 95% of Venezuela's export-earnings come from oil. Unless and until oil-prices are again above $100 (which probably won't happen again, except perhaps for very brief periods), Venezuela is doomed. Venezuela's only chance to diversify its economy away from "the natural resources curse" (from which it especially suffers) was long ago, decades before the current Government came into power. That chance was missed. This ship is now sinking, and no one can save it. (And the U.S. Government and its allies have no actual interest in saving it, but only in exploiting it, parasitically.)
So, here the real history and context for what is happening in and to Venezuela will be presented, and the reader will be able easily to verify any detail of it (by means of the links) — on one's own, (not accepting anything on mere 'authority', which, in such a politically charged matter as this, is almost invariably propaganda). The reader can verify any allegation here simply by clicking onto the given link, at any point in the presentation that might seem to be questionable.
These links are directly to the items of evidence, in the specific case of: why Venezuela's people are suffering.
Here is that case — the realistic case, without any propaganda, but with only  credible news reports and source-documents as constituting its basis — regarding this question.
THE CASE
The two lands that produce the world's highest-cost-to-produce oil are Canada and Venezuela. Both extract their oil overwhelmingly from tar-sands, which is the dirtiest of all oil and thus (by far) the costliest to refine. (Thus, it's called "extra-heavy crude", and that is the least desirable type. It's also the type that, in a global-warming world, should remain in the ground, never be burned at all, as will also be explained here.)
An accurate summary statement in Wikipedia is that, "With present technology, the extraction and refining of heavy oils and oil sands generates as much as three times the total CO2 emissions compared to conventional oil,[20] primarily driven by the extra energy consumption of the extraction process." That reference at "[20]" also states: "As the price of oil rises and as conventional hydrocarbon resources become scarcer, increased exploration and production activity is occurring in heavy oil, tar sands, and bitumen deposits. While these contribute significantly to the global energy …, they also contribute a greater share to … the detriment of the global environment." (That's referring to "a greater share" of "detriment" than normal crude does.) As another source phrased this matter in more explicit terms: "85 gallons of water, two tons of soil, 700-1200 cubic feet of natural gas, and 170 pounds of greenhouse gases make one barrel of crude oil" from tar-sands. That oil is simply not usable as-is to go into refining, like, for example, the standard Brent crude is. Furthermore, to produce that barrel of tar-sands-derived oil requires also the production of tons of sheer waste, none of which is left behind from producing normal oil. The cost of dealing with that waste is not factored into the cost of the barrels of oil. For examples, the future "impact upon water supplies," and that "this water is polluted by toxic substances," are not counted in. Therefore, the full cost of such oil has never been calculated. And yet, even so, everyone recognizes that tar-sands-derived oils are the costliest to produce.
On 25 January 2013, HSBC Global Research issued a landmark report, "Oil & Carbon Revisited: Value at risk from 'unburnable' reserves". It defined the key concept of  "Unburnable reserves: The IEA's World Energy Outlook (2012 edition) estimated that in order to have a 50% chance of limiting the rise in global temperatures to 2ºC, only a third of current fossil fuel reserves can be burned before 2050. The balance could be regarded as 'unburnable'."
The oil in Canada and in Venezuela is the world's least  burnable, the most "heavy," and therefore it's not only the costliest to produce, but it's also the worst environmentally. There is consequently increasing pressure upon large investment funds such as Harvard's 39-billion-dollar endowment fund, to disinvest in fossil fuels. Because of interlocked boards of directors or trustees, and the needs that such 'charities' have to appeal to wealthy donors, these public pressures are often (as in Harvard's case) ignored, but the movement toward divestment is gradually gaining strength in the less corrupt investment funds.
On 13 December 2018, the environmental organization 350.org headlined "Landmark fossil fuel divestment reached! 1000+ institutions are withdrawing investments from coal, oil and gas companies", and announced:
The 1000th institution to divest was the Caisse des dépôts et consignations (CDC), which manages France's public sector pensions, savings, and investments worth €173 billion (USD$196 billion). It recently announced that from 2019 it will no longer invest in companies that make more than 10% of their business from coal – this implies that the top 200 companies in the coal-industry are now effectively blacklisted. …
On the momentum for divestment since 2013 – Nicolas Haeringer, an organiser who supports divestment groups globally, at 350.org said:
"This is a moral movement as well as a financial one. Just five years ago we had 181 divestment commitments and USD$50 billion shifted away from polluting industries and today we're over 1000 and approaching USD$8 trillion dollars."
This has already helped to drive many coal companies out of business. Though coal-mine owners and employees might lose from that, the entire world gains vastly more from it. Such a transition is called "progress." Transition in the opposite direction — toward more bad than good — is called "regress," or, simply, "harm." Some people call it "conservatism," but whatever it is, certainly isn't  progress. Not in any way. But that's what the U.S. Government and the Canadian Government want: extreme conservatism — not conservation. And they view Venezuela's tar-sands oil as being a prize that they could profit from if Venezuela's Government could be 'persuaded' to reduce their environmental regulations on extracting it. However, in 2012, Venezuela strengthened, instead of weakened, its environmental laws. That strengthened the motivation for the U.S. and Canada to take over Venezuela. Hugo Chavez died in 2013, and Nicolás Maduro replaced him. Then, in 2016, Maduro instituted a new policy, to weaken environmental enforcement in Venezuela. Perhaps he was hoping that this would reduce the U.S.-and-allied efforts to overthrow him. Venezuela's economy was already on the ropes. The U.S. continued its efforts to overthrow Maduro. Now desperate, he started selling off 12% of the land to international mining companies. Environmental enforcement at PDVSA also plunged, and on 24 November 2018, Bloomberg News bannered "Venezuela Is Leaking Oil Everywhere". Apparently, the weaker Maduro gets, the worse he becomes. He had entered a doomed office as the president, and seems willing to do anything not to drown in it. Apparently, the weaker he gets, the more that U.S.-allied billionaires want to take over the country, entirely on their own terms. It'll be like what had already happened in Greece, when the Syriza Party there capitulated to the international financial firms in 2015, and the Government stripped pensions, education, social services, etc., and privatized the infrastructure. But the path toward that end is quite different in Venezuela.
With the world's increasing move toward renewables, the disinvestment in oil companies will increasingly be targeted toward selling the stock in the ones that have invested the most in oil fields in Canada and Venezuela. However, the situation is radically different for Venezuela than it is for Canada. Here is why:
The biggest market for Canadian oil is just next door, the United States. Most of the oil that's imported into the U.S. comes from Canada. And, because most of the oil companies that are producing oil in Canada are U.S. owned or allied (such as in UK), the U.S. Government isn't sanctioning Canada and trying to bring its Government down by reducing Canada's oil-sales via sanctions, such as is the case with regard to Venezuela's oil-sales. The U.S. Government doesn't need to do that in order for America's corporations to become enabled to sell the oil that comes from Canada: they're already selling that oil, and Canada's Government (as well as America's Government) is already helping America's companies to do this. America's and Canada's aristocracies are allied — not only with Venezuela's aristocracy (which wants to replace Venezuela's existing Government), but also with each others' aristocracy.
Furthermore, unlike Venezuela, Canada isn't nearly 100% dependent upon its oil-sales in order to support its economy, such as Venezuela tragically is. Venezuela receives around 95% of its export-income from its oil. That's ridiculous and, for geostrategic and geoeconomic reasons, should never have been tolerated by Venezuela's Government, but it nonetheless has been tolerated by them — and, for many decades, not only by Venezuela's present Government. Indeed, Oil&Gas Journal headlined on 8 February 2010, "All about Orinoco" and reported that there had been "early efforts to produce heavy crude from the [Orinoco] belt" and these efforts "led PDVSA predecessors to output by the early 1980s of 93,000 b/d." Furthermore, "Petroleos de Venezuela SA estimated 1.18 trillion bbl of oil in place in the Orinoco in 1987 and revised that in 2006 to a median of 1.3 trillion bbl, a maximum of 1.4 trillion bbl, and a minimum of 900 billion bbl."
At that time, Richard Turcotte, of Peak Oil Matters, warned about this report, by headlining "A Look at Venezuela", and pointing out that:
Unlike the light sweet crude oil produced by the U.S. and the light oil which has made Saudi Arabia such a force, the Orinoco oil is "heavy oil" found in oil sands — similar in characteristics to the tar sands bitumen found in Alberta, Canada. (See my prior post here.) The Venezuela oil is thus much harder to extract and refine, making it more costly. Significant investments of time and money are required to provide adequate refinery capabilities. Needless to say, extracting this heavy oil is a much more energy-and time-intensive effort than is the process for extracting the more familiar light crude. It is not anyone's answer in the next few years.
Lead researcher and USGS geologist Chris Schenk admitted that their report is not asserting that the "technically recoverable" oil is in fact "economically recoverable." That's a significant distinction, and one that needs to be emphasized. All the presumed underground reserves in the world won't mean much if it makes no sense to invest the time, effort, and money to try and extract them.
The USGS nonetheless estimates that a stunning 40 – 45% of that resource will be ultimately recoverable. One prominent geologist (and a former board member of Petroleos de Venezuela SA — Venezuela's state oil company) is already on record as doubting anywhere near that amount can be recovered, and stated that much of what might actually be recoverable would in fact be too expensive to produce. 
Perhaps Venezuela's President Hugo Chavez and his predecessors were thinking that if the U.S. Government says that this oil is an asset, then it is reasonable to consider it to be an asset; but if the U.S. Government was instead merely aiming to get Venezuelans to think that it's an asset so as to keep that country accepting its existing oil-monoeconomy (its over-dependence upon oil), then ultimately as the disappointment hits when the Venezuelan people experience the poverty after having hoped and tried to develop that 'asset', the U.S. Government will become welcomed in, to take over Venezuela's failing Government. Anyway, that would be a conceivable reason why the U.S. Government would be promoting the 'economic potential' of the Orinoco belt. The aristocracy's agents (in this case the petroleum industry) tend to be very clear-eyed about what's of benefit to their paymasters. For whatever reason, the actual fact — that this oil was no asset — has remained hidden from the Venezuelan public. It still isn't publicly acknowledged by Venezuela's Government. Nor is it publicly recognized by America's.
So, this tragic error (of presuming that tar-sands oil should be developed) goes back even to well before the time of Hugo Chavez. Moreover, it's worth pointing out that the actual source of the 'error' is the petroleum industry itself, which, like the tobacco companies before it, constantly propagandized for increased production and sales, regardless of what the science says. A good example of that propaganda is the Editorial in Oil&Gas Journal on 24 January 2019, headlining "Costs, energy needs discredit 'keep it in the ground' agenda". It says: "Preemptive opposition to oil and gas projects by 'keep it in the ground' activists promises needless hardship in two broad areas." This is a denial of the entire concept of "unburnable reserves." They want, instead, to burn it all — and even to keep prospecting to find yet more  oil and gas (at this time of already greatly excessive inventories of cleaner reserves that should be burned before any of Canada's or Venezuela's filth is). They could lay off their entire teams of oil-explorers, who are wasting their time to find yet more dirty energy sources that won't ever need to be used by anybody. Either these people are stupid and insane, or else they are psychopaths who care only about keeping their existing jobs and don't care at all about the world that future generations will be experiencing. If their children knew, then what would they think of what their parents had done to the world that they will be living in?
Consequently (perhaps after — for whatever reason — listening too much to self-interested advisors), Venezuela's Government has allowed itself to become trapped by its addiction to selling its extraordinarily filthy oil. There was no Governmental demand, no sufficient priority placed upon Venezuelan firms, for them to diversify the economy away from petroleum. Neither the present Government, nor any previous Government of Venezuela, did.
Hugo Chavez and Nicolás Maduro didn't create this problem; but, now, and especially on Maduro's watch, the oil-market transformations that result from the global-warming phenomenon are accelerating; and, unlike Canada, which is part of the U.S. empire, Venezuela isn't receiving U.S. Government protection of its investors, and so there is no helping hand from the U.S. Government (i.e., from America's aristocracy) to assist Venezuela's oil sales (such as the U.S. does provide regarding Canada). There is, instead, to the contrary — as Venezuela's Government has become weaker and weaker, and has less and less public support while global oil prices have plummeted — the grabbing hand, of both the U.S. and Canadian Governments, to take over Venezuela's Government, whose biggest sin, actually, was to have left itself open to such a take-over, by its having failed to diversify its economy away from the country's doomed, and dooming, extraordinarily costly-to-refine, and undesirable to refine, oil. It's now just a coffin in the ground, but it's nonetheless still the source of virtually all of Venezuela's export sales. No government could sustain supporting such a zombie. It's a deadweight that's dragging Venezuela down and economically suffocating all Venezuelans. And the documentation that this situation exists is incontrovertible:
The current WTO report on Venezuela indicates that 96.9% of the country's exports are of "Fuels and mining products," and that over 98% of this 96.9% consists of oils. Also shown is that the biggest five importers from Venezuela account for only 1.9% of Venezuela's exports, and therefore all other countries account for 98.1%. So, when Venezuela loses its U.S. market, that would mean loss of only 0.6% of its total export market.
However, America's sanctions will additionally cause some U.S. vassal nations such as in Europe to stop importing from Venezuela. So, Maduro is very vulnerable, indeed. Diversifying the markets (to that 98.1%) isn't what was needed by Venezuelans; diversifying the economy was; and neither he nor his predecessors did any of that.
On February 2018, Petroleum Science headlined "Analysis of Venezuela's oil-oriented economy: from the perspective of entropy" and reported that, "the current breakeven price has achieved to over $100/bbl in Venezuela." Right now, oil is selling at around $65 per barrel. So, how can Venezuela make money selling its $100+ oil into the global $65 oil market? It's just not possible, at least not sustainably. The Petroleum Science article therefore said that "it is unwise for Venezuela to count on selling raw oil to support the country's economy," because any per-barrel price that's lower than Venezuela's $100+ per barrel production cost will produce a loss on the sale of that barrel of oil, and because there will be very few if any future days when the per-barrel oil-price will again be above $100. The more that the world cuts back on petroleum and increases non-carbon energy-sources, the lower that the price of oil will become. And the more that investment funds steer clear of high-carbon firms, the lower the corporate stock of those companies will sink in value. Both investors and consumers are therefore going to be turning away from them.
When global oil prices were high, Venezuela could sell even its costly-to-refine oil profitably, but those times are now long gone and probably will never return, as the world increasingly switches away from fossil fuels. Especially tar-sands oils, such as from Canada and from Venezuela, should stay in the ground, and not only because today's oil prices are too low to sustain selling them, but also because those extra-heavy oils are the worst to burn, from the standpoint of causing global warming.
As an example of this economic reality, a major U.S. corporate investor in Venezuelan oil is Chevron Corporation, and Zacks Investment Research headlined on 5 October 2011, "Chevron Sees Carabobo Oil in 2012". It stated:
According to a company executive, U.S. energy behemoth Chevron Corp. (NYSE: CVX – News) may see the start-up of an oil field in Venezuela's Orinoco Belt next year. The super-major is confident that it can commence production from Orinoco's Carabobo Project 3 – which has estimated reserves of 66 billion barrels – in the third quarter of 2012. …
Chevron holds a 34% interest in Carabobo Project 3, while Venezuela's national oil company Petroleos de Venezuela S.A. (or PDVSA) controls 60%. The remaining stake is owned by Venezuelan and Japanese firms.
Following the first production of 50,000 barrels per day, … [Chevron] is looking to boost volumes by an additional 50,000-100,000 barrels per day every two years. Carabobo 3, one of several Orinoco projects, is estimated to reach a maximum output of approximately 400,000-480,000 barrels of crude oil per day by 2016.
There is no public indication, at least not online, that even the "first production of 50,000 barrels per day" has been yet achieved, though it had been expected to occur within a year. Chevron's 2017 Annual Report (covering the year 2016) is the latest online, and it doesn't so much as even mention "Carabobo." And this was after  the 5 October 2011 prediction that "Carabobo 3, one of several Orinoco projects, is estimated to reach a maximum output of approximately 400,000-480,000 barrels of crude oil per day by 2016." Clearly, that's a poorly performing investment. Chevron's current web-page on "Venezuela" says "Chevron has a 34 percent interest in Petroindependencia, S.A., which includes the Carabobo 3 Project," but it provides no number of barrels of oil being produced there (if any) — not even now, in 2019. Bad investments die in silence and in obscurity, but good investments get trumpeted everywhere — and this one is being trumpeted nowhere.
Any oil sales from those fields will not only be delayed until when oil prices are again high enough to sell those dirty oils at a profit (which is increasingly unlikely ever to happen again). The investment values of those companies will likewise be especially hard hit as the problem of unburnable reserves becomes increasingly widely recognized and understood by the public. The public won't remain ignorant and deceived about these matters forever. This is like a Ponzi scheme.
Russia's Government seems determined never to accept this U.S. coup imposing America's "regime-change" upon the sovereign nation of Venezuela, and has made the decision to send military assets, and to invest both in Venezuela's Government and in the oil company. On January 29th, Russia's Interfax News Agency headlined in Russian, "The Ministry of Finance of the Russian Federation hopes to get external debt payments from Venezuela". The neoconservative Jamestown Foundation remarked about that on January 31st by saying that "These debts may eventually be written off by a new opposition Venezuelan government led by the self-proclaimed interim president, Juan Guaido, if it manages to push Maduro out (see EDM, January 28, 2019). Yet, even if Maduro somehow succeeds in clinging to power with Russian help, he will hardly have the resources to service the loans." That, unfortunately, happens to be true. The only sensible reason why Russia would be committing itself to protecting Venezuela's sovereignty would be in order to say to Washington that America's long string of foreign regime-changes (Iraq, Libya, Syria, Honduras, Ukraine, etc.) has now ended — to establish the principle (as Russia has recently done in Syria) that no longer will Washington's invasions and coups be tolerated, no more conquests (additions to its empire) will be allowed. Somebody has to draw the line, finally, and the other nuclear superpower could be the one to do it. Other than that, however, Russia, like other investors, can only experience losses from investments in Venezuela. Venezuela is now an asset only in "The Great Game". Russia's protecting in Venezuela the principle of national sovereignty — no coups, no conquests, at all — is as moral as America's repeatedly rejecting that principle is immoral; but, as an investment, Venezuela simply is a loss. If "The Ministry of Finance of the Russian Federation hopes to get external debt payments from Venezuela," then Russia's Ministry of Finance should be expecting to be disappointed in that "hope." But that hope wouldn't, in any case, be a sound reason for what Russia is doing there. The only "asset" to be won in Venezuela is protection of the most basic principle of international law: the independence and sovereignty of each nation. Hitler and his fascist allies, and Stalin and his communist allies, violated that principle; but now fascist America and its allies routinely violate it. Venezuela's allies (unlike Neville Chamberlain) are supporting the foundation-stone of international law: national sovereignty and independence. For the U.S. and its allies to reject the results of Venezuela's (or of Syria's or of Iran's) elections is no basis for invalidating those results, and the U.S. Government's stooge Juan Guaido is simply a Venezuelan traitor, and should be treated as such, by an appropriate trial for treason. Certainly, there is no Constitutional basis for Guaido's power-grab, despite the lies to the contrary by the putchists such as in America and its allied regimes.
All oil-exploration should therefore now stop, and existing tar-sands oil fields should simply be abandoned altogether. Only the easiest-to-refine (the "lighter") oils should be sold and burnt right now. There is going to be a rush for the exits in the stocks of those "extra-heavy oil" companies, and the only question is when it will happen. Regarding that rush, the situation is very different in Venezuela than it is in Canada, because the U.S. Government will delay as long as possible the collapse of Canada's oil-sales, but the U.S. (and Canada) want to expedite the collapse of Venezuela's — at least until and unless the current Venezuelan coup succeeds. (And Canada's Foreign Minister, Chrystia Freeland, did the key preparatory work for U.S. President Trump to pull the plug on Venezuela's Government; so, both of those governments have actually led in overthrowing and replacing Venezuela's non-U.S.-allied Government.)
Venezuela became addicted to selling its filthy oil, but now can only lose money with every barrel it sells of its oil. Each day of the company's operations is simply eating the company's seed-corn — and there is nothing like Canada has, to soften the blow. That's not only unsustainable, it has already become a crisis, and Washington is exploiting it.
PDVSA's latest online financial report is for 2016 and it shows that "Profit before income tax" was $16,317,000 in 2014, then $1,469,000 in 2015, and then $955,000 — less than a million dollars — in 2016. During the three-year period, "Current assets" declined from $55.2 billion to $54.6 billion, and "Current liabilities" declined from $55.7 billion to $50.0 billion. "Financial debt" declined from $40.0 billion to $33.9 billion. "Total assets" declined from $217.4 billion to $189.7 billion; and "Total liabilities" declined from $127.7 billion to $102.6 billion. Probably the company is already operating in the red now, but with every year of deteriorating infrastructure, just wearing out, with more and more and longer deferred maintenance, and with a bad long-term prospect for profitability, could the Government even sell the company? If Trump succeeds and PDVSA and every other state-owned asset in Venezuela becomes privatized, Venezuela's citizens will be left with nothing, and the only beneficiaries will be the international bankers, even as international investors will need to take haircuts on their existing Venezuelan loans. The oil that PDVSA sells shouldn't even be bought; it should simply remain in the ground.
According to the latest public information, PDVSA showed less than a million dollars of profit in 2016 — and the trend was downward. Anyone in Venezuela who thinks that the country can be sustained in the future, as it was in the past, from the sale of Venezuela's exceptionally costly-to-produce oil, isn't taking into account the broader picture, and the impact that the global-warming phenomenon will inevitably have upon the fossil-fuels industries.
There may be ways to jiggle the books to make PDVSA fool some investors into buying the company, but only the international bankers would be profiting from a sale of that firm.
Foreign Policy magazine, which represents America's aristocracy, headlined on 5 June 2018, "It's Time for a Coup in Venezuela", but even if that turns out to be the final solution to the Venezuelan problem for America's aristocrats, it won't solve anything for the Venezuelan public — basically like Hitler's "final solution" did nothing to benefit Germany's Jews. Germany's aristocracy did nothing for Jews then, and America's aristocracy will do nothing for Venezuelans now. They're all on their own. The leaders of the U.S.-allied nations don't want to save them, and instead follow in the fascist and Nazi tradition. The leaders in Venezuela's current Government, who want to save them, simply can't save them. It's far too late for them to start now, to do what needed to start back in "the early 1980s of 93,000 b/d" from Venezuela's Orinoco belt — which would have been for them to stop what ought never even to have been started there: extraction of that oil.
CONCLUSION
The poverty and violence that now rack Venezuela result from a broader situation in which selling what shouldn't even be bought has run its miserable course until the final act, which is a Government that has reached the stage where it can produce income only for international bankers and for the aristocrats who control them. Any oil company now that would want to buy those assets would merely be adding to its assets — chiefly the dirty oil in the ground — 'assets' (oil reserves) that can never even be used (unless the propaganda becomes even more effective in the future than it has always been until now, which might be impossible to achieve). Oil companies already have lots more of that dangerous filth than anyone except people in finance will ever be able to benefit from buying or selling.
For Venezuelans, this is a great tragedy. The U.S. and its allies are (and have been) doing everything they can to exploit the tragedy.
It's like a hungry lion chasing a fleeing exhausted deer, who now is finally trapped.
That's the ugly reality.
Author's note: first posted at strategic-culture.org
Crisis in Venezuela: An Analysis of the United States' Interference
As the crisis in Venezuela escalates uncontrollably for the people, the politicians are in the centre of legitimising themselves as the president of the country. Current president Nicolas Maduro has recently rejected an ultimatum by the European Union to hold a snap elections in the country stating that he would not "cave in to pressure" from those calling for his departure.  The European Union issued the ultimatum as the Juan Guaido, the head of Venezuela's opposition-led National Assembly, declared himself as the country's interim president . Many European countries such as the UK, Spain, France, Germany, Sweden and Denmark have all recognised Juan Guaidó as the interim president of Venezuela. Portugal, the Netherlands and Belgium have said they will recognize opposition leader Juan Guaido as president if Maduro failed to announce elections.
In addition to that, the biggest support for Juan Guaido is definitely from the United States as President Donald Trump has recognized and endorsed Juan Guaido as the president of Venezuela. Even Ireland has followed a number of other EU countries in recognising Juan Guaido as interim President of Venezuela.  Irish Minister for Foreign Affairs Simon Coveney said he supports Mr Guaido, the leader of the legislature, "in order for him to call for free, fair and democratic presidential elections".  The United Nations however has rejected Juan Guaido, as the interim president. The UN Secretary General, Antonio Guterres responded to a letter written by Guaido seeking humanitarian aid to Venezuela. Guterres reiterated his concern about the impact of the current Venezuelan crisis on the people but however, in regards to Guaido's request for humanitarian aid, the secretary-general requested to communicate with the Government of Venezuela, which is headed by President Nicolas Maduro . This directly meant that the United Nations are in support of the current government and president Nicolas Maduro.
Nicolas Maduro was sworn as the president on 10th January 2019 after he was re-elected in May 2018 by getting 67.7 % of the vote. This means that by law he is the legitimate leader of Venezuela. In addition to that, the country's main opposition coalition, the Democratic Unity Roundtable (MUD), boycotted the election and that basically paved way for Maduro to be re-elected as the president. While many are now recalling for elections, why didn't the MUD participate in the elections in the first place? They claimed that the elections was rigged in favour of Maduro but the fact that they did not contest shows that they are incapable to be in power and incompetent to run the country. Now there is Juan Guaido from the Voluntad Popular (VP), (Popular Will Party) who declared himself as the president. He was sworn in as leader of the National Assembly and de facto leader of the opposition early in January, at a time when not many in Venezuela had heard of him. It is said that at least 80% of the population in Venezuela have not heard of Juan Guaido. Thus the National Assembly basically elected a president without an electoral mandate which makes unlawful because there is a democratic process for a reason.
Another issue that should be taken into serious consideration in this Venezuelan political crisis is the involvement of the United States. It seems that as though the situation in Venezuela is a question of human rights, democracy and freedom that is built upon only by the National Assembly via the opposition although in reality that the whole move of making Juan Guaido as the interim president of Venezuela was engineered, organized and financed by the United States along with a small group of countries from Latin America and Europe. This definitely shouldn't come as a surprise as the United States has had a long history of intervening and overthrowing leftist governments in Latin America for many years. Among a few examples are the 1954 US Intervention in Guatemala, 1964 US intervention in Brazil, 1973 US intervention in Chile, 1976 US intervention in Argentina and many others. All these interventions by the United States were coup d'états that were sponsored and engineered by the United States military by supporting right wing leaders or political parties.
The situation in Venezuela is a little different as the United States are not using military intervention yet but are engineering what many media outlets would not call which is a soft coup d'état through Juan Guaido. While many refrain from the word coup, in reality that is the situation in Venezuela at the moment because Juan Guaido is trying to seize power illegally and unlawfully. In addition, the United States seem to be using a similar tactic that was used when they intervened in both Chile and Iraq respectively in 1973 and 2003 by trying to destabilise the economy of Venezuela through economic sanctions before deciding to intervene or invade via military. This is because a destabilised economy would indeed give the United States a strong reason to invade or intervene Venezuela if needed. This was definitely the case in Iraq. Sometimes sanctions that are often used on countries are an act of war because it hurts the most poor and vulnerable sectors of a country's population. Moreover sanctions are also genocidal and one example is in Iraq when almost 500,000 babies lost their lives due to the sanctions carried out by the United States. A similar trend is being seen in Venezuela as the US-led sanctions has cost the Venezuelan economy at least 6 million USD and this has indeed weakened the country and also the population.
Recently on 29January 2019, the United States has also announced that a new round of sanctions will block almost 7 billions USD in Venezuelan assets. These sanctions that are being carried out by the United States are actually against Venezuela's state owned oil company Petróleos de Venezuela, S.A. (PdVSA).  As a result, all property and interests in property of PdVSA subject to U.S. jurisdiction are blocked, and U.S. persons generally are prohibited from engaging in transactions with the company. The opposition in Venezuela approves the confiscation of the 7 billion USD as it is seen by them as securing assets although in reality it is actually an international theft. As the PdVSA, is an important source of income to Venezuela and while the United States are actually aware of it, the sanctions are a clear indication that the United States are trying to cut off every last source of income available to Venezuela to weakened their economy even more.
Besides that, just like in Iraq the United States would also want to get their hands on Venezuela's oil via Juan Guaido because it is impossible that the United States are oblivious that Venezuela has one of the largest oil reserves in the world. An additional evidence that the opposition parties in Venezuela are aligning themselves to the United States is the fact that the National Assembly in Venezuela is beginning a process of appointing new board of directors for PdVSA to transfer the controls of Venezuela's foreign accounts. It is clear that the National Assembly in Venezuela headed by Juan Guaido are not positioning themselves of running the country on behalf of the 30 million Venezuelan people but are instead only invested in securing power and position as well as allowing the United States to intervene in their country's internal affairs.
The United States are definitely turning Venezuela into their colony and their actions are a demonstration that represents the greatest threat to peace and regional stability of Latin America as a whole. As it is now their custom, they threaten other countries through extortion and coercion so that these countries will recognize a puppet president, which would allow them to take full control of that particular country and exert their continuous influence for years to come. We have seen a similar trend carried by the United States in countries such as Iraq, Iran, and Libya that has led to the devastating effects that remains till this day. This is bound to happen in Venezuela if the opposition leaders led by Juan Guaido are not cautious in aligning themselves wholly to the United States. Although President Nicolas Maduro has not proven himself in leading Venezuela forward, but it has to be understood that US-led sanctions since the Obama Administration has had a huge influence the Venezuelan crisis.
The opposition parties in Venezuela should have shown their will to fight for the interest of the people by not boycotting the election in May last year because the boycott basically meant that they betrayed the people of Venezuela. Personally I am not a Maduro sympathizer but I believe in that a leader should be elected through a democratic electoral process and I also denounce foreign intervention into the internal affairs of a particular country because often times history have shown that a third party intervention by the United States has always brought more negative impacts instead of positive ones. For this reason, I would be on Maduro's side and would urge other countries to recognise him as the legitimate leader of Venezuela because recognising Juan Guaido would mean recognising the United States colonialism against Venezeula.
Three Horizons of Brazil–Russia Relations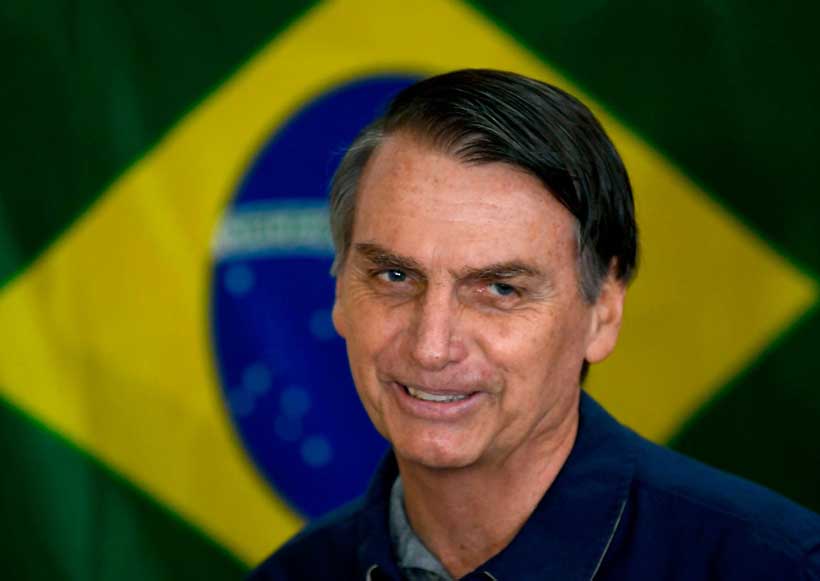 Authors: Fernando César Costa Xavier and Alexander Korolkov*
Almost a month has passed since the inauguration of the new President of Brazil Jair Bolsonaro. He and his team are not new to Brazil's national politics; during their careers, they have made quite a few statements about the country's place in the world and their vision of the development of Brazil's relations with its key partners. Still, very few political observers (and maybe even members of the new cabinet) understand what Brazil's foreign policy will be over the next four years. Thus far, we can gauge from the President's campaign promises that Brazilian diplomacy needs to transform radically and move from broad participation in international organizations and initiatives to "anti-globalism" and bilateral talks in international trade.
The person charged with implementing this project, which has the supported of President Bolsonaro's voters, is the career diplomat Ernesto Araújo, who was appointed Minister of Foreign Affairs not so much for his institutional experience as for the "correctness" of his ideas. Under his leadership, the new diplomacy should be based on an ideology composed of religious (Judeo-Christian) ultra-conservatism, programmatic anti-socialism, and vain nationalism. The implementation of this project should result in improving relations with the United States, Israel and those European countries that are led by right-wing conservatives.
Diplomacy on the Edge
As the new ruling elite in Brazil moves from words to deeds, concerns seem to have arisen that the new foreign political doctrine may cause the country economic and political damage. As a result, a group of the new President's supporters led by Vice President General Hamilton Mourão (ret.) have been attempting throughout January to mitigate a series of foreign political messages that emerged during the presidential campaign.
At the very least, such actions result in an inevitable conceptual conflict between Mourão and Minister of Foreign Affairs Ernesto Araújo. Attempts to side-line the latter and remove him from the decision-making process are already obvious, so much so that the Vice President has met with ambassadors of several countries, including China (whose influence in Brazil was proclaimed to be almost the chief threat to national sovereignty during Bolsonaro's presidential campaign), without the Minister of Foreign Affairs being present. This is at the very least unusual and goes against established practice. However, Mourão's actions have not gone unnoticed. The Brazilian media has started to call Araújo's growing isolation a "cordon sanitaire."
The USSR Standing between Brazil and Russia
Given the budding internal confrontation, it is extremely hard to predict the course that Brazil–Russia relations will take. Unlike China, Russia was not criticized directly by the new President, but this might be due to the fact that Russia was not mentioned at all during Bolsonaro's campaign. We can only guess as to his attitude towards the country.
As an ardent anti-communist, Bolsonaro is certain to view Russia at least with some suspicion because of its Soviet past. Russia probably does not quite realize it, but the USSR still remains an important fact in bilateral relations. Even though 2019 will mark 28 years since the collapse of the USSR, Brazil's right-wing politicians and a significant chunk of the population still view President Vladimir Putin as a Soviet apparatchik who never cut his functional ties to the KGB. The fact that the KGB has itself been defunct for over a quarter of a century does not matter at all, since its successor has not yet gained comparable publicity (which is probably for the better) and the KGB continues to be a grim symbol of all things Soviet.
Although influential Brazilian analysts, such as the economist Mailson da Nobrega, insist that "true socialism" died in 1991 and that Bolsonaro's crusade is pointless, for many Brazilians, the spectre of communism still lives in the Kremlin.
The support that Russia is extending to Nicolás Maduro's seriously battered government helps feed this phantasmagoria. In an interview with Brazilian TV several weeks ago, Bolsonaro expressed concern about Russia's military manoeuvres in Venezuela and, in this connection, even announced he could consider having a U.S. military base in Brazil.
This is the unstable background against which relations between Brazil and Russia are developing. Naturally, at this stage there is no initial data that would allow us to make accurate forecasts for the development of Russia–Brazil relations, but at least three major movement vectors from this bifurcation point can be seen, each of which may noticeably oscillate when confronted with an unpredictable reality. Let us call them horizons: their outlines are already visible, but it is not yet clear what lies beyond.
The First Horizon: Is a "Holy Alliance" Possible in the 21st Century?
Part of Brazil's new ruling elite considers Putin's Russia as a state that is closer to religious conservatism (linked with the Orthodox clergy) than to left-wing liberalism that ideologically stems from the "Red May," i.e. the events of May of 1968. This group is headed by Chancellor Araújo. Back in 2018, before assuming the ministerial office, he proposed a "Christian pact" with the United States and Russia. He thought that such an alliance would challenge the "globalist axis" created by China, Europe and the American left. This statement was part of a single ideological package that also included criticism of Brazil's participation in multilateral international forums and the announcement of the country's withdrawal from the UN Global Compact for Migration.
It is quite possible that this impression of moral and political alignment which, according to the Chancellor, could happen between Brazil and Russia (Bolsonaro and Putin) was bolstered by the courtesy of the Russian side in congratulating Bolsonaro on his election victory. Bolsonaro replied to the congratulations from @KremlinRussia_E on Twitter, writing "Thank you, President Putin!" in his personal account on October 29, 2018. In addition to the tweet, the Russian President also sent a congratulatory telegram.
Although Putin probably views the mercurial Bolsonaro with a certain caution, he extended a hand again in a letter sent in late December 2018 emphasizing the possibility of a strategic partnership between Brazil and Russia. A few days later, Speaker of the State Duma of the Russian Federation Vyacheslav Volodin and his deputy Olga Yepifanova represented Russia at the President's inauguration. The Russian delegation also met with the incumbent President of the Chamber of Deputies of Brazil Rodrigo Maia, who plans to be re-elected to the office with the support of Bolsonaro and his party (the Social Liberal Party).
If top level contacts do make it possible to overcome ideological fears and improve mutual understanding, Araújo is likely to pay much attention to an alliance with Russia, including possibly in the BRICS format. Brazilian diplomacy may need Russia as a counterbalance to China's influence in the bloc. For Brazil's right-wing politicians, China remains a source of a far greater number of phobias than Moscow. Despite opening its economy in recent decades, formally, China remains a communist country and is the greatest epitome of the "Red Scare" for Brazil's anti-communists. In a highly controversial article written when he was only a nominee for the office of the Chancellor, Araújo claimed that "Maoist China had to be opposed."
The Second Horizon: Realpolitik Brazilian Style
If Araújo is side-lined and the Realpolitik promoted by Vice-President Hamilton Mourão moves to the foreground, then, as surprising as it is, roads leading to Moscow still remain, although they might not be quite as straight.
In a recent interview, Mourão said he did not understand the point of an accelerated rapprochement between Brazil and Israel. It directly contradicted the idea of opening Brazil's embassy in Jerusalem, which Bolsonaro proposed in support of a similar move by Trump. In the same interview, he quite unexpected asked, "Are we ready to pay any price to be fans of the Americans?"
Could Russia consider such statements as an invitation to engage in a dialogue? We believe it could.
Such a dialogue could take place at the upcoming 11th BRICS Summit, which will be held in Brazil in 2019. Mourão, who is fluent in English, could be a useful interlocutor for the bloc partners. He pays less attention to "anti-communism" and, unlike Araújo, does not think that the issues of global warming and sustainable development that had been discussed at the 10th BRICS summit are "hijacked by left-wing ideology." Russia should use this chance to build bridges.
The Third Horizon: Getting Personal
If we forget about all groups and consider the personal impressions that the two countries' leaders can produce on each other, then Brazil–Russia relations still have a future.
Like Chancellor Araújo, Bolsonaro is an avowed admirer of President Trump. Trump has an equivocal, yet generally positive attitude towards Putin. Behind his criticism of Russia's policies and politics and the reserved attitude towards Russia that stems from domestic political factors, one can periodically glean Trump's respect for Putin and even a desire to emulate his style.
This is probably very similar to what Brazil's new president feels about the Russian leader. There is no doubt that Bolsonaro at the very least respects Putin, and probably, deep down, admires him. The similarities in their political styles appear to overcome their differences. Their supporters value their images of patriot warriors that bravely and ruthlessly fight against "enemies of the nation."
Brazilian fans who attended the World Cup in Russia were amazed by the number of souvenirs bearing Putin's image. These images are almost universally aggressive, associated with a demonstration of brute force (take the famous image of Putin riding a bear, for instance). It is possible that this practice was partially borrowed for Bolsonaro's presidential campaign, at least in the images that are spread on social networks and forming a similar cult around the new president. The two leaders are becoming increasingly similar in terms of being viewed as "saints" and "the chosen ones" by their supporters.
Bolsonaro's personal contacts with Putin and President of the People's Republic of China Xi Jinping will certainly give him a more realistic feel for geopolitics. Maybe then he will evaluate the possibilities afforded by bilateral and multilateral talks and the global community will eventually come to understand that the ideological structures erected around him are nothing but a "Potyomkin village," or smoke and mirrors.
*Alexander Korolkov, PhD in History, Expert on Latin America expert, RIAC expert
First published in our partner RIAC