Culture as a binding factor in our society- interview with Camilla Habsburg-Lothringen
[yt_dropcap type="square" font="" size="14″ color="#000″ background="#fff" ] W [/yt_dropcap]e need culture to know where we came from, says her Imperial and Royal Highness Archduchess of Austria and Princess of Tuscany Camilla Habsburg-Lothringen. "In a time where society is complaining, is frustrated and not making the best of what we have, there we need culture. The cultural field enables us to build up dialogues better and faster than administrations can." Contributing to a better world, that is why the descendant of the Habsburg house which leads back to Holy Roman Emperor Francis I and Empress Maria Therese of Austria, chose the cultural field over a more political career.
How does it feel be the great-great-great-granddaughter of such historical figure like Maria Theresia?
This year we celebrate the 300th anniversary of Empress Maria Theresias birth. She was bright and very advanced for her time. Great policy such as the obligation to go to school, the vaccination against chicken pox, the opening of the stock market and the founding of the academy for diplomats was one of the many actions implemented by her. Her strong charakter and personality as a ruler, wife and mother impresses me strongly
It is a big responsibility to carry this name, it will always be imprinted on me. As it is not easy to fullfill all peoples expectations but I try to be true to myself, not to loose my focus and keep remembering my history, where I come from
Do you consider this responsibility to be political?
No, there is no role for me in politics. The time to get involved is very limited. First you have to get elected, and during the mandate you try to do as much as you can – let's hope so- and then the electorate either replaces or re-elects you. All this makes it difficult to make real changes not mentioning the opponent parties that block every suggestions even if they are good ones
Politicians mostly take responsibility over a certain period. This is understandable because they receive legitimacy over a certain time. But the downside is that many do not understand the responsibility for future consequences of their actions. Monarchies, nobility and family run companies they all have to make carefull decisions as these leave an impact and imprint on the future of generations and the empires or business. Politicians should learn from this and vow to take consequences for the effects of their actions in the future.
Besides that I feel that real change should be realised via initiatives.
Do you feel that we need change?
I am pretty thankful to live in a peaceful country with a strong stability like in Austria. But it worries me that people don't recognize that. In the last years nearly all over Europe I observe the encrease of a complaining and unsatisfied society that is questioning everything. Also greed and materalism has become very dominant in our times and this leads to a feeling of emptiness. And so its understandable that people become very scared and receptive to any kind of manipulative information that theats this artificial way of life
In our times there is a strong destabilizing fear for the future and other cultures. The result is a lack of focus and investments. Constant worrying will lead us nowhere and won't enable us to build a strong future. That is something we need to change.
I would say that there is a need for respect. Respect is much stronger than tolerance. The population is growing fast, everybody is getting closer, and more people will live in our countries. Just tolerating others will not be sufficient, we need to respect each other and other cultures and learn from them
Do you see any role for yourself in this?
I have a background in PR and advertising, besides that I am also very active in the field of networking. But most important for me are values: the stability of a society and passing on of ideas and sending impulses. I was never involved in representing companies, firms, but always more looking into the direction of a so called atmospheric PR if you understand what I mean. That is a kind of seismographic feeling towards our environment and our global thinking and acting. Searching for solutions, to get together those people who feel and think in a similar way and then move things into action.
Do you consider that to be diplomacy?
Yes. Diplomacy has a very important stabilizing function in this world. I prefer the cultural field because it is neutral and makes it easier to bind people and nations on a diplomatic base. A few months ago I became Director Euro-Mediterranean Diplomacy and Intercultural Affairs at the International Institute for Middle-East and Balkan Studies (IFIMES). In this function I would like to connect the Euro-Mediterranean and Balkan regions and give a voice to those without one. For me that is one of the important aspects of diplomacy.
Do you feel that the European Union contributes to a better world?
The European project -the European Union, brought prosperity and peace to the continent. But now they are getting lost in a big contruction of burocracy and regulations like on what kind of energy saving light bulbs we are allowed to buy. There are too many paragraphs blocking any fast action. I find this a waste of energy, time and money. There is a real need for solutions for the bigger problems, like immigration for instance. The European Union should focus on the bigger political issues and on the cultural field
The near future might be challenging, but we need to keep the dialogue going, because together we can tackle every crisis.
First published by the Dutch Diplomat Magazine
Turning air pollution into art
Artists are known to take inspiration from the world around them. So it's no surprise that some have begun shining light on one of the most pressing environmental issues of our time—air pollution.
According to the World Health Organization, every year around 7 million premature deaths are caused by air pollution, with 9 out of 10 people breathing toxic air. Air pollution is also known to contribute to climate change and so efforts to tackle it can also help address the climate crisis.
The time to act is now, and artists, like so many others are looking at ways to raise awareness about air pollution, find solutions to reduce it and even use it as a resource.
Pollution Pods
Michael Pinsky got inspired by the differences between the various types of air pollution, when he set out to make Pollution Pods. The project consists of five domes, each imitating air in five different areas of the world: Northern Norway, London, New Delhi, Beijing and São Paulo. As you move through the domes you experience varied levels and sources of air pollution.
"I wanted to have very different sensations from one dome to another," Pinsky told UN Environment. "It's not just a question of how strong the pollution is but that they have very different characteristics as well."
For London, Pinsky recreates the smell of diesel. For Beijing, he mixes the smells of industrial fumes, coal or wood-based heating, and transportation emissions. While New Delhi whiffs of burnt plastic and grass, as citizens still burn a lot of their rubbish.
Luckily, the pollution is only in smell and visibility, without the actual harmful gases. But Pinsky says the experience still isn't very pleasant. That's the whole point: air pollution isn't pleasant.
Pinsky hopes Pollution Pods will lead to a more "radical approach" when dealing with air pollution, particularly with transportation. "It's not so easy to apply the same advocacy or philosophy towards different cities in the world," he said. "But in some cases, you could turn the problem around in two years with the right policies."
Smog-free towers
Daan Roosegaarde was motivated by living in Beijing and witnessing the city's strive for economic development and citizen wellbeing, when he created the Smog-free Tower. The "largest smog vacuum cleaner in the world", as Roosegaarde calls it, sucks up polluted air, cleans it and releases it back into the atmosphere.
"I thought to myself, 'I'm not a minister, I cannot give 20 billion euros to green energy today. But I'm an engineer and an artist, I can create a clean-air park, like an oasis.'"
The premise is that the smog-free tower sits in a city park, making the air 20–70 per cent cleaner than the rest of the city. It uses positive ionisation technology, which Roosegaarde says is the only way to clean large volumes of ultra-fine particles while using little energy.
Towers are now found around the world in China, Poland, the Netherlands, and soon, South Korea and Mexico. It's also led to a global campaign, with local partners in each country replicating the towers. Roosegaarde has now introduced the smog-free ring—made of compressed smog particles—and the smog-free bicycle as well.
"This is not utopia. It's a pro-topia where we, step-by-step, try to improve our cities," he said. "The grand goal is to have them not needed anymore, but until then, you do what you can to remain healthy."
Air pollution-based ink
Anirudh Sharma was visiting his family in Mumbai, India, when he began to notice that in the evening his white shirts would gradually turn speckled with something that resembled dirt.
"I realized this was air pollution, or sooty particulate matter, made of black particles released from exhaust of vehicles," Sharma told his alma matter Massachusetts Institute of Technology (MIT) Media Lab. "This is a major health issue."
When he returned to Massachusetts Institute of Technology, Sharma decided to do something about the air pollution back home. So he set up Graviky Labs—a start-up that has developed a technology to attach to diesel exhaust systems to capture particulate matter. The team at Graviky treat the soot to turn it into ink, called Air-Ink, for use by artists around the world.
So far, the start-up has captured 1.6 billion micrograms of particulate matter, or the equivalent of collecting 1.6 trillion litres of outdoor air.
"Less pollution, more art. That's what we're going for," Sharma said.
The feminist inspiration of Mona Lisa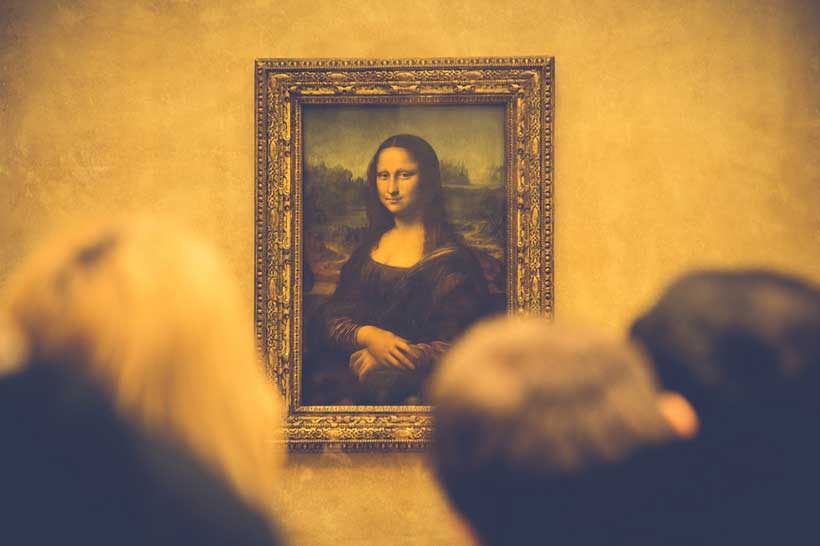 This year marks the 500th anniversary of the death of the Italian genius, Leonardo da Vinci, who died on 02 May 1519. On this occasion, UNESCO highlights some of the comments concerning the origins of one of the most famous paintings in history: Was Mona Lisa painted in a feminist spirit?
The thesis of the American art lover William Varvel highlights the links between feminism and the painting. According to his findings, Mona Lisa would represent a figure in the fight for gender equality. Why? William Varvel insists on "the theological rights of women" claimed through the vision of the famous painting from the Renaissance Period. These rights are linked to the status of priests, which women do not have access to. Therefore, the painting representing Mona Lisa would have for true desiderata the possibility for the women to have access to the priesthood. William Varvel assures that "Mona Lisa is a kind of declaration for the rights of women".
To support his argument, the author of The Lady Speaks: Uncovering the Secrets of the Mona Lisa explains how Leonardo hid clues in the painting: in total, not less than "40 symbols, taken from the 21 verses of the chapter 14 of the Book of the Prophet Zechariah" in the painting.
Therefore, there is a link between religion, the painting of the Italian master and his feminist commitment. It is precisely this link that William Varvel wishes to highlight in order to allow a reflection on the subject. A new definition of the place of Mona Lisa in the artworks from the Renaissance is necessary to apprehend the political and feminist scope of this masterpiece.
How UN cultural treasures helped set the stage for Game of Thrones
From King's Landing to the Iron Bank, so many of the breath-taking backdrops seen on the smash hit Game of Thrones television series are available for future generations to enjoy, thanks to a key, but little-known role played by the United Nations cultural agency.
Established in 1945, the UN Educational, Scientific and Cultural Organization (UNESCO) has worked to improve dialogue and understanding between civilizations, cultures and peoples. One of UNESCO's methods of doing this is by designating and preserving World Heritage Sites, defined as having outstanding universal value to humanity, which it inscribes on the World Heritage List to be protected for posterity.
To date, there are 1,092 natural and cultural places inscribed. The diverse and unique treasures range from the Great Barrier Reef in Australia to the Pyramids of Egypt and the Taj Mahal in India.
Since 2011 UNESCO's work has become inseparable with the magnificent film locations of the wildly popular Game of Thrones series.
For those tuning in to the show's final episodes, here's a look back at the Seven Kingdoms with a nod to the UN cultural agency.
Capital of the Seven Kingdoms
Long before it became known as King's Landing – one of the Seven Kingdoms and seat of the mighty Iron Throne – the old city of Dubrovnik in Croatia was an important Mediterranean seat of power from the 13th century onwards. Severely damaged by an earthquake in 1667 and by armed conflict in the 1990s, UNESCO is co-coordinating a major restoration programme.
Dubrovnik joined the UNESCO List of World Heritage Sites in 1979.
Battle of the Blackwater
You may recall the fiery Battle of the Blackwater, or scenes where King Robert Baratheon rules from the Iron Throne in the Red Keep, overlooking Blackwater Bay: Fort Lovrijenac, outside the western wall of the Croatian city, actually played an important role in resisting Venetian rule in the 11th century.
Private retreat for House Martell
It is easy to see why Doran Martell called the Water Gardens of Dorne "my favourite place in this world". Actually located in the heart of Seville, the Royal Palace of Alcázar is imbued with Moorish influences that date back from the Reconquest of 1248 to the 16th century. UNESCO points to it as "an exceptional testimony to the civilization of the Almohads as well as that of Christian Andalusia".
UNESCO inscribed the Royal Palace of Alcázarin in 1987.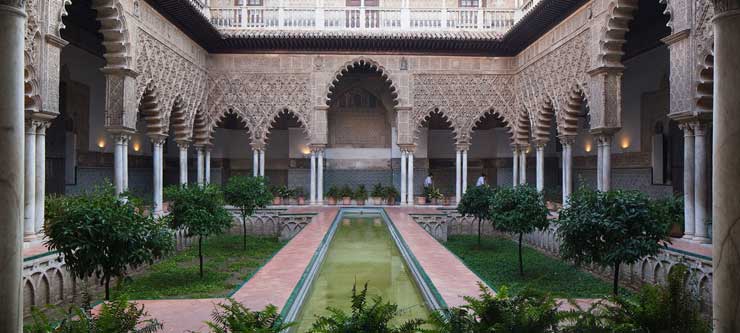 Daenerys' journey through Essos
When you look at the Medina of Essaouira in Morocco, perhaps you can image The Khaleesi lining up The Unsullied eunuch slave-soldiers in the city of Astapor before renaming Slaver's Bay, the Bay of Dragons. But for UNESCO, Essaouira is an exceptional example of a late-18th-century fortified town in North Africa. Since its creation, it has been a major international trading seaport, linking Morocco and its Saharan hinterland with Europe and the rest of the world.
The Medina of Essaouira joined the UNESCO List of World Heritage Sites in 2001.
Yunkai: 'A most disreputable place'
In the Yellow City, Daenerys' language skills are useful with the Yunkai'i, who speak a dialect of High Valyrian. But in Berber, the village of Ait-Ben-Haddou was a popular caravan route long before current-day Morocco was established. The crowded together earthen buildings surrounded by high walls offer a view of a traditional pre-Saharan habitat.
Ait-Ben-Haddou was designated a UNESCO World Heritage Site in 1987.
Theon returns to Lordsport Harbour
County Antrim envelops UNESCO-designated Giant's Causeway and Causeway coast. It is also home to the small fishing harbour of Ballintoy, known to fans as the port of Pyke, home to the Iron Islands of the Greyjoys. Located in real-life Northern Ireland, the Causeway consists of some 40,000 massive black volcanic rock columns sticking out of the sea. Over the last 300 years, geographical studies have greatly contributed to the development of the earth sciences.
The Causeway coast was declared a World Heritage Site by UNESCO in 1986.
Cersei's 'Walk of Shame'
The iconic scene in in which Cersei Lannister is forced to walk naked through the streets of King's Landing began atop of the baroque Jesuit Staircase, which leads to the Church of St. Ignatius of Loyola and Jesuit College in the UNESCO-desnigated Old City of Dubrovnik .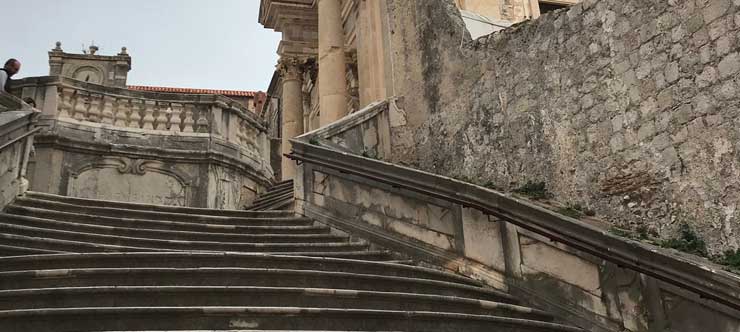 Kingslayer for gender equality
The connection between the United Nations and Game of Thrones does not end with UNESCO's inspiring sites.
While Jaime Lannister is the twin brother of Cersei and slayer of the Mad King, Aerys II Targaryen, real-life actor Nikolaj Coster-Waldau is a Goodwill Ambassador for the UN Development Fund. Passionate about ending discrimination and violence against women, the father of two girls is focusing his considerable talents on drawing attention to critical issues, such as gender equality – encouraging everyone to be agents of change.
Mr. Coster-Waldau was appointed a UNDP Goodwill Ambassador in 2016.